Kitchen is the one place where space planning, aesthetics and functionality have to come together flawlessly for a smooth culinary experience. It is not just the heart of the home where the family congregates, it is also the zone where you can create your masterpieces. At Livspace, our primary considerations are your comfort and to utilise the available space well. But add our aesthetic sense to the milieu, you have your dream space ready. Here are some kitchen designs to suit all kinds of personalities and lifestyle needs.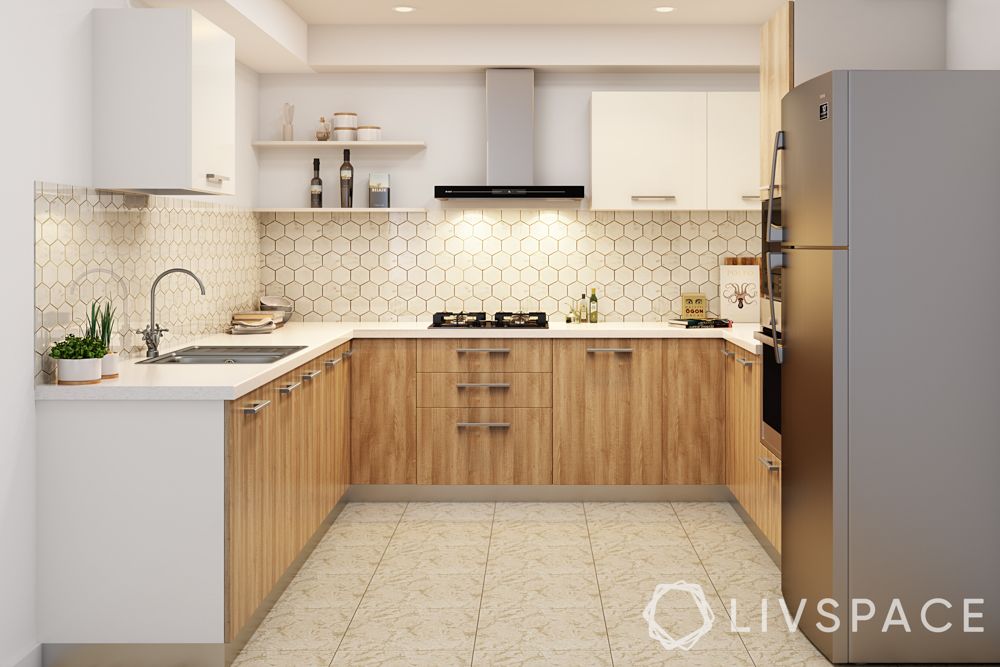 Layout
U-shaped
Colours
Wooden tones and white
The white on wood combination resonates the Scandinavian design while giving your kitchen a light and spacious look.
#2: Pop of Cheery Yellow
Layout
Straight
Colours
Yellow and black
If white on wood is too dull for your style, try this pop of yellow in one row of cabinets! The glossy finish acrylic cabinets will also open up the space.
#3: Pretty in Pastels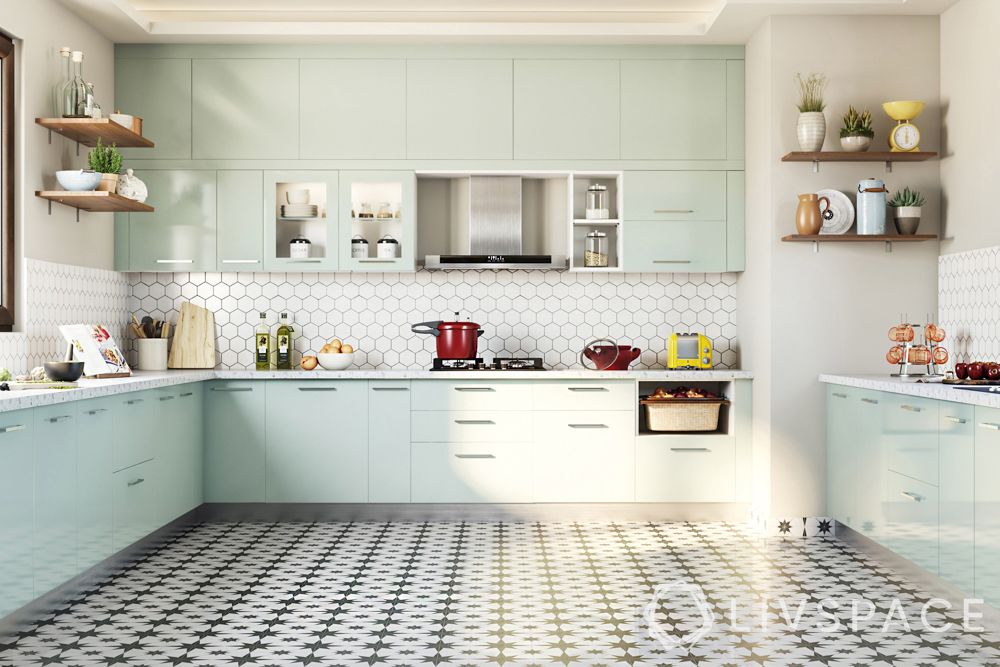 Layout
U-shaped
Colours
Pastels
Small or large kitchens, light colours always give it an air of positivity.
#4: Break the Monotony With Monochromes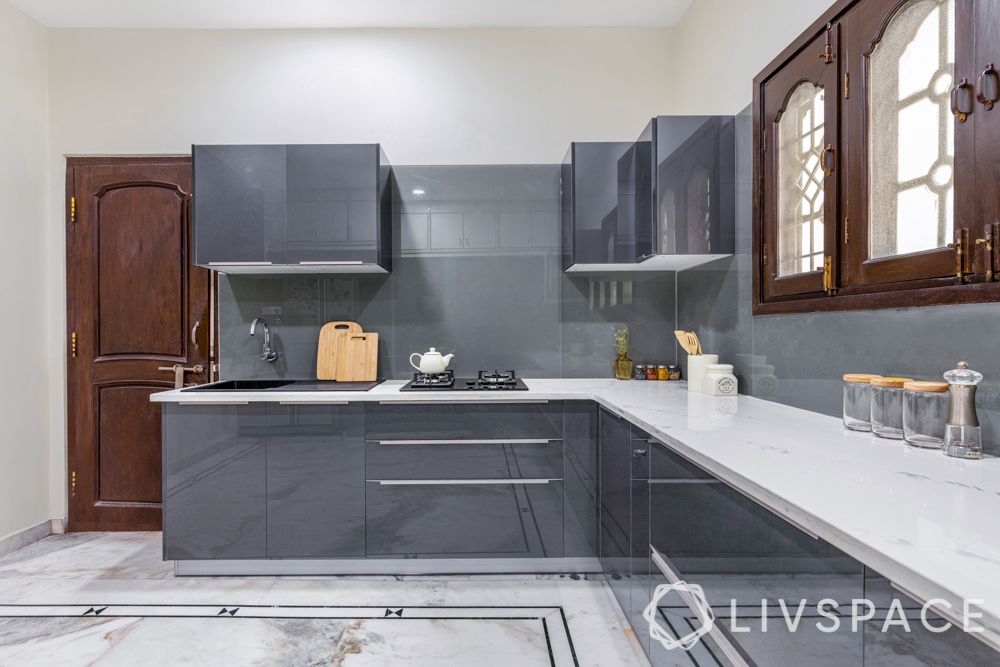 Layout
L-shaped
Colours
Shades of grey
Another popular neutral shade is grey. You can really bring out the beauty of the kitchen by adding a quirky backsplash in the same tones.
#5: Mix of Open and Closed Cabinets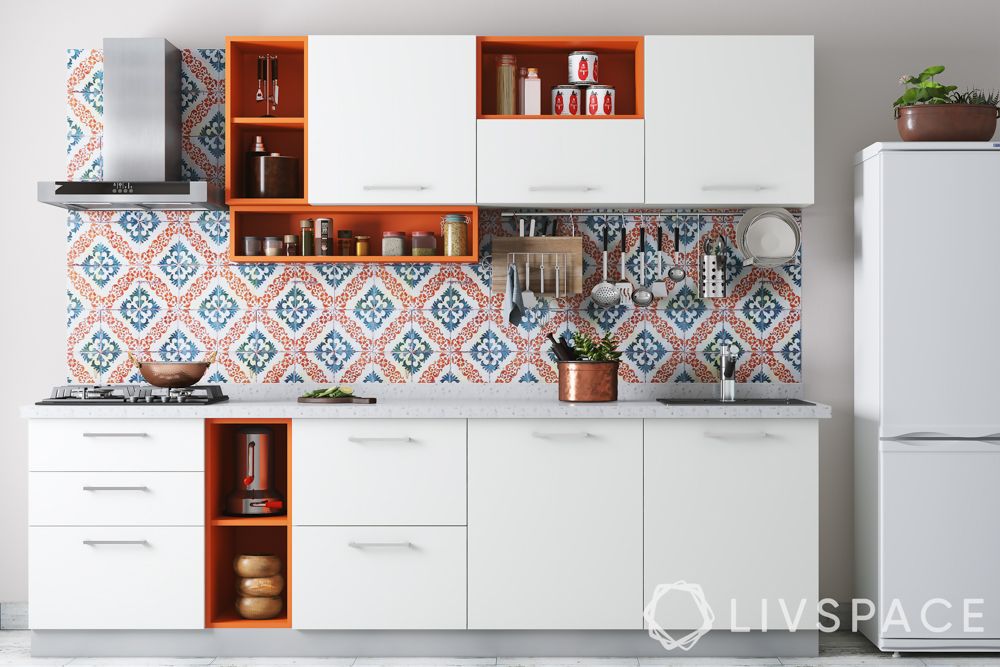 Layout
Straight
Colours
White and orange
You can also decide to go all white while giving it a pop of colour for the open units. Add a backsplash in an interesting design to complete the look.
#6: The Perfect Combination of Contemporary and Traditional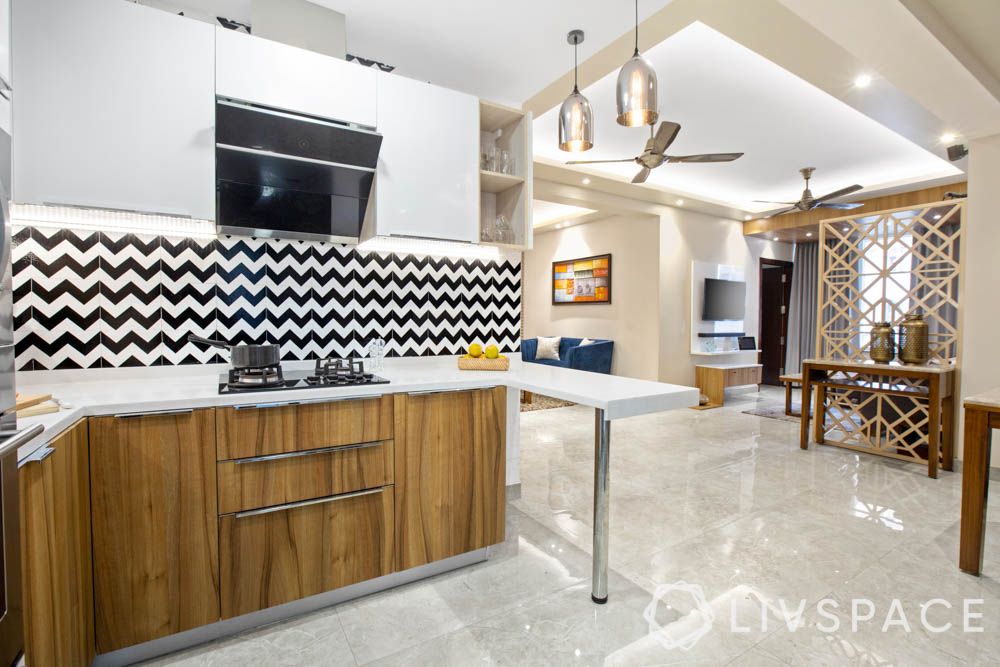 Layout
Open
Colours
Wooden tones and black and white patterns
Want it all? Then go for this pattern and ensure you give a contrasting backsplash to really amp up the style quotient in your culinary zone.
#7: Give way to Royalty!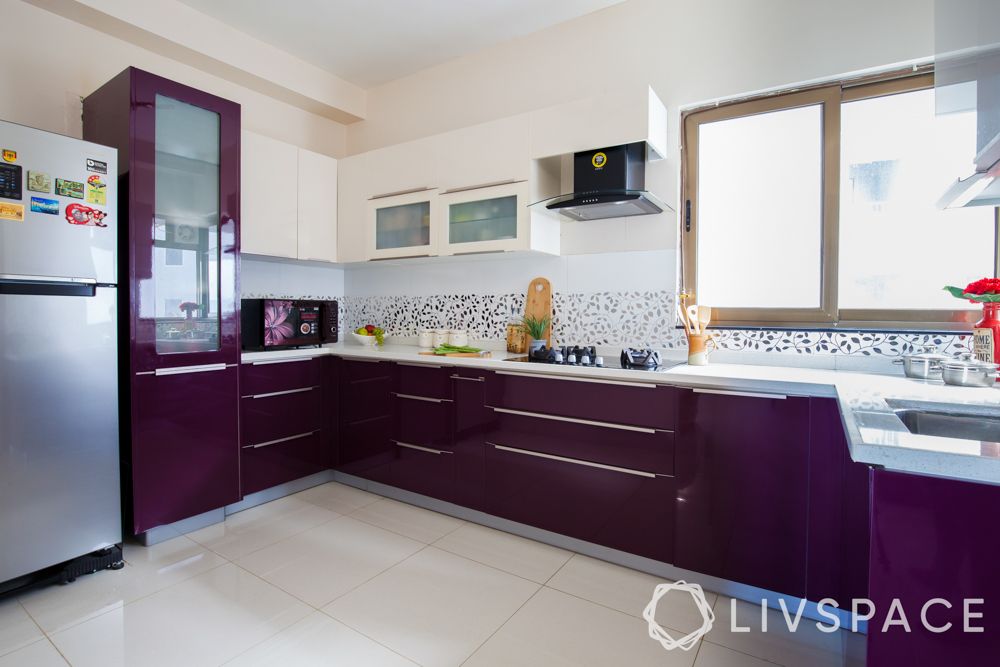 Layout
L-shaped
Colours
Purple and white
Glossy purple and clean white tones combine to create a classy look in this kitchen. This colour combination of dark and white works especially well for compact kitchens.
#8: Oodles of Light Flowing in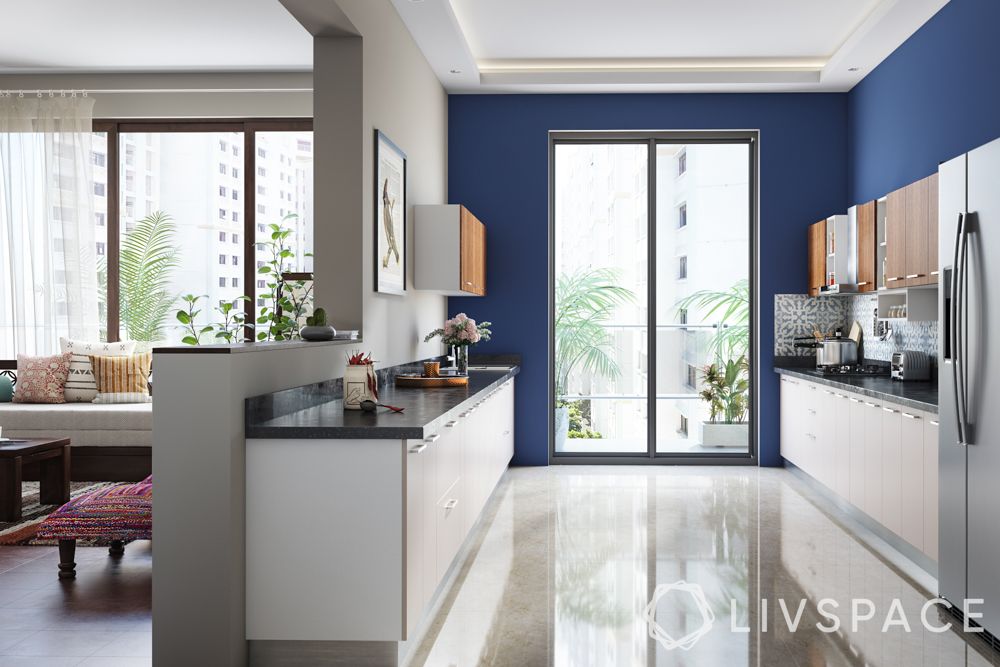 Layout
Parallel
Colours
White, beige and brown against blue walls
While the cabinets are done up in neutral shades, it's the wall colours that really add the element of drama to the space and make it timeless.
#9: Lucky Pops of Red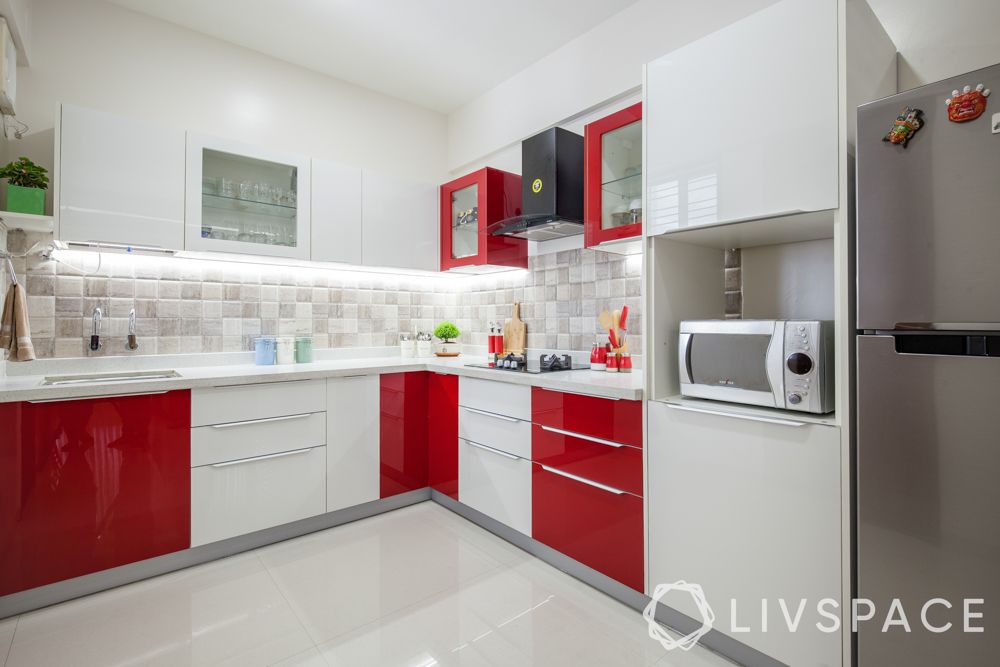 Layout
L-shaped
Colours
Red and white
This is not for the faint-hearted. The bright red cabinets are matched with white to balance the effect. This is one of those latest kitchen design trends we love!
#10: An Industrial Style Kitchen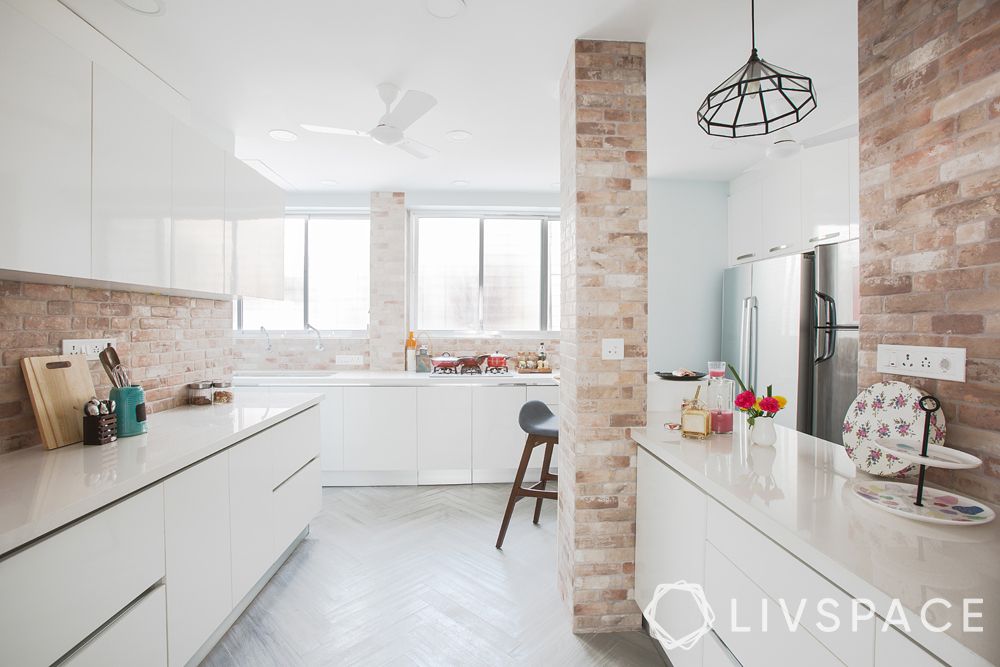 Layout
Straight
Colours
White and brick
Calling the free-spirited chefs out there! Perfect for singles and families, this kitchen design is made fun by the exposed brick backsplash, which gives it an industrial look. One of our favourite kitchen design trends!
#11: A Timeless Kitchen Design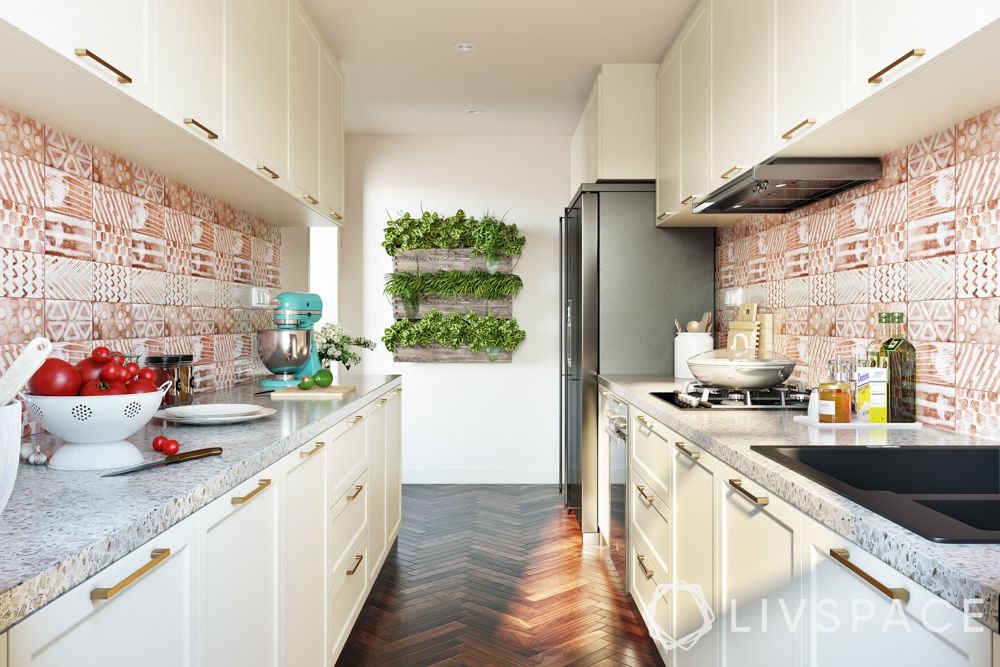 Layout
Parallel
Colours
Neutrals
Those who want a design to stay flexible over time should invest in a kitchen that's neutral. You can experiment with the backsplash if you want!
#12: Distressed Wood Patterns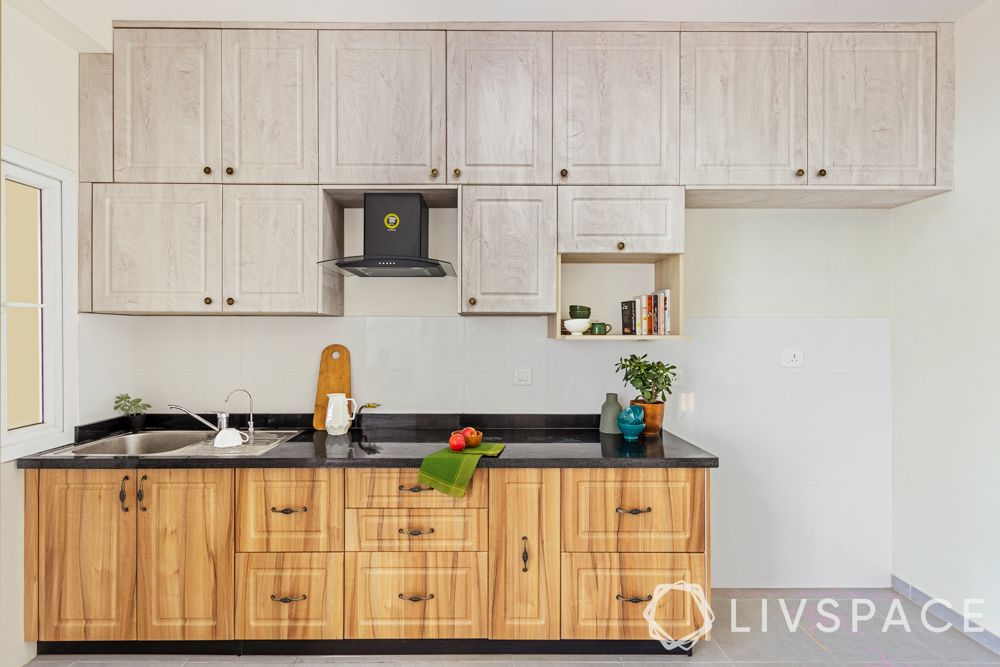 Layout
Straight
Colours
Light and dark shades of distressed wood
Wooden tones are in, and how! Give your compact one-wall kitchen this design for a timeless look. This is a great idea for low budget kitchens.
#13: White and Green Kitchens are Trending in 2021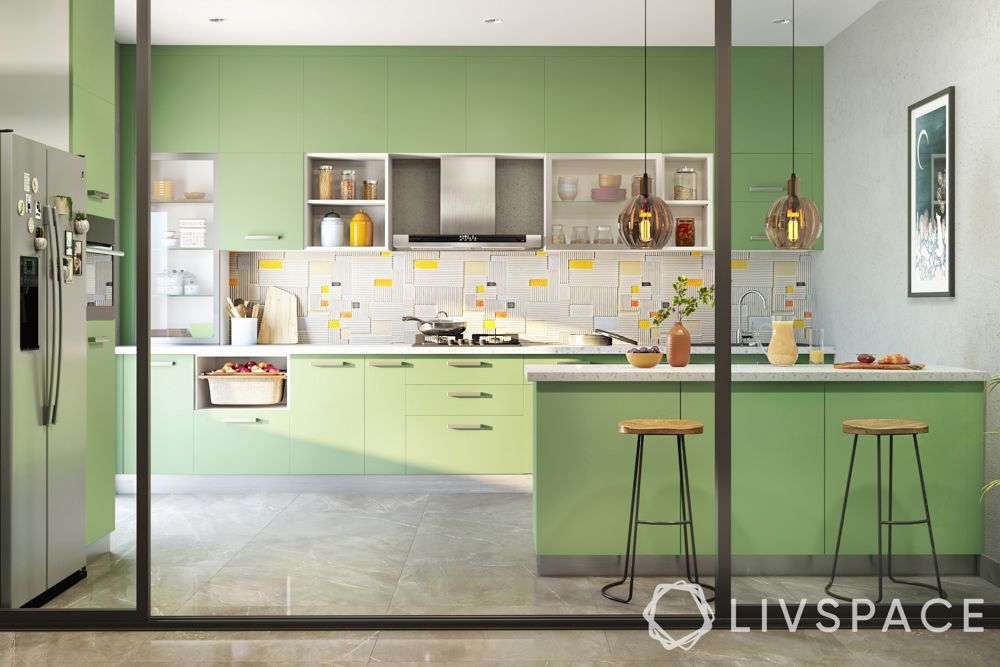 Layout
L-shaped
Colours
White and green
A combination of open, closed and glass shuttered cabinets, this kitchen is perfect for big families.
#14: A Traditional Look With Wood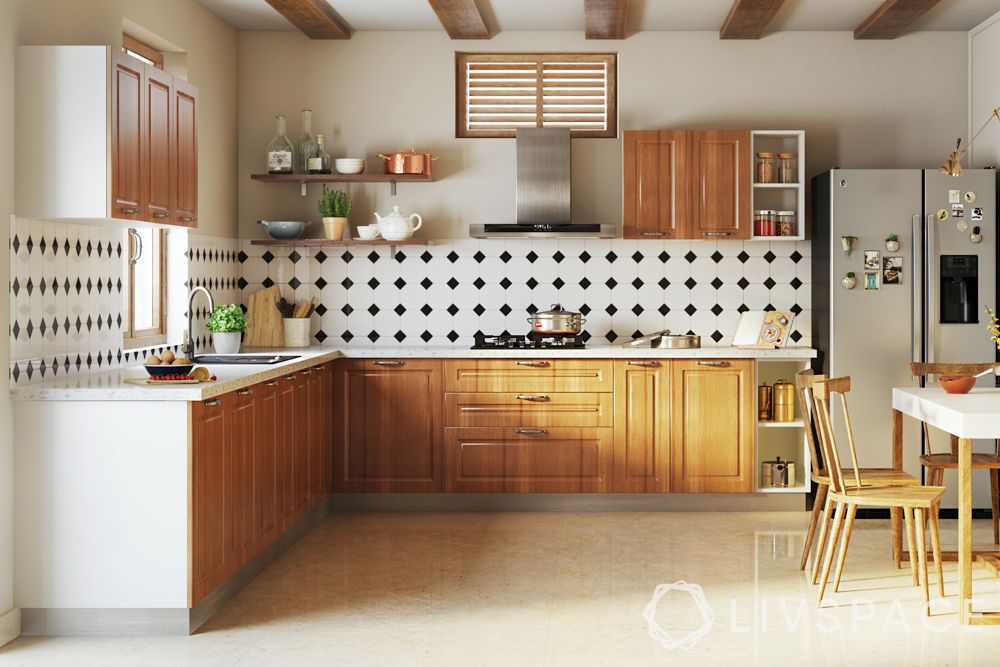 Layout
L-shaped
Colours
Wooden tones and white
Intelligent space planning can transform a compact space into a power-packed zone like this one. With dedicated zones for all needs, this kitchen design is both accessible and easy-to-use.
#15: Whimsical Whites for Your Kitchen Design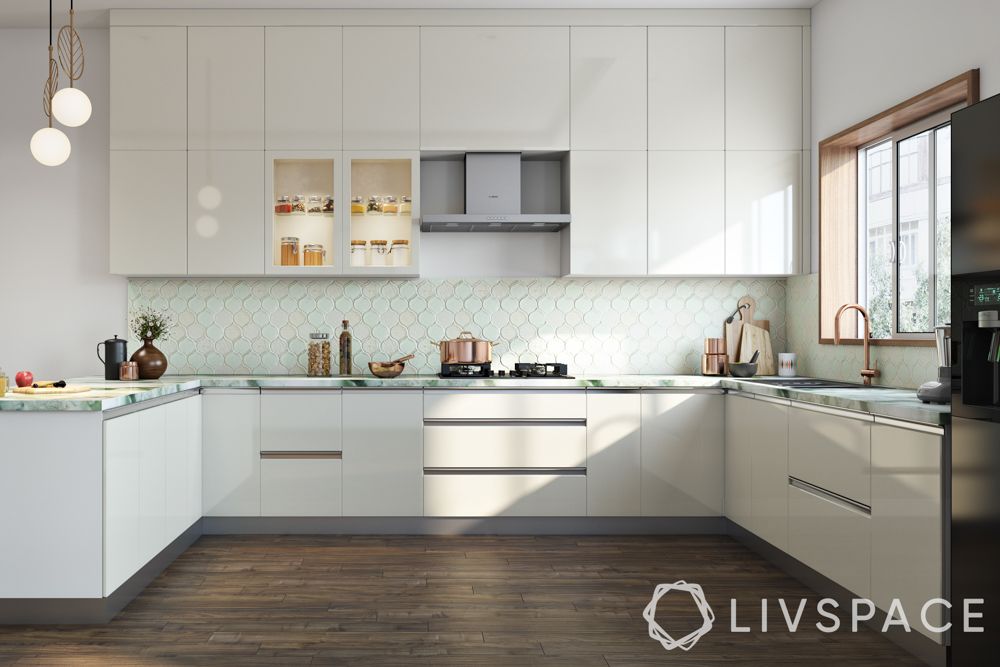 Layout
L-shaped
Colours
White
White never goes out of style! This kitchen design is proof of that. Get a finish that is easy to clean and maintain and you're good to go!
#16: Blazing Hues of Orange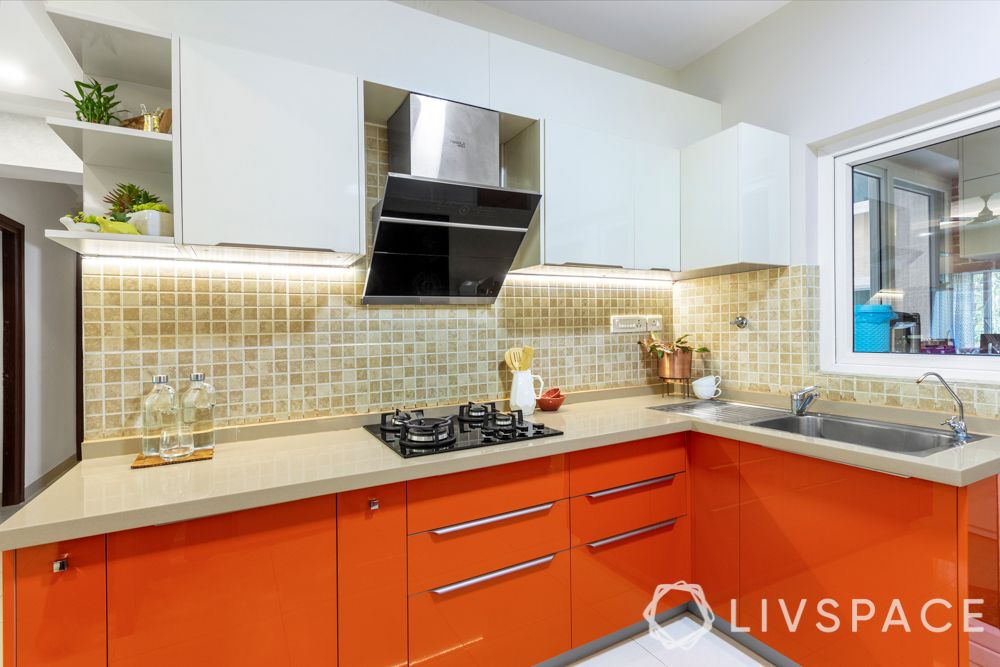 Layout
L-shaped
Colours
Orange, white and beige
Who ever thought orange could mix with white so well! Uplift the mood in your kitchen by giving it a makeover like this. Perfect for small kitchens.
#17: A Stunning Open Kitchen in Teal Blue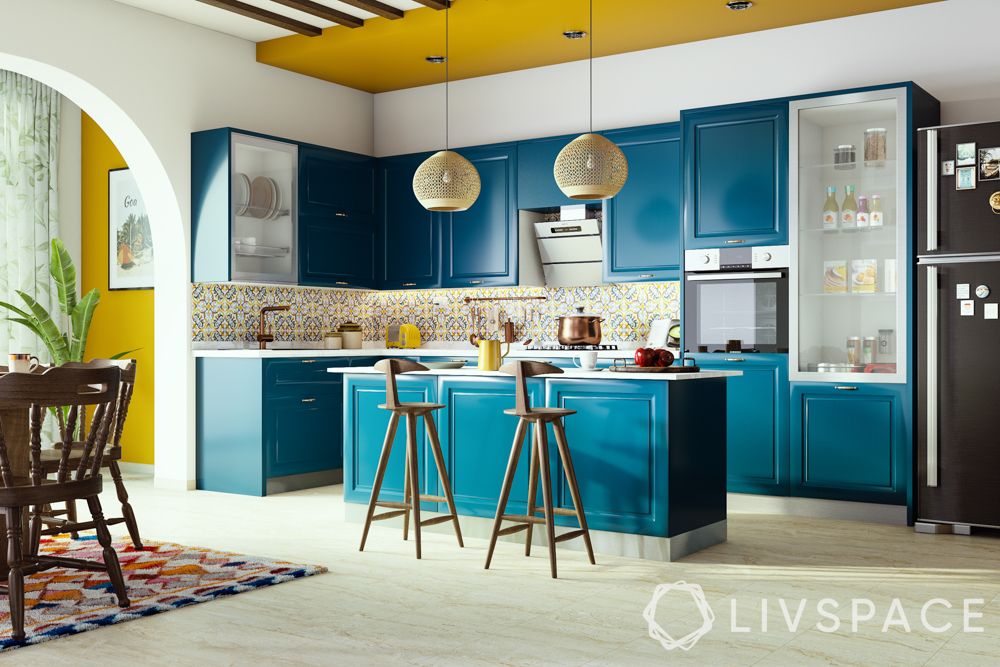 Layout
Open
Colours
Teal blue
This is one of our most favourite designs for its stunning aesthetic and simplicity. Large spaces really come to life with bold hues like this.
#18: A Unique Backsplash Design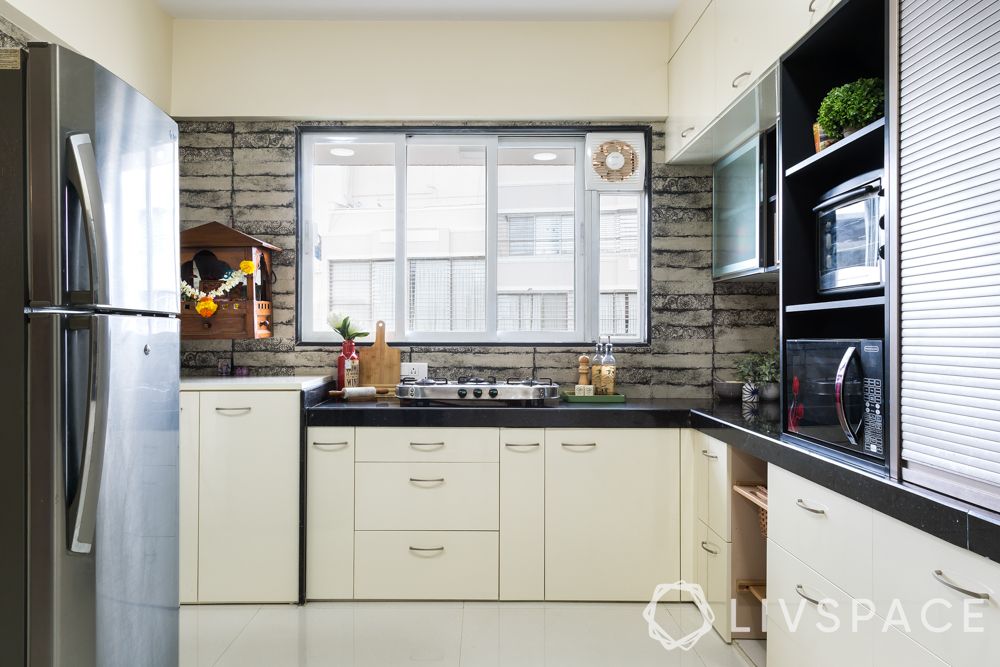 Layout
G-shaped
Colours
Black and white
Predominantly white, this kitchen combines lighter tones with black for a stunning effect. Also, this kitchen has a unique G-shaped layout.
#19: Kitchen Designs in Dark Shades are Popular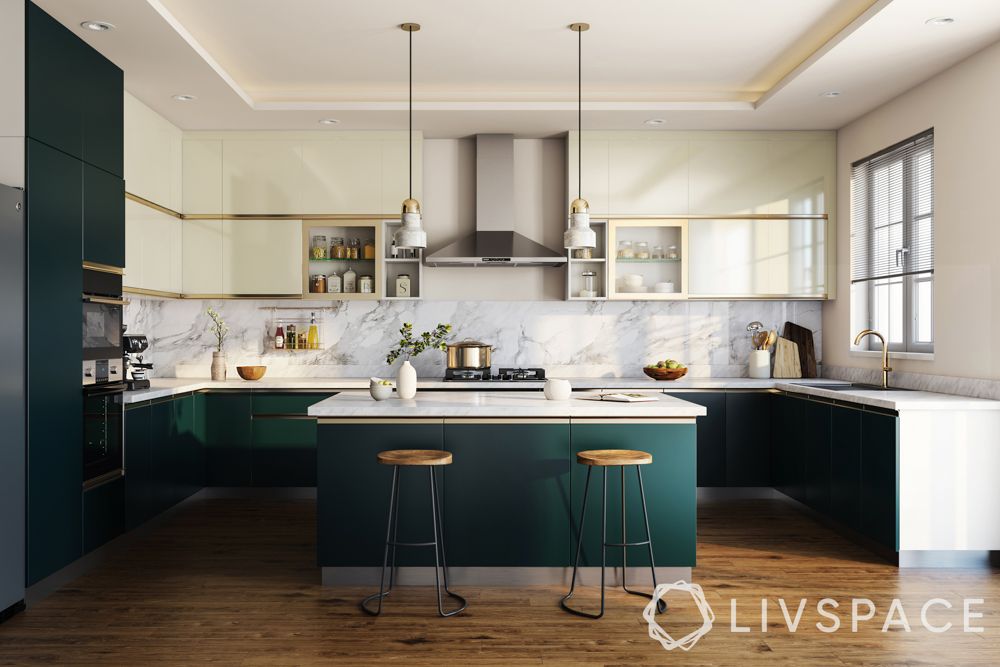 Layout
U-shaped
Colours
Dark green and beige
If you have the luxury of a large kitchen, you should absolutely invest in kitchen designs such as this, with plenty of counter space, storage options and a beautiful island for the whole family to congregate.
#20: Glossy Finishes FTW!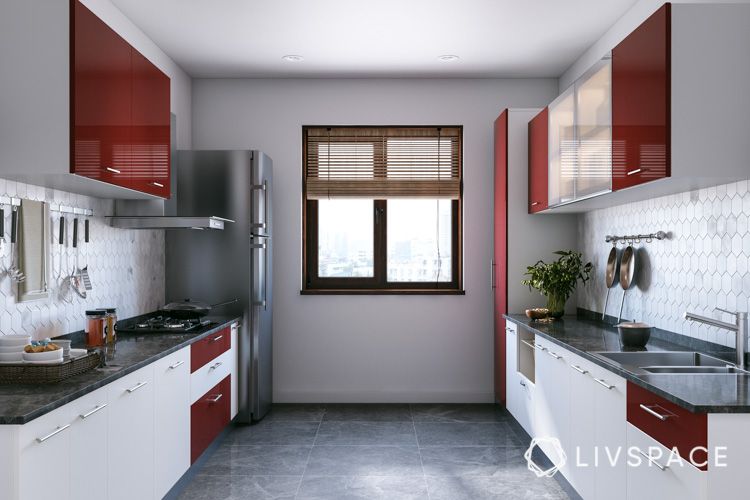 Layout
Parallel
Colours
Red and white
Finished in high gloss, the cherry red can be quite breathtaking for an onlooker. This kitchen design can be yours! Go here, to know how much it will cost you.
#21: A Fully Equipped Kitchen Design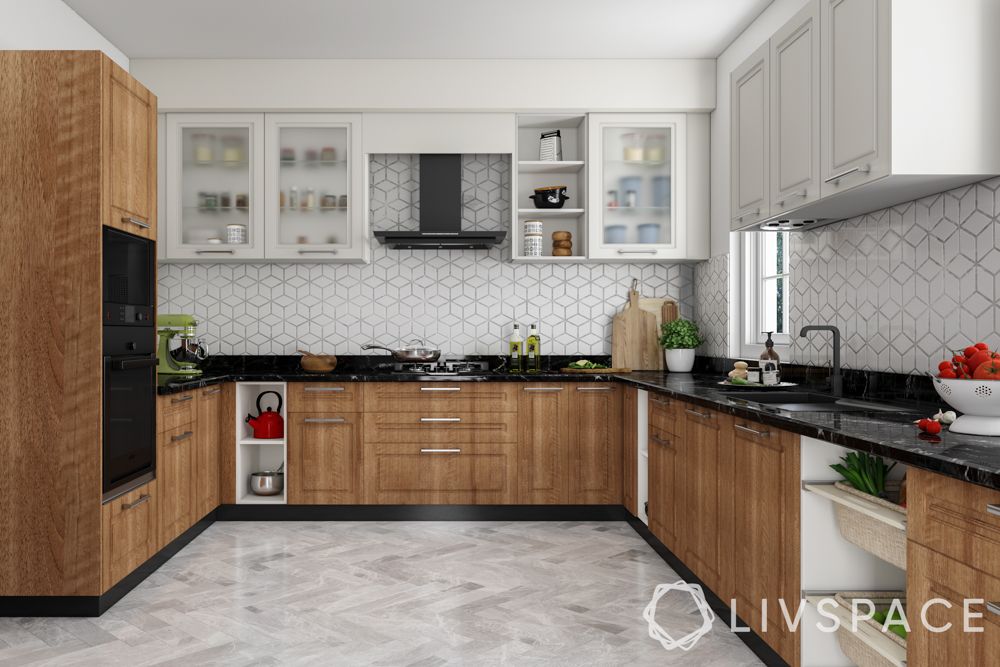 Layout
U-shaped
Colours
White and wood
We decided to give you some conventional but always popular options like this. Wooden grains bring a warmth that is unparalleled.
#22: When the Backsplash is the Showstopper!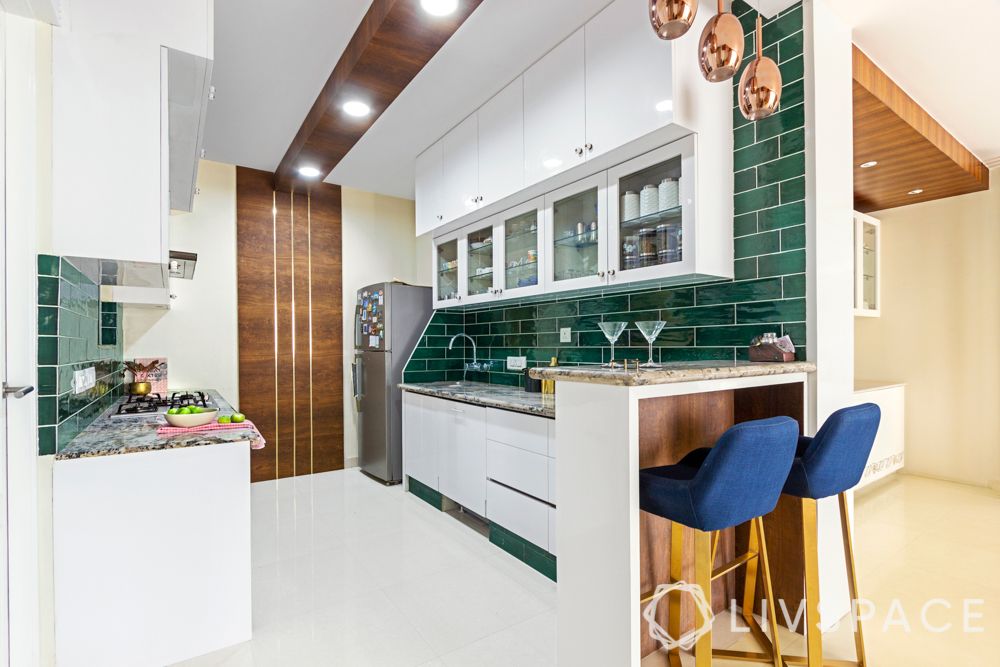 Layout
Peninsula
Colours
White with a green backsplash
Open kitchens can be welcoming and fun when designed well. Team up contrasting shades for a stunning finish.
#23: An all Red Compact Kitchen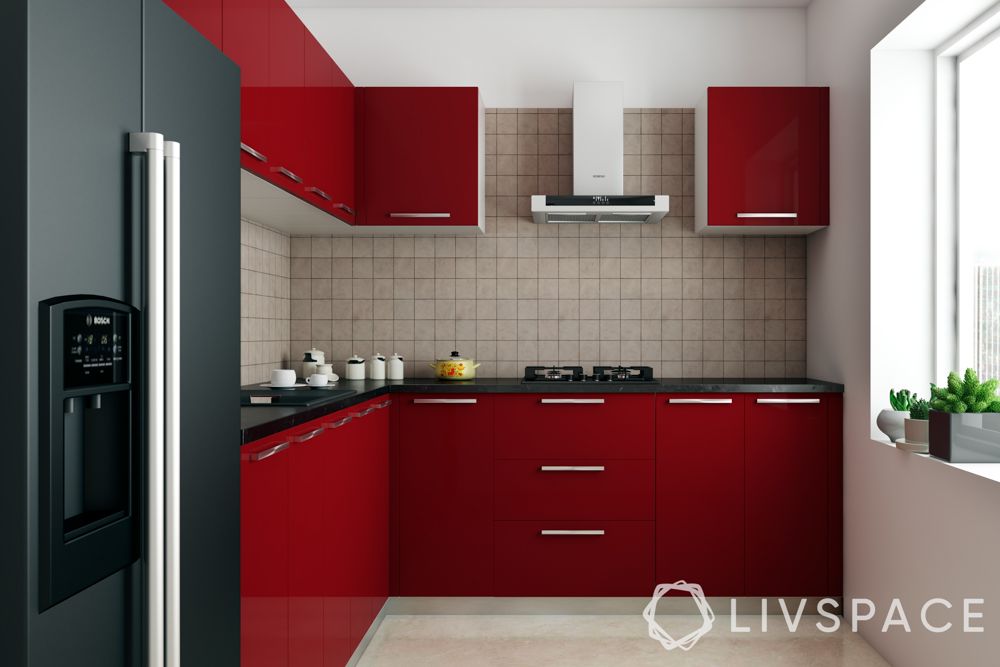 Layout
L-shaped
Colours
Red
If you have the luxury of plenty of natural light, we recommend a bold red such as this that will take your breath away!
#24: Kitchen Designs With Extra Counter Space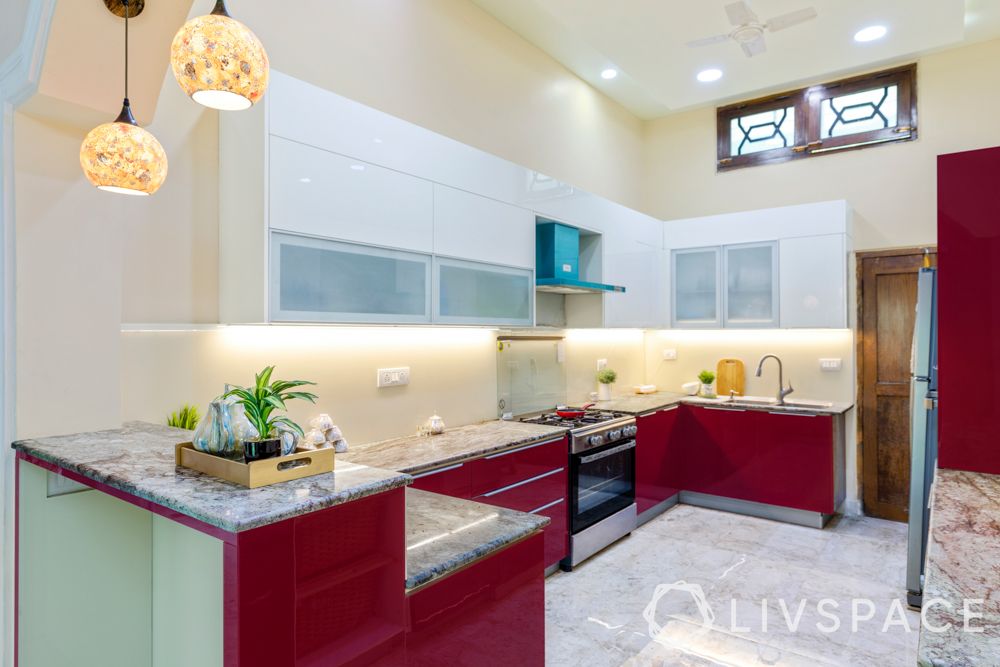 Layout
Peninsula
Colours
Red and white
Did you know that doing up the overhead cabinets in white or cream can make the room feel bigger? Try it and add a stunning backsplash and pendant lights for an overall charm in kitchen designs.
#25: Sunny Side up, Please!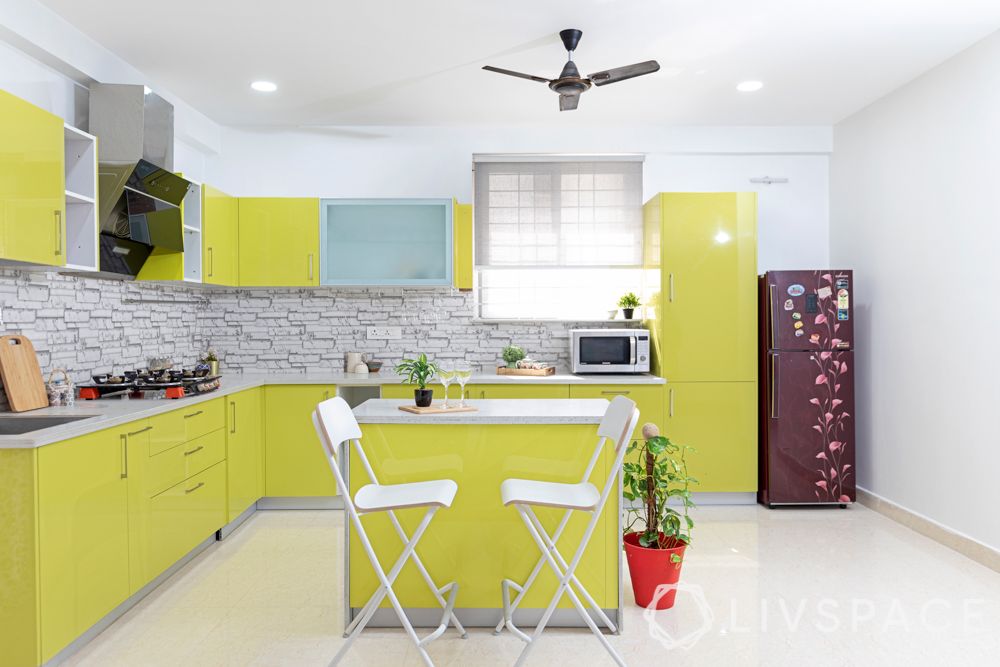 Layout
L-shaped with island
Colours
Yellow
Island kitchen designs come in handy where there is little counter space. You can mix-n-match quirky shades for that fun factor.
#26: You can Never go Wrong With Black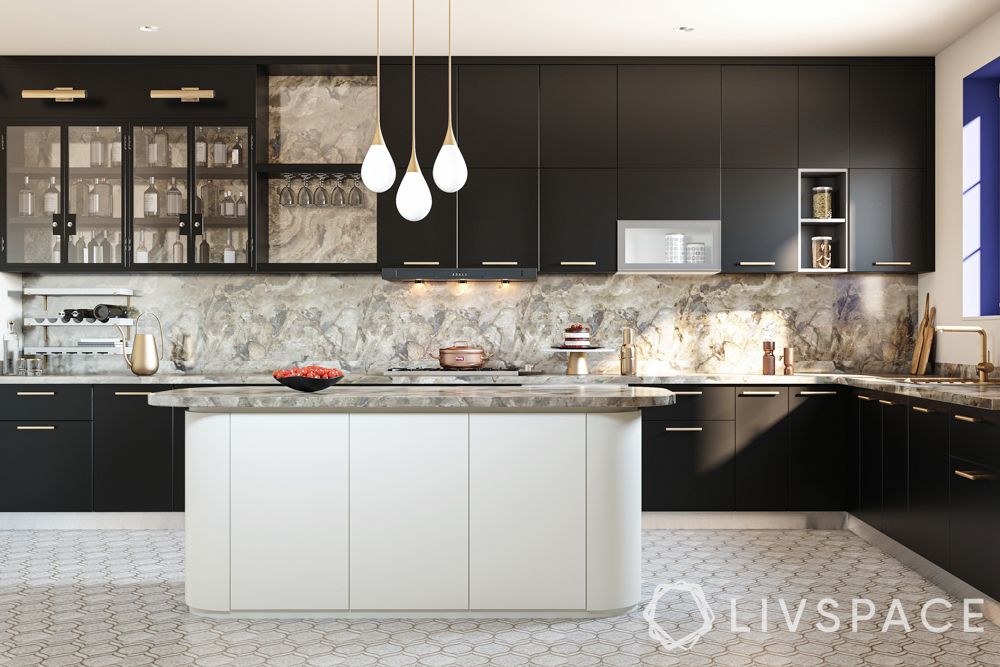 Layout
L-shaped with island
Colours
Black and white
If you have a large family, this layout will be perfect, allowing multiple cooks to work at the same time. The shades are basic, but impressive.
We have more designs for you right here: 15+ Ideas | Big Makeover for Small Kitchens.
How Can Livspace Help You?
We hope you found our ideas useful! If you want your home to be just as beautiful, then look no further. Book an online consultation with Livspace today. Delivering safe home interiors has been our No. 1 priority. Click here to find out how interiors are being delivered following all safety protocols.
Write in with your suggestions and comments to editor@livspace.com.