How many times has a well-meaning friend advised you to wear black or dark blue to look slimmer? While we all look great in every colour of the rainbow (body positivity here we come), why do we settle for darker colours to look our best? This is because colours have a profound impact on size. And this rule applies to kitchens as much as humans. This is why, some kitchen colour combinations look amazing in large kitchens but stuffy in smaller ones.
While kitchen design and accessories are crucial from an ergonomic point of view, it's the colour that makes a kitchen look appealing. However, the perfect kitchen colour combinations will not look the same for kitchens of different sizes. That is why we have created a segregated list of the best colour combinations for small, medium and large kitchens!
Why Are Colours Important for Your Kitchen Design?
When you enter a room, what's the first thing that you notice? Yes, it's the colour! Colours do so much more than just make a space look pretty. The right hue can make a compact room look big, change the design style of a home and personalise your interiors as per your style. Now considering that the kitchen is a place where you spend a significant amount of your time, choosing the perfect modular kitchen colour combinations can create a happy, relaxed and conducive ambience, making your time in the kitchen productive.
What Are the Latest Kitchen Colour Combination Ideas in 2022?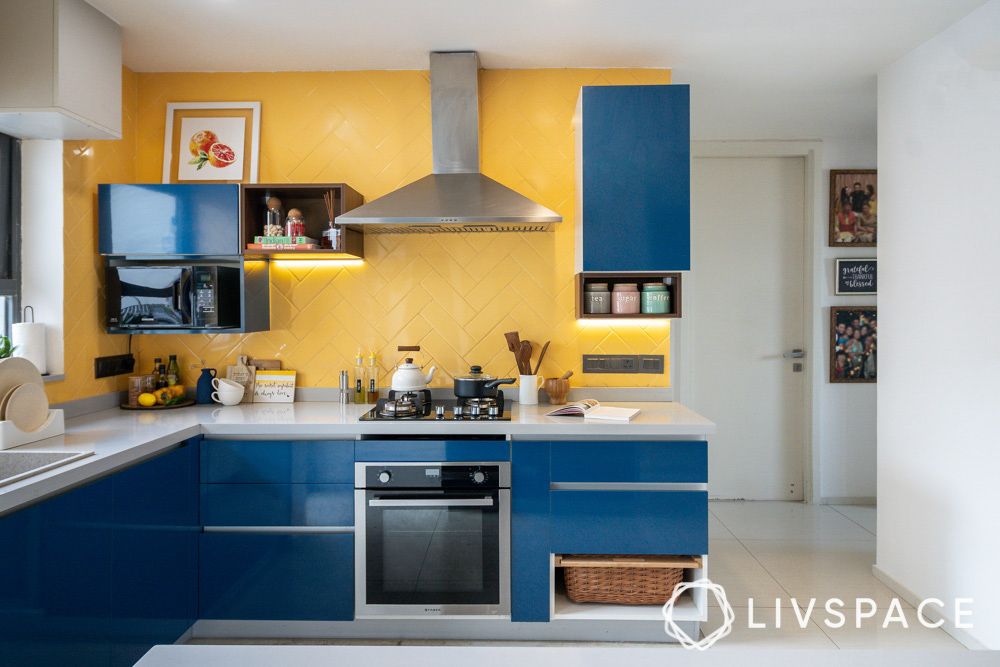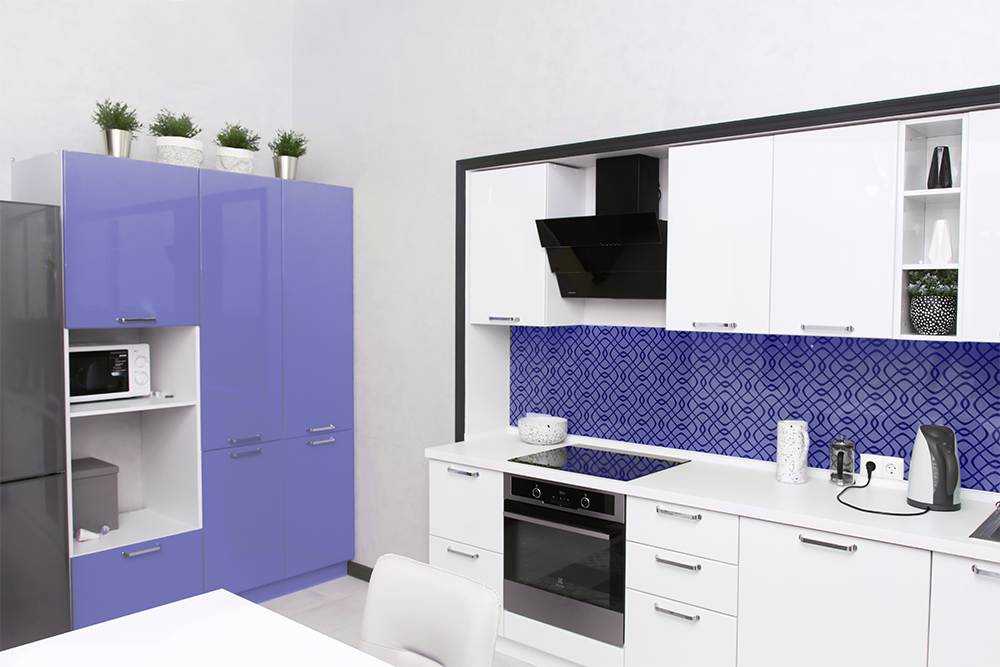 Now, when you are choosing kitchen colour combinations, the first criteria that you must consider are the current trends. So what are the kitchen colour trends of 2022? Well, the list would be incomplete without the Pantone colour of the year – Very Peri. Apart from this, it is the right time to use bright contrasting kitchen colour ideas such as yellow and blue.
Also Read: 5 of the Best Modular Kitchen Colour Combination Trends for 2022
Latest Colour Ideas for Small Kitchens
Size (Approx. in feet) – 8×10
Let's admit it – most kitchens in urban Indian homes are compact! But that does not mean that your kitchen must also appear small or compact. Colours can make a room look so much more spacious than it actually is. The best colour combination for kitchens that need a little space expansion are lighter shades such as whites or neutrals. These colours in reflective/glossy finishes, can make even the smallest of kitchens can look spacious!
#1: Stick With the Monochromes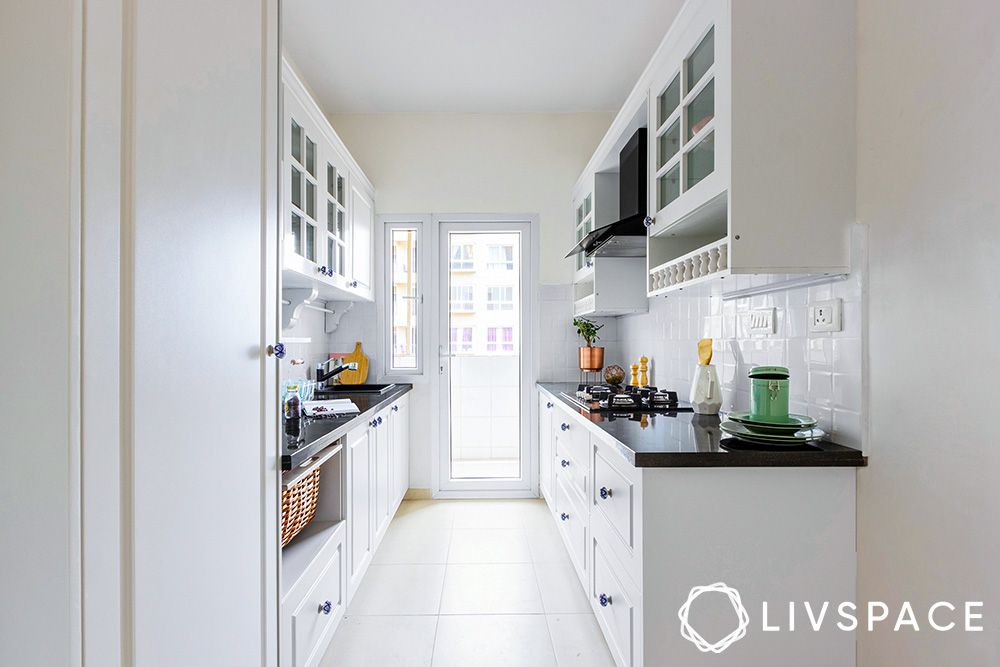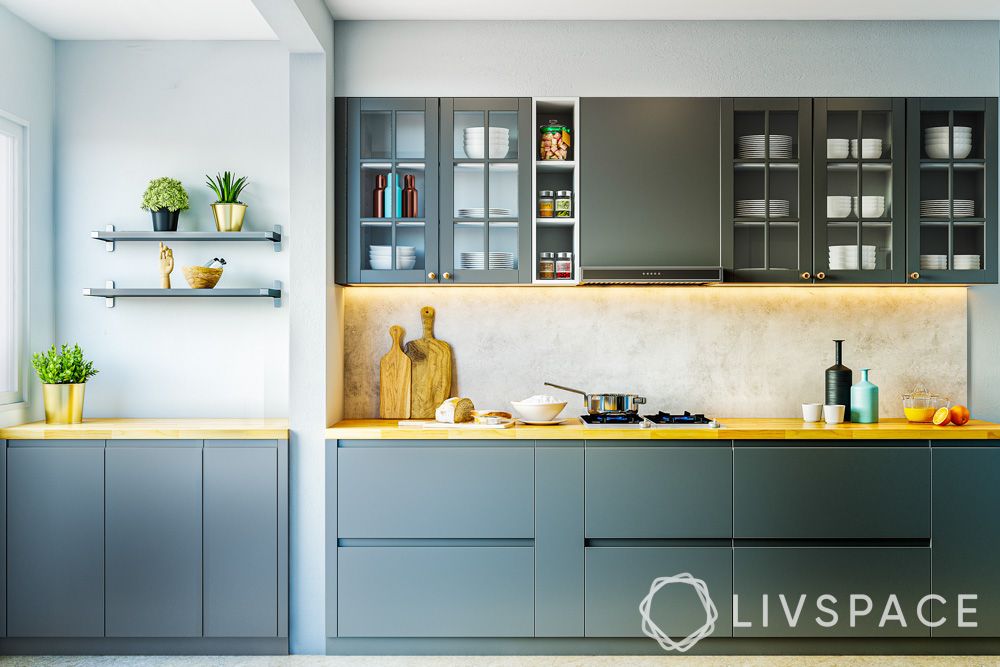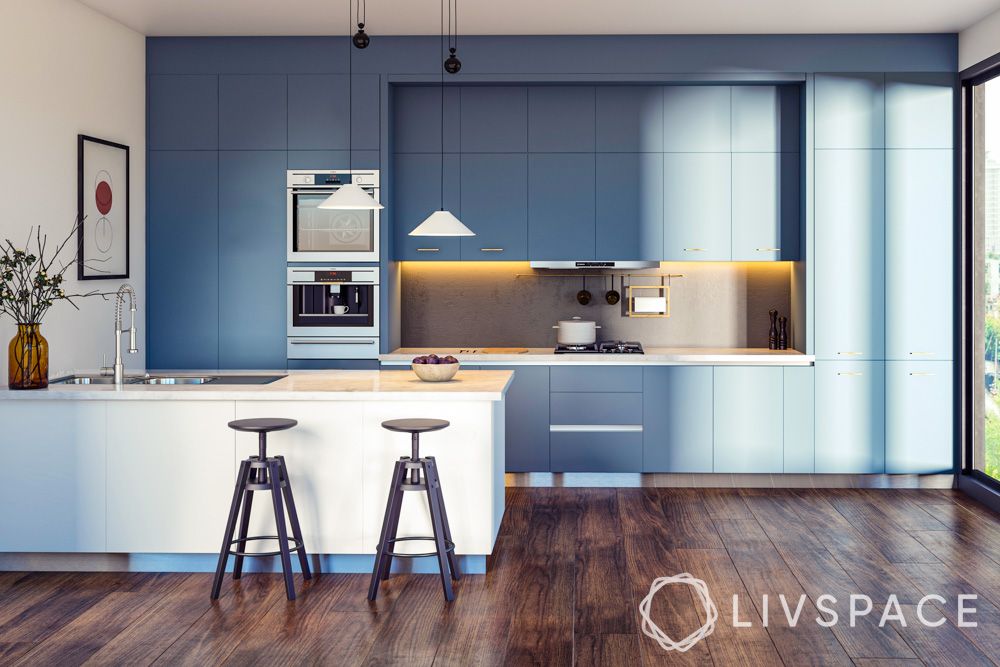 Monochromes are a popular choice when it comes to small kitchen designs. These subtle kitchen colour combinations create a contemporary look and can open up the space. This is also a great way to incorporate black into your kitchen, a colour that you should generally avoid if the space is small. A monochromatic combination of black and white is classy, modern and will keep your kitchen from looking cramped. You can also opt for monochromes in neutral colour palettes like greys and beiges.
#2: Use White With Any Other Kitchen Colour Idea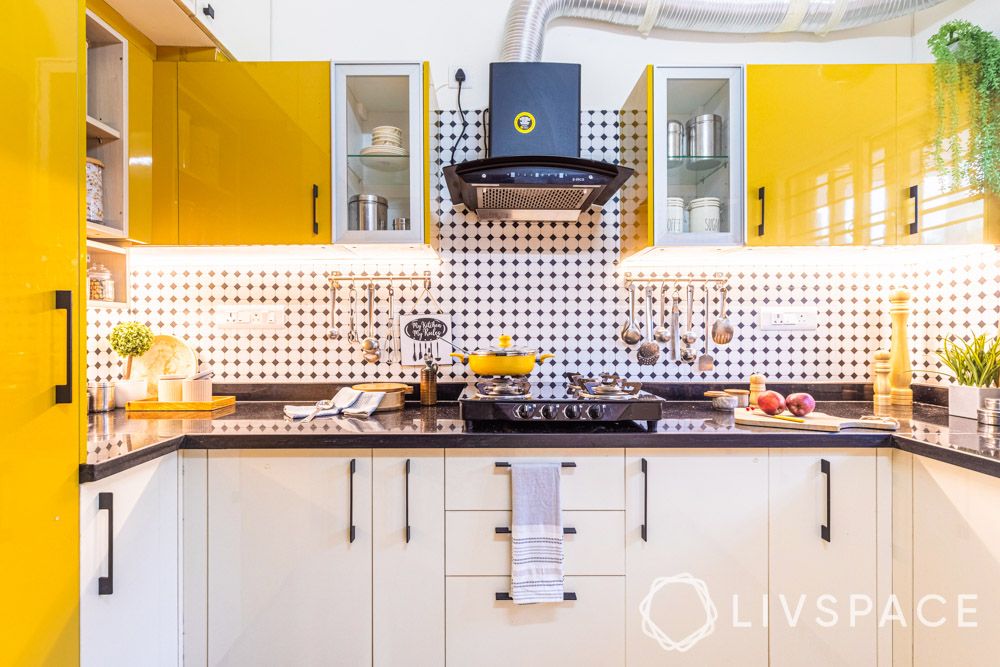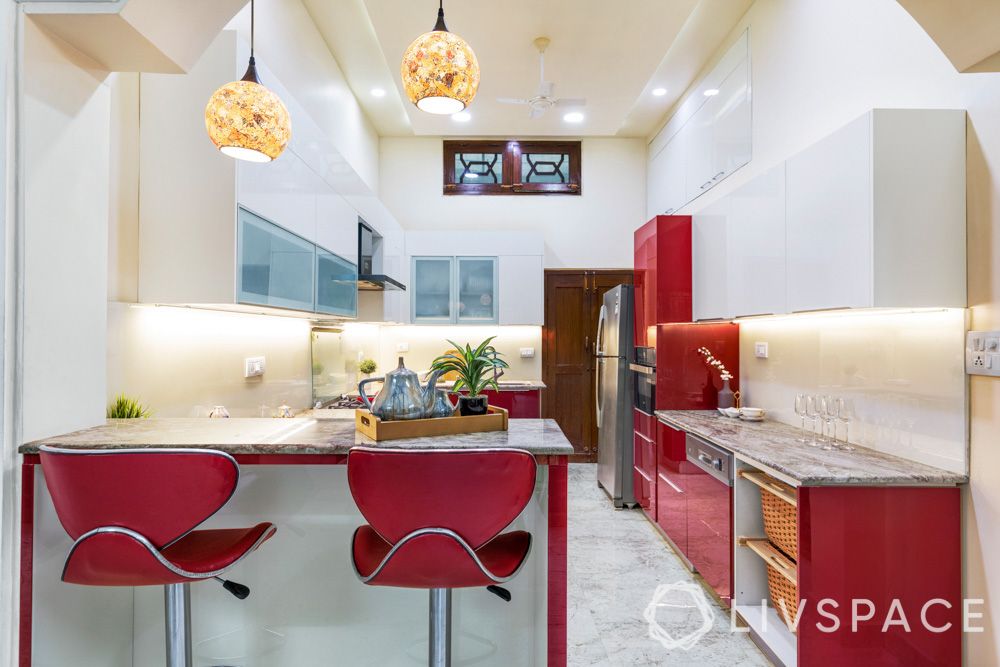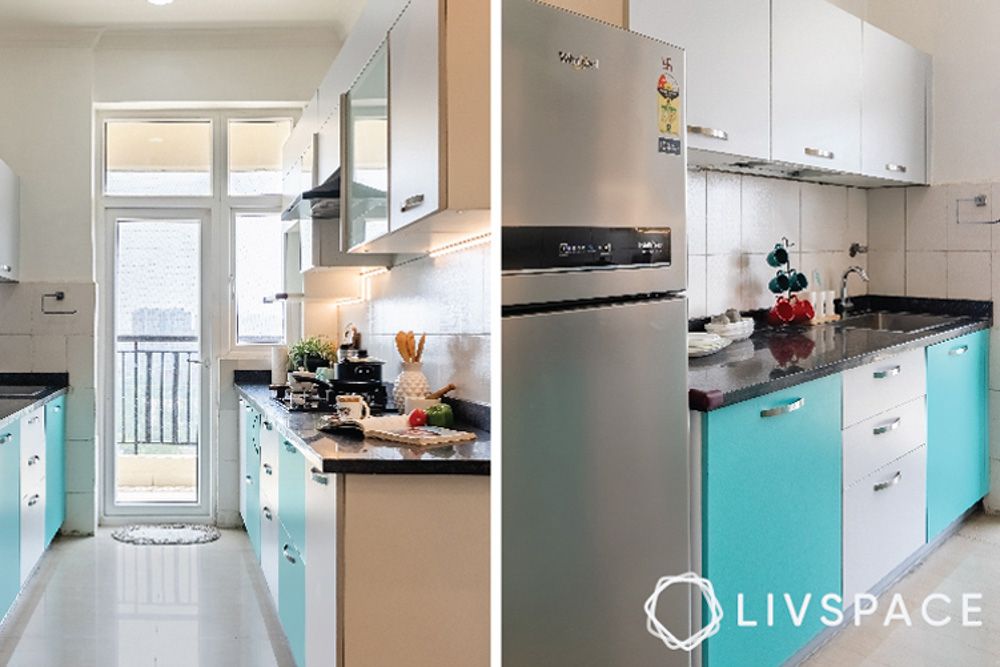 While selecting kitchen colour combinations, you would want something that is timeless and doesn't go out of vogue in years to come. And is there any colour as classic as white? In addition, white is also the perfect colour to make a space look big. An all-white kitchen would look amazing, but can be difficult to maintain. Hence, you can use white with any other shade of your choice and you're good to go! Be it a soothing aqua blue or a black, just about any colour looks perfect with white!
#3: Go Kawaii With Pastels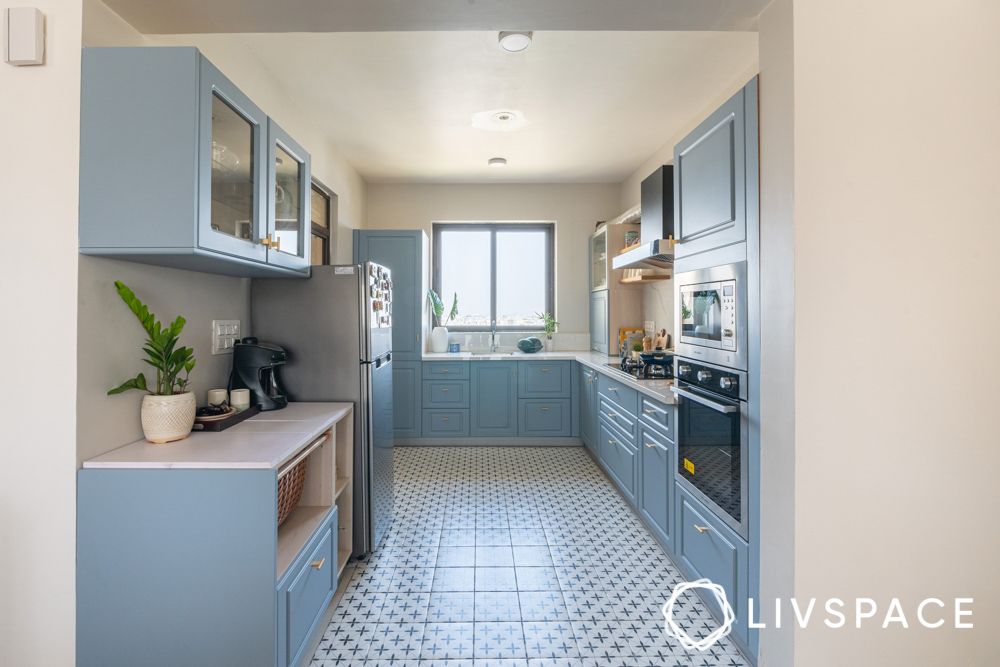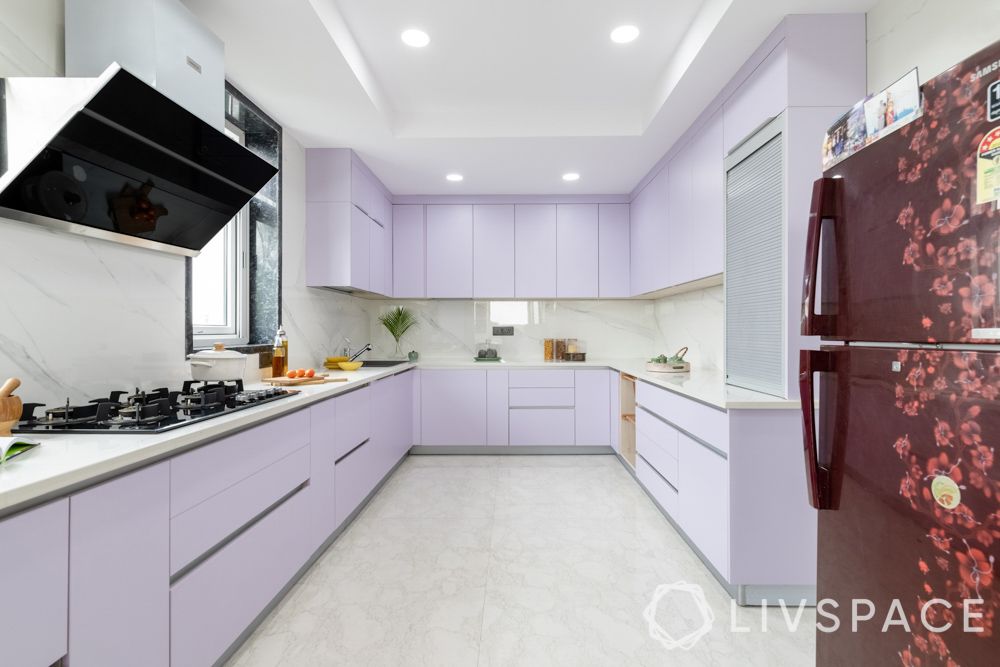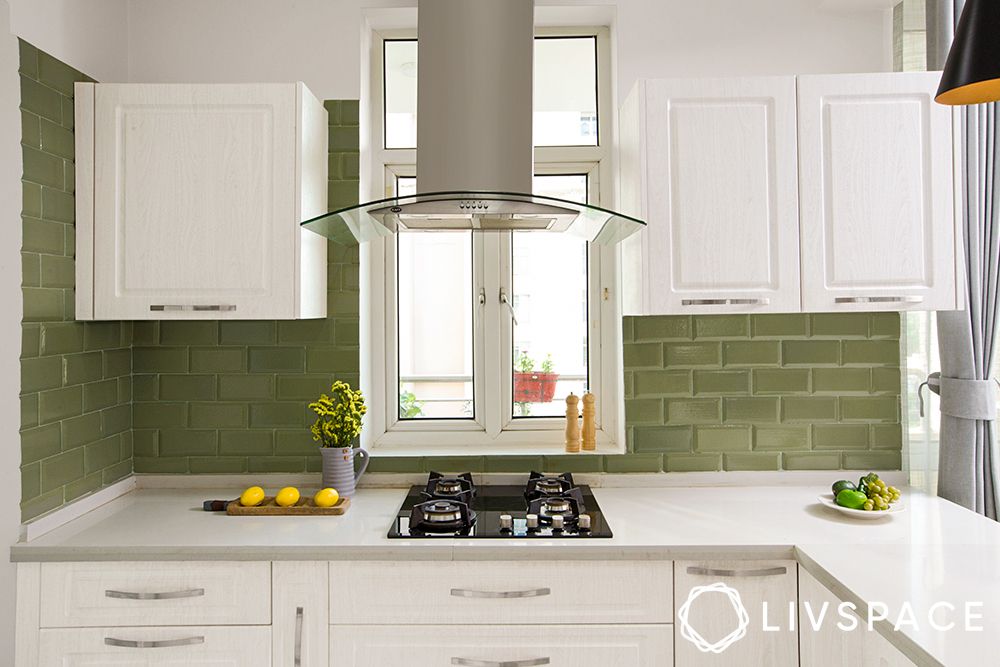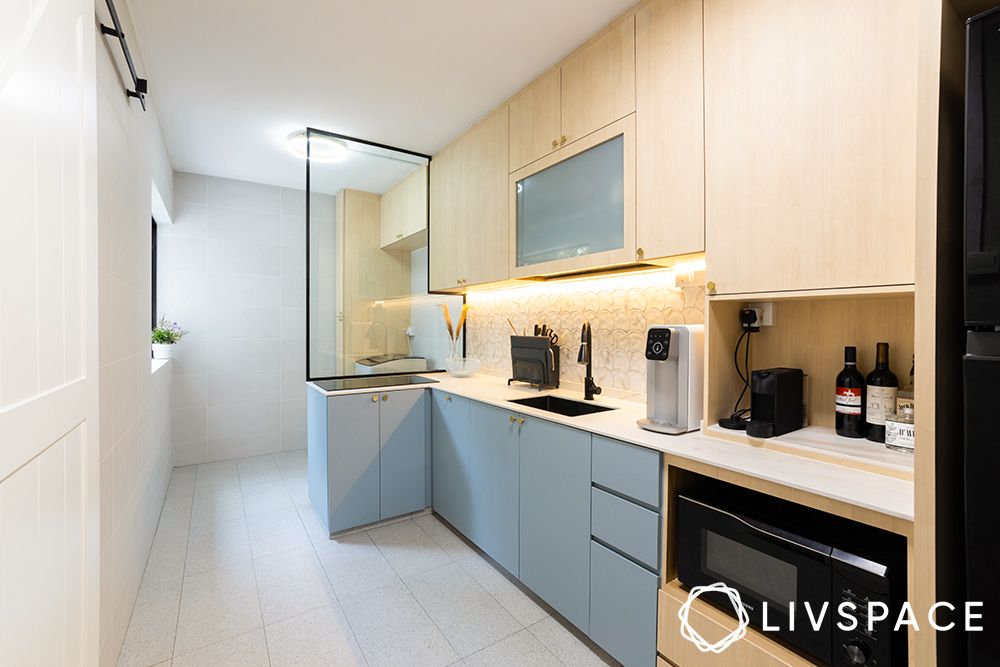 Pastels are amongst the top kitchen colour trends of 2022 and rightly so, considering how captivating they look! They are also a superb choice for small kitchens as they can open up a space and make it look clutter-free. Wondering about good kitchen colour combinations with pastel shades? Anything from white to neutrals to light wooden tones goes perfectly with pastel colours.
Also Read: 20 Best Colours for Small Kitchens That You'll Love
Best Colour Combinations for Medium-Sized Kitchens
Size (Approx. in feet) – 8×12
Not too big, not too small, but just right – medium-sized kitchens are the perfect size for most Indian families. So what are the top modular kitchen colour combinations that work best for medium kitchens? Let's find out.
#1: Jazz It Up With Grey Kitchen Colour Combinations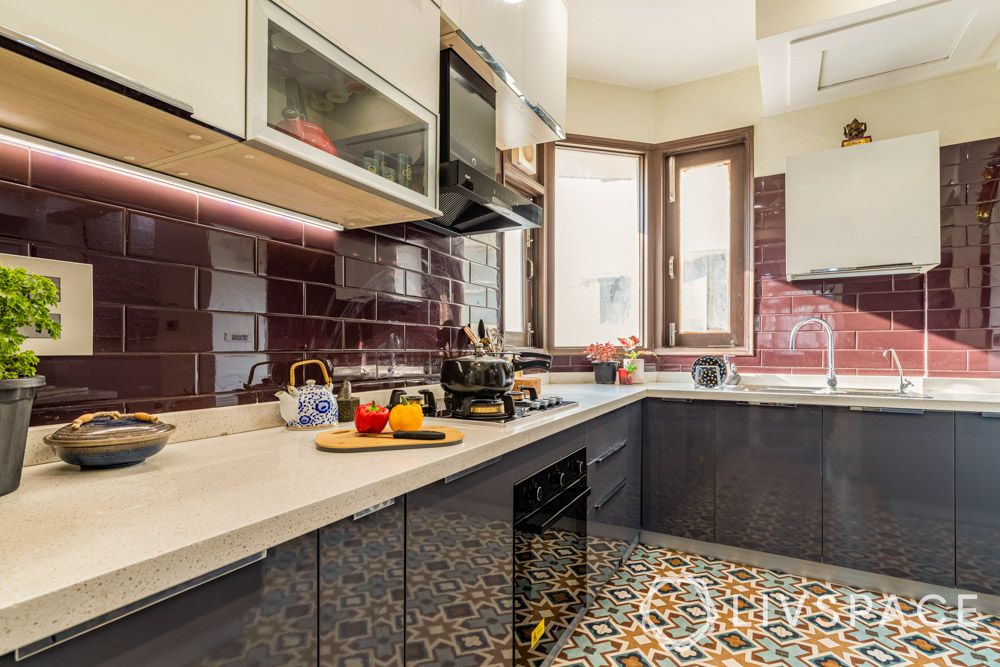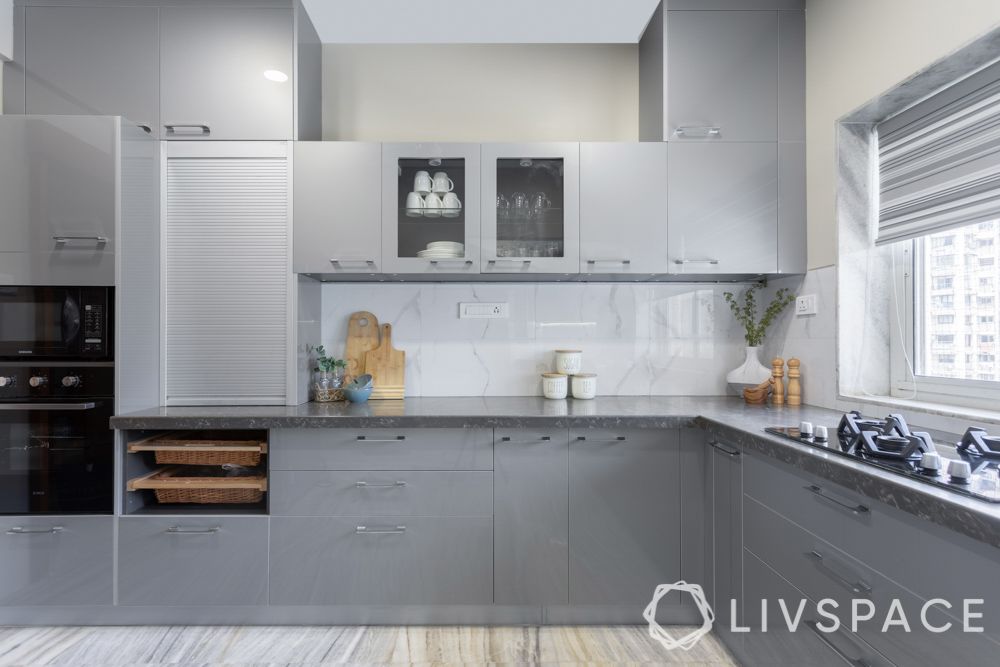 Cool, edgy and modern, grey is one colour that millennials seem to love for their homes and kitchens! This metallic tone is a winner if you have a medium-sized kitchen. Now if you think all-grey looks dull, you can opt for deeper and lighter tones of grey for the upper and lower cabinets. You can also mix it up with other neutral shades to make it more interesting.
#2: Stay Relevant With Yellow Kitchen Colour Combination Ideas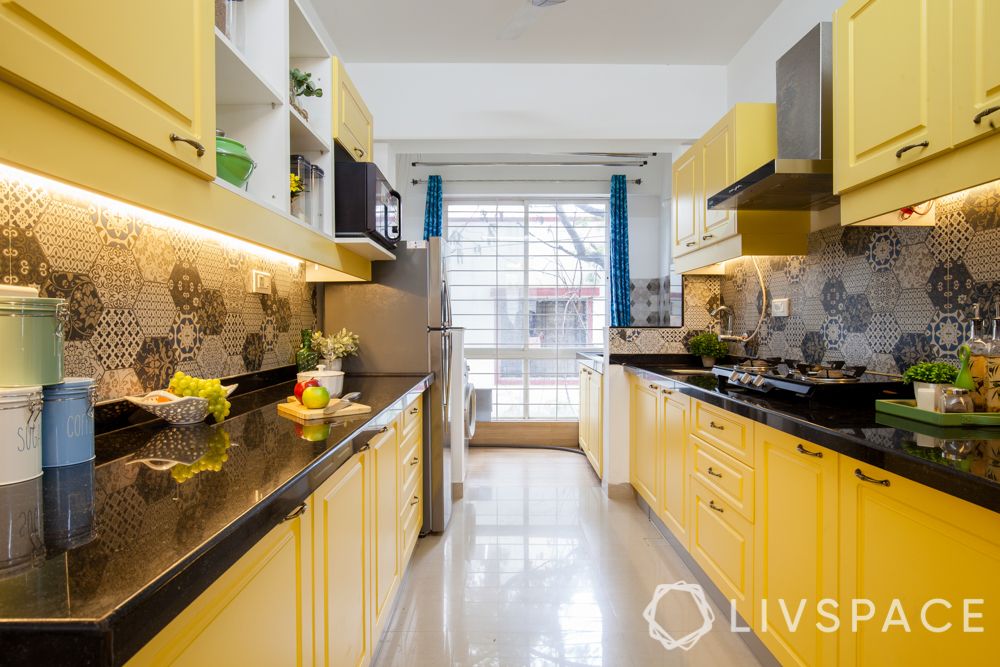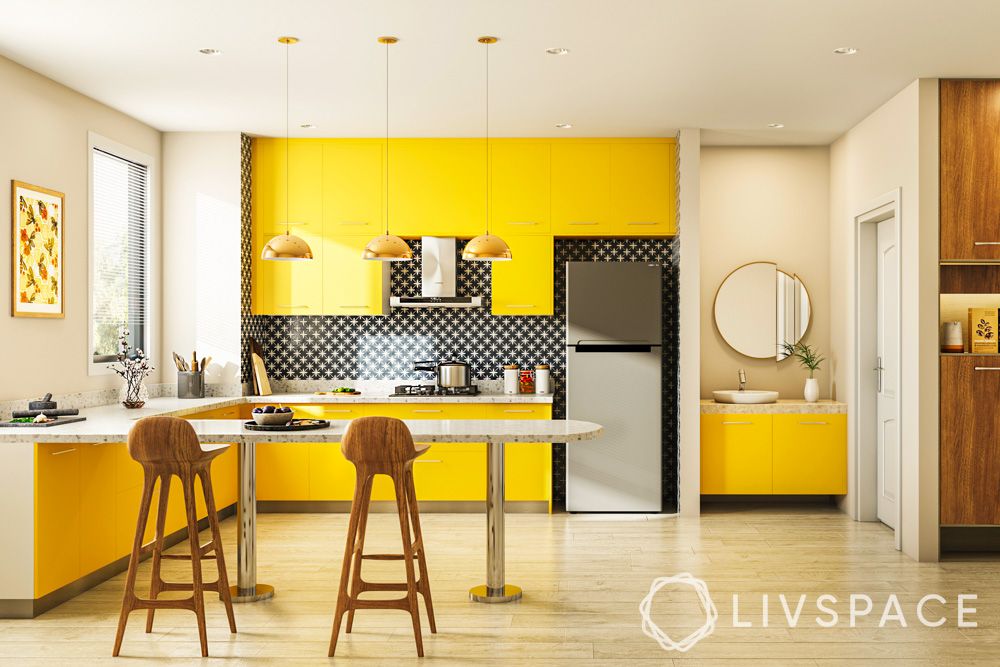 Bright, sunny and vibrant, yellow is such a happy colour that we just can't get enough of it! Even Vastu says that yellow is the perfect colour for your kitchen, especially as the kitchen is considered to be the abode of Lord Agni. Now, while a bright yellow alone might make your kitchen look cramped if space is less, it is a brilliant colour for medium and large kitchens. Additionally, when it comes to kitchen colour combinations with yellow, choose white to make the perfect mix of vibrance and elegance. You can also go for an all-yellow kitchen; but, remember to use different hues of yellow for a compelling look!
#3: Amp Up the Kitchen With a Splash of Rich Blue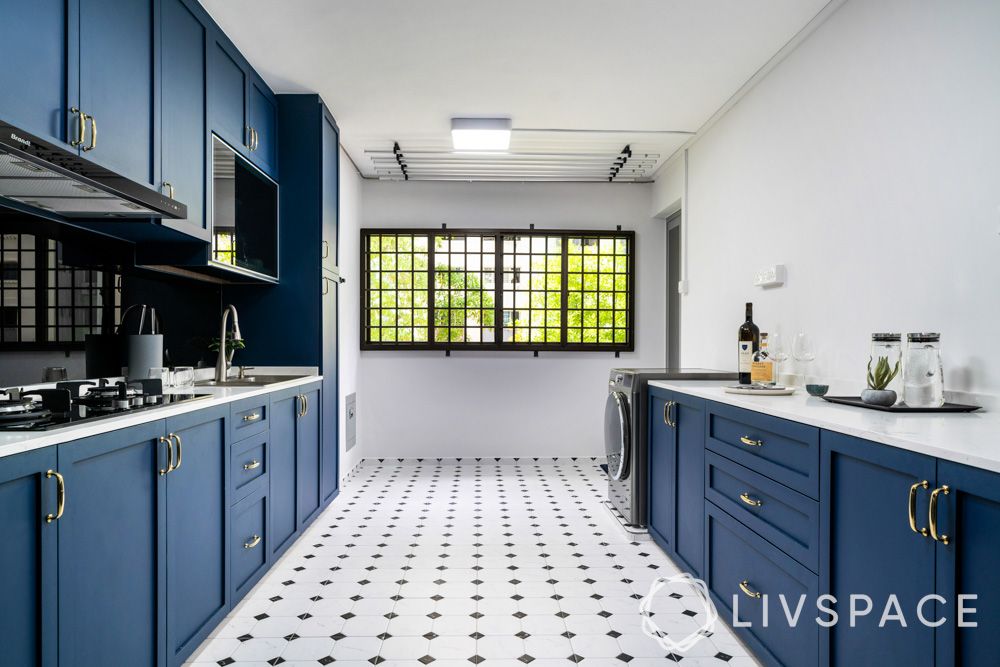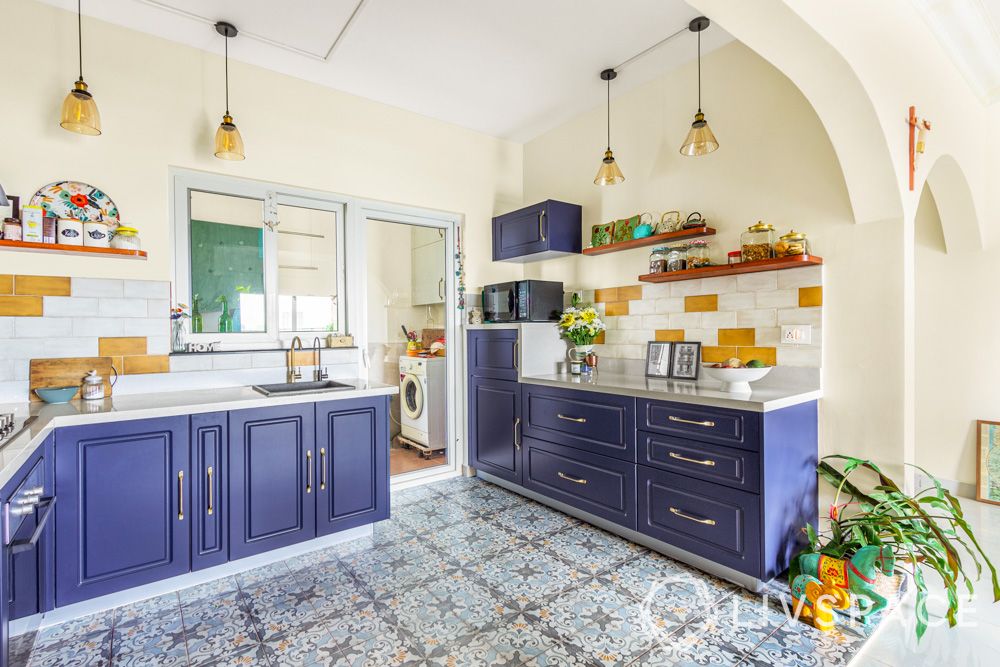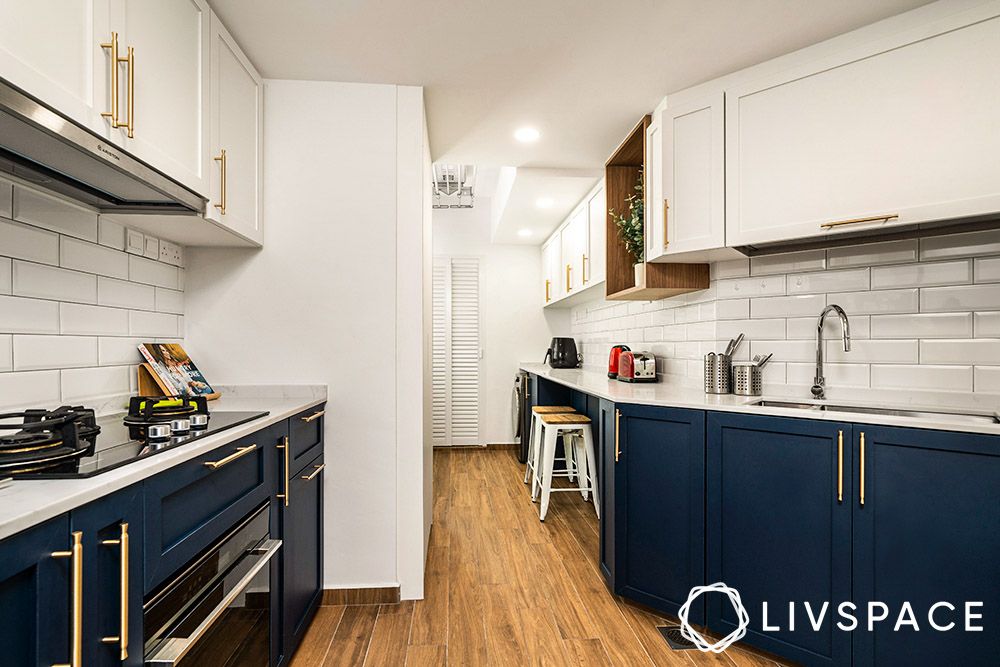 This colour is one of the best colour combinations for kitchens you could opt for. It gives a regal but soothing vibe with its mature, deep and rich shade, and it can brighten up any space. Moreover, if you have a kitchen that is medium/large, this is the perfect colour to add a bold touch to your kitchen. And what's the best modular kitchen colour combination for blue? White, of course! A royal blue and white kitchen is classy, bold and oh so striking!
Colour Combination Ideas for Large Kitchens
Size (Approx. in feet) – 10×12
If you have a large kitchen, you're one of the lucky ones! But what should you keep in mind while selecting the kitchen colour combinations for a large kitchen? When you have ample space, the colour palette can set the vibe of the room. So, whether you want a warm, country-style kitchen or a modern, industrial-style one, these colours can help you get the look right!
#1: Never Go Wrong With Black and Black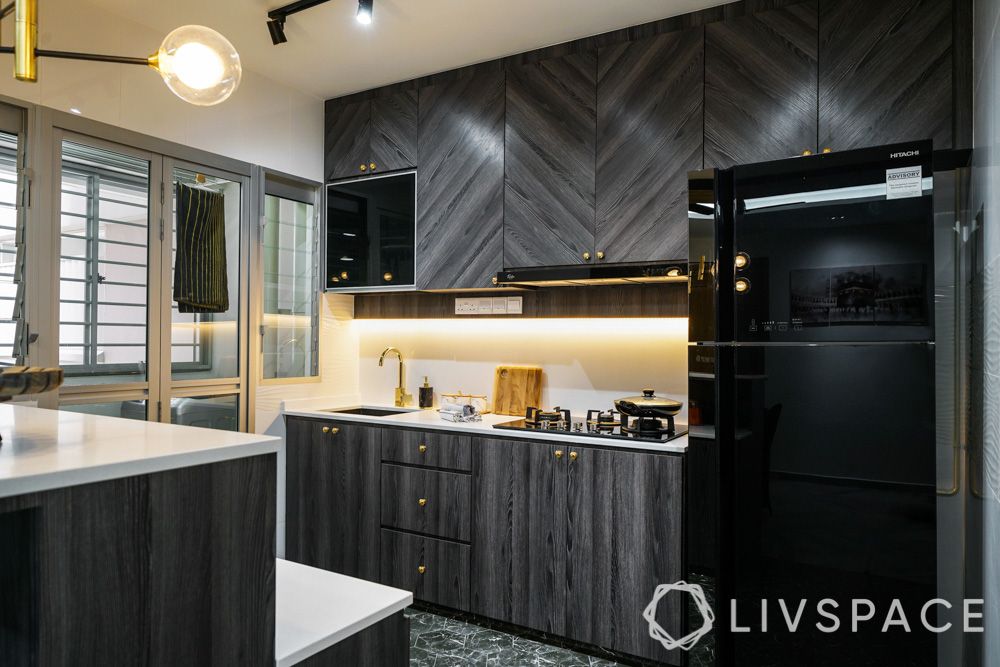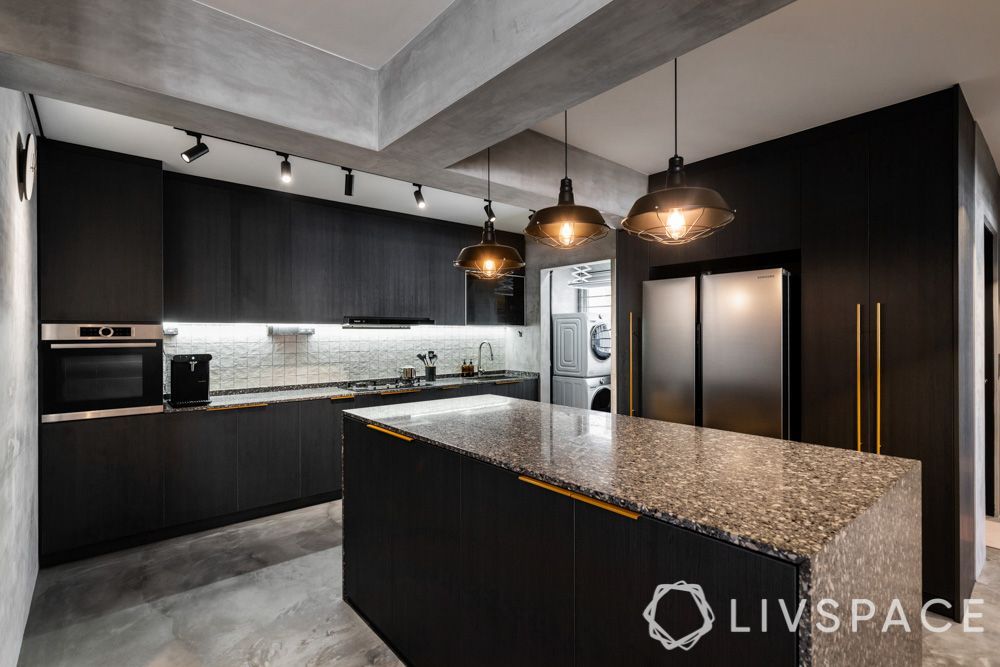 There is something inherently elegant about black kitchens. They look effortlessly sleek and expensive. While black may not be an appropriate colour for smaller kitchens as it can make the space look cramped, you can definitely opt for it for your spacious kitchen. Additionally, to you want to add some glam to your black kitchen, go for a unique pattern like the herringbone pattern for your kitchen cabinets.
#2: Consider the Combination of Dark Blue and White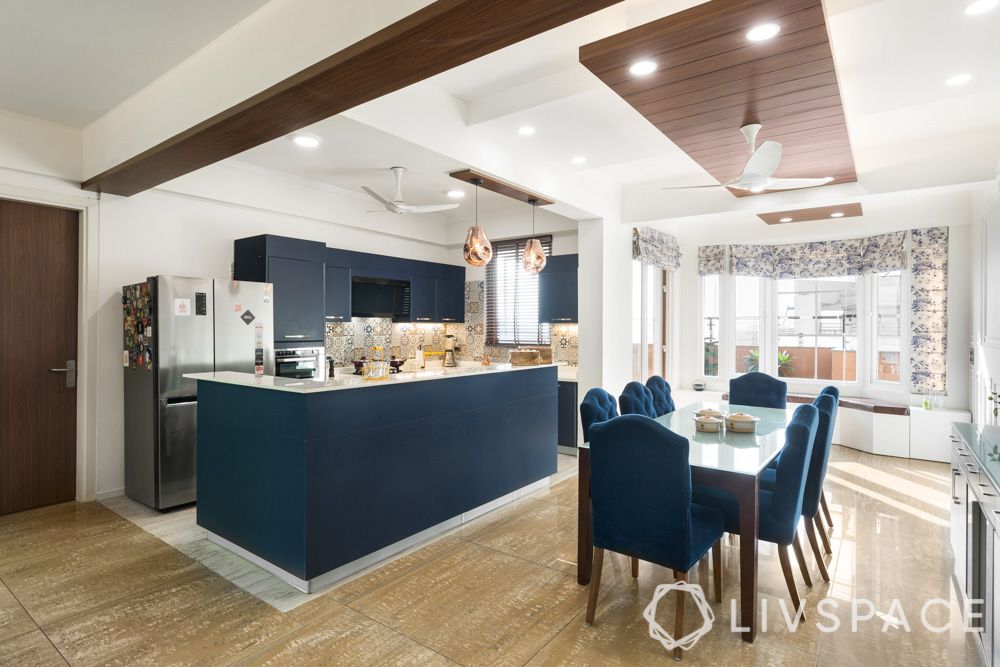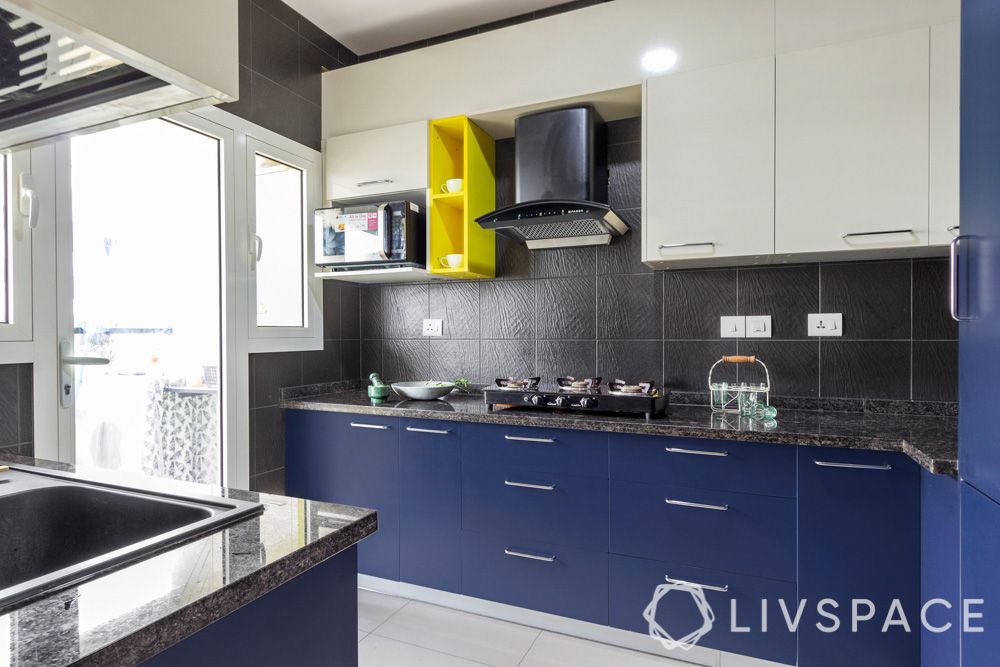 Want a bold look but not too fond of black for your kitchen interiors? Choose a dark shade of blue like royal or navy blue. These classy colours can make your large kitchen pop out and be the centre of attraction in your home! The best kitchen colour combination in blue is dark blue is white. This combination is the perfect option if you want a balance of dark and light shades in your kitchen. You can also add some drama with a dash of black or a vibrant colour like yellow!
#3: Use Darker Wood and Beige for an Air of Sophistication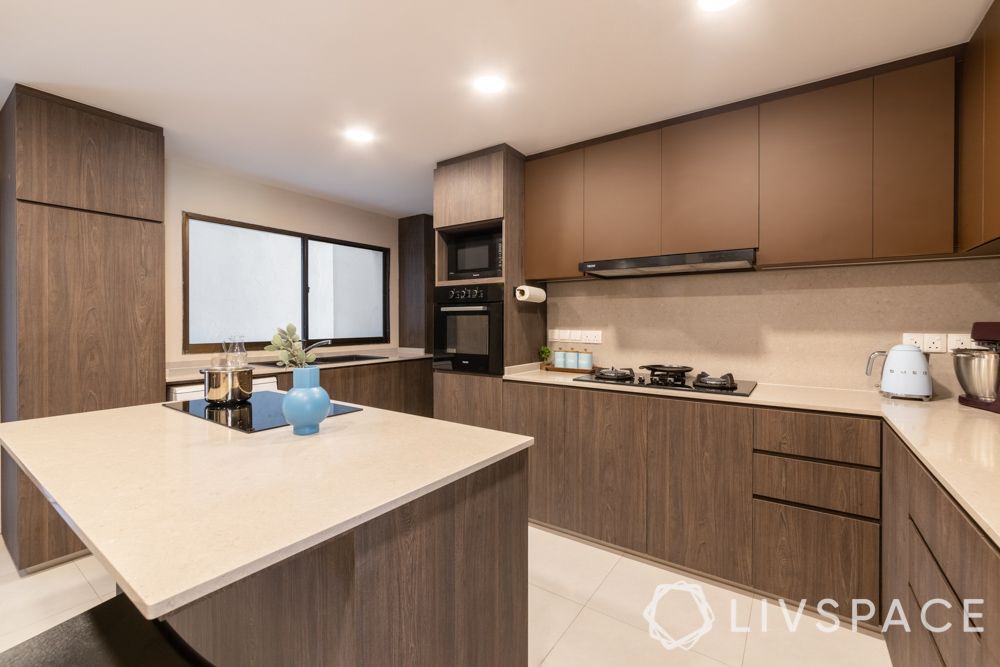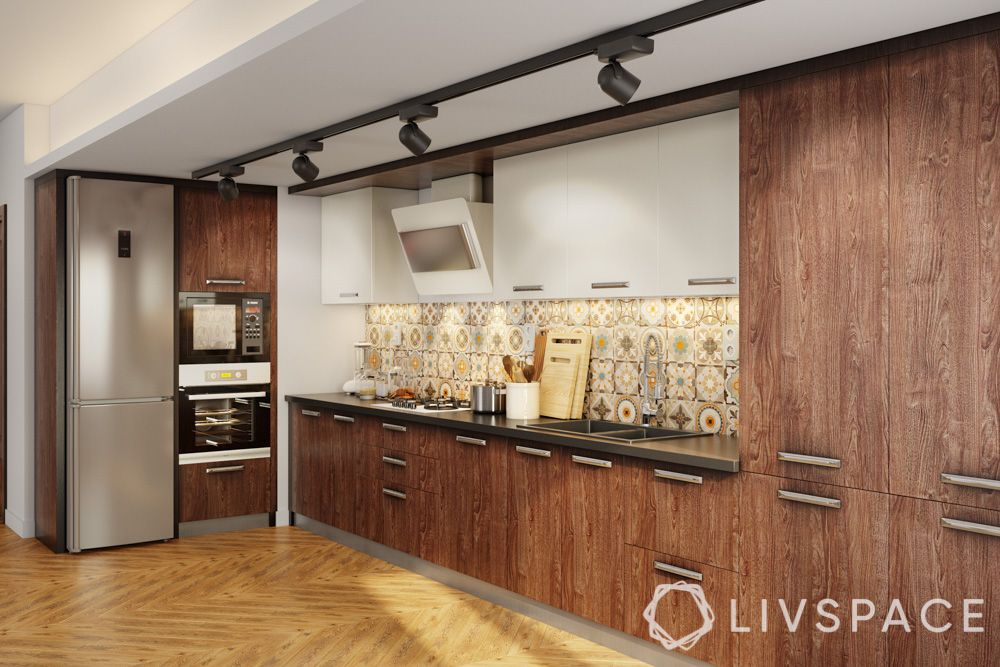 Whether it's just a kitchen design or full home interiors, Indians love to use wood for all their furniture! As they should, because there is something warm and welcoming about wooden furniture and kitchens. If you have a large and spacious kitchen, you can opt for a darker wood instead of light wood, which is quite common. With wooden kitchens, keep it subtle by choosing neutral colours to make combinations. For instance, beige and white are perfect colours to go with dark wood.
4 Other Timeless Colours for Indian Kitchens
Trends come and go but some things remain timeless. And while deciding on your kitchen colour combination, you would want something that will look trendy even five years down the line. So, here are such kitchen colour combinations that will look timeless and classy, irrespective of whether you have a small, medium or large kitchen.
#1: Traditional Light Wooden Tones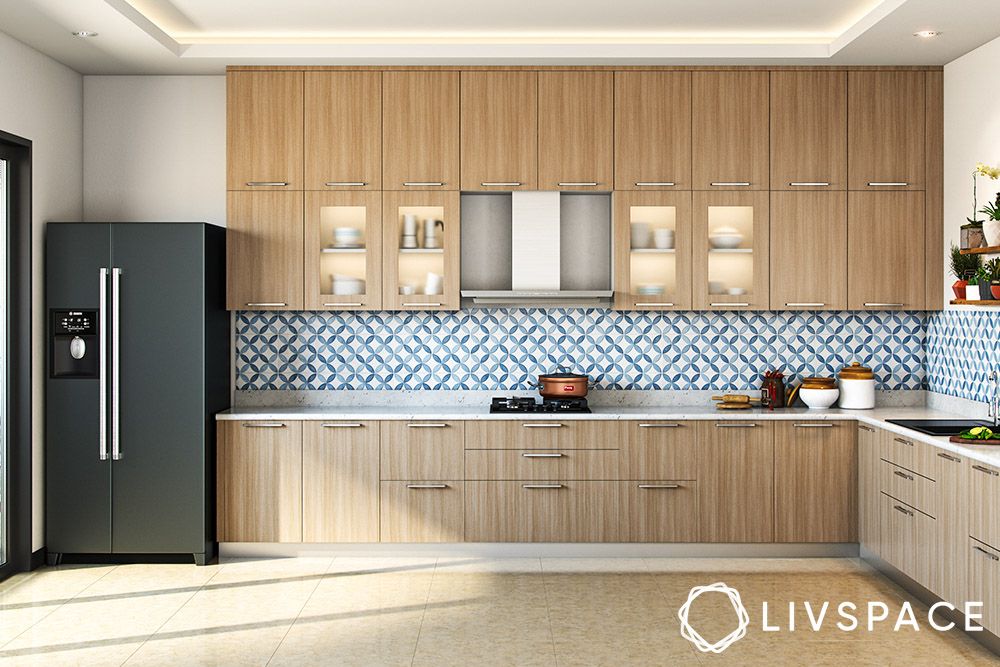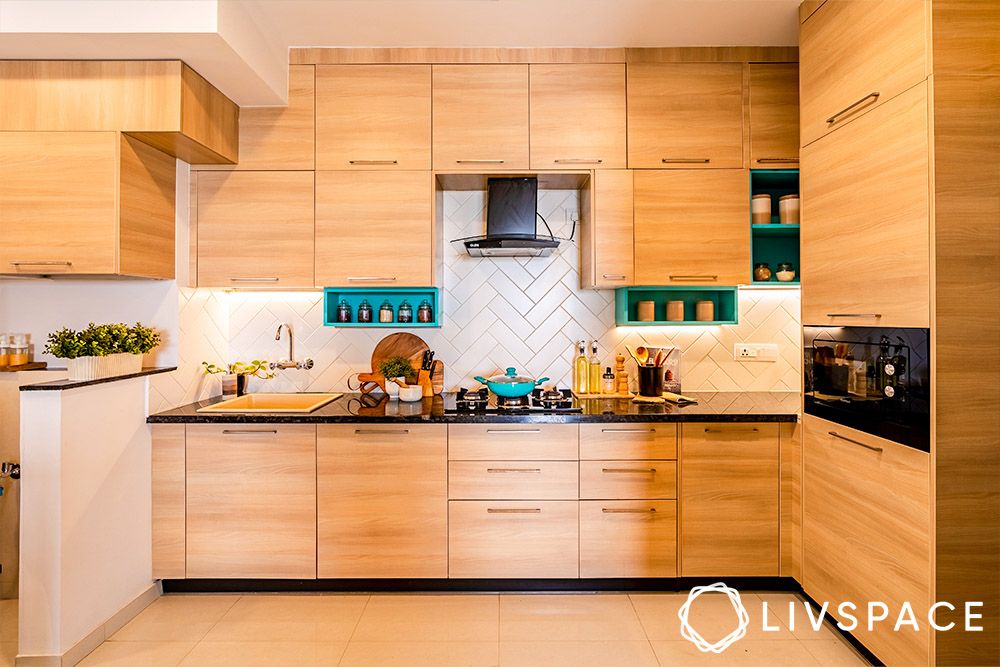 Previously, we mentioned how dark wood is an amazing choice if you have a large kitchen. But if you are looking for a timeless option that fits kitchens of all sizes, light wood is the way to go! While you can always choose traditional options like uniform light wooden cabinets, you can also quirk it up with myriad shades of light wood and fancy backsplash tiles.
#2: Vastu-Friendly Red Kitchens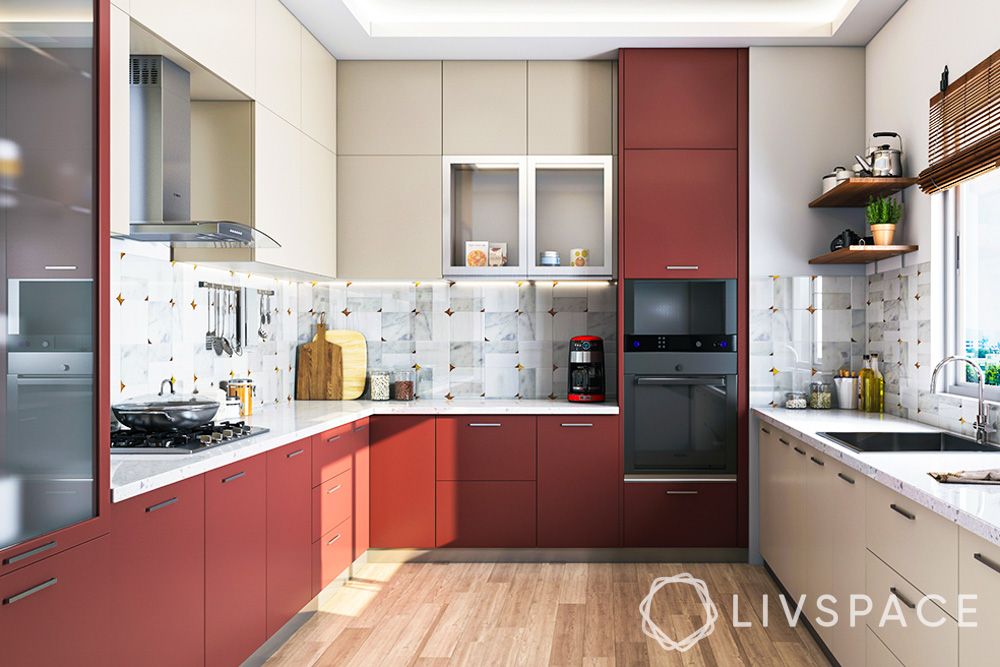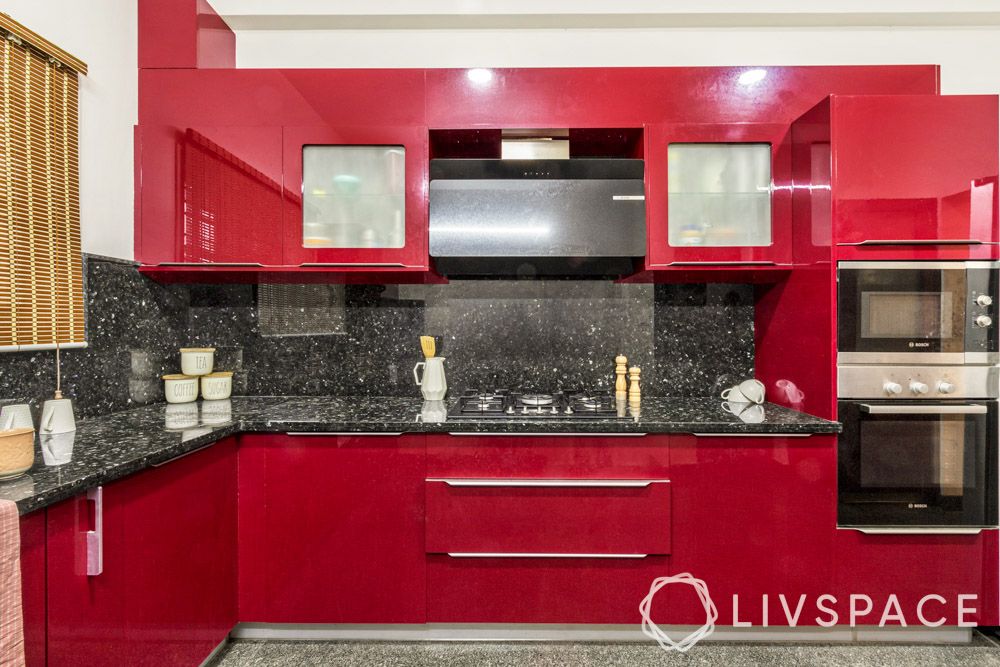 Among the many kitchen vastu colours, red makes for the most popular choice made by Indians. A fiery colour like red has a huge impact on your energy levels when you work in your kitchen. Apart from red, yellow and orange also represent the fire element, but red is known to bring luck to your family according to vastu.
#3: Subtle Beige Tones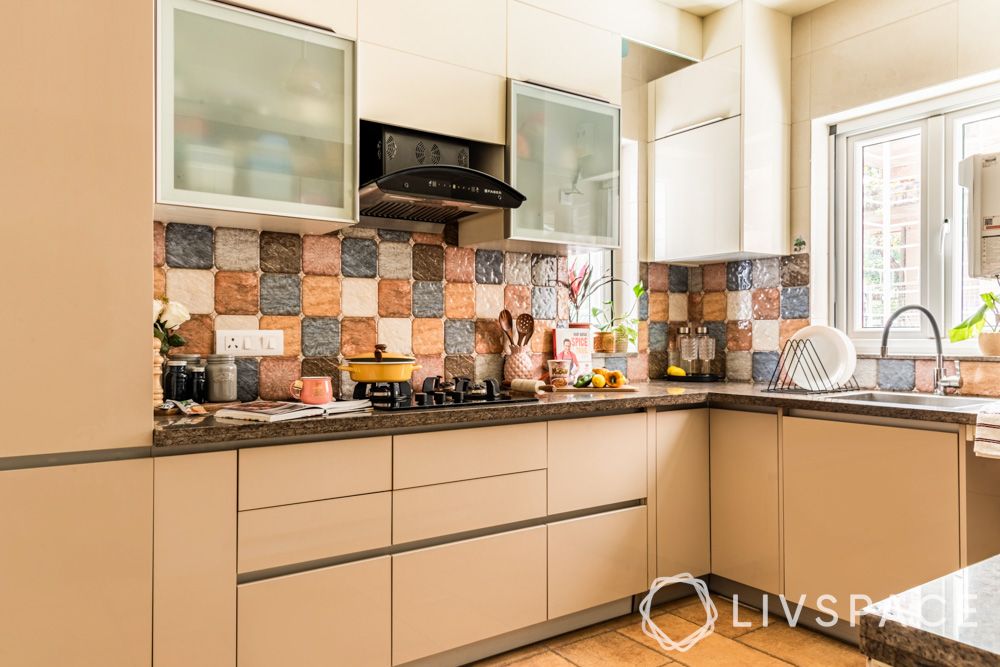 Since not all of you are fans of using distinct colours in your homes, some of you just want plain, neutral colours to define your style. Don't worry, we got you covered. Use this kitchen colour combination idea with two different warm shades to hug your walls. Furthermore, use a distinct-looking backsplash colour to match with your cabinets. For instance, this beige kitchen in the picture above, has multicoloured backsplash that breaks the monotony of the plain colours and makes it interesting.
#4: Generous Green Shades to Remind You of Nature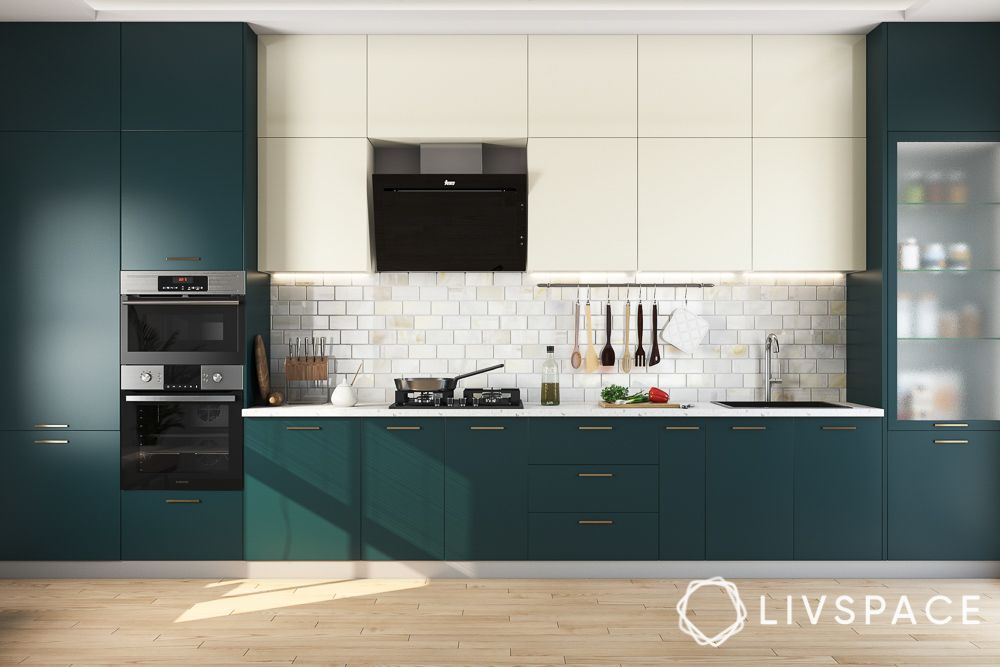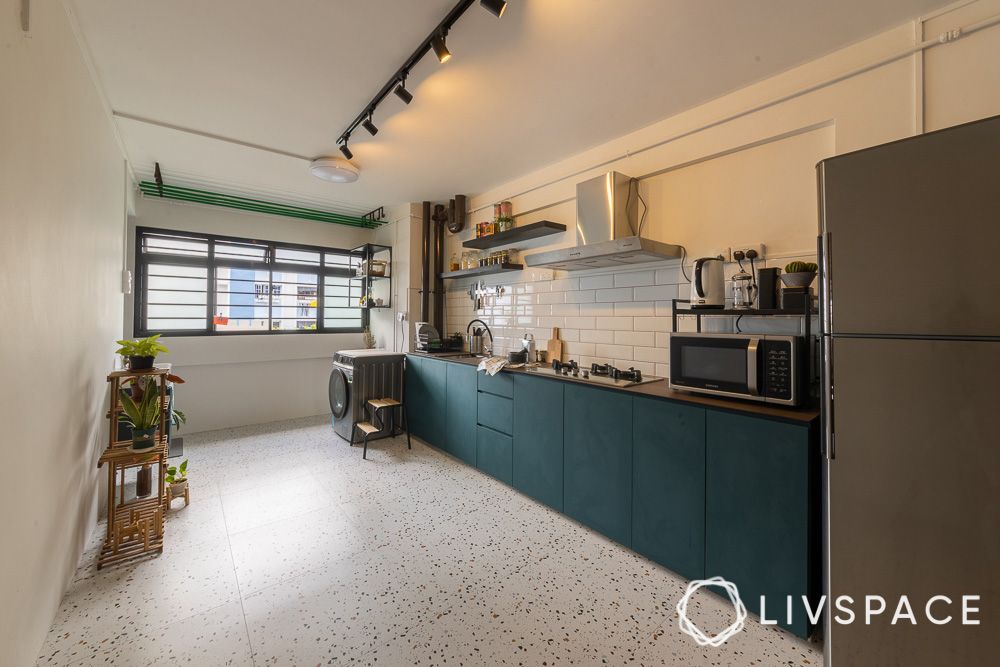 Green is a colour of nature; it represents generosity and is also known to diffuse anxiety. And in a rich matte shade, like in the pictures above, it also brings a sense of suave and sophistication. We recommend you use colours like black and white to add more definition to the fine shapes and lines in your kitchen. You can also accessorise it with chrome handles to get a plush look or you can create a seamless look with handleless shutters.
Unique Kitchen Colour Combinations
Do you want your kitchen to stand apart and make a bold statement in your home? Then these colours are what you're looking for! And if you want more reason and encouragement, then you should know that these colours are not only unique, they are also vastu-compliant.
#1: Compassionate Pink or Magenta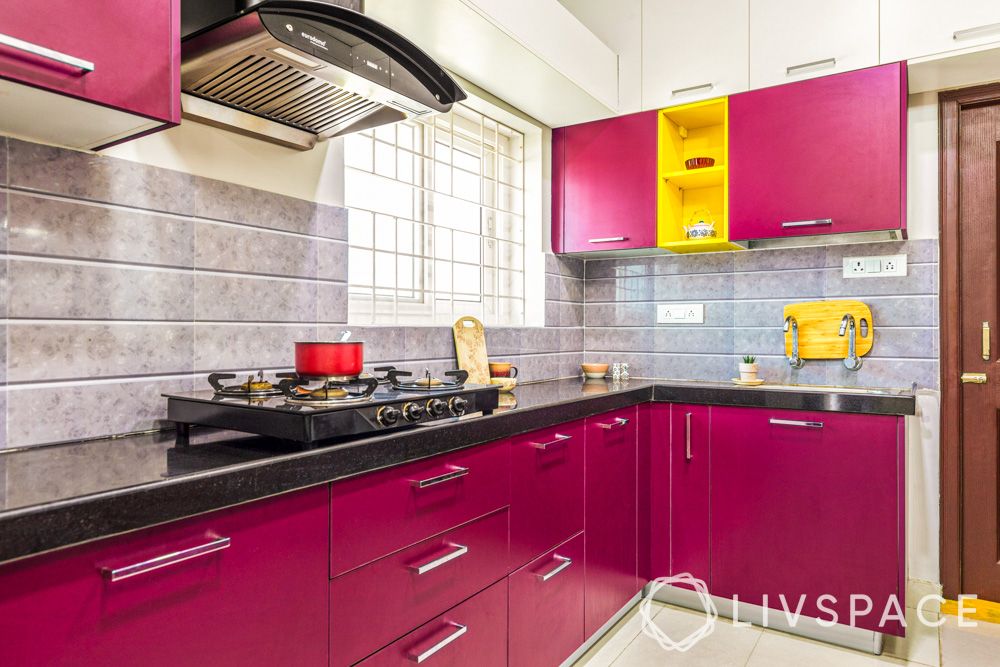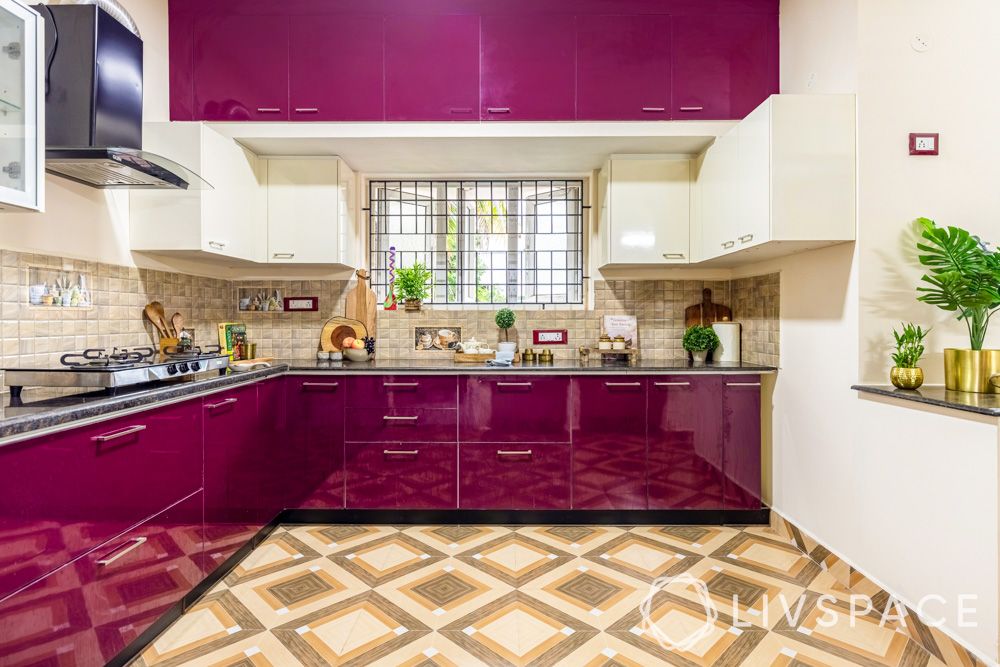 The colour pink is made by mixing white and red, and hence it is also a vastu-friendly colour that spreads joy and compassion in your home. Matte or glossy, this shade works in every kitchen and can pair gracefully with so many other colours! In case you go for a paler pink, then colours like green, white and wood should come to your mind. For these colour combinations are uber chic and trendy these days.
#2: Fun Neon Green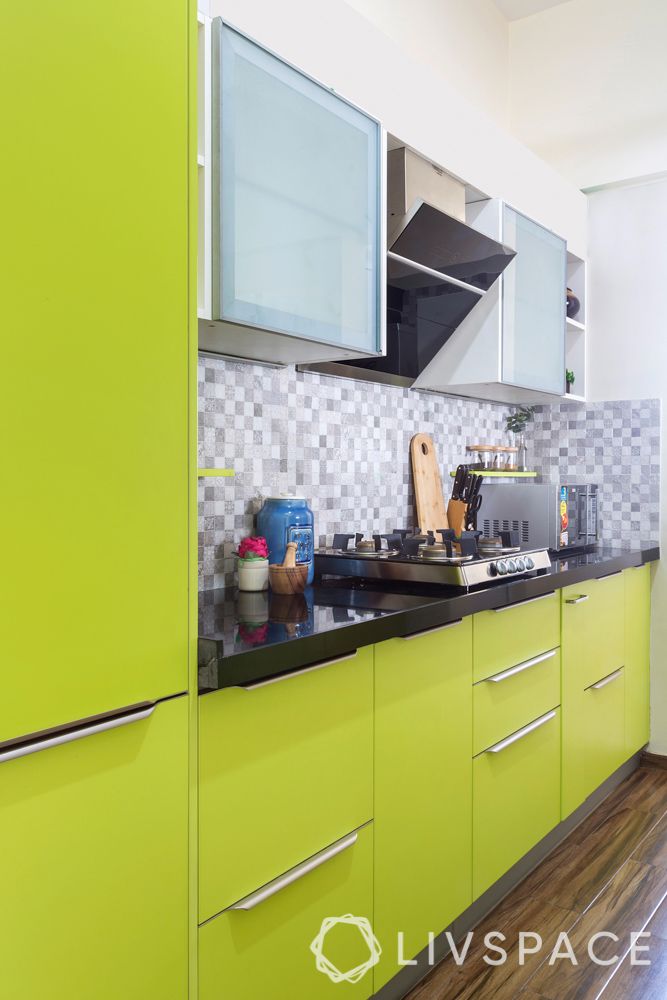 A green colour like this can act as a channel of hope and harmony in your home. When you want to use it in a combination, try colours like black, blue and white. Stainless steel handles work best for a neon green cabinetry, and as you can see in the picture above, the same is true for wooden textures as well.
#3: Powerful Orange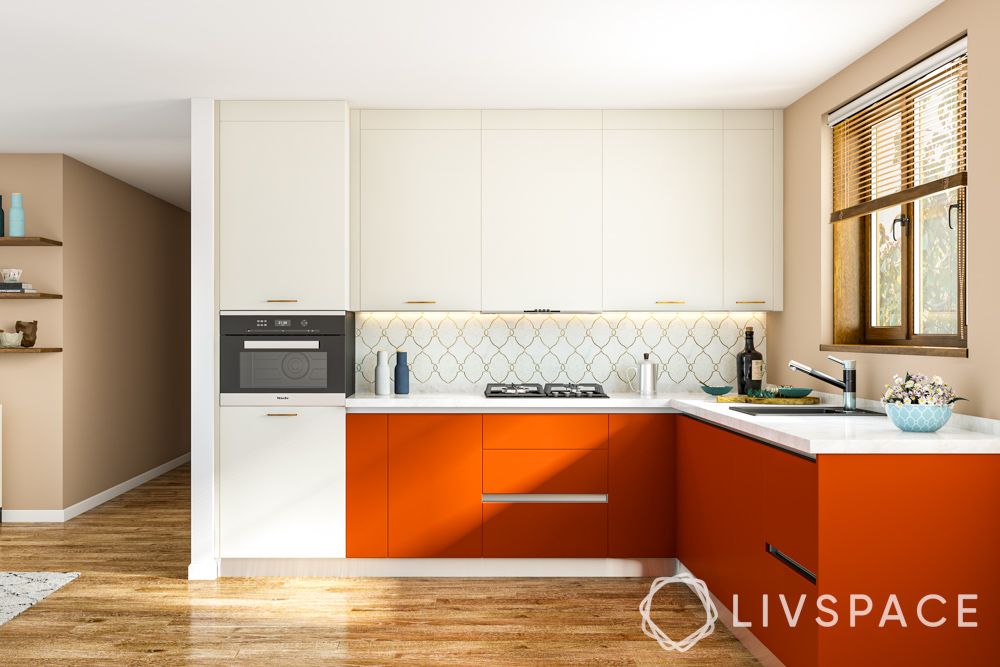 Orange or saffron has a deeper meaning in the Indian culture. It not only represents power, it is also the symbol of courage. Using an orange like this in your south-east kitchen can induce optimism and stabilise your relationships.
Whether you have a big kitchen or a small one, these kitchen colour combinations are sure to give you some ideas! Do you want to look at more kitchen designs? You can check out these 50+ simple kitchens from Livspace homes.
How Can Livspace Help You? 
We hope you found our ideas useful! If you want beautiful interiors for your home, then look no further. Book an online consultation with Livspace today. Have any thoughts or suggestions you'd like to share with us? We'd love to hear you out. Write to us at editor@livspace.com.
FAQs:
1. Which Colour Is Lucky for Kitchen?
Red and white are considered as lucky colours for kitchens, according to vastu.
2. Which Colour Is Best for Kitchen in Vastu?
There are many colours, according to vastu, that are good for your kitchen. You can use colours like red, orange, white, pink, green, yellow and brown.
3. Which Colour Granite Is Good for Kitchen As per Vastu?
Green and yellow coloured granites are the best for your kitchen if you want to enhance the effect of good vastu.
4. What Colours Are Not Good in a Kitchen?
All colours look great in your kitchen, but if you insist on following Vastu Shastra, then avoid colours like black and grey.