The perfect kitchen countertop design can be a game-changer for your kitchen. It's not just about the looks! In fact, it has a lot to do with functionality. As a general rule of thumb, the kitchen countertop material is expected to be stain-proof, scratch-resistant, heat-resistant and durable. Not to mention that countertops are expected to be easy on the budget as well. Therefore, the key to choosing the right fit for your kitchen lies in your requirements. So, from relaxed to formal, luxurious to practical, here are 5 most popular kitchen countertops that Indian homes love.
What Is a Kitchen Countertop?
A kitchen countertop is a flat, sturdy surface that acts as a working station in your kitchen. It is heat and water-resistant and is typically mounted on your kitchen wall at least 35″ (889 mm) above the floor. In fact, a common practice in most households is to install/build cabinets underneath it for storing cooking essentials. There are 5 most common countertop materials used in India: granite, quartz, solid surfaces like corian, engineered stone and marble.
What Are the Different Types of Countertops for Kitchen?
#1: Granite Kitchen Countertops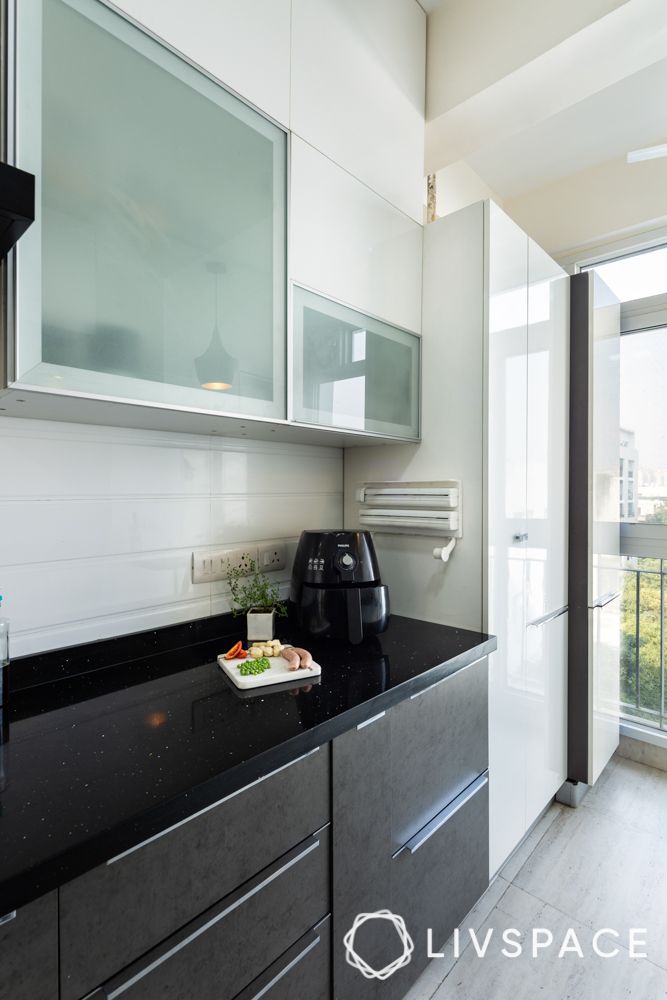 Delivering beautiful aesthetics, granite kitchen countertop design ideas have always been the go-to option for interior design for kitchen in Indian homes for years. And for good reason!
They are cost-effective as well as stunning in appearance. Also, in comparison to other popular materials like quartz, sometimes, quartz can turn out to be cheaper than granite – depending on patterns, styles and manufacturing treatments. Moreover, as a natural stone, granite is heat and scratch-resistant, thus being one of the ideal kitchen platform materials.
In fact, fueled by rich beauty and a timeless appeal, granite countertops elevate your small kitchen design Indian style. And because the stone's available in many shades, it is convenient to find the right colour for your kitchen.
#2: Quartz Kitchen Countertops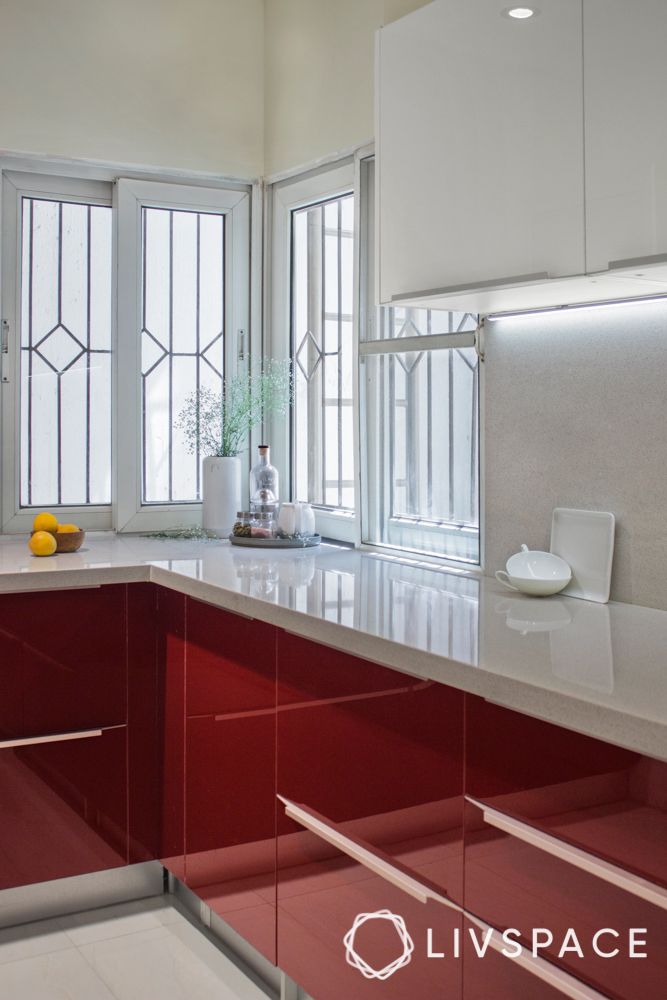 Another popular kitchen countertop type that has been gracing Indian homes is quartz. Also, it looks smooth, sleek and uber-modern. You can easily play around with choices for your kitchen since they have a wide variety of colours and textures.
Additionally, quartz is non-porous, which means they don't stain easily. So, you don't have to worry about festering bacteria. On the other hand, a quartz countertop is not as resistant to heat when compared to granite. It is also more likely to fade colour overtime. However, when it comes to price, quartz is quite a cost-effective option.
Also Read: Expert Advice: 9 Easy Kitchen Vastu Tips to Follow in 2022
#3: The Corian Stone Countertop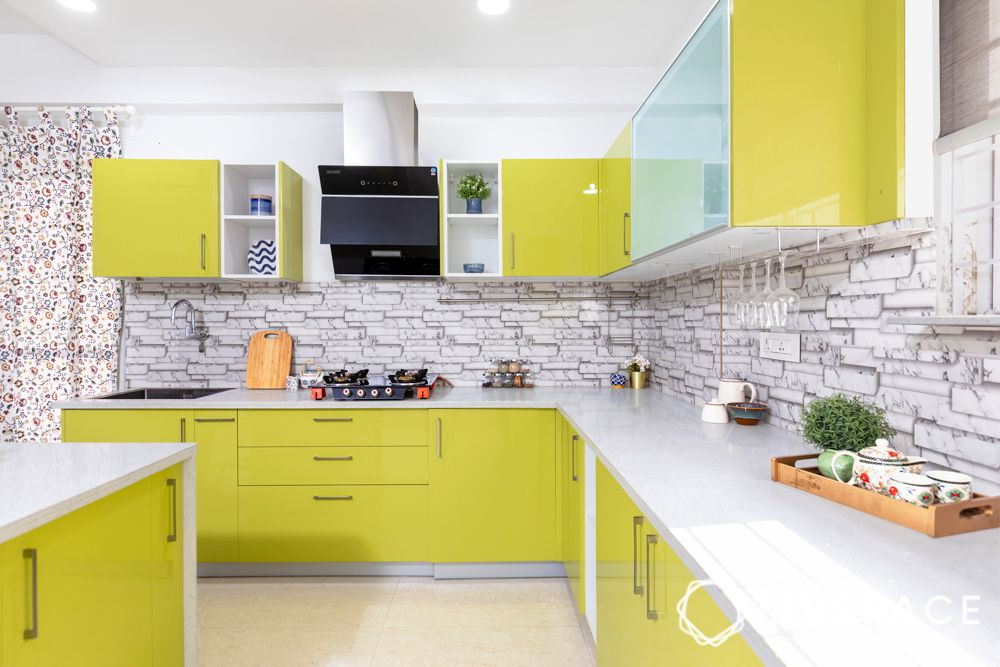 Some of the best solid-surface modern countertop designs available are made of corian. They're quite popular and that's because these countertops are durable, hygienic and non-toxic. Additionally, these are non-porous in nature, which makes them highly resistant to stains and very easy to maintain.
Moreover, corian countertops are repairable. So, even if they are prone to scratches, their solidity benefits them by sanding out any scuffs and dents. These are also available in several hues from solid to stone patterns to metallic ones.
#4: Engineered Stone Kitchen Countertops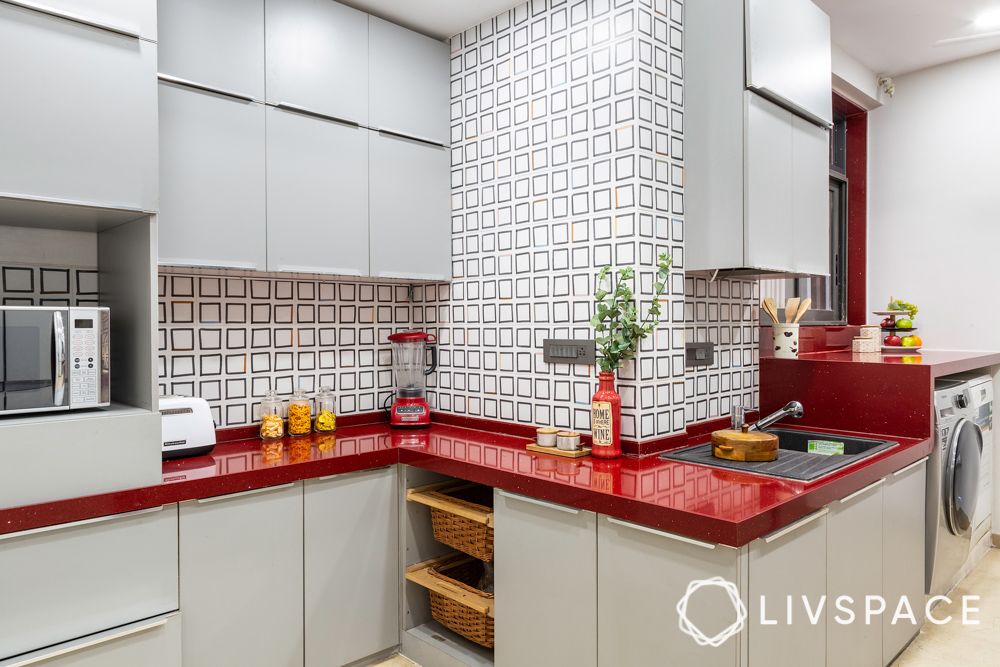 Most common engineered stones used in Indian homes include the Kalinga stone or the Caesarstone that have an everlasting value. Moreover, their aesthetic beauty and high-performance features give them an advantage over granite. Additionally, they are anti-microbial and food-grade certified. Since they are engineered to be non-porous, they are extremely hygienic.
After natural stones, engineered ones are the next best environmentally friendly option as they are sustainable in the long run. Also, the greatest advantage of these stones is that they can mimic any colour and texture that you want.
#5: Marble Kitchen Countertops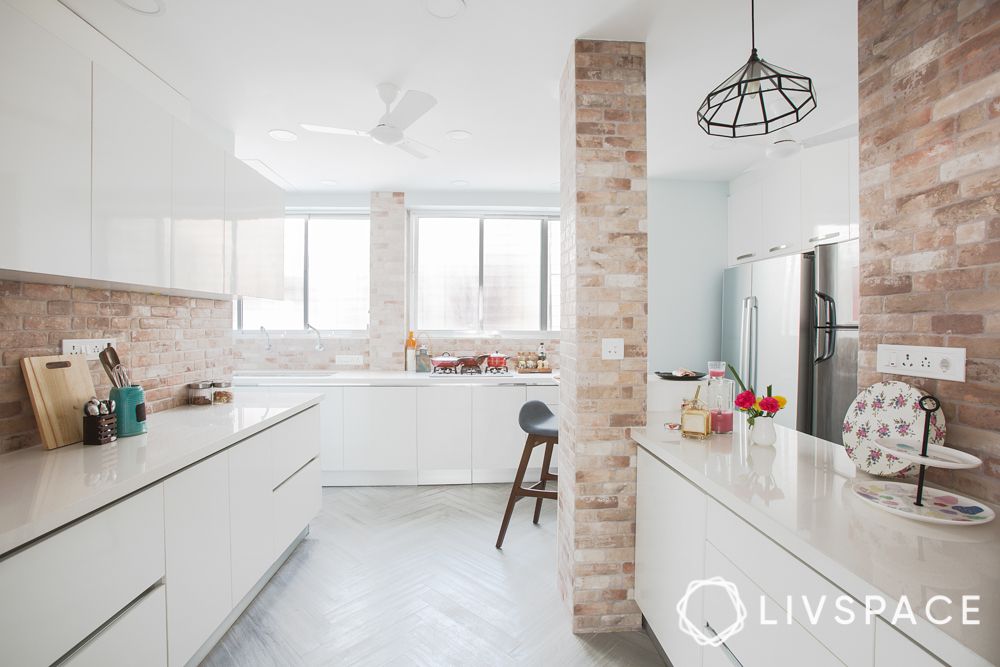 Homeowners are often inclined towards this modern countertop design for kitchen slab. Despite it being a high-maintenance option, it is the most popular one on Pinterest and Instagram.
Typically, marble countertops are softer in comparison to other materials. So, you need to always use a chopping board to avoid scratches. Also, it is porous in nature, which means any wine, coffee or tea spills would need an immediate clean-up.
Regardless, marble is highly heat-resistant, waterproof and adds beauty to your kitchen with its unique veining.
How to Select a Suitable Kitchen Countertop Type
Choosing a suitable countertop for your home is a crucial task. Your kitchen requires regular maintenance, so you must choose a countertop that is easy to maintain. You can also refer to this simple table that can help you compare the advantages of countertops and decide:
Material
USP
Granite
Heat and scratch-resistant
Available in various shades
Highly durable
Corian
Durable
Hygienic
Non-porous
Quartz
Hygienic
Non-porous
Heat-resistant
Cost-effective
Engineered Stone
Sustainable
Durable
Extremely hygienic
Non-porous
Can mimic any material/texture
Marble
Heat-resistant
Porous
Great aesthetic beauty
If you need more information to help you in your kitchen renovation journey, then read: Which Countertop is Easiest to Maintain? You can also check out these modular kitchen design ideas for more inspiration:
Also Read: An Ultimate List of Materials for Your Kitchen & How to Best Use Them
How Can Livspace Help You?
All the advantages and disadvantages of these materials must be considered to pick the right material for kitchen countertops. If you need help choosing the right material and kitchen renovation, then look no further. Book an online consultation with Livspace today. If you have any thoughts and suggestions you'd like to share with us, we're all ears! Drop us a line at editor@livspace.com.