The perfect countertop can be a game-changer for the look of your kitchen. In fact, it's not just about the looks! Naturally, the countertop is expected to be stain-proof, scratch and heat resistant, extremely durable, and aesthetically gorgeous. Not to mention, easy on the budget as well. In fact, the key to choosing the right fit for your kitchen lies in your requirements. From relaxed to formal, luxurious to practical, here are six of the most popular kitchen countertops that Indian homes are loving.
Which stone is best for kitchen platform?
#1: Kalinga Stone for Colourful Kitchen Countertops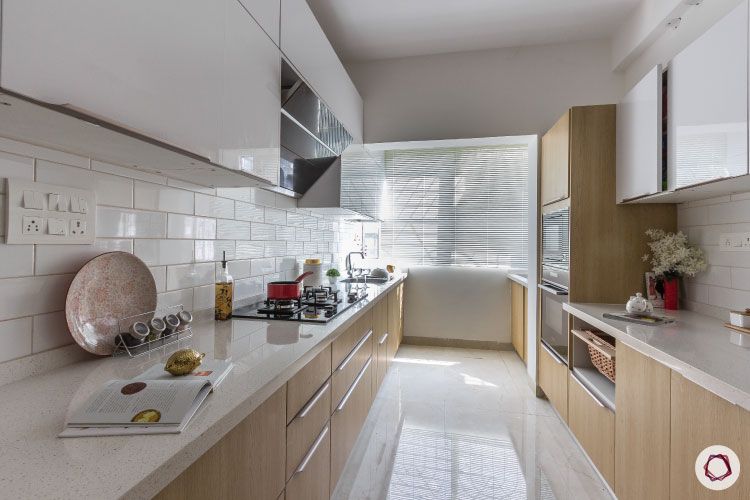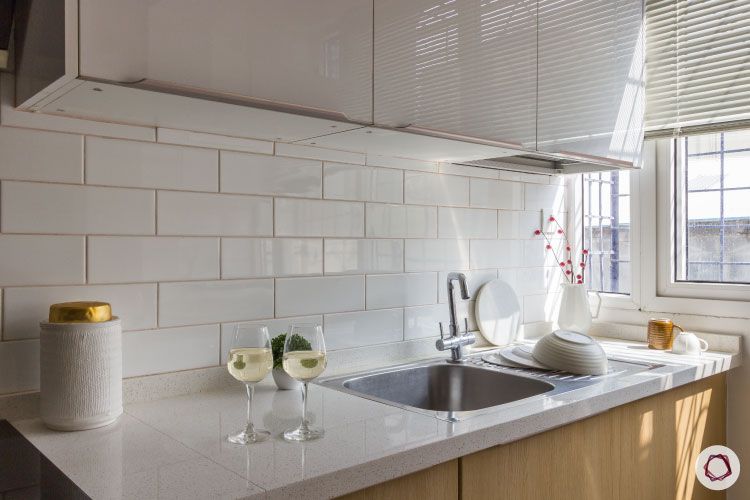 The Kalinga stone comes with an everlasting value. Moreover, its aesthetic beauty and high-performance feature give it an advantage over granite. Additionally, they are anti-microbial and food-grade certified. In addition, Kalinga is non-porous which makes it extremely hygienic. Thus, preparing food on its surface is quite safe.
In addition, Kalinga stone for kitchen is available in a wide array of colours, varying thickness, flaunting an extensive range of designs and sizes. Also, Kalinga stone is one of the hardest materials used to create kitchen countertops.
#2: Granite Countertops are Durable and Economical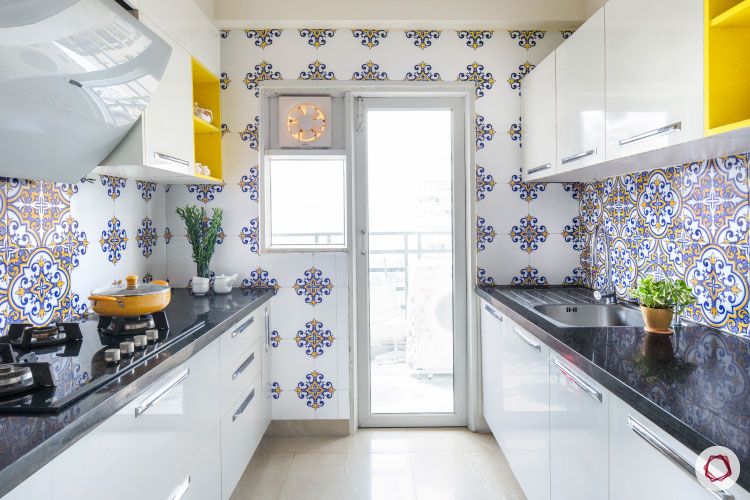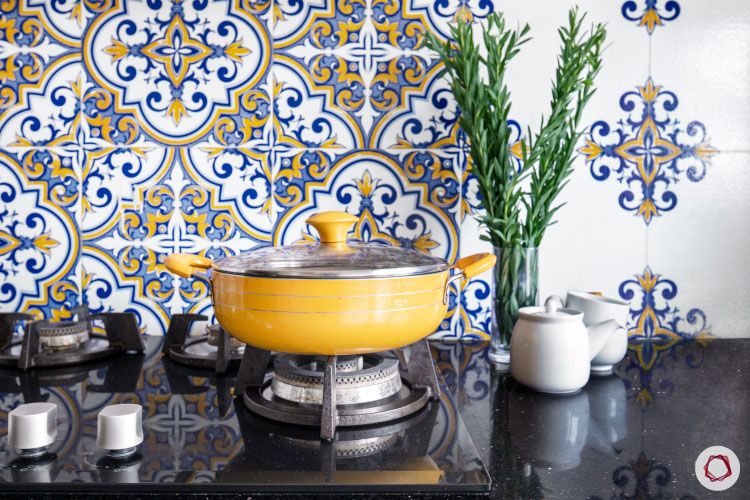 Delivering beautiful aesthetics, granite countertops have always been the go-to option for Indian homes for years. And for good reason! They are cost-effective as well as stunning in appearance. Moreover, as a natural stone, granite is heat and scratch-resistant, making it one of the ideal kitchen countertop options. Hence, the heavy and durable granite slabs are a premium choice for building countertops.
In fact. fueled by rich beauty and a timeless appeal, granite countertops elevate your kitchen's aura. And because of the stone's availability in many shades, it is convenient to find the right colour for your kitchen.
#3: Caeserstone Kitchen countertops for Avid Cooks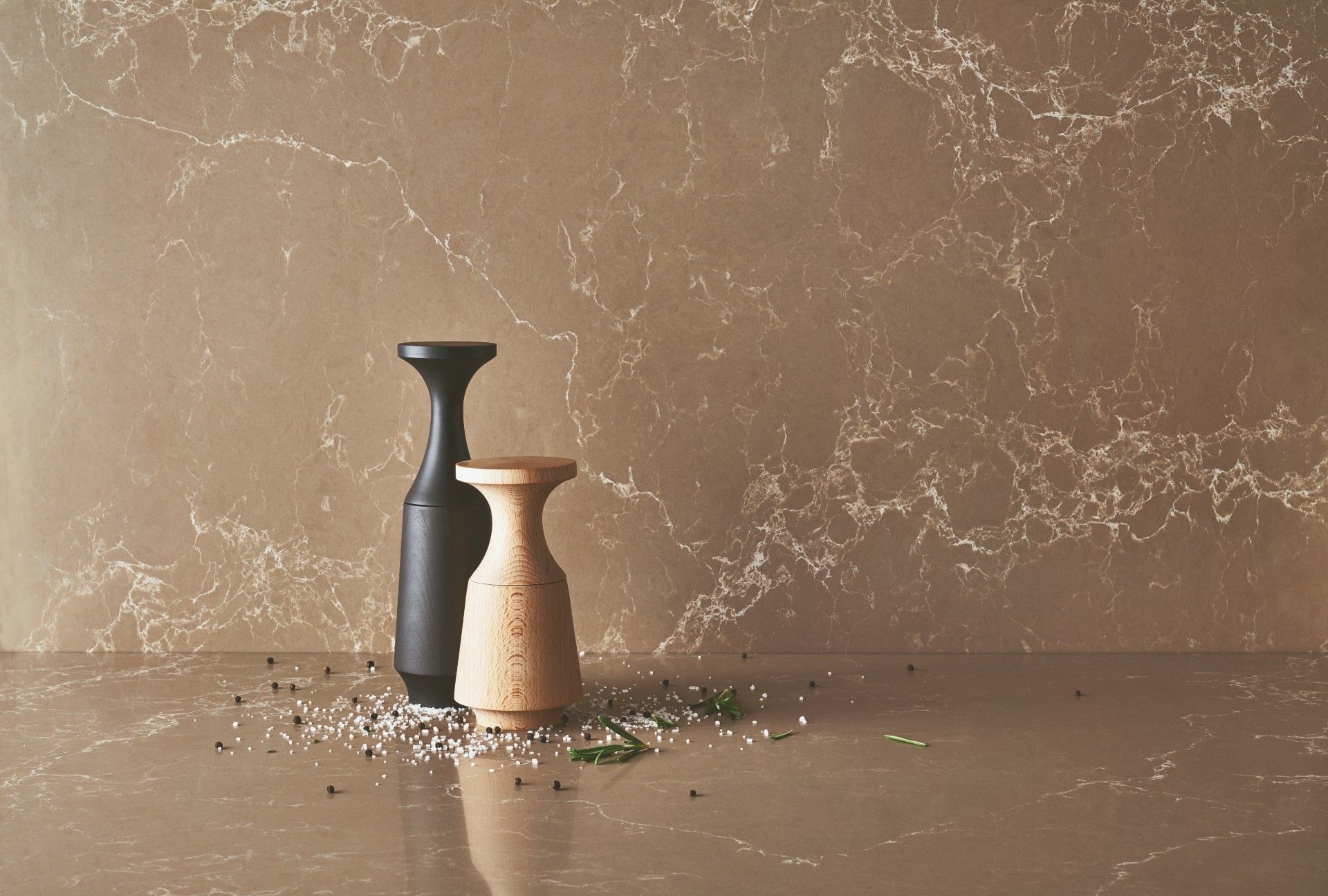 The Caesarstone kitchen countertop is perfect for those who love cooking up a storm in the kitchen. In fact, Caesarstone is a pioneer in quartz surfaces. It is a mix of 93% quartz and 7% polymer resins, adhesives and additives. It is also heat resistant, withstanding up to 250° C, which is approximately 100 degrees more than what oil boils at. In addition, it's resistant to stains, scratches, and is non-porous. In addition, available in 50 shades, this type of countertop is sure to add an elegant vibe to your kitchen.
#4: Marble for a Plush Looking Kitchen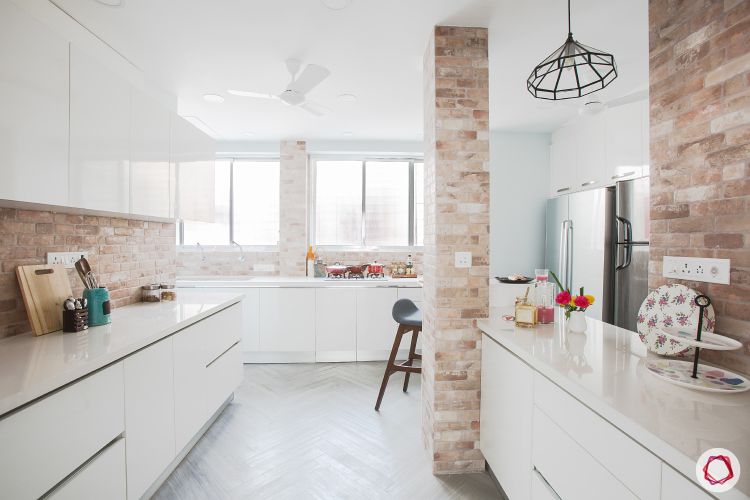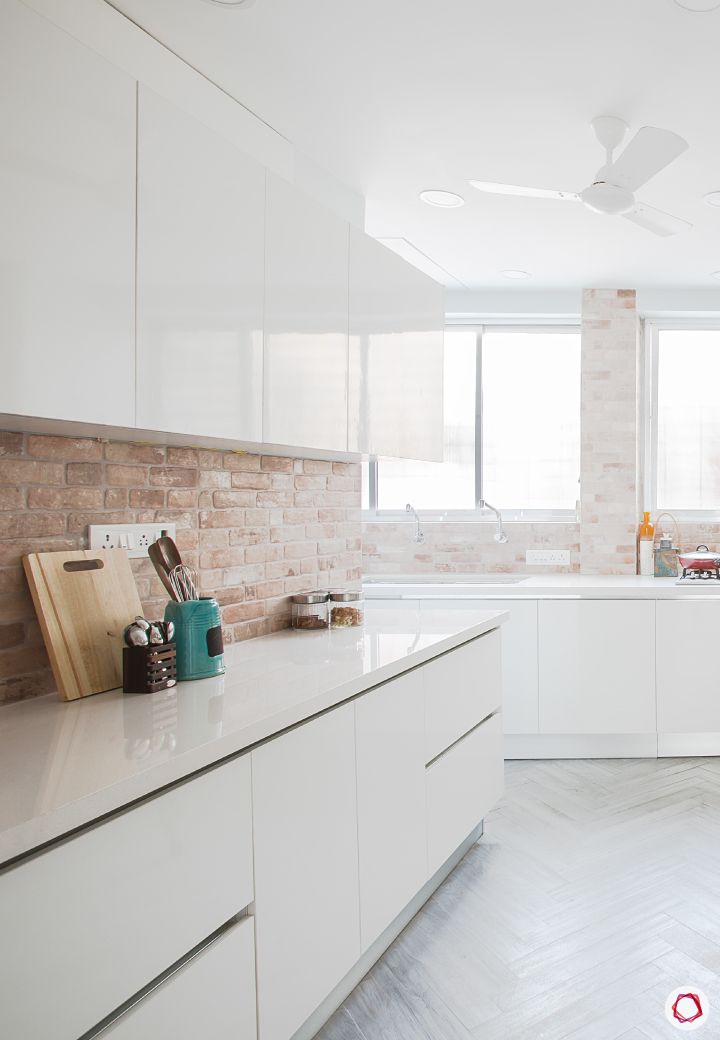 Homeowners are often inclined towards this stone for kitchen slab. Besides, it is popular on Pinterest and Instagram, marble tops are high maintenance. But, marble countertops are softer in comparison to other materials. So, you need to always use a chopping board to avoid scratches. Also, it is porous in nature, which means any wine, coffee or tea spills would need an immediate cleanup.
But, apart from these little hiccups, marble is highly heat-resistant, waterproof and adds beauty to your kitchen with its unique veining.

#5: The Hygienic and Non-toxic Corian Stone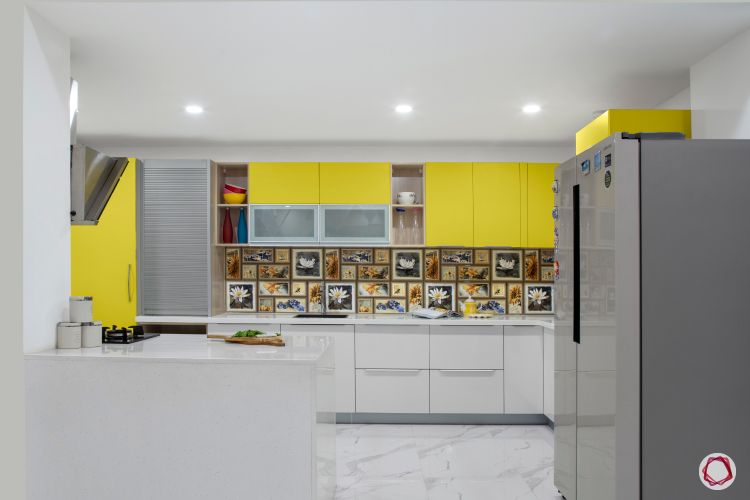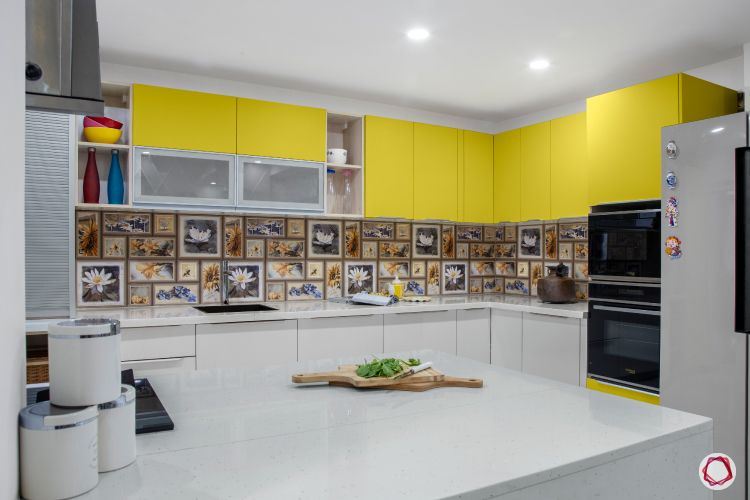 One of the best solid-surface countertops available is Corian. In fact, they are manufactured in sheets from an amalgamation of polymer resins, minerals, and colourants. Thus, Corian countertops are durable, hygienic and non-toxic. Additionally, these are non-porous in nature, which makes them highly resistant to stains and very easy to maintain.
Moreover, Corian countertops are repairable. So even if they are prone to scratches, their solidity benefits them by sanding out any scuffs and dents. These are also available in several hues, from solid to stone patterns to metallic.
#6: Quartz Kitchen Countertops, the Desi Favourite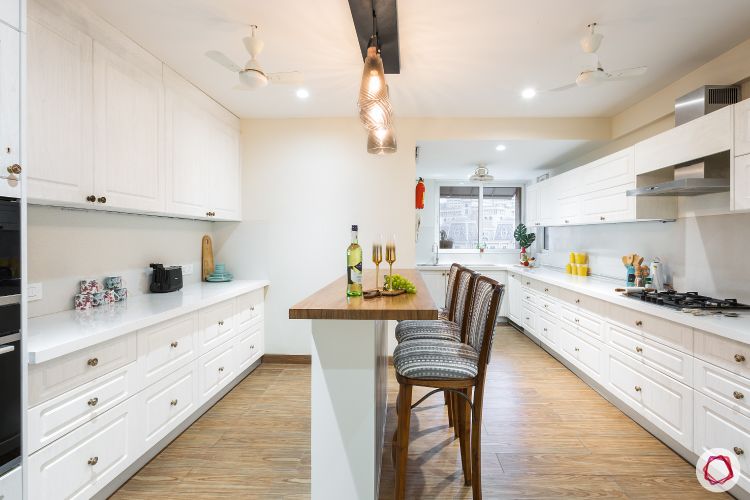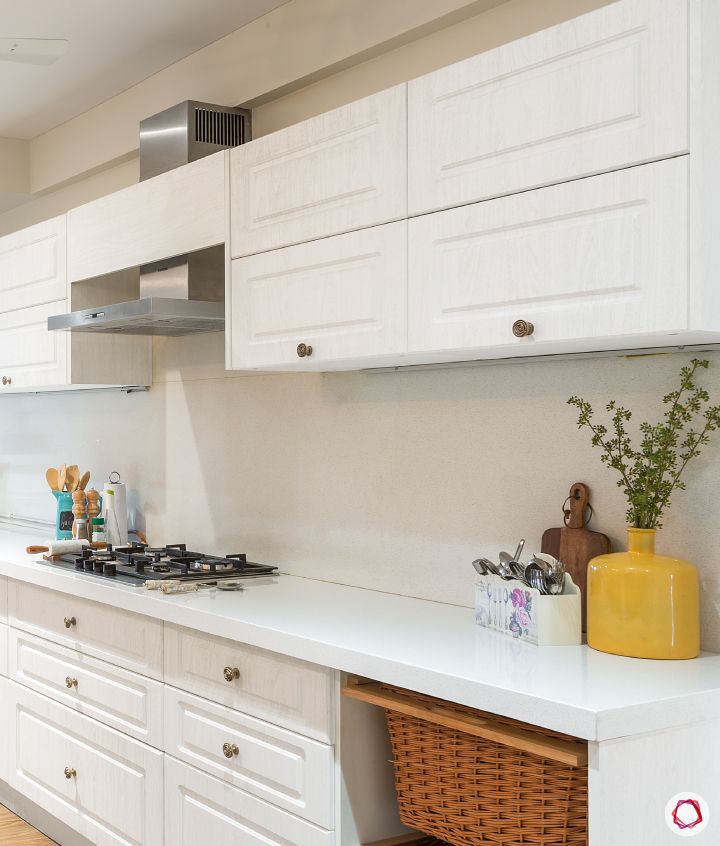 Another popular kitchen slab stone that has been gracing Indian homes is quartz. Also, it looks smooth, sleek and uber-modern. You can easily play around with choices for your kitchen since they have a wide variety of colours. Additionally, quartz is non-porous, which means they don't stain easily. So, you don't have to worry about festering bacteria. On the other hand, a quartz countertop is not as resistant to heat when compared to granite.
Material
USP
Granite
Heat and scratch-resistant
Available in various shades
Highly durable
Marble
Heat resistant
Waterproof
Enhances the look
Corian
Durable
Hygienic
Non-toxic
Non-porous
Quartz
Hygienic
Non-porous
Heat-resistant
How can Livspace help you?
All the advantages and disadvantages of these materials must be taken into account to pick the right material for kitchen countertops. If you need help choosing the right material and kitchen renovation, then seek professional help from Livspace. Our talented designers will deliver quality and safe interiors. Book an online consultation today.
Please visit this link for more info on our COVID-19 safety standards.
Here's more information to help you along your renovation journey: Which Countertop is Easiest to Maintain?
Send in your comments and suggestions — editor@livspace.com