Kitchen countertops go through a lot in the Indian kitchen—turmeric stains, tadkaas and spills. Thus, low-maintenance countertops are an Indian homeowner's first choice. The quest for the best type of countertop does not have to be difficult. To help you find the perfect fit for your home, we have rounded up different types of countertops and listed their pros and cons to ensure you make the right decision.
#1: Marble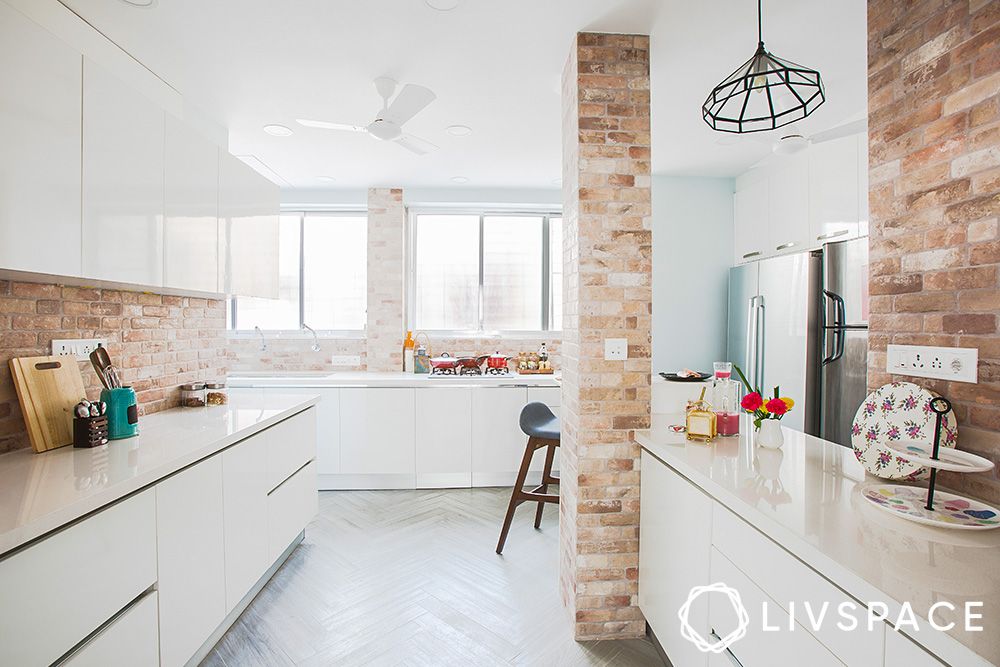 Marble is considered a symbol of luxury for most homes. No two marble countertops are the same even in the same variety. They are available in different colours too! The colour, the pattern and the veining of the marble contributes to the overall look to it. Maintaining marble needs professional help so it's best to have experts install a marble countertop in your kitchen.
Pros:
Marble is a highly durable material
It increases the status of your home
Cons
It can cost a lot. However, you can always browse the market for cheaper options
Marble is not scratch-resistant
#2: Quartz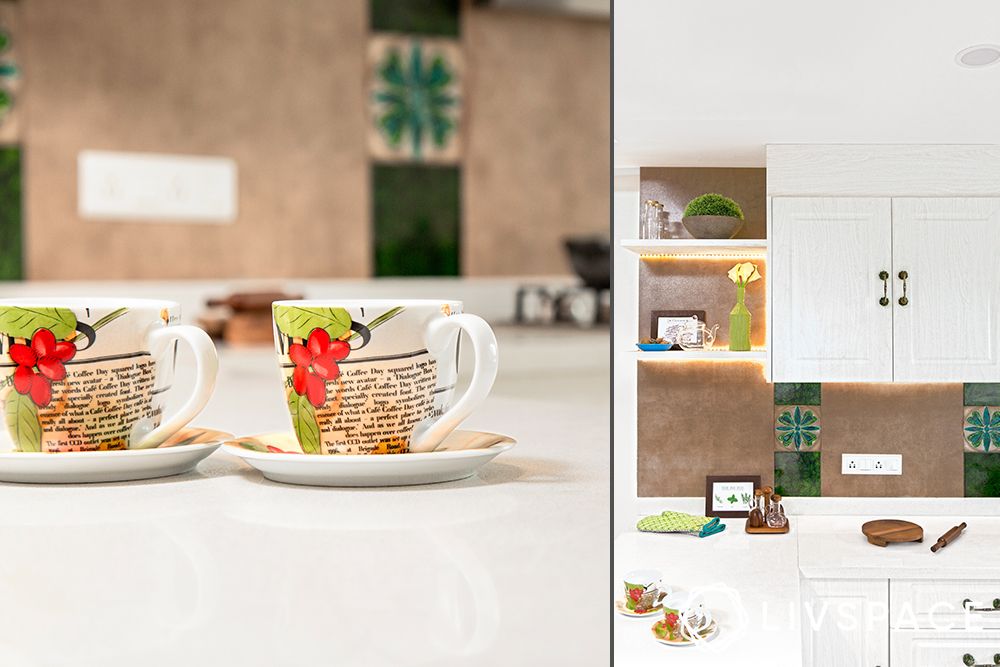 Quartz kitchen countertops are a binding of ground stone particles together and a plastic resin. Made from one of the strongest minerals, quartz countertops maintenance is extremely simple—warm water and sponge wipe. While a standard slab is 60×120 inches, these engineered countertops allow for uninterrupted runs that can be cut to fit versatile home decor designs.
Pros:
Highly non-porous and scratch-resistant which lends quartz its easy-to-maintain fame
Environment-friendly, antibacterial and highly customisable
Cons:
It may not be the most budget-friendly option in the market
If you are looking for a natural stone look, quartz may disappoint you with its options
#3: Granite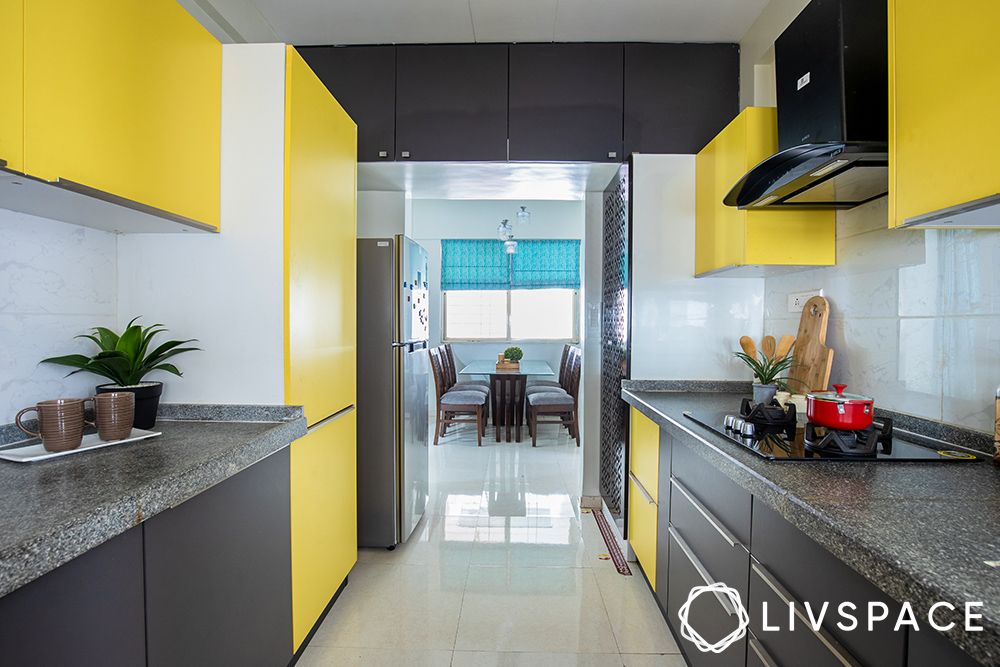 When it comes to classic kinds of countertops, Granite lends an elegant appeal to any kitchen. With over 20 shades to choose from, it is not difficult to find one that works with your theme. These types of countertops are sturdy. Sealed varieties of these types of countertop materials make it antibacterial too.
Pros:
Granite is highly heat-resistant, ideal to use in the kitchen where the hot pots and pans are
It is highly re-usable, making it a cost-effective material
Cons:
It may chip if you apply a lot of pressure to its sides
Granite needs to be sealed to make it antibacterial
Also Read: Go Granite: 7+ Granite Kitchen Countertop Designs for Your Kitchen
#4: Concrete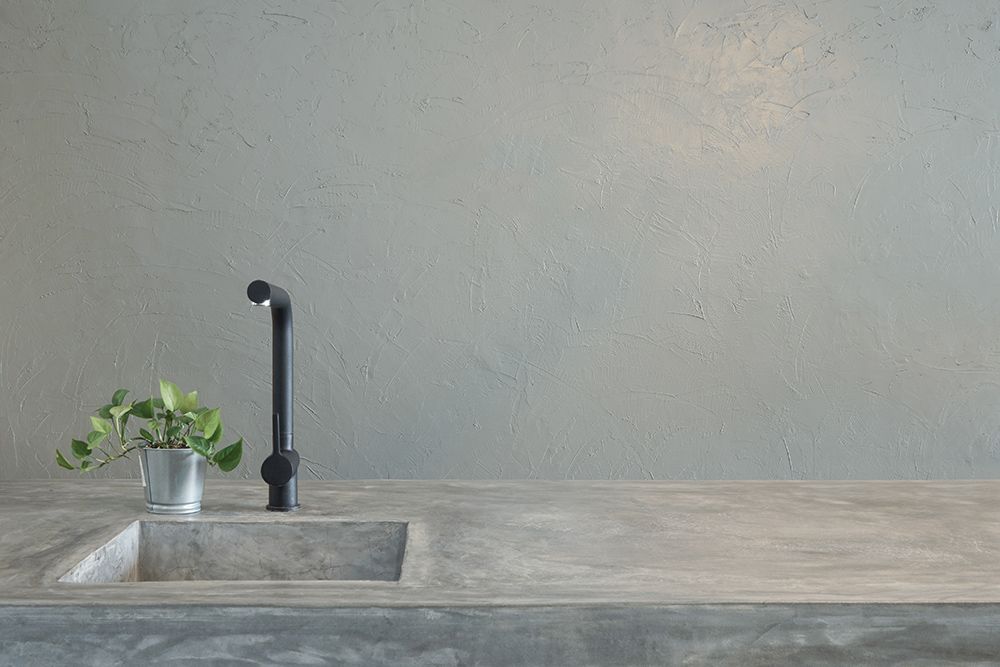 Concrete countertops are highly heat-resistant, making them ideal candidates for kitchens. Out of all the different types of countertops in the market, you can use concrete to create a rustic touch in your kitchen. Use a brush to scrub off dry food and stains. It is also helpful to seal it and get monthly maintenance done.
Pros:
It is highly customisable and is usually made-to-fit onsite
It is heat-resistant too and is available in loads of colours and patterns
Cons:
Since it is a premium element, it is on the pricier side
Installation may require reworking floors or cabinets
#5: Butcher Block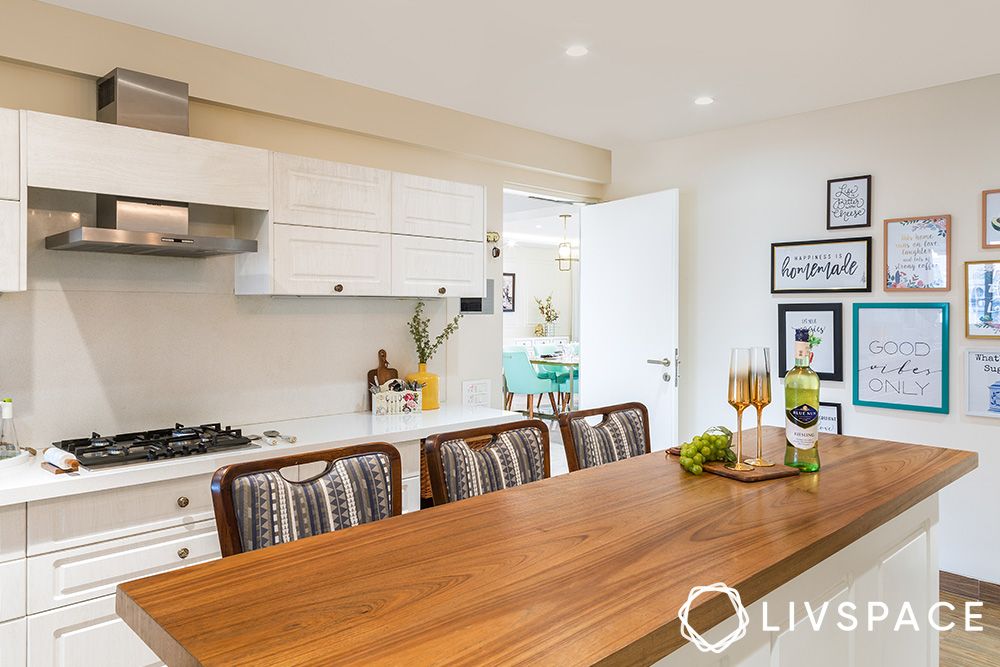 When it comes to different kinds of countertops, the butcher block brings the touch of wood to your kitchen. The butcher block is made of assorted pieces of hard maple, teak, birch or walnut wood. Out of all the different types of countertops, the butcher block makes for a less noisy kitchen. It is ideal to maintain with mineral oil treatment and sandpaper to sand down and fill in any nicks and scratches that may have occurred.
Pros:
You can mould your butcher block into any shape, size and form
They are easy to reinstall in case there is a wear or tear
Cons:
It may not be the most heat-resistant material for the kitchen countertop
It can collect dust easily and can also dry out. Thus, it is advisable to use food-grade mineral oil routinely
#6: Stainless Steel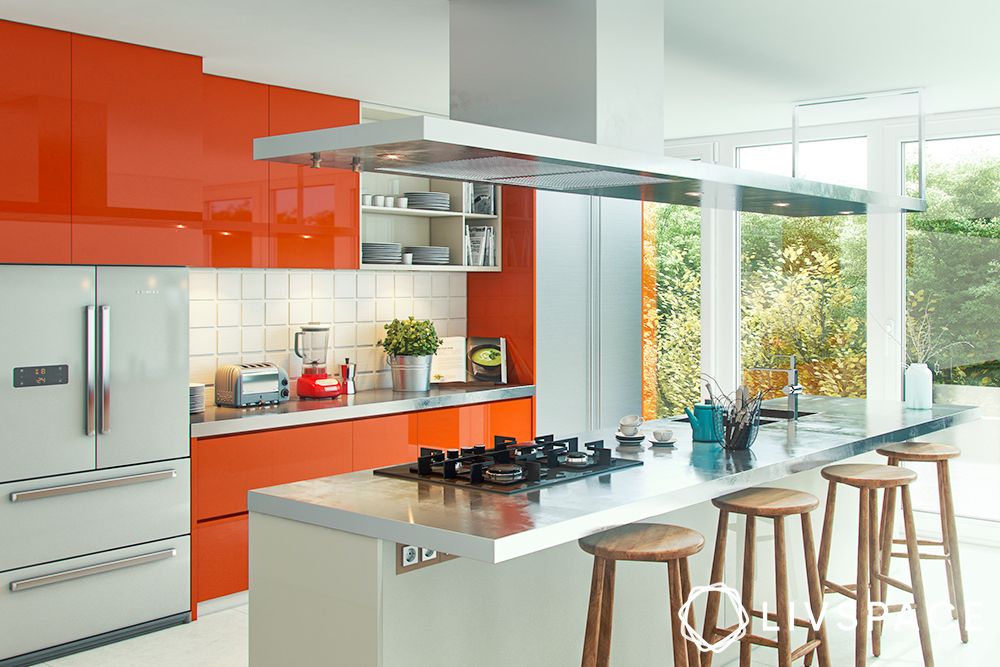 Out of all the options in different types of countertops, steel is a classic when it comes to commercial kitchens. Why? It is a durable and resistant material that can sustain over a longer term with minimal maintenance. Steel counts as one of those kinds of countertops that require only a wet sponge to clean. Thus, it is making its way into homes more frequently now.
Pros:
Steel countertops are known for their durability. This elegant material has an irresistible sleek and shiny appearance
It is reflexive, dust- and fire-resistant, making it an ideal candidate among different kinds of countertops available in the market
Cons:
Steel is not exactly scratch-free and dent-free. There is potential to end up with a ruined look when using sharp or heavy appliances
Steel can also make a lot of noise in your kitchen
#7: Laminate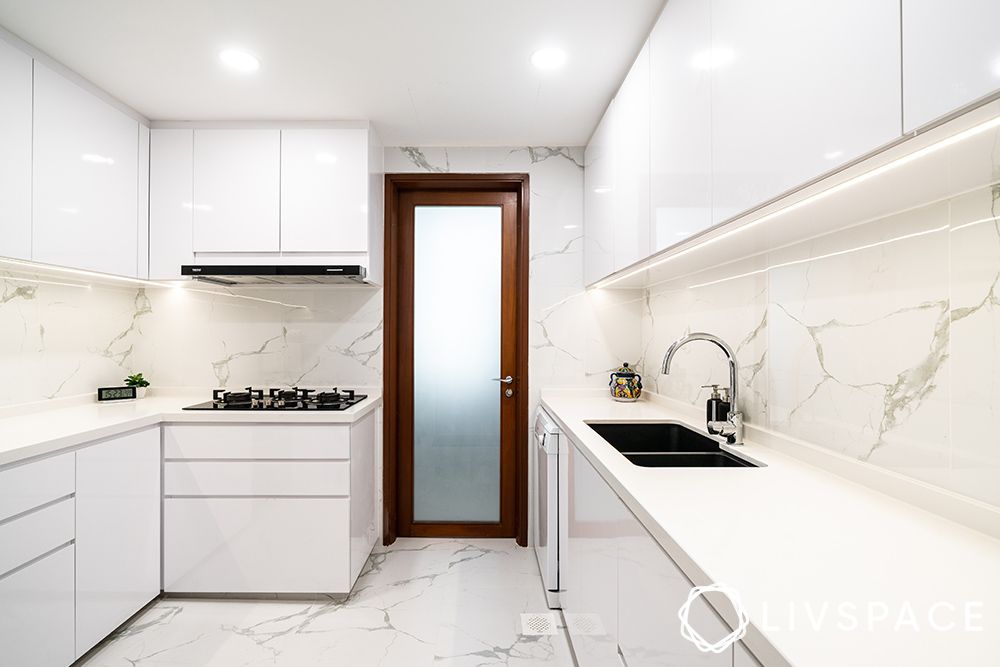 Laminate kitchen countertops are an affordable option for anyone looking to recreate the beauty of natural stone on a budget. These types of countertops are versatile in texture and design, and are simple to install and maintain. Moreover, laminate is more pocket-friendly than granite or marble. Use a mixture of dry scrubs and wet sponge to regularly maintain this countertop.
Pros:
Laminate is perfect for designer looks on a budget
It is easy to install and can be fit in without professional help
Cons:
It does not offer durability to your kitchen countertops
They are not heat- or scratch-resistant either
#8: Tile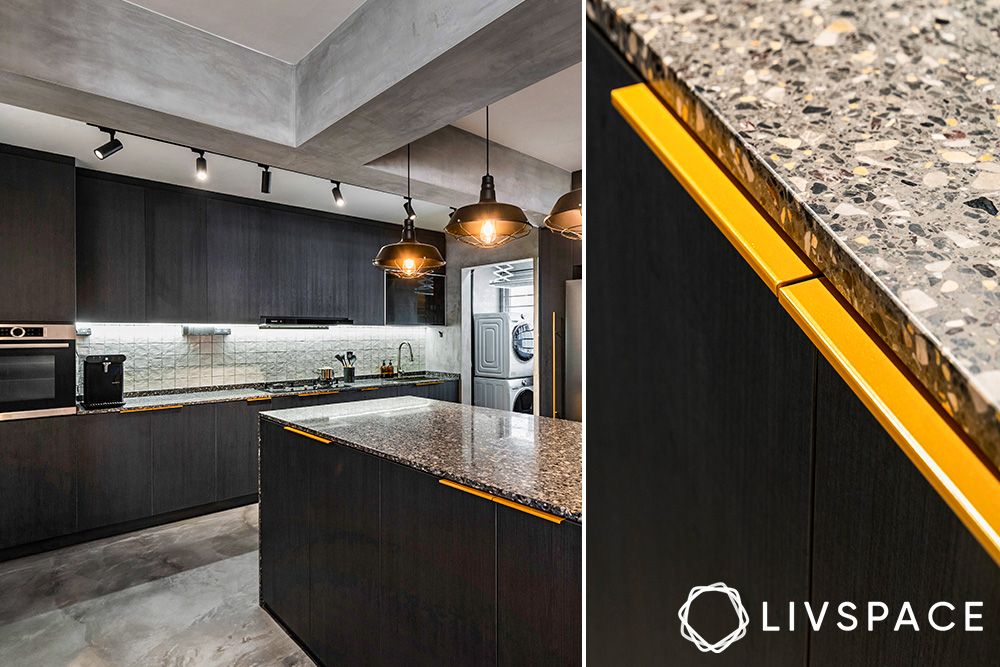 There are different types of countertop tiles that one can explore—ceramic tiles, terrazzo tiles, mosaic, porcelain etc. The one you see above is made with terrazzo tiles. Tiles are a durable option and you can easily maintain them by using regular sponge. Although different kinds of countertops made with different tiles have their own set of pros and cons, there are some that are common across all tiles.
Pros:
These types of countertops are durable and easy to maintain
They offer a range of options, from design to pattern and in different price ranges
Cons:
Dust can settle easily in their crevices or grouts. To prevent this, the homeowner has to get them sealed properly
Some options may not be antibacterial
#9: Solid Surface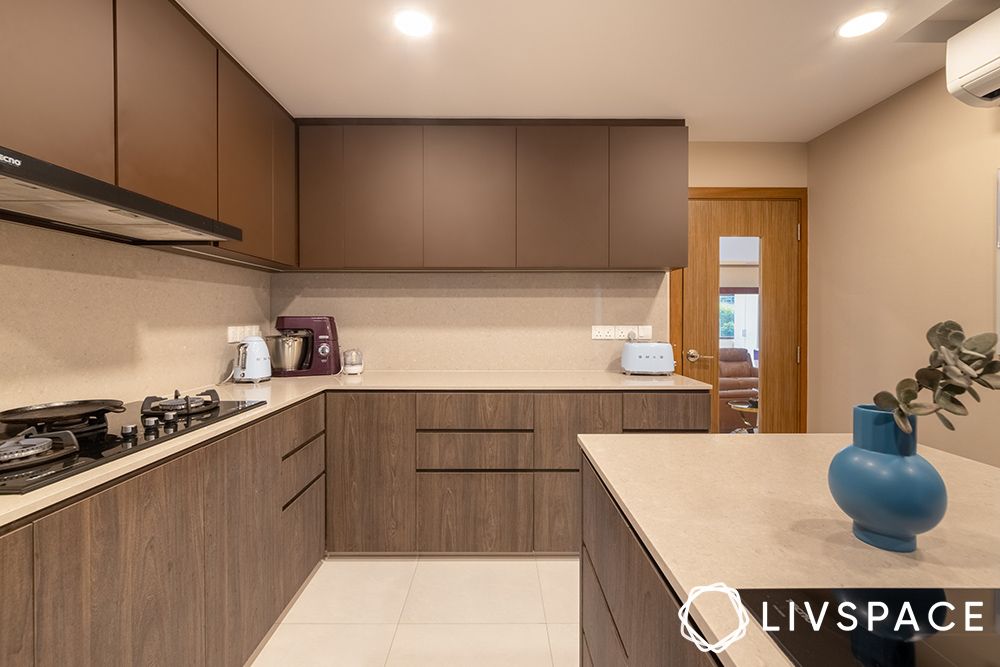 Also known as Corian tiles, they were originally manufactured by DuPont. Solid stone and acrylic polymers compose this type of countertop. They are easy to clean—all you need is a wet sponge. Avoid using harsh chemicals as they can leave the solid surface with burns and patches.
Pros:
It is non-porous material and can be moulded into an expensive finish of your choice
The colours and patterns will not fade
Cons:
It is not heat-resistant as one of the core materials for Corian stone is plastic
Solid surface countertops are also not scratch-resistant
#10: Soapstone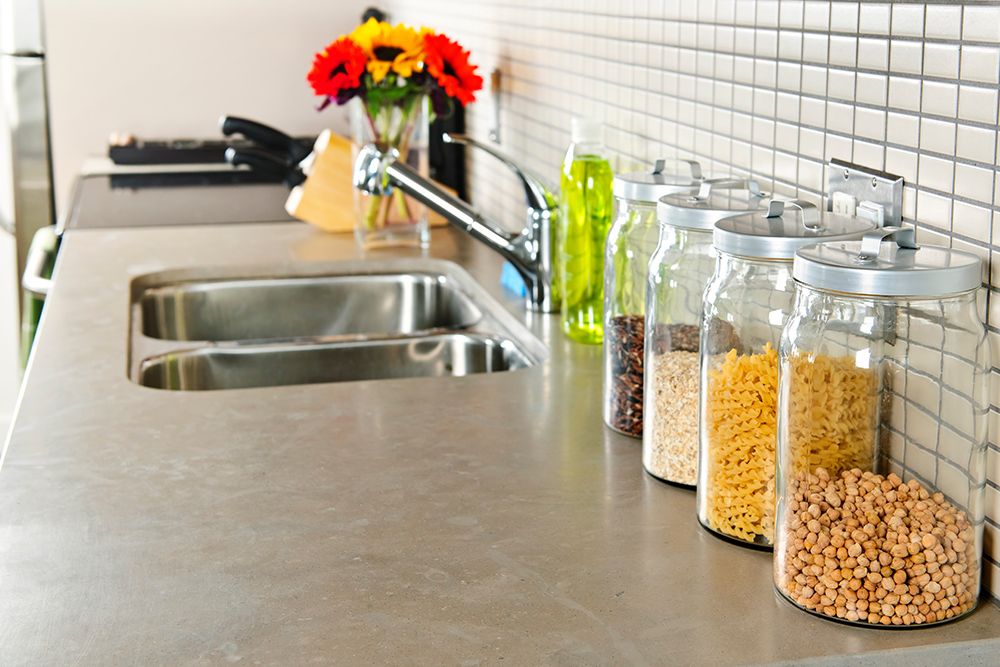 Soapstone kitchen countertops are the perfect middle ground for someone looking for the dark finish of granite. They come with light veining of marble. These types of countertops create a rustic old-world charm in your home. To maintain them, you should periodically buff soapstone countertops with sandpaper to keep them looking fresh and new.
Pros:
Aside from the fact that soapstone countertops are aesthetic, they are also quite a durable option for kitchen countertops
They do not stain easily, making them super easy to maintain in Indian kitchens
Cons:
Soapstone is not scratch-resistant. It is also not oil-friendly given that us Indians love our fried food
It is a pricey stone to go for especially when it does not offer you a lot of choices in colours or patterns
Also Read: 6 Most Popular Countertop Options That You Must Consider for Your Kitchen
#11: How to Maintain Your Kitchen Countertops?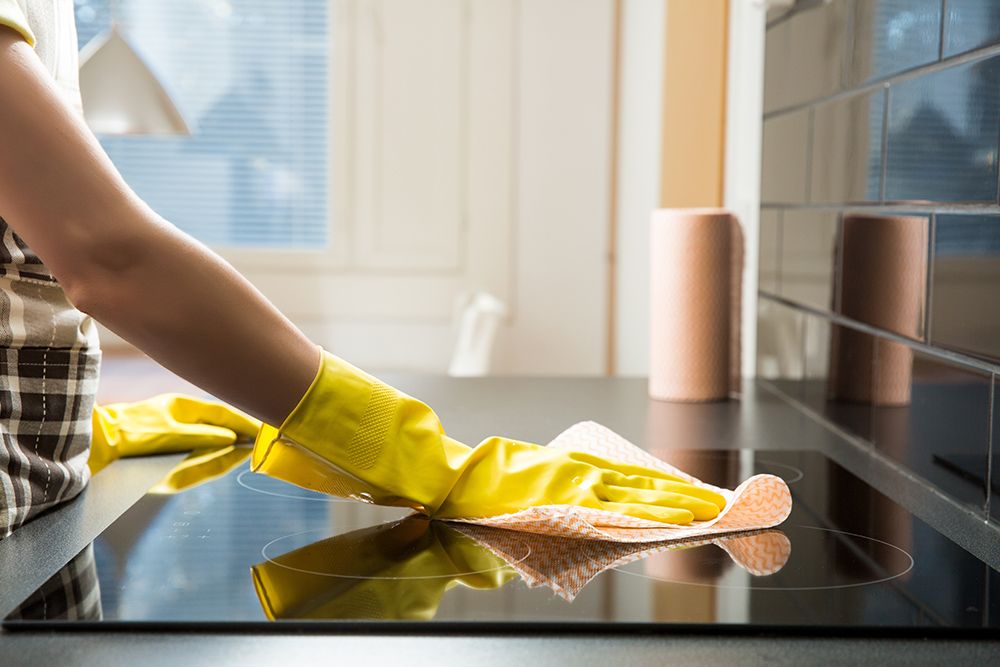 Kitchen countertop maintenance should not be a horror story. Whether you decide to go for any kitchen countertop, here are some expert tips on how to quickly clean any types of countertops:
Work in the following steps: cleaning, stain removal and sealing
Avoid using harsh surface cleaners or disinfectants as they can leave your kitchen countertops patchy
Most of the time, mild soap and water does the job. However, check what each material requires
Always opt for microfibre cloth for a thorough cleaning
Get your kitchen deep-cleaned professionally once a year
Want to know how much your kitchen is going to cost? Take the help of our kitchen price calculator. For more kitchen decor inspiration, schedule a consultation with our experts today. And to get your own dream kitchen go here.
Check out kitchen designs:
How Can Livspace Help You?
We hope you found our ideas useful! If you want beautiful interiors for your home, then look no further. Book an online consultation with Livspace today.