In the heart of the home lies the most utilitarian room – the kitchen. Whether you're a self proclaimed chef or a budding baker, the value of a well-designed kitchen is obvious. However, this is one space that is notoriously difficult to design. Lucky you, we've got just the inspiration guide for you, starting with one of the most efficient layouts – the parallel kitchen.
Also known as a galley kitchen, this layout is perfect for compact homes or for one-cook kitchens. With aesthetics similar to an alleyway, you have the chance to pack it with storage on both walls.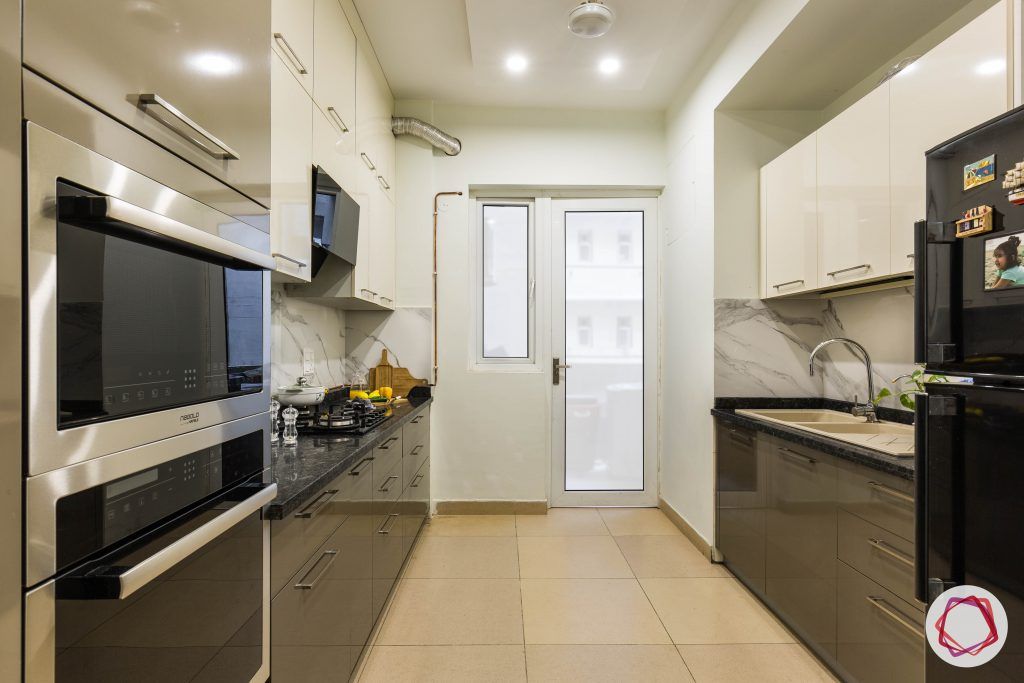 What is a parallel kitchen?
A parallel or galley kitchen is a classic layout with a narrow space that comprises of two walls with a passageway between them. Packed with base and wall cabinets on either side, it is an easy layout to design as there is no space for corner cabinets.
Why should you choose a parallel kitchen?
Be it ergonomics, layout or appliances, parallel kitchens are superior for many reasons. Here's why you should opt for a parallel kitchen layout:
In most cases, parallel kitchens take up less floor space and work well for compact homes.
Lesser materials used on the counter tops and cabinets, thereby cutting down the overall design cost.
This layout is ideal for homes with one cook and lesser foot fall.
Keep the design simple as it is easy to stick to the basics. It has limited design scope for a breakfast counter or kitchen island.
Things to keep in mind about a parallel kitchen
Maximise storage by adding wall and base cabinets on either side
Maintain equal distances between the kitchen golden triangle
Keep the sink and hob on the same line
Position the fridge on the opposite side, preferably between the line of the sink and hob
Here are a few Livspace designs for inspiration.
#1: A sleek look with a pop of colour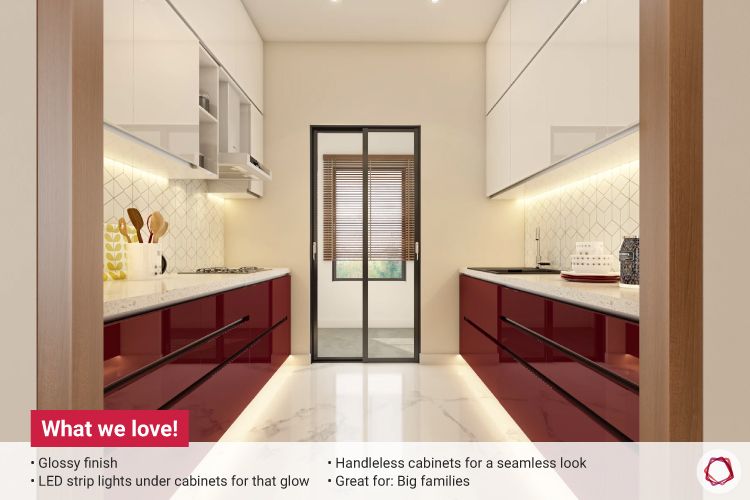 A glimpse of grandeur is what this kitchen is all about. The sleek storages allow easy movement with plenty of floor space to spare.
#2: Add an island to the design
The peninsula layout brings out a spacious look along with open shelves that are visually light. The prep counter can double as a breakfast counter when you're done cooking!
#3: Ideal for compact spaces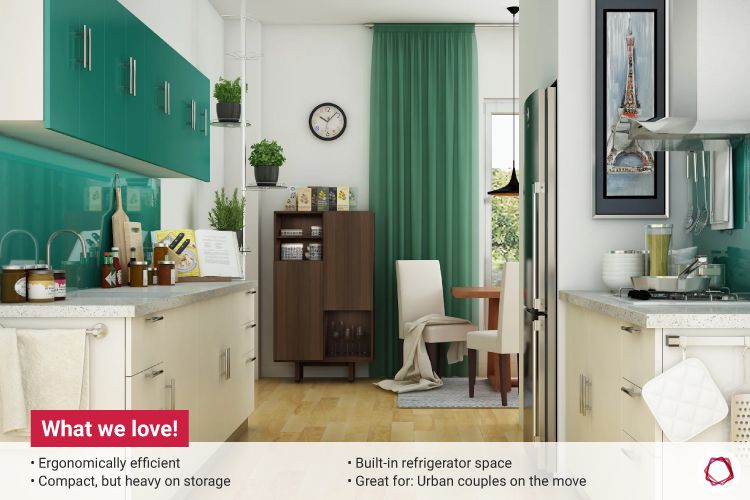 Although the layout seems small, the storage capacity is as good as a normal kitchen. Also, the use of towel hangers on the cabinets for cutlery is a smart move.
#4: For a multi-purpose layout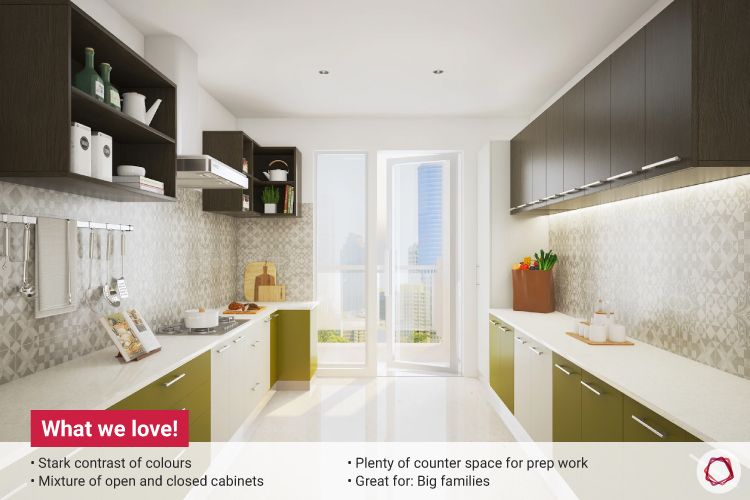 It's not just about the colour contrast here, but the efficient layout that has ample prep counter space for a crowd. Hosting parties becomes a lot easier when the kitchen is this spacious.
#5: Switch-up an L-shaped kitchen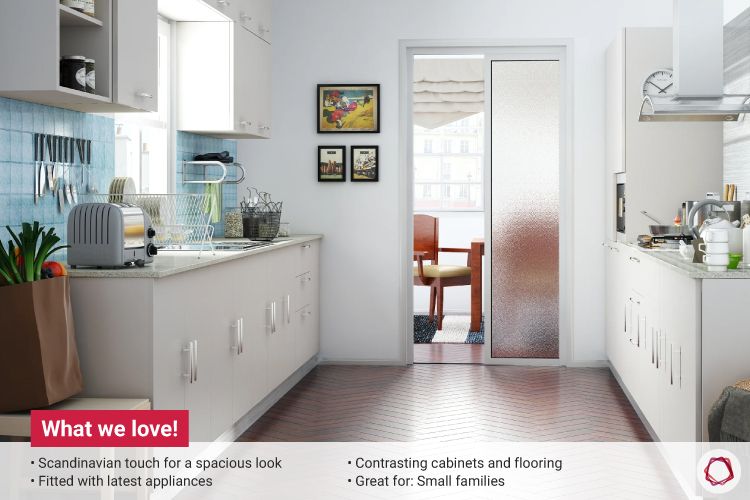 You achieve an airy feel when you let go of a few wall cabinets. Although you could fit an L-shaped kitchen smoothly, this layout uses space efficiently without giving a plain look.
#6: Opt for Vastu-approved colours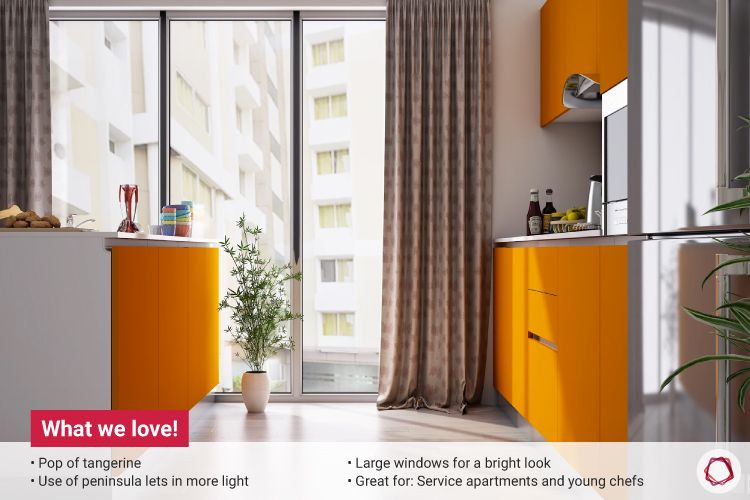 A pop of tangerine is certain to brighten your day! Easy to cook and grab some food when you're on the go, this layout is ideal for the working class and young chefs. Moreover, its vastu-approved. Take a look at 6 Vastu-approved Kitchen Colors
#7: A kitchen for multiple cooks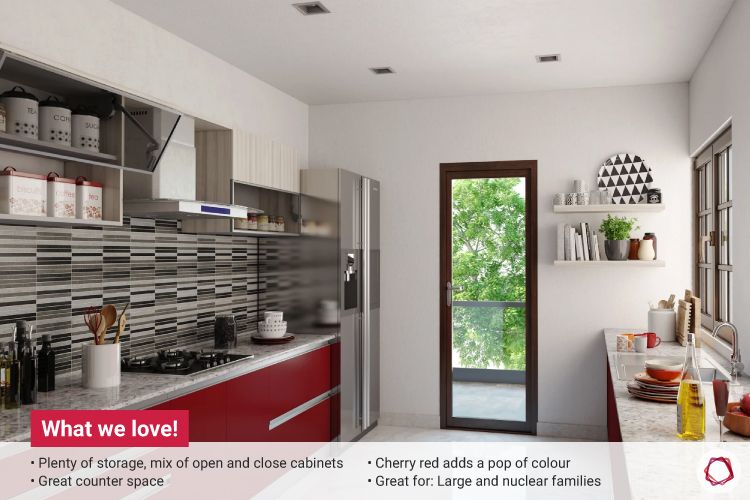 Got a big family? This parallel kitchen can house your members with ease and allow minimum disruption to any work. The work triangle gives you perfect movement and access, especially when you're in a hurry.

#8: A layout with maximum storage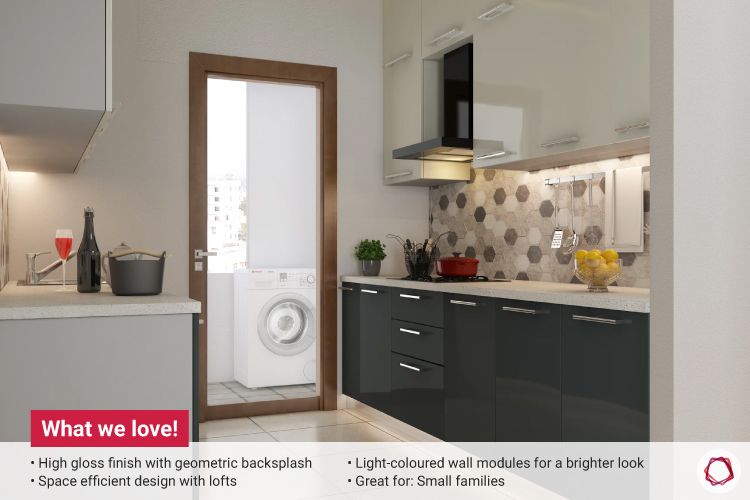 Not enough storage in the kitchen? Then a parallel kitchen works best for you. An added bonus are lofts that increase the utility of the kitchen.
#9: A low-maintenance kitchen design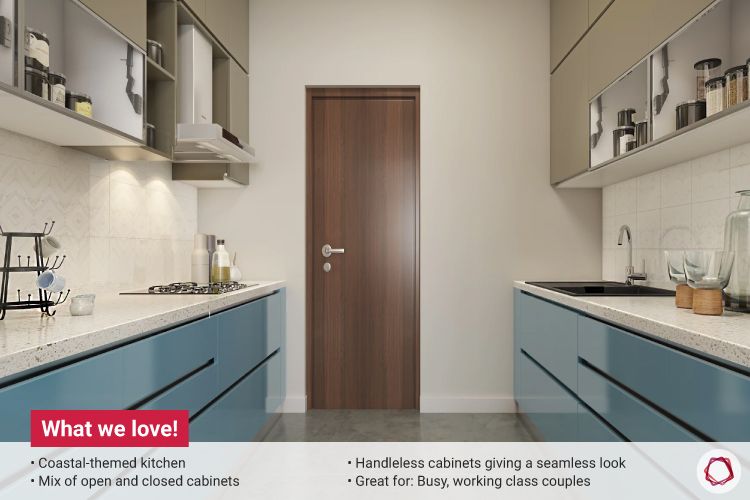 For the busy couples out there who feel maintenance is a task, this kitchen is a perfect fit. The glossy shutters, quartz countertop and tile backsplash are easy to clean with their smooth surfaces.
#10: An elegant Livspace kitchen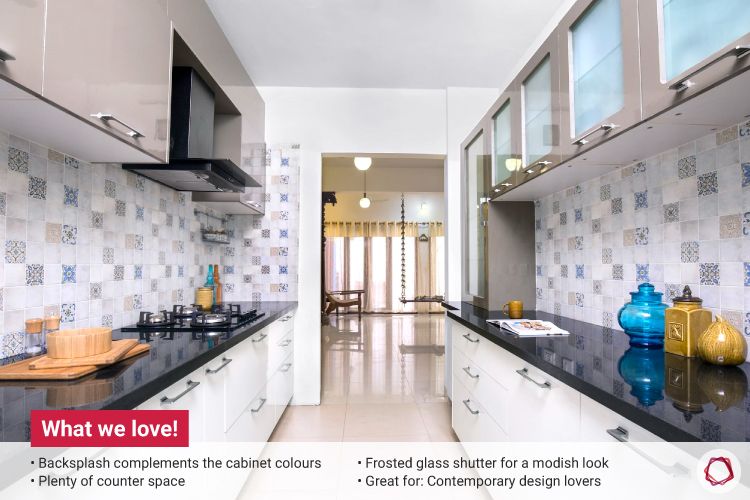 A flawless solution for a rectangular layout is this parallel kitchen. Sleek storages, neutral colours and glossy finishes make it appear bright and spacious. You'll be surprised that this home also features ethnic elements with grace.
#11: Seamless and handleless look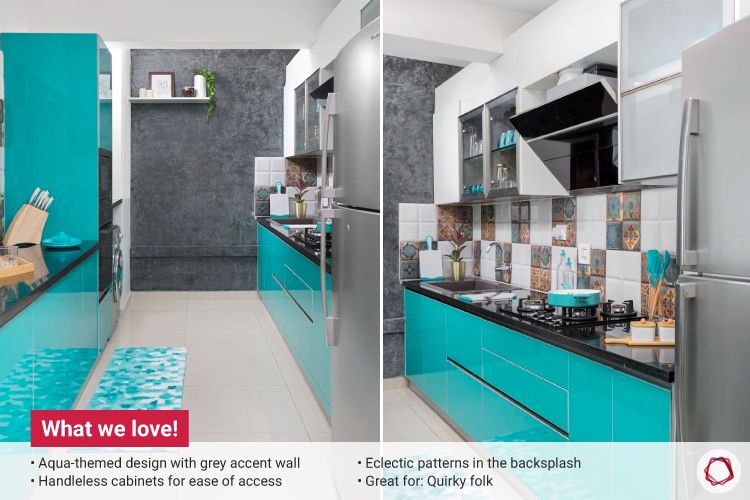 A handleless finish for a seamless look matched with quirky aqua tones for those who love offbeat styles. Pick a mix of open, closed and frosted glass or plain glass shutters for a balanced look. Love the spring-like feel? Check out the complete home here.
#12: A classy white kitchen design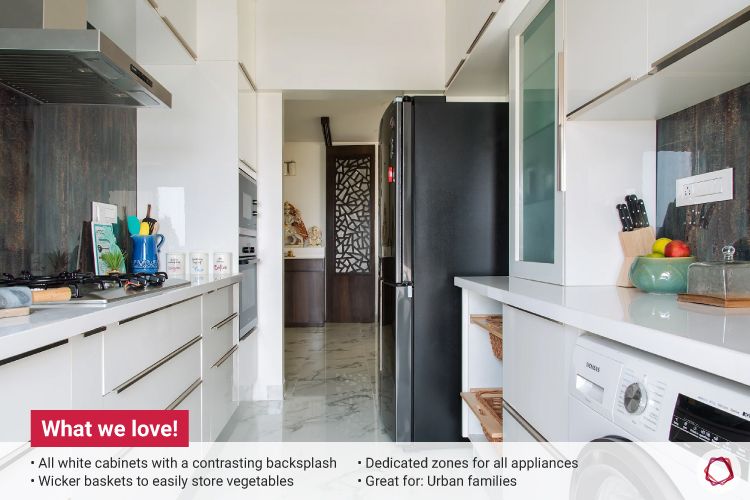 Finally, white kitchens are getting their well-deserved fame. After letting go of the myth that they are hard to maintain, this home gets an efficient and bright kitchen. This home was designed by Livspace for a pilot couple!
#13: Decked in wooden finishes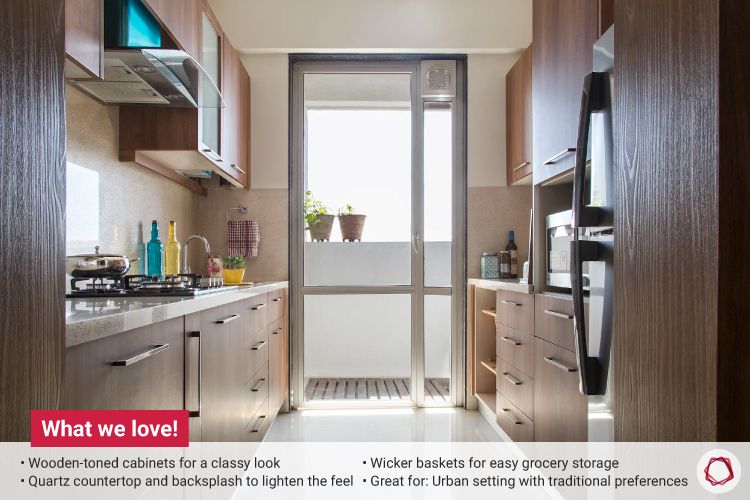 Bring in classic notes with wooden finishes but choose to contrast it with a light backsplash. The glass door makes lets in ample light so that the kitchen appears bright. It's not just the kitchen, but the whole home that is dipped in warm browns and beiges. Check this article for more pictures.
#14: Bright and two-toned colours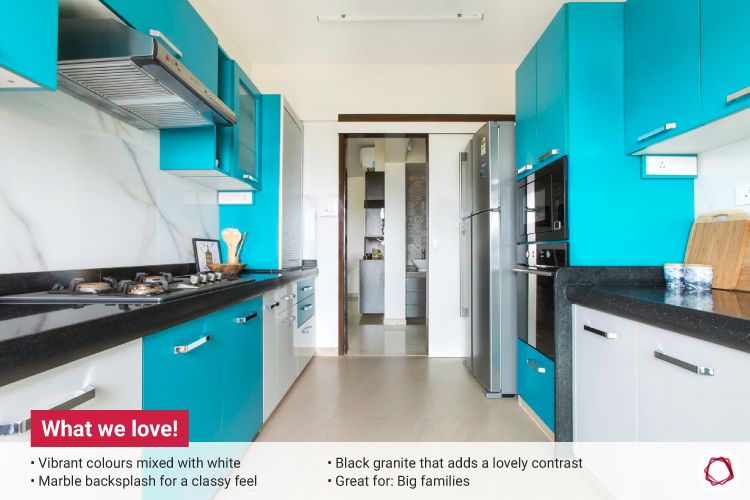 This two-tone kitchen has an eccentric look with a classy marble backsplash to accentuate it. Dedicated zones for appliances make cooking a smooth process. Read the full story here.
#15: A monochrome theme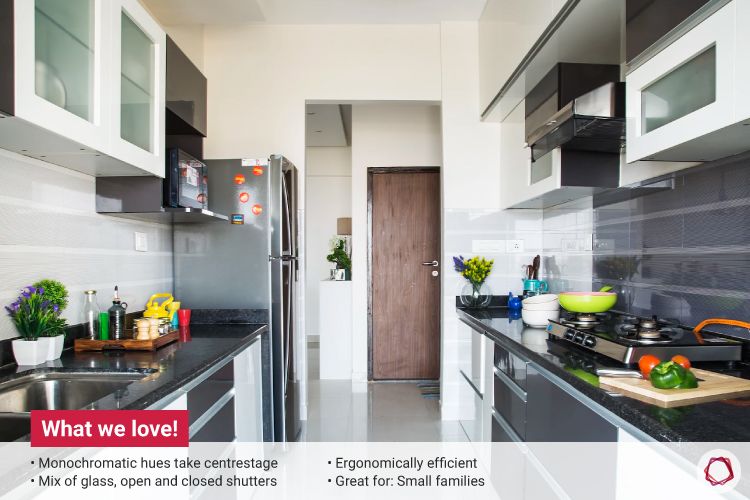 Talk about colour-coding! This monochromatic kitchen is a balance of utility and aesthetics. Handleless cabinets with a soft-close mechanism, frosted-glass shutters along with built-in appliances are bound to encourage your culinary skills. Check out this home for a Moroccan-inspired theme.
#16: Stunning sangria red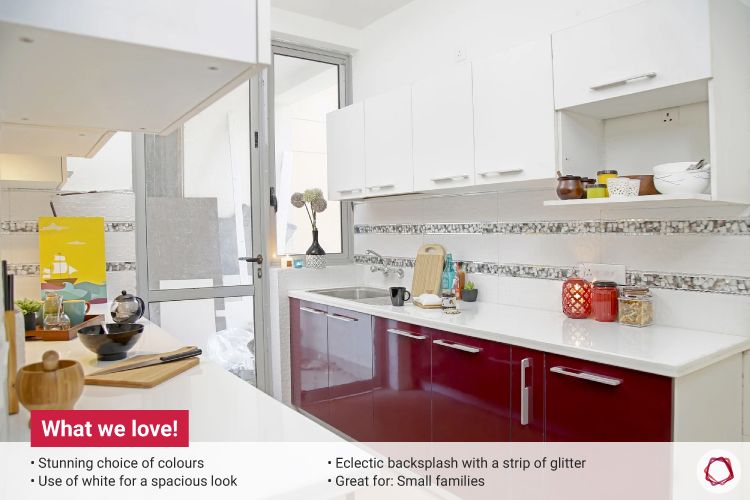 Ever wanted a glamorous cooking session? A pop of cherry red, white countertop and a strip of shimmer in the backsplash, Stylish Yet Sensible Sangria Kitchen Notes kitchen is stunning whichever way you look at it. Pull-outs, tandem drawers, cutlery units and open shelves ease storage needs.
Take a look at this video for more inspiration:
Love these kitchens? Take a look at the L-shaped collection Pretty, Plush and Practical: L-Shaped Kitchen Designs