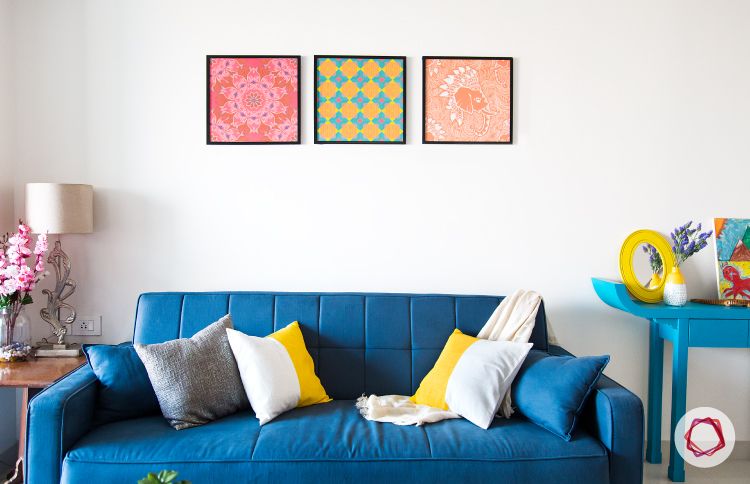 Picture Credit: Anuja Kambli
---
Who livs here: Vikram and Aparna Mago with their kids 7-year-old Krishiv and 2-year-old Tara
Location: Omkar Veda, Parel
Size: 2 bedroom apartment spanning 1,000 sq ft
Design team: Interior designer Ritika Parab with design manager Ninad Deshpande and project manager Mushir Shaikh
Livspace service: Full home design
Budget: ₹₹₹₹₹
---
The desire to have lots of open space for their growing kids propelled Vikram and Aparna Mago to move from their three bedroom apartment in Wadala, a suburban locality along the harbour line in Mumbai, to a two bedroom with three beautiful balconies in Parel. The shortfall of one bedroom would obviously translate into a storage crunch, however, the Magos felt their balconies that glimpsed the sea trumped their need for additional space.
Vikram is an equity banker by profession while Aparna works in consumer product marketing. The couple, are on their feet round the clock both at work and at home. The siblings, two-year-old Tara and seven-year-old Krishiv, are adorable but can be a handful. So, when Aparna met Livspace designer Ritika Parab, the couple heaved a sigh of relief. They were looking for someone to pull their space into a cohesive home through clever interior design.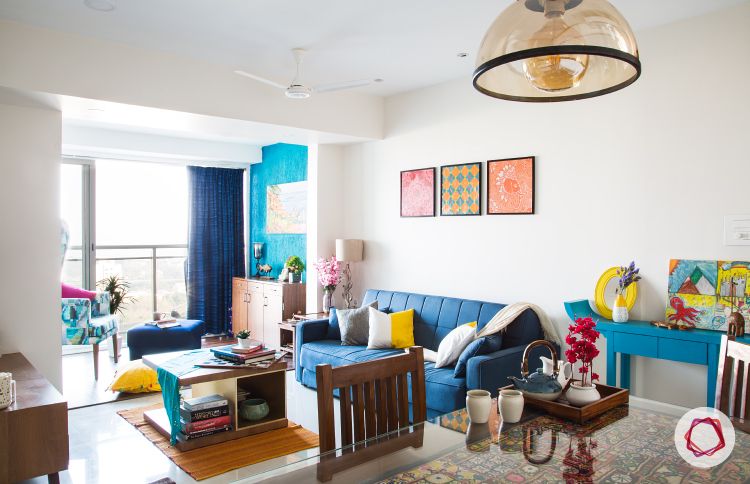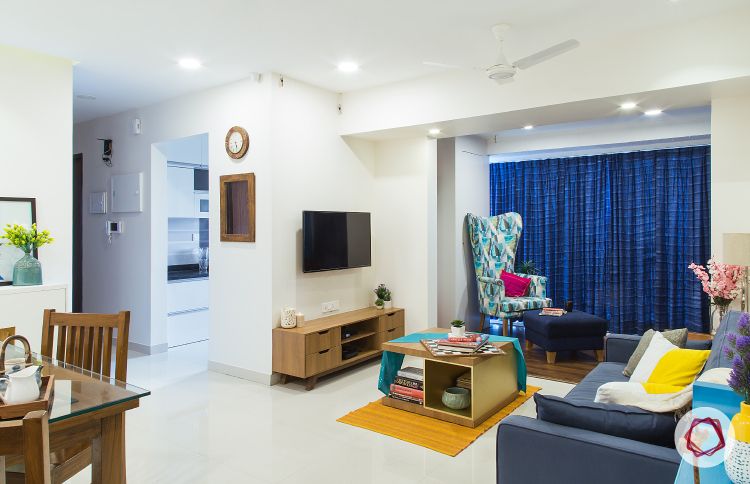 ---
A navy sofa cum bed takes centre stage in the living room. The curtains and ottoman maintain cohesiveness through repetition of color.
---
Design gurus have been talking about going back to our roots; going organic is what 2017 is all about in the interior design space, and Aparna was way ahead of the curve when Ritika and she met in late 2016. A huge focus was obviously on maximising storage but on the design front, she wanted to embrace natural forms. Bare walls, varying shades of blue to contrast lush green plants with Moroccan and bohemian influences breathing through.
With kids around, hassle-free and low maintenance pieces were a huge priority. So, in came a navy sofa cum bed that the Magos roll out when guests are over, a sturdy coffee table that has deep shelving in a warm oak and dull gold finish, and a matching mid-century modern piece rests beneath the wall mounted TV.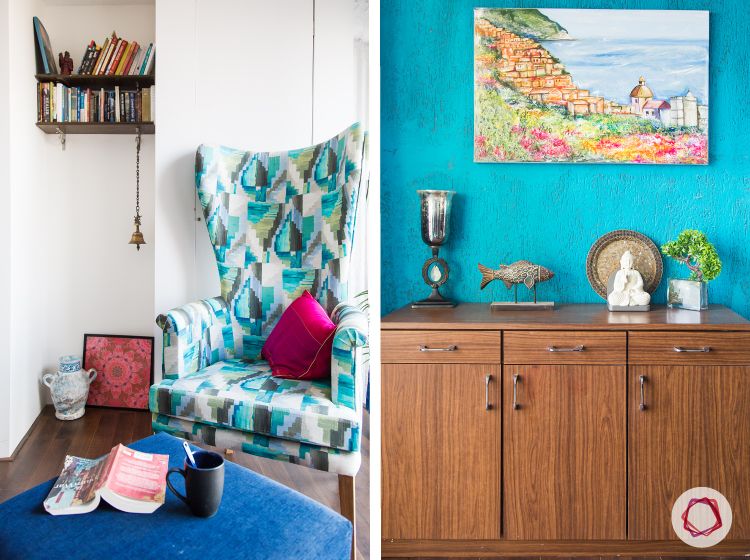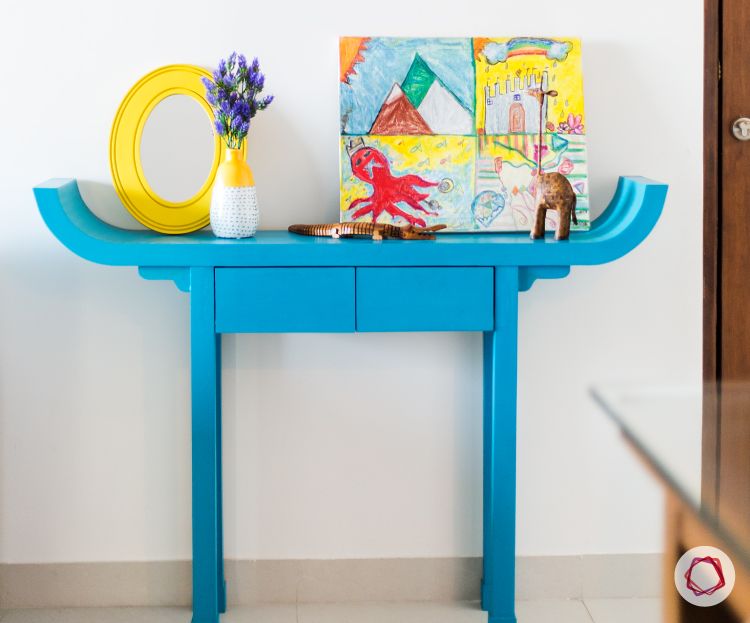 ---
The living room balcony walls were broken down to make way for a cozy reading nook with a stand out turquoise accent wall and warm wooden slats below. Adjacent to the main entrance, a funky, teal console affords a bright pop of relief as soon as you walk in.
---
To accentuate the overall Mediterranean beat, Ritika highlighted the seating alcove, by the ceiling to floor French windows, with a single textural turquoise wall. A smart high-backed chair wears a large boho-inspired motif and is paired with a navy ottoman. Underfoot, a deep burnished wooden flooring pulls the space together and exudes warmth.
To offset the turquoise, a bright teal console with an upturned crescent top and smart retro feet sits by the main door — an ideal spot for Vikram and Aparna to stash their keys and mail on their way in from work.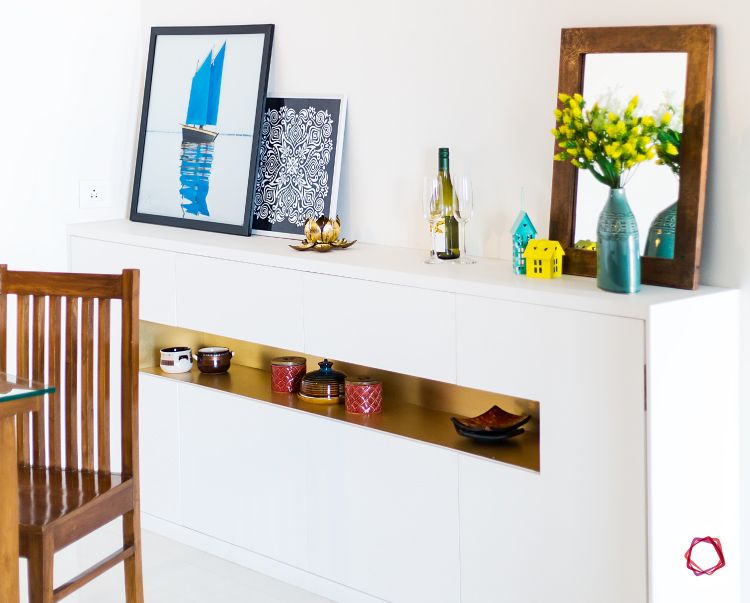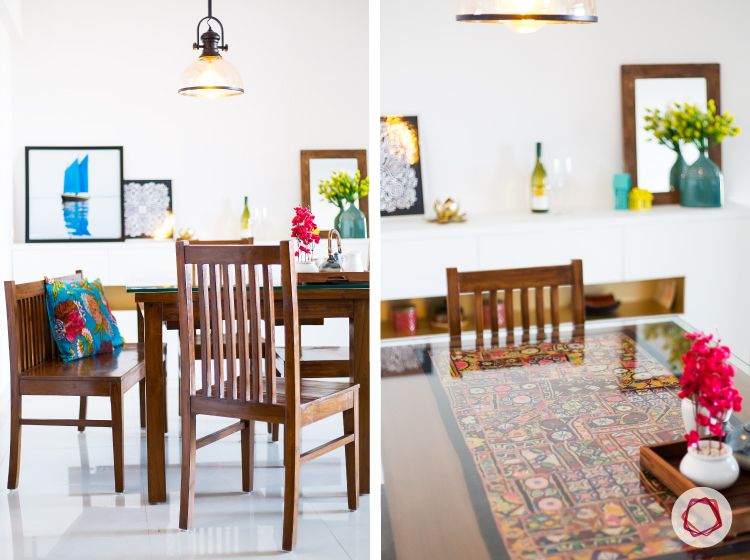 ---
The simple teak finish dining table takes a bohemian persona thanks to the applique on the fabric. Overhead, an industrial and edgy pendant gleams.
---
As soon as you walk into the home, you're immediately drawn to the applique work on the dining table top — Aparna's way of giving the otherwise simple six-seater a bohemian twist. Behind, a crisp white console blends with the wall, allowing the lustrous insert to stand out.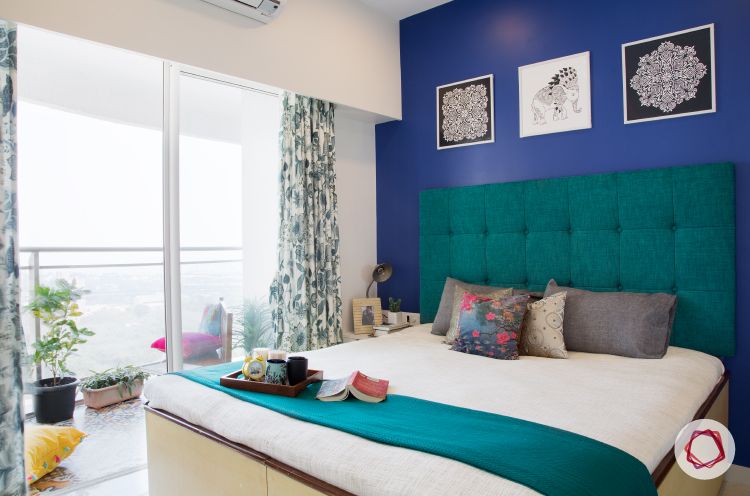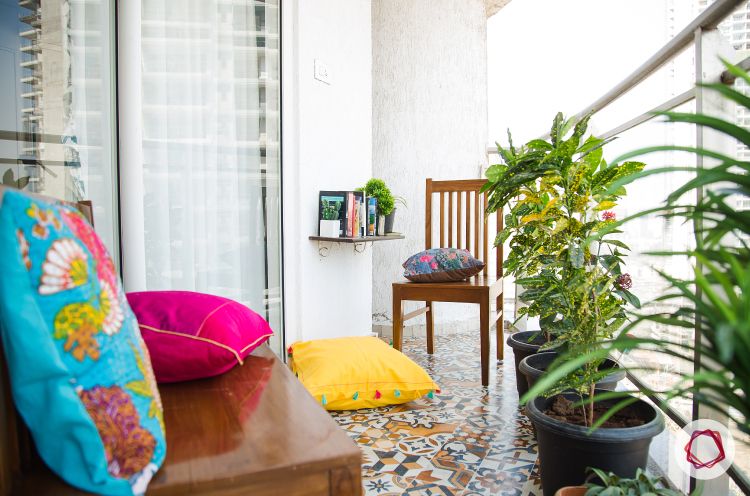 ---
The master bedroom embraces a Mediterranean spirit with a spectacular Monaco blue accent wall, while the balcony strip has become Vikram and Aparna's Moroccan escape in the heartland of Mumbai.
---
A big challenge was re-using some of the Mago's existing furniture. Aparna's belief was they were in great shape, and they could give them new life by refurbishing them. So, Ritika dressed up their existing bed with a button tufted, wall hung headboard in peacock green and gave them a beautiful, Monaco blue wall, cleverly drawing attention away from their pale oak box bed.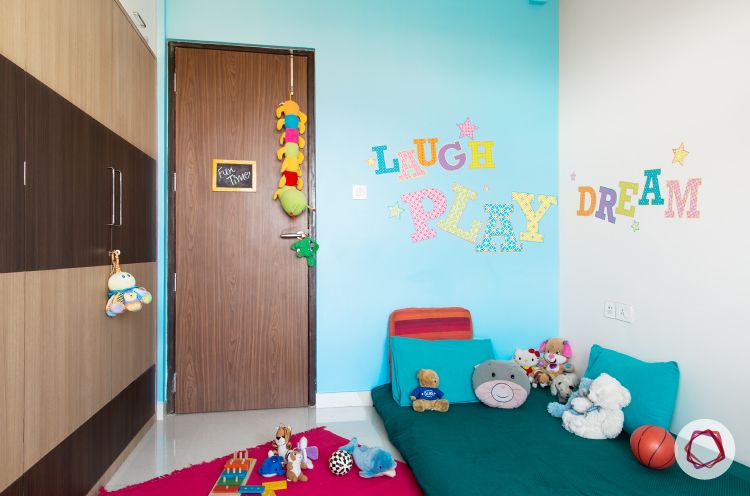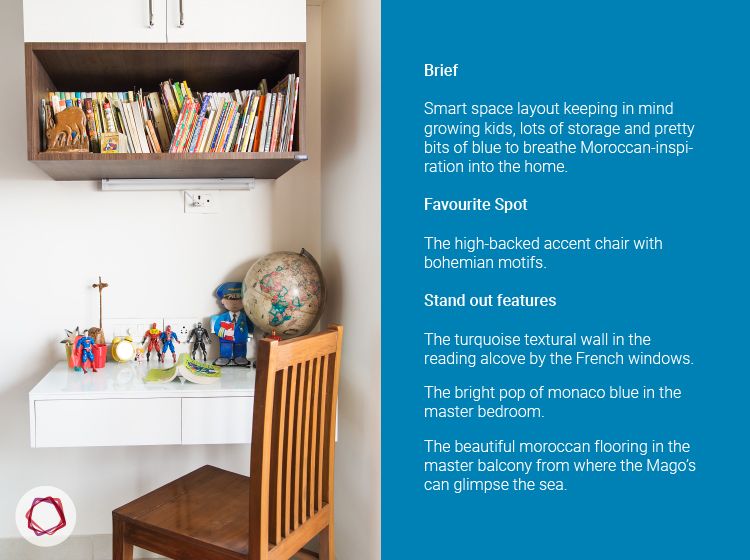 ---
A sky blue wall keeps the kid's bedroom fun and airy. Seven-year-old Krishiv uses the desk to read and paint.
---
Krishiv and Tara's room was also splashed in a pale sky blue with fun decals sticking out. A floor bed ensures the siblings don't roll off. A simple wall mounted desk in pearly white with an overhead box shelf and cabinets house the kids' books in every shape and color.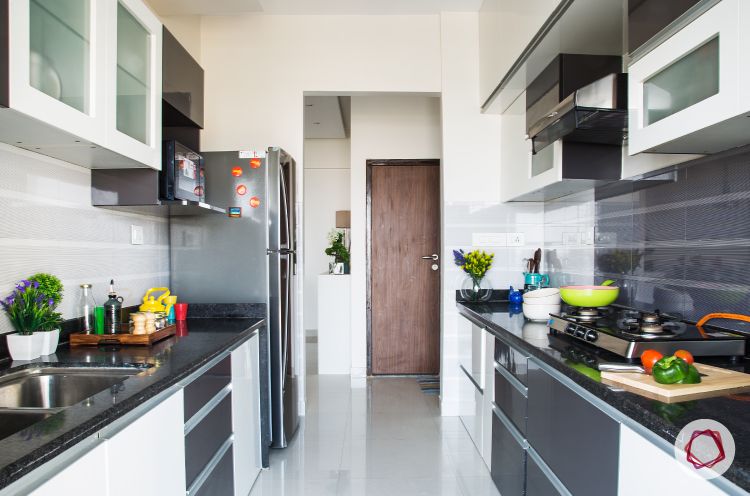 ---
Keeping in mind, the family's need for deep storage, overhead lofts that protrude an extra two feet, were installed.
---
The Mago's earlier kitchen had a single platform and not enough cabinet space. With a parallel platform and deep modular fittings, their slate grey and ivory kitchen is every bit practical and aesthetic.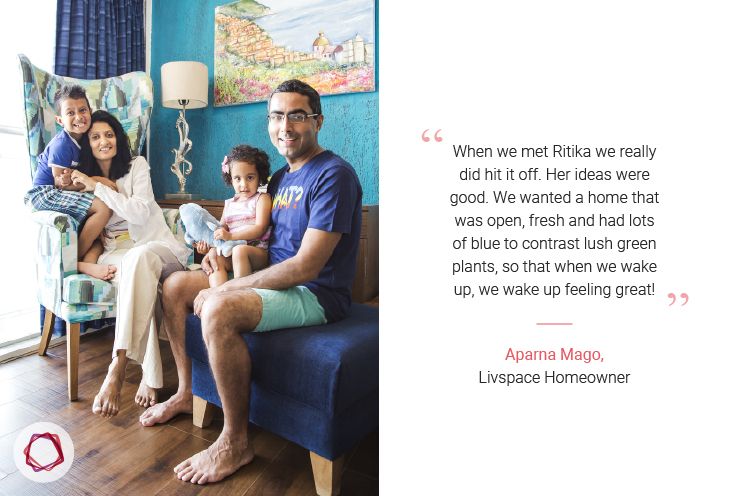 ---
I thoroughly enjoyed designing for Aparna and Vikram. During our initial discussions, I realised our design aesthetics click — and that in itself can sometimes be a huge hurdle. To top it off, they gave me a lot of creative freedom. I particularly fell in love with the reading nook with the wooden flooring.

Ritika Parab, Livspace Interior Designer