This 3BHK gets the best interiors in Hyderabad by making some smart design choices.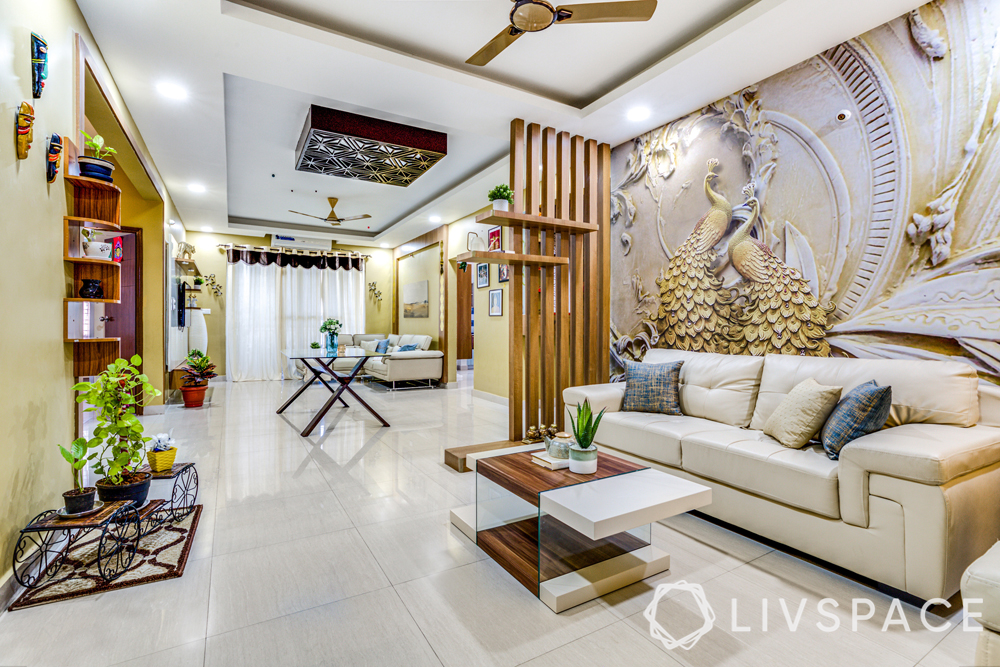 ---
Who livs here: Nilima Sharma with her husband, son and nanny
Location: NCC URBAN ONE, Narsingi, Hyderabad
Size of home: 3BHK spanning 1,800 sq ft (approx.)
Design team: Interior designer Ritika Bachala and Project Manager Kiran Kumar
Livspace service: Full home design
Budget: ₹₹₹₹₹
---
The most beautiful homes are the ones that respond to the requirements of the people who live in them. And that was our mission statement when it came to designing this spacious 3BHK for a young family. Nilima Sharma, a marketing professional and young mother, wanted to ensure that her new home gets the best interiors in Hyderabad. Moreover, our designer Ritika Bachala shaped the design plan for this home completely based on Nilima's requirements.
Apart from mandatory child-friendly (to accommodate a toddler), Nilima wanted a healthy dose of colour to brighten up her home. However, she did not want to go overboard with colour. She put down her expectations from every room in the home in the form of a design brief. Thereafter, Ritika devised a nifty Livspace solution to translate these requirements into the best interiors in Hyderabad. Let's take you through the details to show you how that worked.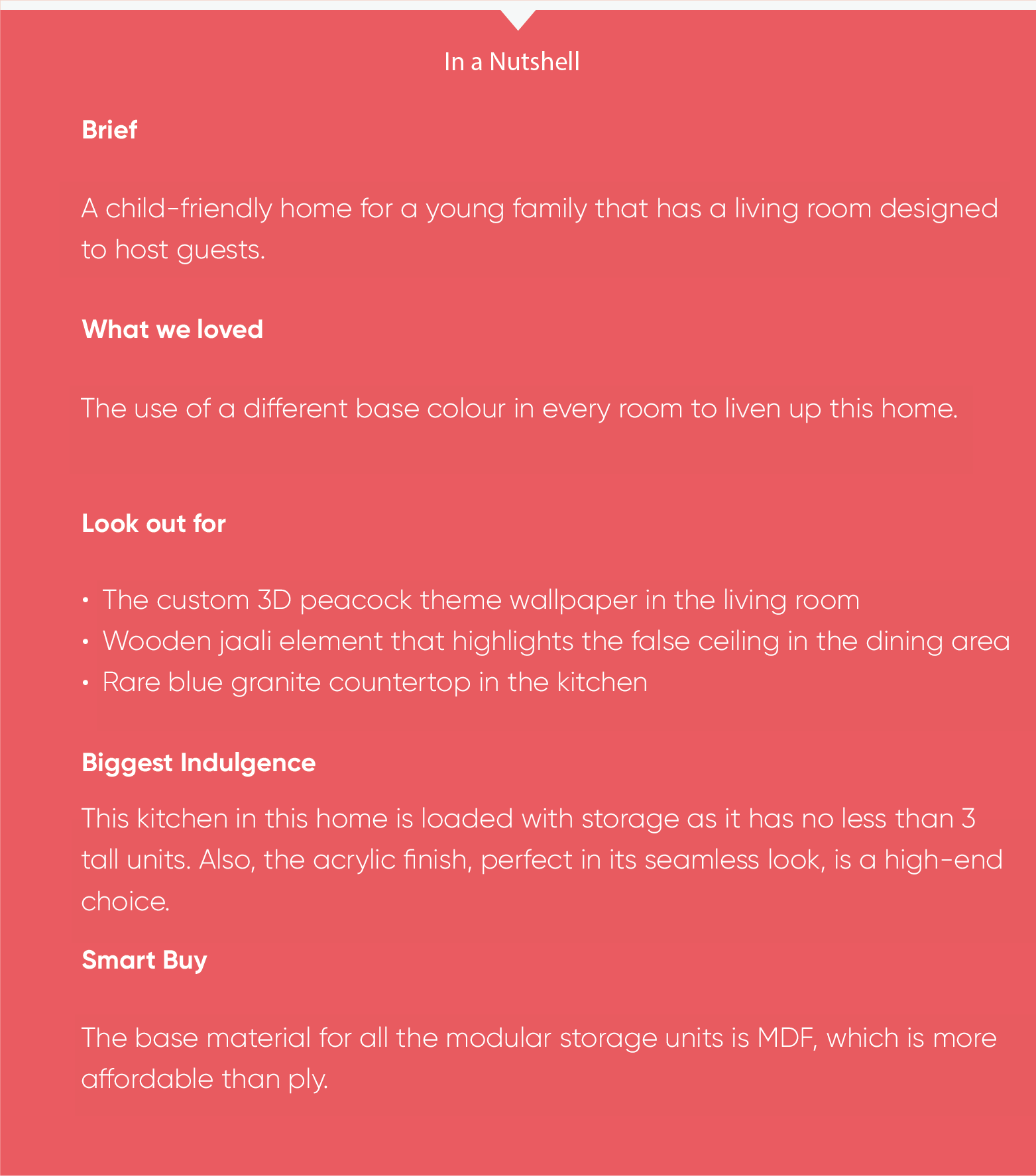 Zoning Out Space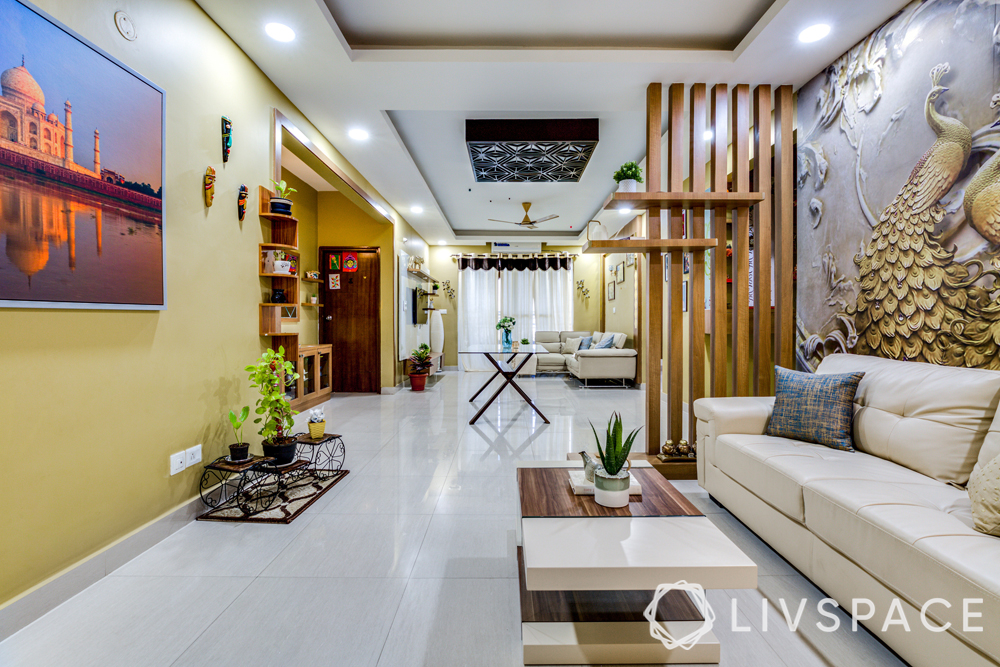 The Homeowners' Requirements
As Nilima is a marketing professional, she often needs to host parties at her place. Hence, she needed a living room that would draw in her guests instantly.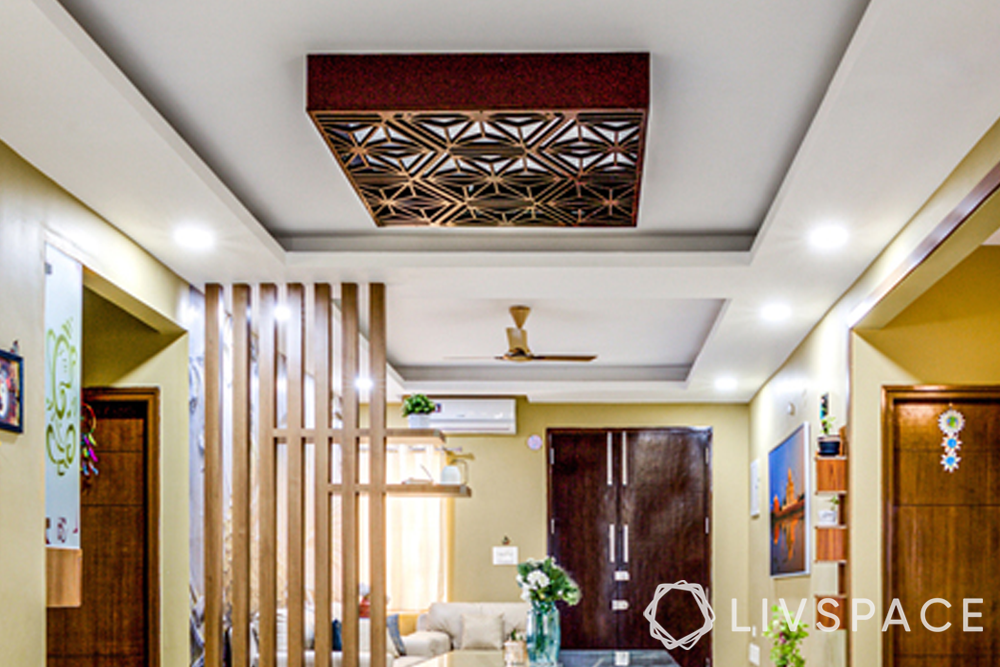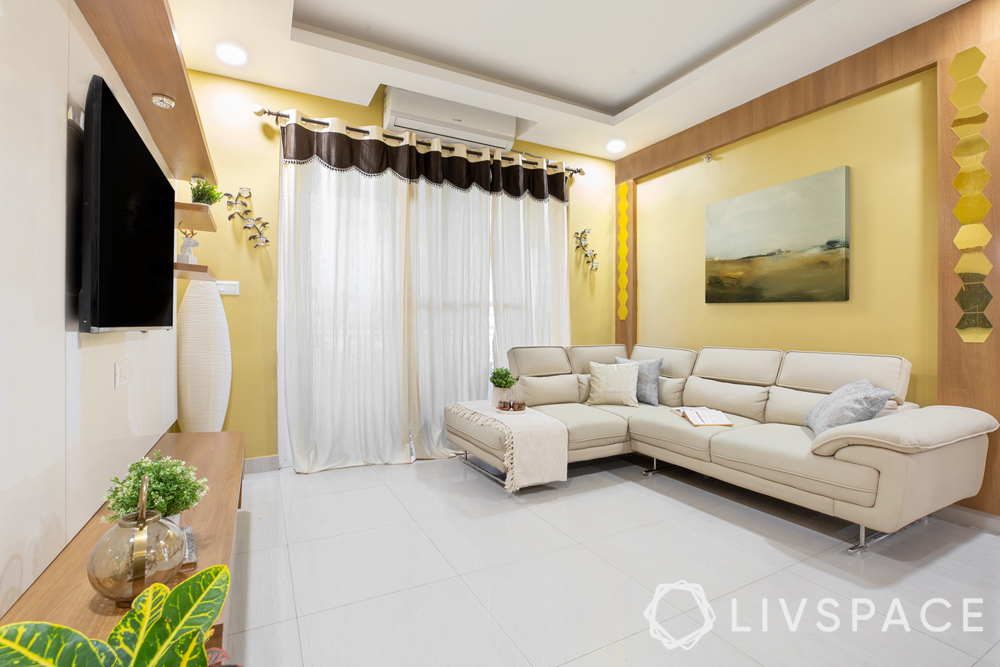 Livspace Solution
We have broken up the living room in this apartment into three zones: formal living area, dining space and informal living area. The formal living area, designed to host guests, is highlighted by a custom 3D peacock theme wallpaper. In fact, Ritika has segregated this zone from the dining space by installing a partition with a base. This divider also doubles up as a shelf for display.
Ritika has highlighted the dining space with a wooden jaali piece that is integrated in the false ceiling. Thereafter, this space is mostly bare and continues into the informal living area. With a cosy L-shaped sofa and a TV unit, this space is mainly designed to chill and enjoy some family time.
The Biggest Investment: Kitchen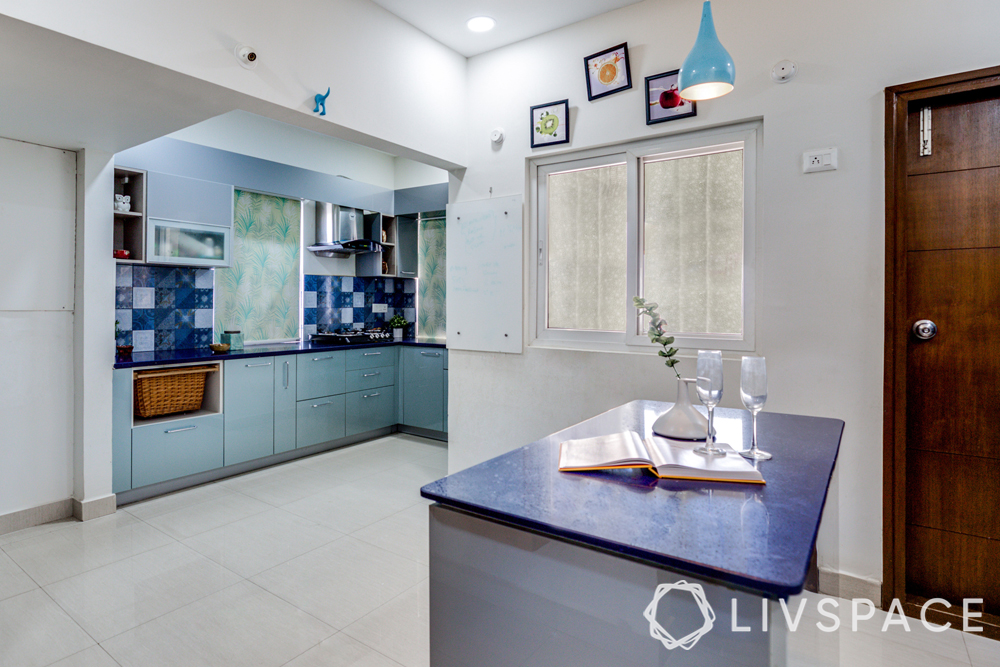 The Homeowners' Requirements
Nilima considered her kitchen as an investment and wasn't ready to cut corners for it. She wanted her kitchen to be spacious, functional and also suitable to the needs of a young working mother.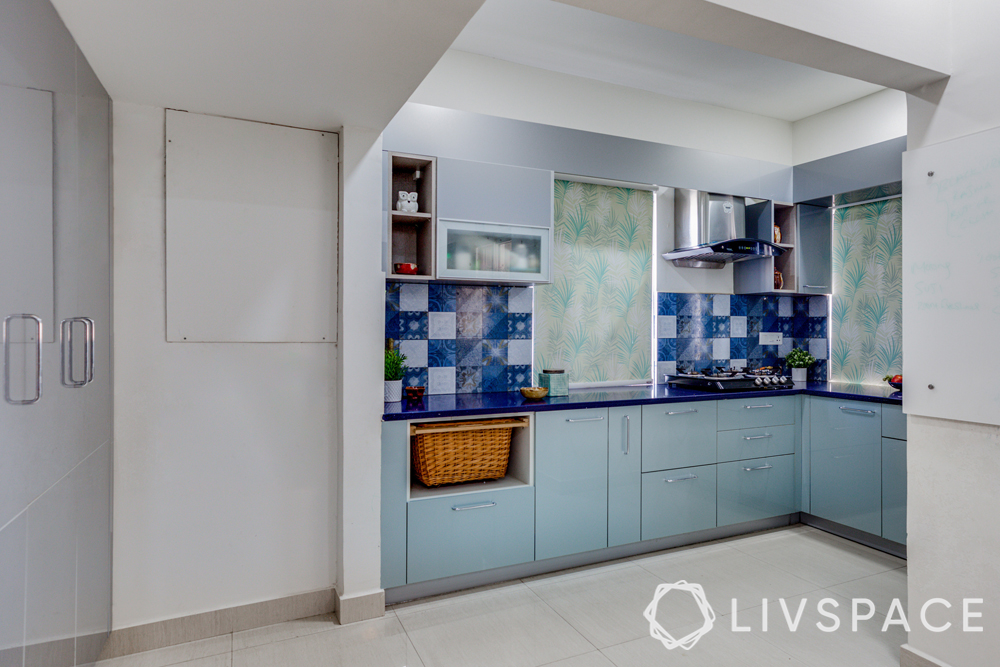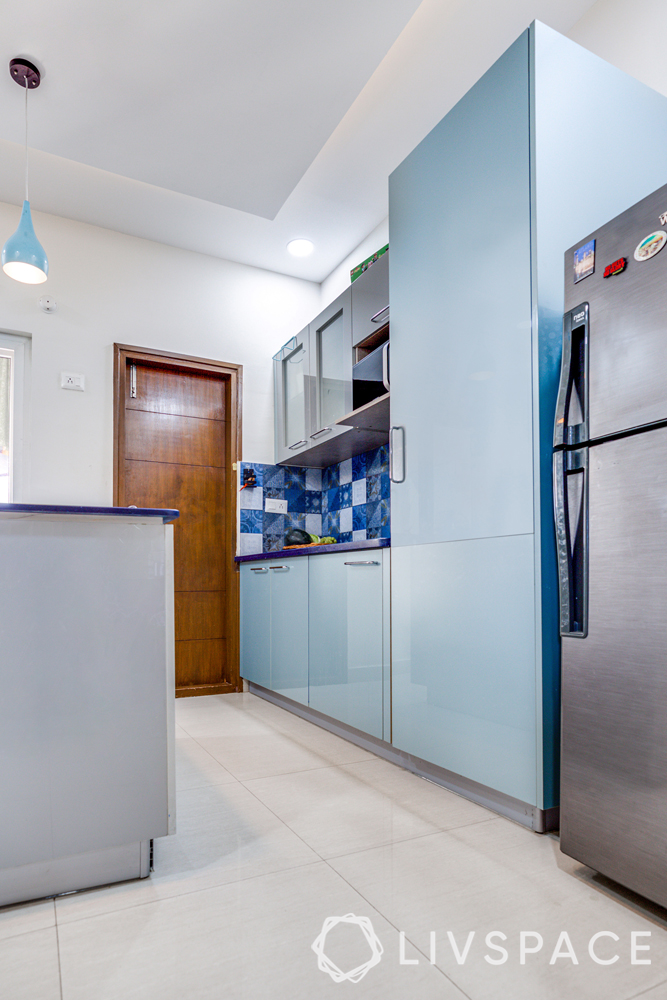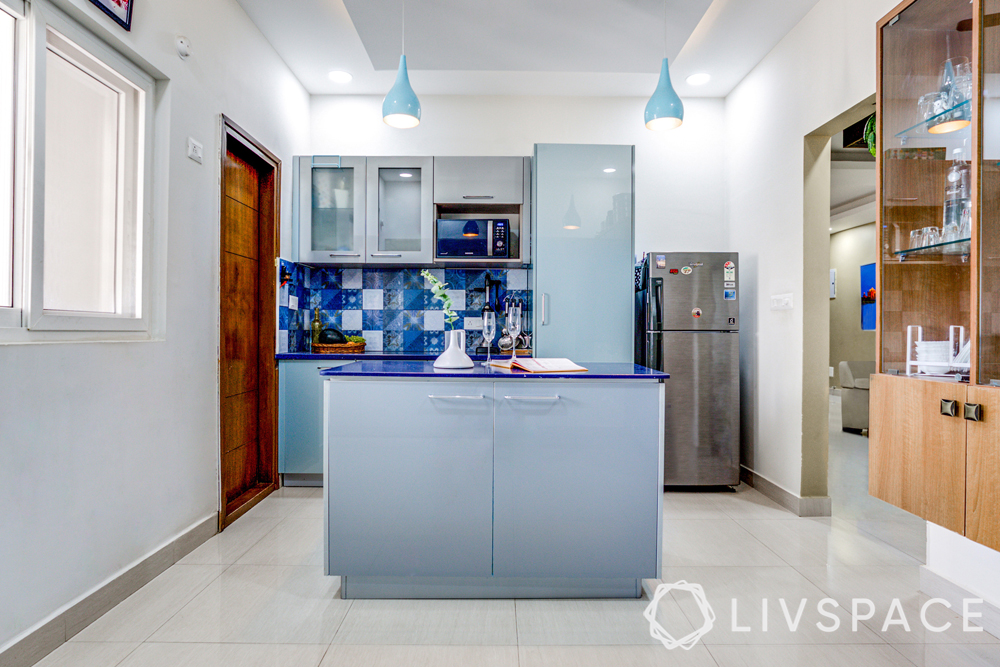 Livspace Solution
The first thing that you will notice about Nilima's kitchen, apart from its azure blue colour, is just how large it is. Essentially, the kitchen includes a spare room that was originally meant for a live-in help. As it is a massive kitchen, it too has zones. Just as you enter, there is a pantry with some appliances. This area also has a custom bar unit close to the island counter. Beyond this, we have the actual kitchen packed with storage and functional spaces making this the best interiors in Hyderabad.
A kitchen is easily the most used space in the house. So we understand why Nilima had no hesitation in opting only for the best here. Moreover, acrylic finishes and a rare blue granite make this a high-end kitchen. In terms of functionality, it is loaded with accessories. How else do you explain not 1 but 3 tall units!
Simple But Effective Storage Solutions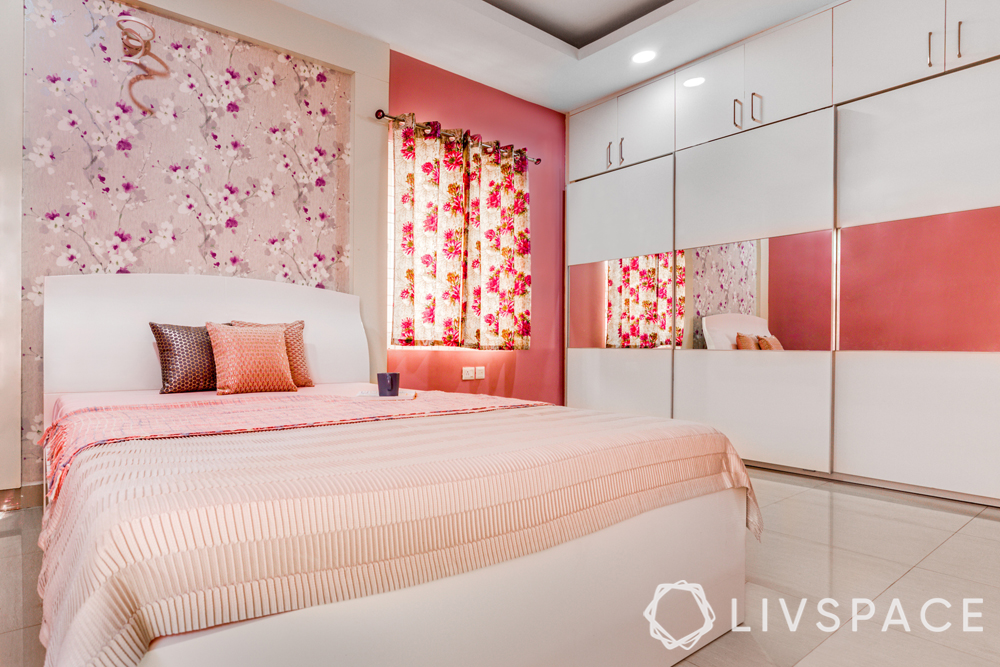 The Homeowners' Requirements
Nilima wanted sufficient storage space to accommodate the needs of her growing child. She also wanted a mix of different types of storage solutions without exceeding the budget.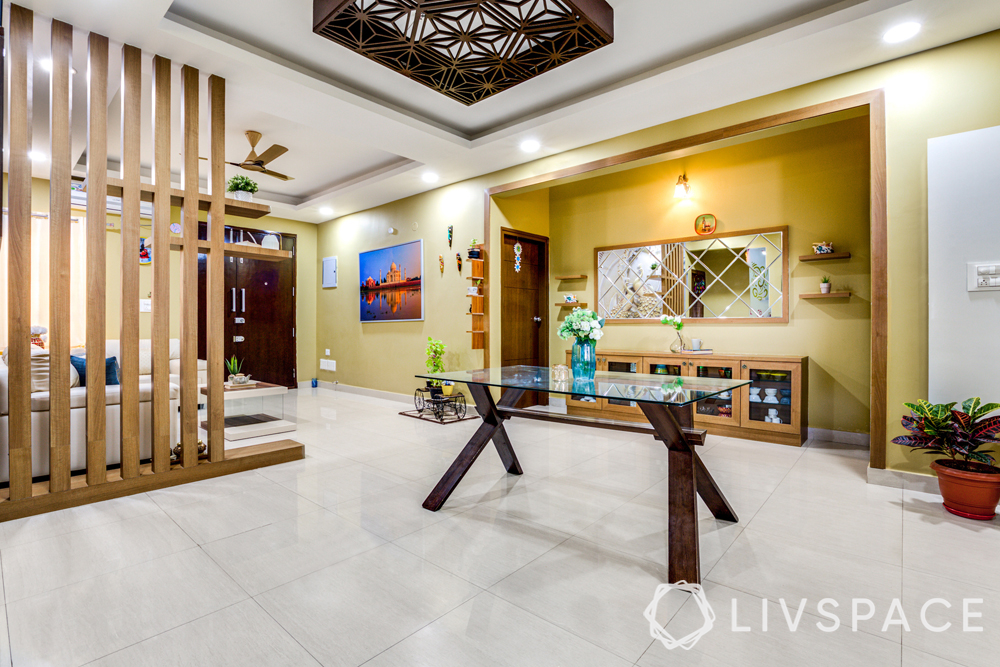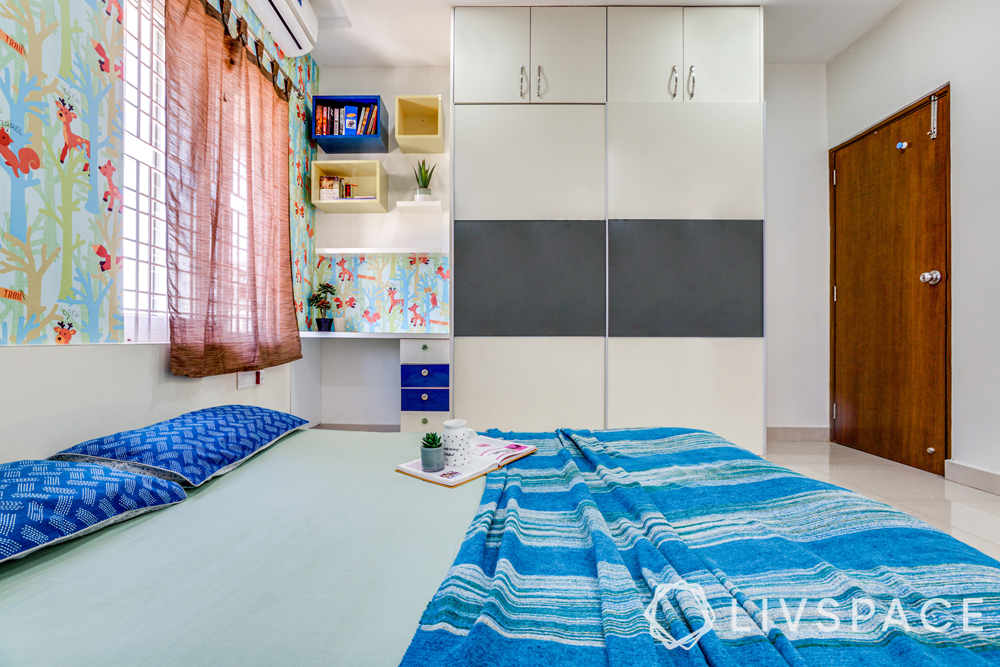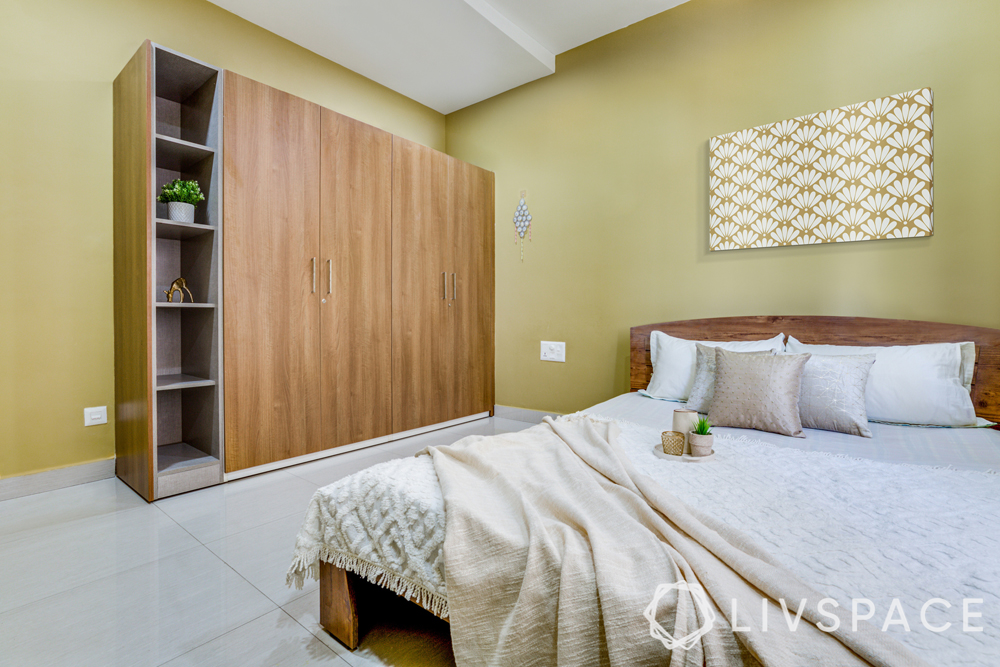 Livspace Solution
The main purpose of having a mix of custom and modular storage units was to ensure that the budget is not exceeded. For the bedrooms, the wardrobes were all from the modular range available in the Livspace catalogue. Additionally, affordable laminate finishes ensure that these storage units offer the maximum functionality at minimum cost.
The TV unit in the living room is a combination of a custom back panel and modular storage units. Moreover, the crockery unit in the dining area is a custom piece that uses the space in a niche to perfection. An additional point to note here is that the entire modular range has MDF as the base element which is cheaper than plywood. Contrary to what is the popular belief, MDF storage units actually fare well in dry areas if they are not exposed to too much moisture. So this was one of Ritika's smart design calls!
Designer Speak
"The best part about working with Nilima was her flexibility and willingness to try out new ideas. She allowed me to experiment with a number of different materials, which has resulted in giving this home a layered look. Moreover, she was also very smart about how she wanted to invest her budget across different elements of the interiors."

– Ritika Bachala, Interior Designer Livspace
If you enjoyed reading about the best interiors in Hyderabad, also explore how this apartment teaches us to design a compact home without making it look cramped.
Send in your comments and suggestions.