A modern and stylish home that is a perfect marriage of themes. Tour the interior design at Prestige Ferns Residency apartment.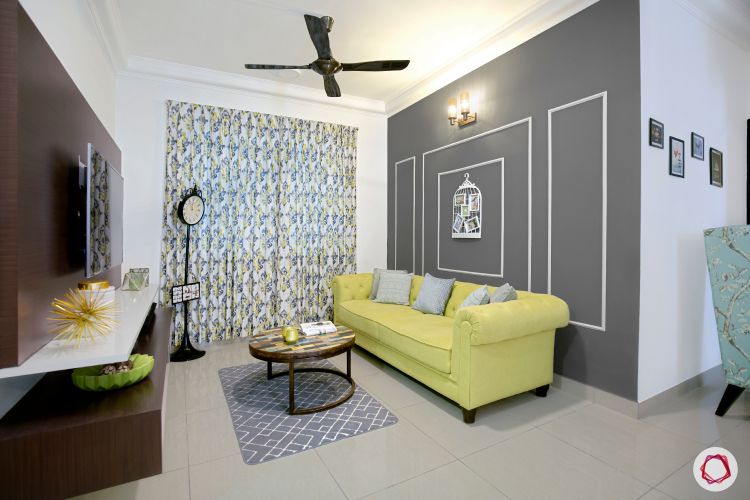 ---
Who livs here: Roshni Mitra with husband Venu Madhav
Location: Prestige Ferns Residency, Harlur Road, Bengaluru
Home Size: 2BHK
Design team: Interior Designer Soumya BJ with Quality Manager Anil Kumar BR
Livspace service: Full home design
Budget: ₹₹₹₹₹
---
For Roshni Mitra and her husband Venu Madhav, a home was not a priority on their list. However, the ambience of Prestige Ferns Residency was too much to resist. Thus, the compact 2BHK came to be their first home. They wanted the decor of this home to mirror their carefree and easy-going lifestyle.
After multiple discussions, they approached Livspace as they wanted a one-stop solution without having to interact with multiple vendors. When they met their Livspace designer, Soumya BG, they could easily relate to the designs as the Livspace catalogue adhered even to their unique taste. The positive reviews from her friends boosted her confidence in Livspace.
A Pop of Colour
The home is one of a kind with colour schemes that only a few dare to try. The autumn green sofa gives the room a pop of colour while brightening the space. Roshni has a fun way of playing with colours and her fashion instincts knew that pairing Autumn Leaf with grey would pay off.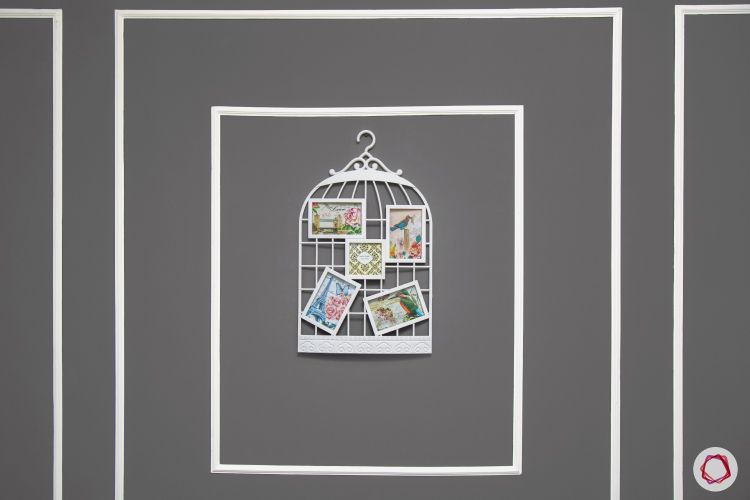 We love the trims and birdcage on the wall; it makes the space feel more beautiful yet lively while adding a personal touch to the living room.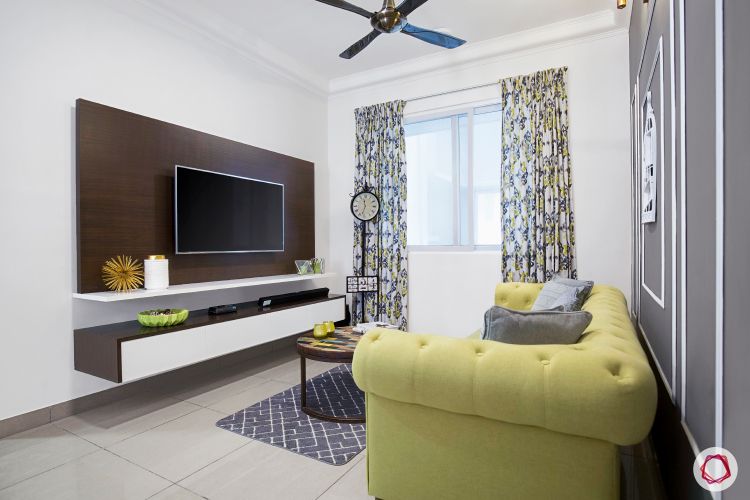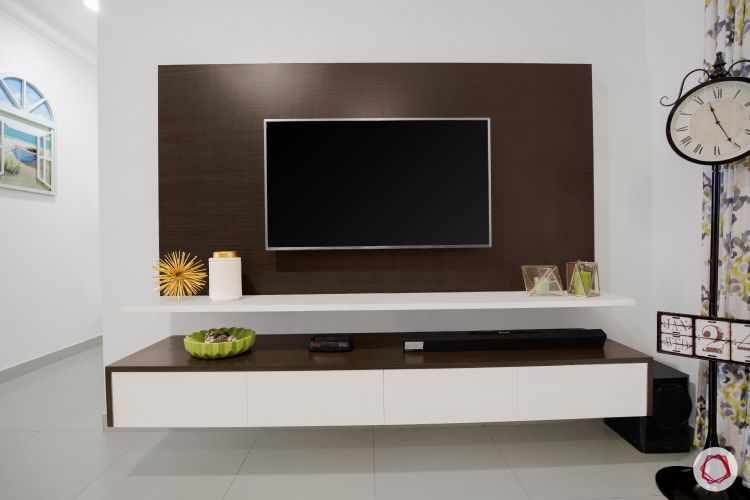 The TV unit is a sleek storage with the popular wood and white combination. The grand setting uplifts the overall mood of the living room along with the vintage decor options that Roshni chose.
A Regal Experience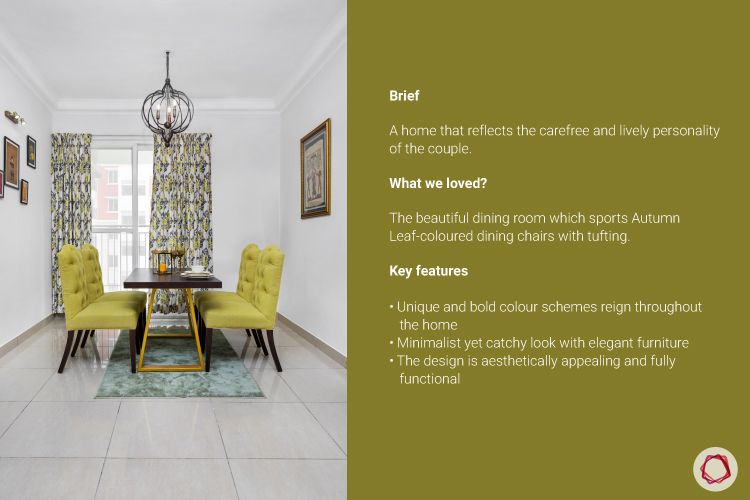 As a professional having to work five days a week, Roshni ensures she spends the weekend at home by inviting friends over. The dining room is a favourite spot where friends and family spend time while she plays the perfect host.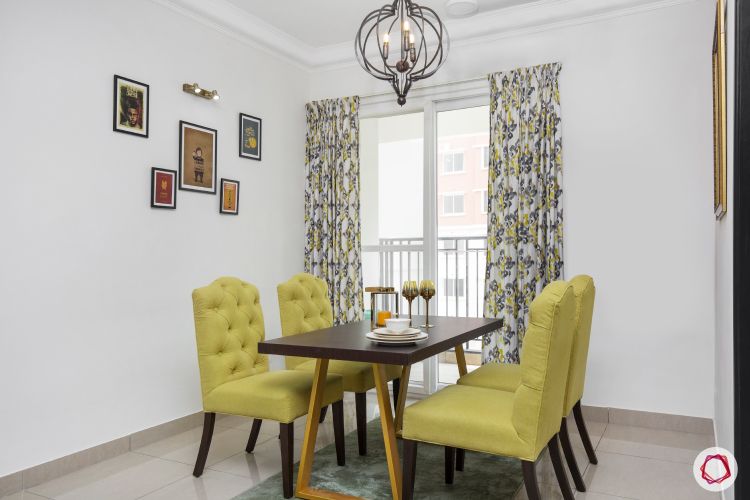 Quirky, classy and sophisticated, all in one setting. The dining room is a perfect example of how contemporary and European vintage styles come together to make a statement.
Simple & Functional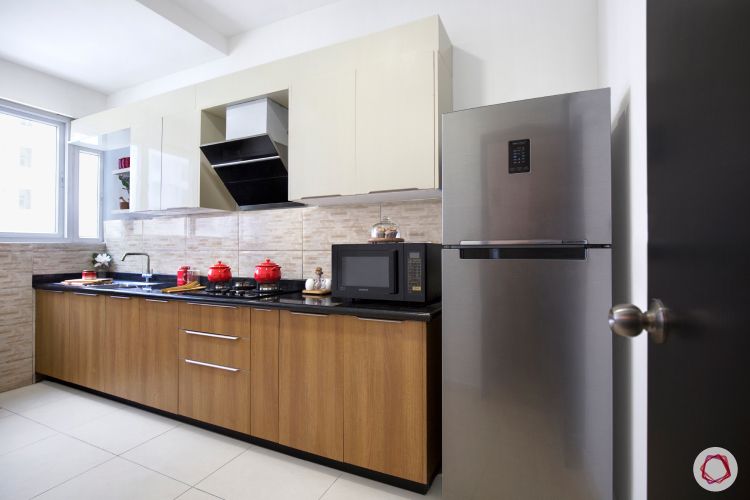 The straight kitchen works well for the working class. It's easy to maintain while offering a wonderful mix of functionality and subtle appearance. Roshni feels it's a myth that aesthetically appealing homes lack functionality because her home is a perfect blend of both.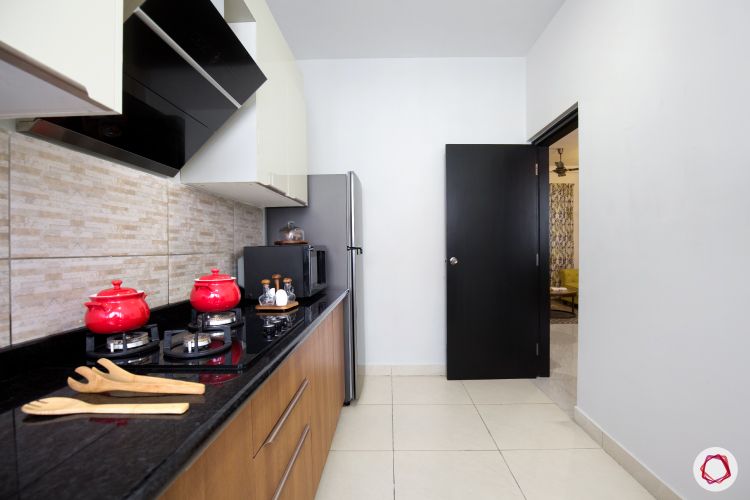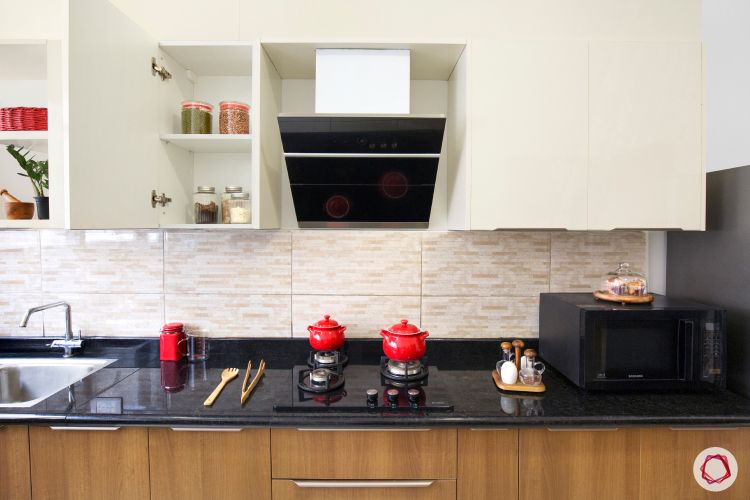 Here too, the trending wood and white concept gives the kitchen an elegant feel. The wooden cabinets add warmth while the white wall units give the kitchen a spacious feel.
Minimalist Decor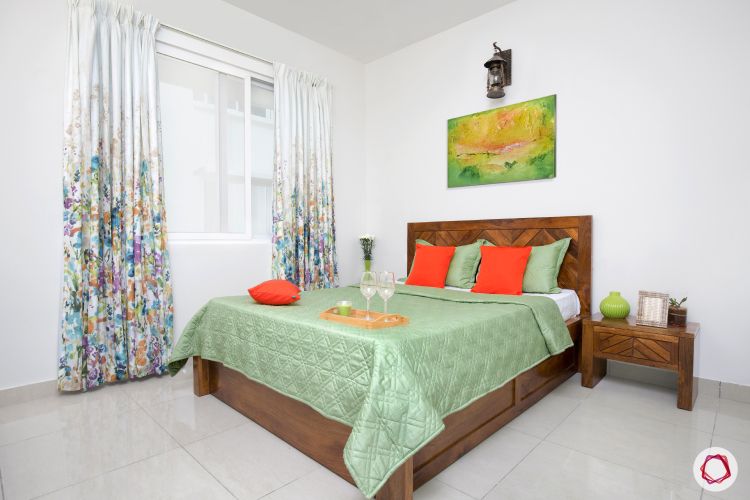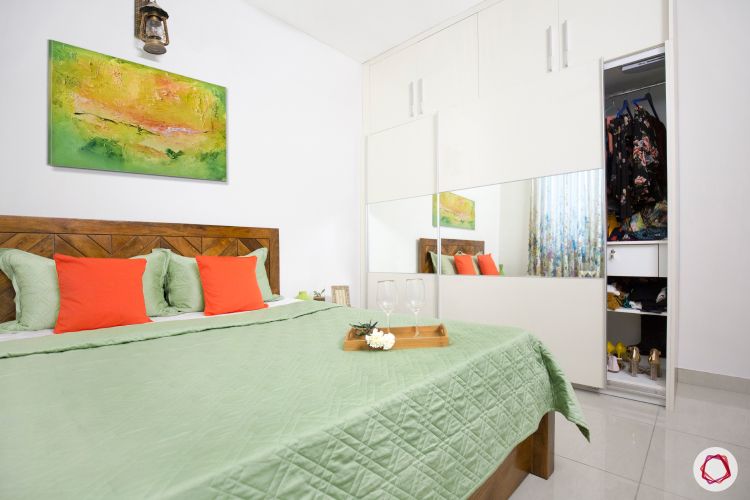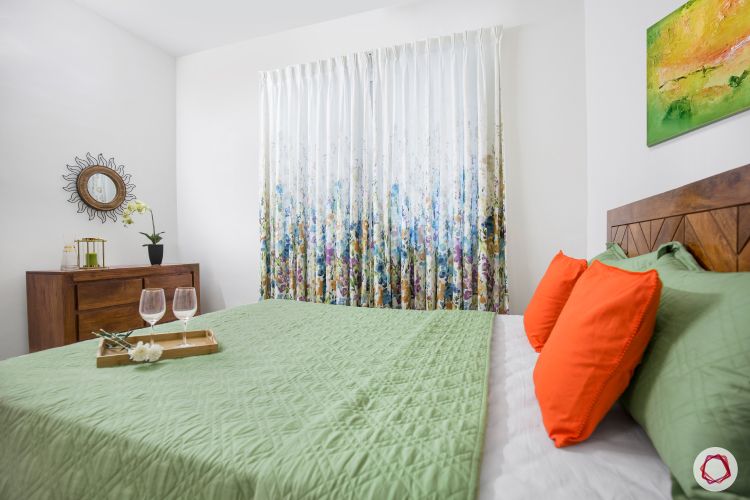 Soumya was determined to give the couple an easy-to-care home with a stunning appearance. Thus, the master bedroom is a humble setting with a bed, chest of drawers and a wardrobe. However, the chevron finish of the headboard and the stunning champagne sliding wardrobe gives the room an impeccable look.
Humble Dwelling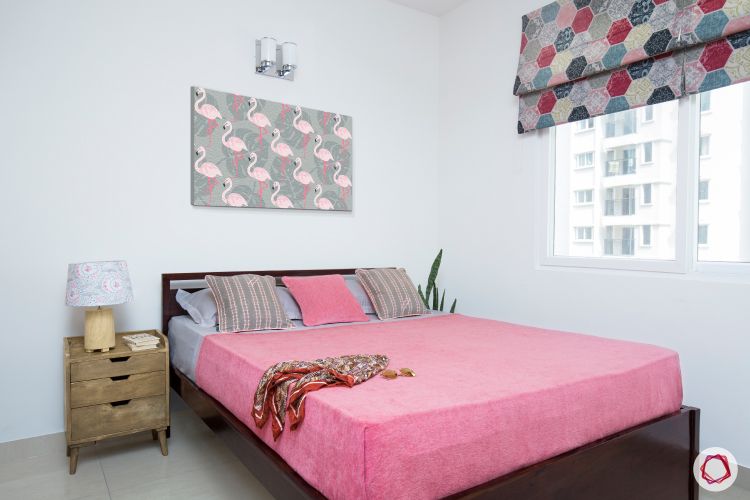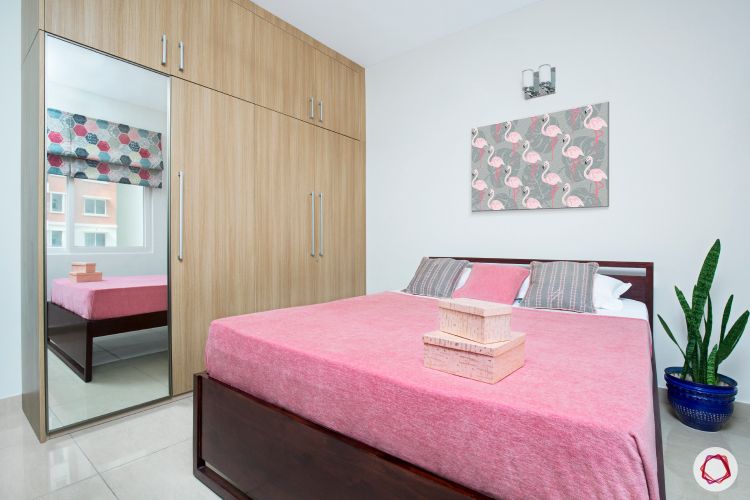 The parents' room also promotes minimalism in its design. A Ruby Walnut bed contrasts the light American walnut wardrobe for a classy exhibit. The pretty furnishings add colour to the neutral room, with pinks and greys complementing the room.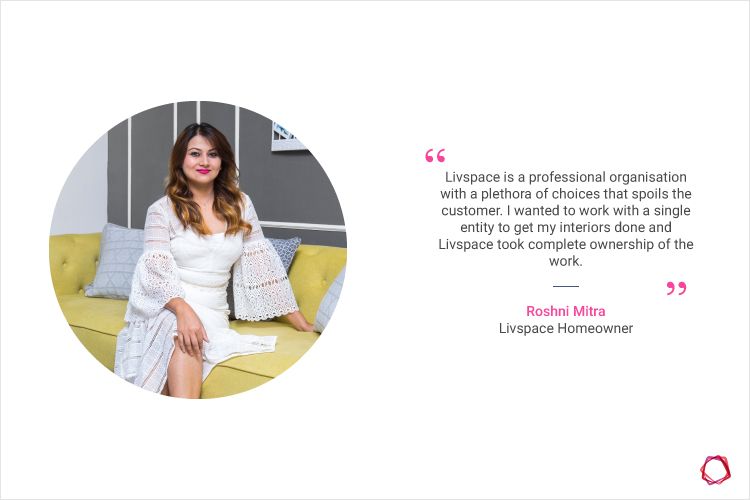 "Roshni was very excited about decorating her home and welcomed my suggestions. Her enthusiasm was contagious and made me look forward to completing the interiors with renewed energy every day."

—Soumya B G, Interior Designer, Livspace Interior Designer
Want to see more? Here is another #Livspacehome at Prestige Ferns Residency that is stunning. Let us know which is your favourite feature in this home.