This Lodha Amara apartment serves as work pad for a single girl!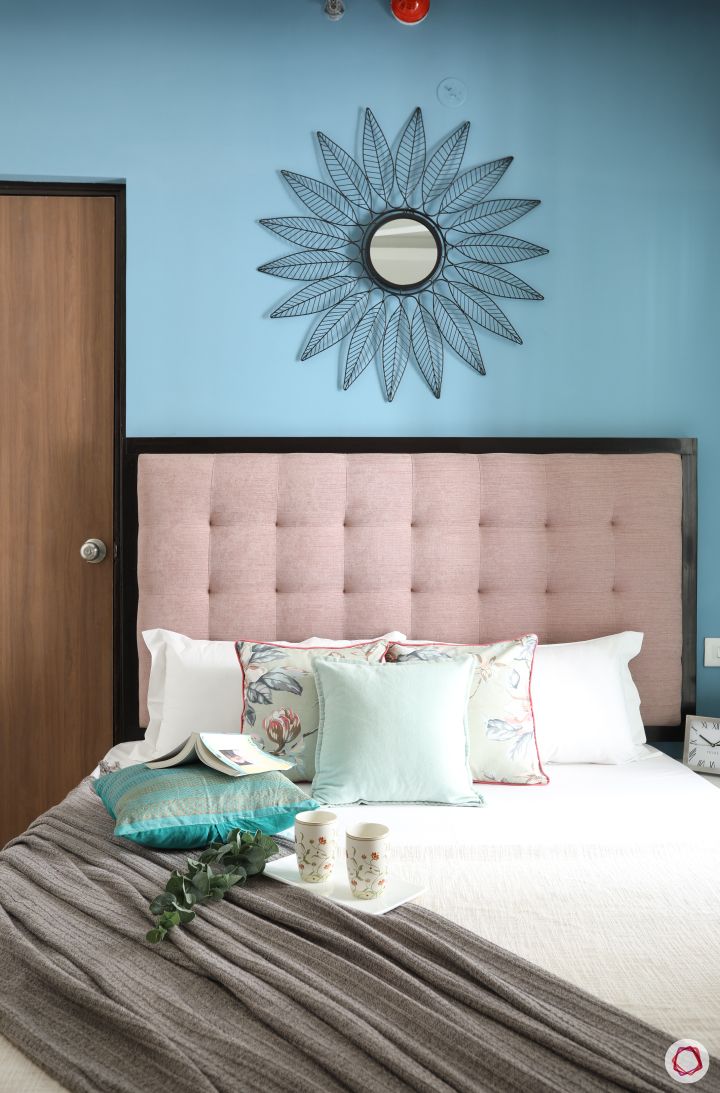 ---
Who livs here: Neeta Methwani
Location: Lodha Amara, Thane
Size of home: A 1BHK spanning sq ft 440 approx.
Design team: Interior Designer Rishabh Garodia and Project Manager Abhishekh Shinde
Livspace service: Master bedroom
Budget: ₹₹₹₹₹
---
The increasing chaos surrounding traffic is making the prospect of travelling long distances to work quite painful. Besides we all know how bad Mumbai traffic can get! Wouldn't it be great if we could all take a leaf out of Neeta Methwani's book and get a pied-à-terre close to our respective workplaces? When traveling from her family home to her workplace in Thane started taking a toll on Neeta, she decided to buy a 1BHK apartment for herself in Lodha Amara. Being single and independent, she had the choice to design this apartment as her very own bachelorette pad. Refreshing, ain't it!
Our interior designer Rishabh Garodia has ensured that this second home for Neeta is self-sustained for sleeping in on weekdays. And he has done so without exceeding a tight budget, which is commendable to say the least. He has focussed on making the space functionally seamless while using limited resources. Take a tour to explore this home that is potentially every single woman's dream!
Bed and Butter at Lodha Amara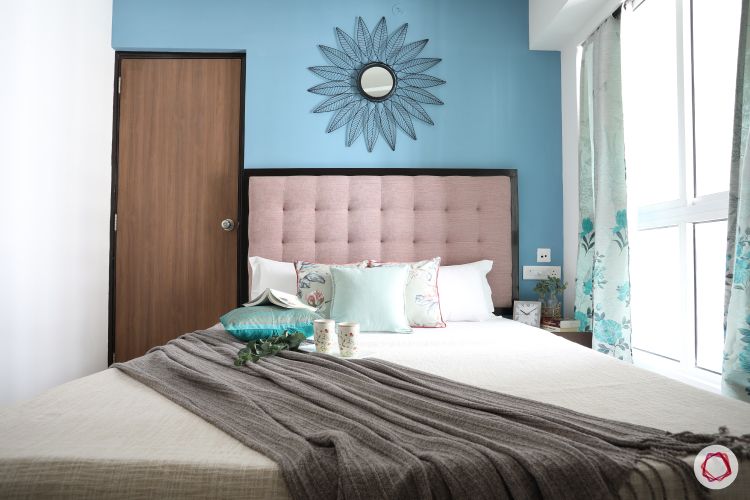 There is a bed for every bedroom and this compact master bedroom in Lodha Amara has found its match in a petite queen-size bed from our catalogue. It comes equipped with storage to supplement the lone wardrobe in the bedroom.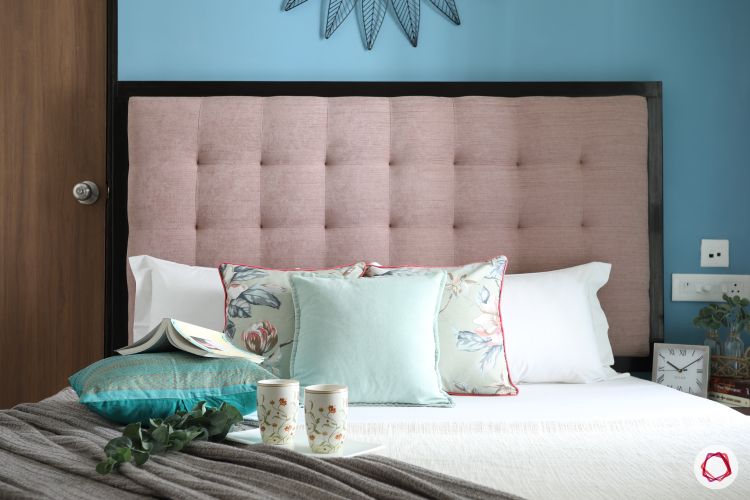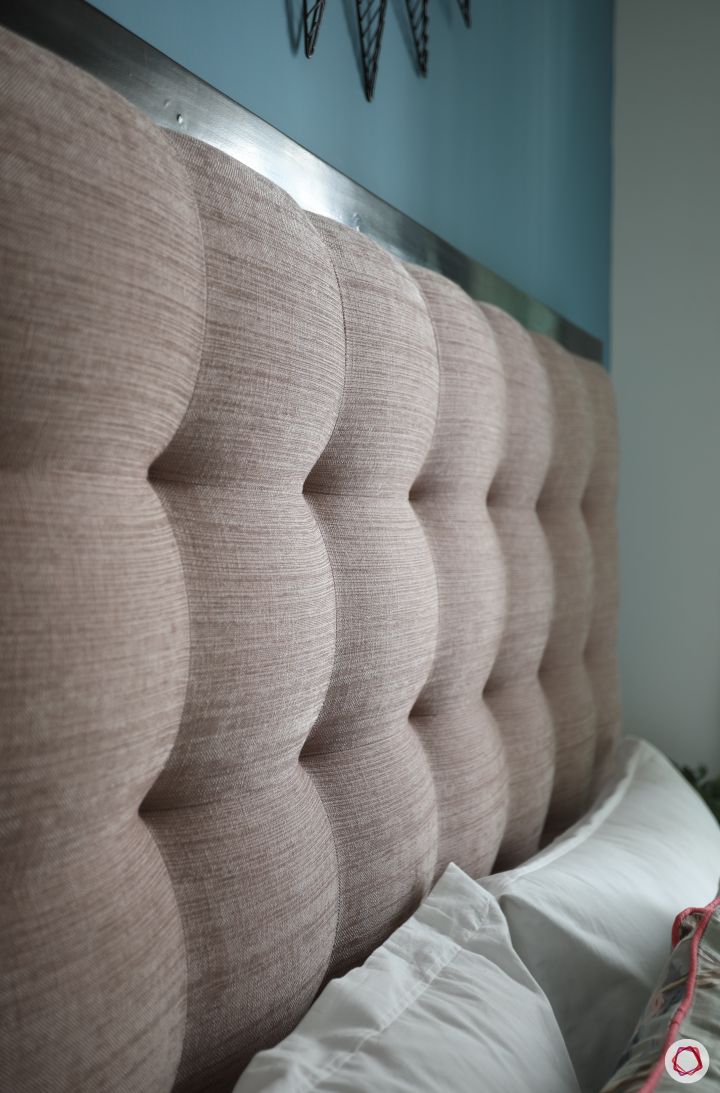 Neeta was keen on having a tufted headboard for the bed in her Lodha Amara pad, so Rishabh suggested a shade of muted pink. The understated shade of pink is easy on the eyes and goes with the soothing effect of the blue wall paint.

"I chose Livspace over other design firms because there was a lot of transparency regarding cost. Also, the firm was flexible in terms of working with other vendors. My designer Rishab Garodia inspired confidence in me, which made the design process smooth. I would certainly work with Livspace again for my future design endeavours."
– Neeta Methwani, Livspace Homeowner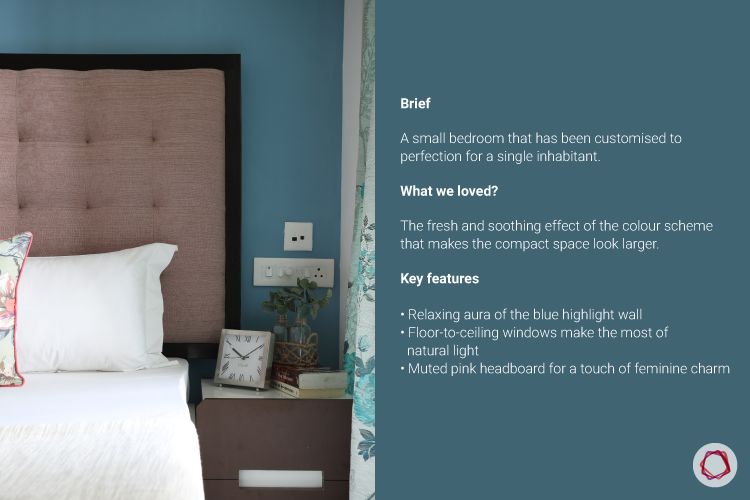 Waging War-drobe at Lodha Amara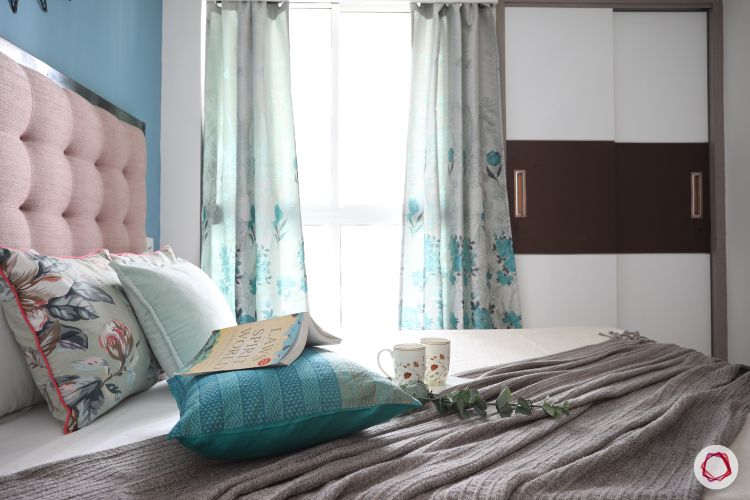 There was no space to waste in this room because it is exceedingly compact. So fitting in a wardrobe in this Lodha Amara apartment was a struggle. The designer solved the problem of space by casting the two-door wardrobe into a niche and giving it sliding doors.

The wardrobe is composed of three strips; the middle strip is brown leather-finish laminate and the top as well as bottom strips are high-gloss white laminate. It has turned out to be a perfectly minimal wardrobe for a single woman; its ideal for storing office wear and some stray night clothes.
Customised for the Lone Voyager at Lodha Amara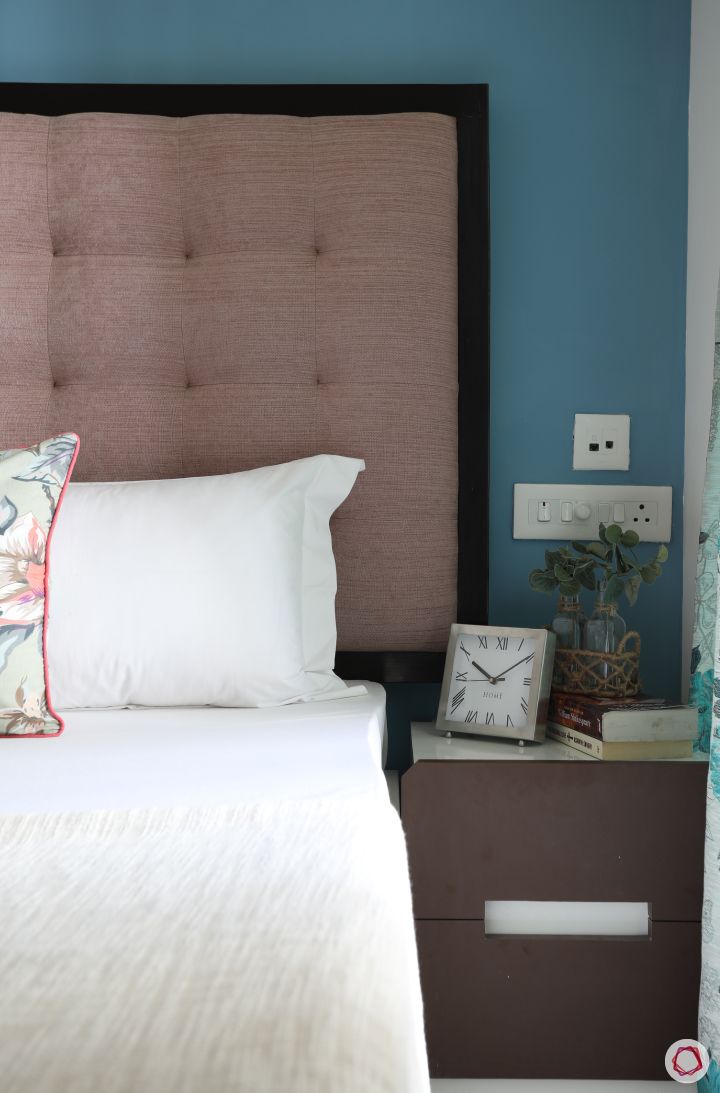 The prime design idea for this space was to not make it look crowded. So Rishabh was very particular about the size of the furniture he would use. He opted for a custom-made bedside table in brown laminate over similar items from our catalogue to ensure the size was right for the dimensions of the room. This also happens to be Neeta's favourite spot in her Lodha Amara home. She always sleeps on this side of the bed as it is equipped with plug points to charge her phone and laptop. The side table is the perfect for dumping knick-knacks.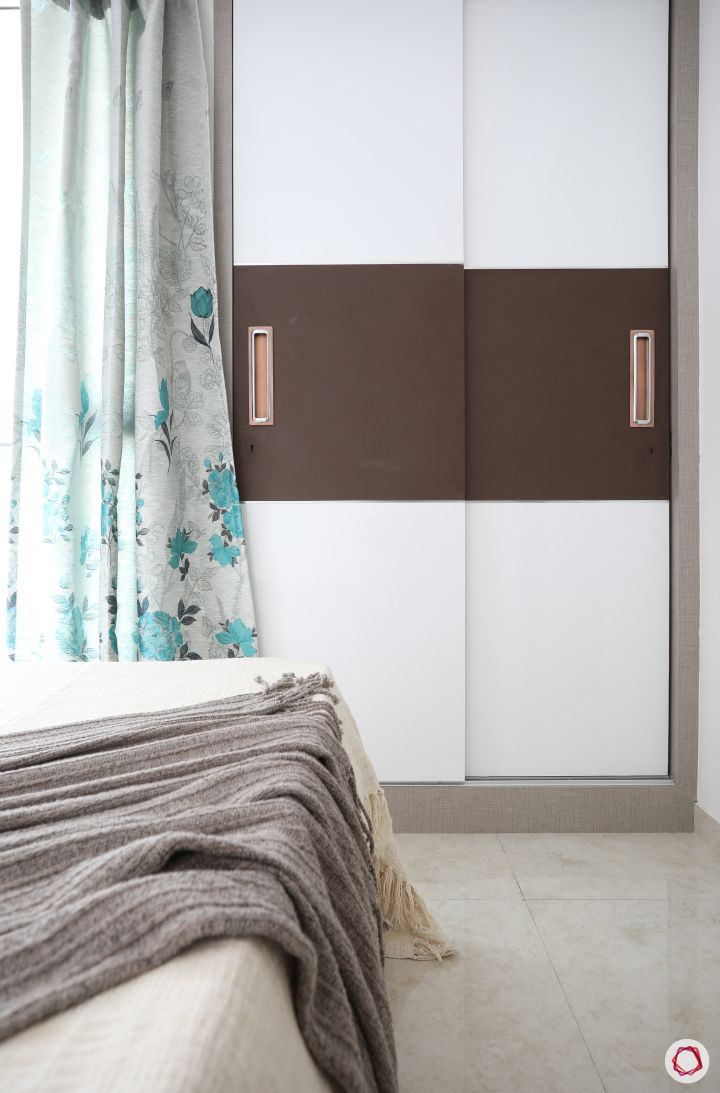 Similarly, Livspace had no wardrobes in the exact size of the niche in this bedroom, so the wardrobe too has been customised to fit the needs of a single person.
Also Featuring at Lodha Amara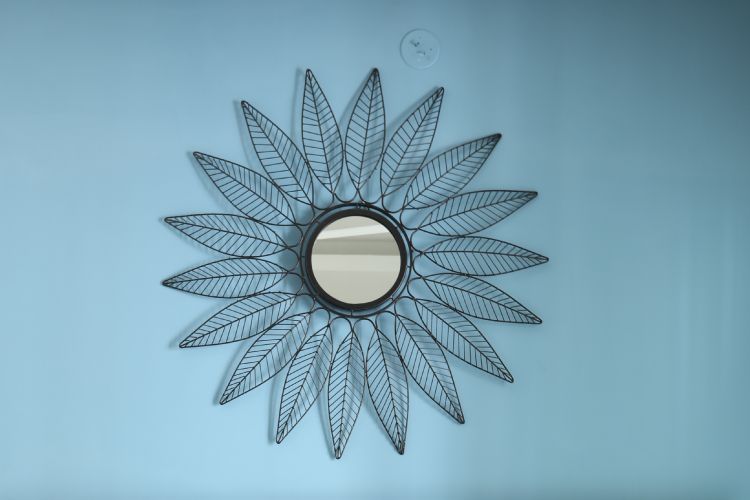 One of the focal points of this room is this intricate wrought iron mirror. This delicate floral pattern sets off the blue highlight wall with panache.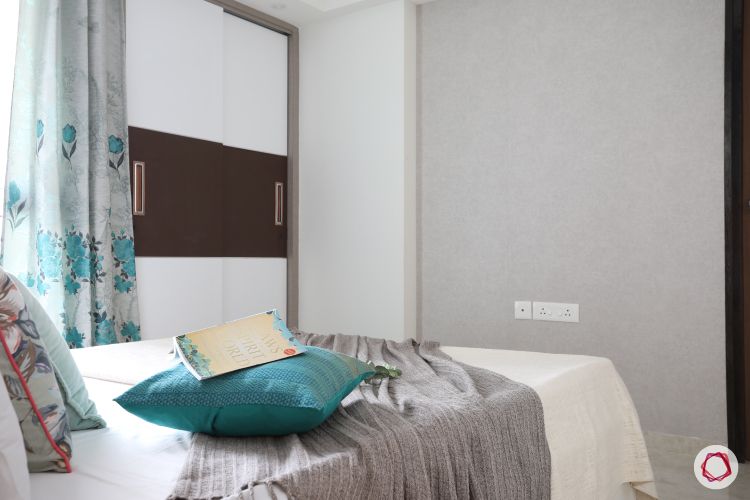 There is a media wall in this Lodha Amara apartment that is done up with wallpaper. The subtle grey pattern of the wallpaper adds some much needed texture to this room.

"The best part of working with Neeta was her amazing eye for detail. She was totally involved in the process of designing her home, which is what makes it uniquely functional."
– Rishabh Garodia, Interior Designer, Livspace



If this cosy bachelorette pad has taken your breath away also check out A Swanky and Sleek Bachelor Pad Comes to Electronic City.

Send in your comments and suggestions.