A contemporary house design for a young couple!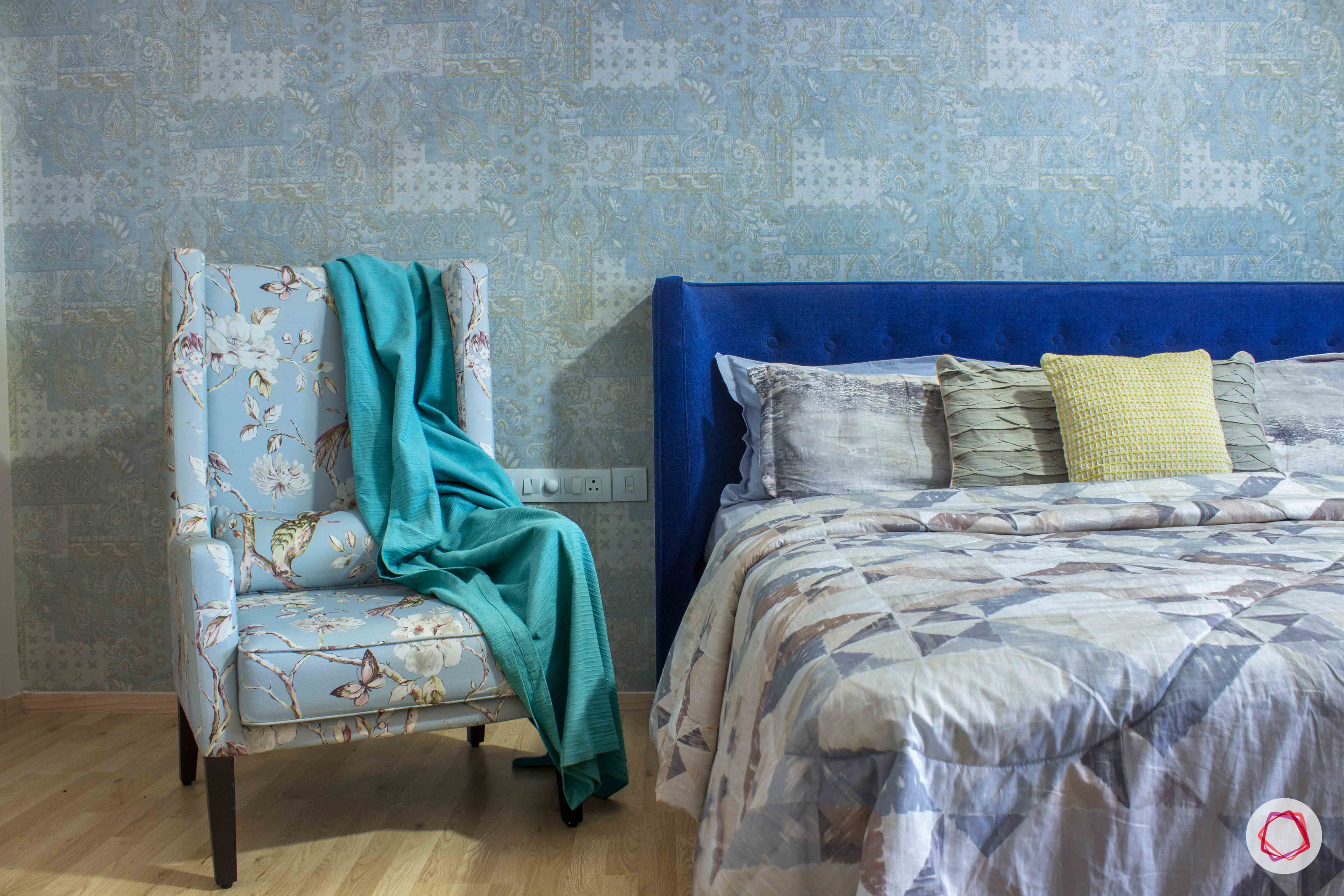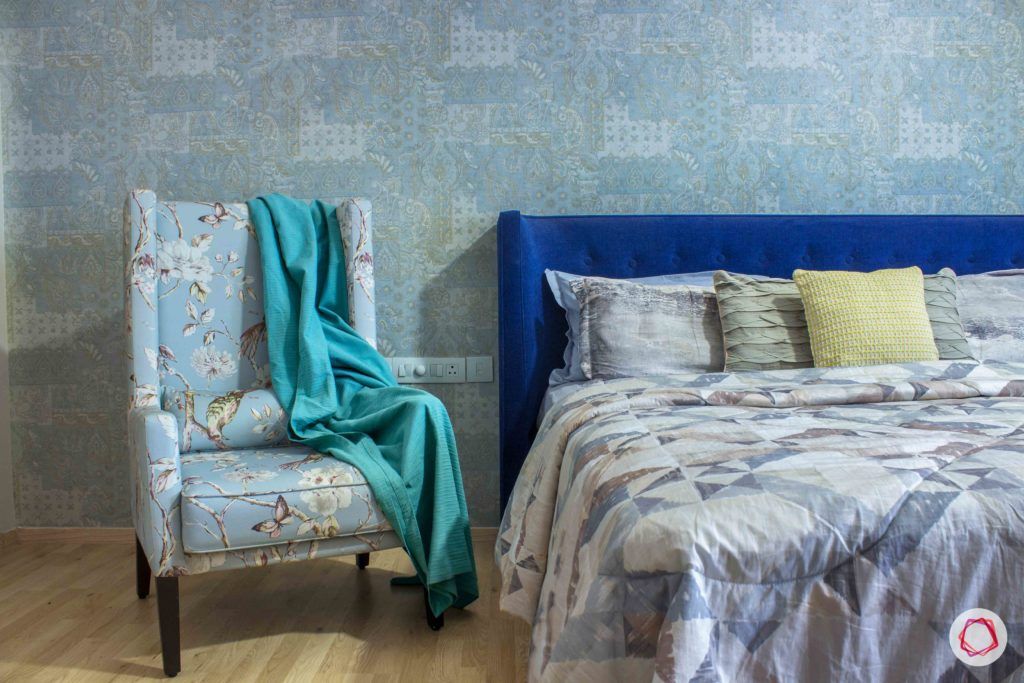 ---
Who livs here: Neetika and Mohit Kaul
Location: Sobha City Casa Paradiso, Hedge Nagar, Bengaluru
Size of home: 3BHK spanning 2,145 sq ft
Design team: Interior designer Charul M. Lodha and Project Manager Karan A
Livspace service: Full home design
Budget: ₹₹₹₹₹
---
Neetika and Mohit Kaul found their new address at Sobha City Casa Paradiso, Hedge Nagar. It is situated in a quieter part of Bengaluru, to get away from the hustle and bustle of the city. "For us, a home is a place where we can be ourselves after a hectic day at work. Just be happy, being together," Mohit says.
When the young couple met up with our designer Charul M Lodha to translate their thoughts into reality, they struck a chord almost immediately. "We had a clear idea of what we wanted – something subtle yet colourful, minimal yet lively," they explain.
Keeping up with the times, Charul designed a home tailored to their style and created a home that flaunts a mix of styles. We love the indie chic vibe of the home! From the desi-themed living room to the multi-purpose room that houses pretty much everything smartly, there's something to always catch our eye in this home. Let's walk right in!
Contemporary House Design: A Refined Foyer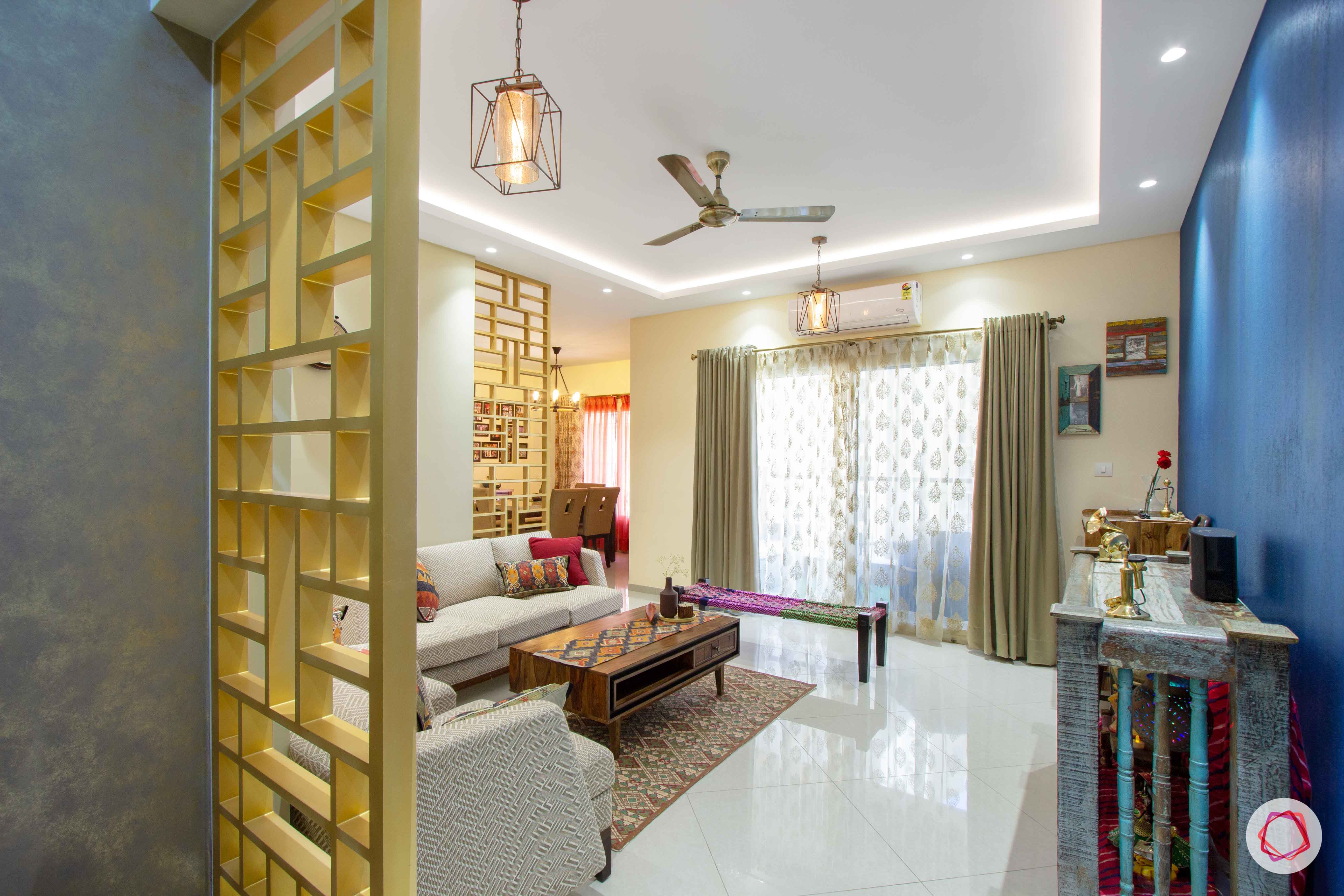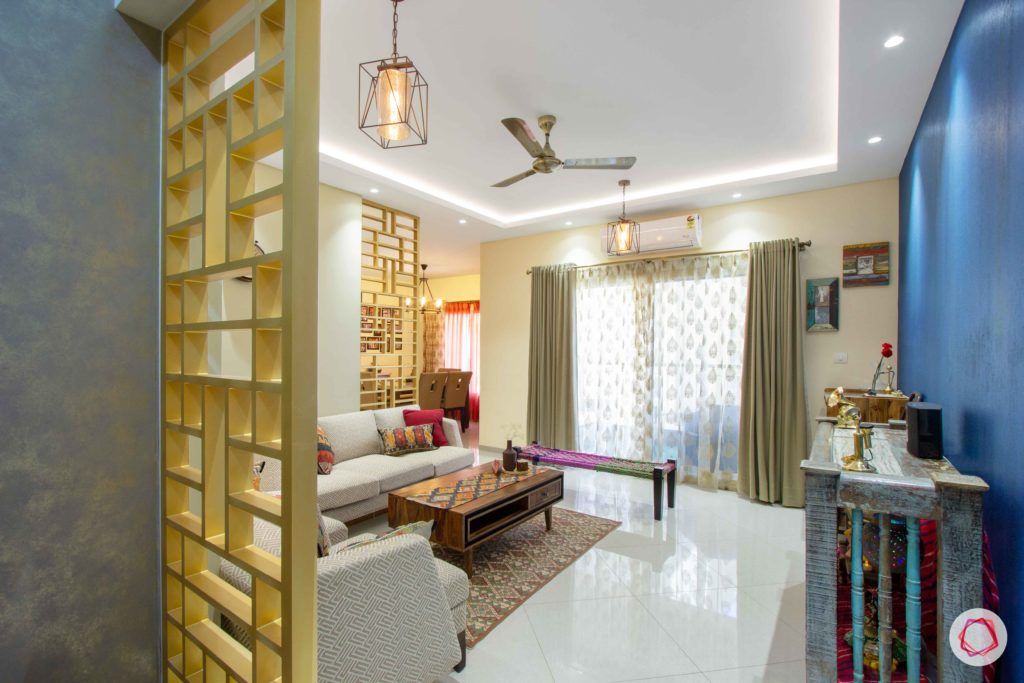 While the foyer is kept minimal, it has hints of glamour as well. The most notable being a golden and copper wallpaper. It complements the custom-made gold-toned partition that separates the area from the living.
Contemporary House Design: A lively living room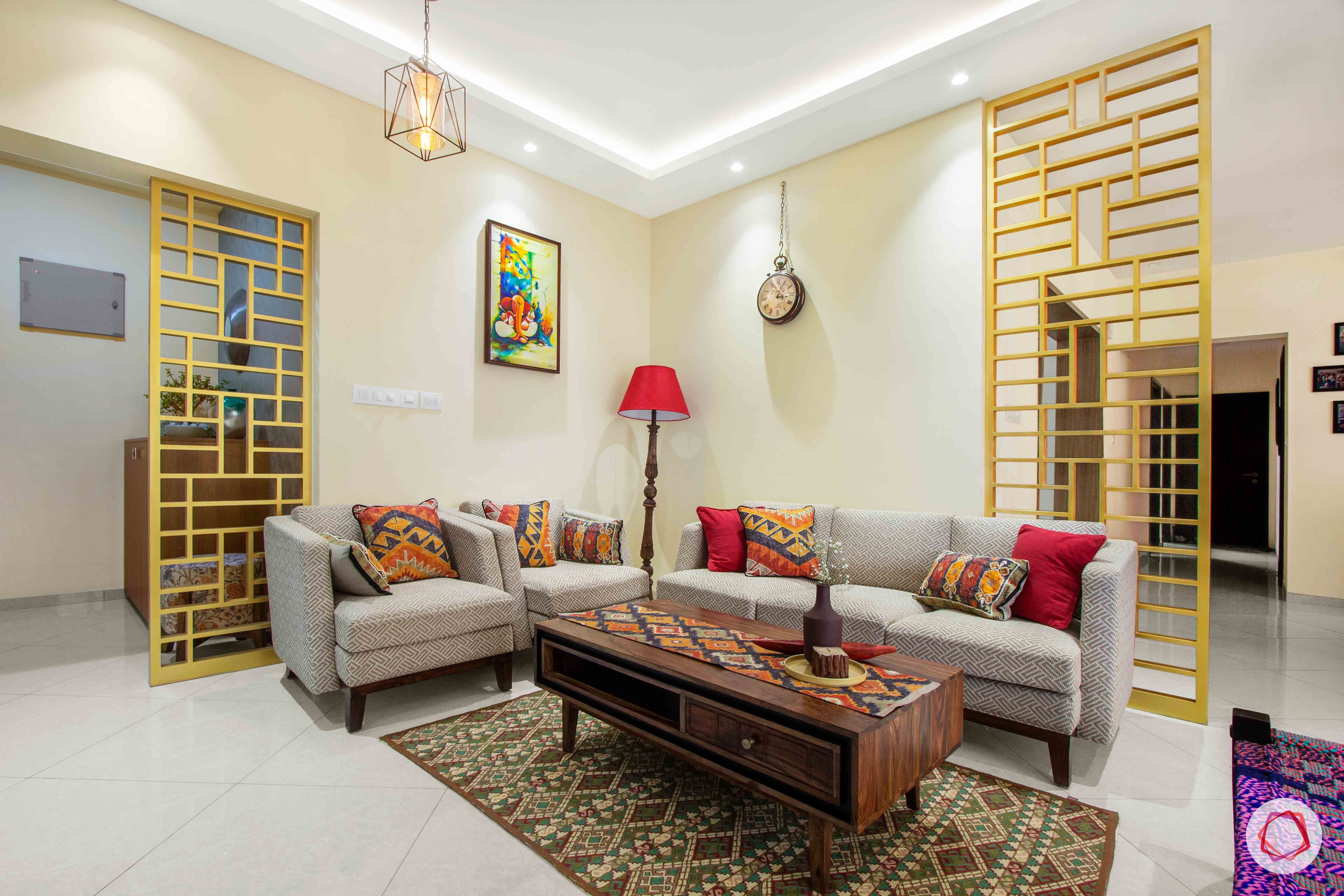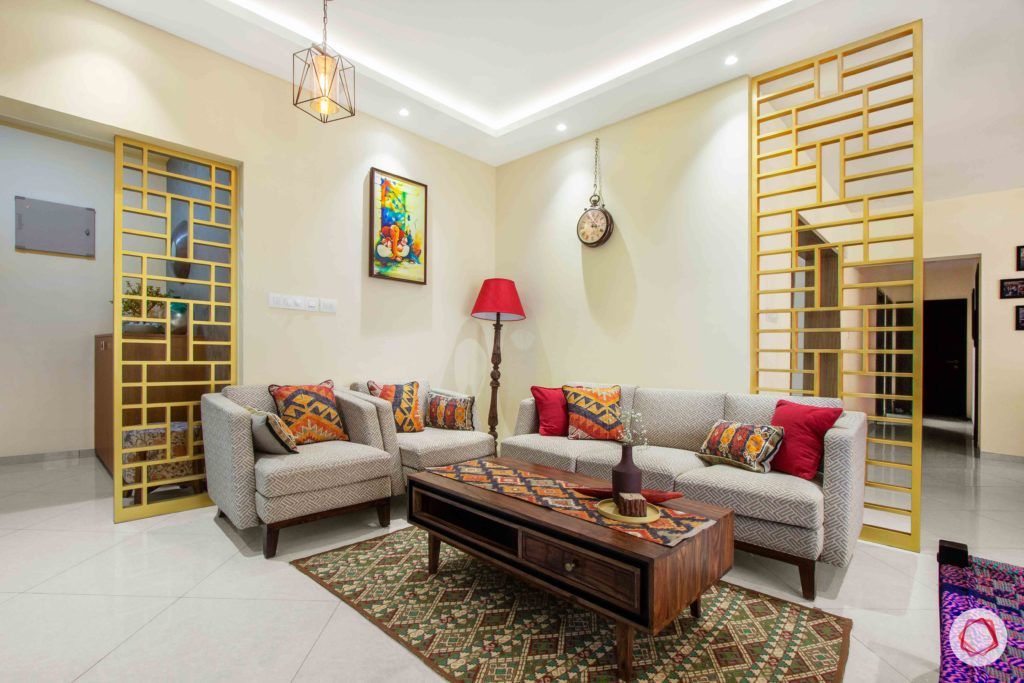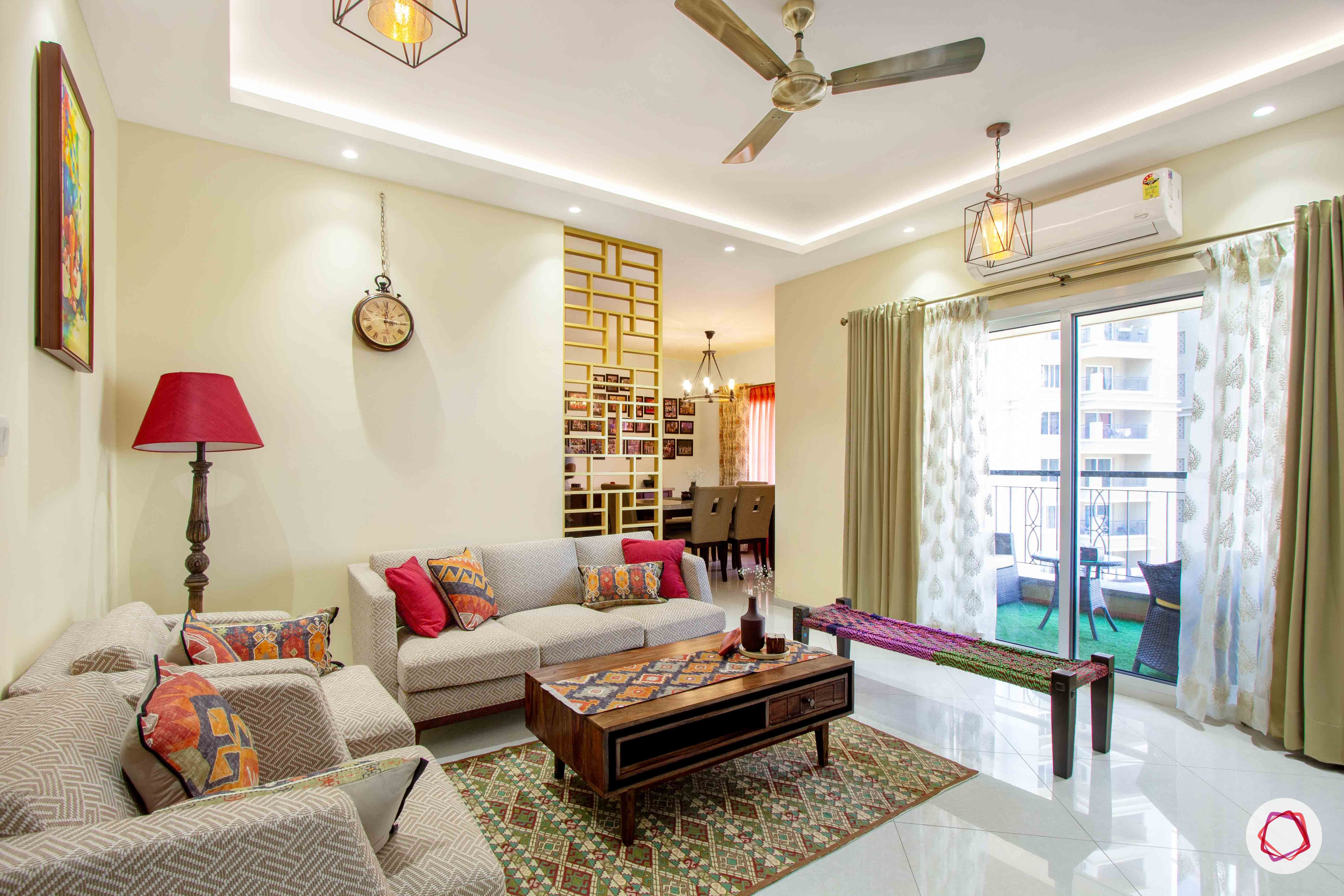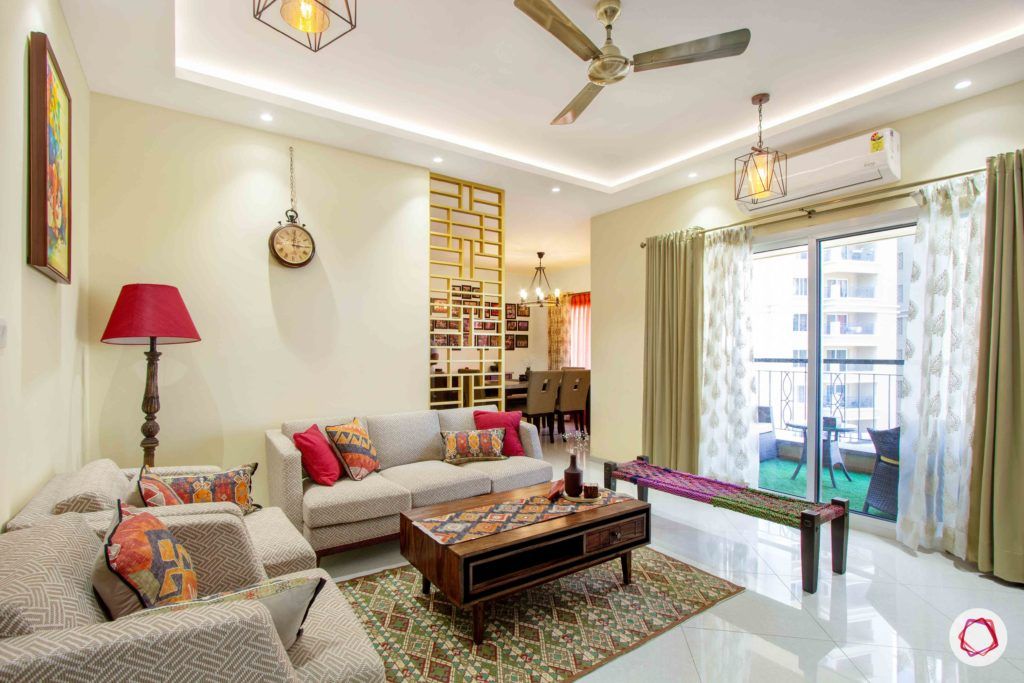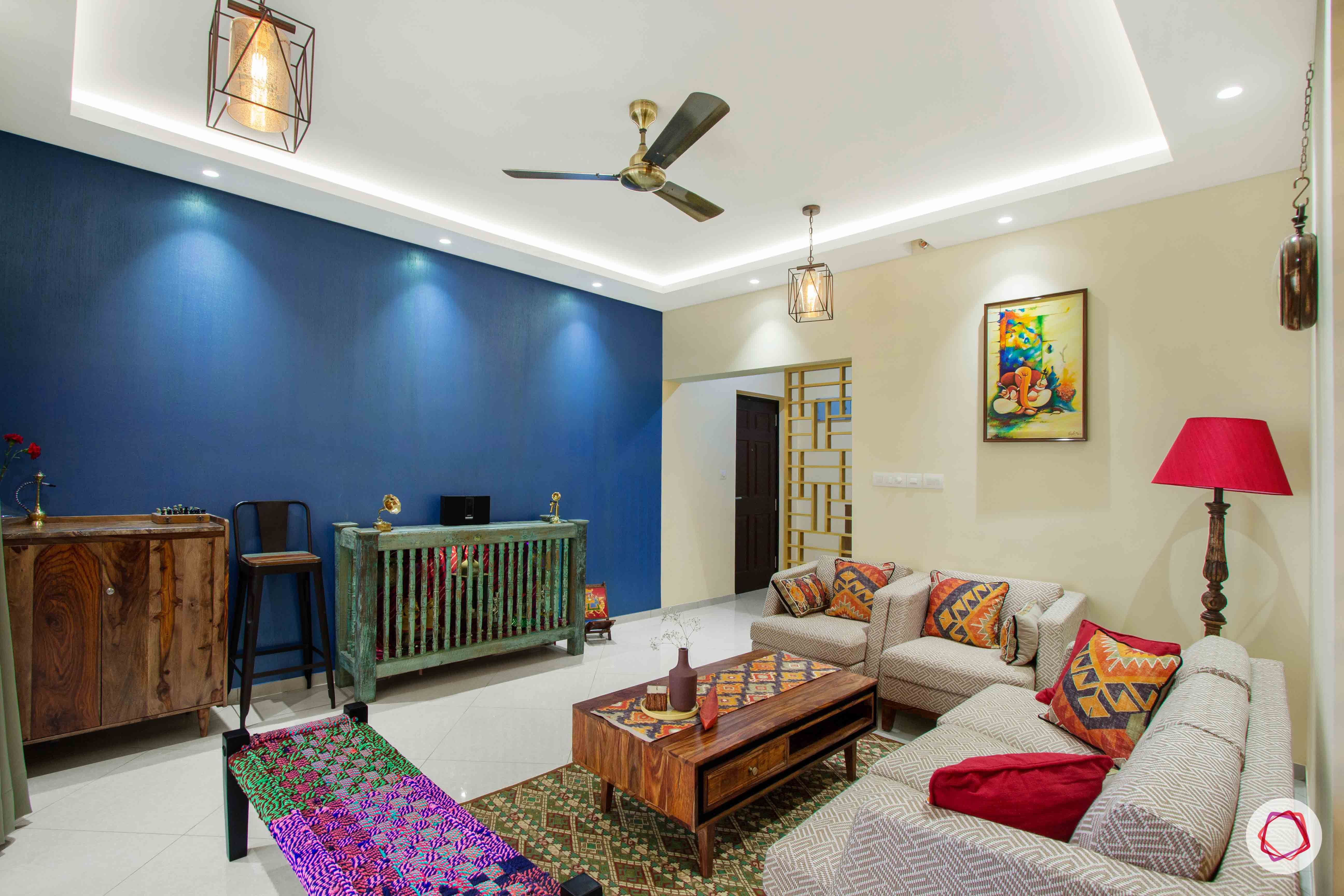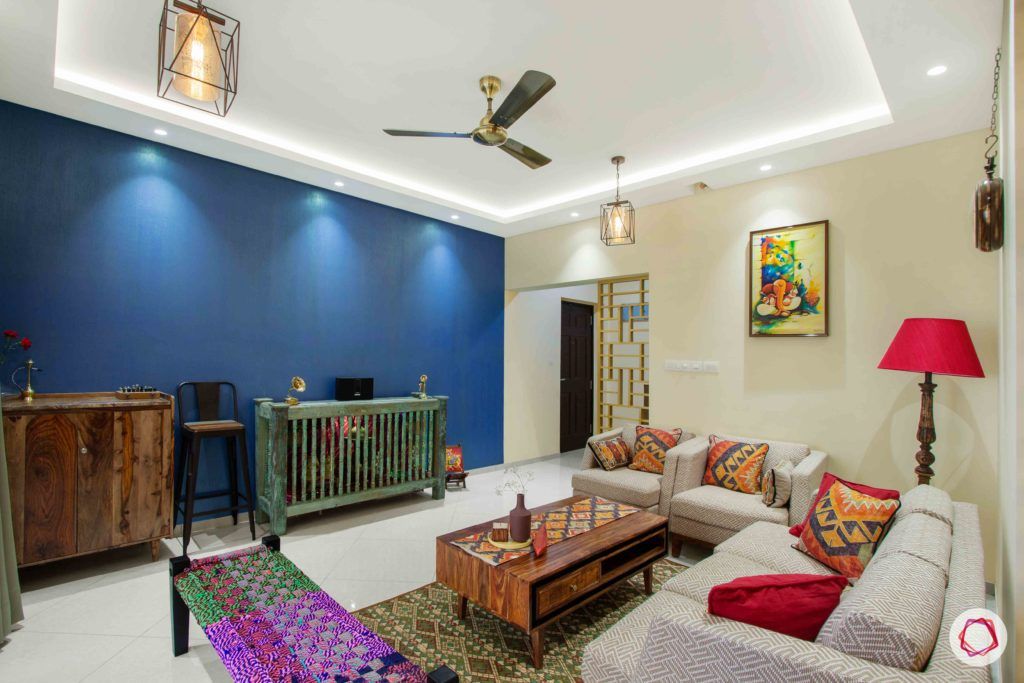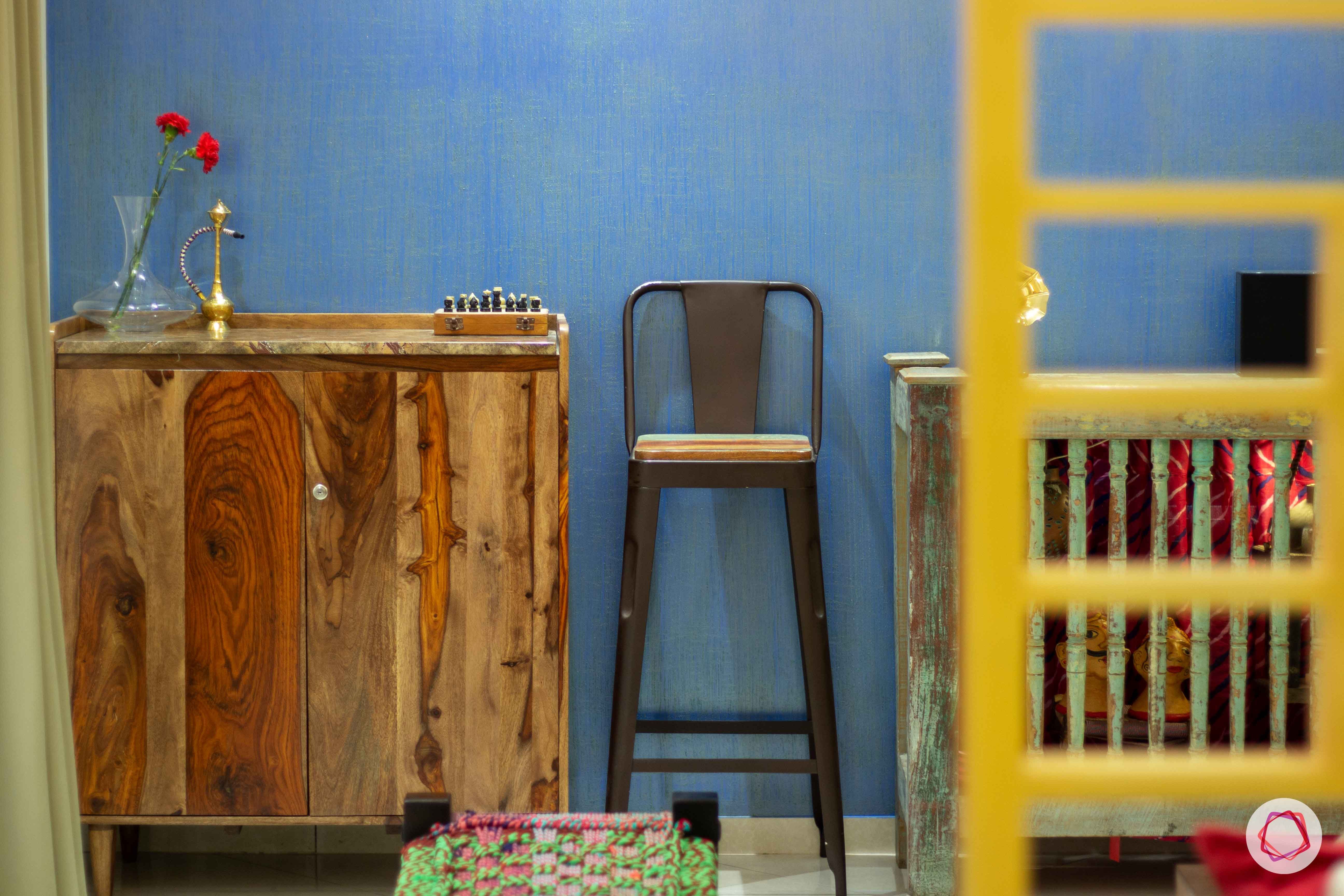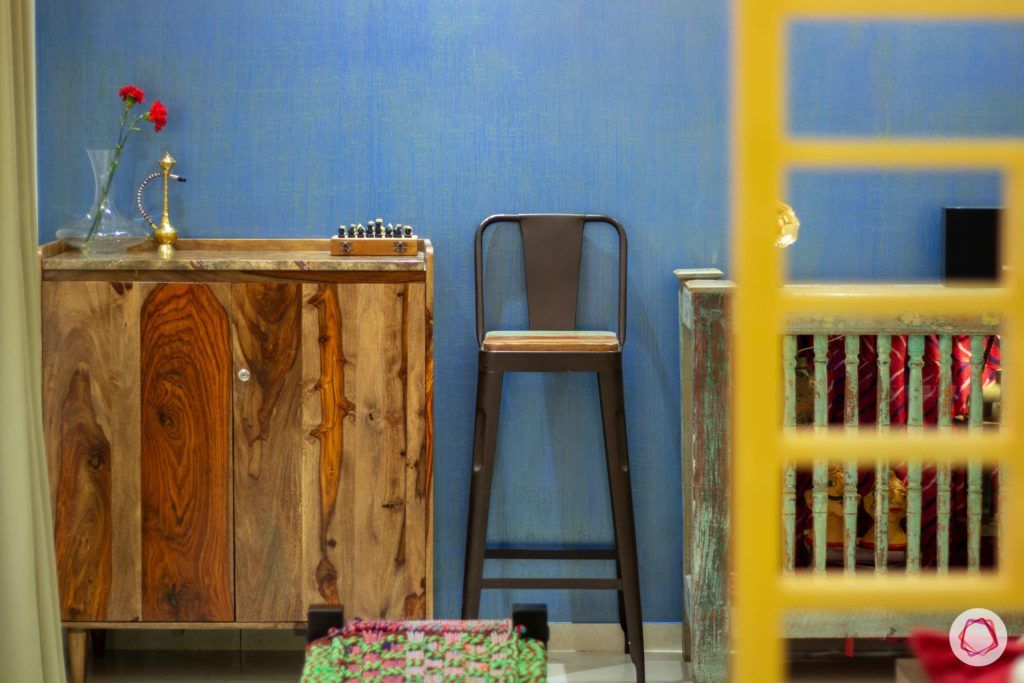 It would almost be impossible to point out our favourite part of the living room. From the blue textured wallpaper to the distressed console table, there's something to always marvel at. Moreover, we love how all the elements come together to create an Indian contemporary setting.
Notice how there's no TV in the living room? This was a conscious choice, reveals the couple, "One thing we were clear about was that we didn't want a TV in the living room. We wanted people to come over and have conversations."
Charul put in an elegant false ceiling, wooden bar unit, gorgeous textures, and comfy seating. In addition, she put in indirect lighting to elevate the ambience. We especially love the pop of red around the room!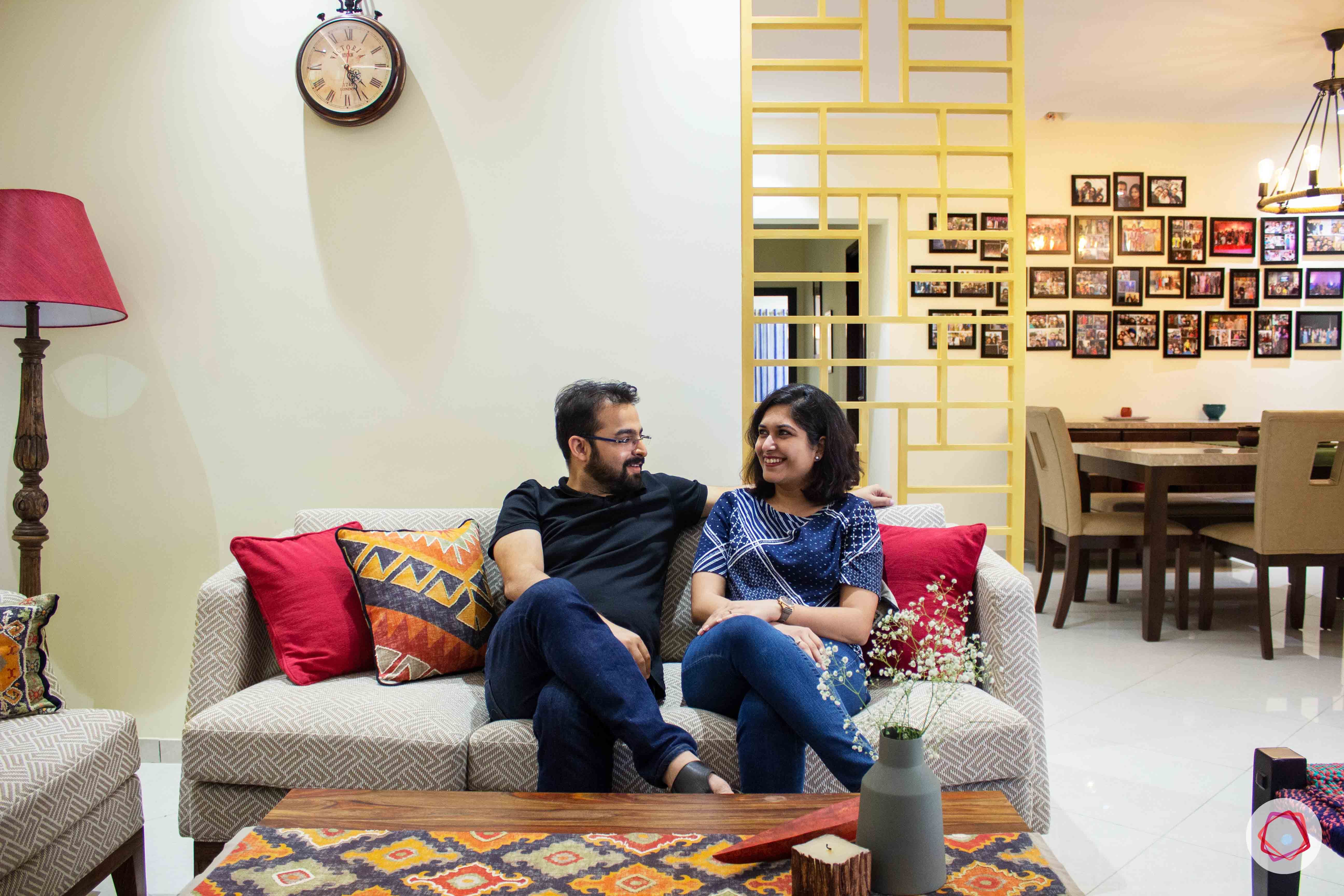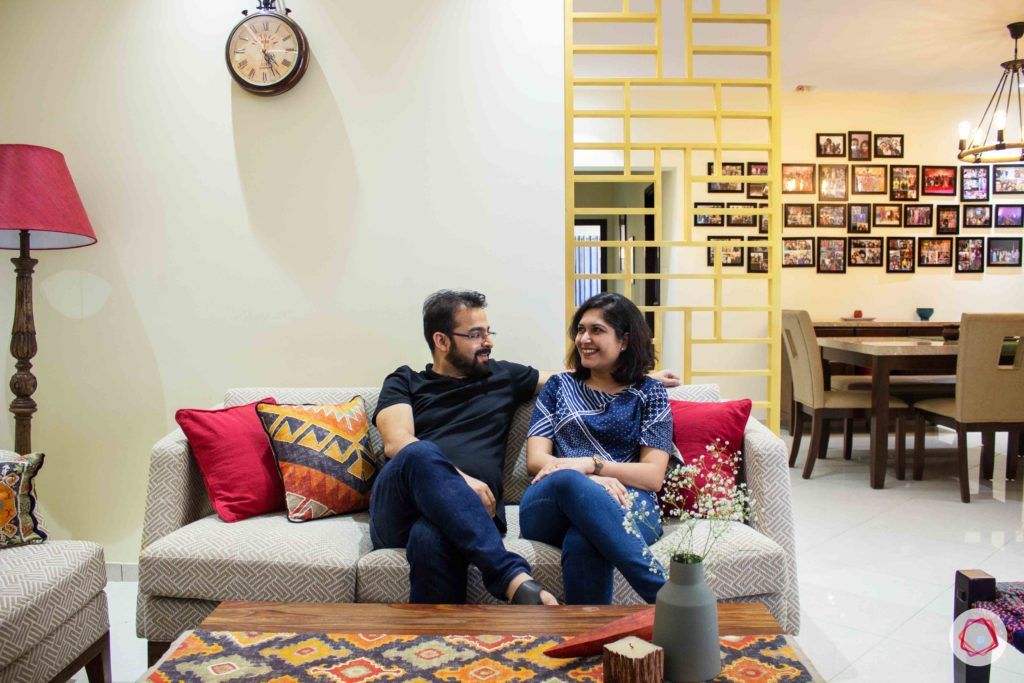 "We went to Livspace with a couple of ideas and they helped us put together all the pieces of the puzzle. Livspace and our designer, Charul Lodha, delivered exactly what we were hoping for. The house looks exactly as we imagined it to be when we started the journey."

– Neetika & Mohit Kaul, Livspace Homeowners

Contemporary House Design: Minimal Dining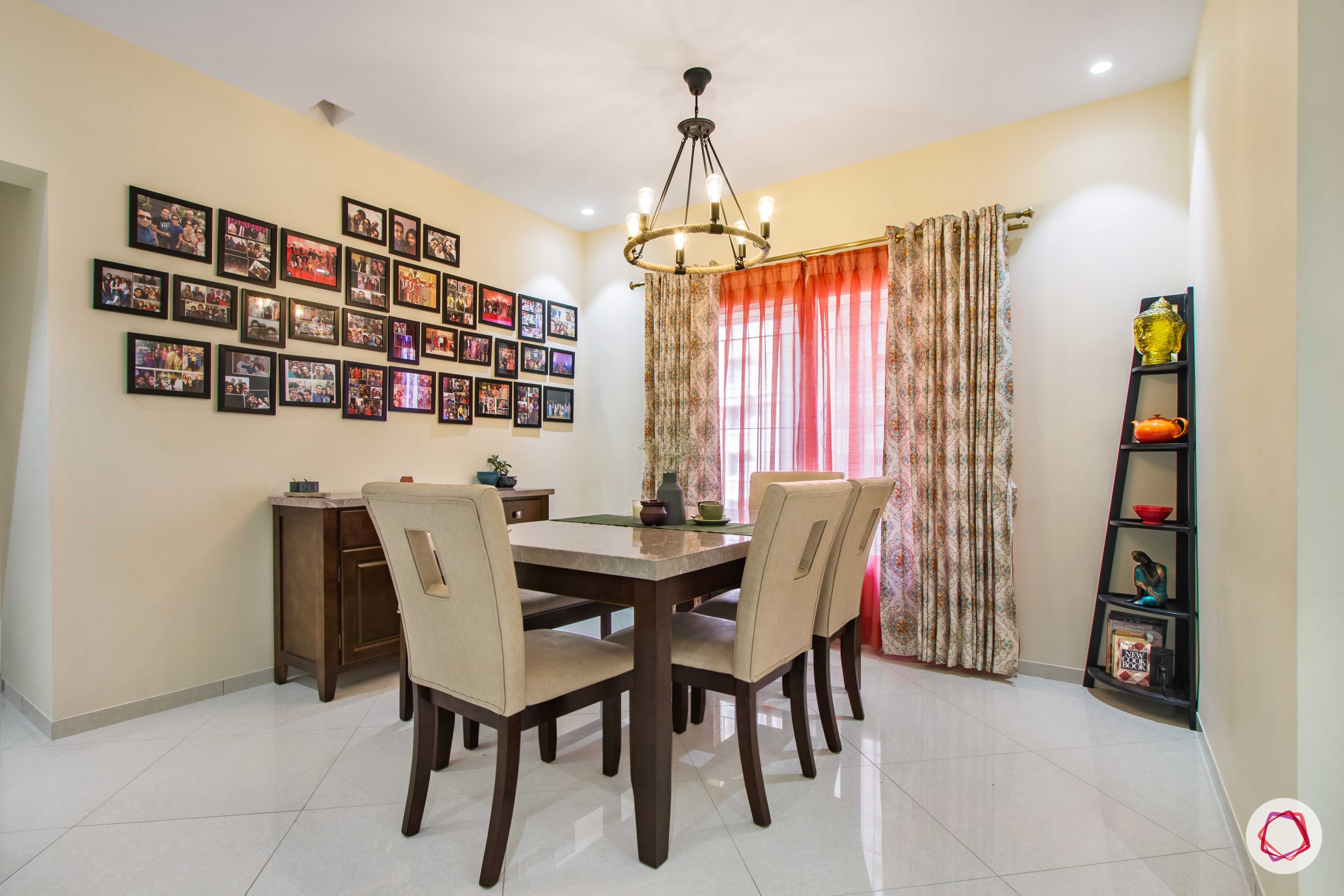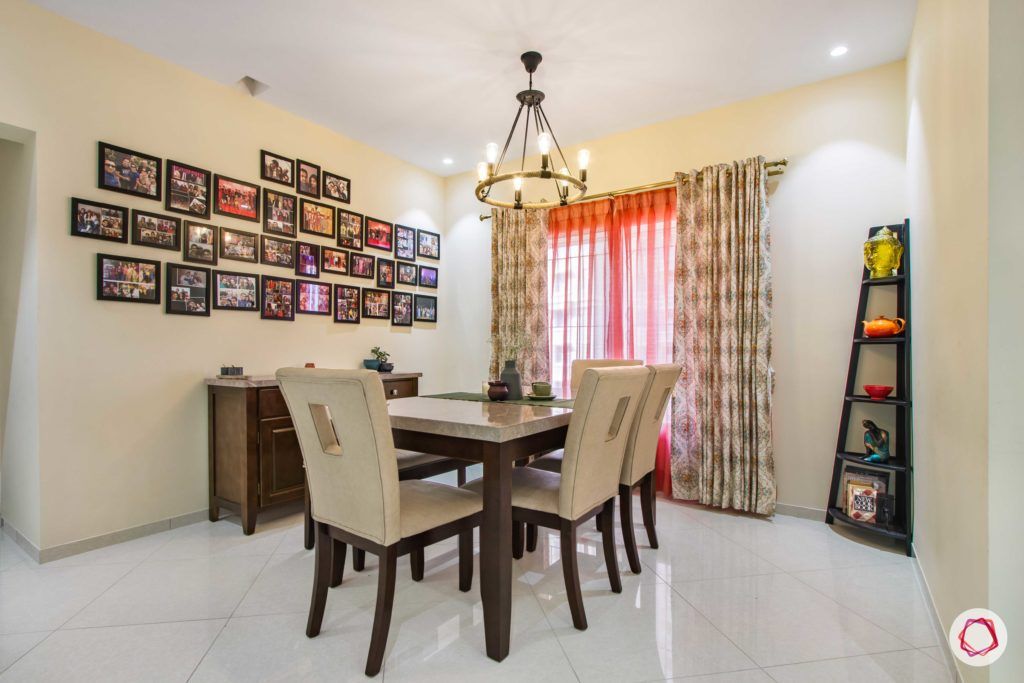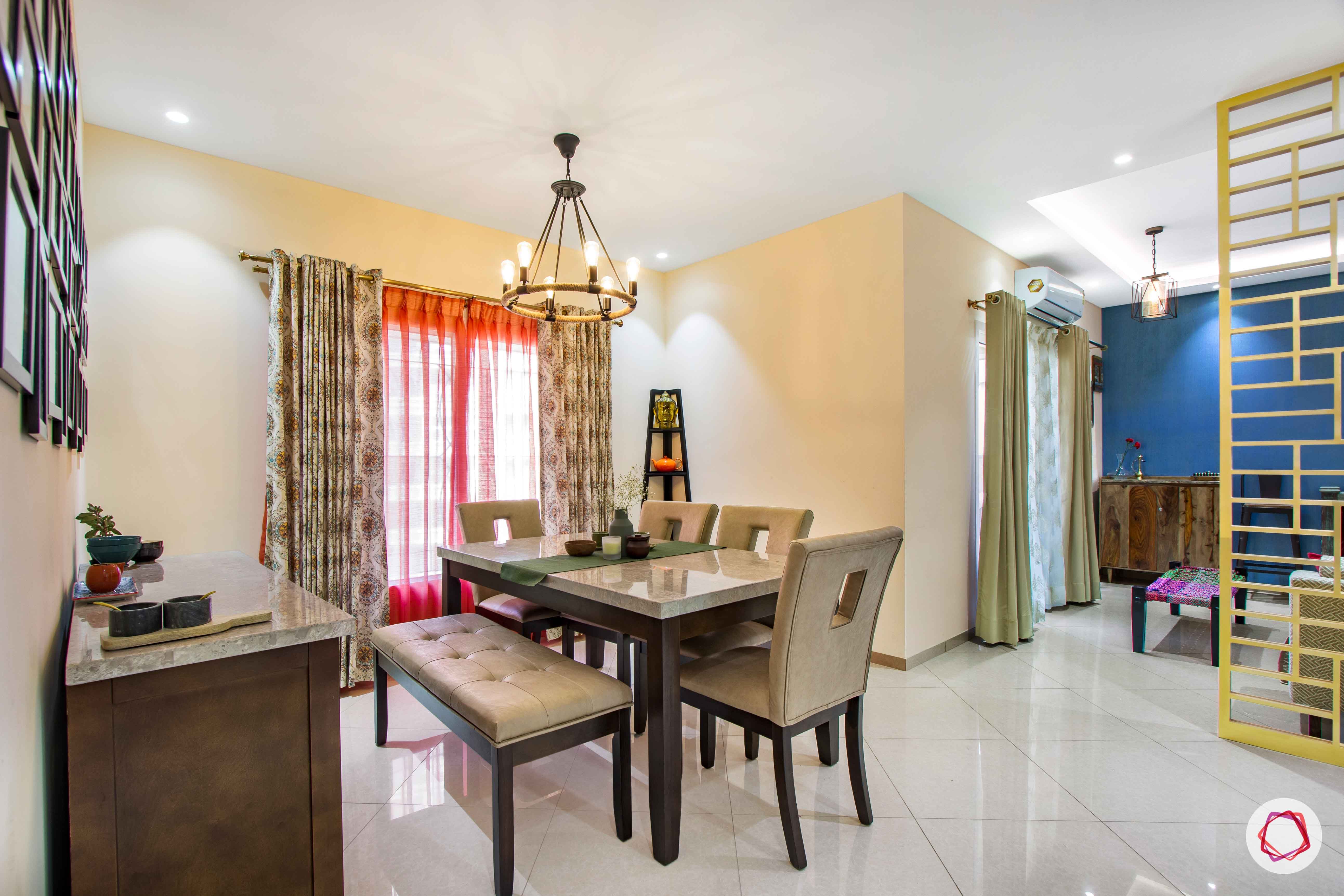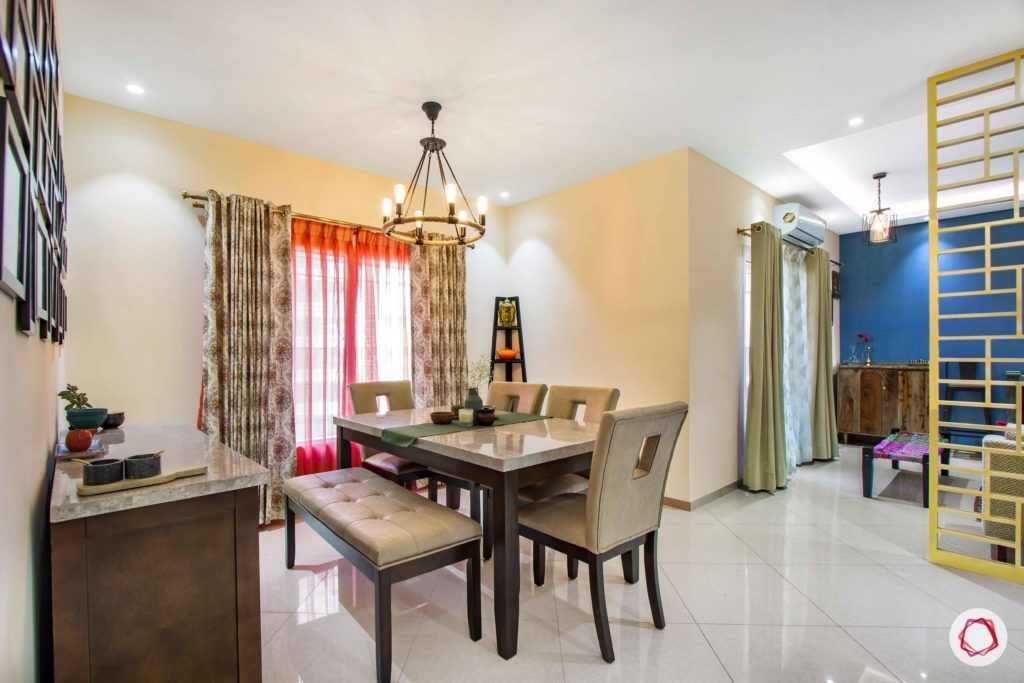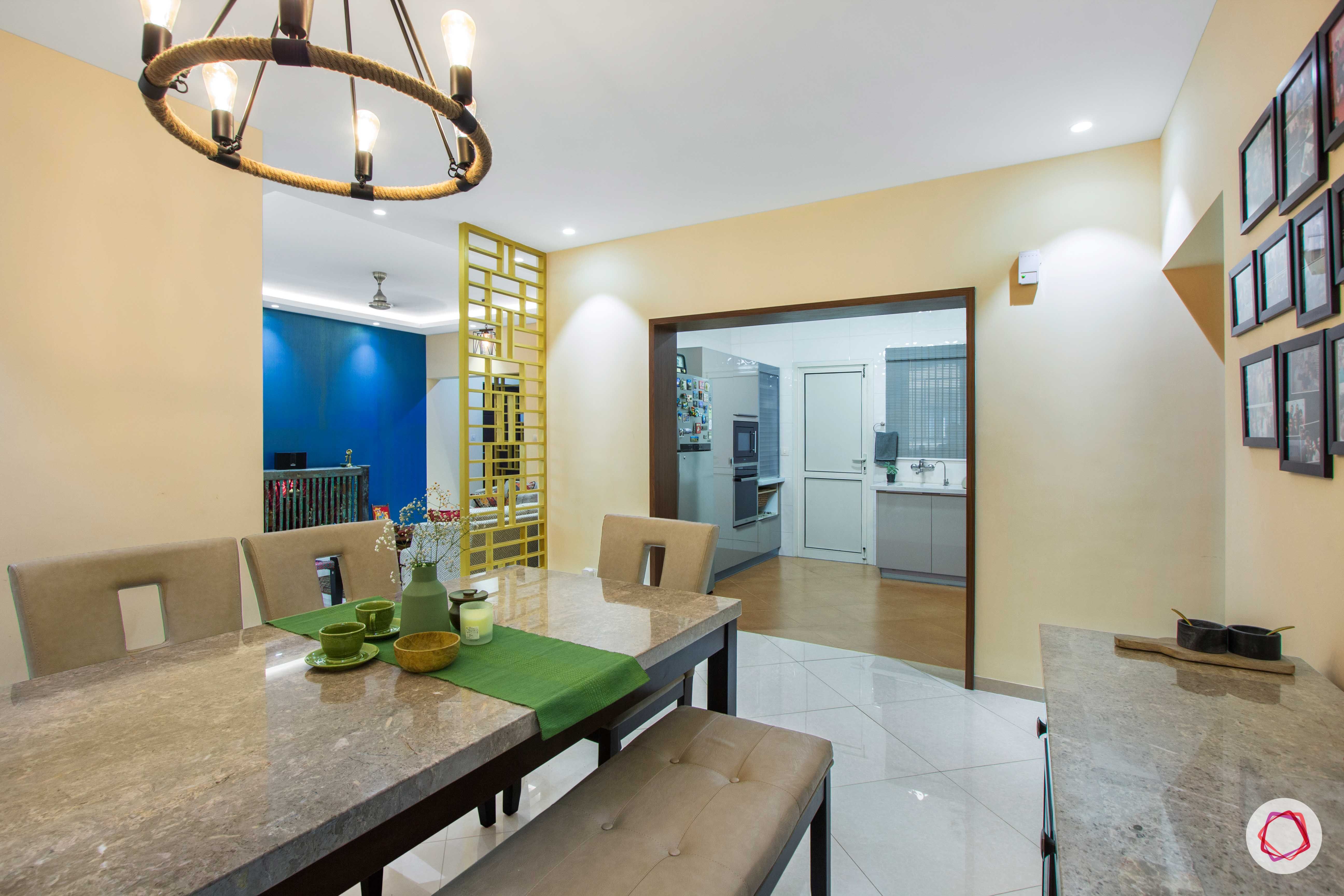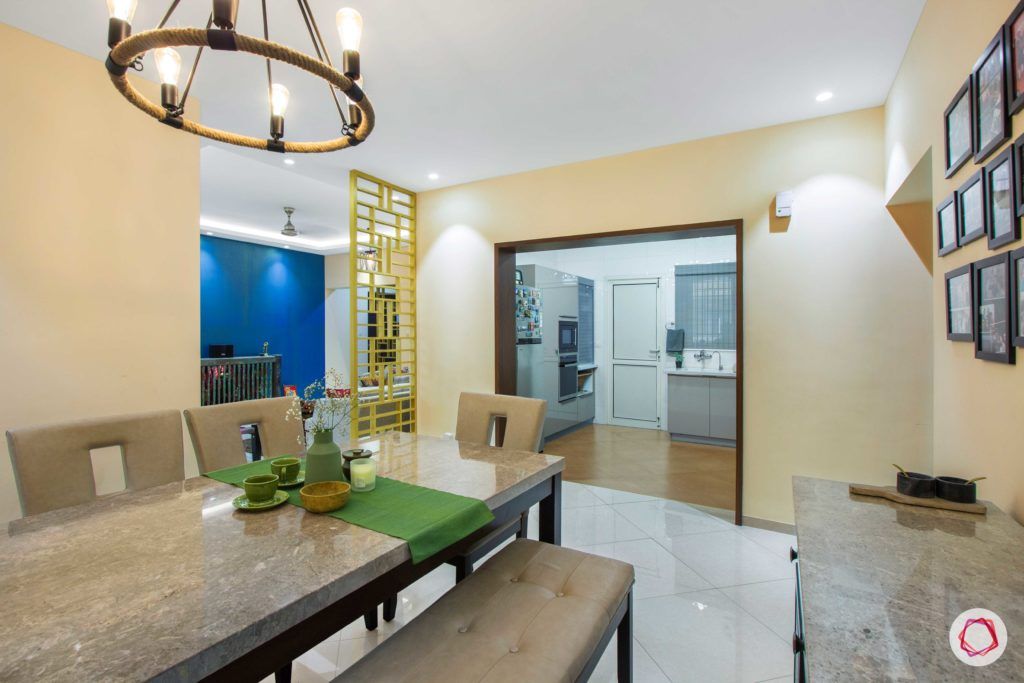 The dining room stands out in simplicity and elegance. It flaunts a neutral-toned dining set with a tufted bench on one side, while upholstered chairs take up the other. In addition, a medieval-inspired chandelier centres the space, a rustic marble top has been used for both the dining table and crockery unit beside it. Also, a corner display unit that holds collectibles acts as intriguing element. We love how the centre wall with family photographs complete the look.
Notice the entryway to the kitchen? It's been lined with a laminate wooden panel for a touch of warmth.
Contemporary House Design: Cups of cappuccino for the kitchen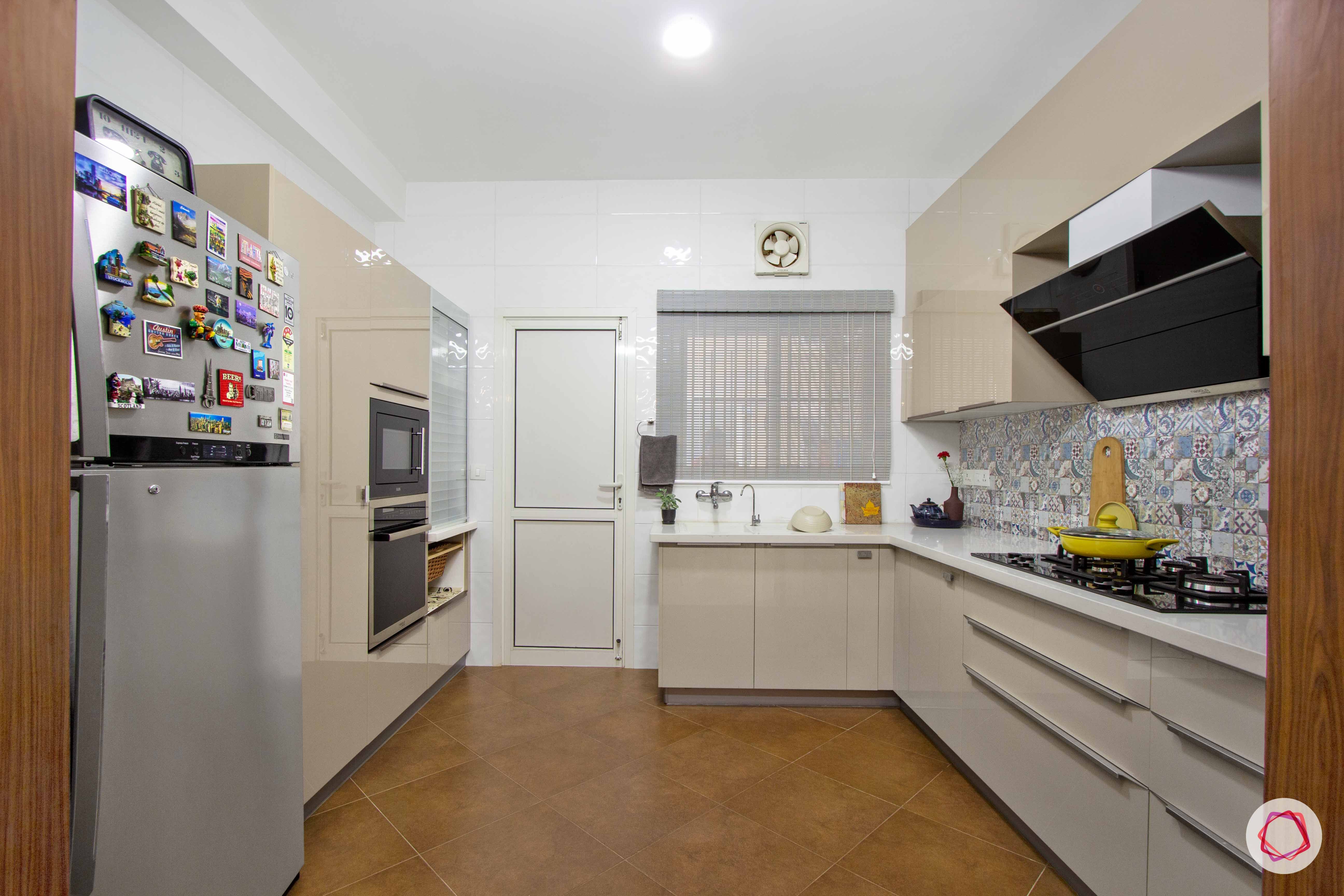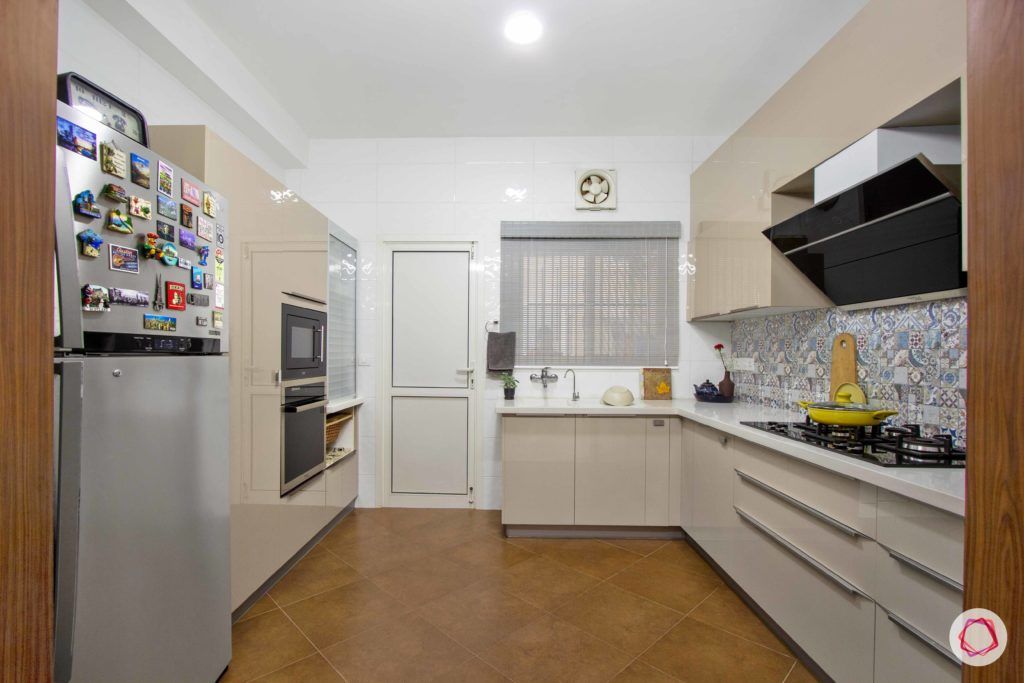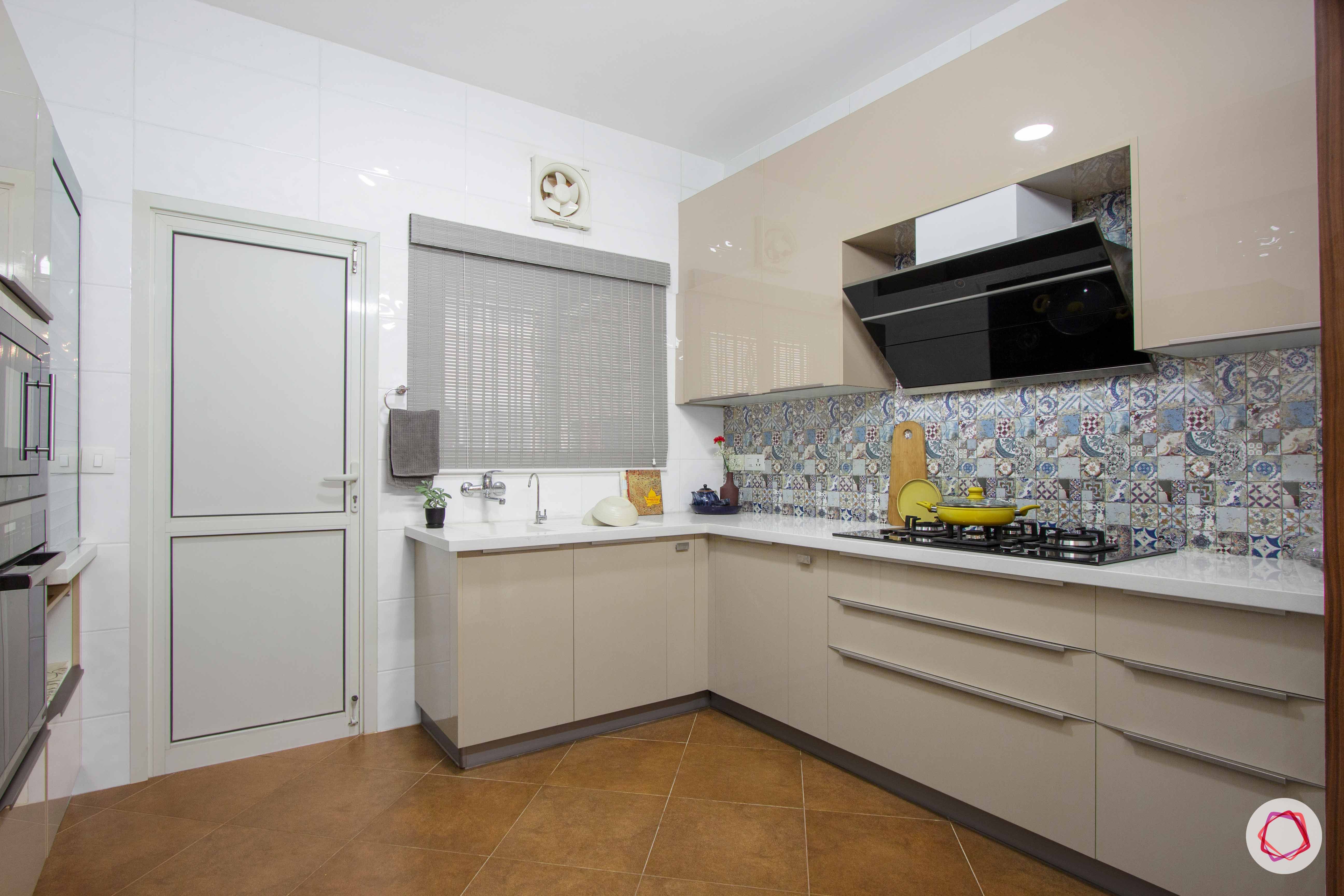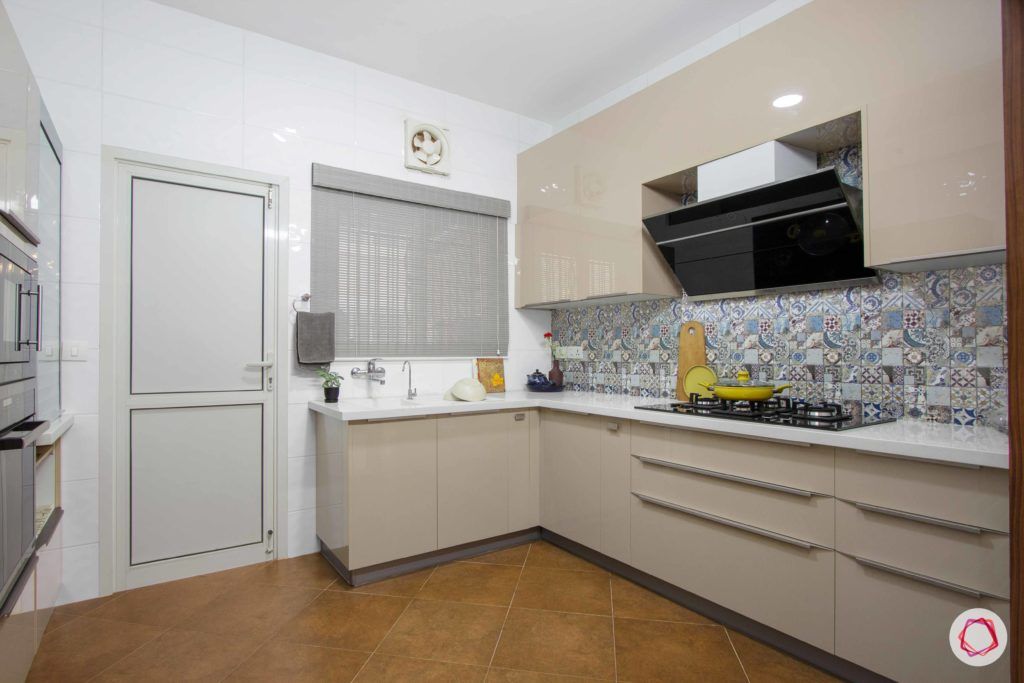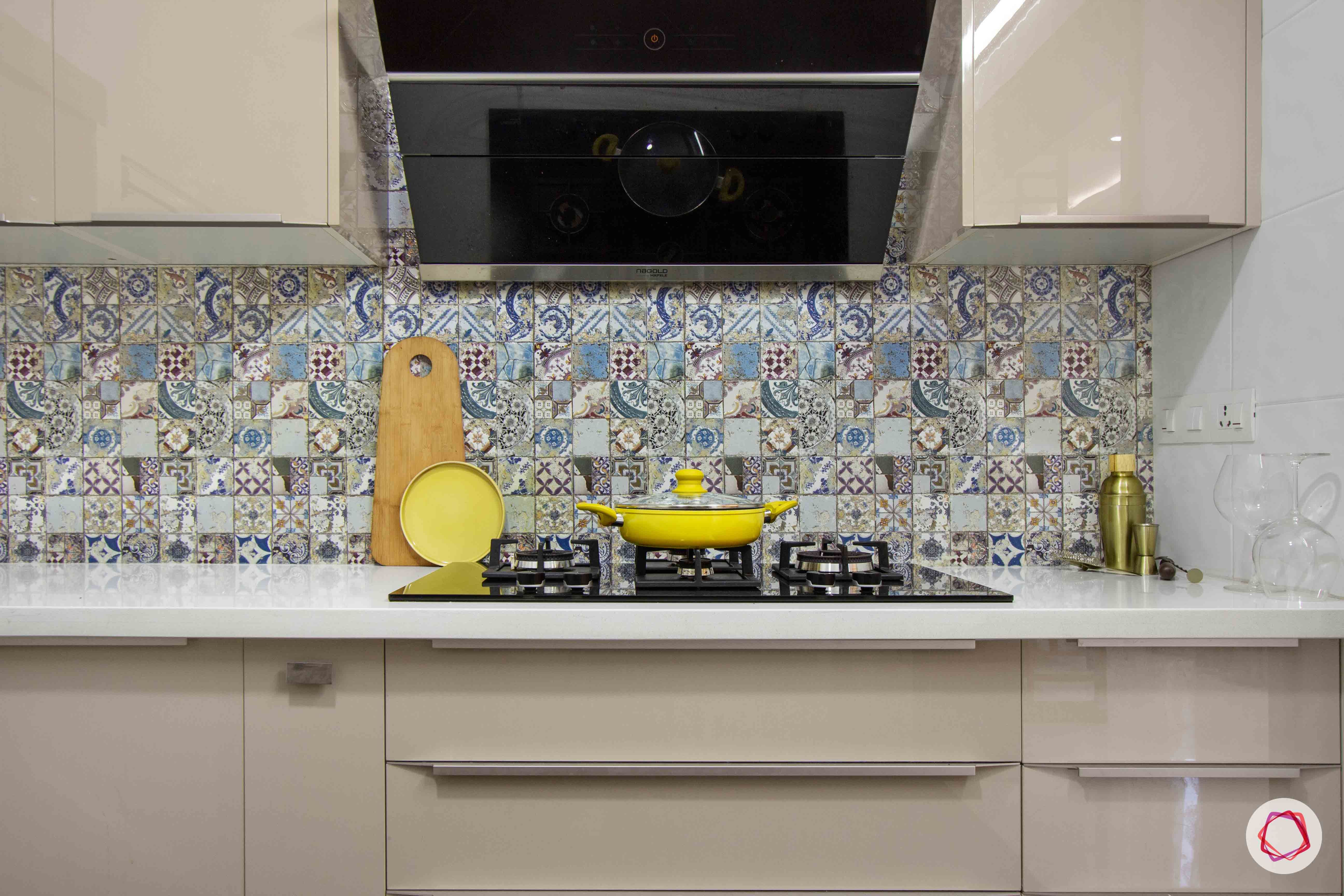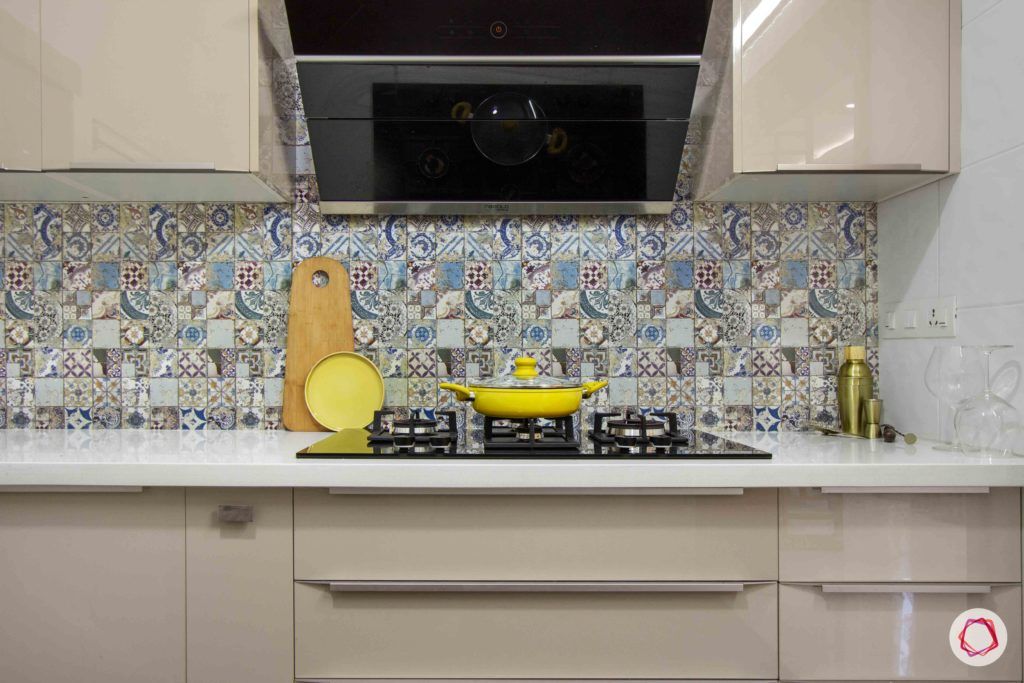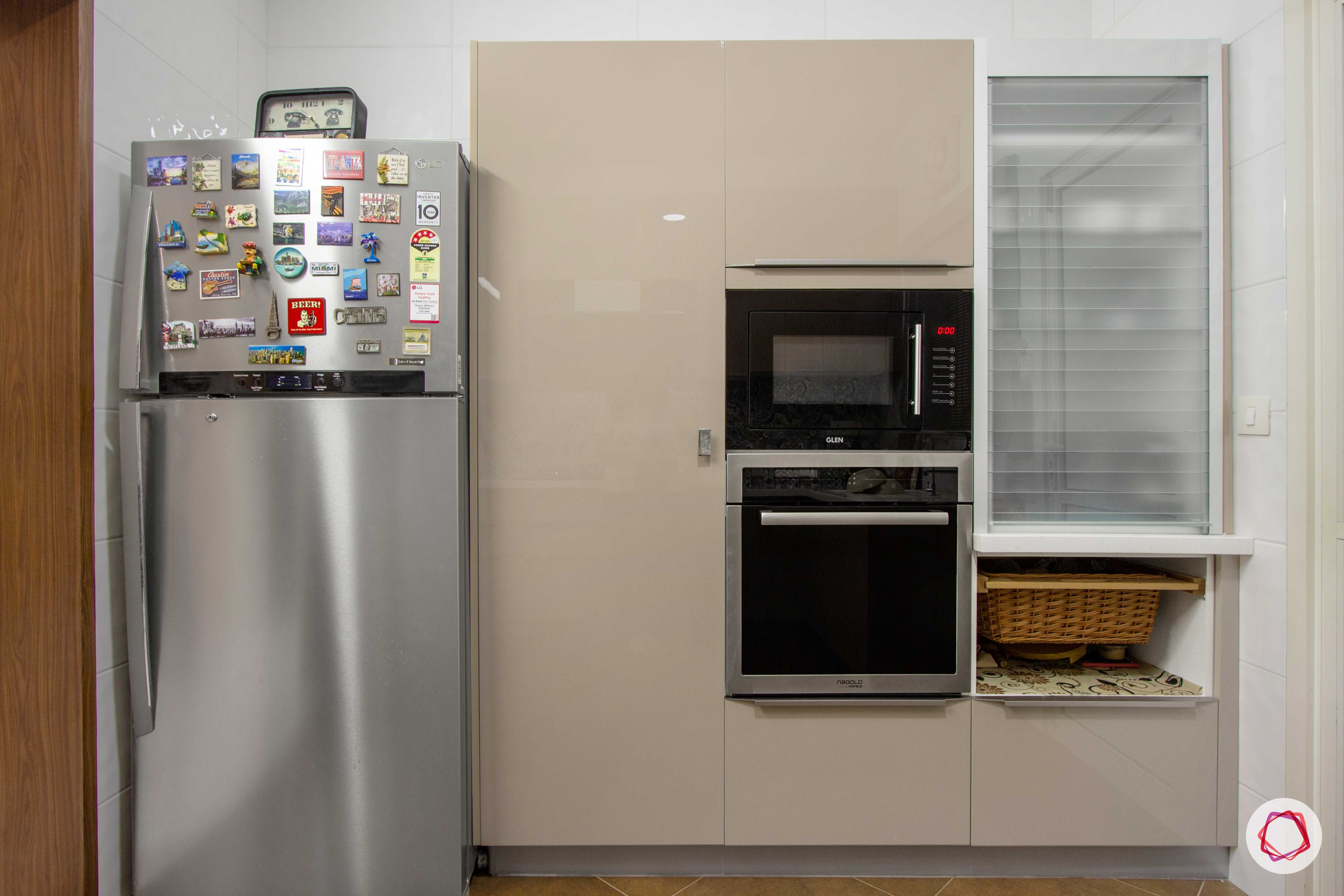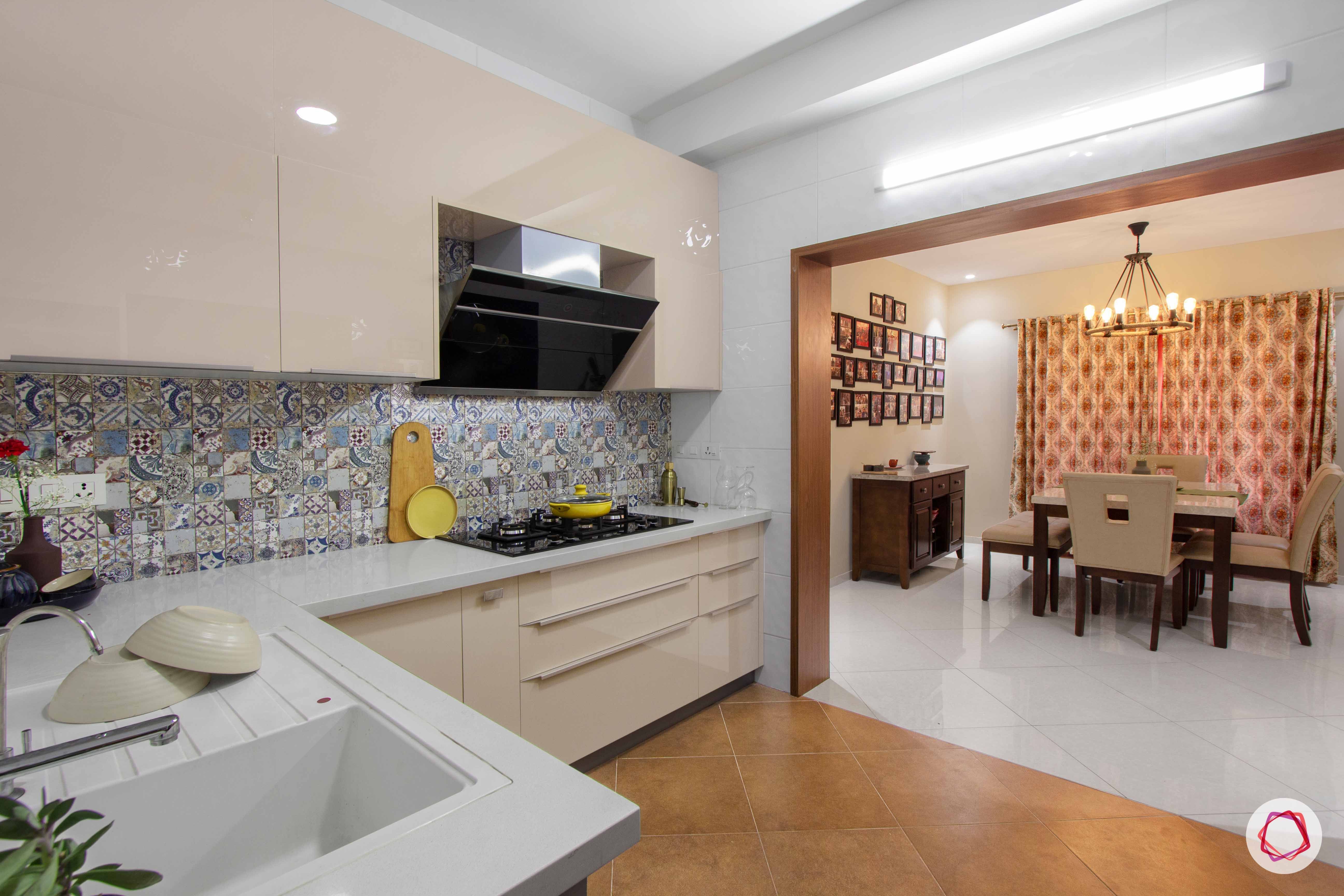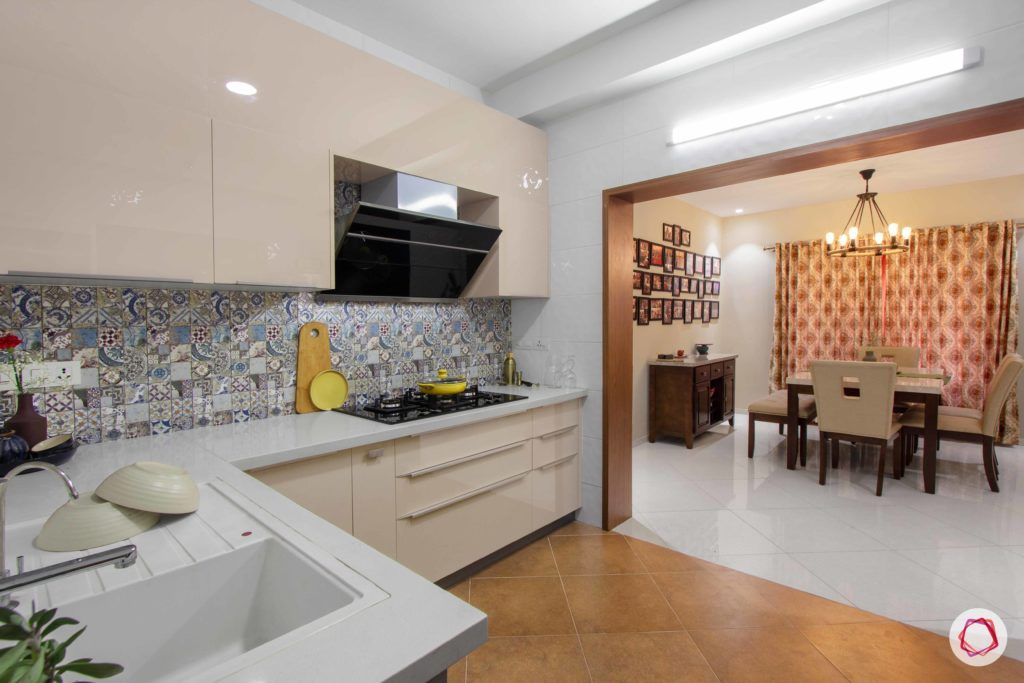 "We had very specific requirements for the kitchen" Neetika says. "When Charul showed us the cappuccino colour palette, we loved it instantly."
The kitchen is both aesthetically-pleasing and high on functionality. While both wall and base cabinets are in a glossy acrylic finish, the countertop is a smooth quartz. In addition, Charul replaced their existing backsplash to printed tiles to keep things interesting. For storage, she put in a roller shutter to store electrical appliances, a tall unit for groceries, and a wicker basket for dry food. Moreover, she used edge profile handles to create a seamless look.
Contemporary House Design: Blissful in Blues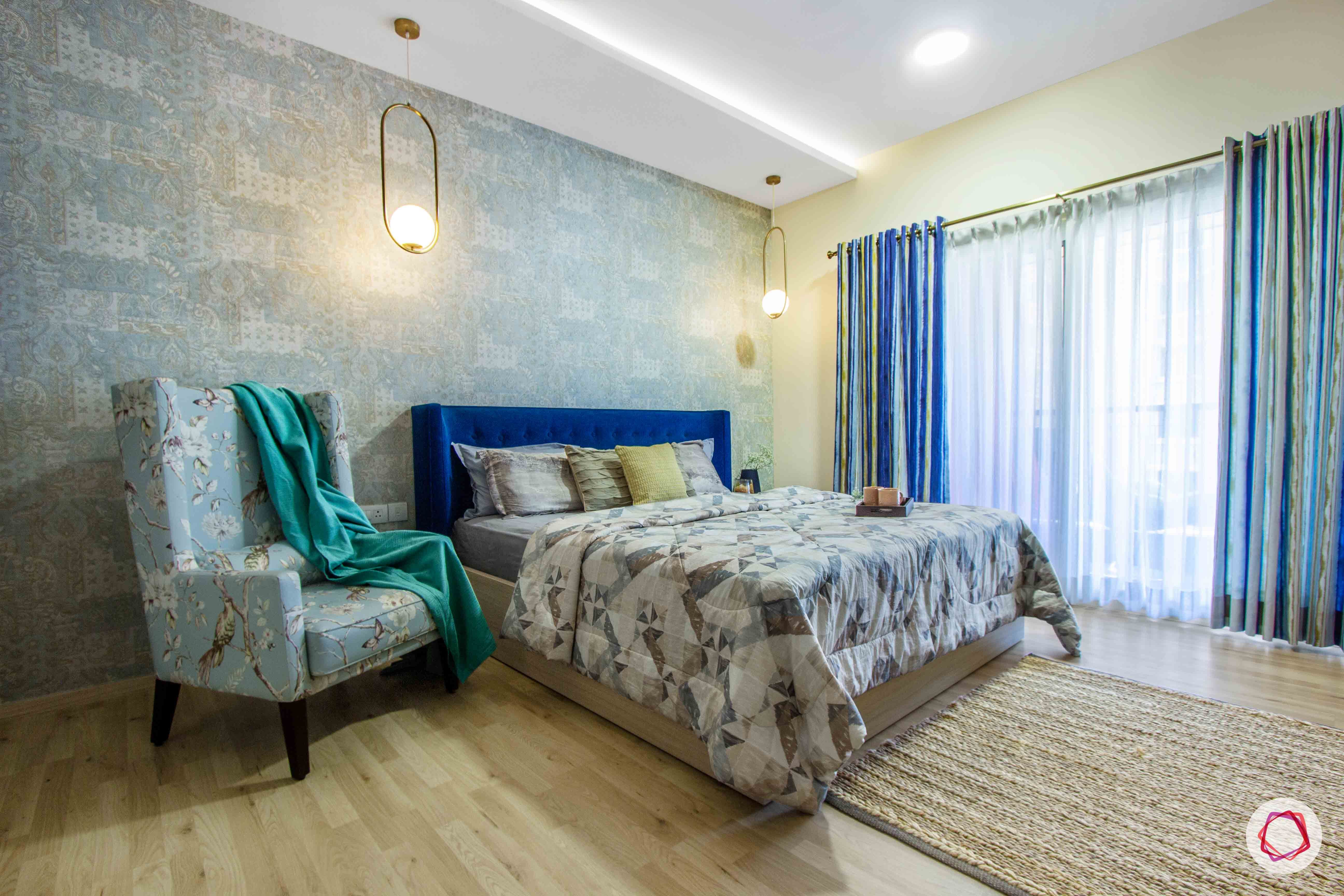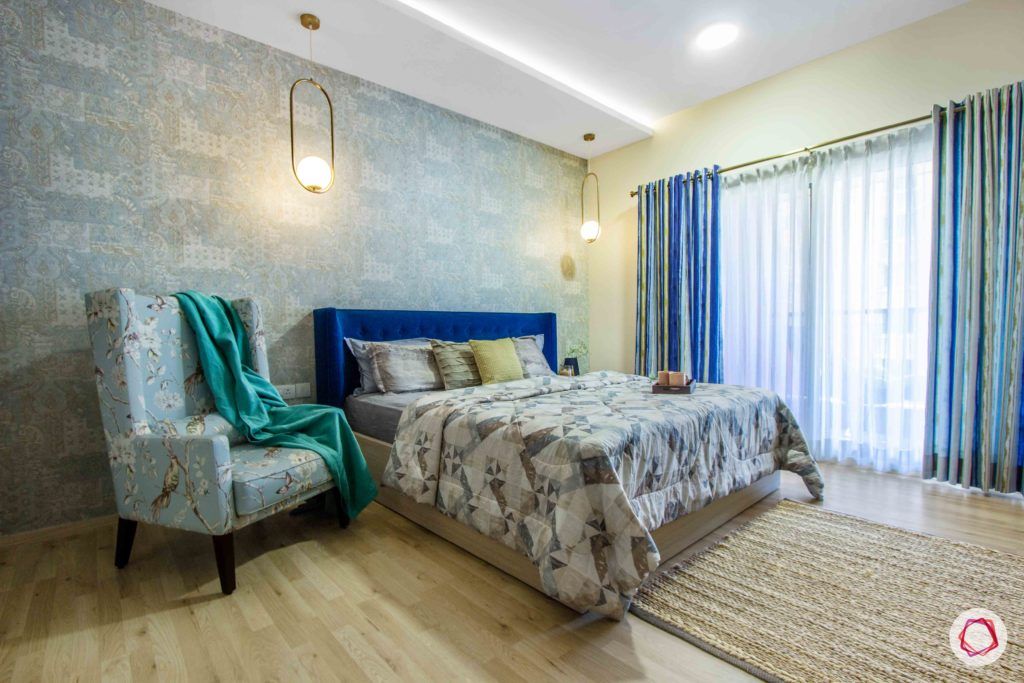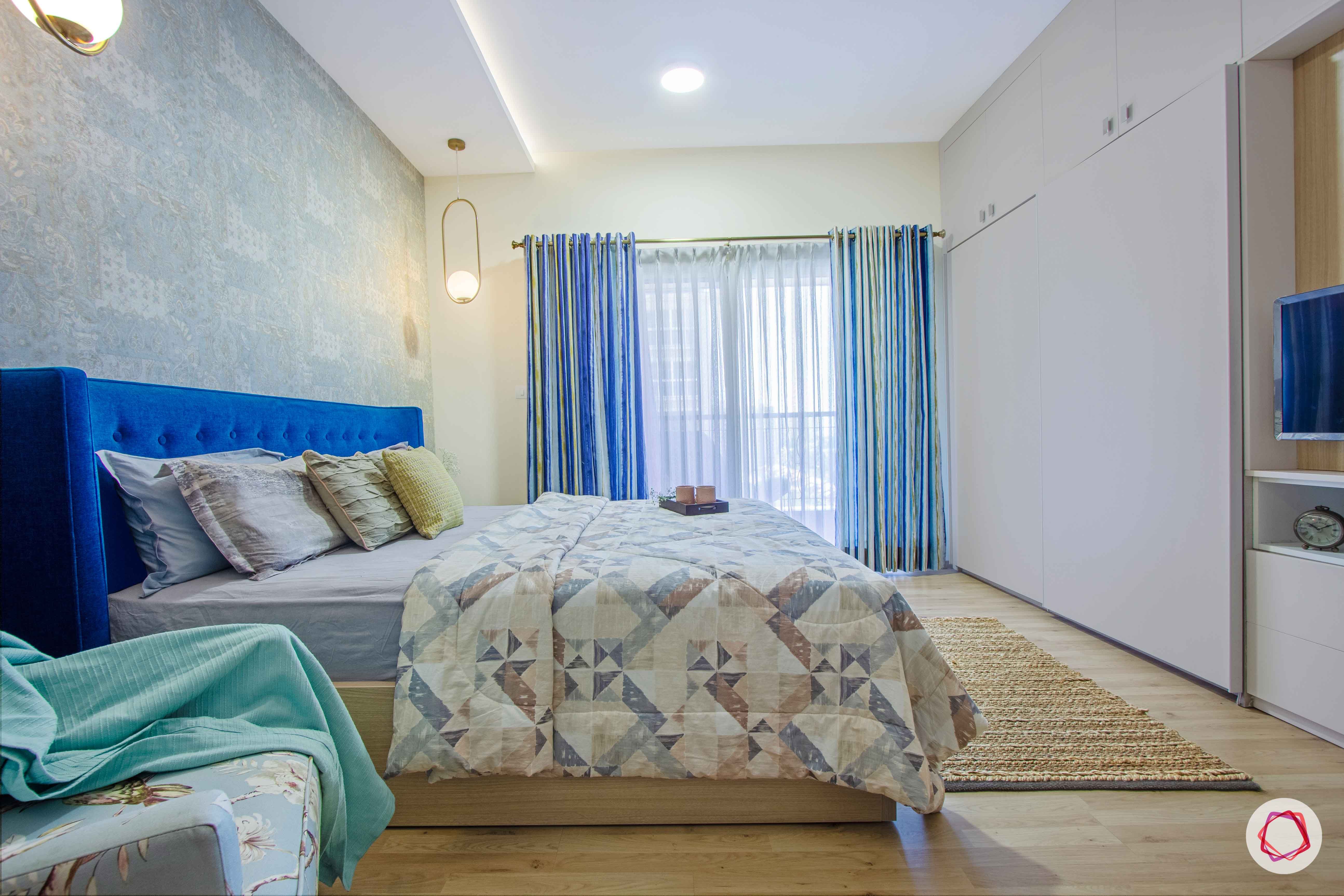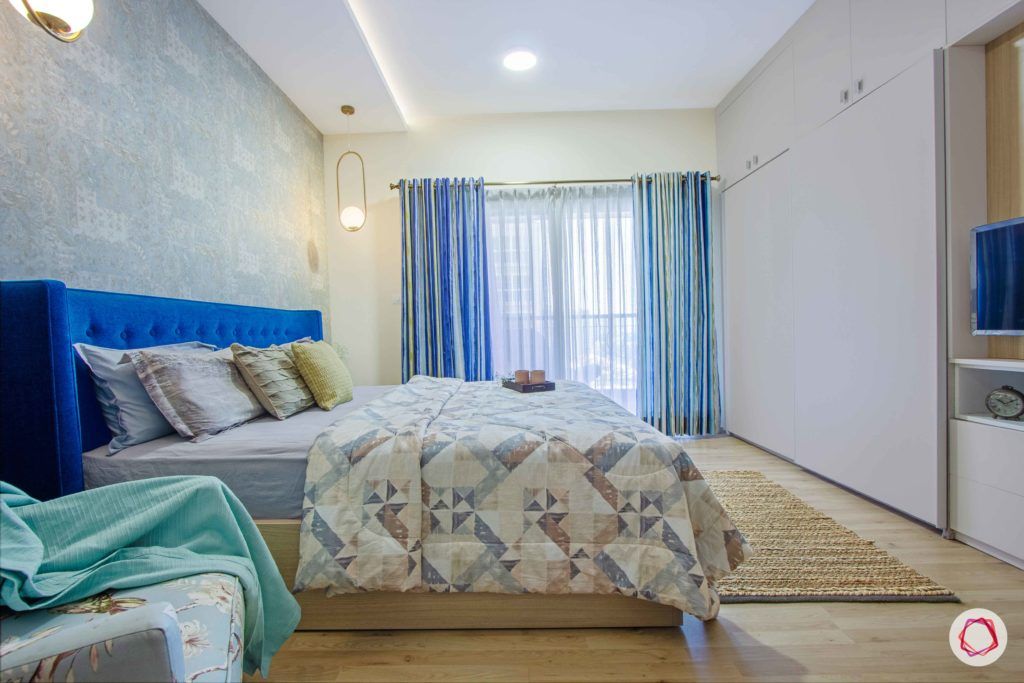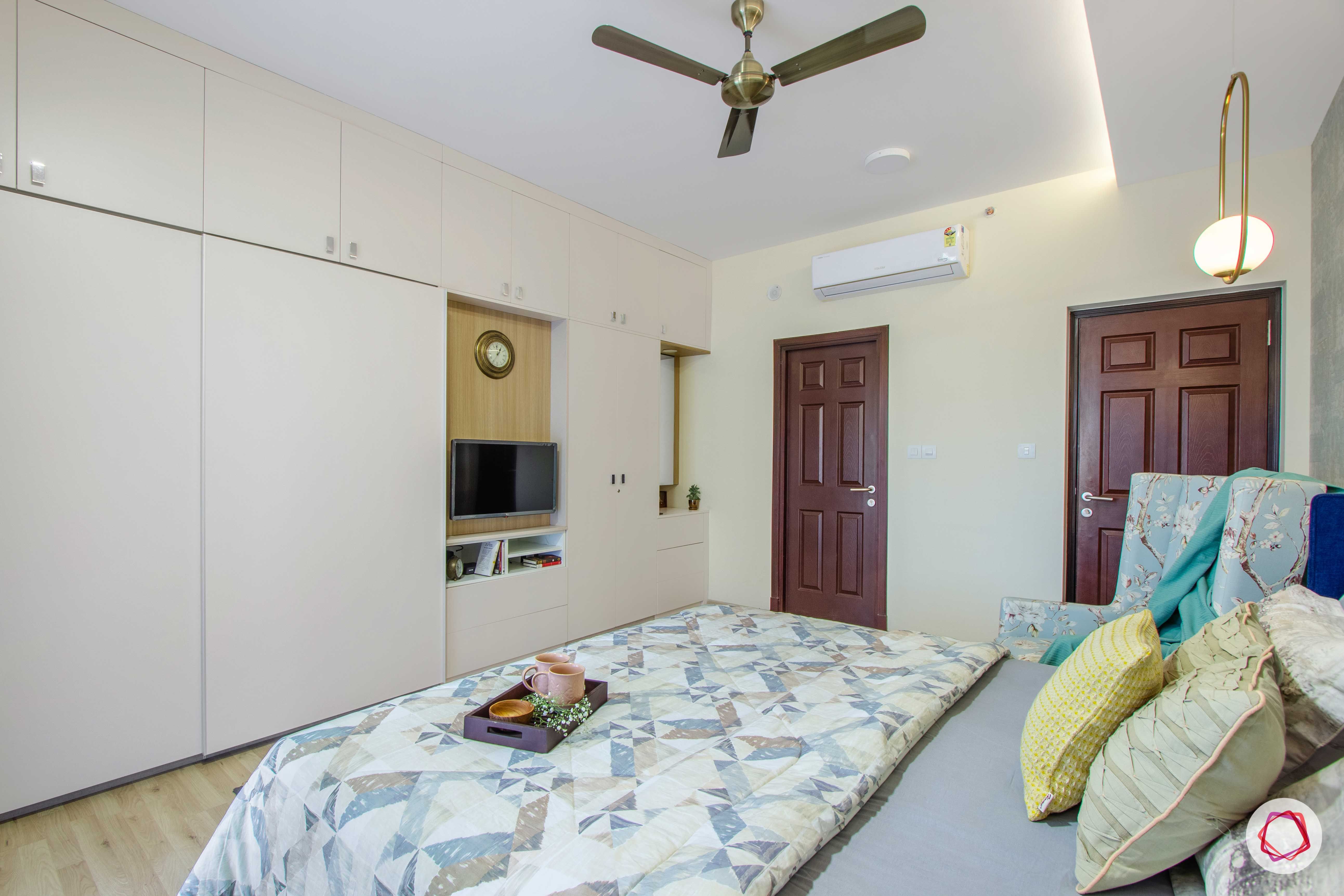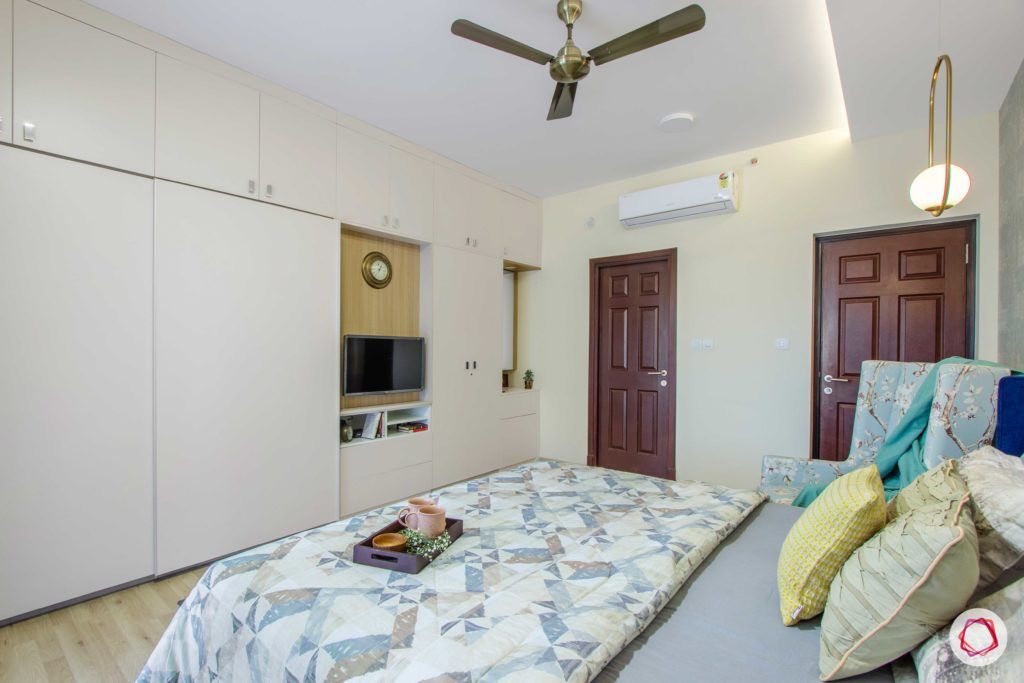 While the living room is lively and vibrant, the master bedroom is doused in soothing hues of blue. From the subtle teal wallpaper to the powder blue armchair, the room definitely scores a perfect ten for an unwinding setting. But the focal point of the room is the striking sapphire headboard.
The floor-to-ceiling membrane wardrobe is a smart work of art. Featuring a gap in the middle for a wooden TV panel and a dressing unit at the end.
Contemporary House Design: For the Love of Prints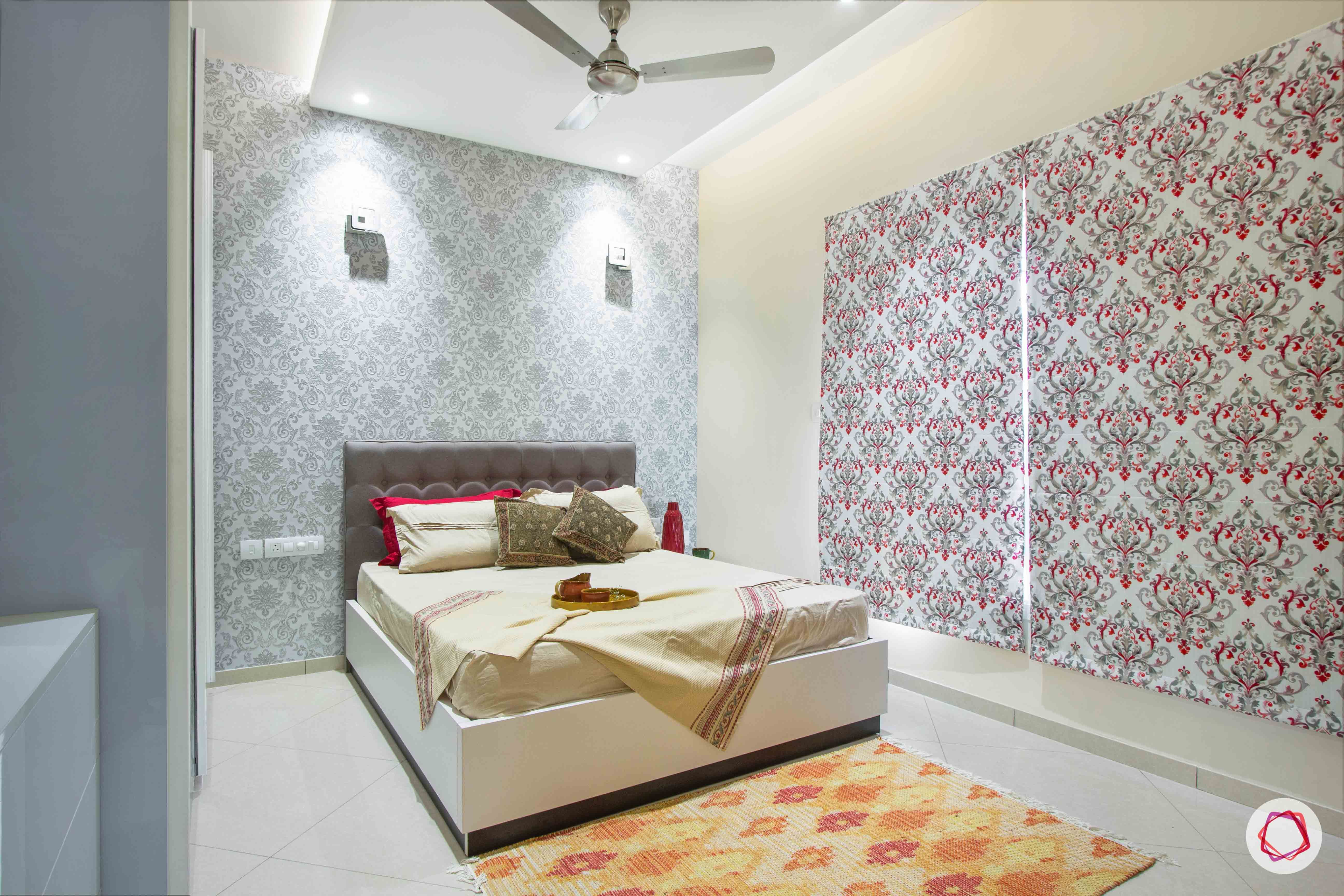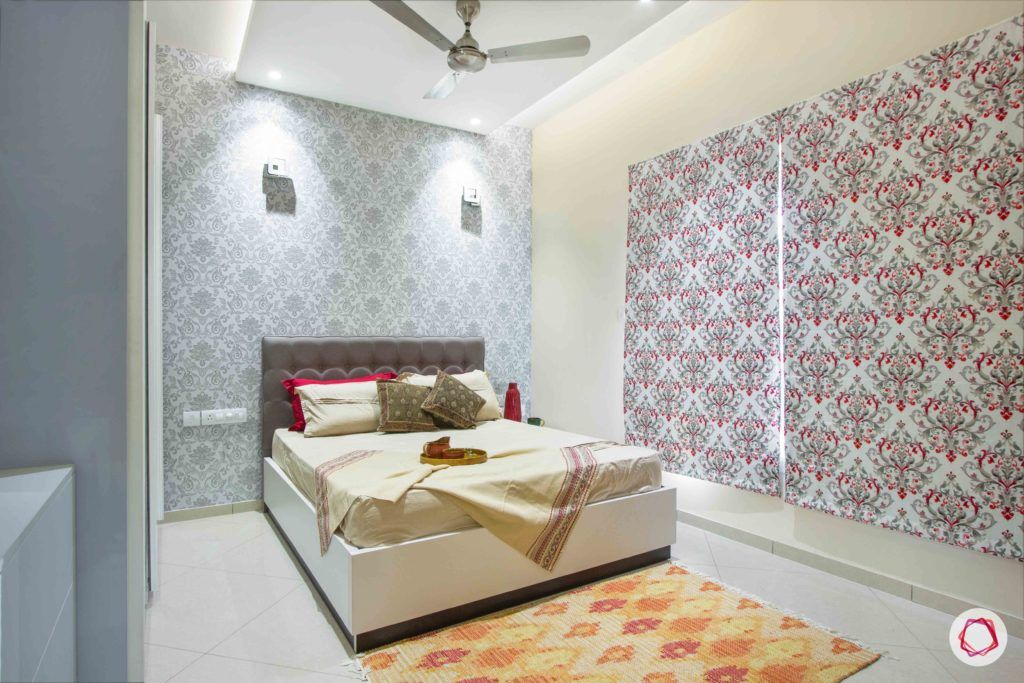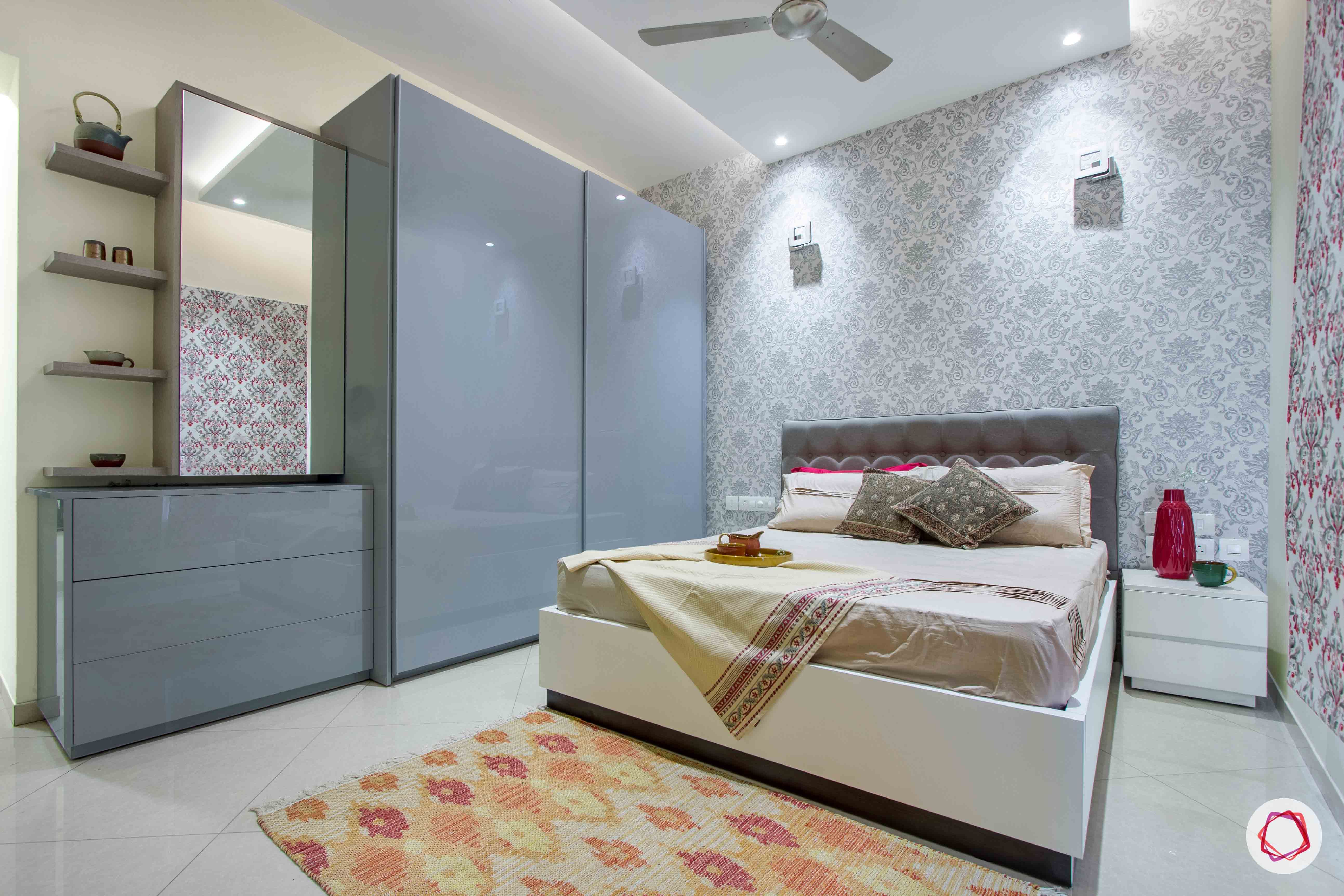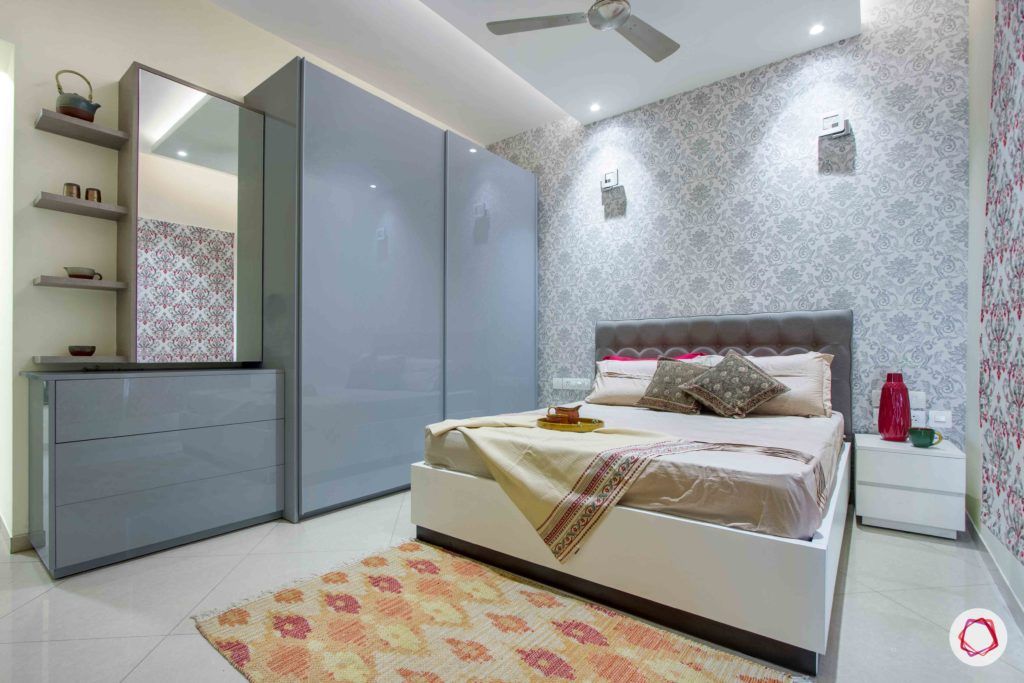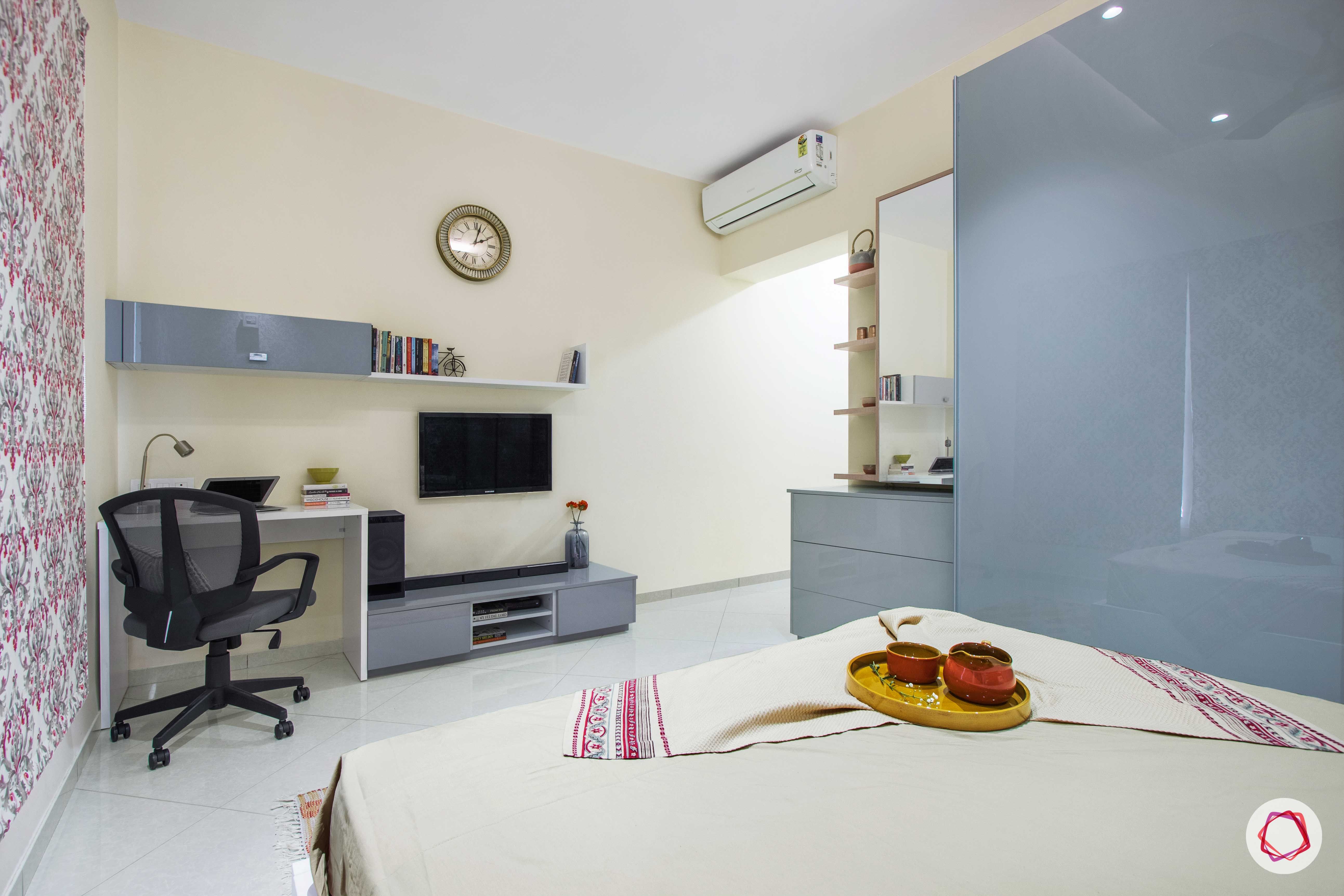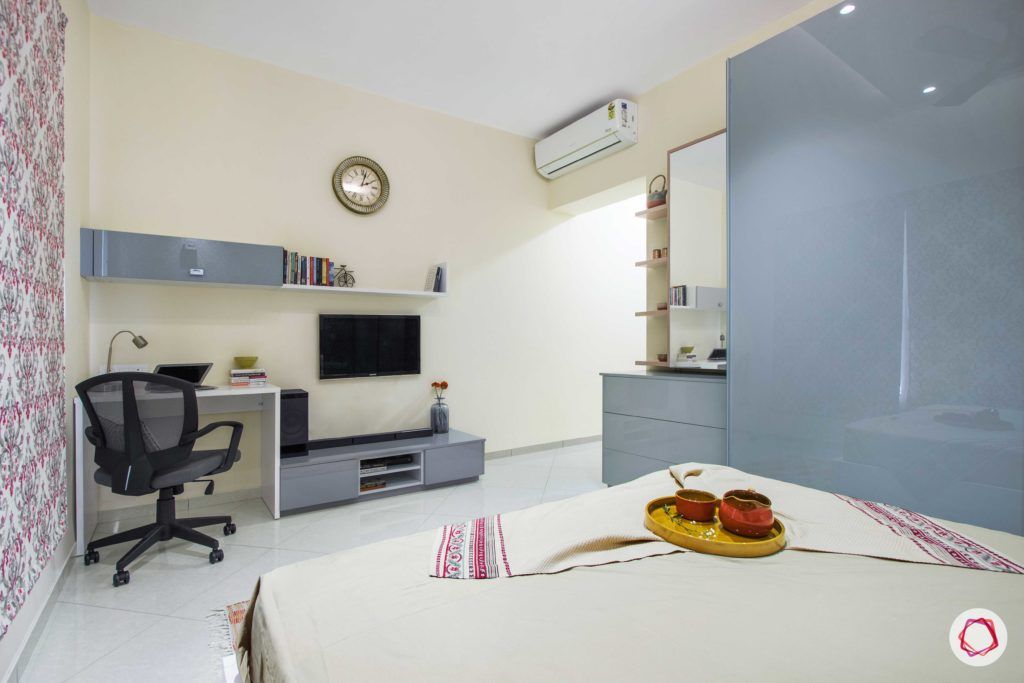 Just like the master bedroom, Mohit's parents room is minimal and soothing. But this time, the choice of colour was grey. The centre subtle wallpaper and glossy acrylic wardrobe are both in shades of grey. For an extra bit of storage, Charul put in a chest of drawers as well and the bed features hydraulic storage as well. Also, because of the use of textures and prints, it creates a settling and homely vibe to the space. On the opposite side, stands a study-cum-TV unit in white and the same grey hue.
Contemporary House Design: A multi-purpose room like you've never seen!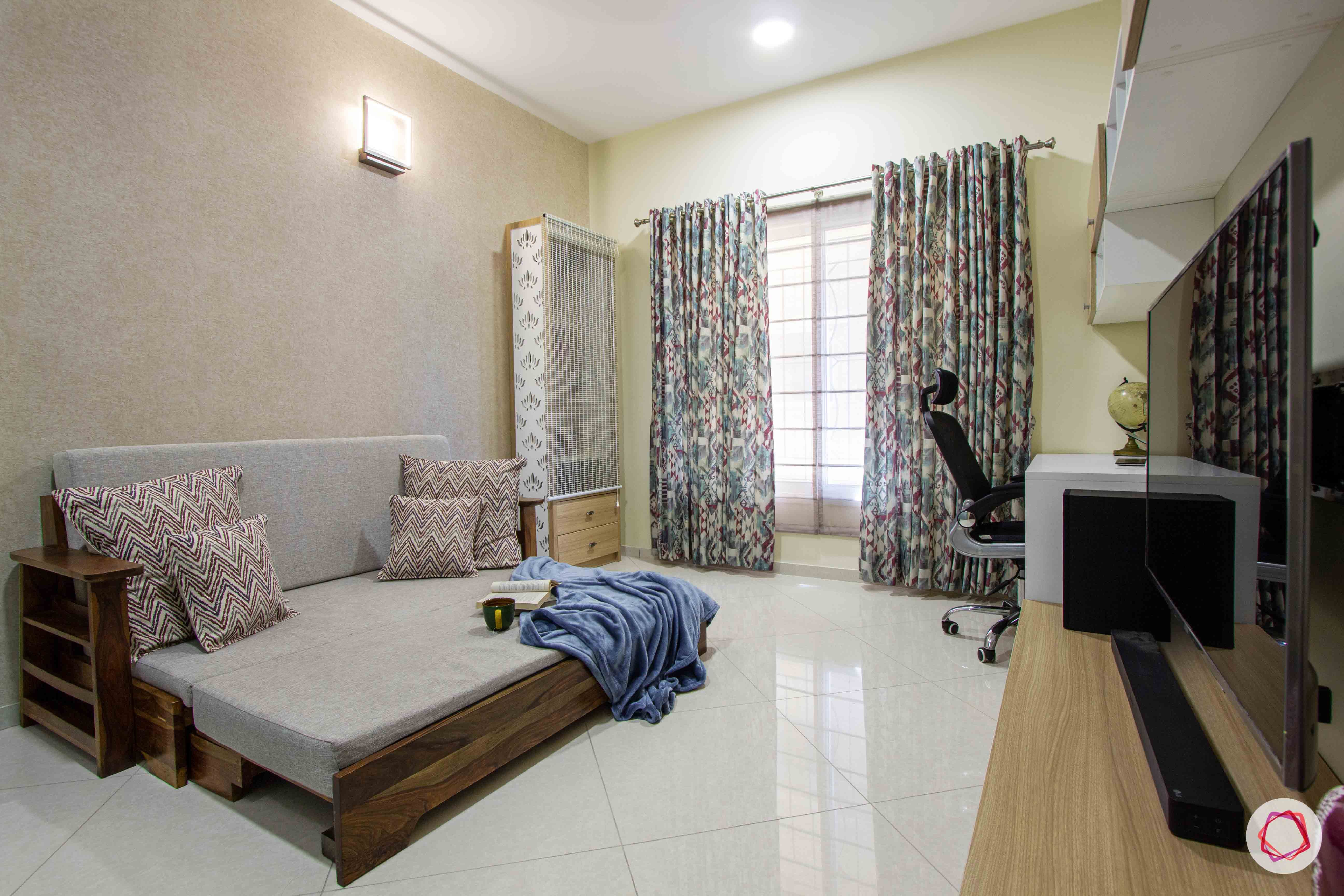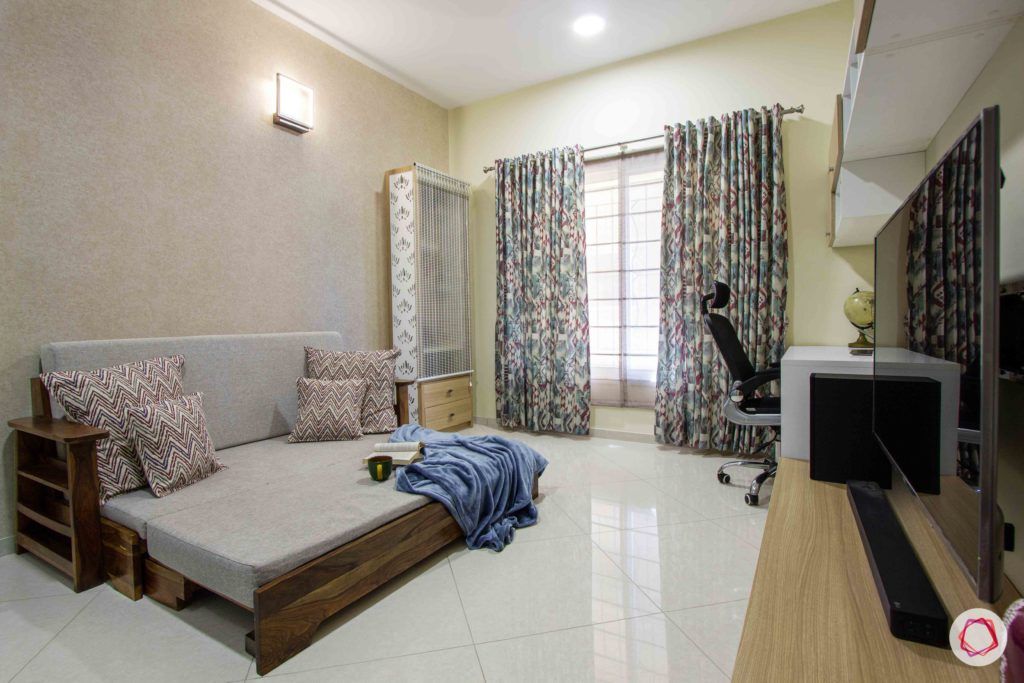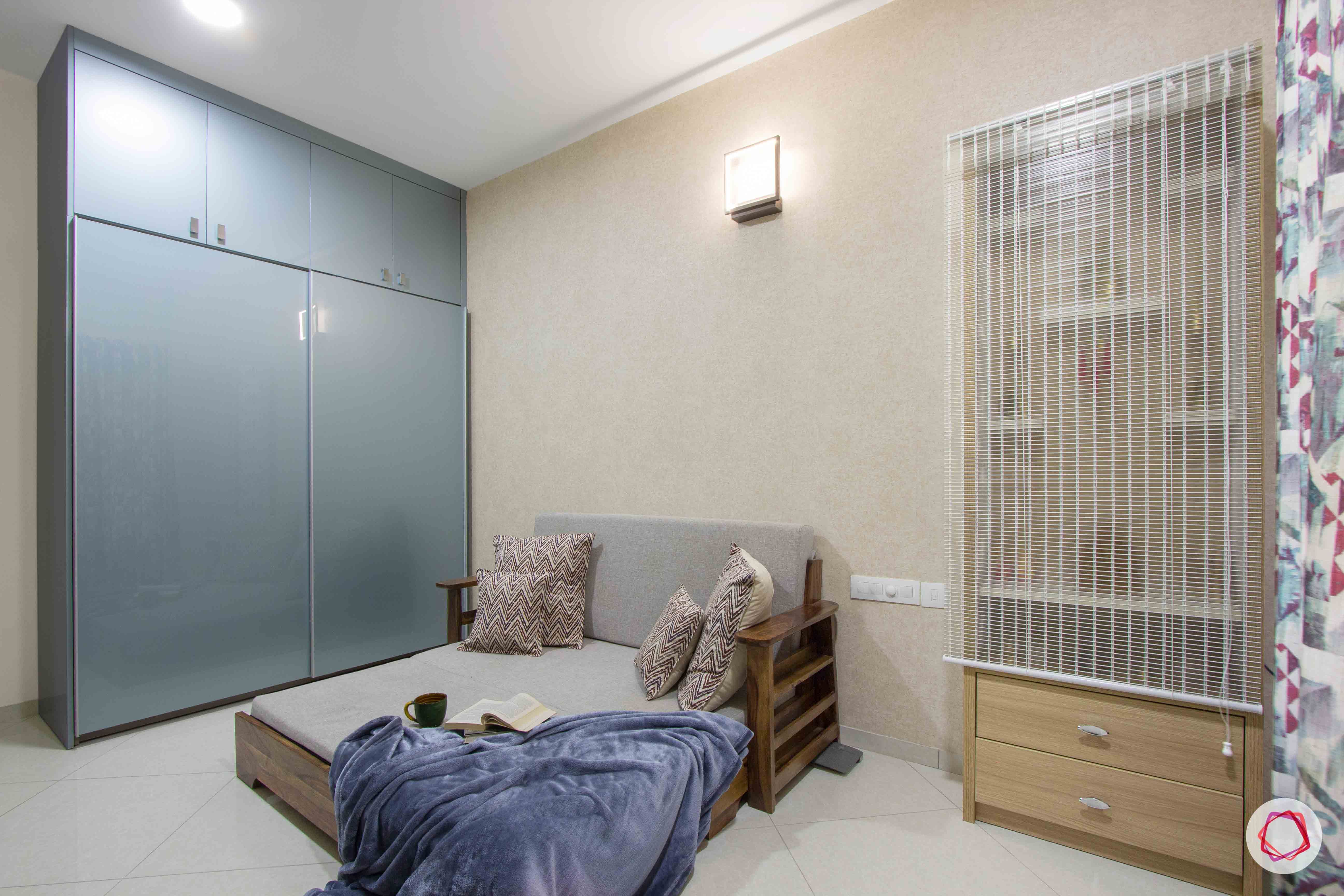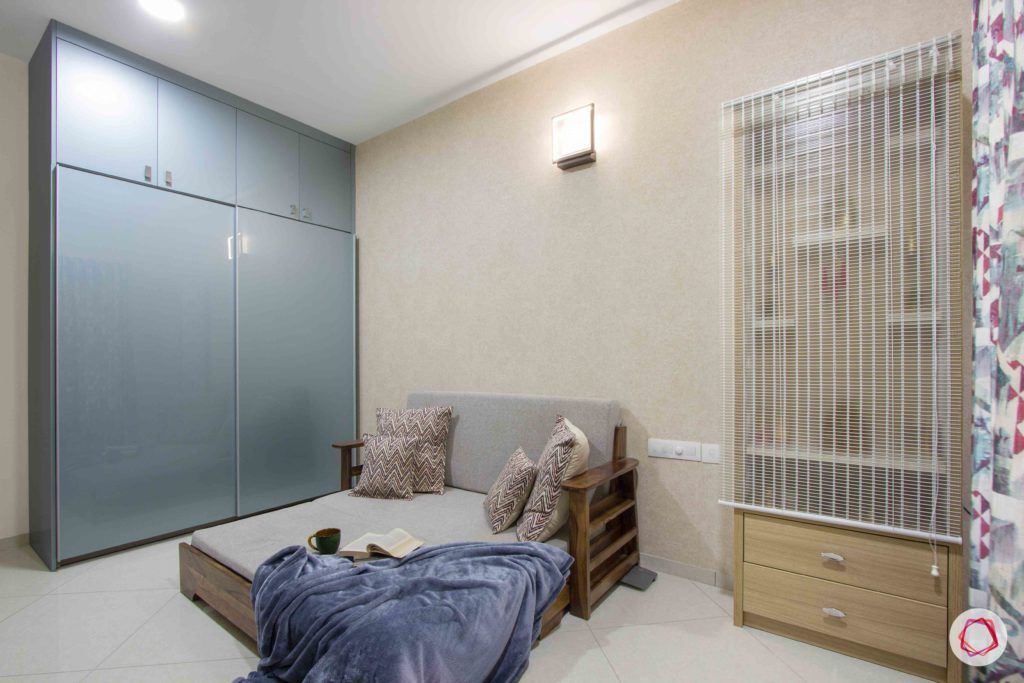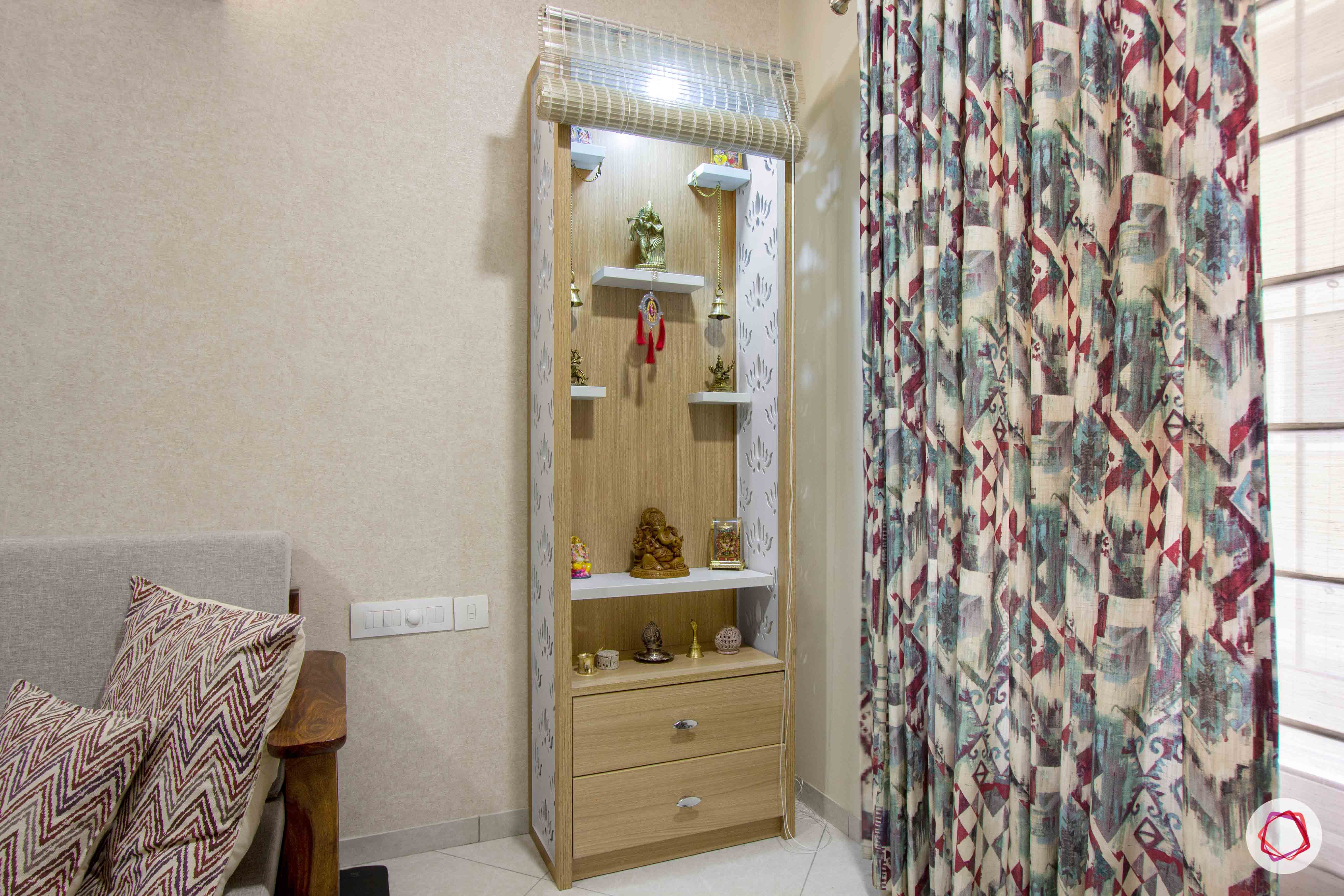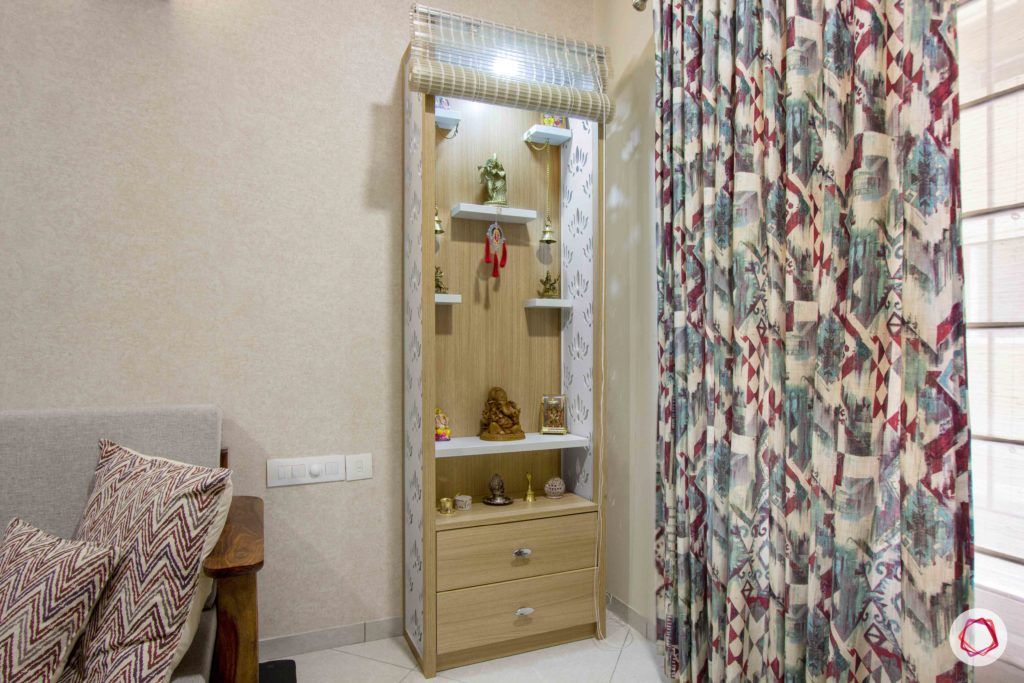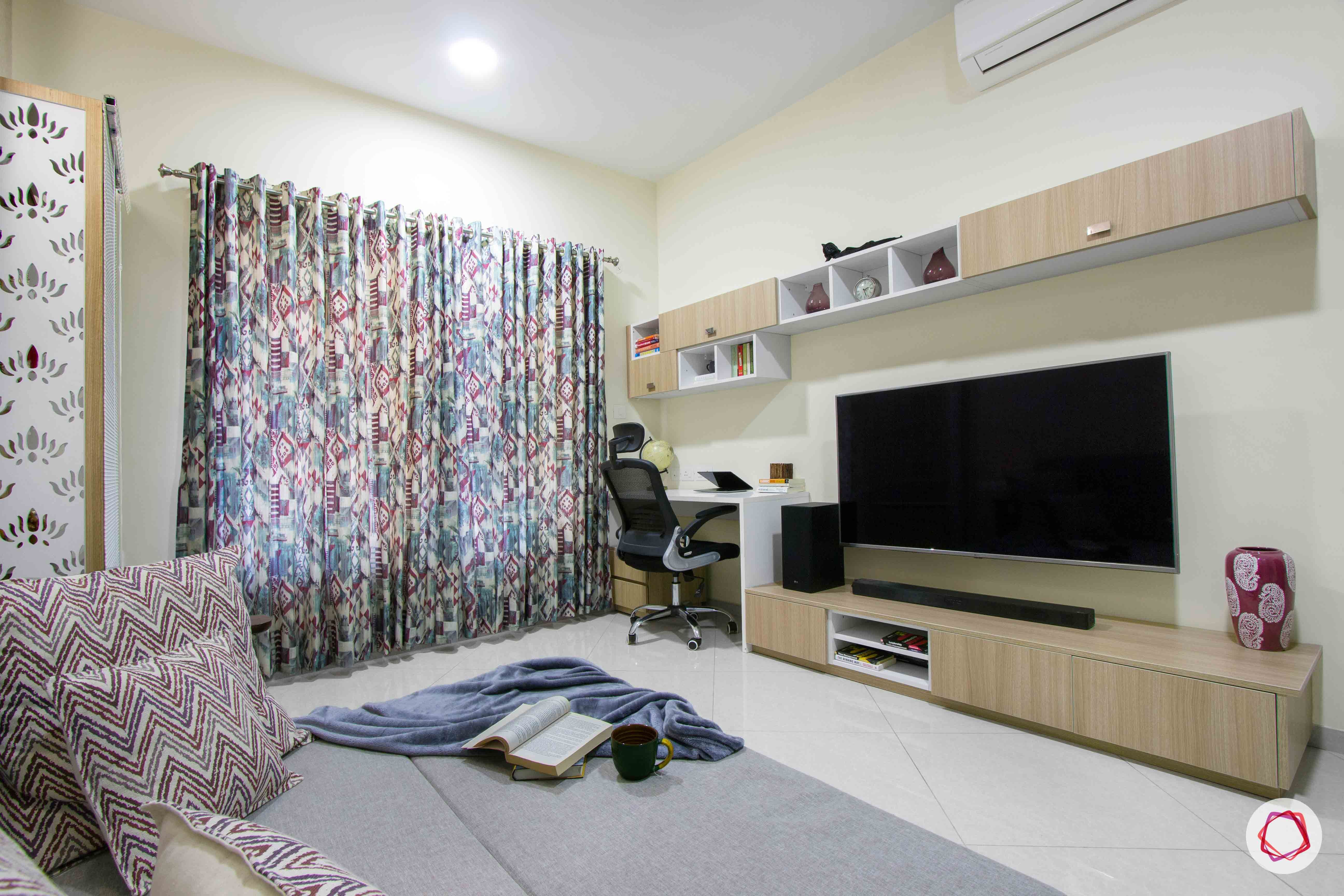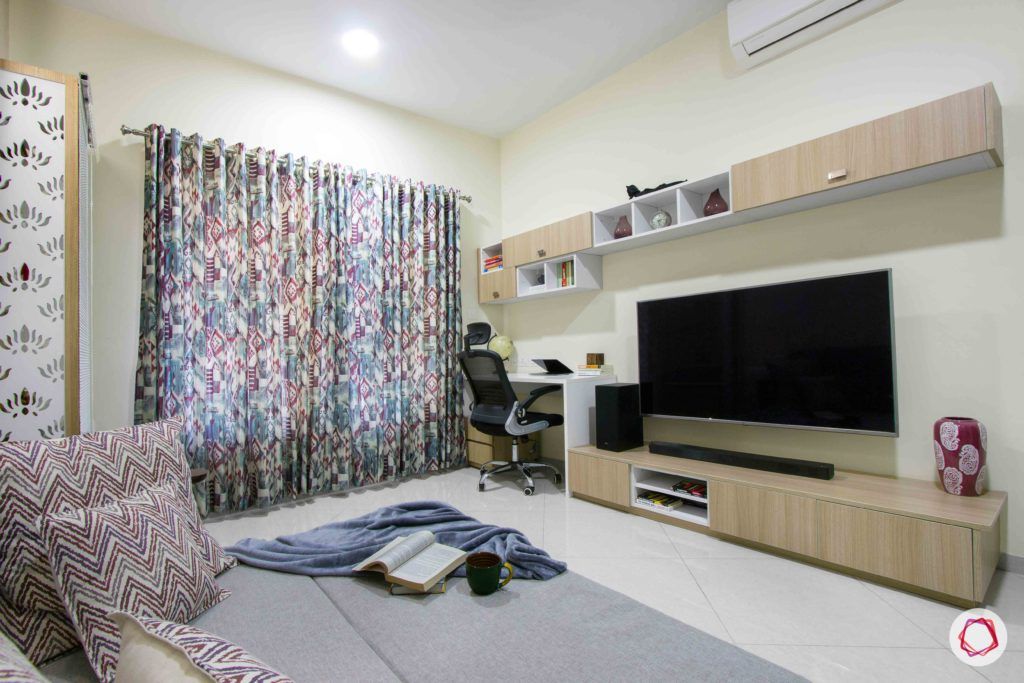 If you ask the couple which room they spent most time in, they would readily point to their third bedroom. "We thought the third bedroom would be a bit of a challenge," Mohit reveals, "we wanted a large TV unit, a study, wardrobe space and a pooja unit. And we would really like to thank Charul for helping us to reach where we wanted with this room."
The informal living room houses a sofa-cum-bed, a glossy acrylic wardrobe with lofts, and a wide laminate study-cum-TV unit. In addition, Charul also put in a pooja unit in laminate with a jali in duco paint. A subtle wallpaper acts as the backdrop of this space.
Contemporary House Design: Ample storage for the bathroom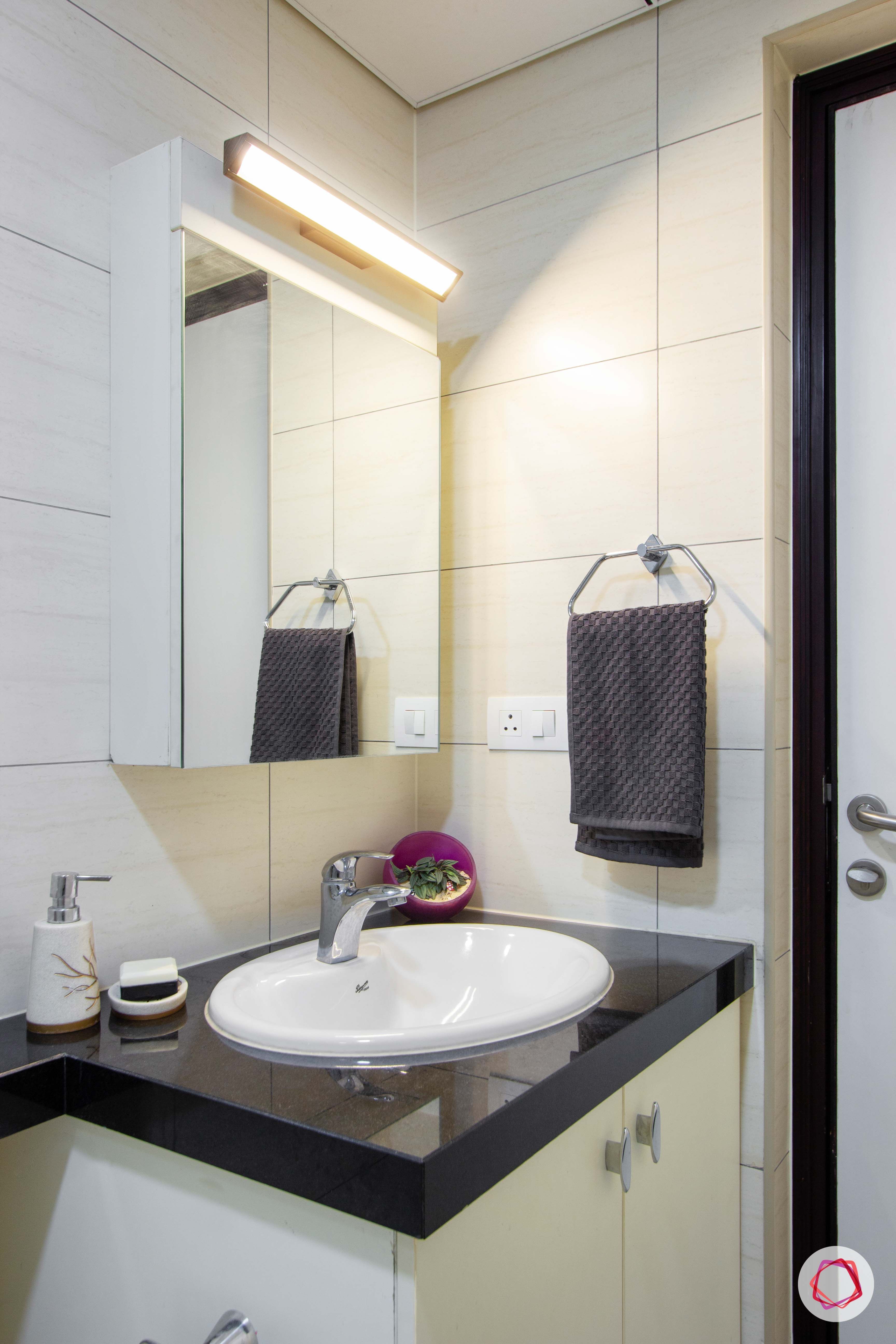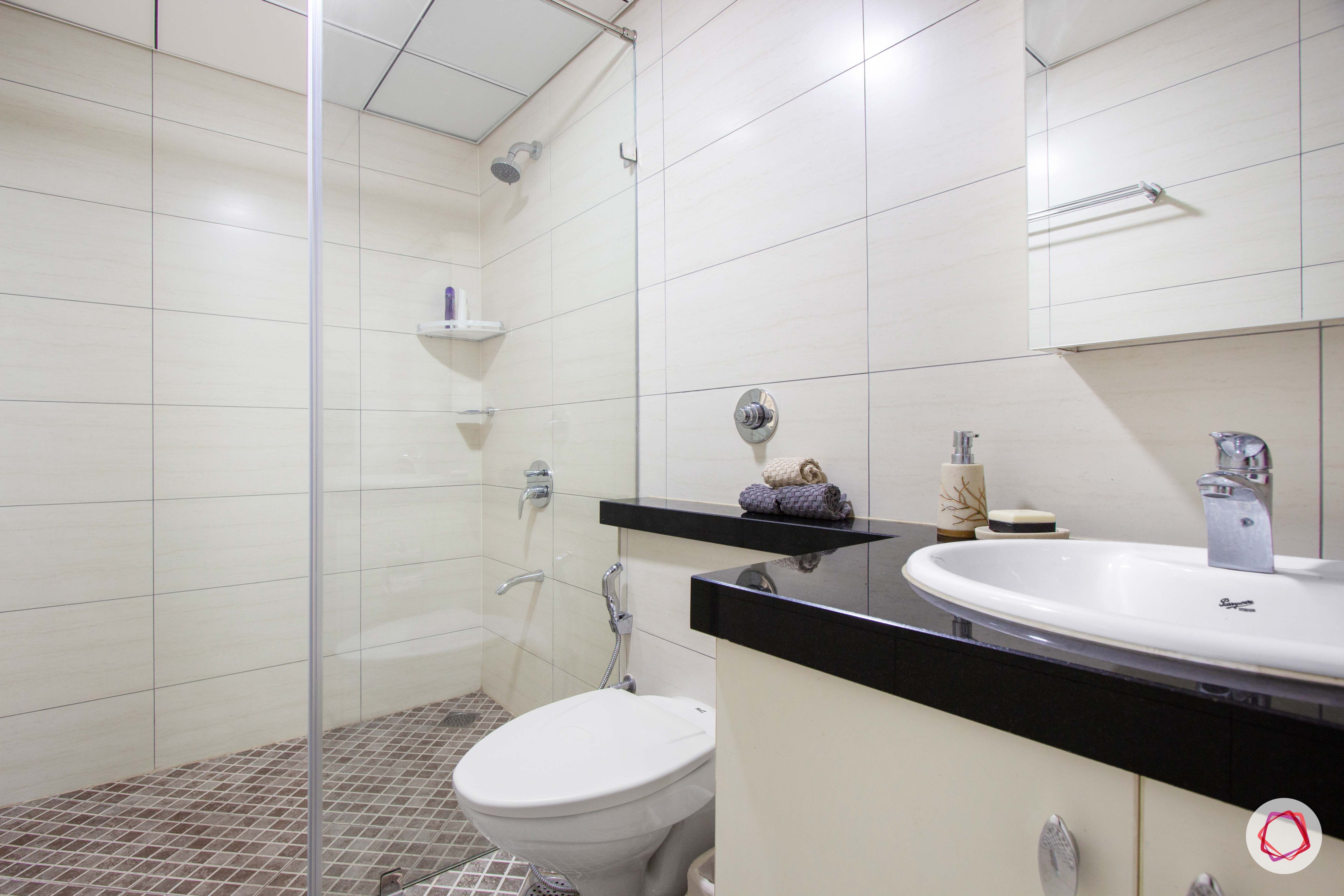 The couple didn't want several add ons for their bathroom. Their only requirement was to have storage. As a result, Charul put in laminate cabinets under the counter. Its champagne colour gives the bathroom a cleaner look. She also added a glass partition to give it a modern look.
"There is a certain warmth in Neetika and Mohit's personalities. They wanted something simply stunning but in a subtle way. They particularly liked the minimalist look but also wanted to use some bright colors. So the designs for the fixed furniture was based on minimalism, while the lively decor came with colourful light fixtures, loose furniture, and tiles which were handpicked to create a perfect blend."

Charul M Lodha, Interior Designer, Livspace
You could see a video of their home as well!
Also, if you loved this home, take a look at 3BHK with Zesty Vibes & Mix of Styles as well.
Send in your comments and suggestions.