Sonu Raj's journey for transitioned styled interiors hits home for a lot of millennials. Most young individuals of today have a preference for modern aesthetics. However, this may clash with your parents, who might prefer a more traditional style. So, when Sonu Raj came to Livspace to get his drawing-cum-dining room interior design done, the challenge for designer Reeti Agarwal was obvious. She had to balance Sonu's and his mothers' wishes. But she succeeded in creating the perfect transitional style for this drawing room design in Faridabad. Read on to find how.
---
Who Livs here: Sonu Raj with his parents
Location: Sector 21 D, Faridabad, Haryana
Size of home: 3BHK Homes
Design team: Interior designer Reeti Agarwal with Business Manager Harleen Kaur
Livspace service: Living room, dining room and mandir unit
Budget: ₹₹₹
---

Design Brief:

Mix modern and traditional aesthetics to give the living-cum-dining room a renewed look

What We Loved?

The dining table set complete with a marble tabletop and a teak body

Look Out for:

– Side tables on either side of the sofa for decor
– The customised centre table that replaces the old coffee table

Biggest Indulgence:

The mandir unit with a CNC cut jaali work

Smart Buy:

Grey accent wall that instantly amps up the living room


The transitional style combines traditional and modern sensibilities to create contemporary spaces. Do you want to know how their home looks now? Catch a glimpse of the dining room interior design in Faridabad, Haryana. Also, look out for a bonus design that will surprise you!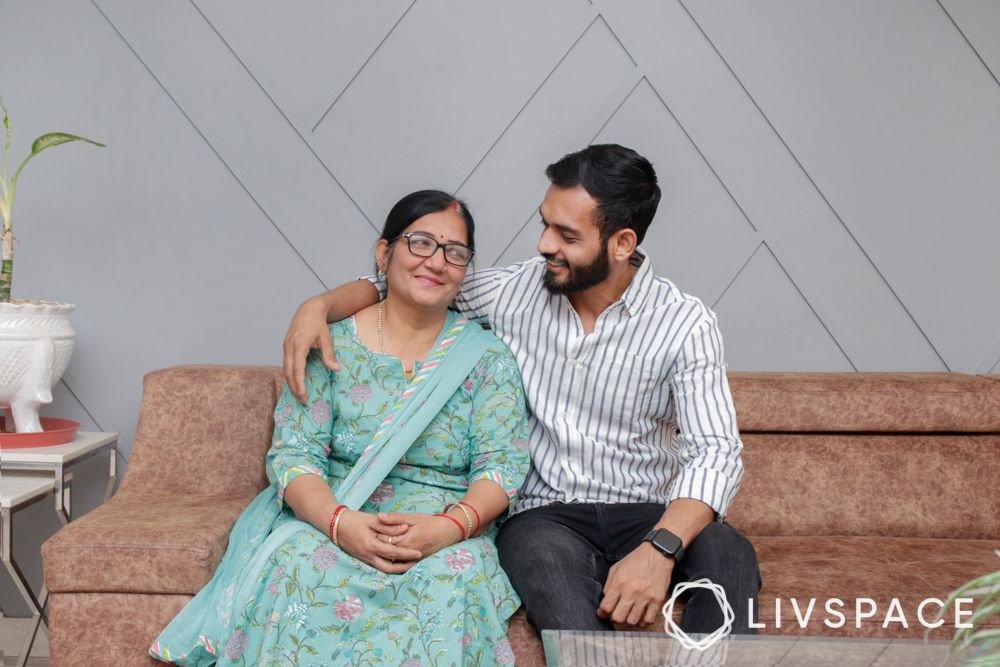 #1: A Traditional Mandir Unit Design, Faridabad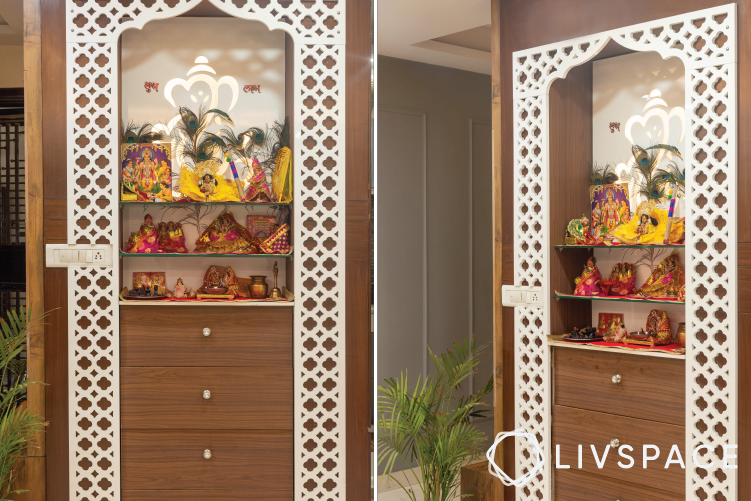 Indian mothers love to keep their gods in pretty pooja units. Sonu's mother also wanted a thoughtful mandir unit design in her Faridabad that reflects her taste. Thus, Reeti gave her this beautiful standing unit with ample storage.
With a sturdy body made of MDF board, this pooja unit stands in all its glory with a wooden laminate. Additionally, the CNC cut jaali adds an 'oomph' element to this mandir unit design in this Faridabad home.
#2: Chic Look With a New Dining Table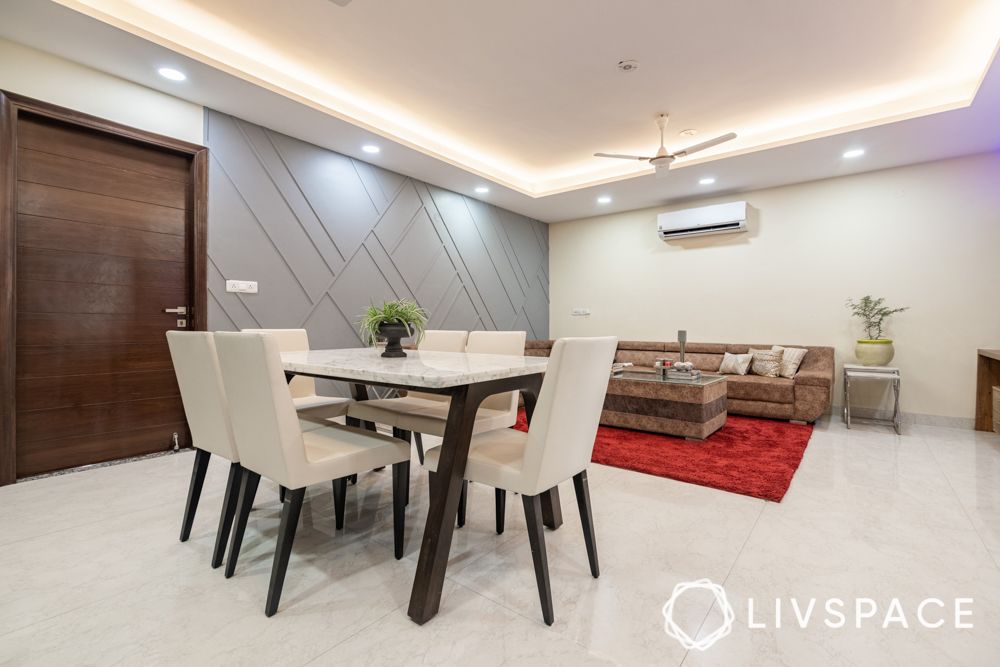 The dining table has a marble tabletop, giving it a sophisticated look. With its body made of teak, this dining table is the latest addition to this drawing room's design in Faridabad. Livspace designer Reeti Agarwal made sure that she picked a colour for the dining room that blends well with the rest of the home.
In fact, this decision was also influenced by the sofa that was already present in this drawing-cum-dining room design. Thus, to stay aligned to the theme, she went for white marble as it adds to the room's visual appeal without being overpowering. Marble is also easy to maintain, as it can be cleaned with a sponge wipe.
#3: Modern Drawing-cum-Dining Room Interior Design With a Fresh Accent Wall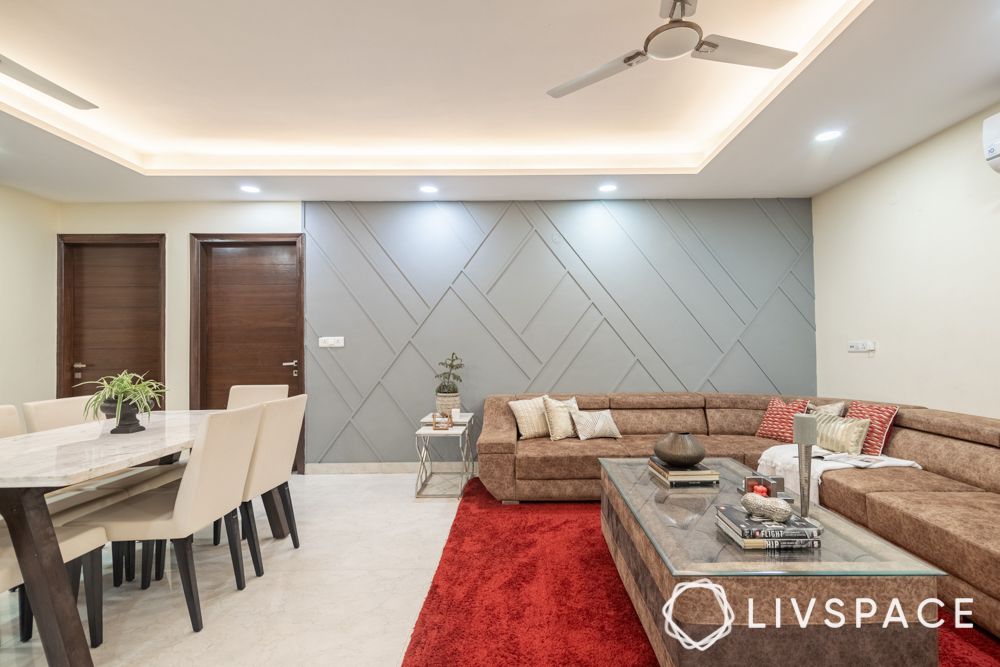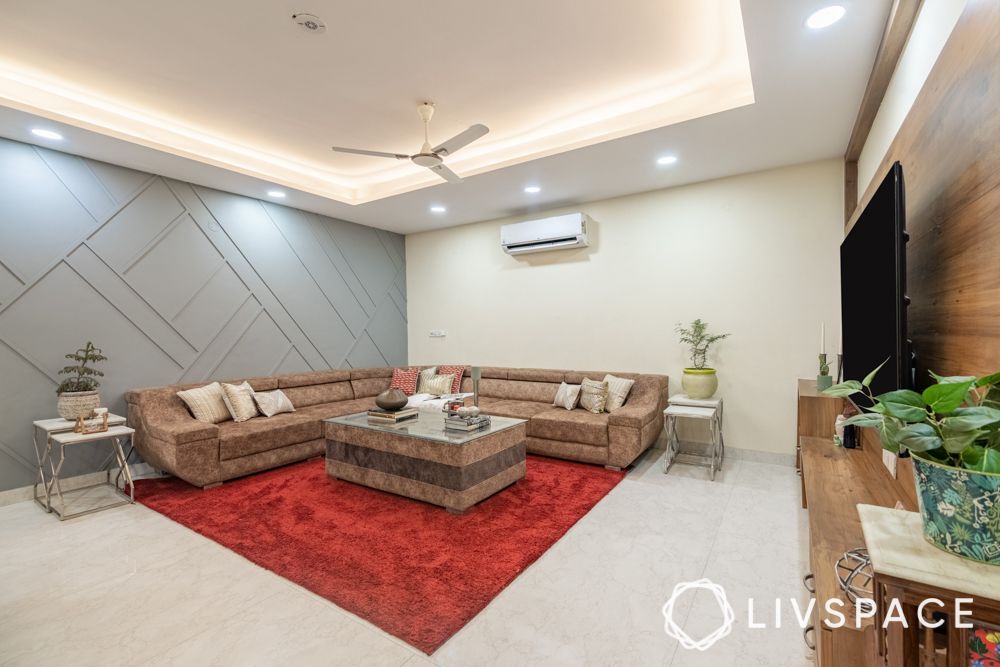 Livspace designer Reeti decided to make a grey accent wall for this Faridabad home. After punning the wall, she added MDF trims to the wall and painted it grey. So, this wall amps up the room and gives it a modern look, something that Sonu Raj wanted. On Reeti's advice, the family also changed their centre table as the older one did not keep up with the look. Thus, the centre table was custom-made by Livspace to fit the look.
So, the finished look of this drawing-cum-dining room interior design is a visual treat. Isn't it? Additionally, check out: This 798 sq. ft. 3BHK interior design for Prateek Grand City Is Under ₹4 Lakh.
Check out this modern home in Faridabad:
How Can Livspace Help You?
We hope you found our ideas useful! If you want beautiful interiors for your home, then look no further. Book an online consultation with Livspace today. Have any thoughts or suggestions you'd like to share with us? We'd love to hear you out. Write to us at editor@livspace.com.