After moving from Faridabad to Gurgaon for work and their daughter's education, the next step on the Radhakrishnans' agenda was to plant their roots. And when it comes to finding a home, we know it's not just a matter of the building or society you live in. Your interiors play just as big a part in helping your house transform into the home of your dreams. This 3BHK interior design for Godrej 101 is a testament to how function and style meet to create a balanced, low-maintenance home for a self-sufficient family.
With the help of Livspace designer Jyoti Jaiswal, the Radhakrishnans were able to put their own personal stamp on their south-meets-north fusion style of interiors. As we know, seeing is better than believing. So, let's take a tour of this classy interior design for Godrej 101 in Gurgaon.
---
Who Livs here: Dinesh and Preeti Radhakrishnan, along with their young daughter
Location: Godrej 101, Gurgaon
Size of home: 3BHK spanning 1,800 sq. ft.
Design team: Interior Designer Jyoti Jaiswal
Livspace service: Full home design
Budget: ₹₹₹₹₹
---
IN A NUTSHELL


Brief

To create a low-maintenance 3BHK interior design for Godrej 101 that doesn't shy away from simple luxuries

What We Loved

The simple yet stylish approach to design that ensures maximum functionality in each room

Look Out for

– The metal inlay for the living room feature wall
– The inlaid tables in the living and dining room
– Cascading profile lights by the entrance
– Back tiles for the pooja room to keep the space low-maintenance

Biggest Indulgence

The White Teak fan in the living room


Meet the Family (and Their Designer!)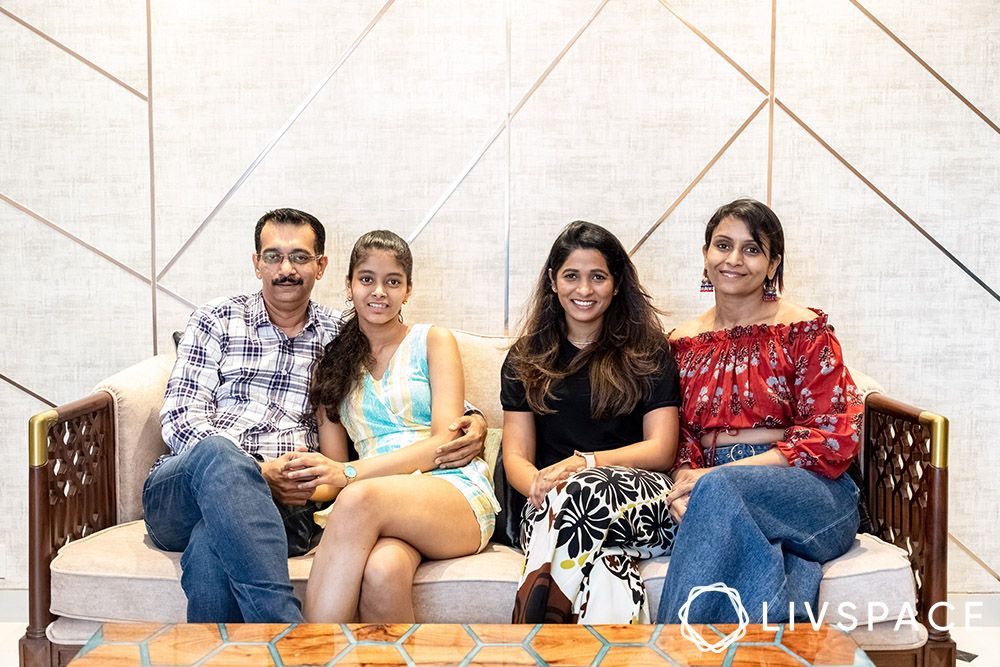 Just one look at the Radhakrishnans can tell you how jovial and fun-loving this family is. Being new in town and preferring to stay self-sufficient, the family was clear on not having any house help. This, in turn, visibly reflects in what Jyoti planned for this 3BHK interior design for Godrej 101, as every room is relatively easy to maintain.
Similarly, since the homeowners are maintaining the space on their own, Jyoti wanted to ensure that the interiors provide utility and function. Curious to know how she managed the interior design for Godrej 101 in Gurgaon? Let's jump into the tour for some practical ideas!
Lights Will Guide You Home at the Radhakrishnans' Entryway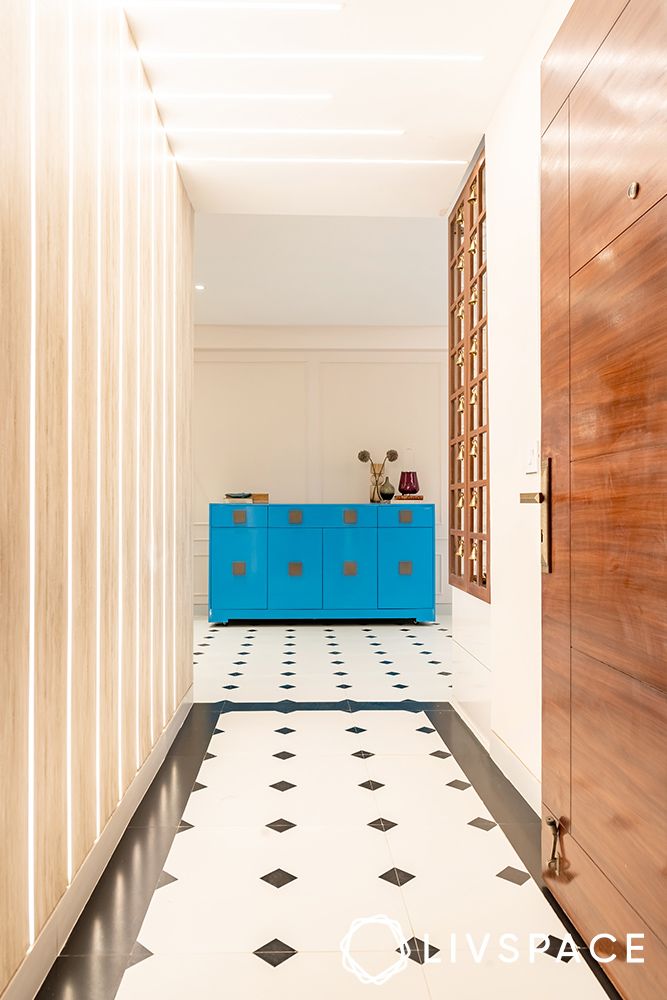 Who doesn't love walking into a warm and bright home after a long, tiring day? This is exactly what you'll see when you step foot into the Radhakrishnans' 3BHK interior design for Godrej 101. Decked with neat, cascading profile lights, the entryway stays illuminated and welcoming.
Also, notice how neat and symmetrical the space looks, giving you a clean view of the console table inside. It's almost as if it gives you a small prelude to the home. If you thought this was the highlight of their interior design for Godrej 101 in Gurgaon, there's a lot more to come!
North Meets South in This Living Room That Bubbles With Character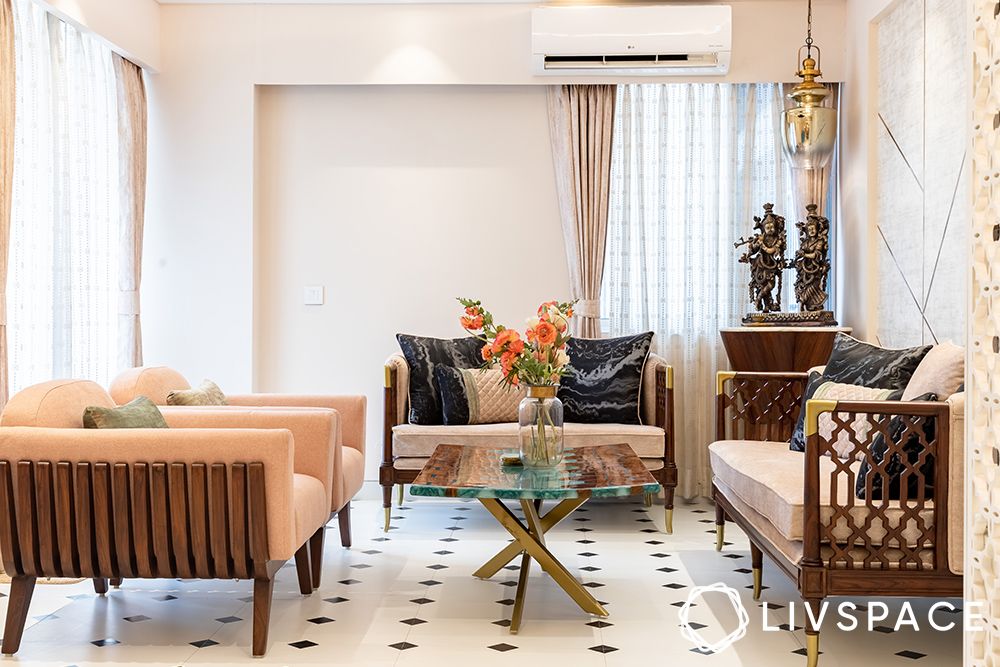 You might notice a mix of elements that dress the living room in this 3BHK interior design for Godrej 101. From the beautiful floor tiles to the charming wooden furniture, there's a lot to take in.
Hailing from the south, Dinesh wanted their home to have some influences of southern interior design mixed into it. As the couple comes from different regions in India, Jyoti worked on creating a fusion of styles that embraces both cultures.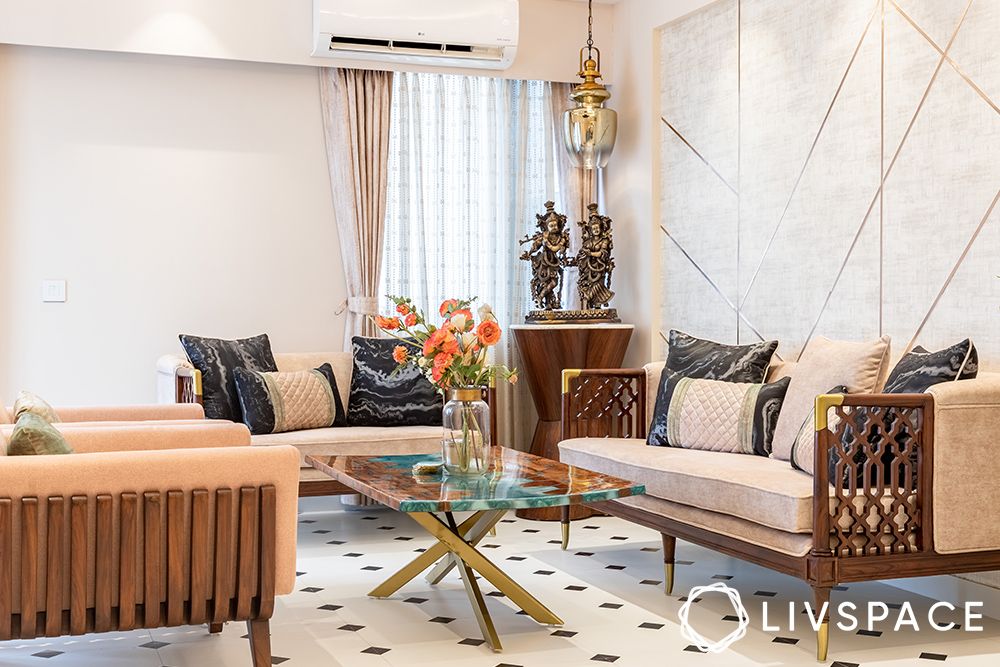 The wooden furniture adds a touch of traditional southern flair, while the feature wall with wallpaper and metal inlay ties into modern tastes. Don't forget to take a look at the stunning inlay work on the coffee table too! The homeowners took a trip to Ambala to get some of the furniture custom made for their interior design for Godrej 101 in Gurgaon. Together, all these elements help create a timeless space, perfect for family gatherings.
Also Read: Luxe Touches In A Gurgaon Family Home
Dine to the Nines in a Fusion Style Dining Room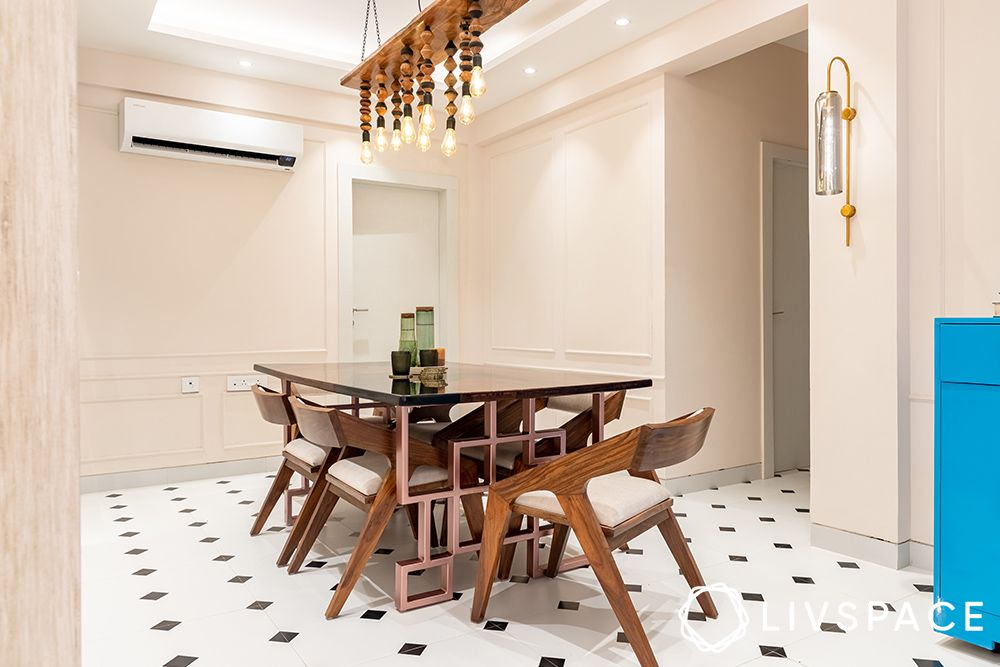 Besides the wooden chandelier and dining set, there's something else that catches the eye in the dining area of this 3BHK interior design for Godrej 101. If you're as obsessed with the tile work in this space as we are, we'd love to tell you how it came into being. In conversation with Jyoti, she tells us that the beautiful tiles that we see in this home were custom made by Livspace.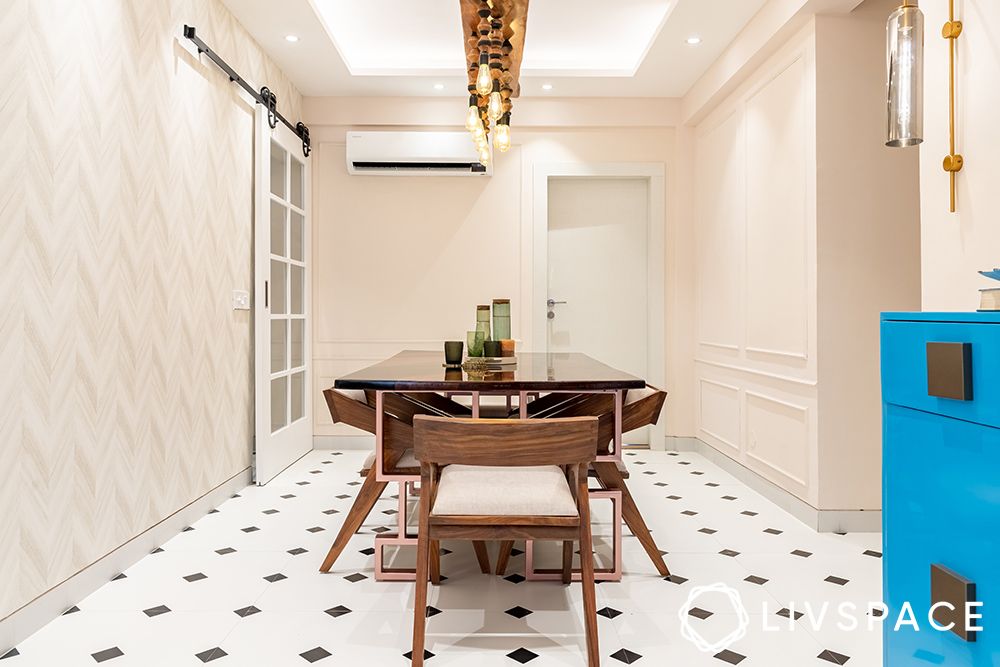 The family wanted to retain a touch of the traditional style to embrace Dinesh's roots. To stay in line with this, Jyoti worked on sourcing the perfect tiles to amp up this interior design for Godrej 101 in Gurgaon. Since there were constraints on availability of patterns and designs that suited the family's preferences, Jyoti got them custom-made. This also helps the family have more control over the final look and feel of the tile. Though patterned, it doesn't overpower the rest of the family's Godrej 101 3BHK interiors, and instead, seamlessly ties it together.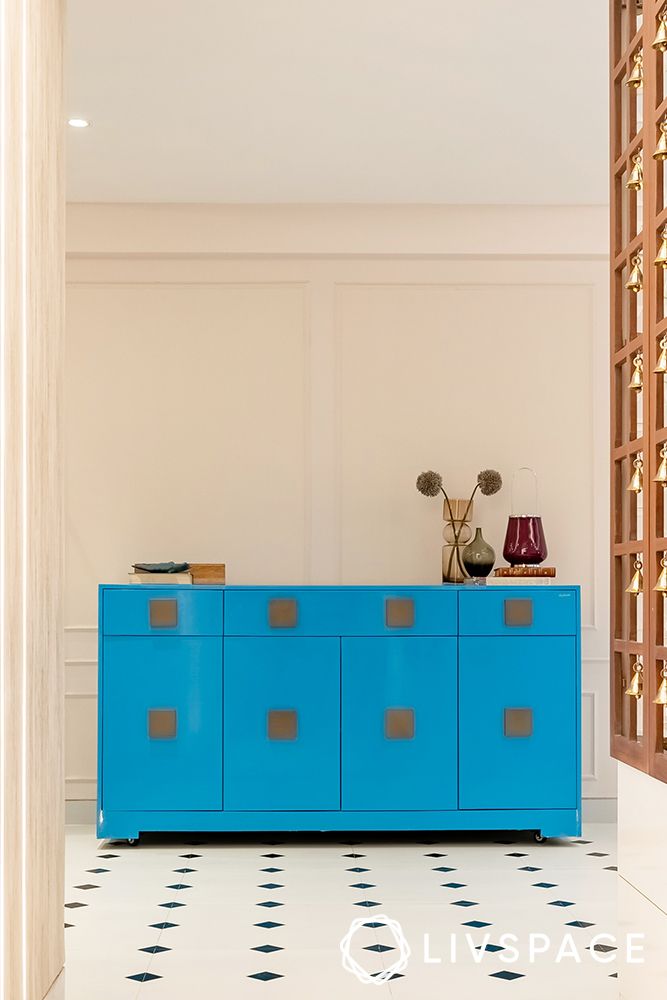 Remember that stunning blue console table that sits in the entrance's line of sight? Jyoti tells us that it is, in fact, not a console table but a motorised bar! Since half the family hails from the south, Dinesh was not keen on having an open bar unit on display.
Instead, the family wanted something a bit more subtle, that can be displayed when they have guests and concealed when not in use. For the same reason, the family had a motorised bar unit custom-made for their interior design for Godrej 101 in Gurgaon.
An Easy to Maintain Pooja Room for Impromptu Duas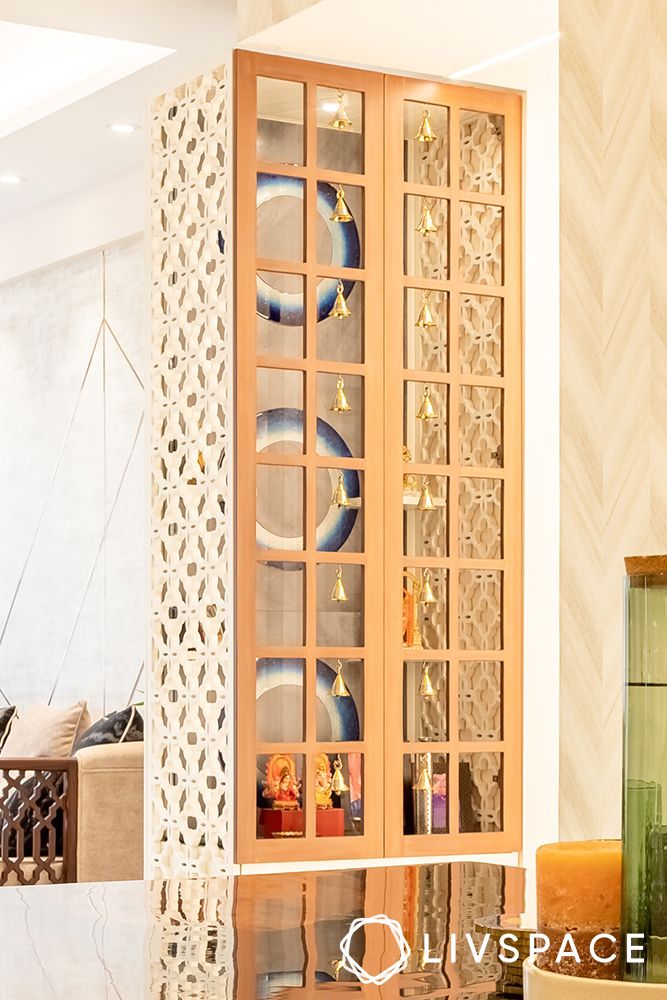 There's a lot to take note of when it comes to the design of the pooja room in this 3BHK interior design for Godrej 101. As vastu is typically followed during the placement of the pooja area, it could not just be placed in any room. To work around this, Jyoti designed it to perfectly fit the open nook that initially stood between the entryway and living room. With the addition of the pooja unit, the entryway now looks symmetrical and seamless.
What's more, Preeti and the family often hold duas and prayers that make use of smoke and incense. In such cases, the fumes from these rituals can ruin the material of the pooja unit. Since the homeowners were keen on keeping their 3BHK interior design for Godrej 101 low on maintenance, Jyoti made all the necessary arrangements.
Tiles occupy the back portion of the pooja unit, making cleaning a breeze. For materials, Jyoti used an MDF jaali along with melamine polish to give the doors a wooden feel. Quaint little bells that are reminiscent of temples in the south help complete the look.
Small But Mighty – A Kitchen Design That Has It All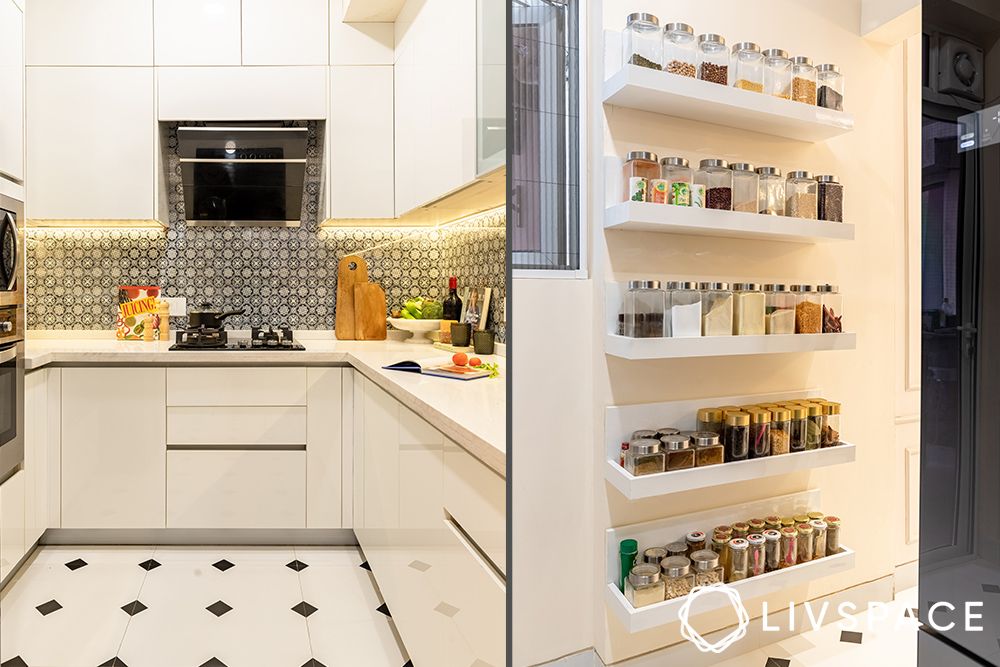 Though compact, this small kitchen design comes with a fun backstory. As much as Dinesh likes to cook, he equally enjoys asking Preeti to stand beside him and hand him various masalas for his recipes. This, of course, led Preeti to request a kitchen design that ensures all the spices and seasonings are in Dinesh's line of sight at all times.
With the goal to relieve Preeti of her spice-dispensing duties, Jyoti created a comprehensive spice rack, right by the entrance of the kitchen. Now, Dinesh has easy access to all the necessary seasonings he requires, without needing Preeti to supervise beside him!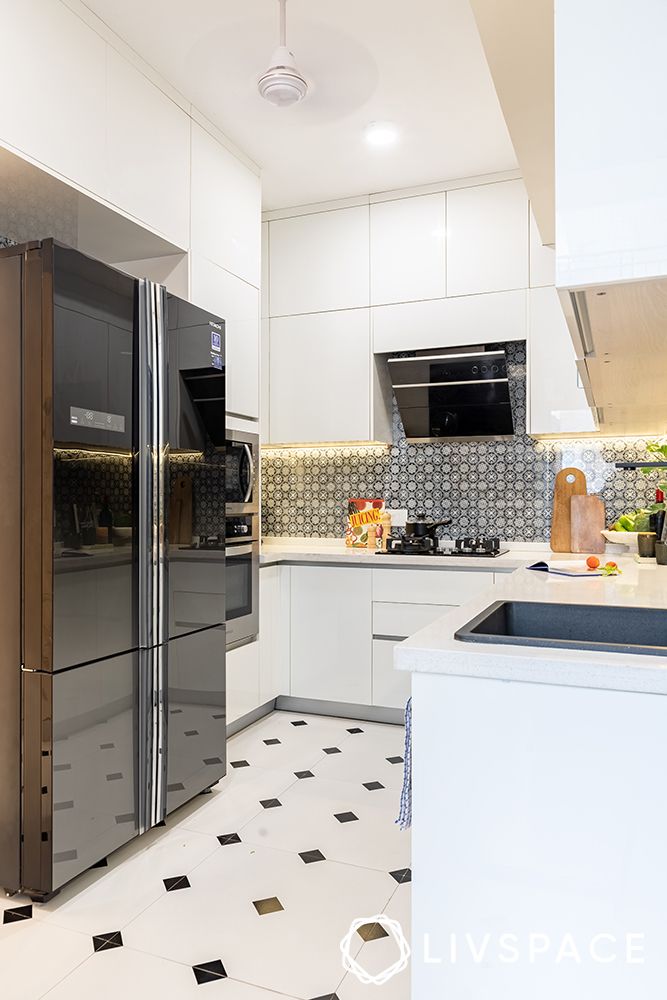 However, this sweet story behind the kitchen design in this interior design for Godrej 101 in Gurgaon is not all there is to it. There are also some clever design takeaways to note here. Being a small space, making use of lighter colours is paramount to creating a more spacious look. The use of glass coated tiles helps add depth to the space, creating a distinction between the acrylic finish cabinets.
Also Read: A Gurgaon Home Soaked in Powerful Palettes, Prints and Patterns
There's Never a Dull Moment While Working From Home in This Master Bedroom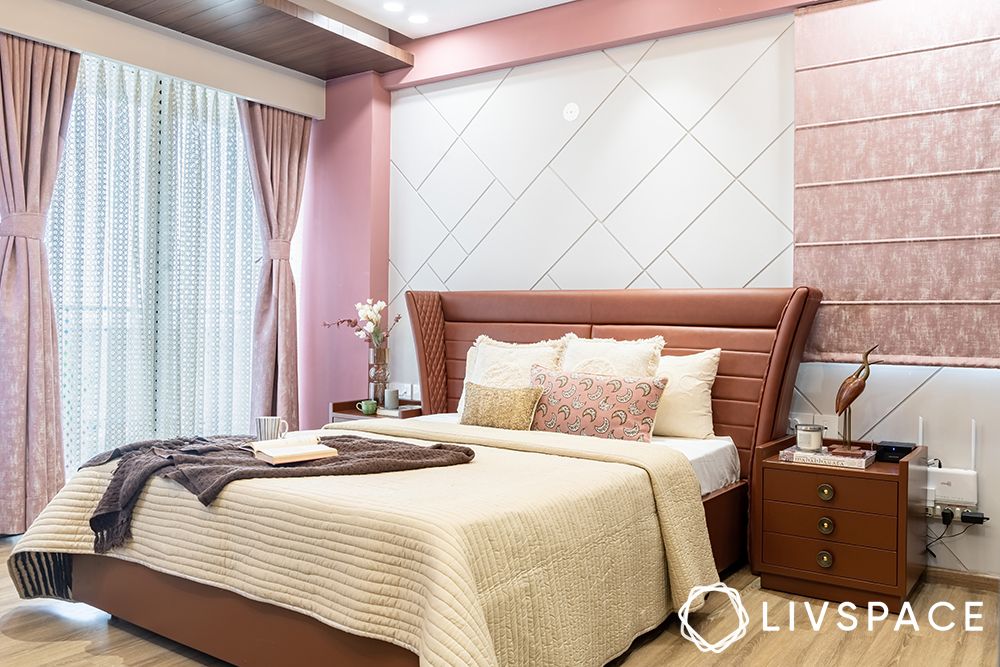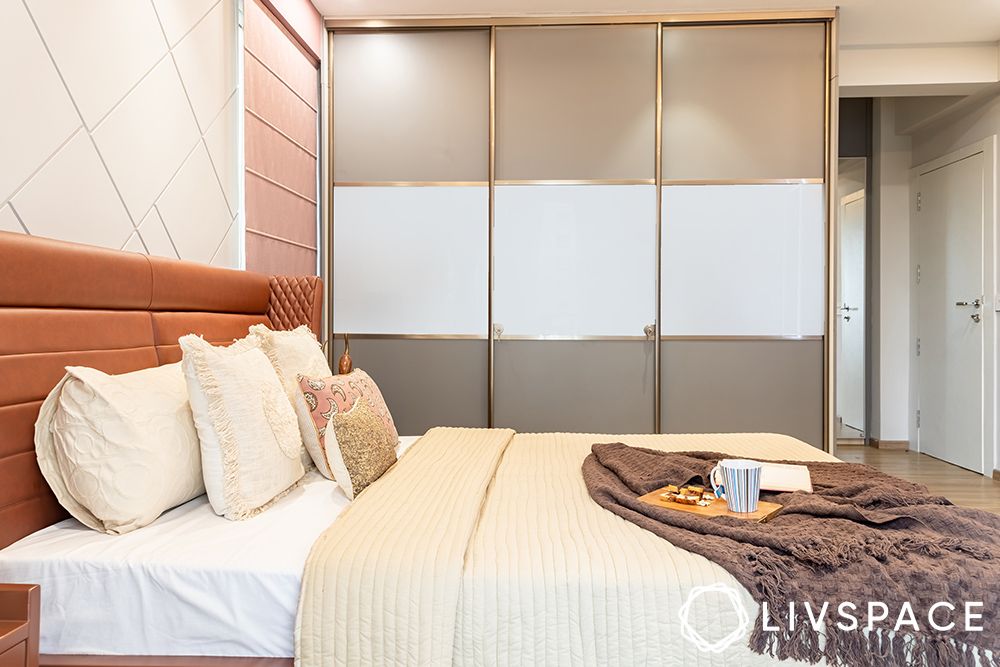 While designing the master bedroom in this 3BHK interior design for Godrej 101, there was a lot of discussion on how best to plan the wardrobe area. Since this space includes a wall niche and an accompanying passage, the wardrobe design also has to fit the available dimensions. Here, Jyoti used an Aristo wardrobe to fill in the space, without compromising function.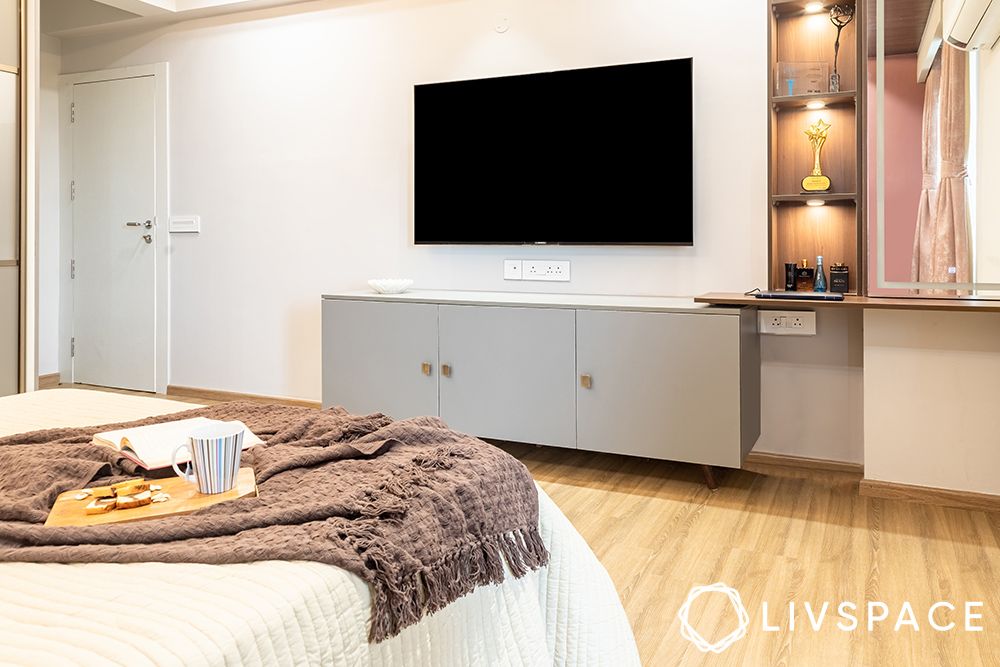 Apart from the wardrobes, another notable feature in this master bedroom's interior design for Godrej 101 in Gurgaon is the study table. While working from home, Dinesh is particular about having a study that doesn't face a wall. He prefers having the option of looking at different backgrounds as he goes about his work. To make this happen, Jyoti introduced a rotatable study table that can be optimised and moved as Dinesh sees fit.
In addition to this, the study area also doubles as a dresser in this 3BHK interior design for Godrej 101. An LED mirror was used to highlight the space and illuminate it further as it sits in a corner.
Also Read: 7 Cool and Functional Study Room Designs for All Your Needs
Perfect for Studies and Recreational Activities, the Daughter's Bedroom Sits Pretty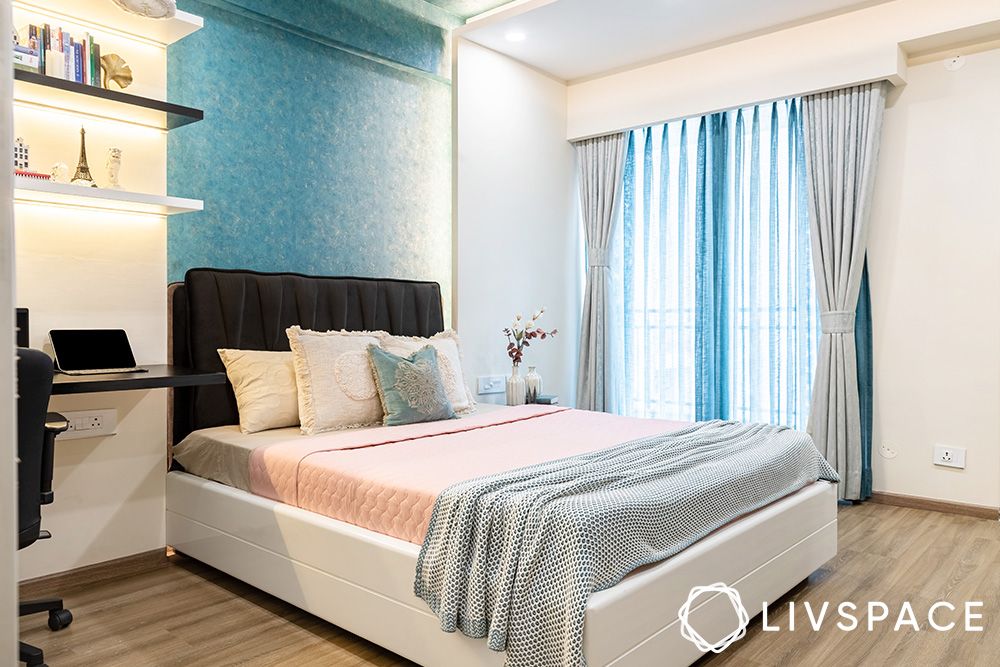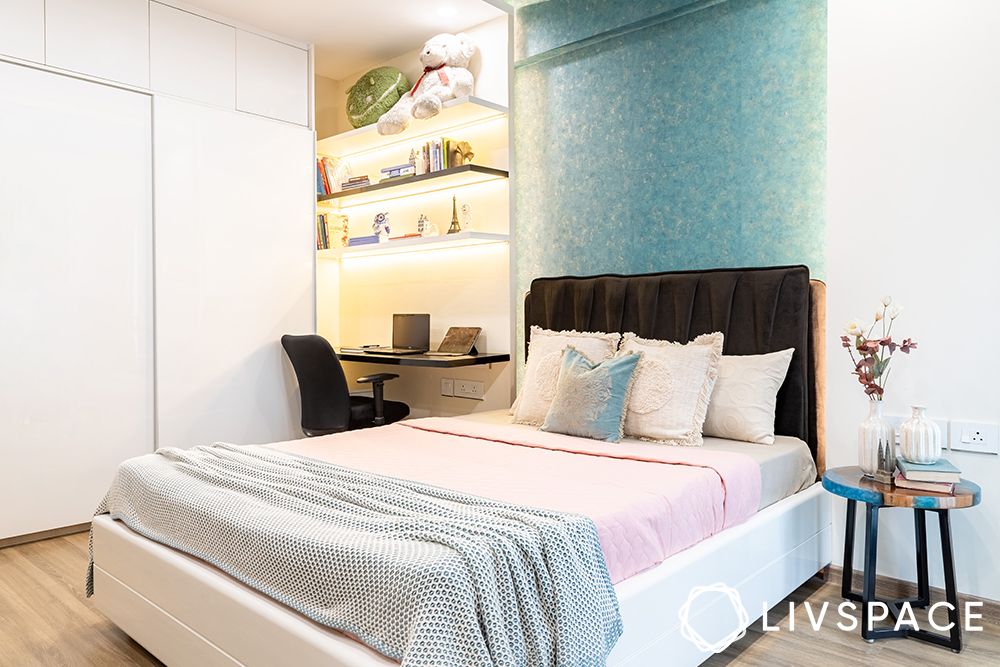 While the master bedroom makes use of pink palettes, the daughter's bedroom sits pretty in teal and white. At the time of designing, one of the main asks for this room was that it uses the colour teal. Jyoti incorporated this colour into the design by using it for the feature wall behind the queen size bed.
Much like the rest of the home in this 3BHK interior design for Godrej 101, the lighting systems used here take the space to the next level. Cove lights act as a highlight for the bed area and add to the ambience of the room.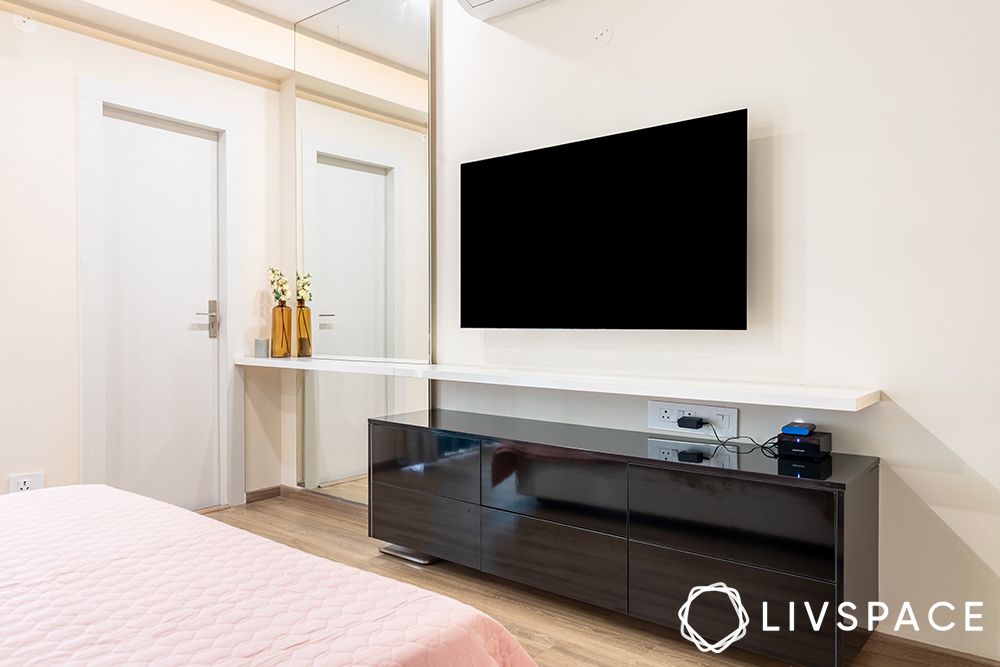 Since the daughter is also a dancer, Jyoti added a full-length mirror across the bed to give her space to practice her routine. All in all, this room is perfect for a young teenager with an interest in the Arts!
A Little Extra Lounge Room Never Hurt Anybody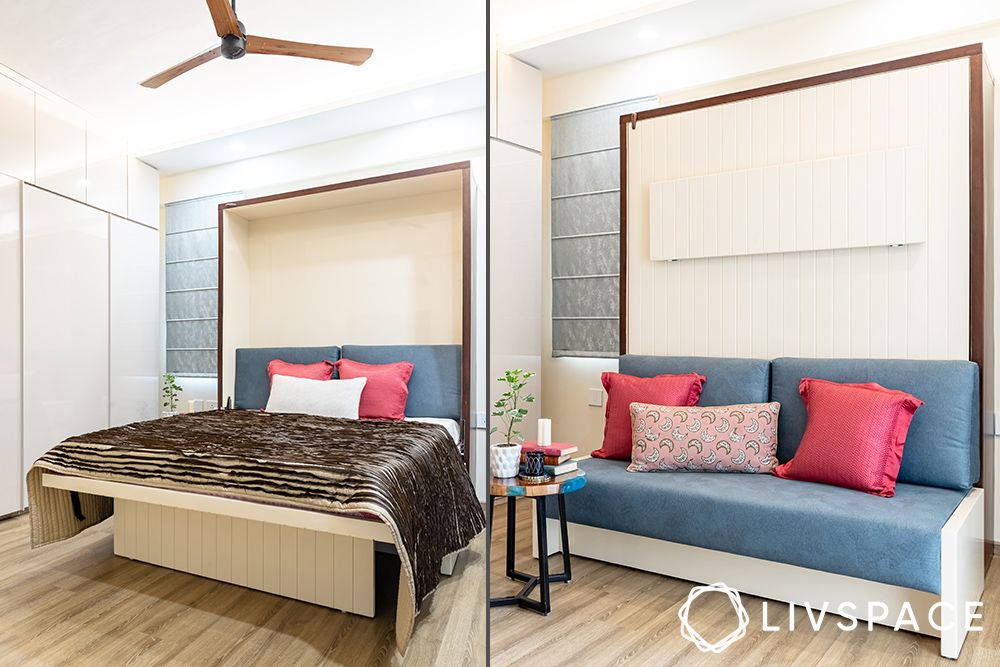 The guest bedroom, in this interior design for Godrej 101 in Gurgaon, is so functional that you're bound to love it. The family was keen on turning this space into a TV lounge-cum-bedroom as their elderly parents visit them from time to time. To give the space more utility, a Murphy bed was chosen to help turn the room into a lounge with a sofa or bedroom as the need arises.
Being a pull down bed, the mattress is attached and is a lot more comfortable than other models. This ensures that any and all guests will have a comfortable and restful sleep while using this room.
How Can Livspace Help You?
We hope you enjoyed the tour of this 3BHK interior design for Godrej 101. If you want beautiful interiors for your home, then look no further. Book an online consultation with Livspace today.
Have some thoughts or suggestions you'd like to share with us? We're all ears! Drop us a line at editor@livspace.com.