Neutral hues take over this 3 BHK apartment.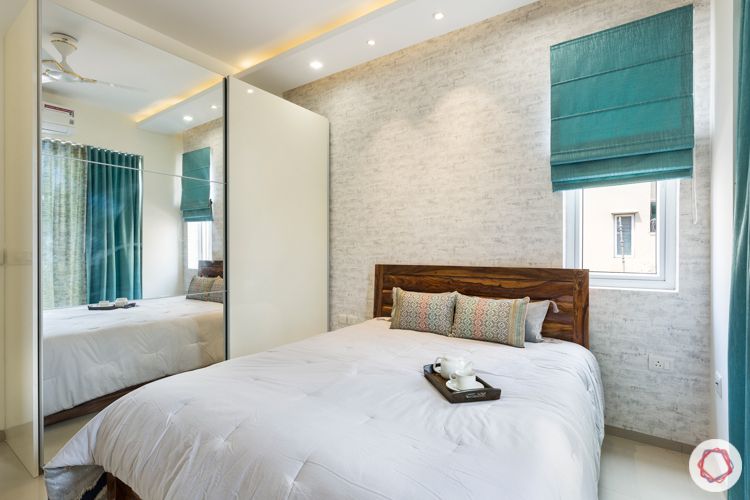 ---
Who livs here: Pawan with his wife Jaya, and his parents
Location: Emerald Hills, Gurgaon
Size of home: 3 BHK spanning 2,400 sq ft approx.
Design team: Interior Designer Tanu Anand with Project Manager Vishu Jain
Livspace service: Full Home Design
Budget: ₹₹₹₹₹
---
While planning our dream home, we all have spaces we cannot compromise on. And for the rest of the home, some of us put it together over time instead of all at once. Such was the case with Pawan and his wife Jaya, who wanted essentials for their new 3 BHK apartment to be designed by Livspace Gurgaon. So when they met designer Tanu Anand and began planning the design of their dream home, they prioritised certain aspects of their home, while the rest is still in the making.
Their new home comes with neutral interiors, except for a gorgeous navy blue kitchen. Furthermore, the beige flooring and painted doors set the precedent for the design of the home. Against this, the use of blue in soft furnishings lend a cool and relaxed vibe to the home. Let's check out this home together.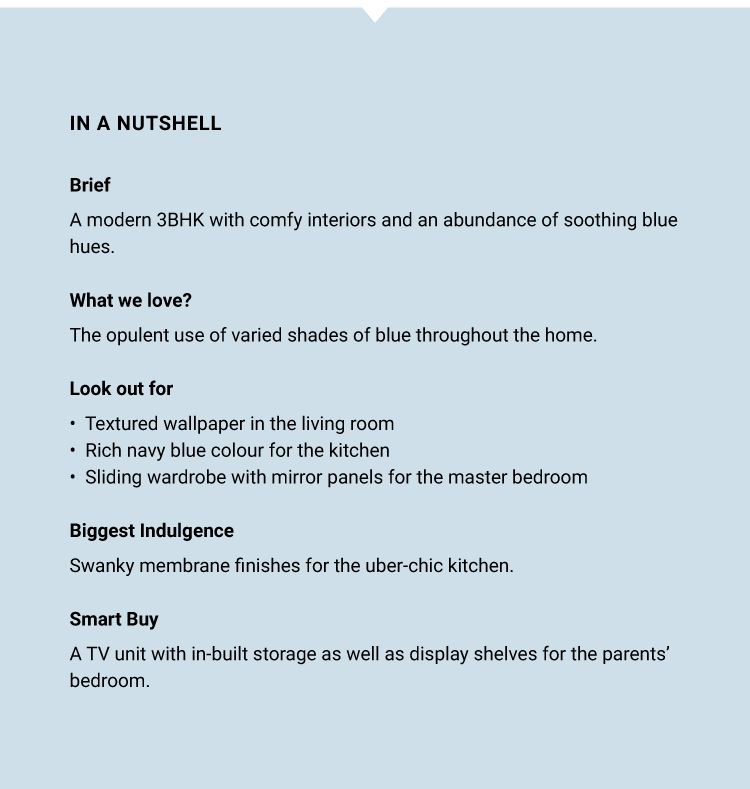 Gorgeous Wallpapers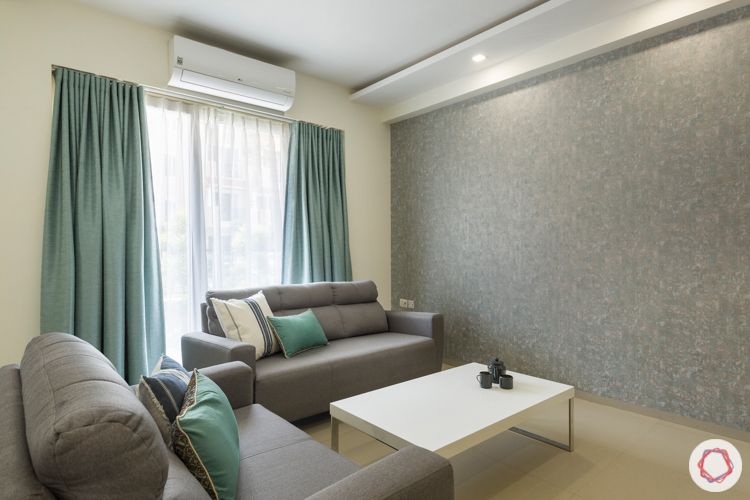 Having decided on neutral interiors, Livspace designer Tanu Anand suggested a soothing shade of grey for the living room. Thus the accent wall is defined by a textured wallpaper in a soft grey hue, that compliments the grey sofas and white center table in this space.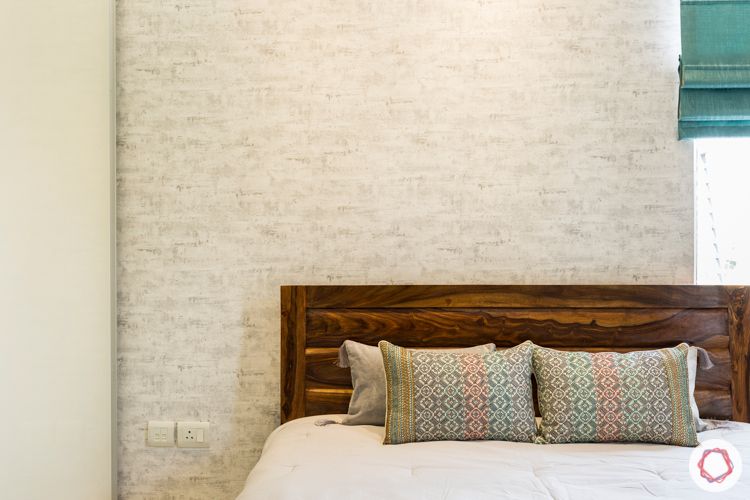 For the master bedroom, Pawan and Jyoti wanted a wooden bed. With the existing beige-coloured doors and flooring in the same shade, Tanu proposed a white exposed brick wallpaper to add to the rustic appearance of the room. The couple loved the idea. So the end result is a timeless room in varying shades of white and beige. Simple yet classy, don't you think?
Timeless Wooden Elements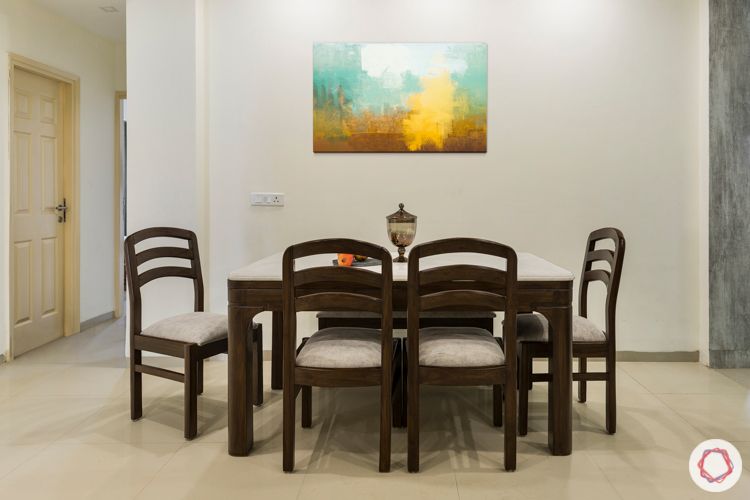 Classic combinations never fail to impress, and the dining room in this 3 BHK apartment stands testimony to this fact. With a four-seater dining table with wooden chairs upholstered for added comfort, Livspace Gurgaon has designed a space that will stand the test of time.
Also, do not miss out on the crockery unit on the side! This sturdy piece finished in wooden laminate comes complete with shutters. A sleek and minimal display unit in geometrical designs completes this room.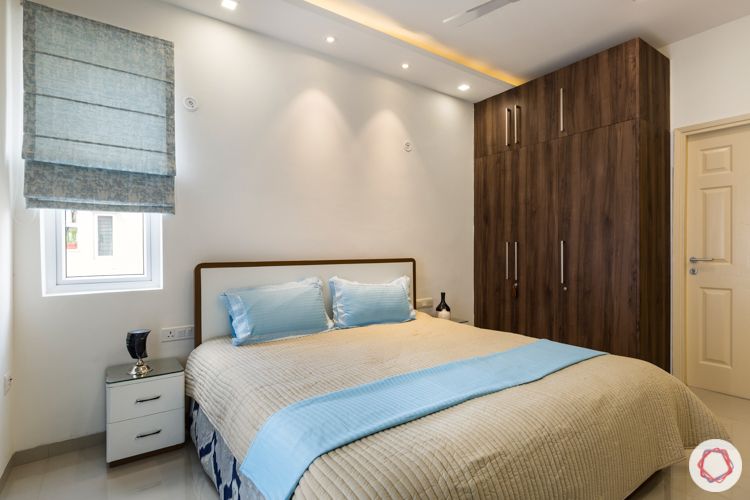 For his parents' bedroom, Pawan and his family settled on this hinged wardrobe with lofts that provides ample storage space. Finished in wooden laminate, this modular design from the Livspace catalogue stands tall against the white walls and beige doors of this bedroom.
Livspace Recommends
If you're looking for something timeless and elegant, wooden finishes are your safest bet. Paired with neutral interiors, they make any space look cosy but sophisticated.

The Best of Finishes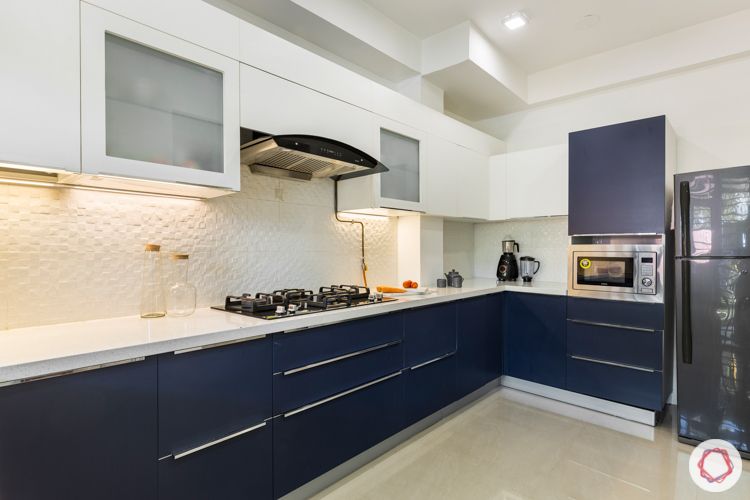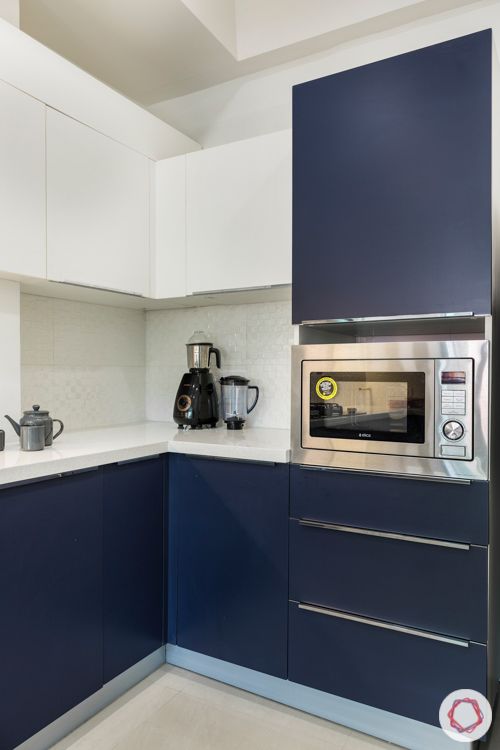 Watch out for the kitchen in this home! The kitchen stands out with its rich navy blue colour on the base cabinets, which is offset by white wall cabinets. Moreover, the wall cabinets on either side of the chimney have frosted glass shutters, adding a modern touch to the entire kitchen. The matte membrane finish on the cabinets makes it appear seamless. To add to the sleek look, Tanu has also provided profile shutters for the base cabinets.
This white and navy kitchen in the 3 BHK apartment in Gurgaon comes with a white tiled backsplash as well as a quartz countertop. With a tall unit with a built-in microwave oven, Tanu has designed this kitchen to stow appliances also in style. Ultimately, the effect created is one of a modern kitchen with ample storage space without compromising on the aesthetics!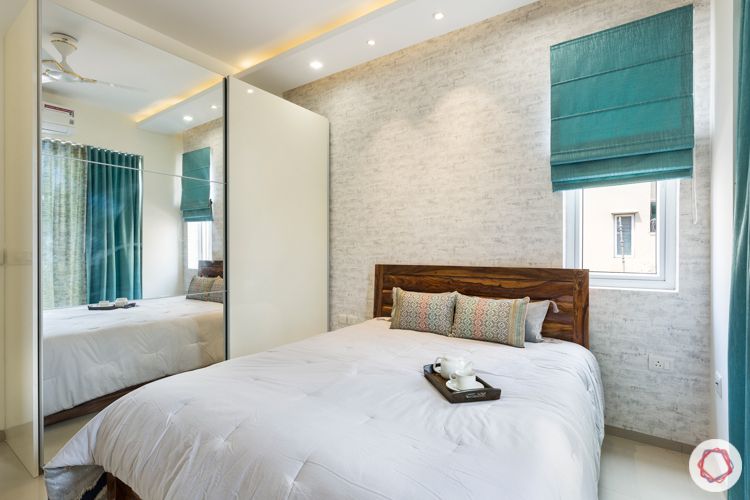 Pawan and Jaya fell in love with this sliding wardrobe, so Tanu crafted a bedroom where it fit perfectly! With a white laminate finish on one door and a mirror panel on the other, this modern wardrobe fits into the compact bedroom. With its sliding doors, it saves on the space that would have otherwise be needed to open hinged doors. Similarly, the mirror panel allows you to prep for the day in style!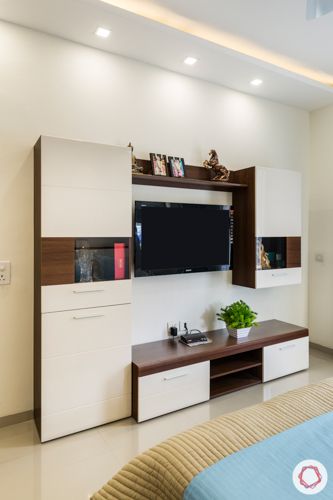 White and wooden laminate finishes together make up this elaborate TV unit. This sleek unit comes with drawers as well as display shelves. You can show off your knick-knacks on the open shelves, but also use it to store a variety of items. Neat, isn't it?
Basic but Beautiful False Ceilings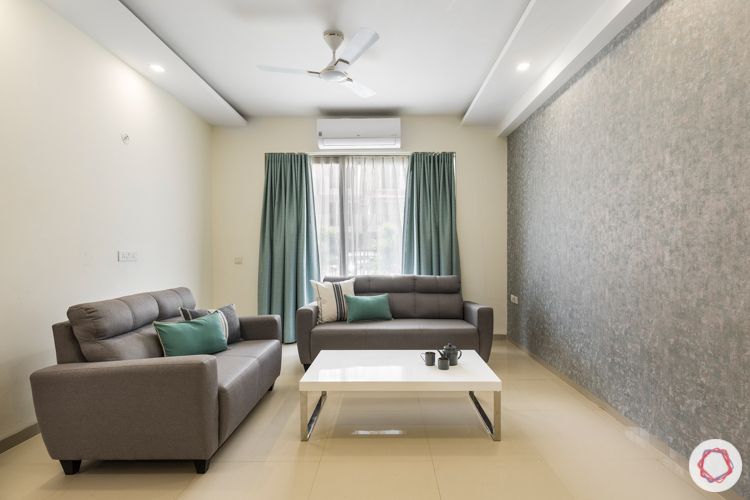 If you've seen plenty of intricately designed false ceilings, you're probably wondering what's so special about this one. Well, the false ceiling in this 3 BHK apartment goes back to the very basics. Furthermore, as the false ceiling by Livspace Gurgaon runs throughout the home, it brightens the space with cove lights. Well, sometimes basic designs are beautiful too, don't you think?
Livspace Recommends
If you like fuss-free designs that serve the purpose, this basic false ceiling design is the one for you. Sleek and minimalistic, they blend in anywhere. What's more, you won't have to struggle with maintenance too!
Neutral Home with Soft Furnishings in Blue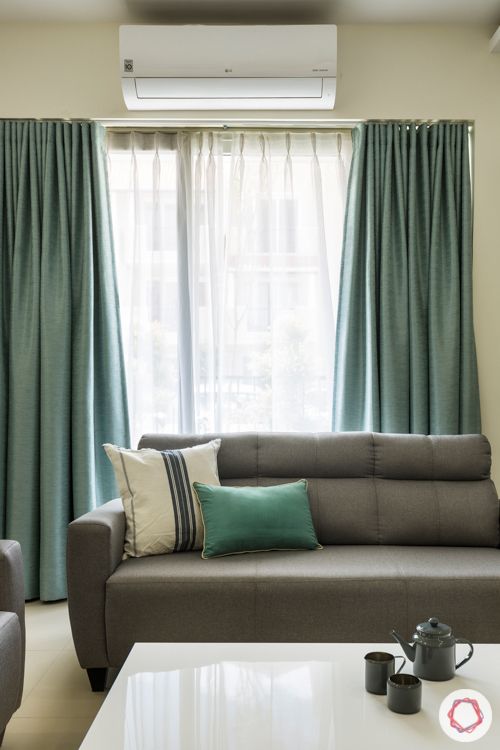 The grey wallpaper and upholstered sofas in the living room in this 3 BHK apartment creates a relaxed setting for the room. So this room in soft neutrals gets the right touches of colour from the soft furnishings. Tanu threw in teal curtains and cushions into the mix, that accentuate the restful nature of this space.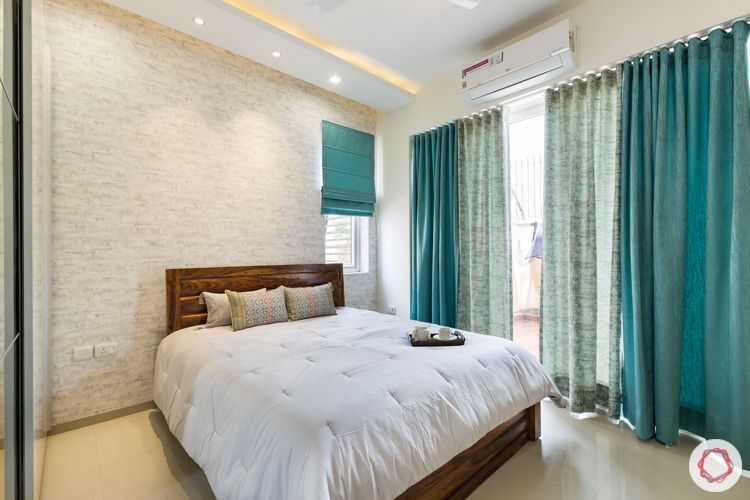 Against the white walls and beige floor of this master bedroom, Tanu suggested a hint of blue to amp up the look of the entire room. So this room has blue blinds and curtains in two different shades of blue that add to the soothing feel of the space.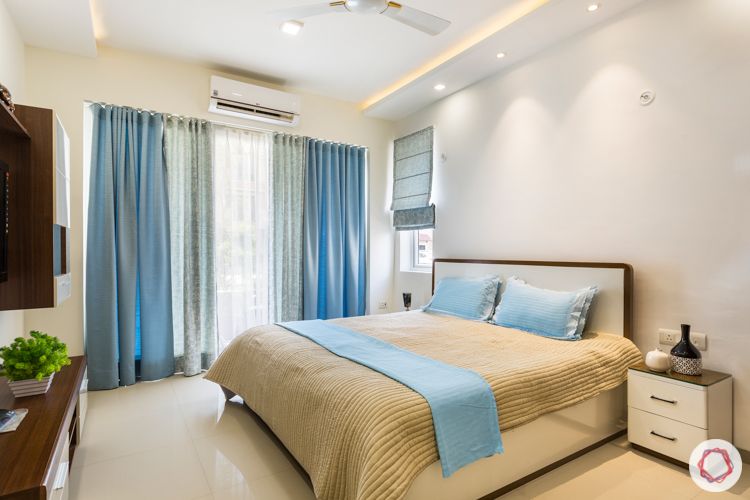 For the parents' bedroom, Tanu designed a space in white and beige, and amped up the space with hints of wood. Sky blue pillow covers and blinds complete the look. Moreover, with these soft shades that stand out subtly against the neutral room, Livspace Gurgaon ensures that this bedroom for Pawan's elderly parents always remains an oasis of calm.
Livspace Recommends
It's understandable if you have your concerns about settling for permanent fixtures in a specific colour. But what about those pops of colour essential to every lively home? Bring in the curtains, cushion covers, bedspreads and pillow covers! When the use of colours is limited to soft furnishings, you can keep changing them with seasons and always have a trendy home!
"Pawan and Jaya wanted a modern home. As they were open to ideas, I suggested neutral interiors with hints of yellow and blue that would look good against the existing doors and flooring. I am happy they liked the design!"

Tanu Anand, Interior Designer, Livspace
If you enjoyed reading about this Livspace Gurgaon home, check out Dreamy, Regal, Elegant, Timeless… for more ideas.
Send in your comments & suggestions.