A century old Marine Drive apartment gets a new and classy makeover!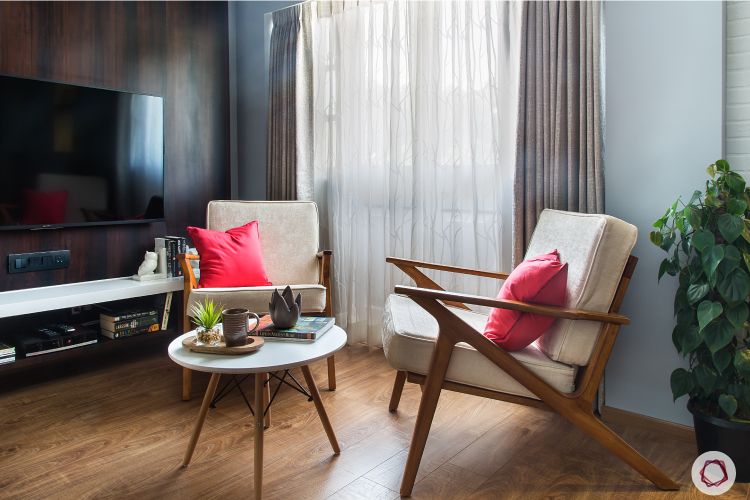 ---
Who livs here: Siddhant Purohit with his grandmother
Location: Sadguru Sadan, Marine Drive, Mumbai
Size of area serviced: 450 sq ft
Design team: Interior Designer Tejal Shah with Quality Manager Rupesh
Livspace service: Living and Dining area
Budget: ₹₹₹₹₹
---
For a youngster who has just moved to Mumbai from the US, and planned to live with his grandparents, it can get very taxing to look for a good interior designer. He desired to give the century-old Marine Drive apartments a much-needed face-lift.
While going through social media one fine day, Siddhant Purohit, came across Livspace via Instagram and decided to contact us. Since he is new to the city and lives in a huge home, it was almost obvious he had to take things slow. So, he decided to get only his living and dining area revamped. Continue reading to find out how an old home was completely transformed.
An Industrial Welcome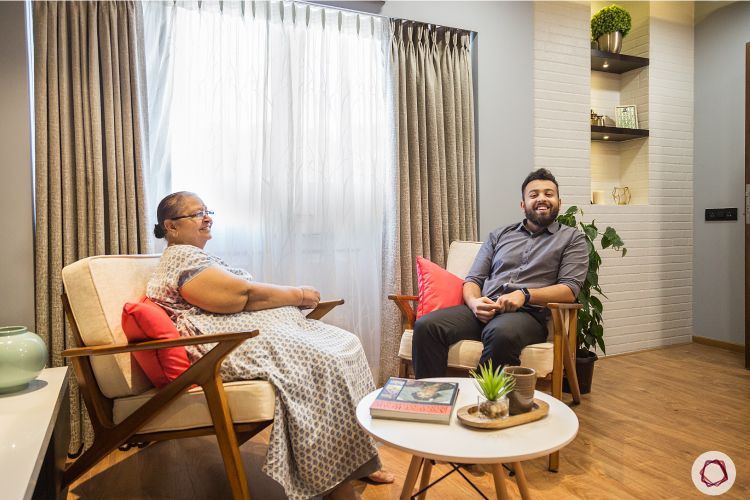 Step into this Marine Drive apartment and you will be greeted by a rustic little foyer. A white exposed brick wall with shelves for display are highlighted by spotlights, and it is makes for the best welcome!
Bright Blue Living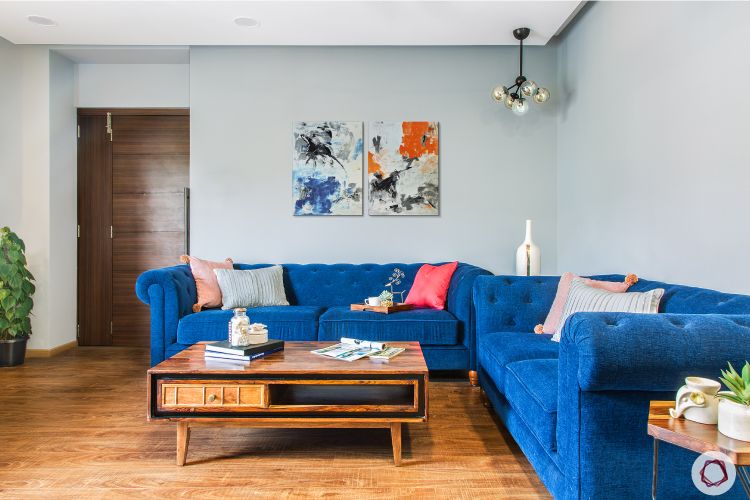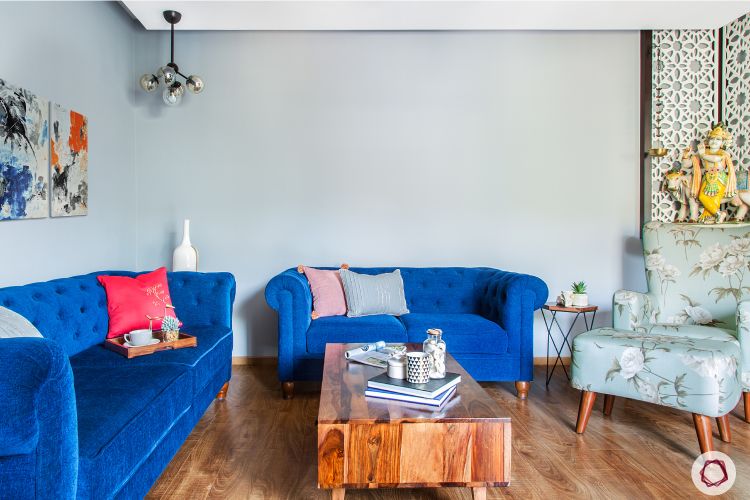 The living room looks royal with a pop sapphire blue-coloured sofas that have a chesterfield back — just like Siddhant likes it. The wooden center table is as functional as it gets, with a drawer and an open shelf for keeping books, magazines, and more. The cluster of lamps hanging in the corner is such a quirky addition to this space.
Seating With a View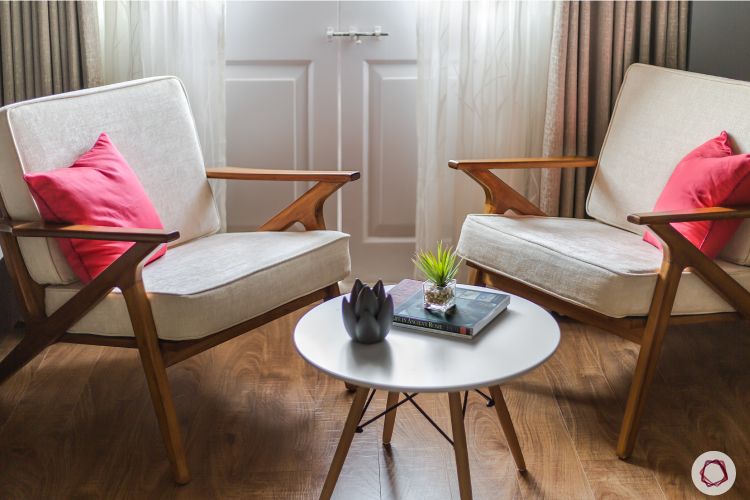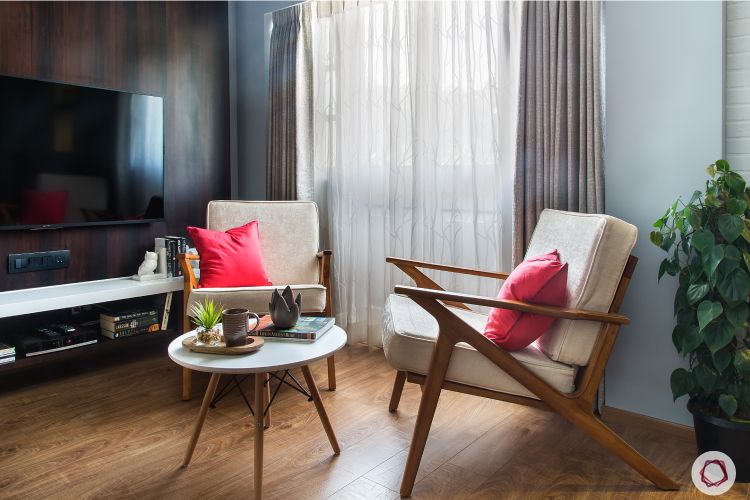 These wooden accent chairs with beige cushions look so comfortable that we just want to sink in. Look at the straight-lined design and the matching coffee table. The balcony overlooks the famous Babulnath temple and the duo enjoy hosting friends and family here. The extra seating provides for ample seating when they have guests over!

A TV Unit that Stands Out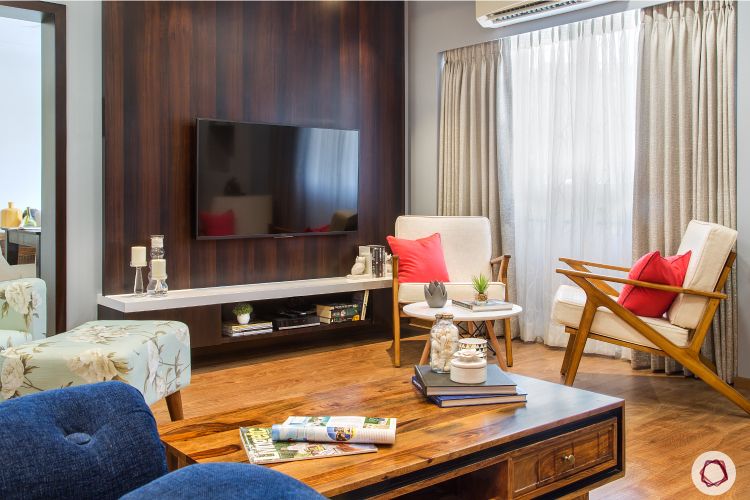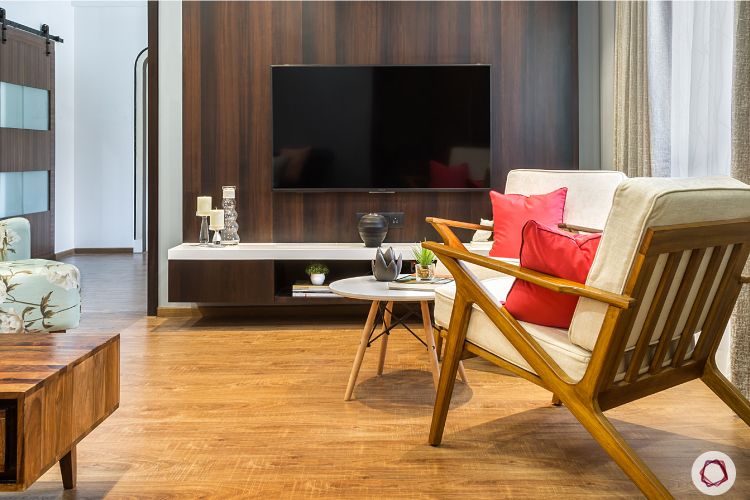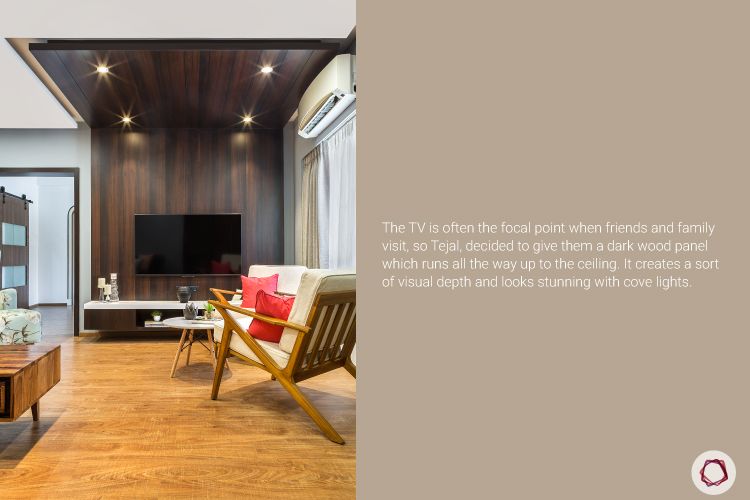 A Simple Pooja Corner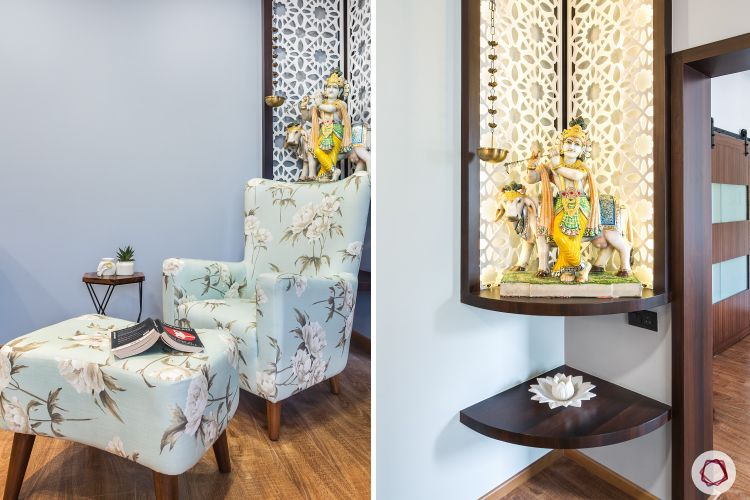 Tejal added a dash of spirituality to the room with this serene pooja corner with an intricate jaali background and a small wall-mounted wooden shelf for display. The mint-hued floral arm chair along with the ottoman is the perfect reading and relaxing nook for Siddhant's grandmother.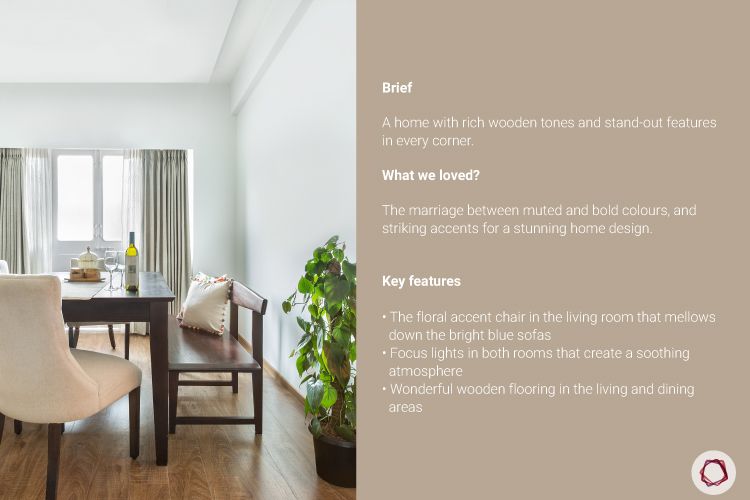 Dining Pleasure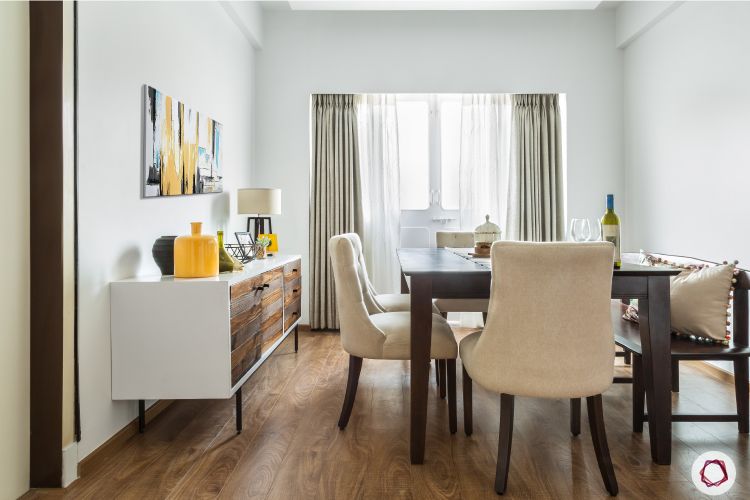 The dining room is a medley of wood, with a solid dark wood dining table and cream, fully upholstered dining chairs. Don't miss the sliding door that is finished in veneer and PU, which leads to the kitchen. We love how Tejal has covered up the old tiled floor with the wooden version to give the room a harmonious look.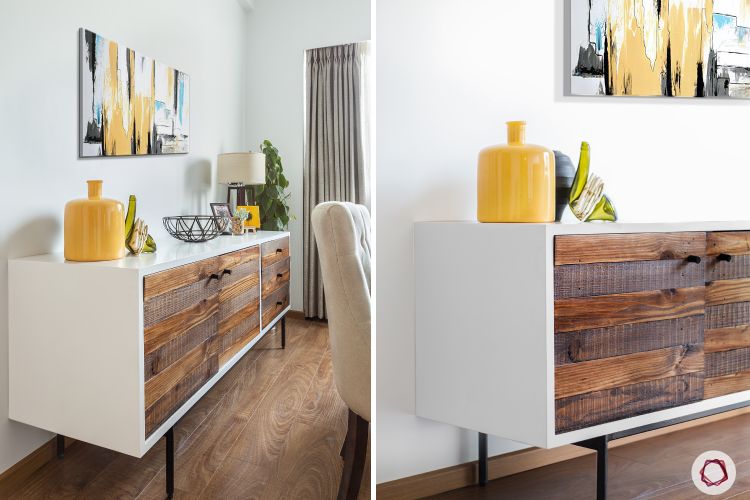 The crockery unit was a must for the duo, since they have so much to keep and display. It is a contemporary unit that has cabinet and drawer storage, with the frame in glossy finish and the cabinets is laminate. It plays match with the sliding door! Also, with metal legs, this is not just your average crockery table.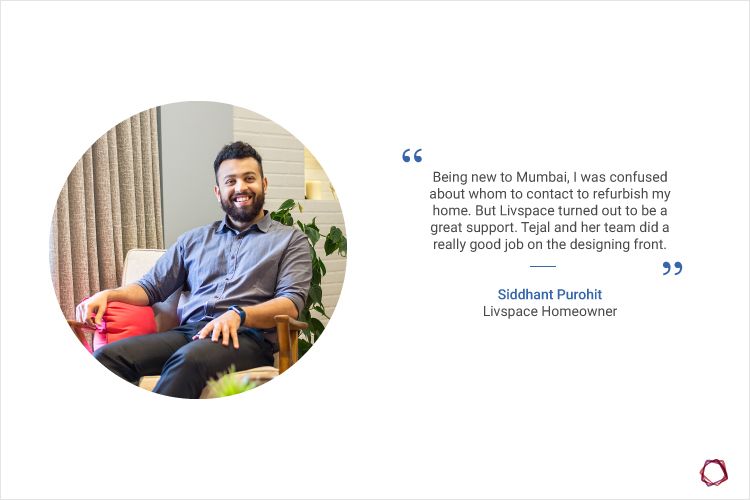 ---
"The biggest challenge in this project was the fact that it is an old construction and we had to refurbish the place to give it a modern twist. And that too without damaging the face of it. But I enjoyed working on this and I love the end result! Siddhant was a very easy and supportive client to work with."
– Tejal Shah, Livspace Interior Designer
Do you want some more inspiration on how to incorporate blue in your home? Take a look at this Noida home that is dotted beautifully with blue in every room!
Have something to say about this Marine Drive apartments? Tell us!