Sky-rocketing real estate prices leading to smaller homes resulting in an overreaching need for customised storage solutions. That sums up the scene for interior design in Mumbai in a line. But why dwell over the problems when you have an end-to-end design solutions brand at your service that also employs the top interior designers in Mumbai.
So we have listed 10 of our all time favourite projects in Mumbai so that you get a clear idea of how Livspace solves design challenges for you.
Interior Design in Mumbai #1: 600 sq ft of Cosiness is all This Couple Needs!
Property: Aspen Park, Mumbai
Livspace service: Full home design
Size of Home: 600 sq ft.
Price: ₹₹₹₹₹
The Challenge
When you have to do interiors for a 2BHK that is all of 600 sq ft, it is both a challenge and opportunity. Aniket and Komal, a young working couple from Mumbai, wanted their home to be a space they can unwind in. Also, they had no time to run after carpenters and the entire battalion of people that come along. That's where we come in, don't we!
The Livspace Solution
While this home is snug by pan-India standards, it is reasonably roomy for Mumbai. So our design team went about addressing one need at a time. The island counter of the living room served as a dining space for the couple; we added more storage under it. The flooring received a facelift with vinyl layering. In the master bedroom, the design team opted for a wall-mounted headboard to save space.
For a detailed view, explore 600 sq ft of Comfort on a Budget.
The Result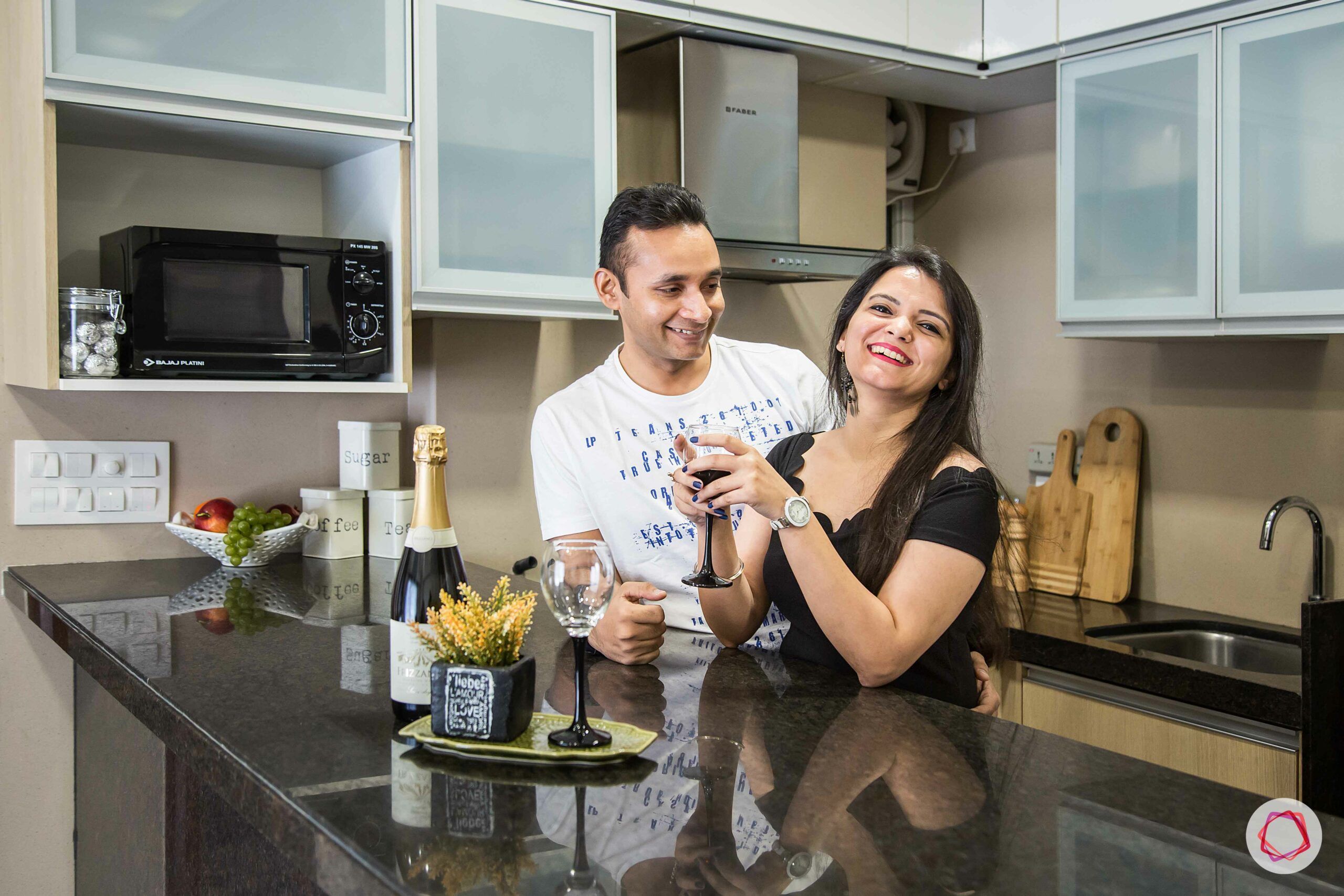 "We've always wanted a home that was warm and welcoming, especially after having lived in a rented house for seven years. You begin to build an image of a beautiful home where you can unwind with family. That's what we had in mind when we approached Livspace. Looking at our decorated home now, I feel our dream has come true!"

– Aniket Paswan, Livspace Homeowner
Interior Design in Mumbai #2: Turning a Compact 2BHK Into a Spacious One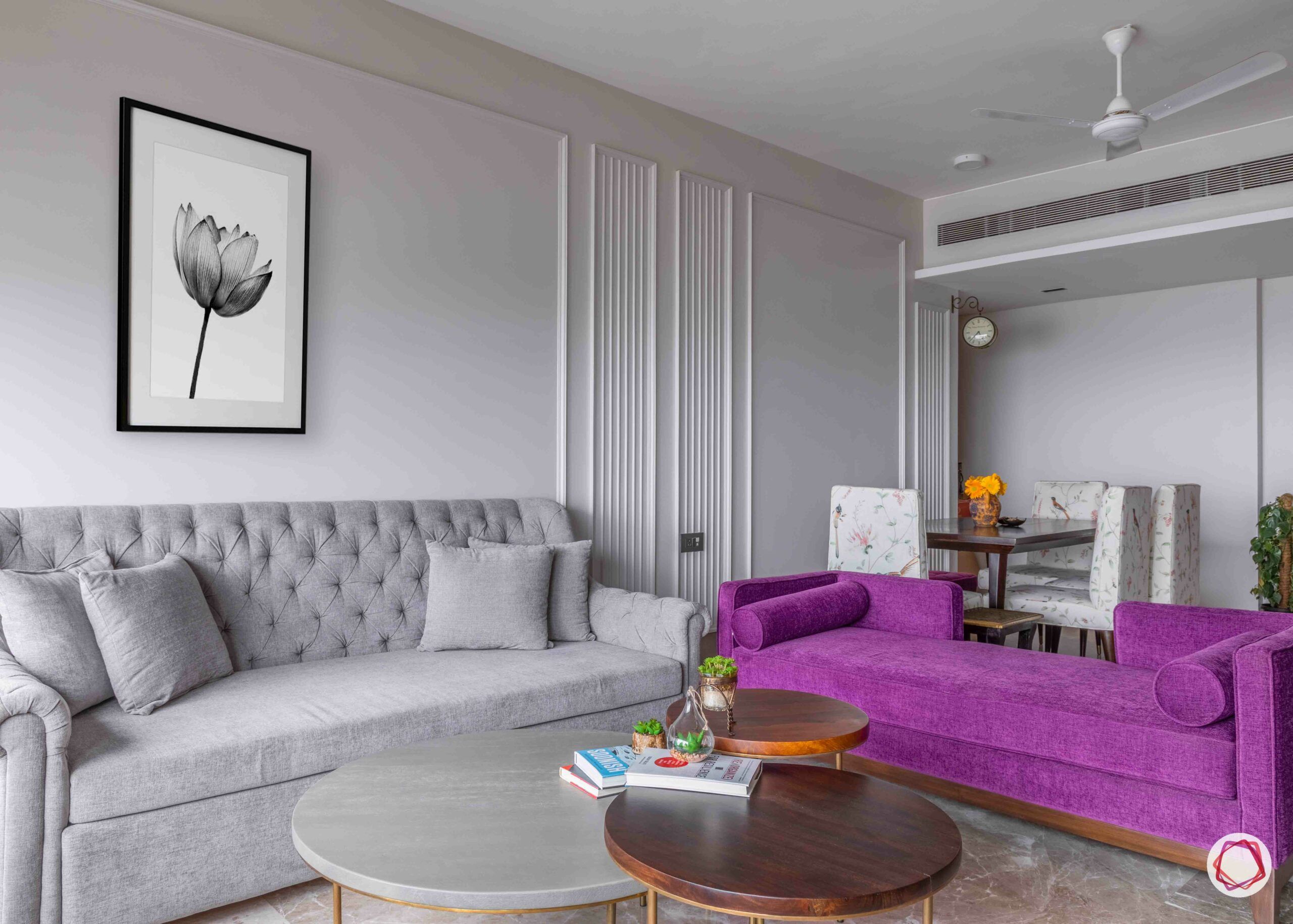 Property: Rustomjee Paramount, Khar West, Mumbai
Livspace service: Full home design
Size of Home: 900 sq ft.
Price: ₹₹₹₹₹
The Challenge
Ekta and Kunal moved from a rented 3BHK apartment into their own 2BHK. Naturally, they had apprehensions about how they would fit in their things without making their 900 sq ft home look cramped. So we gave them one of the top interior designers in Mumbai, Pallavi Goel and the rest is history.
The Livspace Solution
It is a given that any interior designer cannot magical expand the carpet area of an apartment. However, clever design can definitely make a home appear more spacious. The use of a tinted mirror panel that runs along the dining space stands out in this home. As does the use of neutral greys to open up space. Moreover, the design team used the space by the large window in the living area to create a seating ledge with storage underneath. In Ekta & Kunal's bedroom, the refreshing mint green textured wall is a stunner.
For more images and the full story, explore The Perfect 2BHK for a Family of Three.
The Result
"Our designer Pallavi Goel was fantastic. She was with us through the ups and downs of all our decisions. She gave our home personal touches wherever possible. The ideas and designs were creative, the execution was seamless, the quality was trustworthy and the outcome was absolutely superlative! We'd like to thank Pallavi and the Livspace team for this experience and also a friendship to cherish for life!"

– Ekta & Kunal Khanna, Livspace Homeowners
Interior Design in Mumbai #3: Redesigning a Man Cave Into a Love Nest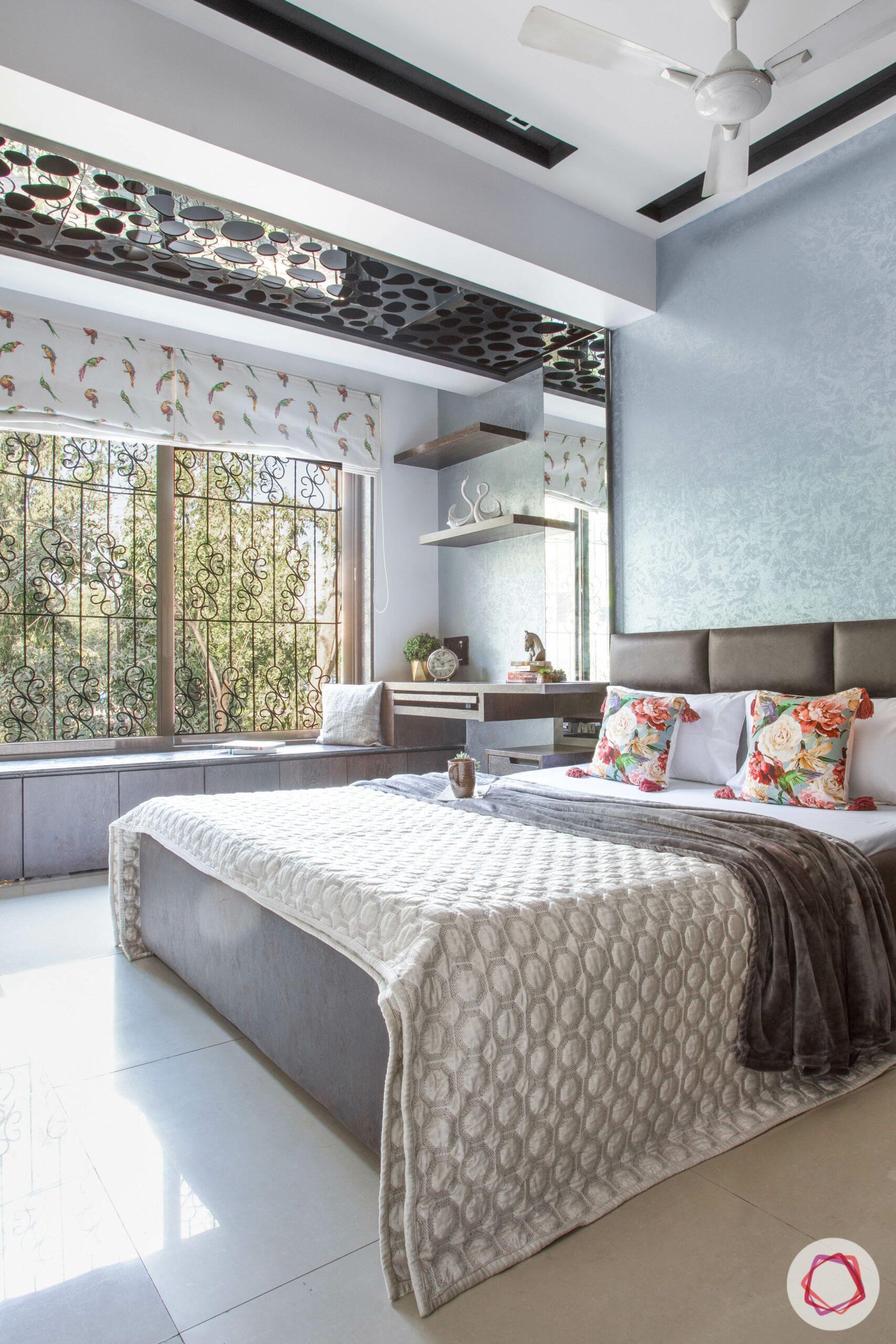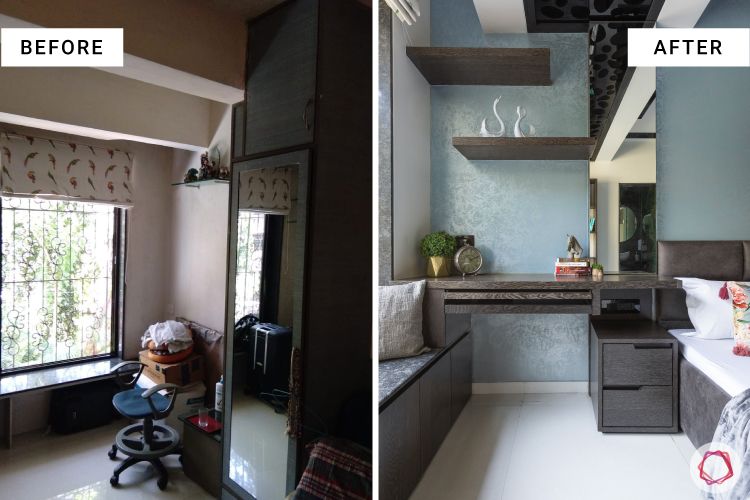 Property: Chembur, Mumbai
Livspace service: Bedroom redesign
Size of Bedroom: 190 sq ft.
Price: ₹₹₹₹₹
The Challenge
What used to be a bachelor's den had to now become a bedroom for a newly wed couple. However, Mikhail wanted to retain some vestiges of his single days in this room like a space for his project and computer games. Meanwhile, he also wanted to make his bride comfortable.
The Livspace Solution
As Mikhail wanted to use dark veneer finishes in this room, Kawish Khan, one of the top interior designers in Mumbai, used a bright shade of blue grey for the walls. Moreover, the mirror panels beside the bed also brighten up the space. While Mikhail has a wall-mounted table for his computer games, his wife has shelves to display her collection of pretty things. And the bay seating by the window is perfect for the couple's 'we' time.
To see the complete transformation, visit Bachelor Pad Turns Into a Couple's Haven!
The Result
A freshly minted couple happy in their personal space. Shush, they are too busy to comment!
Interior Design in Mumbai #4: Making the New & Old Coexist in a Home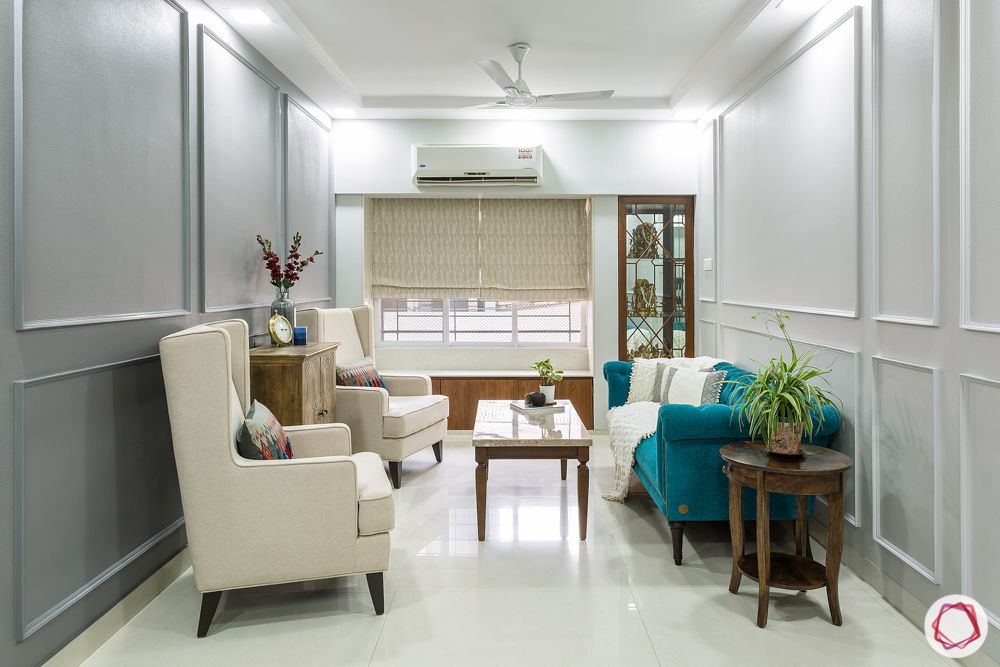 Property: Himalayan Heights, Wadala, Mumbai
Livspace service: Full home design
Size of Home: 1,250 sq ft approx.
Price: ₹₹₹₹₹ 12-18
The Challenge
Shweta and Manish wanted to retain most of their living room furniture as it was in good condition. So there was a question of weaving the existing pieces with the new design. Moreover, the couple have two boys and wanted separate beds and study units for them. So we fell back again on one of the top interior designers in Mumbai, Pallavi Goel, to design this home.
The Livspace Solution
Most of the furniture owned by this family was in various shades of wood. So Pallavi went with very neutral and white tones in the living room. The only source of colour was the sky blue sofa. In the kid's room, she designed two single beds and study units. The continuity of design was maintained by repeating the pattern in the beds and wardrobe. And the night sky wallpaper in this room is a head turner for sure!
For the complete deets on how it was done, explore Flawless Design & Detailing for this 3BHK.
The Result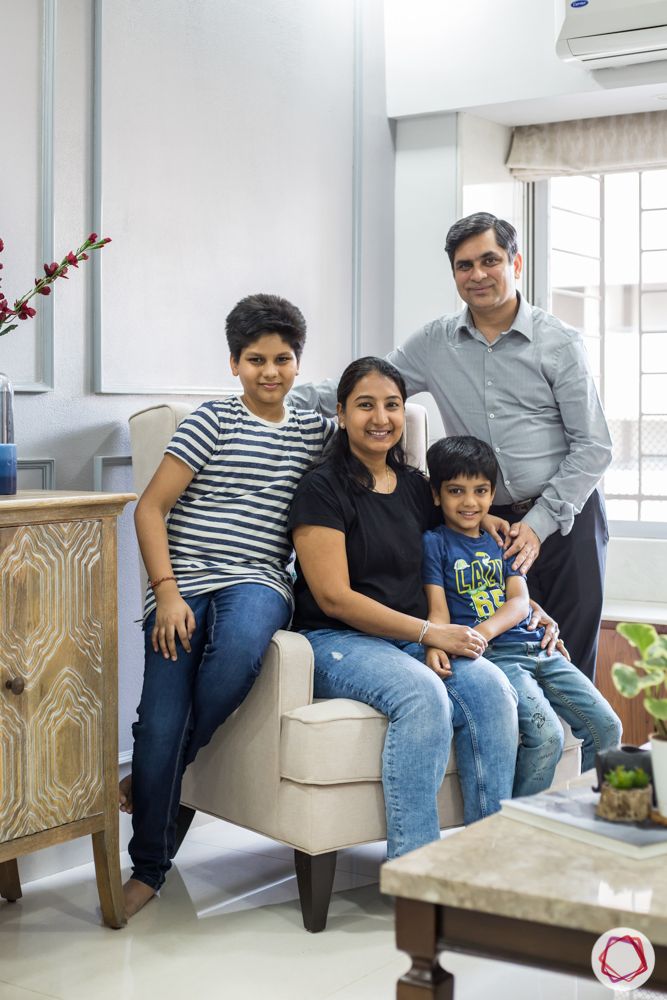 "We love the way our designer Pallavi has customised the room for our boys; they have two separate beds, study units and wardrobes. But, there is still place to move around and play in this room! The finishing of the interiors is also to our satisfaction."

– Shweta & Manish Gupta, Livspace Homeowners
Interior Design in Mumbai #5: 30-year Old Kitchen & Bathroom Get a Facelift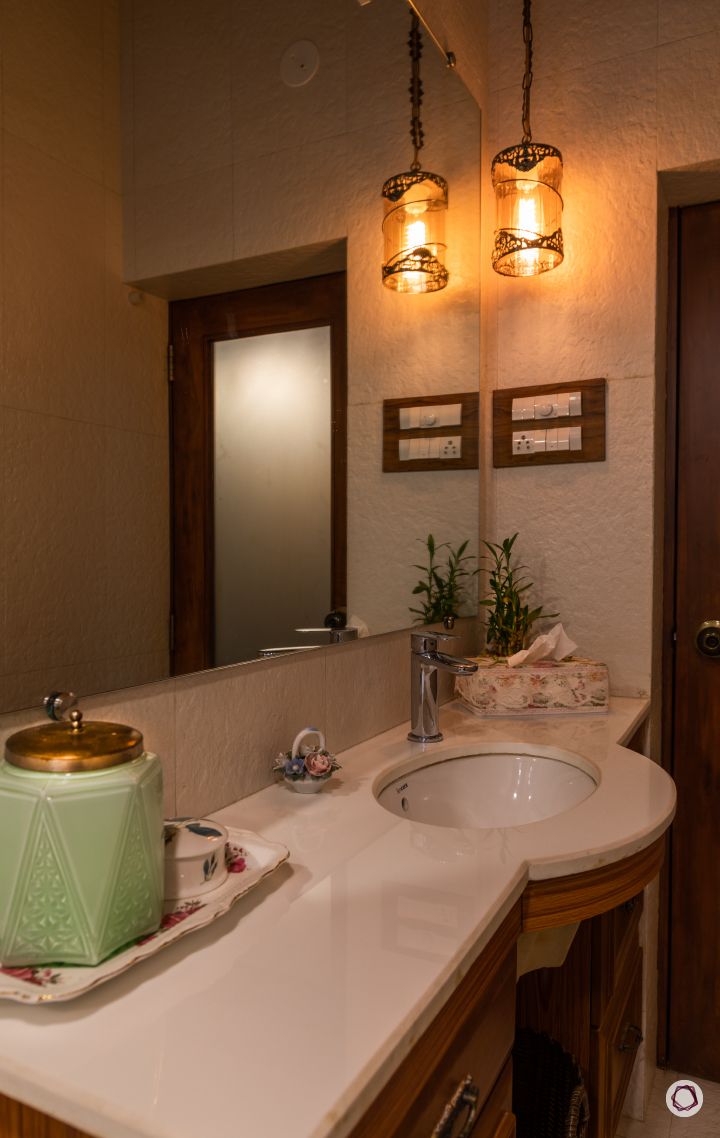 Property: Dadar Parsi Colony, Dadar East, Mumbai
Livspace service: Kitchen & bathroom renovation
Size of Home: 200 sq ft kitchen & 60 sq ft bathroom
Price: ₹₹₹₹₹
The Challenge
Armin and Khushrow Patel's home is in Mumbai's historic Parsi Colony that is over a century old. Their apartment however is just about 30 years old. Need we say more?
The Livspace Solution
The kitchen was completely dismantled by our designer Sapna Solanki to make way for a fully modular kitchen. As the kitchen is quite compact, she suggested the use of frosty white and neutrals as a colour scheme. In the bathroom, she went with a romantic vibe that included country-style drawers and a dainty pendant light.
To get a full report of this renovation, read A Sleek Kitchen & Bathroom Upgrade at Dadar Parsi Colony.
The Result
"We thought out designer Sapna did a good job at meeting our requirements and executing the project as well. We now know that working in a modular kitchen can make a lot of difference!"

– Armin & Khushrow Patel, Livspace Homeowners

Interior Design in Mumbai #6: Revamping This Home One Part at a Time
Property: Panchsheel Building, Marine Drive
Livspace service: Living, dining and kitchen + bedroom and bathroom
Size of Home: 2,000 ft home
Price: ₹₹₹₹₹
The Challenge
Imagine a 2,000 sq ft home in a locality like Marine Drive in Mumbai! And to not have it done up in an absolutely breathtaking style is a criminal offense. But our designer Preetu Muley, who is without any scope of doubt one of the top interior designers in Mumbai, had to finish all the renovations while the Siddharth Kothari and his parents lived in the house.
The Livspace Solution
So Preetu decided to work and work fast. Firstly, she felt that the house needed more light so she widened the windows to wall-to-wall ones and opted for the Scandinavian style picked by Siddharth. The next step was to demolish walls in the living area, converting the layout to an open one. The kitchen was massive in size so Preetu could style it with rustic farmhouse elements.
In round two, we worked on Siddharth's bedroom and the attached bathroom only. Here too, he stuck with favourite, the Scandi style. Preetu concentrated on maintaining the openness of design, which was facilitated by the New York-style glass shutters for the wardrobe. In the bathroom stone and glass elements came together for a minimal yet posh effect.
They came to us twice in a row, so we rest our case. You check out the rest of the home and bedroom for sure.
The Result
"I already had a great relationship with designer Preetu Muley, who did our last home renovation project. She understood me and my tastes. I wanted something different and contemporary, a big bathroom and a beautiful bedroom. She got it right before and she got it right this time! It's fantastic how my room has turned out."

– Siddharth Kothari, Livspace Homeowner
Interior Design in Mumbai #7: A Mix of Styles & Colours for an Artist's Home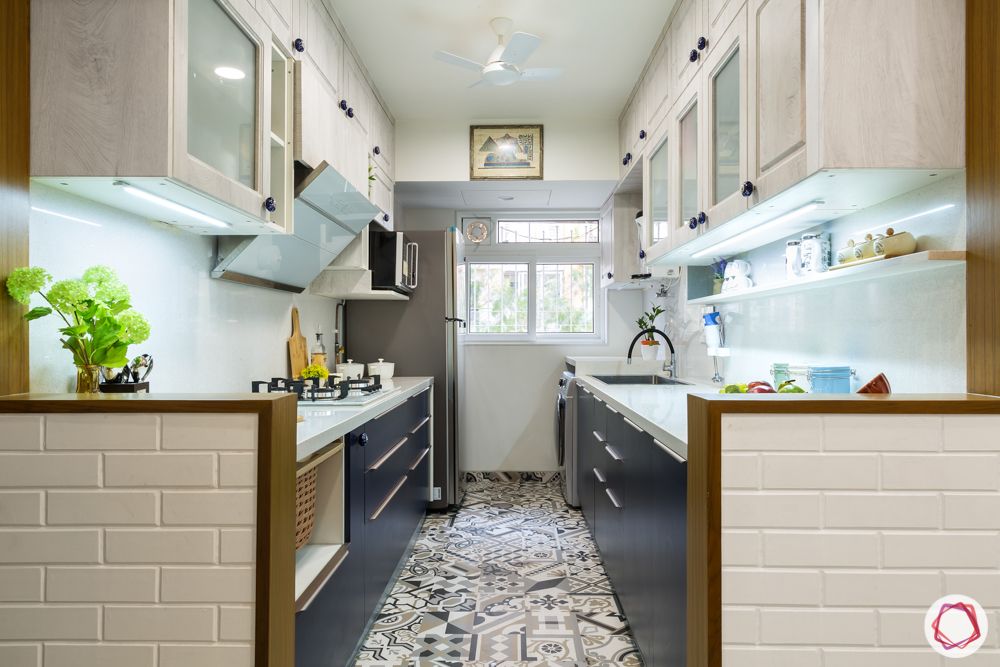 Property: Adarshlok CHS, Goregaon West, Mumbai
Livspace service: Full home design
Size of Home: 1,100 sq ft home
Price: ₹₹₹₹₹
The Challenge
There is a famous saying that doctors make the most terrible patients. Similarly, designing for designers and artists is not easy. So when our designer Ritika Parab had to work on Ashish and Shreya's (who is a commercial artist) home, she struck up a rapport with them first.
The Livspace Solution
The couple had different ideas about how the interiors of their cosy 2BHK should be. So Ritika opted for an eclectic style that would weave in elements from types of decor. She put in a distressed console and swing that was in stark contrast with the plush leather sofa and the bright coffee table. When used whites too to make the space look larger. In the kitchen, the Moroccan tile flooring is the main focus. But our favourite is the wall treatment in the couple's bedroom — mouldings on sky blue paint.
Check out the Potpourri of Styles Used in This 2BHK.
The Result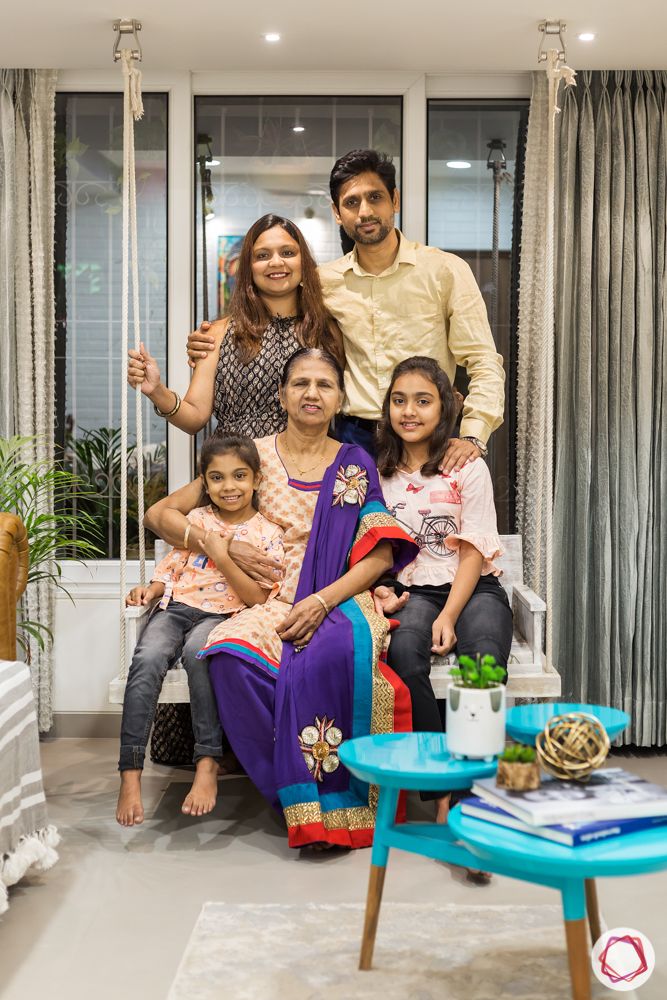 "Our home is exactly how we pictured it to be. We are very impressed with how our designer Ritika translated our ideas into reality. From the colours to the furniture, everything is just perfect."

– Ashish Joshi, Livspace Homeowner
Interior Design in Mumbai #8: Modular + Vastu-Compliant Kitchen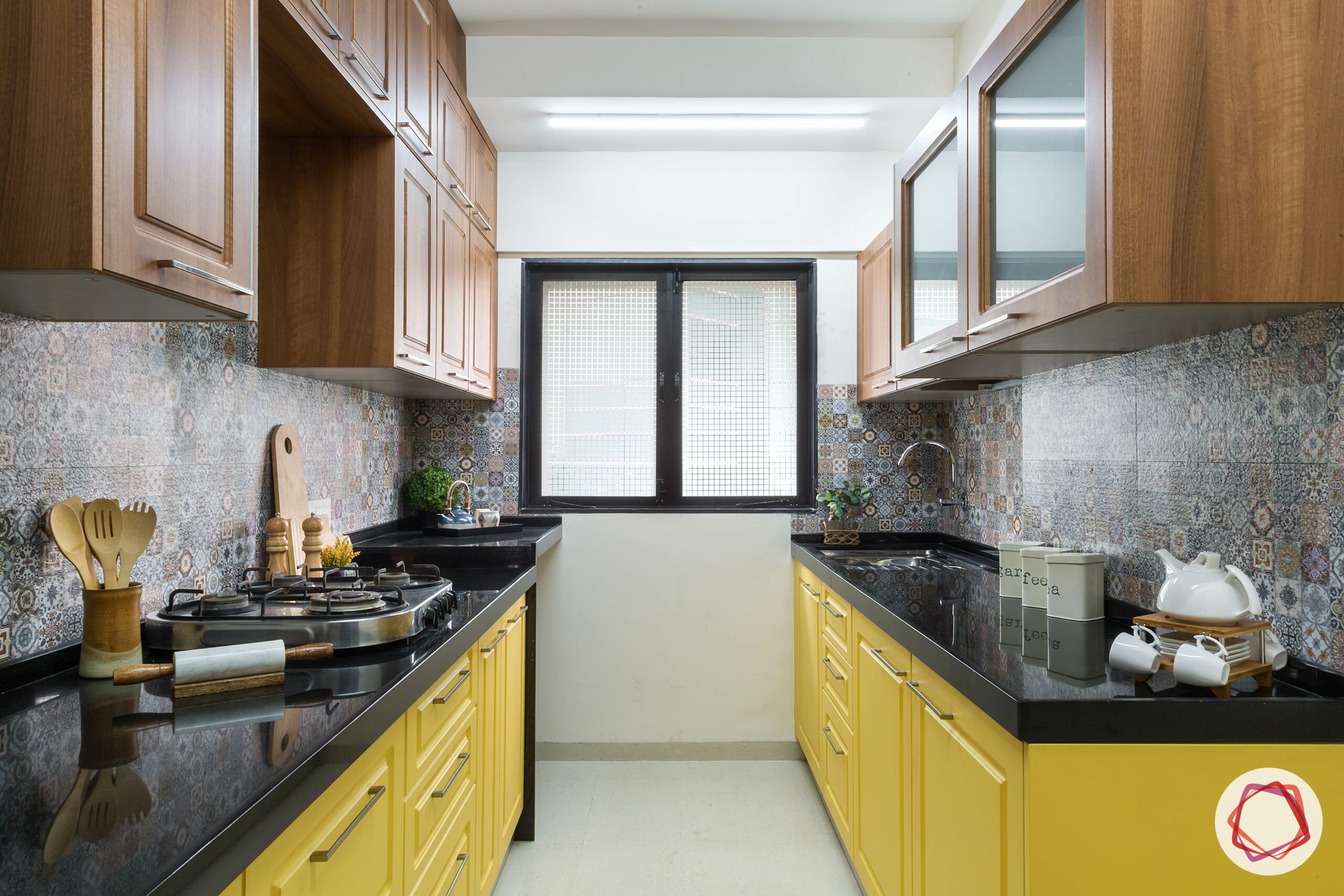 Property: Sethia Grandeur, Bandra East, Mumbai
Livspace service: Kitchen only
Size of Home: 90 sq ft kitchen
Price: ₹₹₹₹₹
The Challenge
The tenets of Vastu Shastra do not always match the modern sensibilities of a modular kitchen. However, Benita Vaz wanted both and our designer Meenakshi Sabarad was happy to oblige.
The Livspace Solution
As the kitchen had to be, first and foremost, Vastu-compliant, Meenakshi tried to give an enthnic touch with country-groove cabinet shutters and a vibrant yellow colour. The Moroccan tiled backsplash too helped create some drama. Structurally, she placed the sink (representing water) and hot (representing fire) on two different slabs. Thankfully, this is a parallel kitchen; so it could vasti-friendly and ergonomically viable at the same time.
You can take a detailed look at This Vastu-Compliant Kitchen That is High on Storage.
The Result
A modern kitchen that fits the rules of Vastu and also gives a seamless cooking experience.
Interior Design in Mumbai #9: Soft Colours Make a Strong Statement
Property: Adani Western Heights, Andheri West, Mumbai
Livspace service: Full home design
Size of Home: 1,200 sq ft kitchen
Price: ₹₹₹₹₹
The Challenge
Hardik Shah wanted to steer clear of using too much colour in his 3BHK apartment, yet he wanted it to make a strong statement. The overarching decor theme was Victorian but the design had to be minimal. We put Foram Dedhia, one of the top interior designers in Mumbai, on this project.
The Livspace Solution
Foram has ensured the living room has an open layout with a breakfast counter. But the sofas are good ole Tuxedos in a distinctly Victorian pastel pink. She also stuck with white walls to foster the illusion of space. The POP moulding wall treatment in the bedroom is an absolute favourite for us. We love how whites have been used with tinges of subtle colours to make an effective statement in this home.
This Chic & Classy Victorian-styled 3BHK is a visual treat, so do check it out.
The Result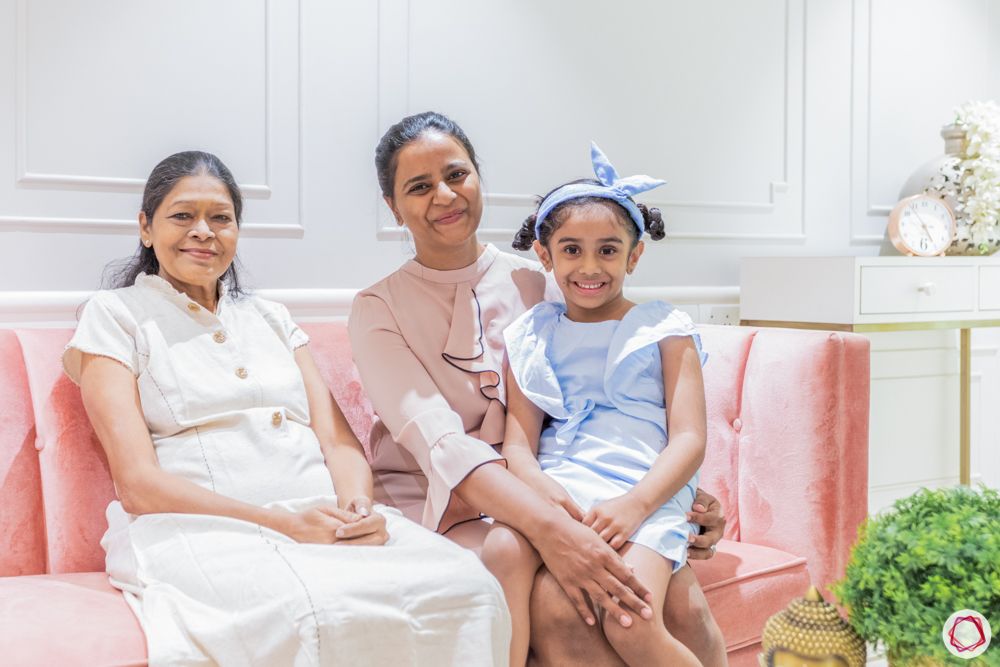 Smiles, togetherness and happy memories.
Interior Design in Mumbai #10: Whopping 4,000 sq ft of Extravagance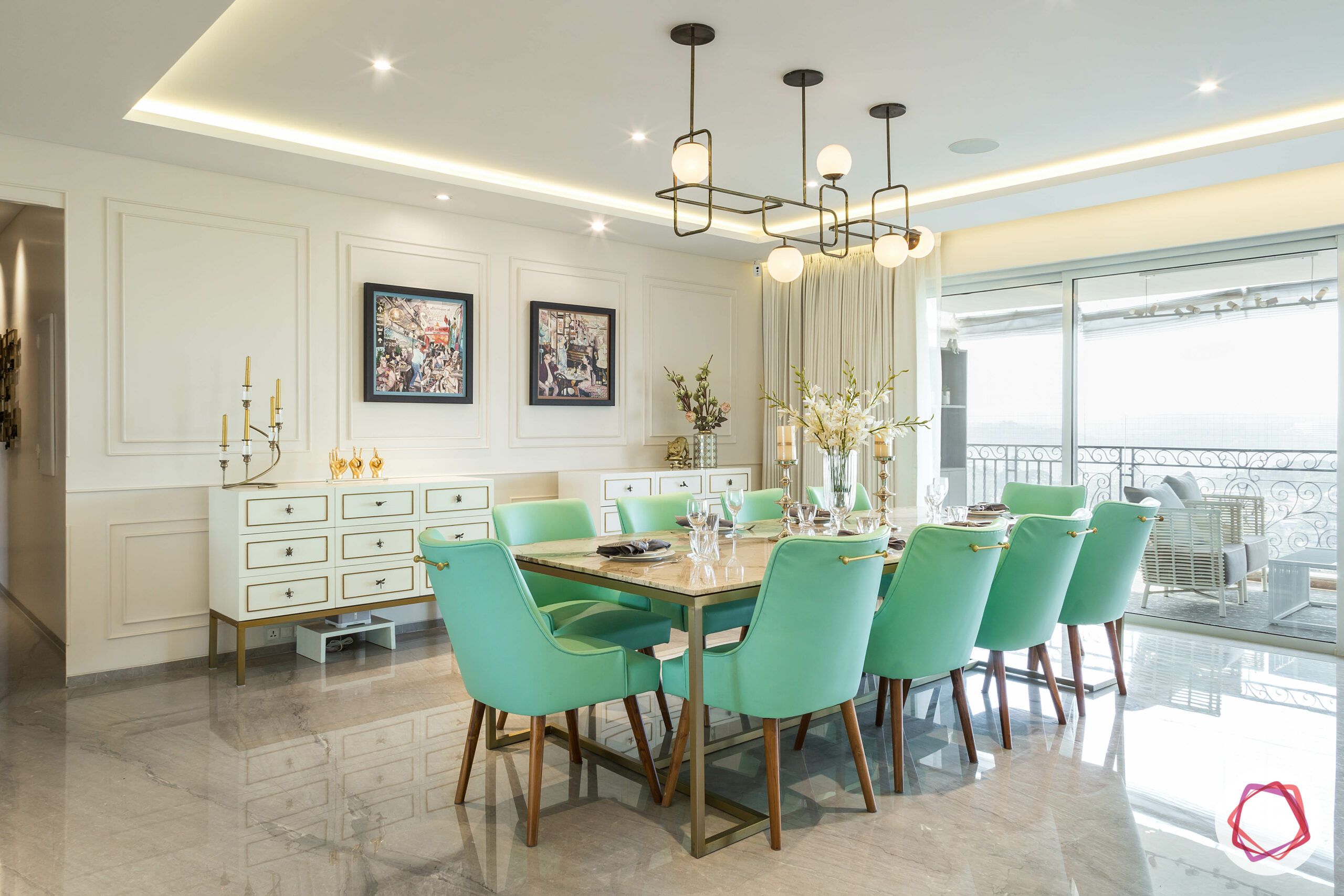 Property: Tivoli, Hiranandani Gardens, Powai
Livspace service: Full home design
Size of Home: 4,000 sq ft kitchen
Price: ₹₹₹₹₹
The Challenge
Just like lack of space is a design challenge, filling up an enormous amount of space with the best suited elements is an equally relevant challenge. So when a young couple from the top brass of Mumbai came to us with their 4,000 sq ft apartment and wanted their home to look like the homes featured in magazines, we went straight to Preetu Muley. She is definitely one of the top interior designers in Mumbai.
The Livspace Solution
Literally every corner in this home is laden with bespoke furniture but what ties it together is impeccable design. We love how the fluid shape of the coffee table holds the seating area together. The rare green marble top of the dining table is the most noteworthy element in this home. We cannot end without talking about the master bedroom that is actually a combination of two bedrooms — it has separate spaces for sleeping, seating, dressing and work! Oh! Did we forget to mention the Sabyasachi wallpaper in the guest bedroom?
Trying to describe this Plush, Tasteful, Fresh, Enviable Home in brief is pointless. So do check out the full home.
The Result
A bespoke home that is synonymous with luxury.
If you enjoyed reading about our best homes in Mumbai, also explore our Top 10 Hyderabad Homes and Their Heart-warming Stories.
Send in your comments and suggestions.