Take a peek into this alluring 2 BHK in Mumbai!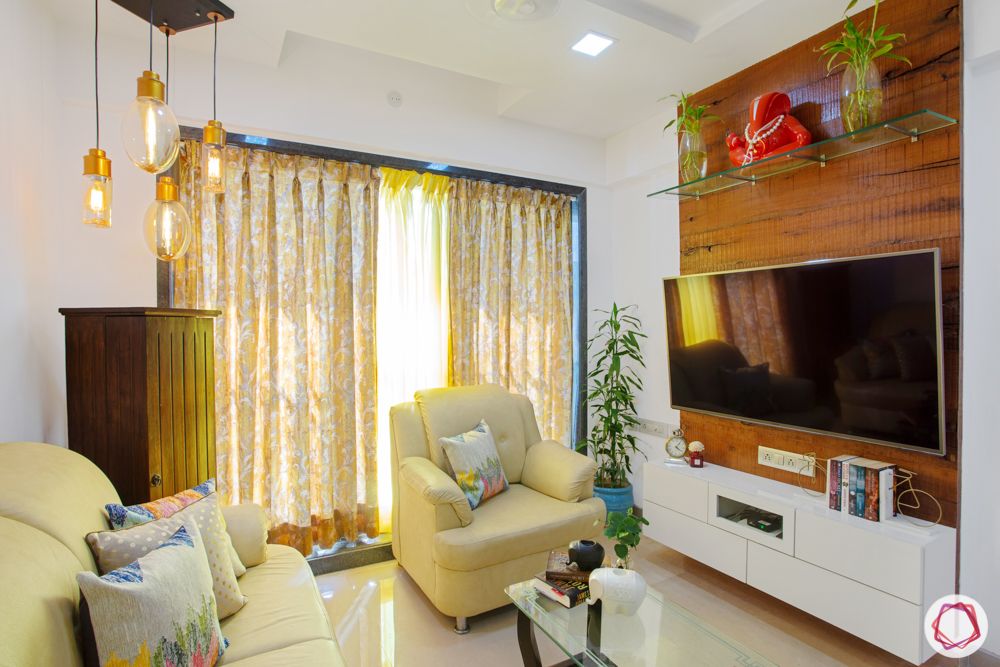 ---
Who Livs here: Sudeep Kulkarni with his wife Nikita and their 8-year-old daughter
Location: Neminath Luxeria Towers, Andheri West, Mumbai
Size of home: 2BHK spanning 750 sq. ft. approx.
Design team: Interior Designer Amar Maru and Project Manager Salman Sheikh
Livspace service: Full home design (kitchen not included)
Budget: ₹₹₹₹₹
---
Some homes exude a calm vibe and make you feel comfortable the moment you step in. While families these days want to live in the bang of the city, given an option, they would love to be closer to their roots. This is exactly what happened with Sudeep Kulkarni and his wife Nikita, who moved from Goregaon to Andheri, to be closer to her parents' place. This well-travelled couple has fine taste in interiors and they were looking for someone who will resonate with it.
After meeting with Amar Maru, their designer, they were convinced and confident about getting their home designed through Livspace. A couple of visits to the Lower Parel Experience Center and a few discussions later, they zeroed in on the final designs. They were looking for unique designs for each room, from an earthy palette in the common areas to a vintage vibe in the master bedroom. And the kid's room is pretty in pink and white. Read on to see how this unfolds!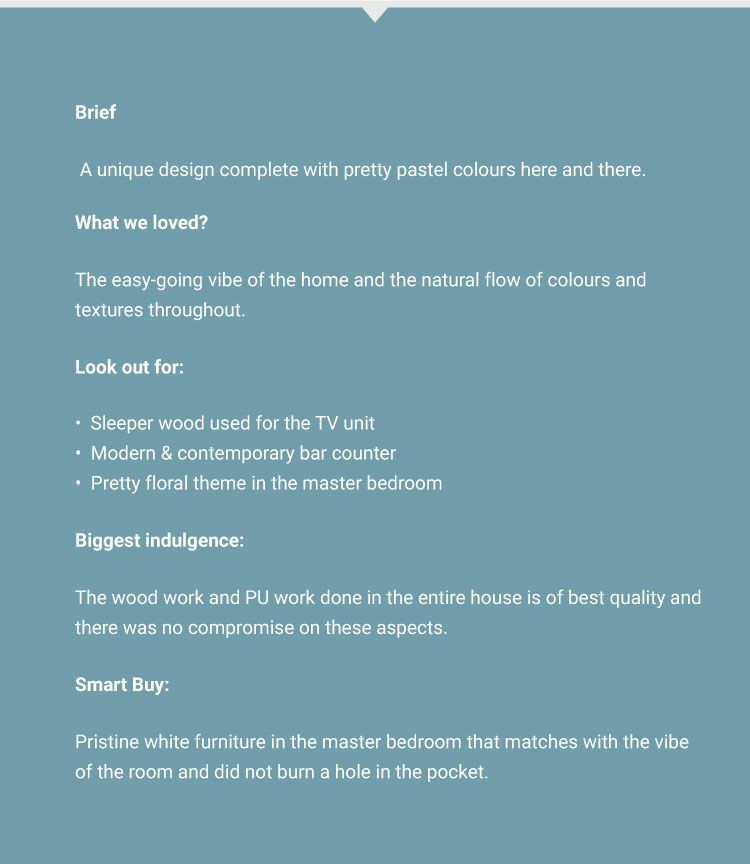 2BHK in Mumbai design feature #1: Warmth & sunshine
What is the first thing you notice when you enter this living room? We bet it is the plush and comfortable seating and the warm vibe of the space. Lovers of earthy tones, this couple was sure to keep the living room in this 2 BHK in Mumbai very simple and cosy.
Amar has used sleeper wood for the TV unit since plain wood or laminate was just not their thing. The rustic appearance of sleeper wood is something that the couple was biased towards. It completes the look of this space and gives it some amazing character. The industrial corner lights complement the look of this room, while the sheer curtains let sunshine play hide and seek here.
2BHK in Mumbai design feature #2: Wooden wonder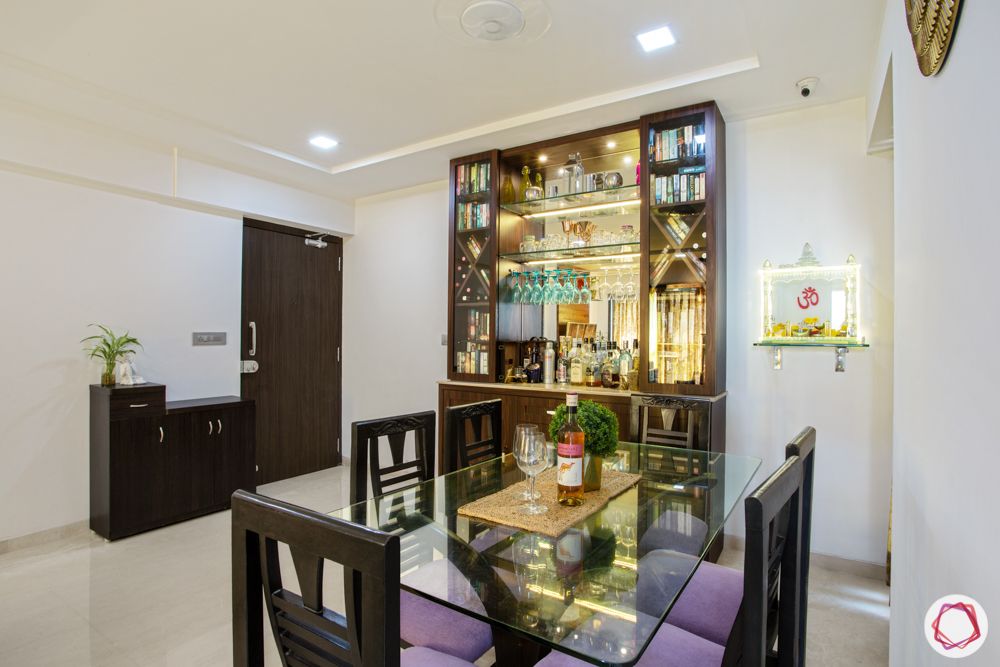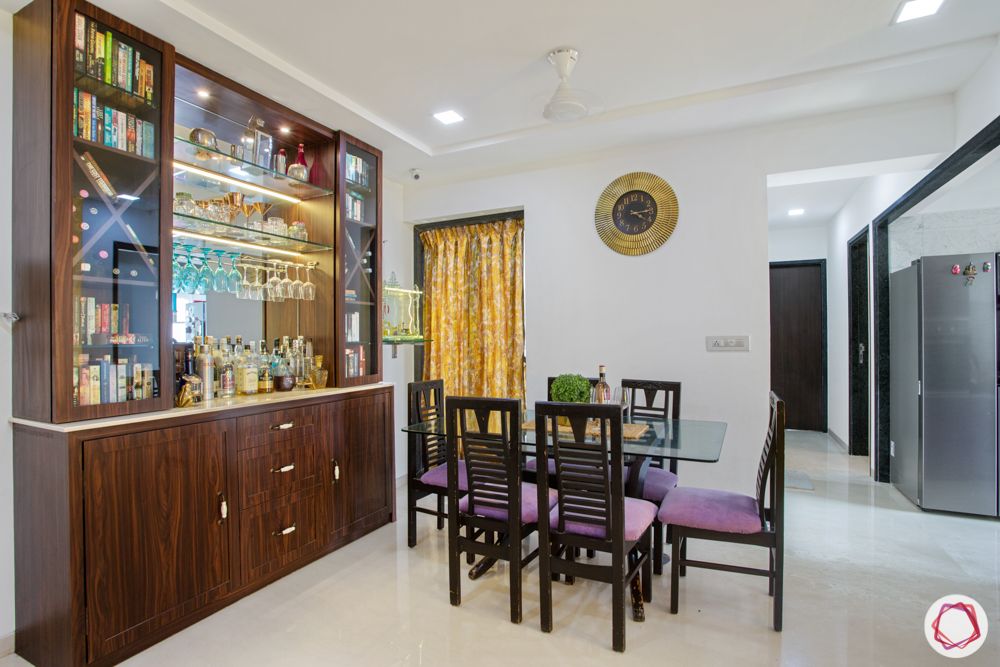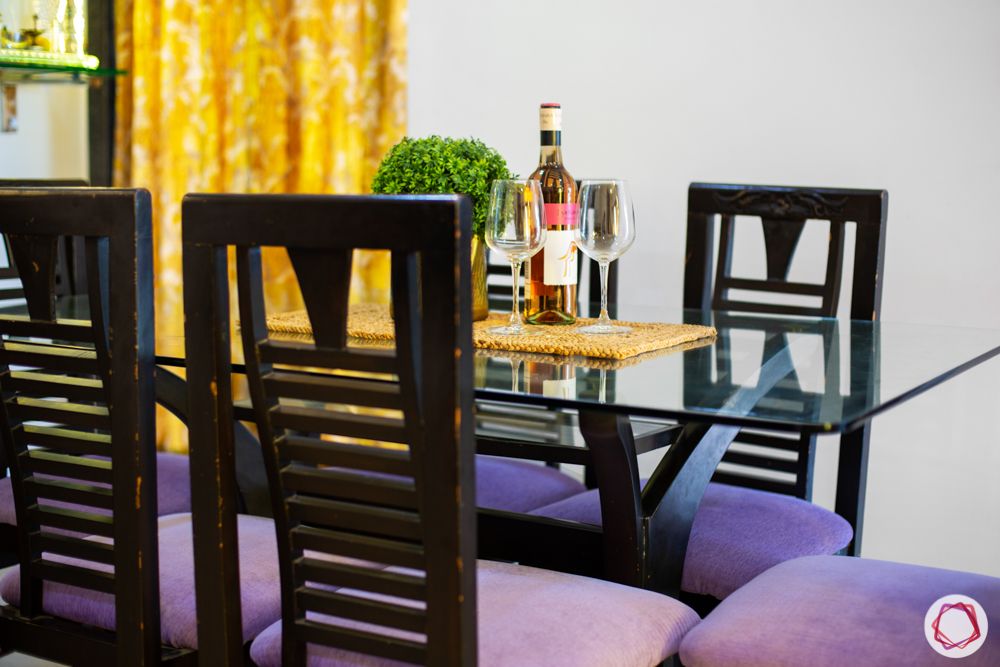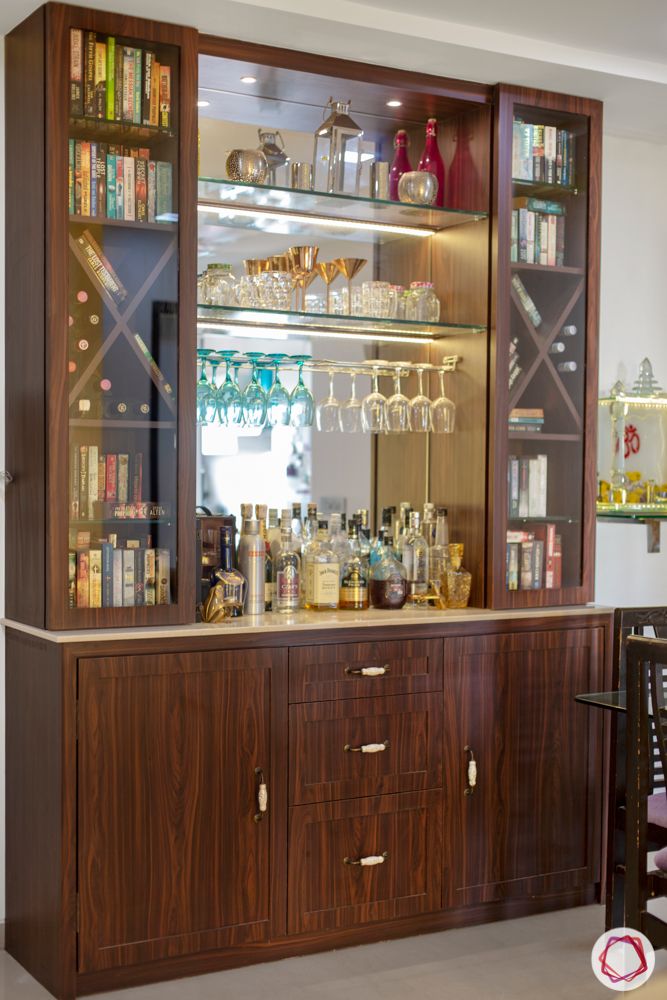 The most striking piece of furniture in this dining room at Neminath Luxeria is the bar-cum-bookshelf. Sudeep is an ardent reader and he treasures his books. He was very particular about having a dedicated storage and display unit for his books. Amar combined the bar and the bookshelf and customised this lovely marble-top unit for them. With the mirrored backdrop, this unit looks like a million bucks!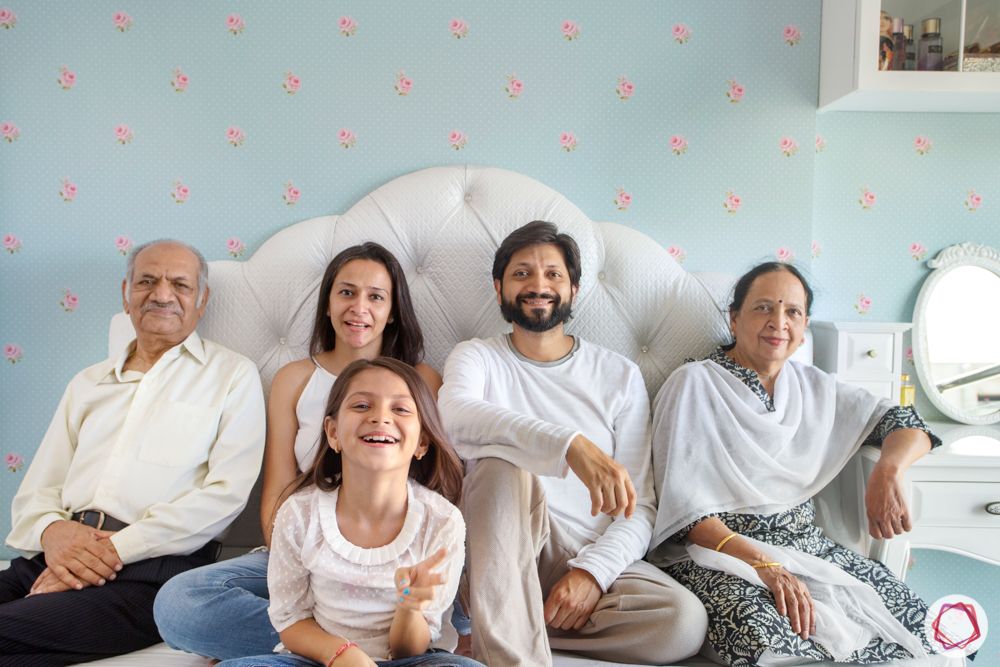 "The entire turnkey project for my residence was handled very smoothly by our designer Amar Maru and Project Manager Salman Sheikh. They not only provided valuable inputs and effective solutions, but also supervised the entire work brilliantly. The excellent and timely work done by Livspace has truly turned this house into our home. We have recommended Livspace to our family and friends and we love the compliments we receive from them!"

– Sudeep Kulkarni, Livspace Homeowner
2BHK in Mumbai design feature #3: Alice in Wonderland
We are crushing on the Victorian and vintage master bedroom at Neminath Luxeria. This room is the brainchild of Nikita since she loves all things classic. The couple picked vintage floral prints for the wallpaper and Amar replicated the same on the chair upholstery as well. We particularly love the subtle curves on the furniture, especially the side table and the study corner.
Do not miss the plush button-tufted headboard that matches perfectly with the theme of the bedroom. The couple also wanted storage in their room, hence Amar gave them this amazing chest of drawers and full-height sliding door wardrobes with an arched mirror shutter.
Also Read: 15 Best Bedroom Designs
2BHK in Mumbai design feature #4: Fresh & young feel
What do we say about this dreamy kid's room? The little girl at home loves pink and her bedroom had to be doused in her favourite colour. Amar has used different shades of pink on the headboard and the study table. The study table has been customised according to the needs of the child. This room is also filled with storage in terms of a huge sliding door wardrobe and lofts. Also, do not miss the cute butterfly handles that add an amazing detail to the design of this room.
Loved reading this? If you're looking for more design inspiration, take a look at this: Chic & Classy Victorian-styled 3BHK.
How can Livspace help you?
Our team of seasoned and creative designers is ready to collaborate with you to bring your vision to life. Whether you aspire to replicate the exact ambience of this Livspace Home or desire a bespoke design tailored to your preferences, Livspace has you covered.
Our comprehensive range of services includes personalized design consultations, lifelike 3D rendering to visualize your dream home, efficient project management, and seamless installation. We understand the importance of every detail in creating a home that truly reflects your style and personality.
Explore our online store on the Livspace platform to discover the perfect home decor pieces that will complement your unique taste and enhance the beauty of your space. Your journey to a beautifully designed home starts here at Livspace, where we turn your aspirations into reality.