As Indians, we have an affliation for everything bold and vibrant — be it our festivals or our home decor. But, over the years, the signature Indian love for all things bright and over the top has noticeably changed. The globetrotting Indian has been increasingly influenced by global trends. With this has come the rise in the popularity of minimalism. As such, we find many Indian apartments that follow the minimal design style. But let's accept one thing straight off the bat — we can never entirely let go of our desi roots! Which is why we believe in the Indian minimal design style — a minimal style customised to suit Indian sensibilities.
So, how does one go about designing an Indian minimal home? This simple home interior design from Mumbai has some tips that you must bookmark!
Mansi's 3BHK in Mumbai is a visual treat for the eyes. It may have an all-white minimal theme, but the design also pays tribute to some things Indian. Here are 5 tips from her home design that will help you get an Indian minimal look.
#1: Clutter-free Design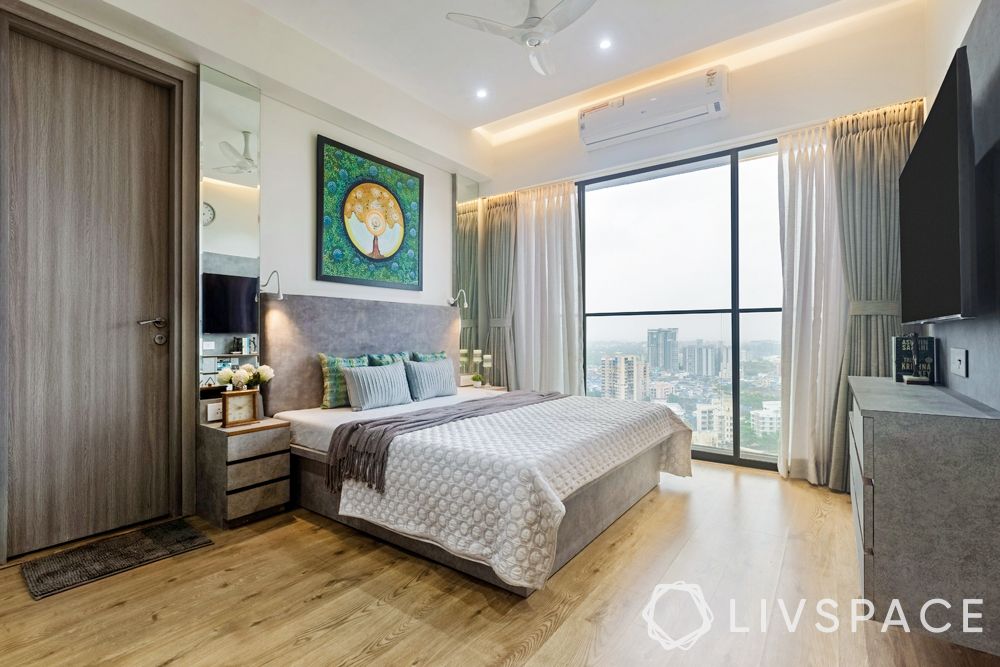 If you are looking for Indian minimal home interior design ideas, keep this advice in mind — avoid clutter. Clutter is the nemesis of minimalism! Traditionally, Indian homes were filled to the brim with memorabilia and curios passed down through generations. But a clutter-free design is one of the key principles of Indian minimal design and Mansi's 3BHK pays homage to this. Our designer, Kanchi Khetan, stuck to the basics in each room. Additionally, she chose floating furniture and multifunctional units wherever possible to avoid a cluttered look.
#2: Neutral Colours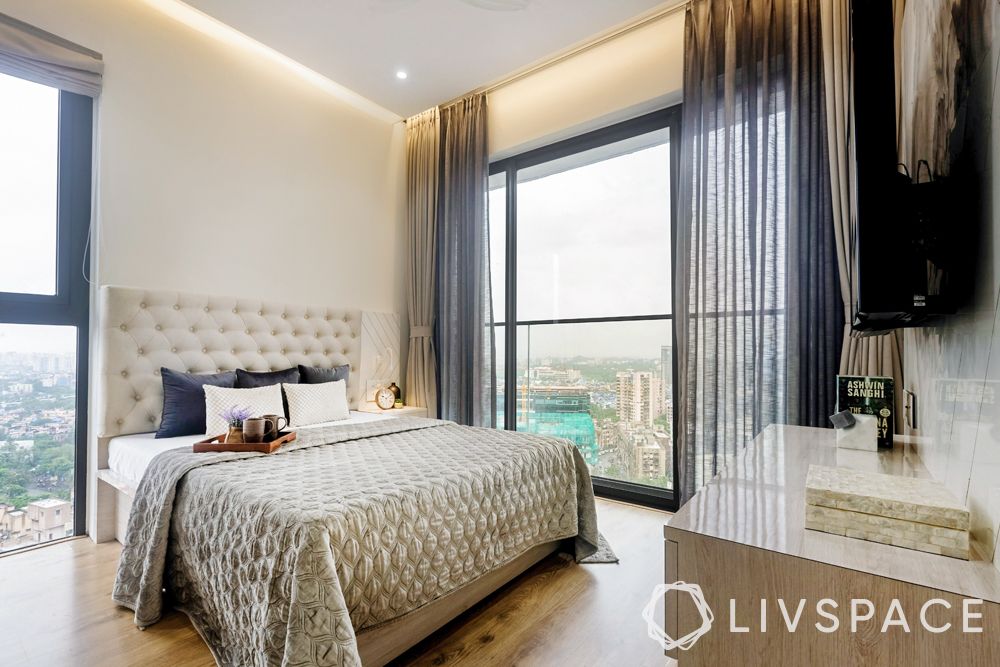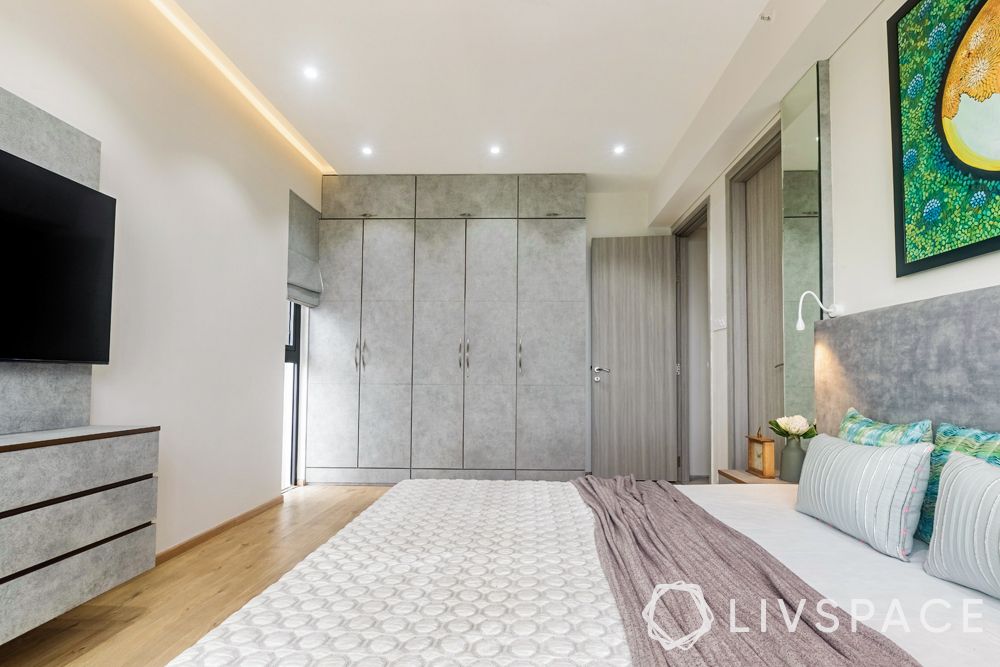 We know what you're thinking — where is the room for a variety of vivid hues in the minimal aesthetic? Fortunately, you need not worry about having to do away with a multitude of colours in Indian minimalism! You can use colours, but be sure to do so within limits. This simple home interior design features only three colours throughout the home — white, grey and beige. To add some drama (another thing Indians simply must have in their homes), Kanchi added subtle wall mouldings and spotlights. What's more, the bedroom has a bright green painting to add a pop of colour.
#3: Simple Indian Accents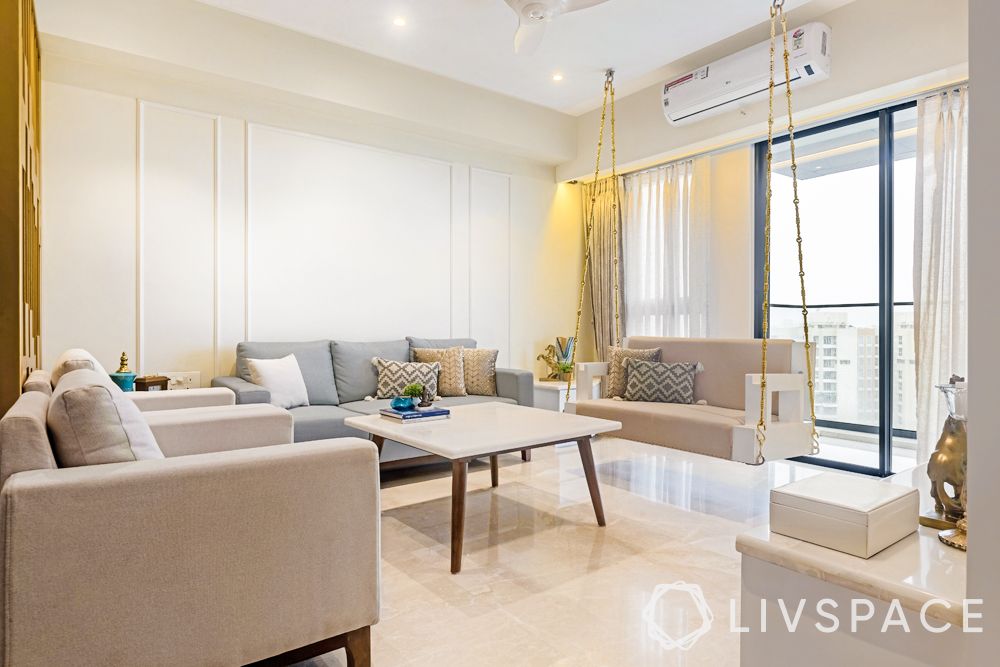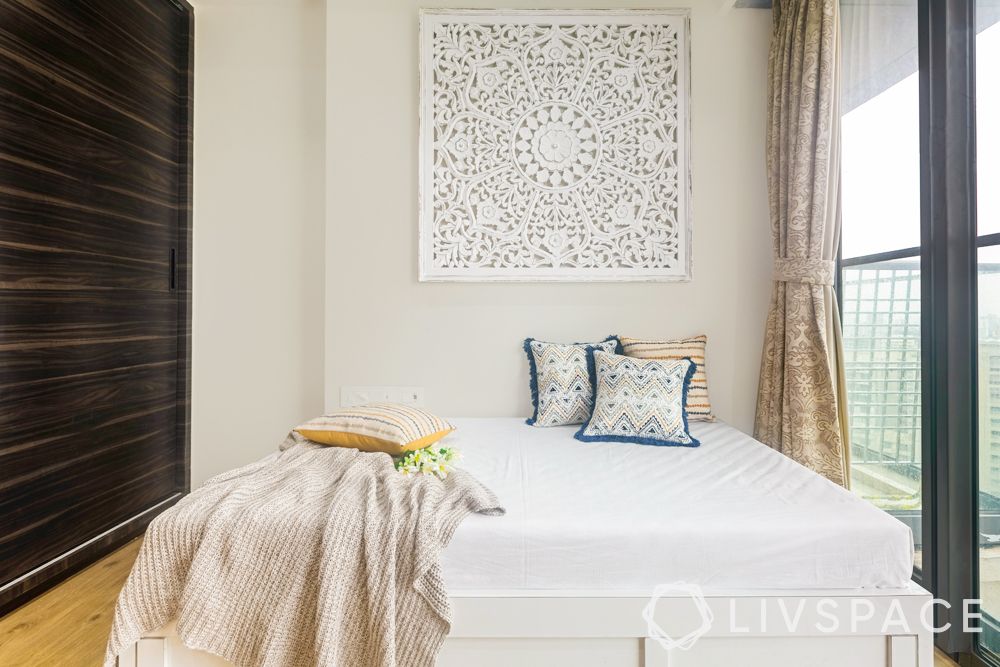 What's Indian minimalism without some desi tadka? While adding Indian decor elements, though, you need to be careful as it's very easy to go over the top! The trick here is to select subtle accent pieces for each room. When Mansi was looking for home interior design ideas, she wanted some elements that would reflect her family's traditional roots. Thus, the addition of the turnaround jhoola in the living room, a quintessential part of Indian decor. The jaali wall art in the bedroom also adds a desi yet minimal touch.
#4: Smart Storage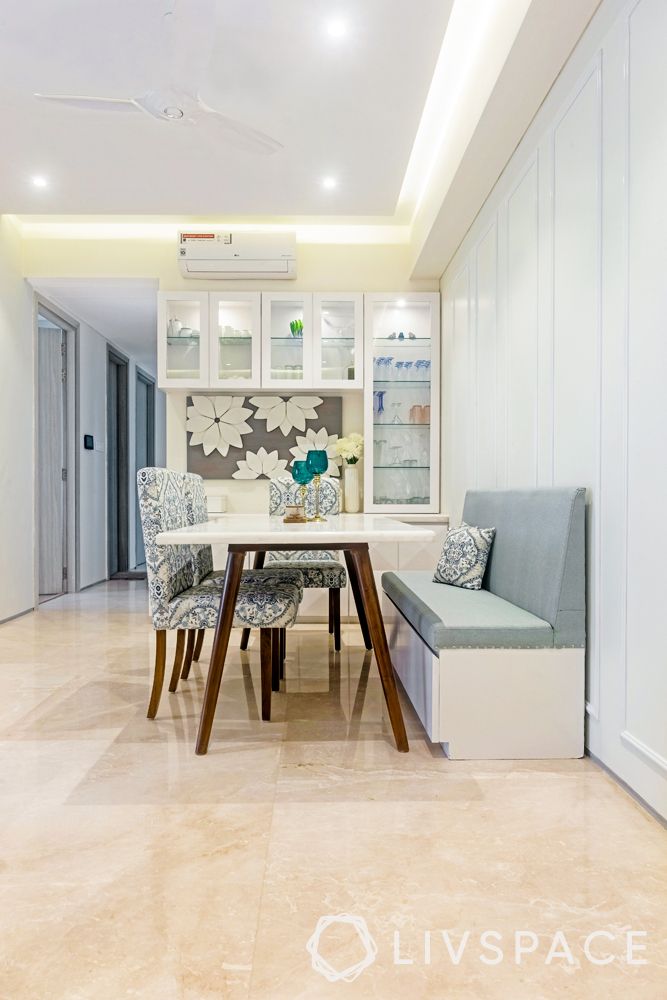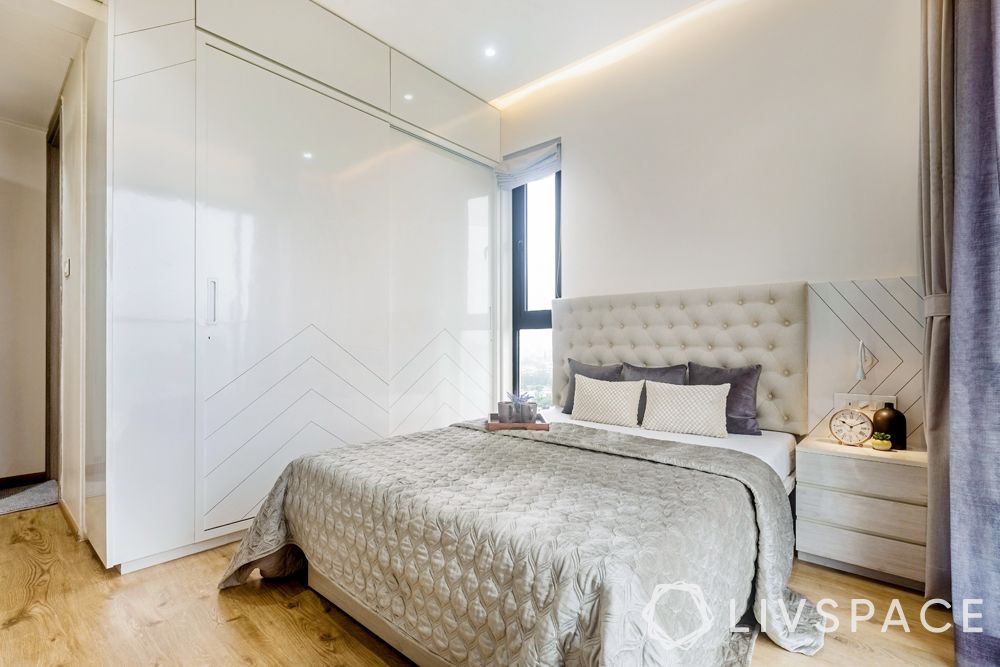 Indians are traditionally inclined to need more storage, even if that goes against the tenets of minimalism. So, to have an Indian minimal home, you need to get smart with storage. When we say smart, we mean getting a simple home interior design that allows for multifunctional units and makes use of vertical space. Mansi's home was quite spacious so Kanchi did not face any difficulties in adding extra hidden storage. From the crockery-cum-storage-unit to the sofa that comes with hidden storage underneath, Kanchi has made the most of the available space! And don't miss the lofts above the wardrobes!
#5: Simple and Sleek Forms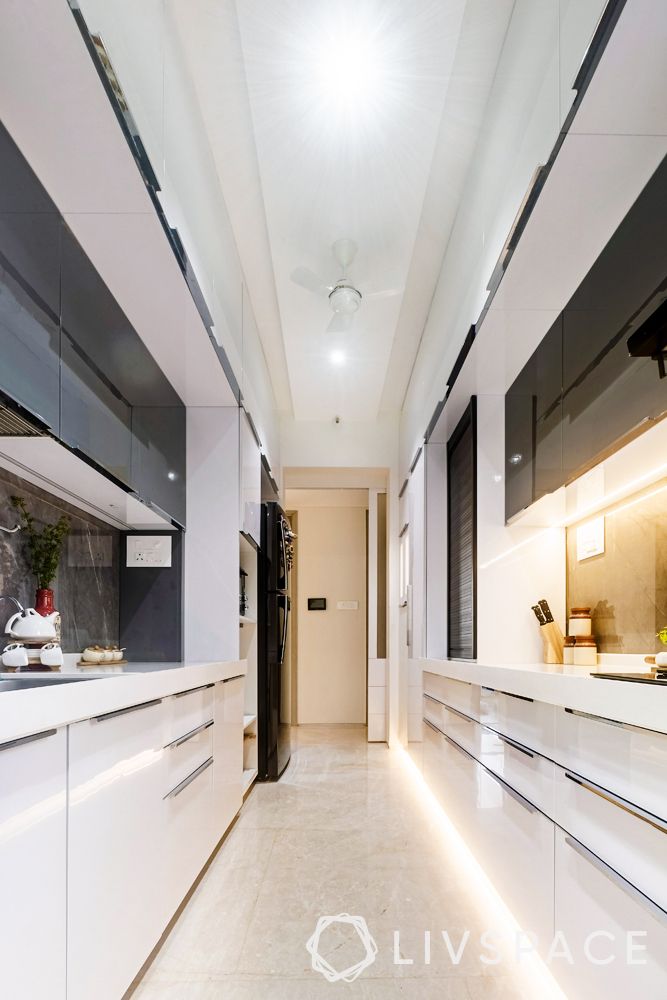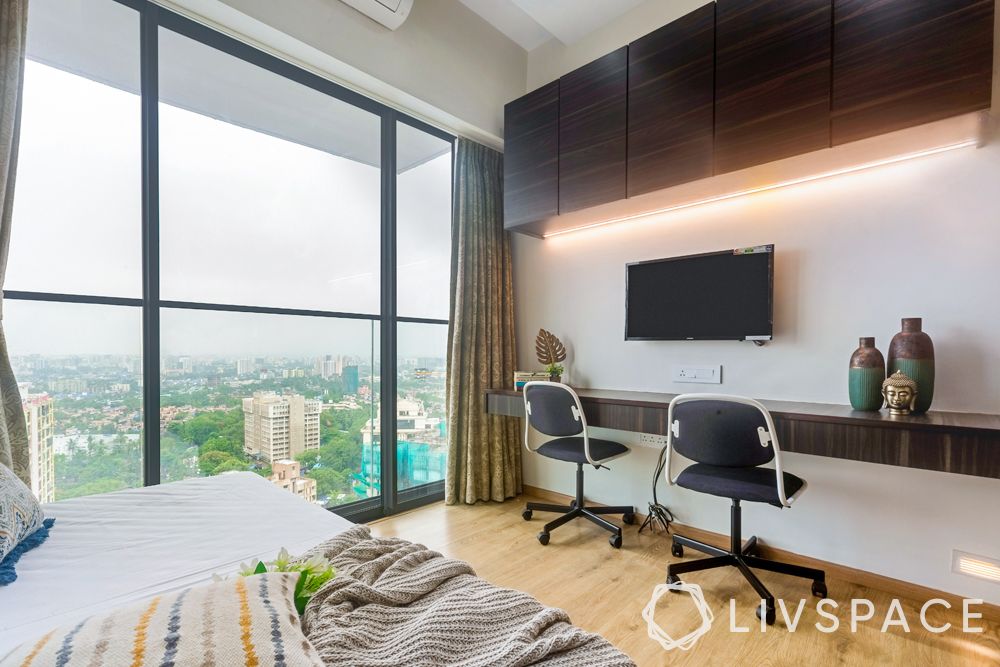 If you visit any old Indian home, you would find grand-looking but bulky furniture pieces. While these looked stunning in the massive bungalows of the good old days, they are no longer convenient in our compact, modern apartments. Instead, simple, sleek forms are the go-to style, as seen in this simple home interior design. The kitchen too comes with sleek cabinets, which is a perfect option when space is scarce.
The simple home interior design of Mansi's flat is a lesson on how to get the Indian minimal look right in our modern apartments. If you liked this Mumbai 3BHK, find out how to make a small Mumbai home look spacious.
How Can Livspace Help You?
We hope you found our ideas useful! If you want your home to be just as beautiful, then look no further. Book an online consultation with Livspace today. Delivering safe home interiors has been our No. 1 priority. Click here to find out how interiors are being delivered following all safety protocols.
Let us know what you think in the comments or send us an email at editor@livspace.com.