Storage is always a hassle in compact homes. First of all, it is hard to fit in storage units in small house design plans. And even if you manage to do it, the units consume the floor space and you end up with a cramped looking home. But, your perspective will change when you see Pawan and Neha Jaggi's 700 sq. ft. Mumbai home. The Livspace team made this compact 2BHK not only functional and practical with many storage units but also aesthetically rich, saving a lot of space.
Storage is essential, and if you think it is hard to get it in a small house, a look at the Jaggis' compact 2BHK will change your mind. Oh, and forget not to save these ideas as they are mighty useful.
PS: Don't miss the additional deets on how this small home is made to look big
How Do You Maximise Storage in a Small Home?
#1: Get an All-Purpose Entertainment Unit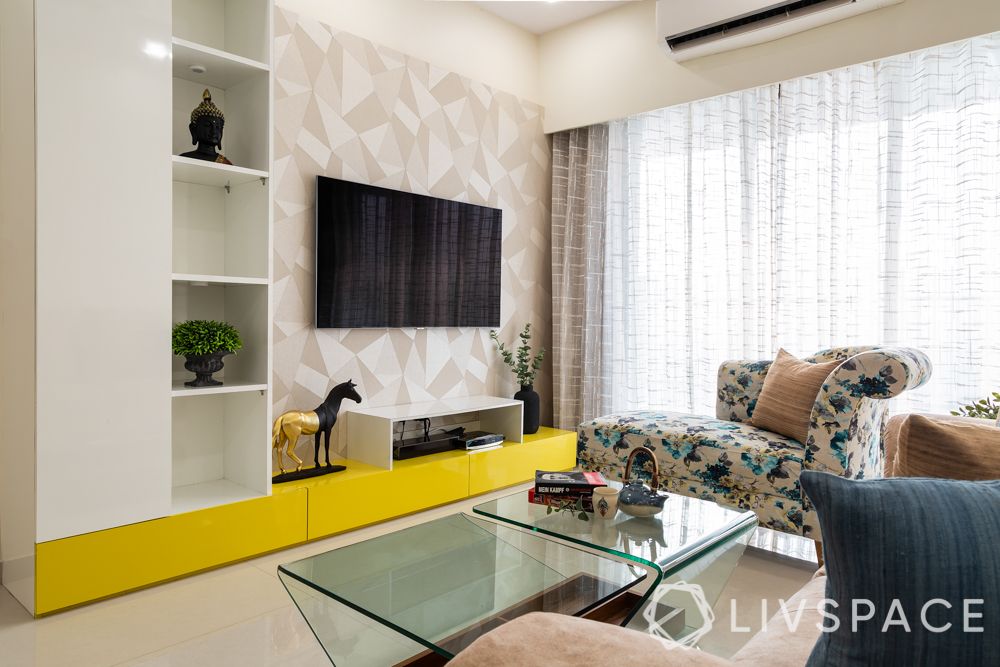 From the wall treatments to the plush seating, everything about this living room is sophisticated. However, our point of interest in this room is the entertainment unit. It is tall and has several open and closed cabinets. The tall unit utilises the vertical space; therefore, the floor space is not eaten up, and the room doesn't look too busy. It also elongates our field of view, creating an illusion of space.
#2: Choose a Tall Crockery Unit That Doesn't Consume Floor Space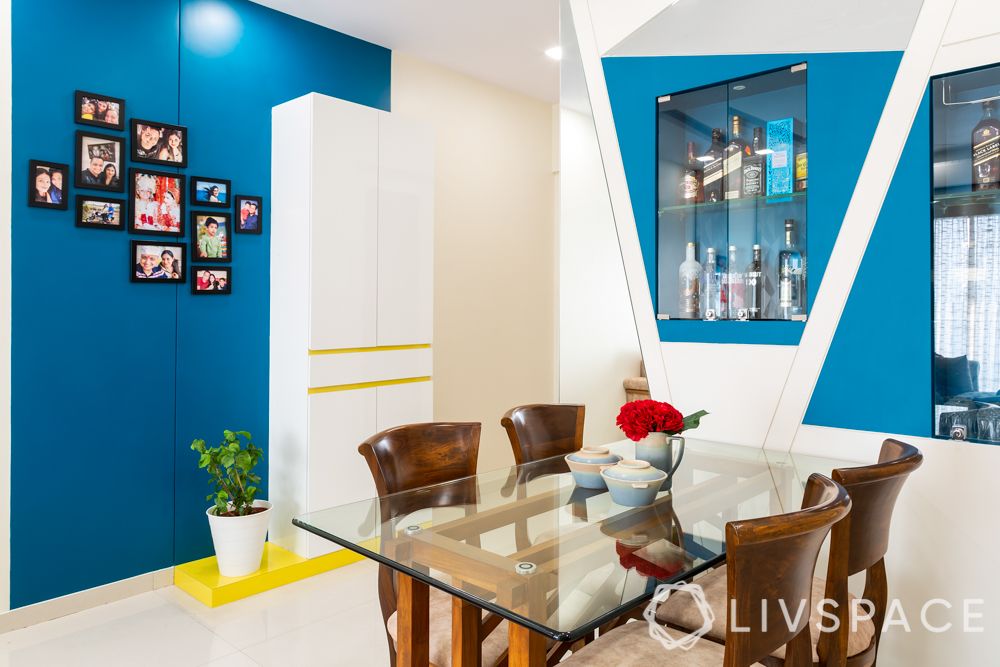 For small house design plans, tall units are your best friends. Like in the living room, a tall unit in the dining area is very useful for storing crockery. It is placed strategically between the dining area and kitchen for easy access. This sleek unit not only provides storage but also is the element of continuity. See the matching pops of blue?
#3: Put Those Empty Walls to Use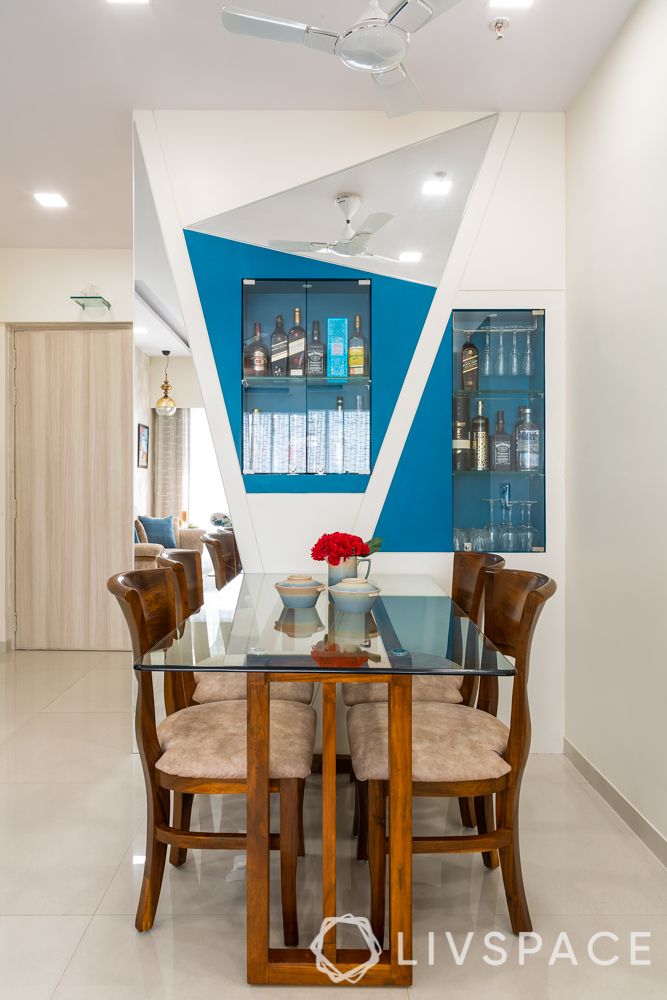 The dining area has another interesting storage option: the bar-cum-crockery unit. The whole wall is put to use for this customised floor-to-ceiling module. A combination of materials— mirrors, glass, and laminates— is also used for the shutters for a vivid appearance. Moreover, the mirrors and glass creates an illusion of space and opens the area up.
This is our most favourite idea as it emphasises that storage units don't always have to be closed and plain-looking. An addition of fun or quirk can always add life to the space.
#4: A Desi Kitchen isn't Complete Without Lofts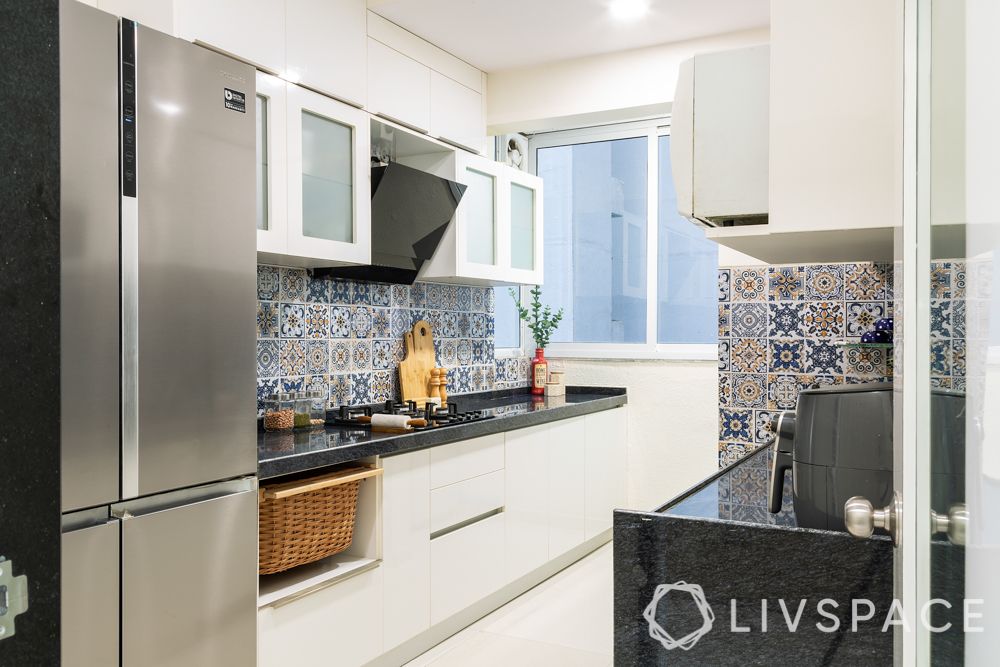 Storage was a priority in this compact parallel kitchen. The Livspace team met this requirement by giving this family of three several overhead cabinets and base units with modular storage accessories.
Another important storage option in this kitchen is the lofts. Lofts are undeniably vital in a desi home, especially in the kitchen, and the Jaggis knew this very well. Using the dead space right under the ceiling, lofts can accommodate bigger and infrequently used things. Hence, this choice of storage must be a part of your small house design plans.
#5: In the Bedroom, Opt for Floor-to-Ceiling Wardrobes and Integrated Furniture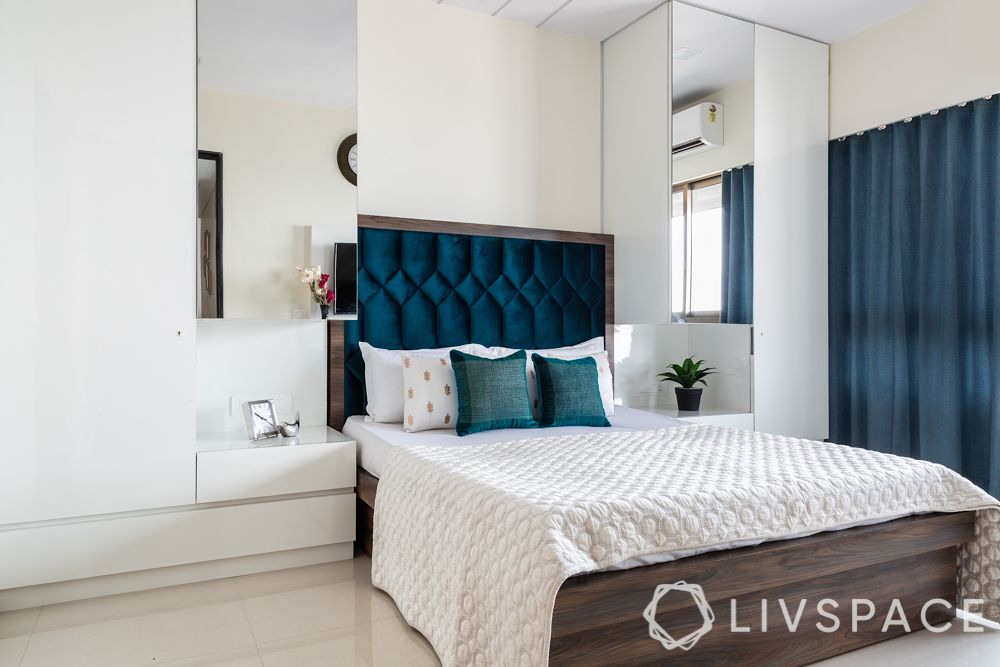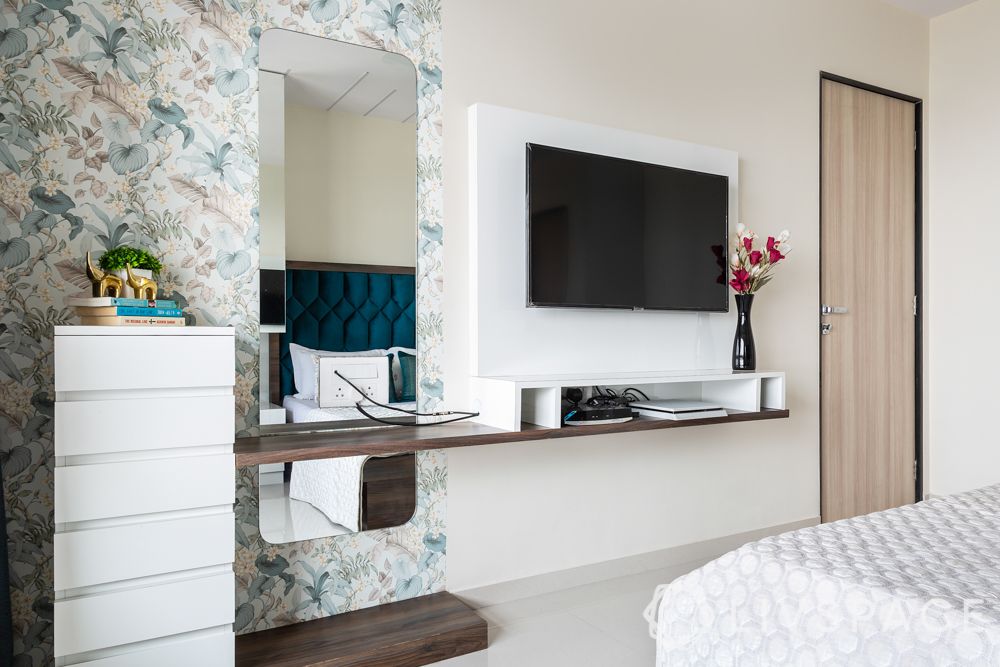 One of our favourite spaces in the Jaggis' home is the bedroom for its refined look. The space on either side of the bed is smartly used to fit floor-to-ceiling wardrobes. This idea works very well as the white wardrobes blend seamlessly with the white walls and stay in the same line as the bed without consuming other areas of the room. Also, don't miss the night stand that's integrated with the wardrobes.
Opposite to the bed is the TV-cum-dresser unit. This sleek and slim unit contains a chest of drawers for storage and also space for display. It is pretty and practical in every sense.
#6: Make the Lofts a Design Element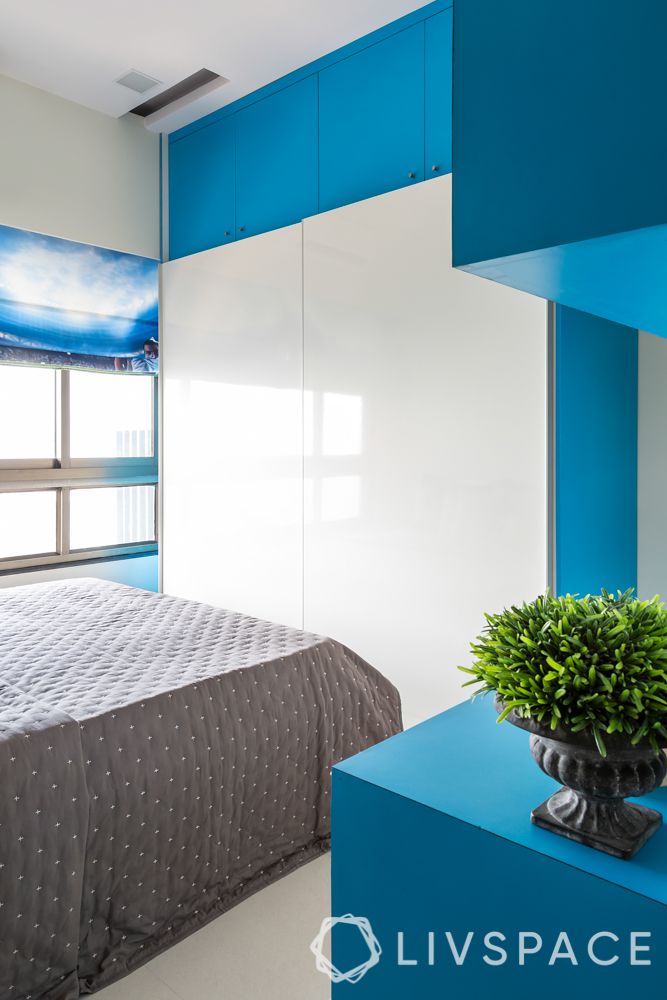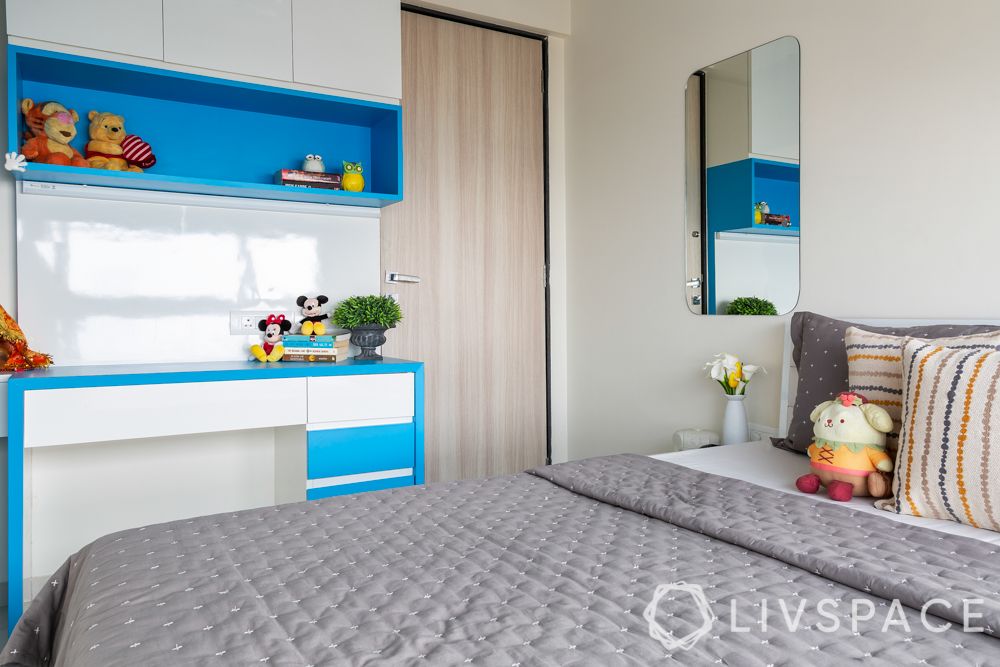 Typically, most designers feel that lofts make a room look stuffy because they are just so big and boxy. However, in the kid's room in this Mumbai 2BHK, the lofts are a design element. With the pop of blue, they serve as a colour block and also as a feature of design continuity.
Smaller in dimension than the master bedroom, this room has a wardrobe with sliding doors to save floor space. This bedroom also adorns a sleek study unit with drawers and display shelves.
Why Doesn't This Furniture-Heavy Compact Home Look Cramped?
#1: Mirrors are Placed Throughout the House
Mirrors are placed in the dining area and bedrooms. As they create an illusion of space, this compact home doesn't look congested even with so many pieces of furniture.
#2: Choosing Reflective Glossy Finish for Furniture
Like mirrors, even reflective finishes are ideal for expanding a compact space as they bounce off light. For this reason, most of the furniture in the Jaggis' home has high gloss laminate finish.
#3: The Vertical Space is Not Forgotten
With tall, floor-to-ceiling units, and lofts, the vertical space is taken advantage of in this compact home. Efficient use of the vertical space not only accommodates more storage units but also opens up small spaces.
#4: Employing a Neutral Colour Palette
Choosing neutral shades such as whites, greys and tans is highly recommended for compact spaces. Here, the Jaggis' home is predominantly covered in white, while other colours like blue, yellow etc., are added as pops for aesthetic purposes. This method has worked in favour of expanding the home.
#5: Use of Glass-Top Furniture
The coffee table in the living area and the dining table in the dining area have glass-tops. But, how do they expand space? It is simple. The space doesn't look cluttered with the visibility of the floor. So, consider glass-tops if you are shopping for furniture for small house design plans.
For more space-expansion tricks, read: Expand Your Small Living Room With These 8 Expert Ideas.
How Can Livspace Help You?
Like how the Jaggis made their home storage-intensive and space optimised? If yes and you want to apply something similar to your home, then Livspace is your go-to expert. Book a consultation with our talented designers and let them work their magic on your home. With safety as our top priority, we deliver quality interiors to our clients.
Visit us at the Livspace experience centre in Mumbai to get your dream home designed.
And before you finalise your small home design plans, know 5 Simple Things to Keep in Mind While Designing a Small House.
Send in your comments and suggestions to editor@livspace.com