The battle for space is never-ending in compact homes. The living rooms, especially, are expected to have all the essentials and yet look spacious. The inherent problem with compact spaces is that it allows little room for experimentation. But we, at Livspace, like to say that space constraints spark creativity and lead to better interiors. Ever heard the saying, necessity is the mother of all invention? It holds true when it comes to small spaces, in particular. We have collated some living room ideas from Livspace homes that actually work when it comes to opening up a cramped area.
Also, in the spirit of 'expanding' small spaces, we have included tips for other rooms too. Let's see how to magically expand space by being design-savvy.
Compact Living Room Ideas That Can Help Expand Space
#1: Use Furniture That Makes the Room Appear Bigger
We all stick to the smaller the space, the lesser the furniture mantra. Yes, it is a wise rule to practice. However, it might be hard to follow as the living room is a space for gatherings and requires a lot more than a chair and a table. So, let us introduce you to the various types of furniture perfect for compact living rooms.
Floating Furniture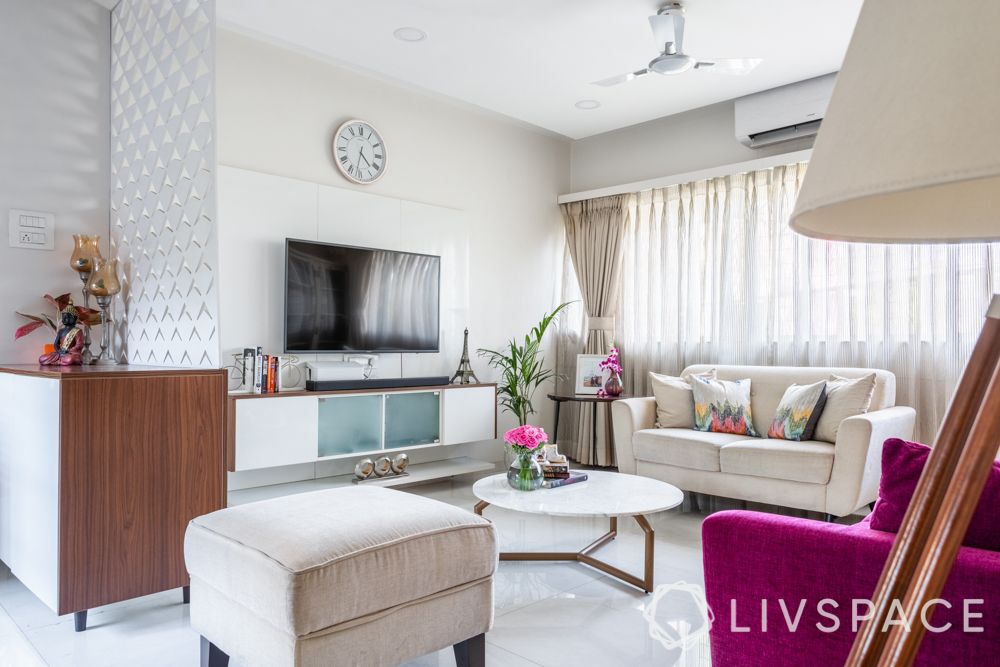 Floating furniture is basically furniture that's wall-mounted. The most popular ones in this category are TV units. You can easily replace the bulky entertainment units by installing a floating TV unit. It is neat, functional and saves a lot of floor space.
Multi-functional Furniture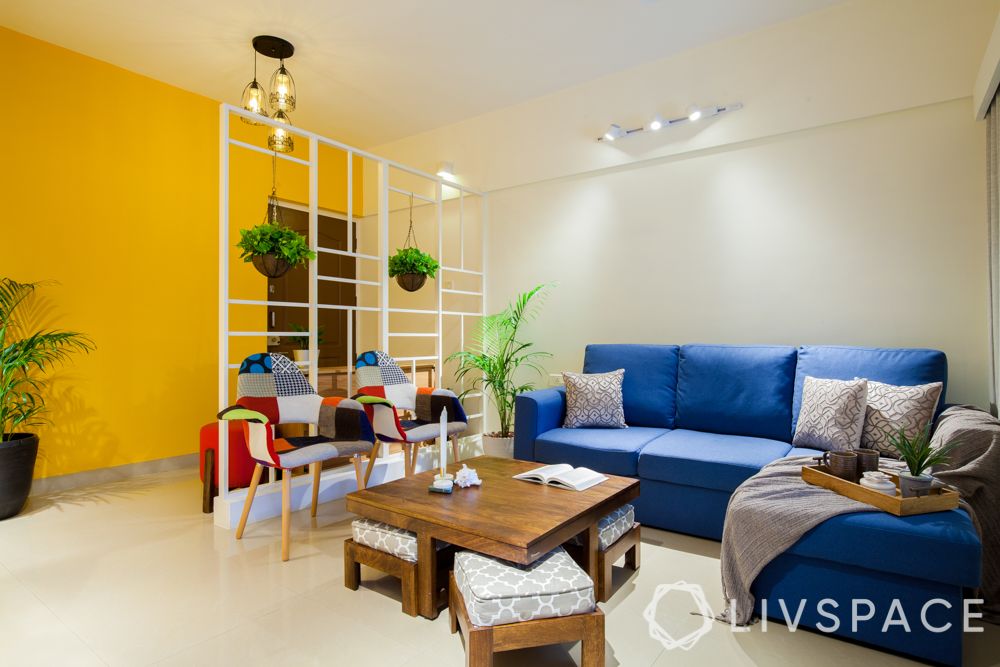 Multi-functional furniture, as the name suggests, has more than one purpose. Take a look at the coffee table in this living room. With four nested stools, it doubles up as a Japanese-style dining table. A creative idea when you don't have a lot of room, isn't it?
Lightweight Furniture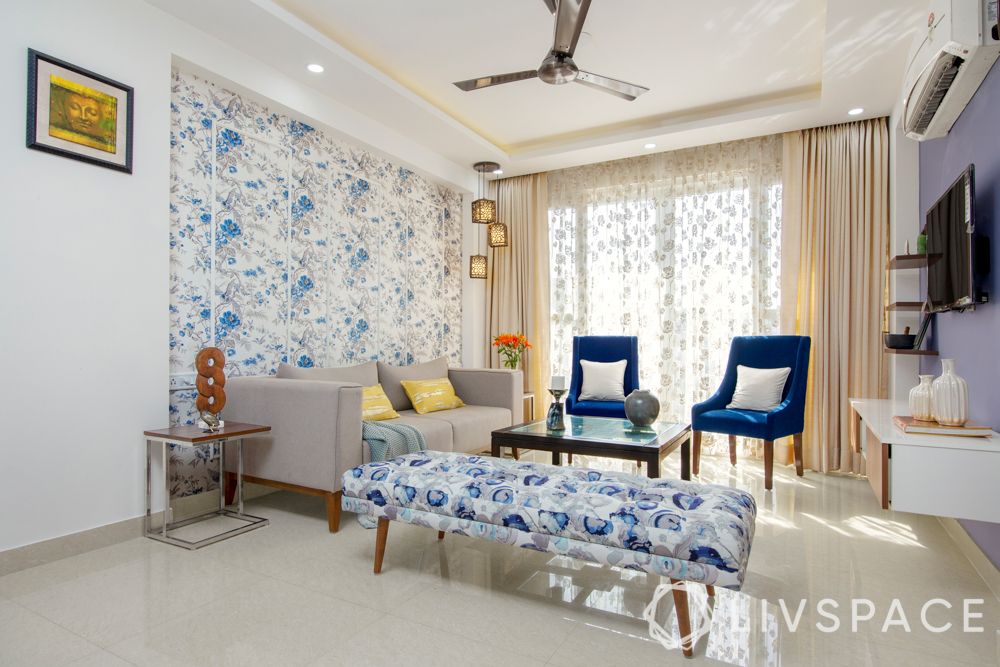 To make your living room feel a little less congested, opt for furniture with glass tops, slender legs, or that are see-through. These types of furniture make the floor visible and the room less busy.
#2: Follow a Neutral Colour Palette
Paint can be used to create an illusion. Selecting the right colour scheme is the best bet when it comes to opening up compact spaces. A neutral colour palette comprising greys, tans, browns, beiges etc., paired with whites is what the doctor prescribes for small living rooms. As light bounces off these neutral shades, using them throughout makes the room appear bright and open.
If you are not a fan of the whites and greys, you can also try muted shades such as sage green, pale blue and peach that have an element of radiance.
#3: Play with Mirrors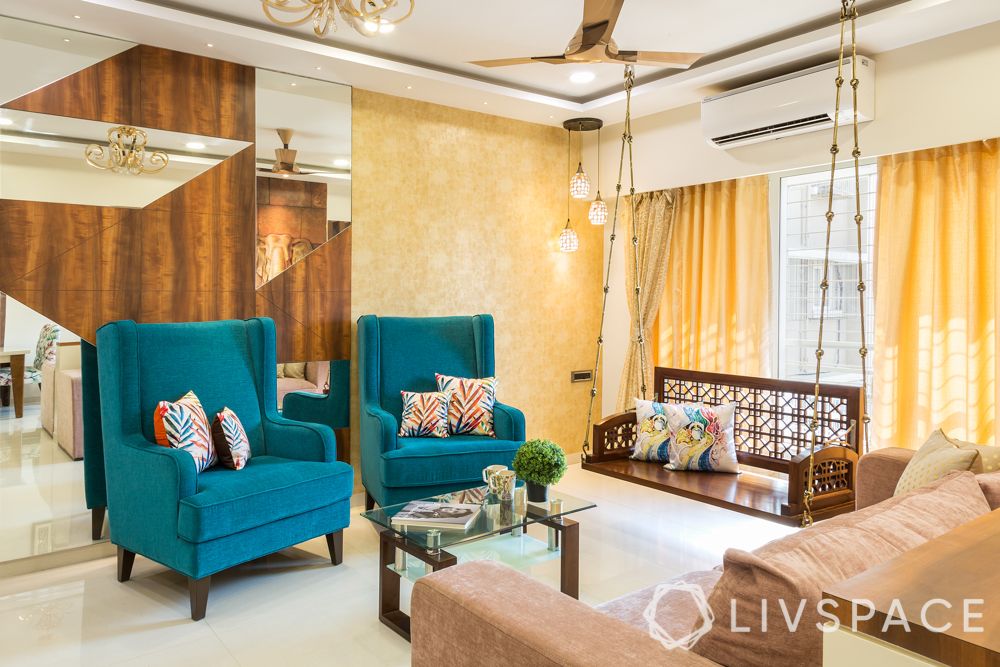 Just like paint, mirrors also create an illusion of space. As mirrors reflect light, placing them in compact spaces make the area appear roomy and well-lit. In this living room, mirrors in combination with wood are placed behind the furniture. Along with making the area bright and spacious, this design adds a dramatic effect for visual interest.
If you are not interested in this kind of flair, you can always go with a simple large mirror panel.
#4: Use Living Room Design Ideas That Highlight Vertical Space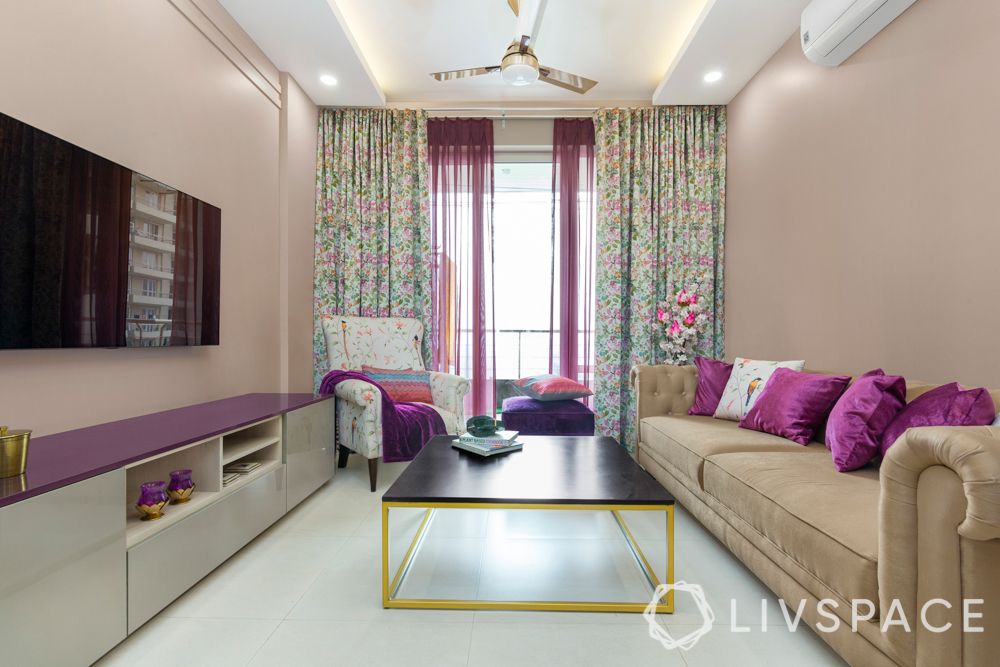 This one is for those small homes with high ceilings. Use the vertical space in such cases to your advantage by decorating it in a way that draws attention upwards, which is away from the horizontal space. Stylish floor-to-ceiling- drapes or curtains work very well here.

Wallpaper and artworks are your other options to spruce up this extra space.
#5: A Large Area Rug Adds More Dimension to Your Room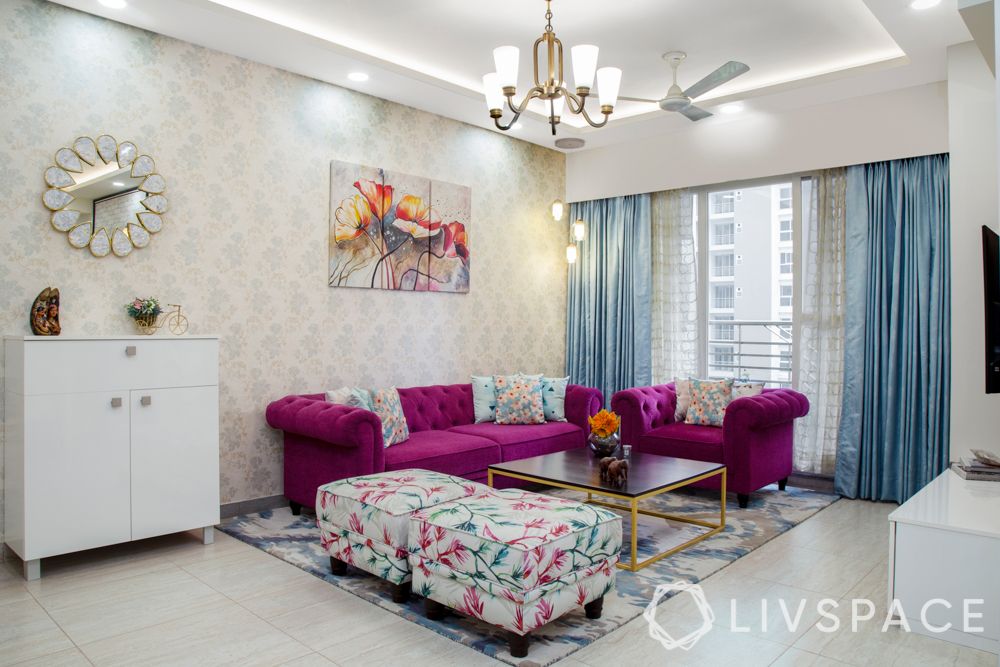 Large area rugs, if placed correctly, add more structure to a compact room. It gives a platform to the furniture, separating them from the rest of the room. So, introduce a stylish rug that's large enough to accommodate all the legs of your furniture.
#6: Use Sheer, Lightweight Curtains to Let in More Light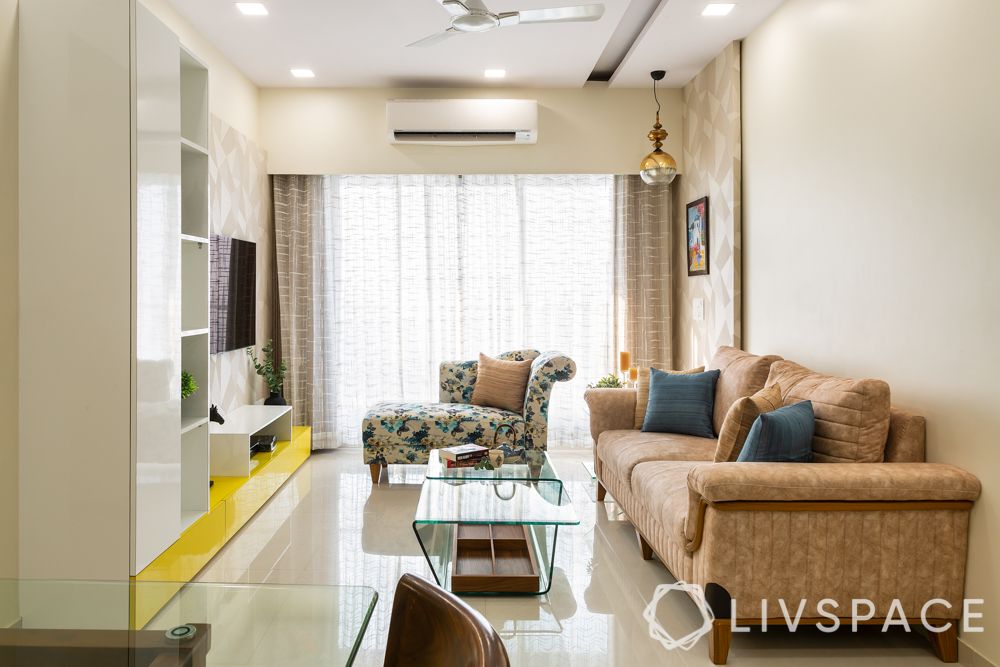 Light is a major factor in opening up compact spaces. Thick, heavy and dark drapes block the light and make the area dingier. Thus, select lightweight, sheer drapes for the room to appear airier and bright. This is one of the living room ideas that's rather easy to execute.
#7: Have a Statement Piece to Focus Attention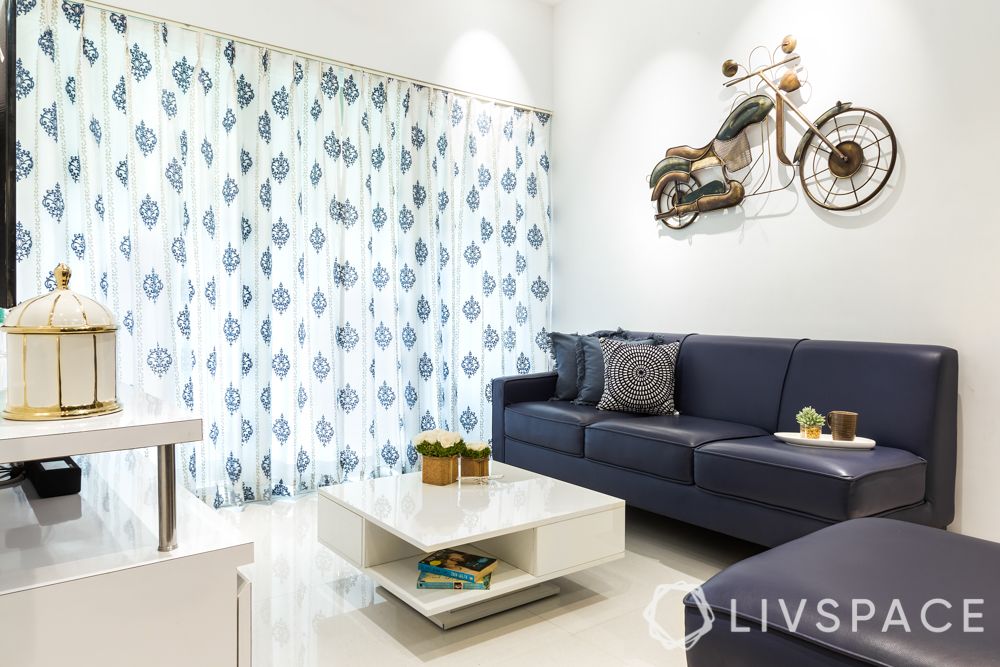 An eye-catching statement piece or artwork always diverts the attention away from the other aspects of the room, like its size. So, choose a grand statement piece to flaunt in your living room. Also, remember to keep the rest of the room clutter-free so that your accent gets the space to shine.
#8: Got Space Near the Window? Add an Extra Seat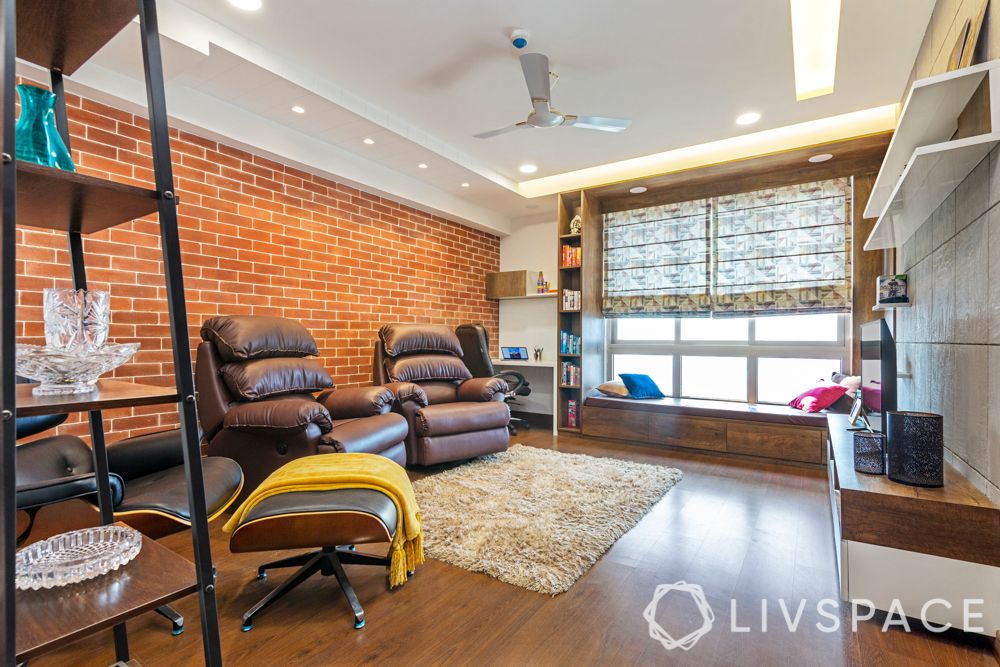 One of the living room ideas that we highly recommend is utilising the space near your large window by installing a window seat. Since seating options are always welcome in a living room, adopting this design can allow for a functional and stylish set-up. Also, you can use the space under the seating for concealed storage.
A Few Room-Wise Space Expansion Tips
#1: How to Expand Space in Your Kitchen?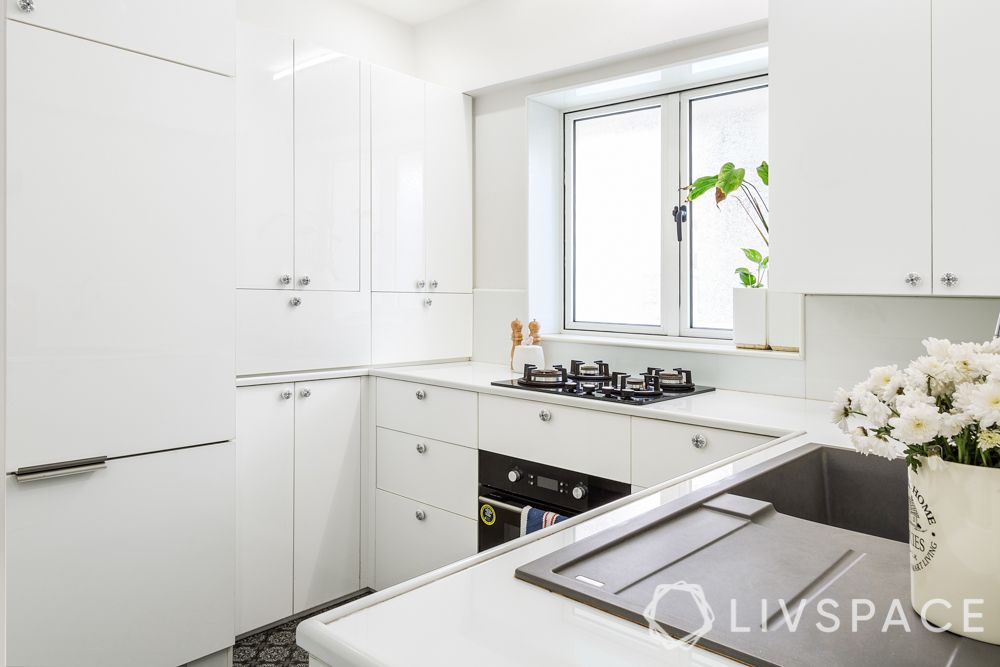 Follow the golden triangle rule to ensure accessibility and enough space in your small kitchen: the hob, refrigerator and sink must be in the form of a triangle
Just like in the living room, go with a neutral colour palette in the kitchen
Choose ceiling-high cabinets/lofts that add height and draw the eyes upwards
Invest in modular storage accessories such as pull-outs, wire baskets etc.
You can find more tips to optimise your small kitchen here: Expert Advice: 9 Clever Tricks to Make Your Small Kitchen Design Look Spacious.

#2: How to Expand the Space in Your Bedroom?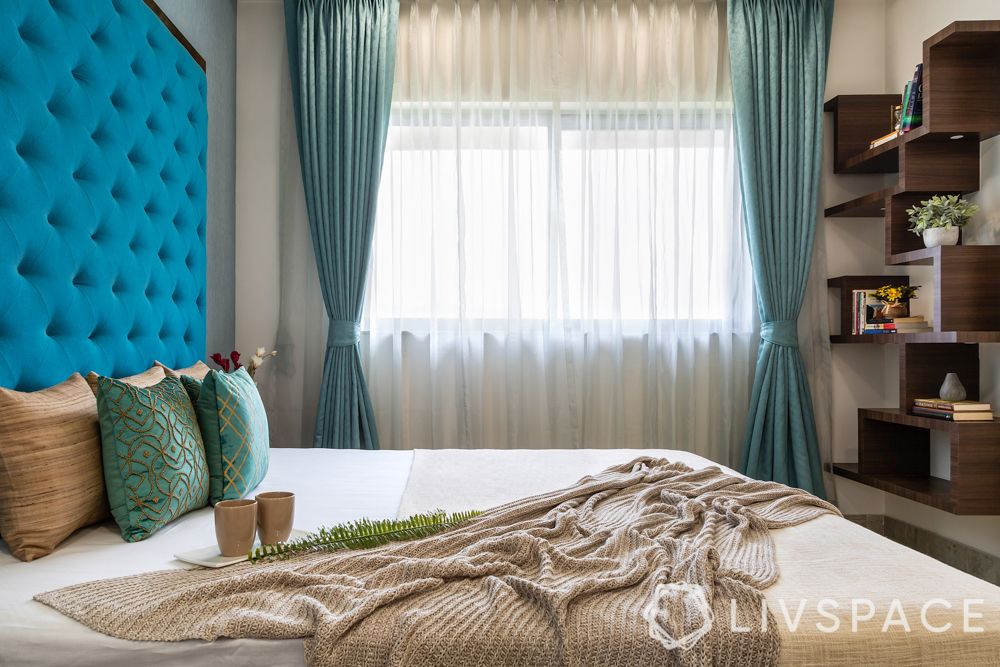 Allow more natural light and do not obstruct the window with heavy drapes
Limit the number of furniture pieces
Opt for furniture that has hidden storage compartments
Have wall-mounted lights, instead of table or floor lamps to free up the space
Here's a complete guide on How to Make a Small Bedroom Pretty and Functional
#3: How to Expand the Space in Your Foyer?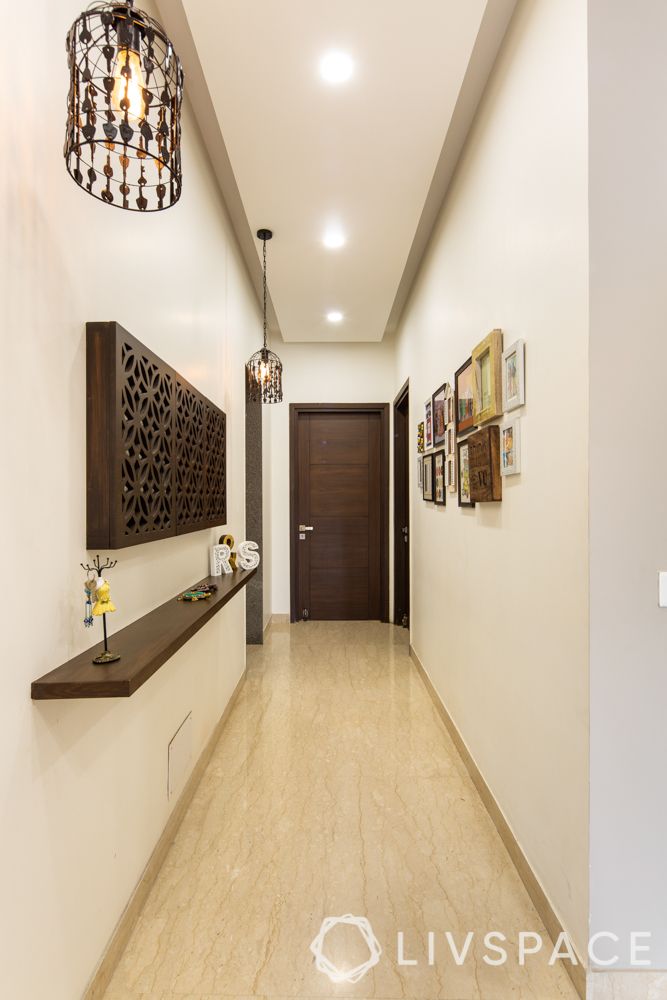 Use the wall space to put up decorative mirrors or artwork
Brighten up the area using lighting fixtures such as pendant lights
If you want extra storage space, consider having a floating console table
Neutrals and pastels work well for cramped foyers
Other than storage, the top console can also be used for display. Check out 5 Other Ways to Make Your Entryway Useful.
#4: How to Expand the Space in Your Pooja Room?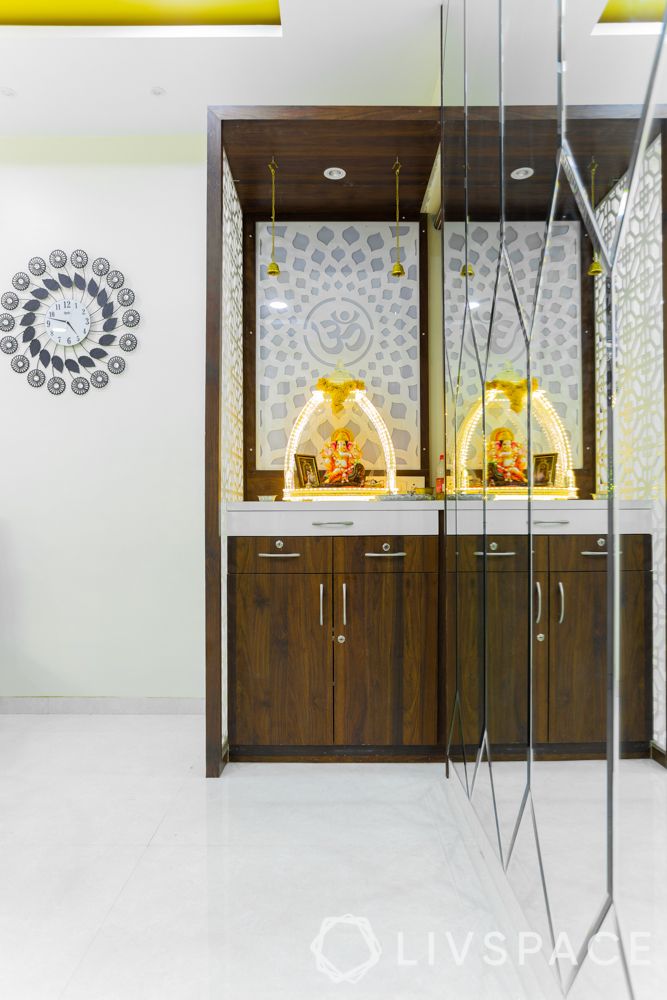 If you don't have a dedicated space for a pooja room, you can turn a nook or corner into one
Opt for a compact metal shelf and install it in a corner
You can also turn dead space like a wall niche into a pooja room with wall-mounted shelves and bright paint
Use tall wooden units, like the one in the image, if you want to lay emphasis on the mandir This pooja room also looks a bit spacious because of the mirrors installed on the wall beside.
Here are some more Space-Saving Ideas to Set Up Your Pooja Room
#5: How to Expand the Space in Your Study?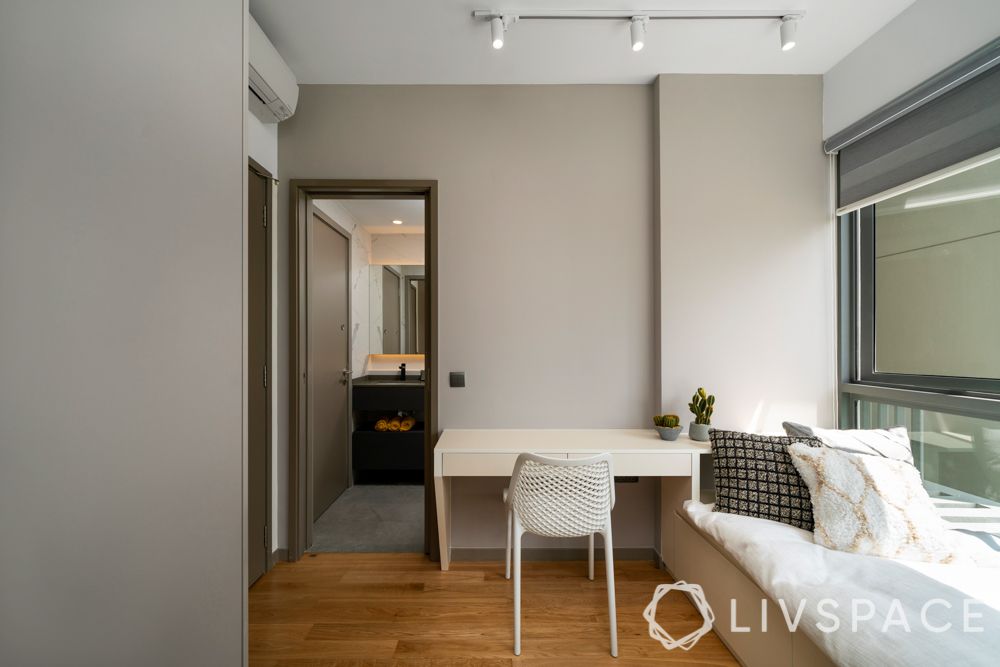 Consider a foldable wall table to avoid clutter and save space. Since desi homes rarely have a dedicated study room, integrate a study table with another piece of furniture such as a bed or wardrobe. You can also turn a narrow dead space into a functional work area by adding a table and a few wall shelves.
For storage, you can pick wall-mounted shelves and cabinets to use the vertical space effectively
How Can Livspace Help You?
We hope you found our ideas useful! If you want your home to be just as beautiful, then look no further. Book an online consultation with Livspace today. Delivering safe home interiors has been our No. 1 priority. Click here to find out how interiors are being delivered following all safety protocols.
For more living room ideas, don't miss: Want a Gorgeous Living Room? Pick from these 12 Iconic Styles!
Send in your comments and suggestions.