Minimalism, in a nutshell, is about simplicity. The core principle of minimalism is decluttering for the purpose of sustainability, and cleaner spaces. The design philosophy greatly leans towards the idea "less is more." There is a reason why the design style is so popular in urban homes. It's not just visually pleasing, but also emotionally calming and spatially efficient. If you're looking for some minimalist inspired designs for your home, we've got you. Below are some simple living room ideas that you can take inspiration from, to make your space as clutter-free and chic as possible.
#1: What looks like wood but feels like leather?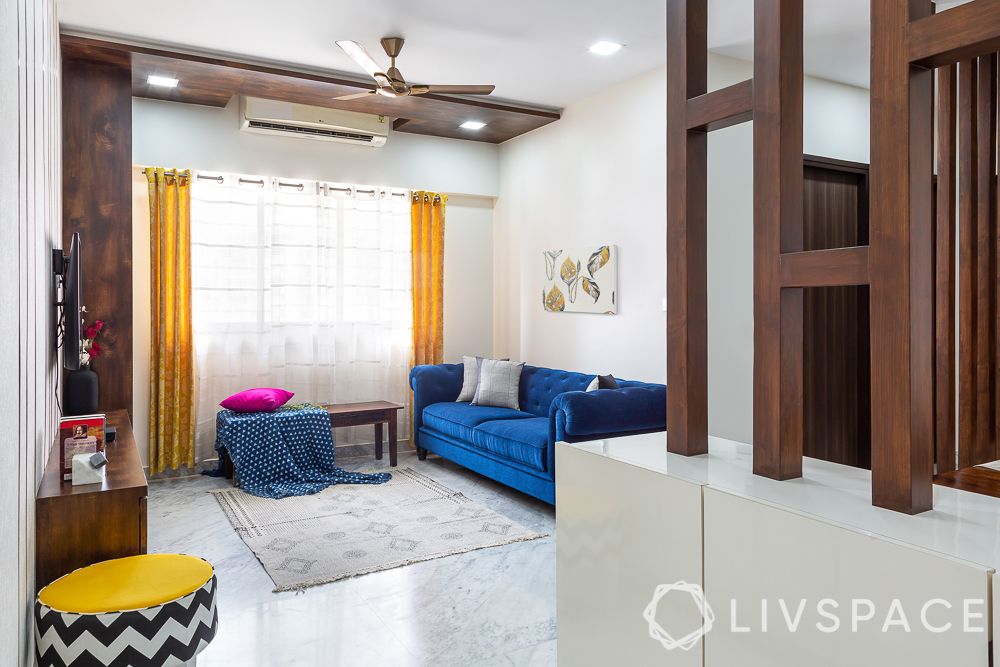 Let's start off with a simple living room idea that can imitate the wooden warmth seen in minimalist homes in Europe. However, India is already a hot country. Additionally, solid wood may not fit into everyone's budget. The solution? Veneer finished on engineered wood! Veneer has the classic look of dark wood (minus the veins) and feels seamless like leather! It's the perfect choice for a minimal home in India. .
ALSO READ: 9 Best-kept Secrets to Designing the Perfect Minimal Home
#2: Can bare be beautiful?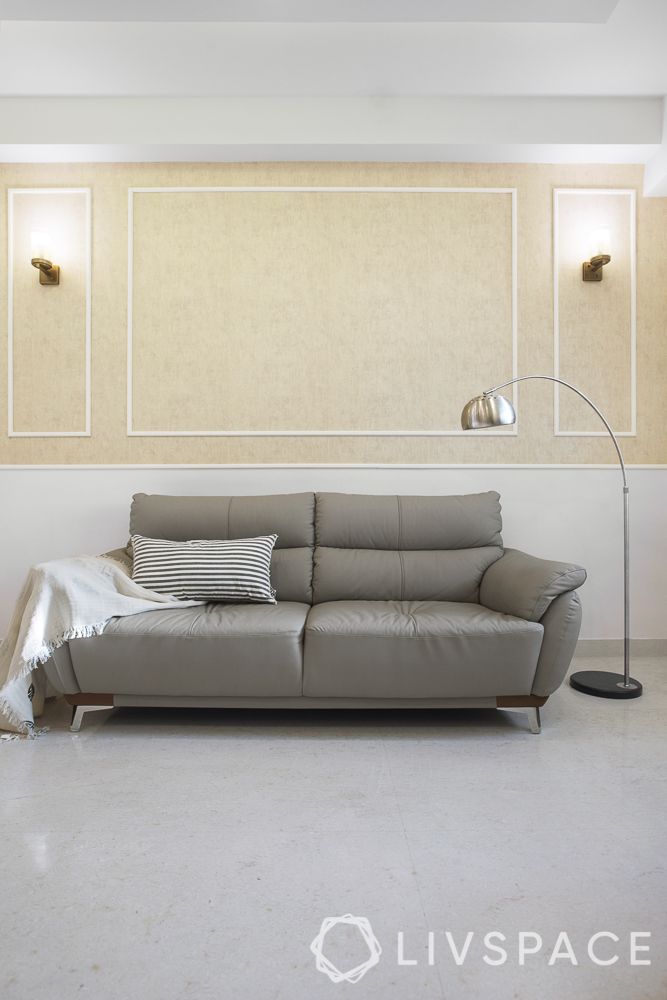 Bare walls can also be paired up with simple furniture that complements its tone. A simple living room idea is to use darker colours when picking furniture, to create contrast with the walls. Additionally, get your couch, a throw blanket and some cushions to add some accents to your living room. Minimal interiors often make use of neutral tones or colours when styling. The moody charcoal grey of the couch perfectly complements the grey carpet along with the beige walls behind. You can also mix and match with patterns. For instance, the arched metallic floor lamp next to the fuller couch adds some contrasting patterns and dimensions to the room.
#3: How to create warmth in Indian Living Rooms?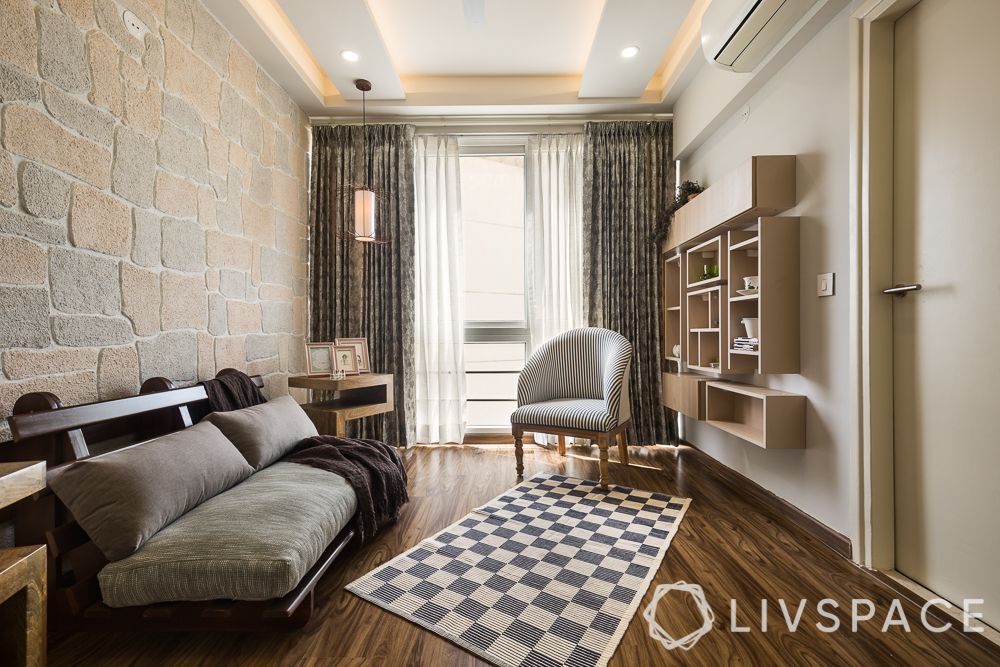 At the core of the most simple living room design ideas is the ability to mix and match elements. Minimal living rooms can be created by using furniture and just wooden flooring. The wooden flooring adds warmth to the room when paired with some minimalist furniture. Take for example the white chair in the corner of the room that directly creates a contrast with the flooring as well as the checkered rug beneath it. The low-height couch against one wall and the angular shelves on the opposite wall create depth leaving the central space clutter-free. All this put together makes this a simple and minimal living room design.
#4: Does free floor space make a room look bigger?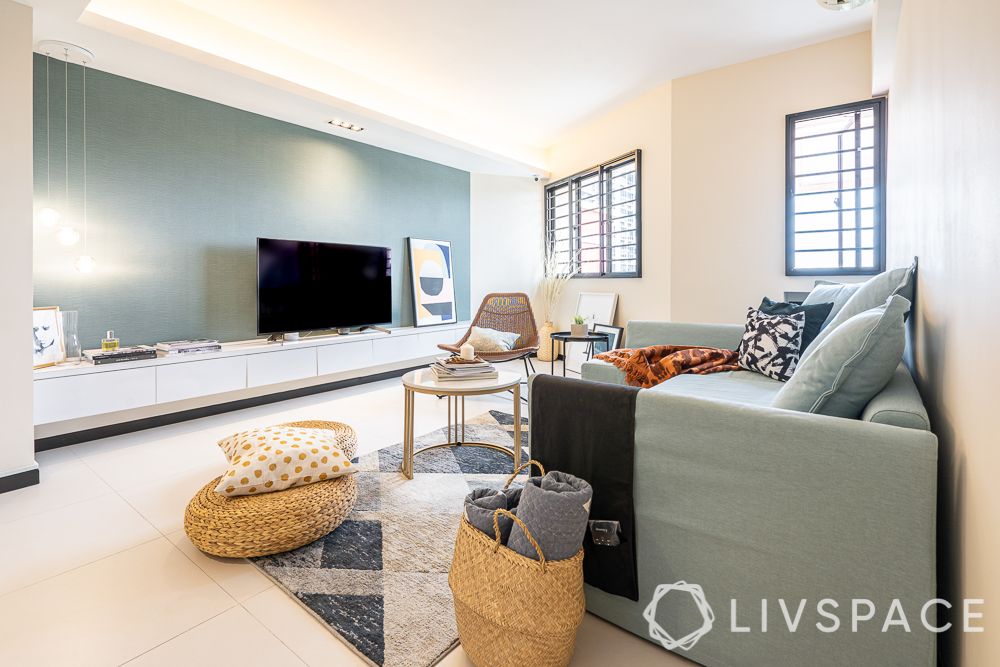 Simple living room ideas work brilliantly because of the way they make use of the minimal interiors of your home. For example, take a look at the free floor spacing in this living room, thanks to the floating TV unit. The colour of the walls and the free floor space cohesively create a seamless look that makes the room look spacious. The blue wall behind the television, along with the couch and the overall seating area create a dramatic pop of colour just enough to create the illusion of space in between them.
#5: Can minimal living rooms be decorated?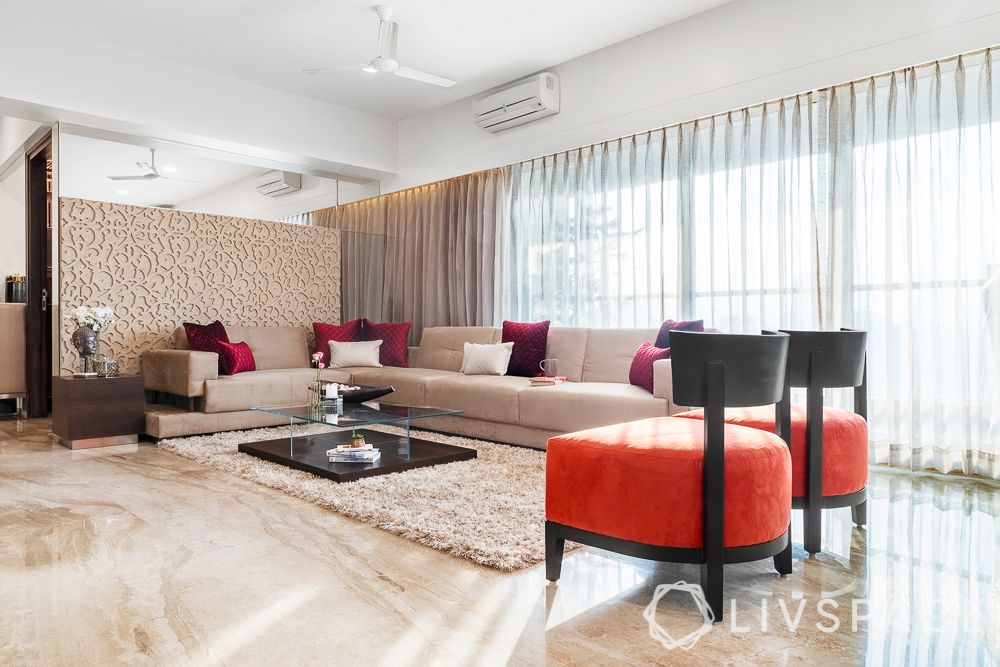 Minimalist design has always been anti-ornamental. Bare walls, empty tops of shelves, etc are some of the prominent style guidelines. But, that does not mean that decor is completely out of the question. Minimalism uses simple living room ideas to decorate a space. For instance, textures are highly experimented with as decoration for a home. Take for example this living room design
The key is to manipulate textures to make your space aesthetic. Add a textured rug against an angular couch and some sheer curtains along with blackout curtains to create visual dimension in your space. Your throw over cushions can interplay against the neutral subtle tones of the couch to create some contrast. Minimalism is not all whites and greys. Take a look at the flooring texture. The light muted finish and the texture brings the whole room together.
ALSO READ: How is Indian Minimalism Different From it's Western Version?
#6: How to ensure that your all white living room is minimal too?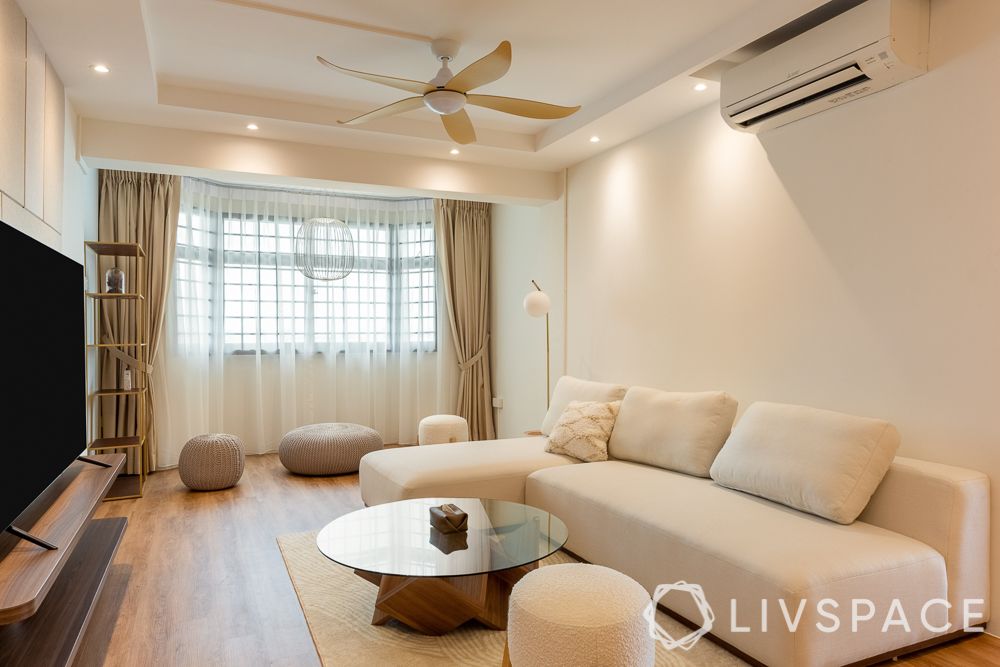 Give your living room an ultra-modern look by bringing in an all-white kind of vibe. White eggshell does not have to be boring. Minimalist design philosophy makes use of whites, greys and lighter shades to create the illusion of space. However, it is important to remember that white is not just one colour; there are so many different shades of white itself! Monochrome designs using various shades of white make a great impact. The flooring, the couch, the curtains, and the bare walls seamlessly create patterns that accentuate the space in the living room by creating interiors that are less distracting, and hence, they seem spacious.
#7: What should be the layout of a minimal living room?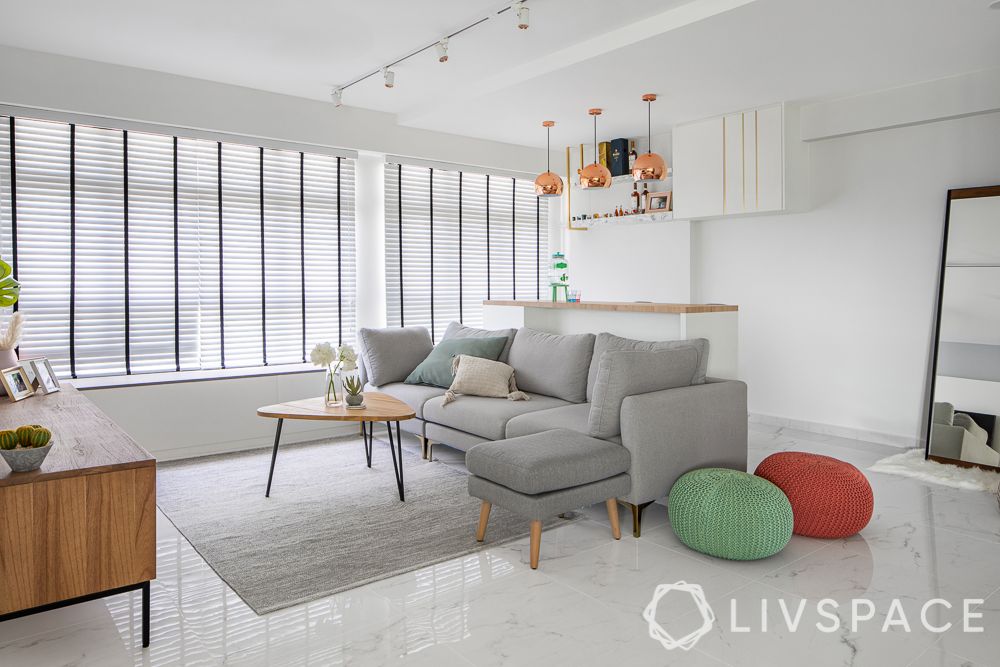 Play with space in your living room. An open layout allows for a simple, uncluttered area with as much ample light you can get. Who needs more. The grey rug compliments the colours of the couch, and the clean finish of the barred window makes brutalism meet cosy.
#8: How to use neutrals to create a minimal space?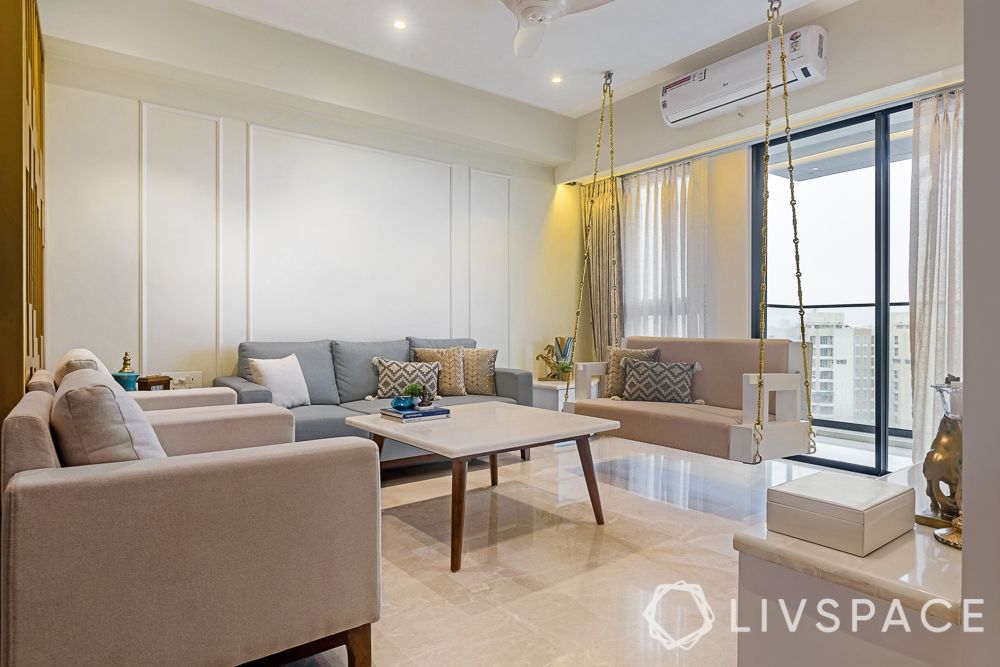 Create your own haven. Neutral shades are used to often create a tranquil environment. The soft-toned hues are warm and welcoming and create a seamless spatial layout that is classy & chic.
#9: Can you use free space as an element of design?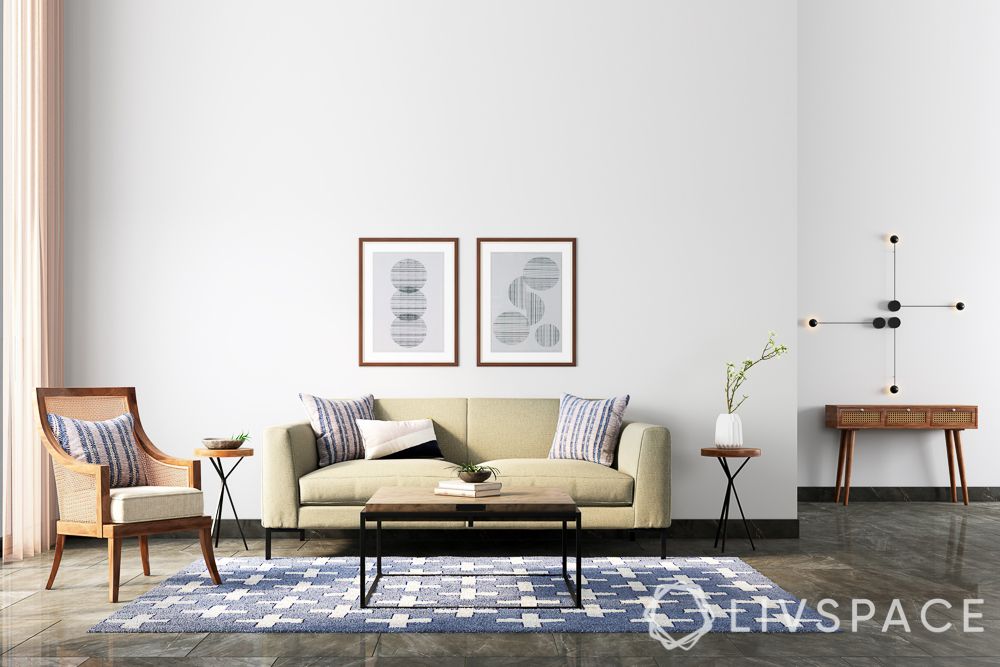 Minimalism uses space to create decorations while simultaneously making spaces look spatially aesthetic. Another one of the simple living room ideas is to use space as an element of design itself. Bare walls can be a great place to begin. Hang a modern, minimalist piece of art on the wall right above the couch. Let the furniture trace the edges of the room, leaving room to walk around freely. Take for example the use of free space with the subtle vases next to the couch in this photo, and the minimalistic decor on the walls. They seamlessly integrate themselves into the layout and become a decor element effortlessly.
#10: How to brighten up minimal spaces?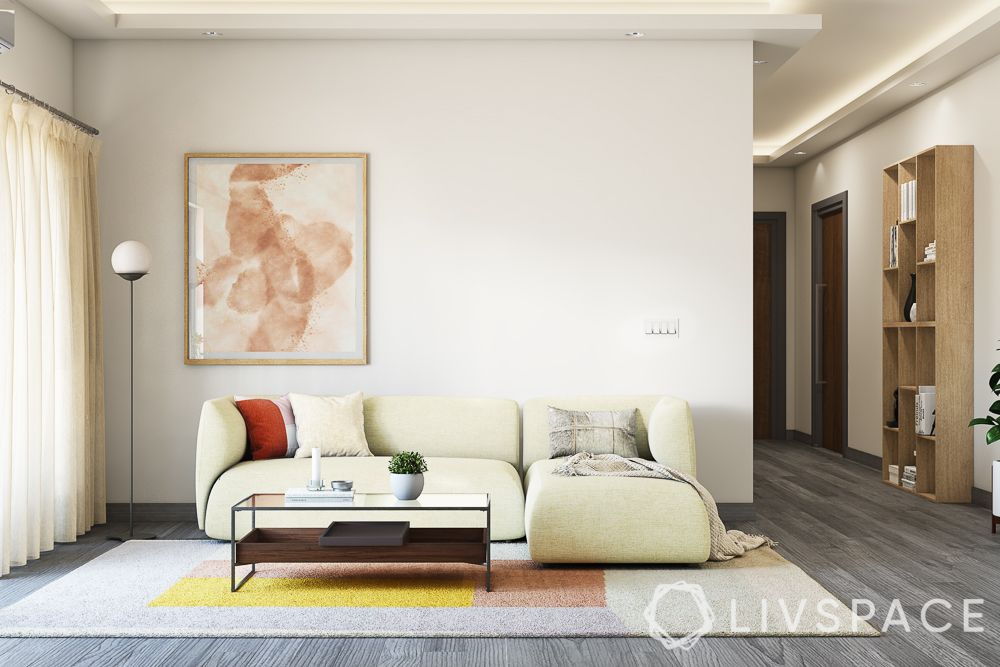 Keeping it simple has a lot to do with efficiency. Give your living room more structure by taking out the unnecessary clutter. Simply keep bare minimum furniture, a rug to go with it and some splash of greens in the vicinity. You can go with a bold metallic lamp in the corner to give your living room a hygge lounge vibe.
#11: Is straight- lined furniture your only choice for minimal living rooms?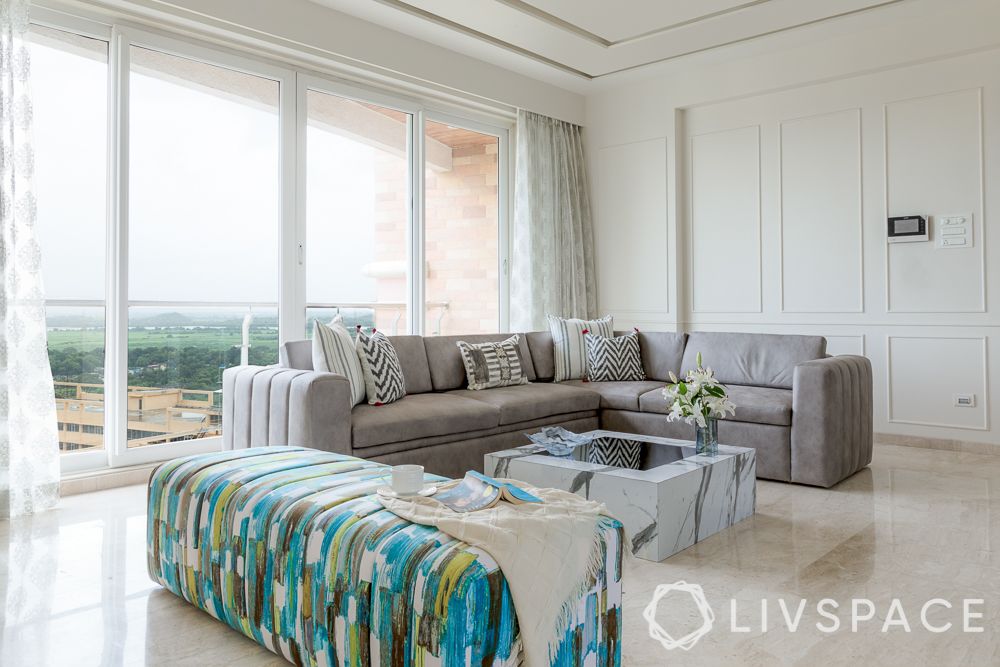 Another simple living room idea you can experiment with has to do with furniture. Straight-lined furniture adds dynamism to your living room while keeping the layout clean and uncluttered. So, steer clear from round tables or furniture with curvy legs.

#12: How to use ornamentation in a minimal living room?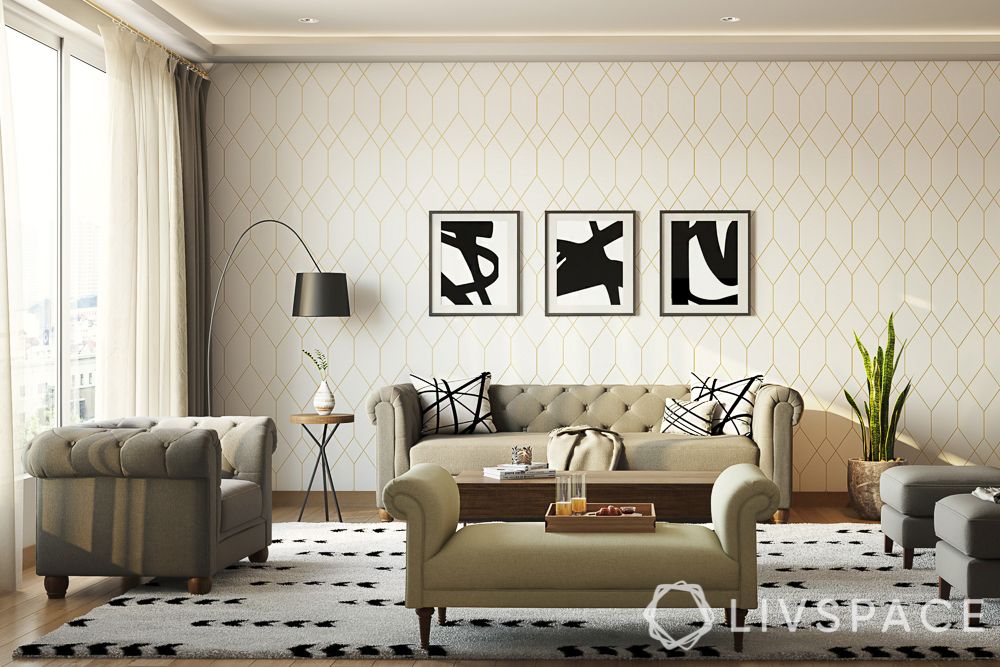 The use of tone-on-tone action is a very prominent element of minimalist interior design philosophy. Neutral tones are explored as a whole colour palette in itself. You can introduce your living room to a palette that is simple on the eyes not just in terms of furniture but also in terms of ornamentation.
Home decor is usually a thing to avoid if you're going minimalistic but if you really want to put something up on a bare wall, you can explore your options with minimalist or absurdist art. These often set the mood and compliment the interiors. Shades of white can be complemented with shades and hues of greys to create a dynamic and modern aesthetic
#13: How to use natural light to create a minimal space?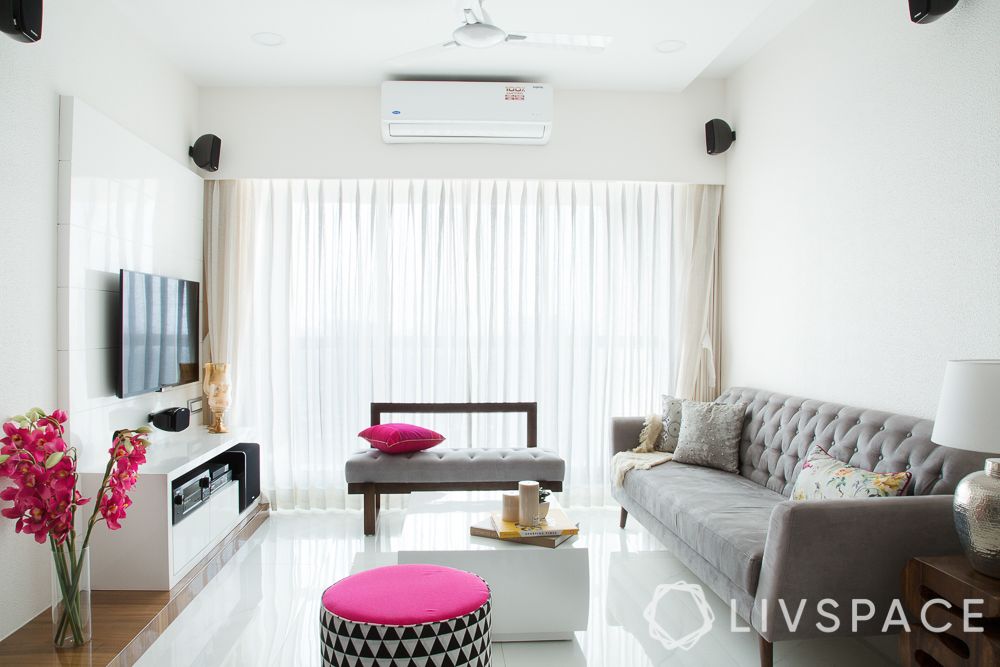 As minimalism as a concept originates from Northern Europe, the use of natural light is very central to this design philosophy. So never block a window or use thick blinds when designing a minimalist living room. You must use sheer curtains or blinds that allow sunlight to stream in and brighten up the space.
#14: What type of wood to use for minimal furniture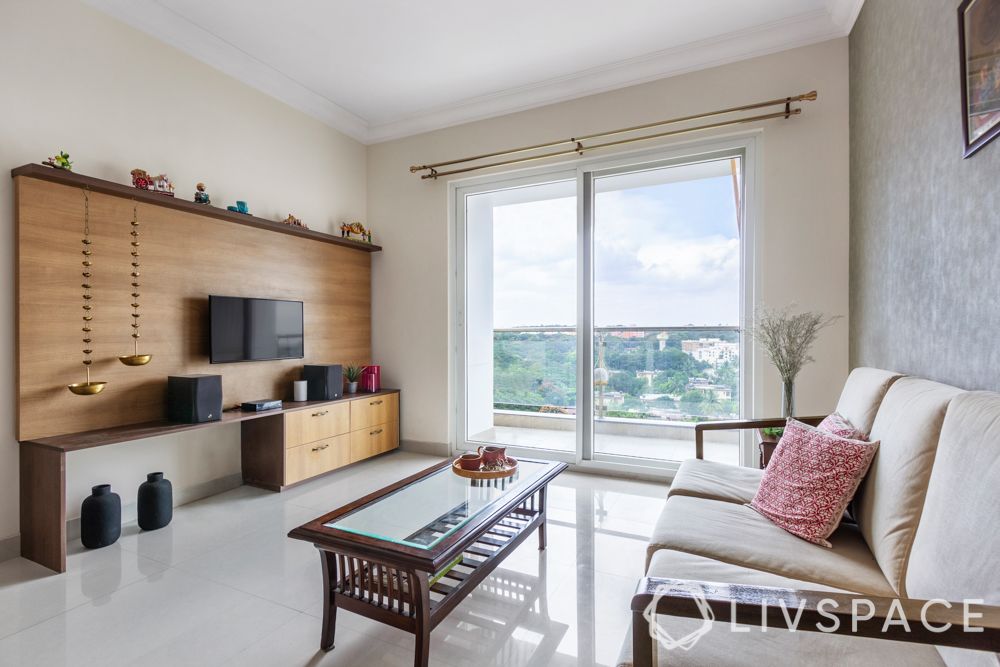 We have already established that wooden furniture (and flooring) is an integral part of minimal spaces. But, what type of wood are we talking about? Can we use mahogany or teak for example? The answer is no. Minimal settings traditionally see the use of light-coloured wood like rubber. Dark woods look heavier. Hence, they are passed over in favour of lighter ones.
#15: How many colours can a minimal living room have?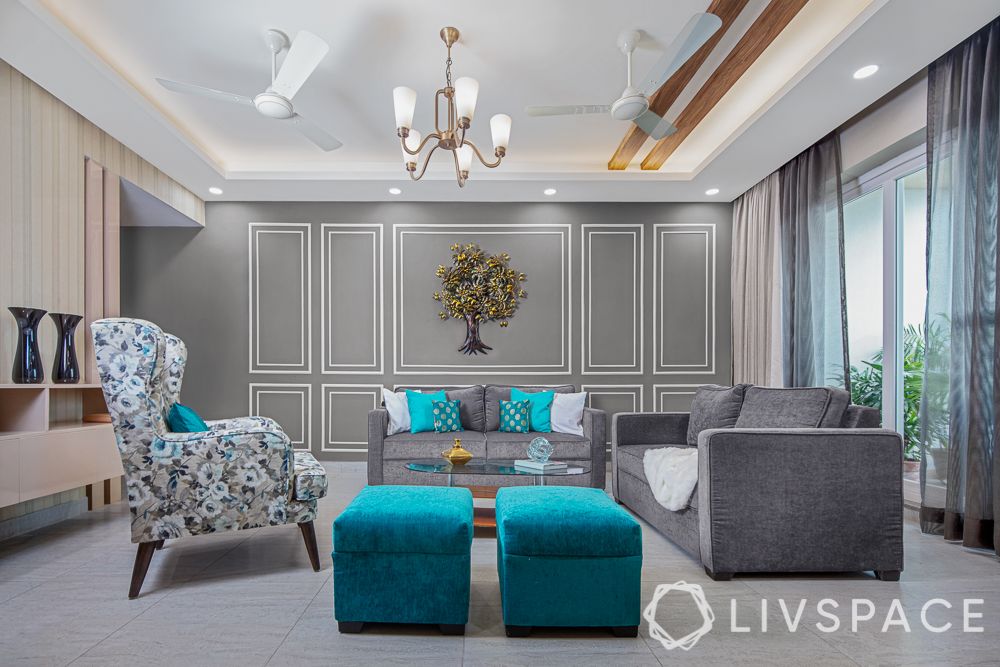 It is natural to assume that a design style with a motto of 'less is more' would not recommend the use of too many colours for a room. However, when we look at minimalism in the Indian context, we have to look at it through our unique cultural lens. You will rarely find homes in India that are completely devoid of colour.
So, if we have to put a bar on the number of colours to use in a living room, we must say there is none. However, we would not recommend you to use more than one pop colour in a room. Also, if you are making use of more than 2 colours in general, make sure they are complementary and not contrasting.
How can Livspace help you?
We hope you find this article useful. If you are planning on getting interiors done, then Livspace is your go-to expert. Book a consultation with our expert designers to get safe and quality interiors. Click here to learn more about our COVID-19 protocols.
Want expert-recommended tips? Read Expand Your Small Living Room With These 8 Expert Ideas
Send in your comments and suggestions to editor@livspace.com