Designing the perfect living room for family and friends to spend quality time in is one of the most important aspects of a home. A room that is warm and welcoming without compromising on aesthetics is the ideal contemporary home. A space where the interiors are easy on the eyes with trending elements is what contemporary designs are all about. In essence, contemporary living rooms have interiors that are trending right now.
There are no clear rules while designing a contemporary home so, get as creative as possible and experiment with these unique designs.
Contemporary Living Room Designs #1: Easy Functionality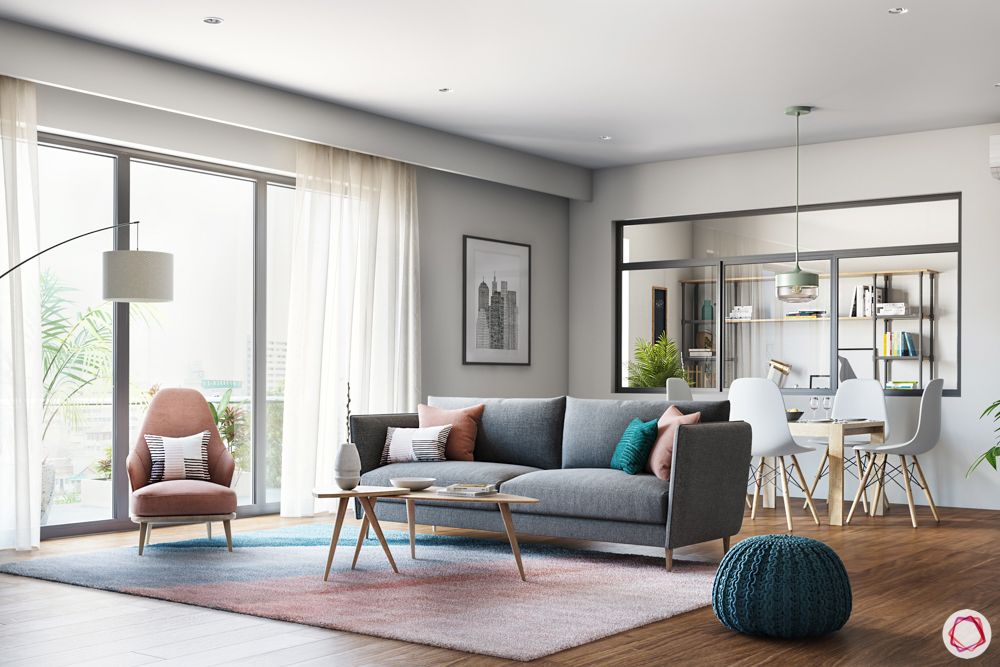 Living rooms are used by everyone in the household. Therefore, this space must be multi-purpose and functional above everything else. A room that has ample seating, an entertainment unit, a dining table and a bookshelf can be functional but too much to deal with. This living room has all the essential elements in it without having a clustered look. Hence, minimalism is key here.
Contemporary Living Room Designs #2: Fab Furniture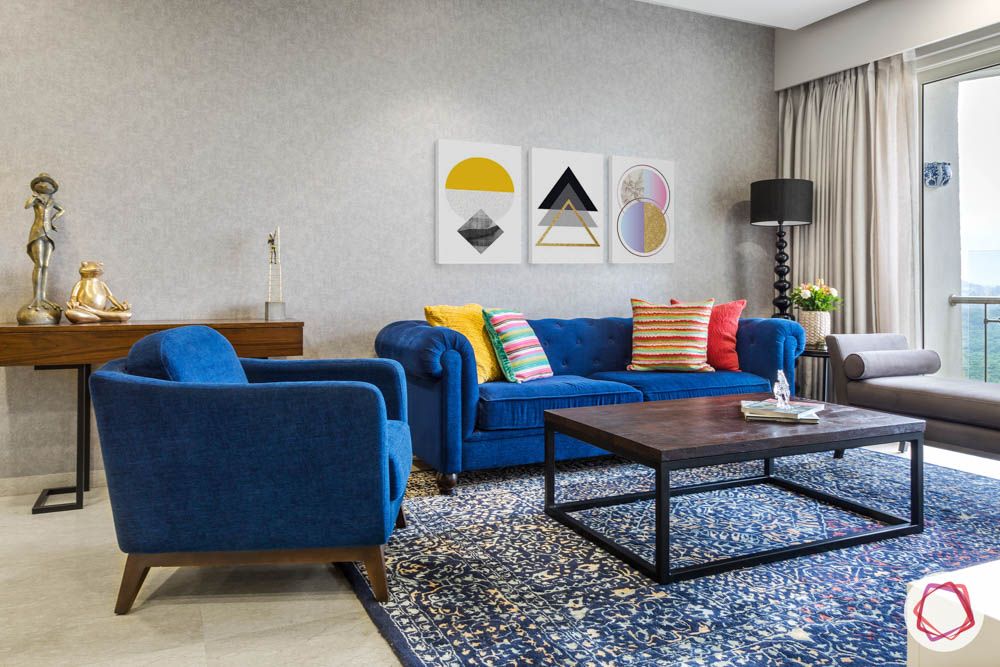 The art of contemporary style is in designing a home without stuffing it with bulky furniture. This fun and colourful living room represents just that. The living area has a laid back vibe that can be attributed to the comfy-looking tufted fabric couch. There aren't too many frills or accent pieces in the living area which is a popular option among home owners.
Contemporary Living Room Designs #3: Creative and Compact Spaces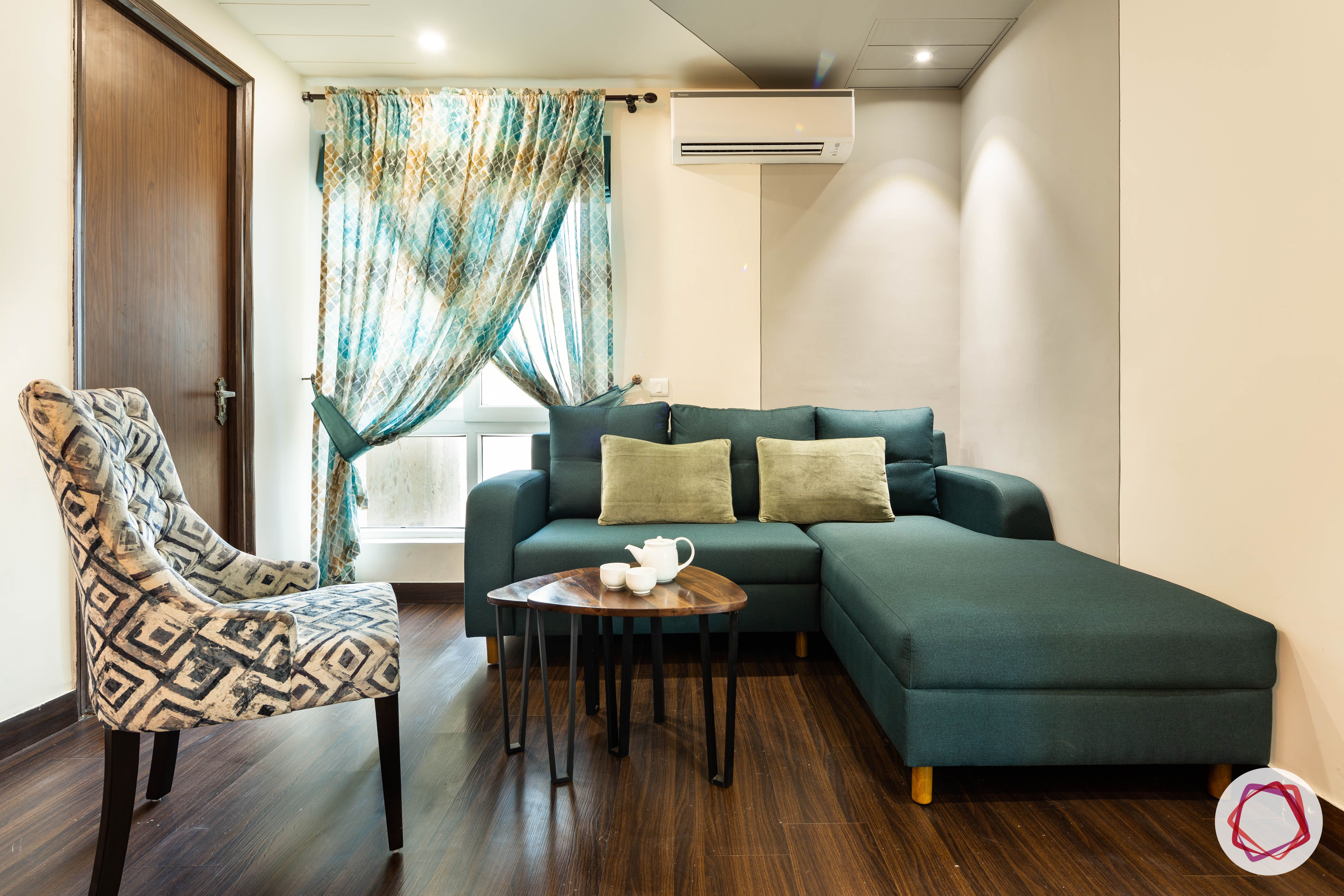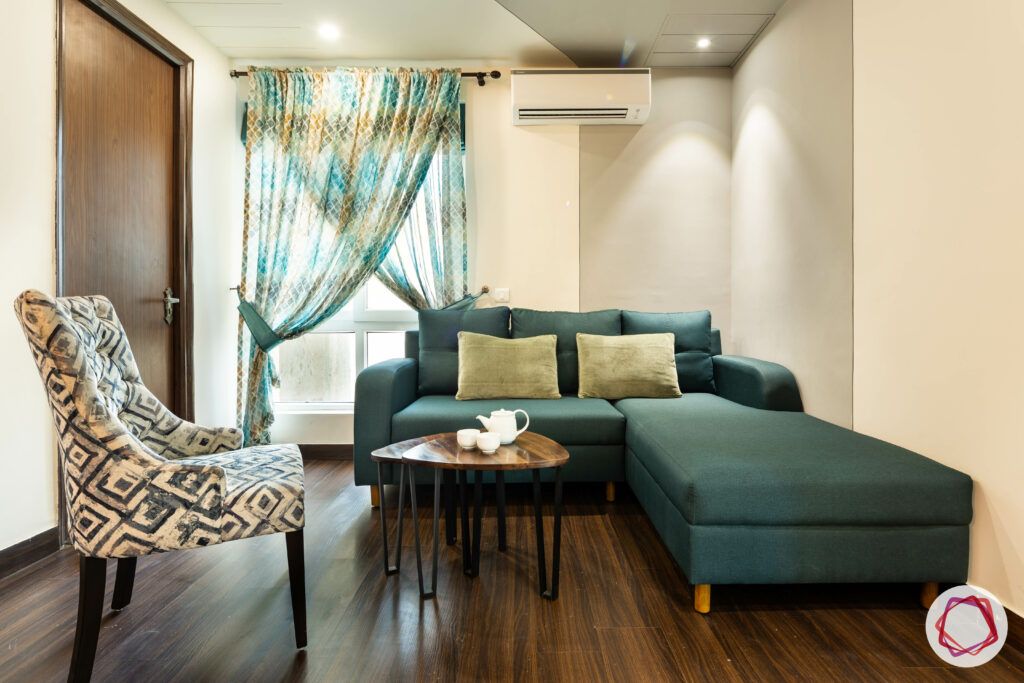 The layout of a room can make or break a design. Picking furniture for a compact living room is like solving a crossword puzzle. This home has a narrow living room but that didn't stop our Livspace designer from providing ample seating for guests. With a teal L-shaped sofa-cum-bed and patterned armchair, this space scores a perfect ten on style and efficiency.
Contemporary Living Room Designs #4: Simple Style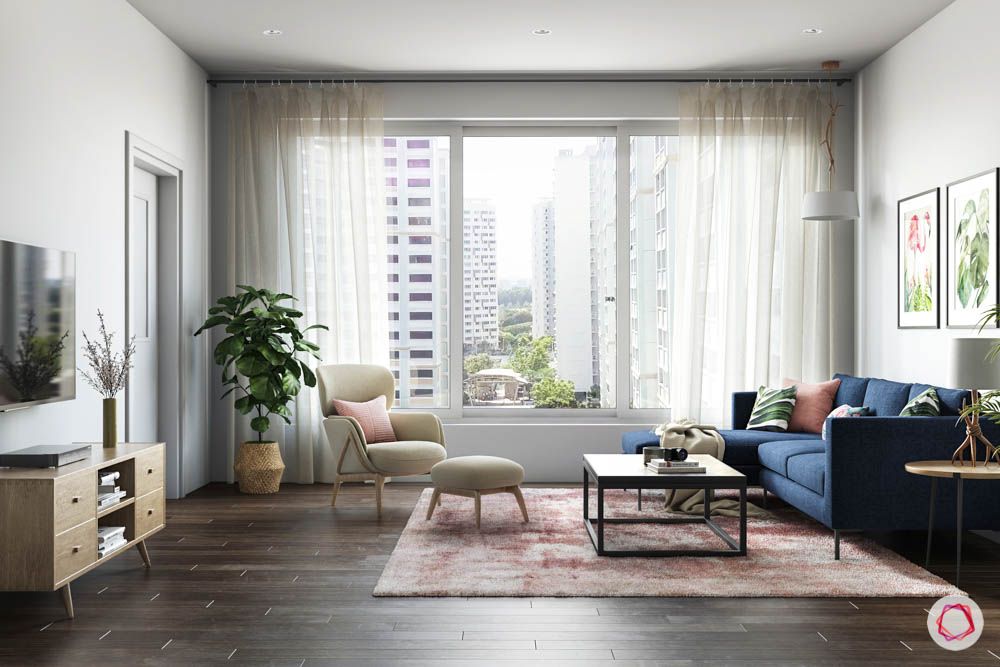 The ultimate goal for a contemporary home is to have an elegant and classy design. There is minimal furniture in this home with one three seater sofa in a royal blue and one accent chair in a neutral colour. Moreover, the aim is to not crowd this space with too many design elements and to avoid looking flashy.
Contemporary Living Room Designs #5: Subtle Lighting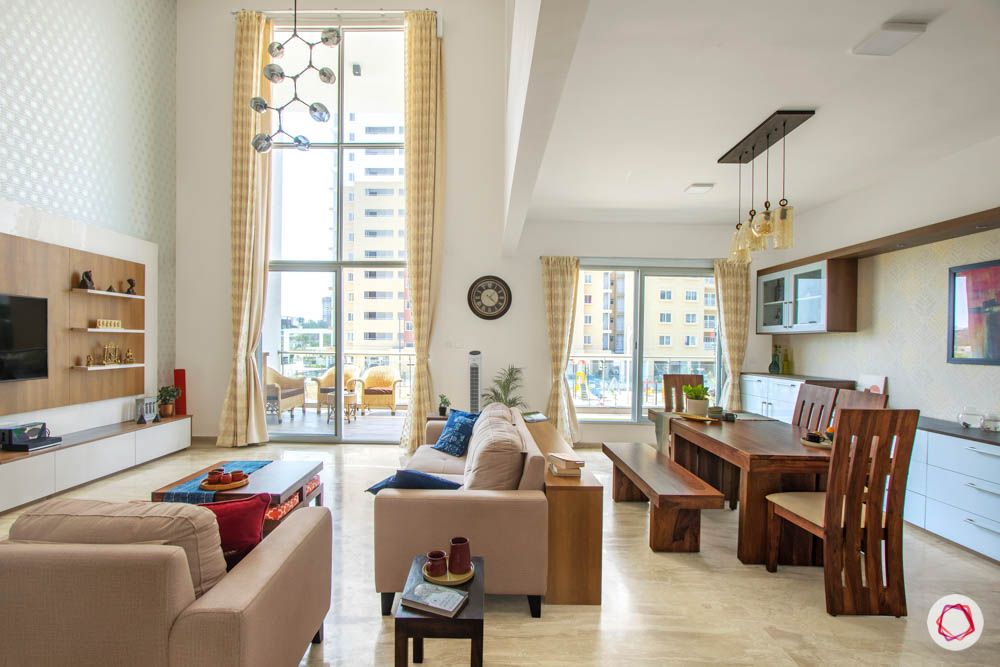 When you think of contemporary you think modern designs. Go with a pair of minimal chandeliers that will fill up the space between the floors in a subtle way. The dining table here is also a contemporary piece of furniture with the bench seating option which is currently trending in dining set designs.

Contemporary Living Room Designs #6: Classy Two Tones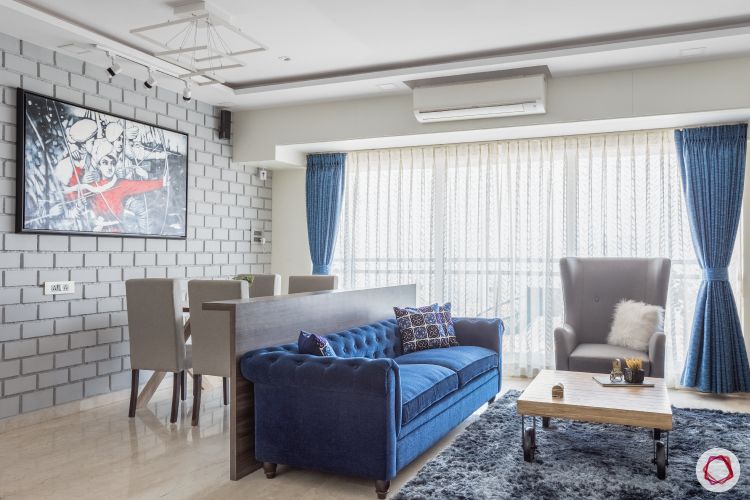 Contemporary designs don't always have to be a bland combination of neutrals. Just because you are playing with lighter colours, doesn't mean you can't play with accent colours. For example, rich and elegant colours like blue go perfectly with lighter tones like grey. The tufted blue sofa is paired with grey winged-back arm chairs. Also, these stunning pieces of furniture can be found in our Livspace catalogue.
Contemporary Living Room Designs #7: Contrasting Textures and Materials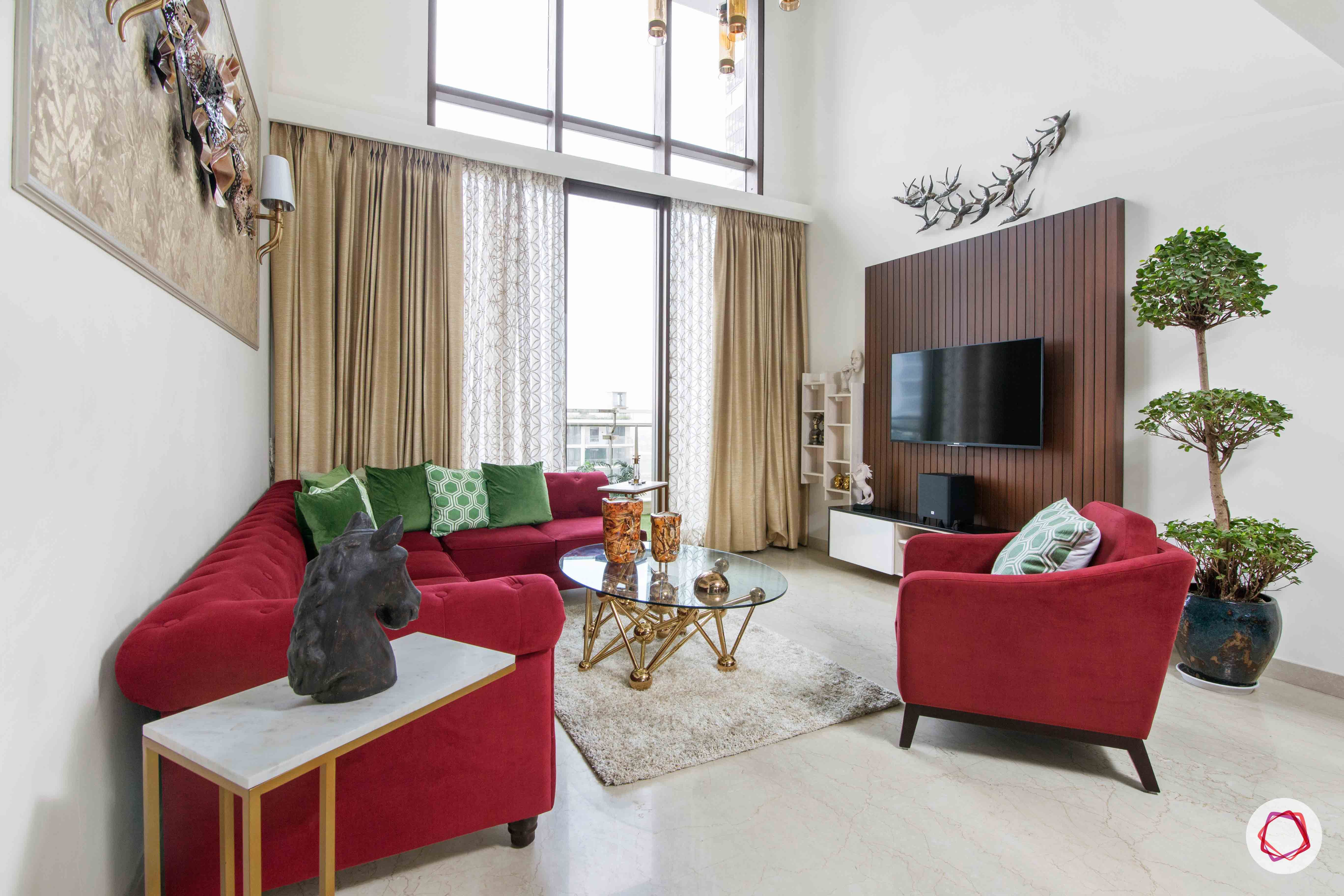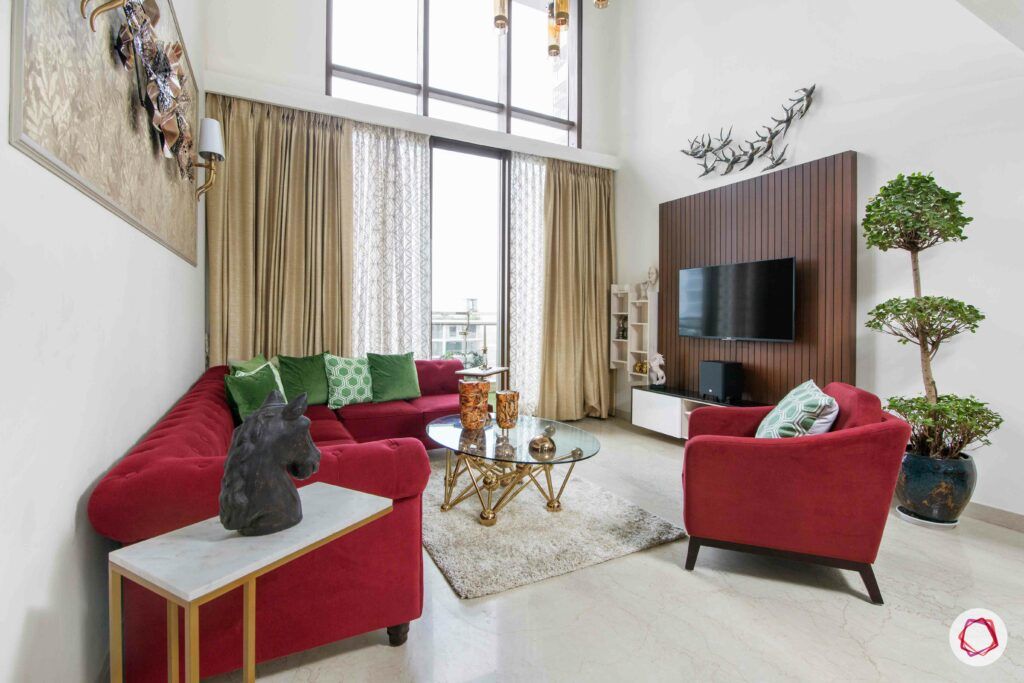 Textures and materials are the underdogs of this particular style. Take time to carefully select the textures as they can clash and overpower a design. It is evident from this house that there is plenty of rich texture in the statement Cassandra sofa. The media unit is made of dark wooden paneling for a warm look. Lastly, the centre table adds its own dose of glamour with its metallic pin and ball structure with a glass top.
Contemporary Living Room Designs #8 : Perfect Prints and Patterns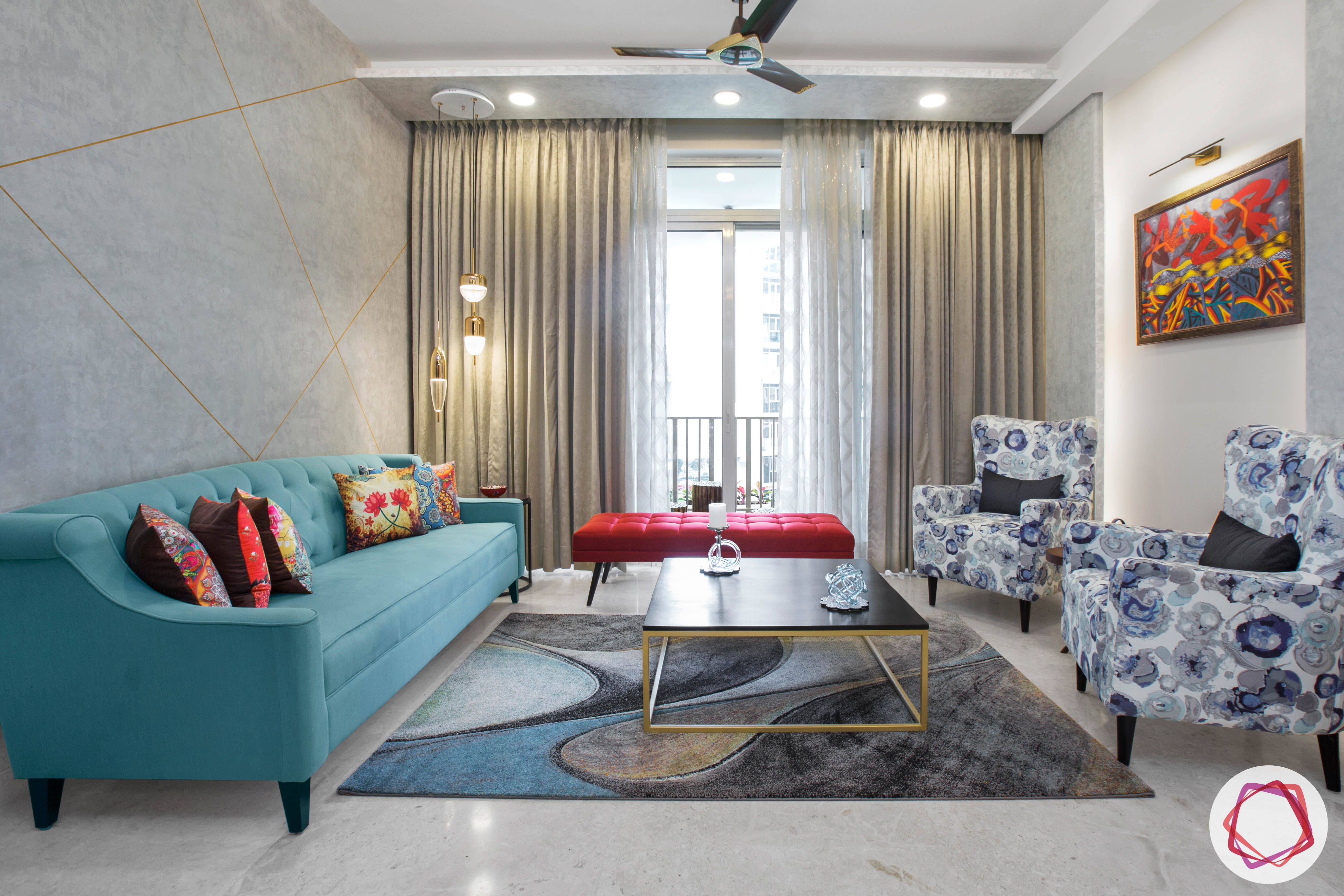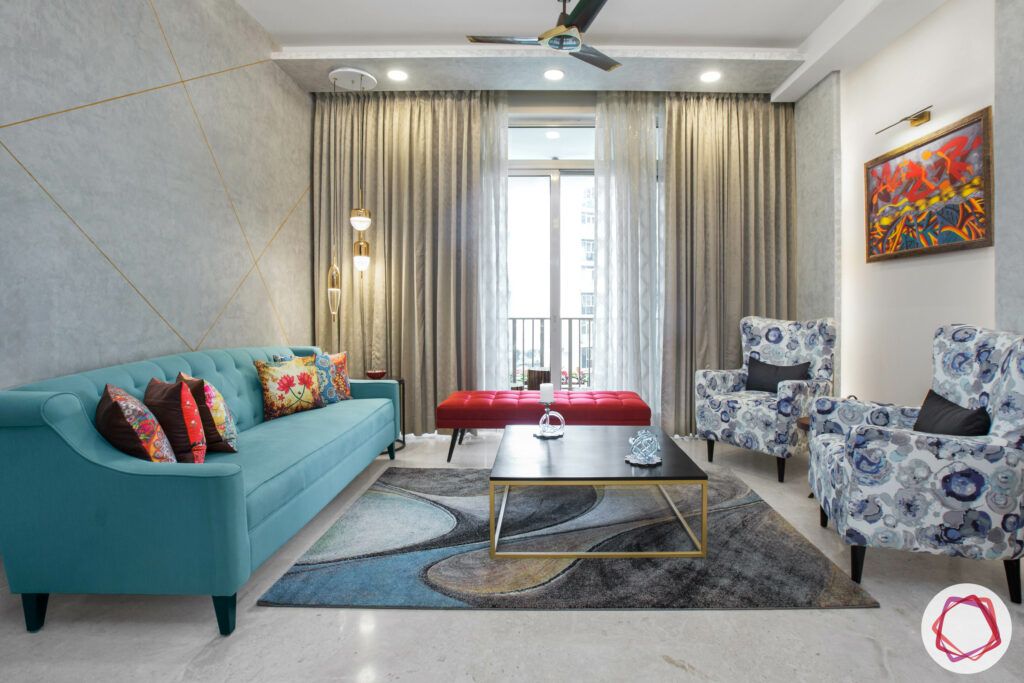 This living room is one that has a perfect mix of comfort and style. Looking at the overview, you can see a burst of bright colours and prints. In addition to the florals and pastels, there is a vibrant pop of red. To balance out the deluge of colours, there is a rather utilitarian centre table with a metal base and dark wood top. In addition, to the art and geometric wallpaper there is an abstract rug. The latest designs in accessories that sport contemporary prints are used in this home.
Contemporary Living Room Designs #9: Bright Accent Colours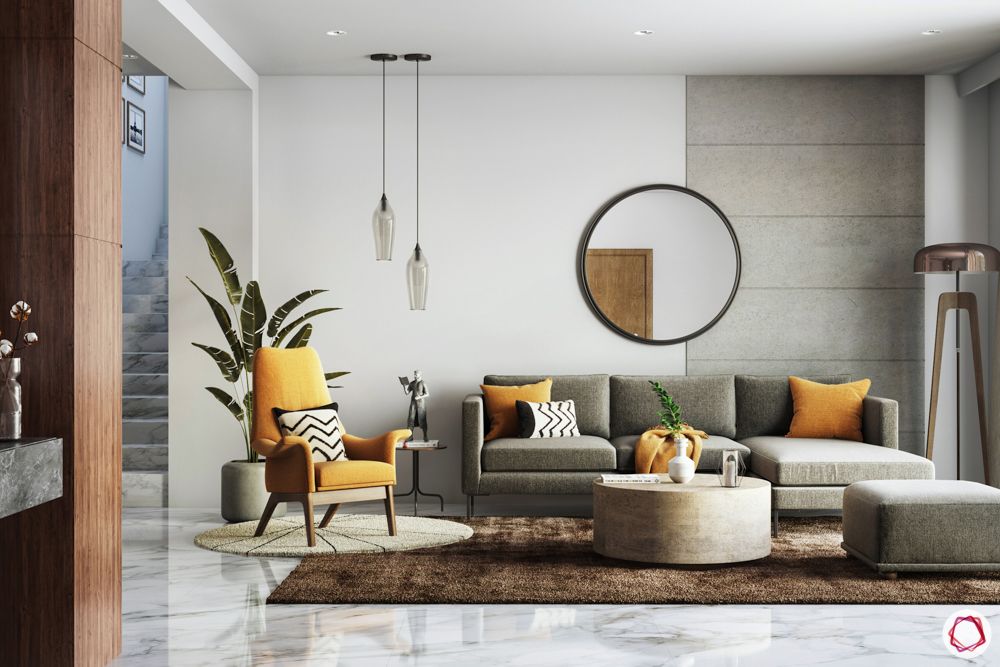 When you are designing a space and want to give it a modern look, you need to stay away from outdated designs. For instance, the most sought after idea for designers right now is accent colours. Here, we have sparingly used elements of bright yellow with the same cool toned grey furniture as the trend goes.
Contemporary Living Room Designs #10: Statement Design Details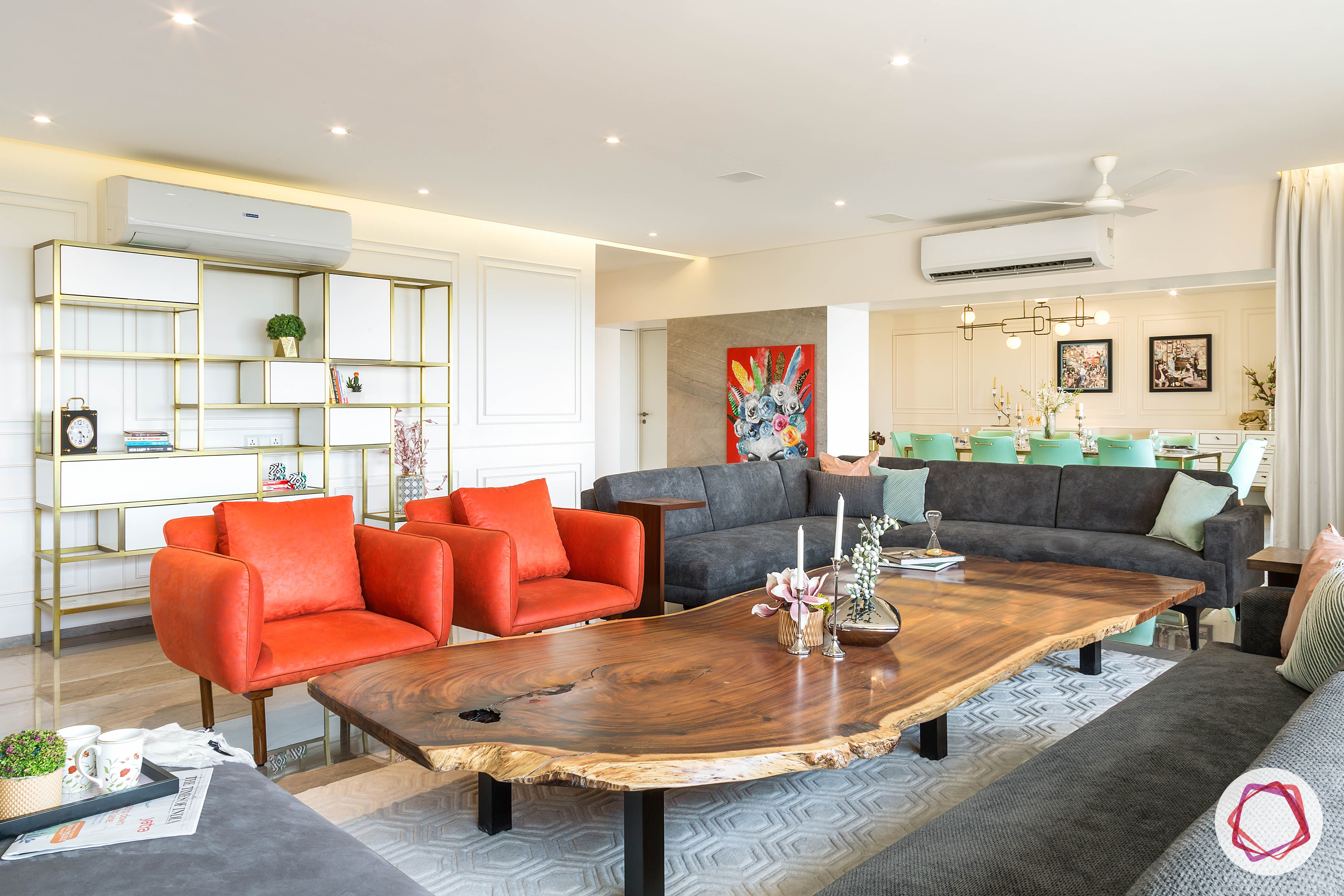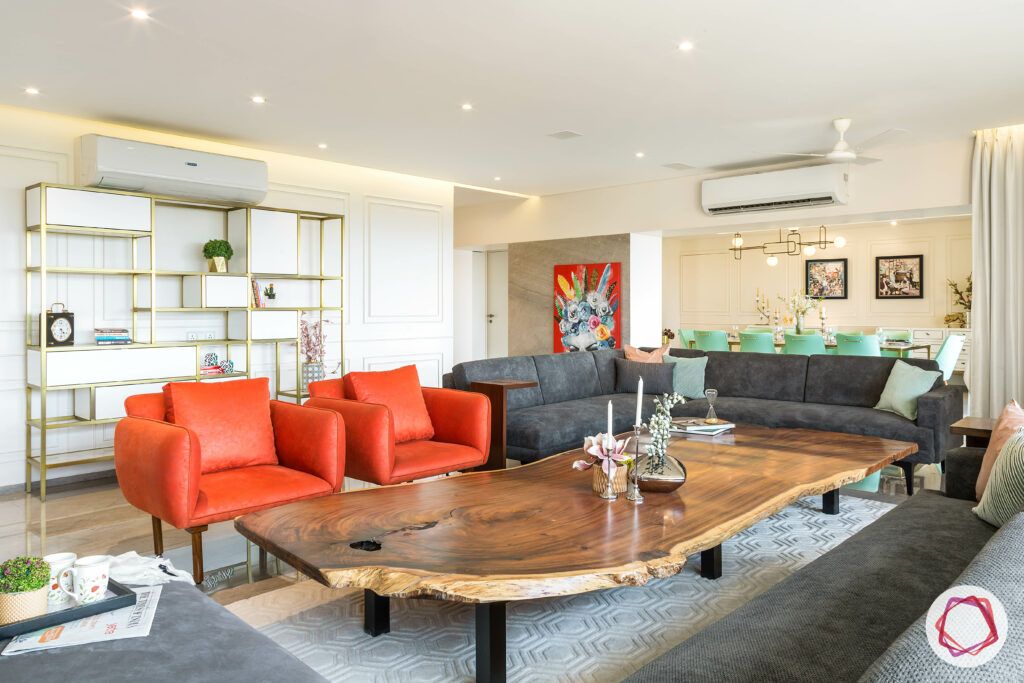 In a contemporary room, the details make the design. Similarly, this sprawling living room, has an enormous coffee table made of solid wood in its original shape. Subsequently, an abundance of marble and brass is used for the display unit. Element details in these materials give any space a trendy look.
If you liked reading this story about trendy living rooms, also explore: How to Create a Foyer When There Isn't One?
Send your feedback and suggestions