Every designer would agree that the living and dining areas are the most crucial spaces in a home. These are also the areas where we receive and entertain our guests. As a result, we always want these rooms to be well designed and attractive. Nowadays, smaller apartments usually have a common living and dining area instead of separate rooms. To separate the spaces, consider using a dining and living partition. For inspiration, we've selected 10 gorgeous partition designs between living dining areas from Livspace Homes. Read on!
#1: Dining Area Partition Design in Glass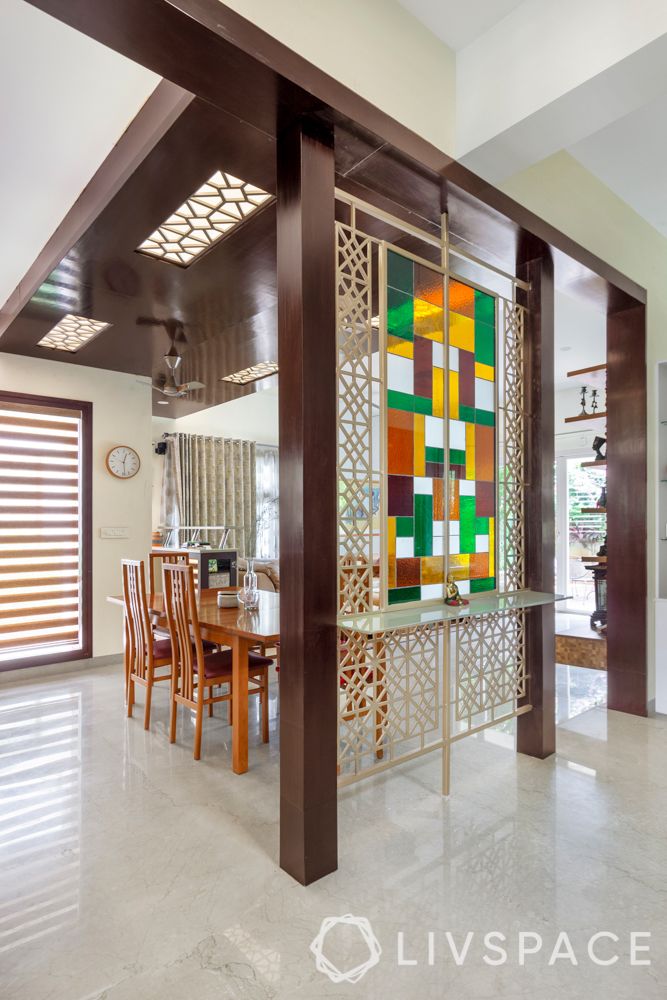 While partitions can be made out of several materials, glass ones are our personal favourite! For instance, this stained-glass hall partition idea from a 4BHK villa in Bengaluru is a stunning example. Here, the partition itself serves to separate the living and dining areas. And the colourful pattern adds a touch of glamour!
So if you're looking for some of the latest hall partition designs, glass might be a good option to explore.
#2: Crockery Unit Partition Designs Between Living Dining Areas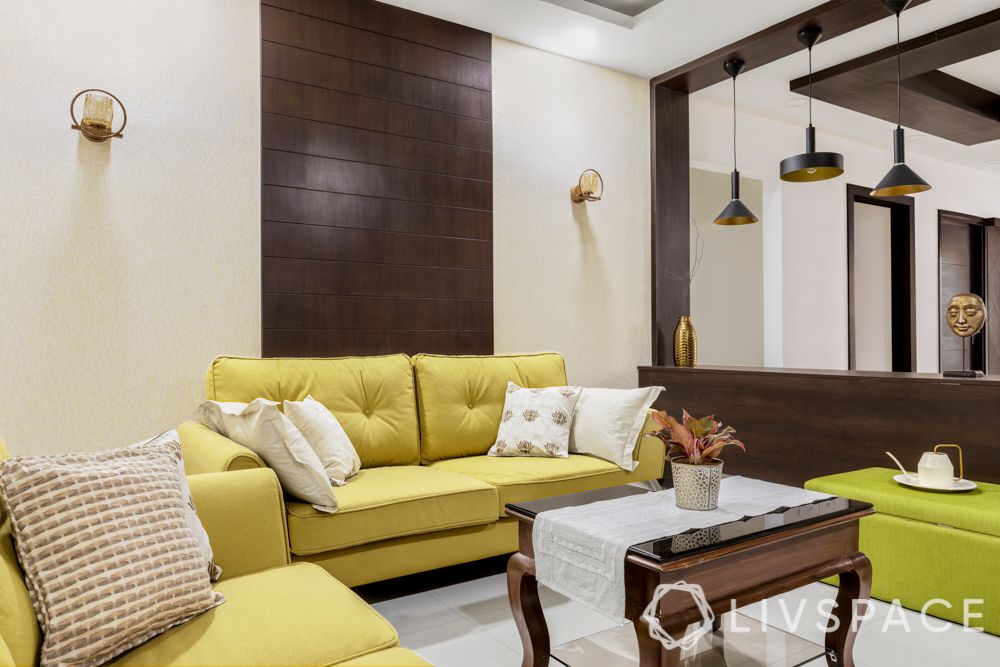 No budget for a separate dining and living partition? Not an issue! Why not use a crockery unit to divide the spaces? For example, at Harshitha and Rohit's 3BHK apartment in Hyderabad, our designer has used a laminate crockery unit from the Livspace catalogue. The statement pendant lights in this area further help separate the spaces.
#3: Customised Laminate Hall Partition Designs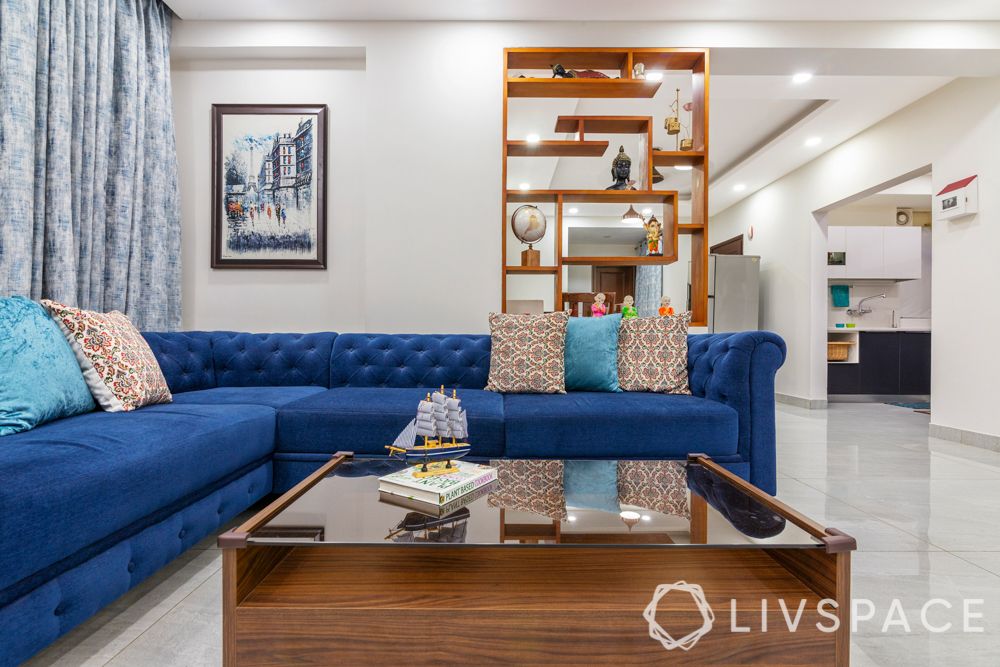 A great way to amp up the look of your living and dining areas is to opt for a customised partition. And above all stunning partition designs between living dining areas, this one takes the cake! This laminate partition from a 3BHK in Noida doubles as a display unit and is customised with the initials of the homeowners.
What's more, this design adds a touch of interest to the space with its multifunctional dining area partition design.
For more details, take the home tour of this beautiful 10-year old home makeover.
#4: Wooden Partition Design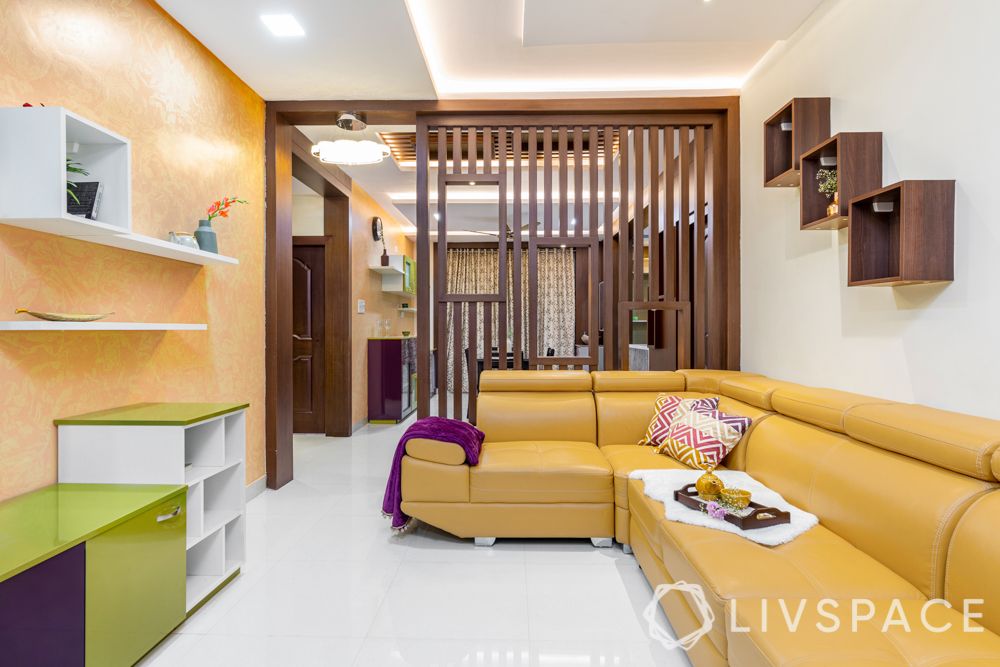 One of the most classy and evergreen materials for partitions is undoubtedly wood. Wooden partition design looks great with all types of decor styles and it is also easy to maintain. Saritha and Satyanarayan decided to go for a timeless wooden partition at their 3BHK residence at Madhavaram Serenity, Hyderabad.
#5: Compact and Intricate Hall Partition Designs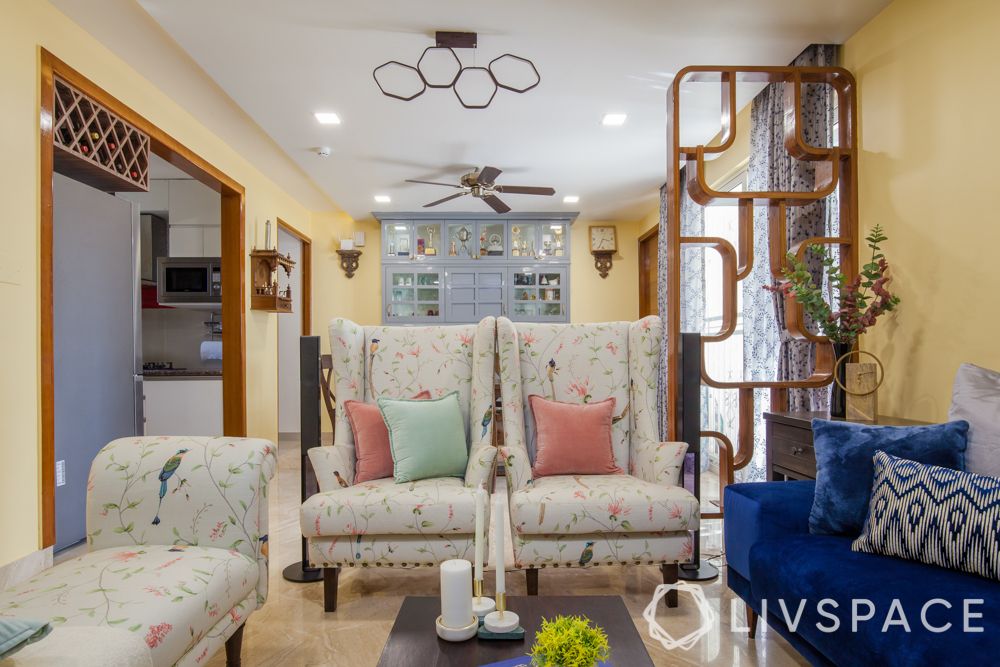 Partition designs between living dining areas are especially important in small homes to create the illusion of space. Similarly, compact partitions work best in small homes! Take tips from Karthik and Vinitha Krishnaraj's 3BHK in Pune, who opted for this simple and compact partition.
While the partition itself does not take up too much space, the intricate pattern gives it a stunning look.
Also read: 10 Beautiful Hall Partition Designs That Can Spruce up Your Living Room
#6: Jali-Style Dining and Living Partition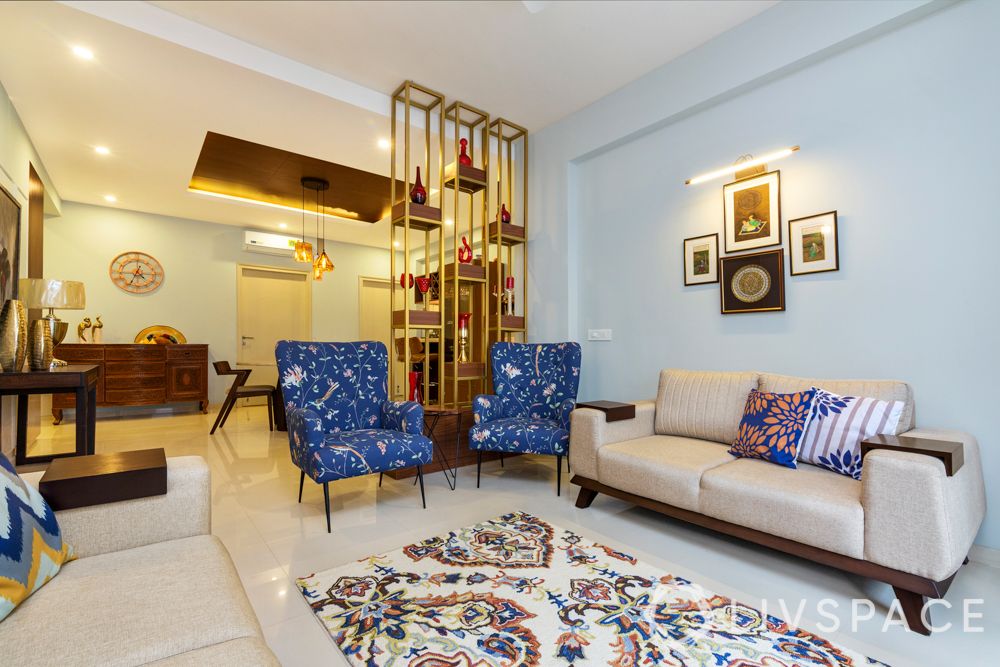 If you are looking for partition designs between living dining areas, jalis should be at the top of your list! This is because a jali is one such design element that fits in seamlessly in Indian homes. As a result, Niveditaa Pal chose this beautiful jali hall partition for her 4BHK in Gurgaon.
Coupled with the elegant decor, this jali partition is a design marvel! See how this 4BHK strikes a balance between comfort and elegance.
#7: Contemporary and Artistic Hall Partition Designs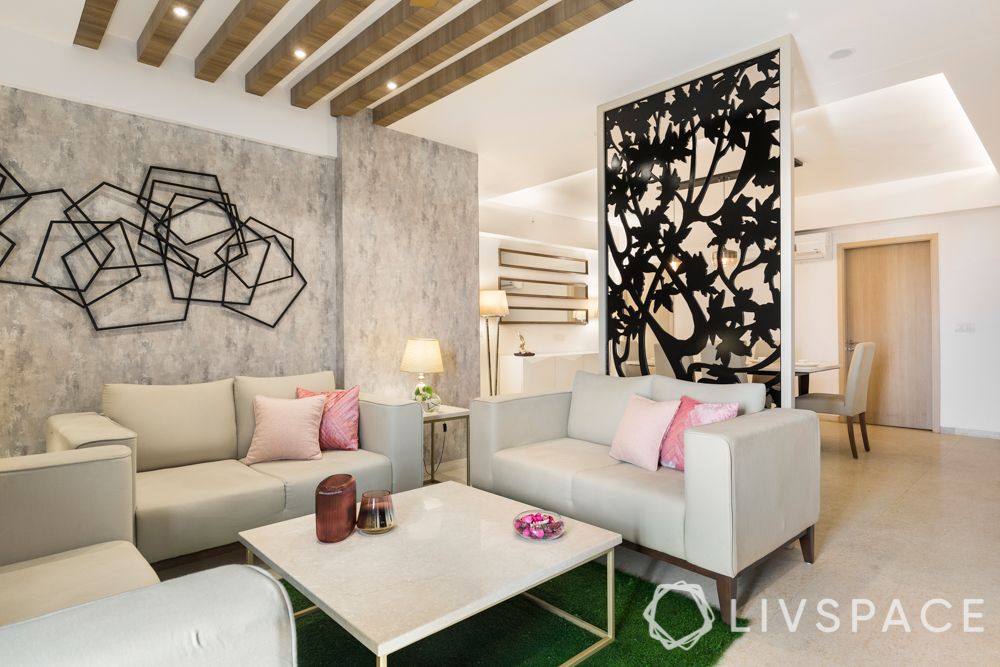 Not everyone likes traditional and ethnic designs. Especially since many of us live in urban apartments and prefer minimal decor styles. Above all, we look for contemporary designs that fit in with our modern apartments.
So was the case for Kasivishwanathan's lavish 4BHK in Gurgaon. As a result, our designer proved her mettle with this unique and contemporary laser-cut hall partition design. This type of dining living partition is perfect if you are looking for something artistic and bold.
For more living room design ideas, check out:
#8: Stone-Finish Hall Partition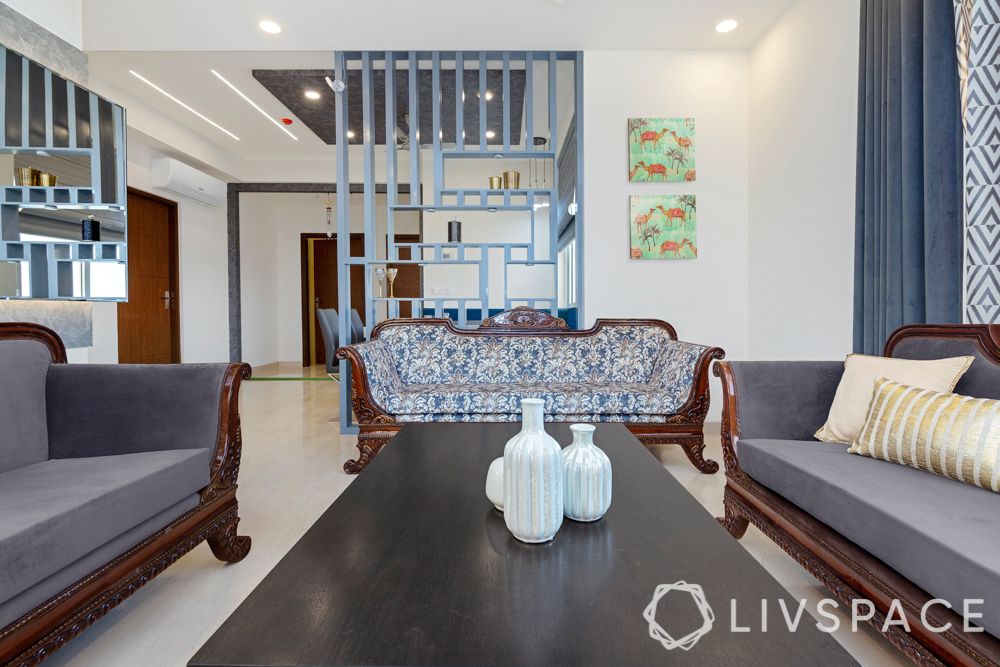 Wood, MDF, jali, laminate — they all seem very common, don't they? But do you want something unique and innovative? If you do, then why not go for a stone-finish partition? Doctors Sanjay and Jyotsna Kapoor wanted a rustic and desi decor for their home.
Our designers achieved this by using stone-finish partition designs between living dining areas. This helped add a perfect rustic touch to this lovely 3BHK in Gurgaon.
#9: Etched Tree of Life Hall Partition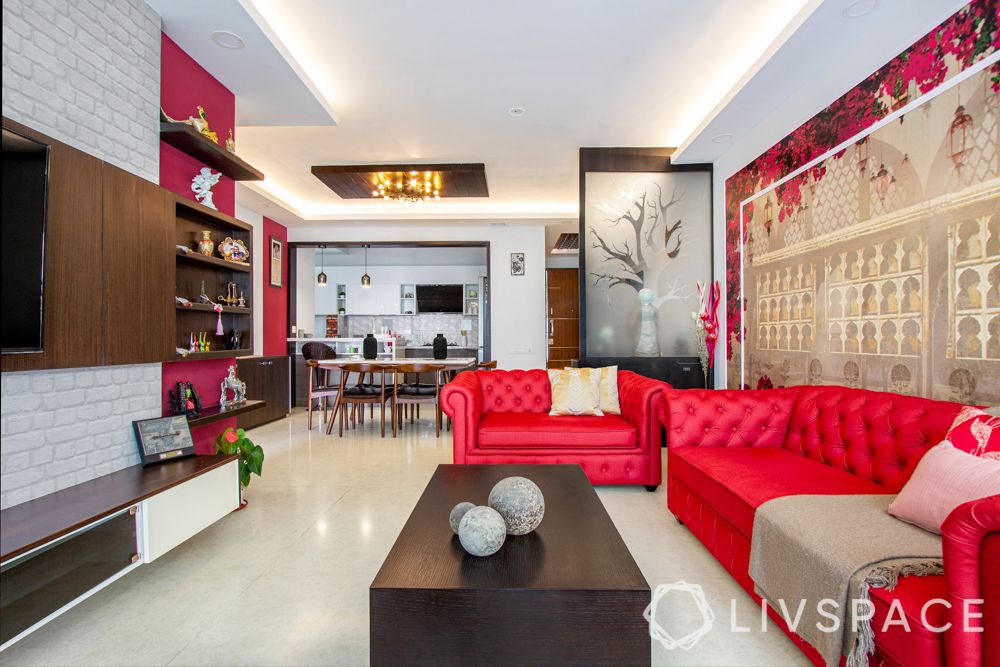 Partition designs between living dining areas need not be larger than life and dramatic. Simplicity always wins! As is the case for this elegant partition design in Gaurav Kumar's Bengaluru home.
Considering the bold interiors, our designer kept it minimal by choosing a simple glass hall partition. However, she added a touch of drama with the tree of life design etched into the partition.
#10: Metal with Duco Paint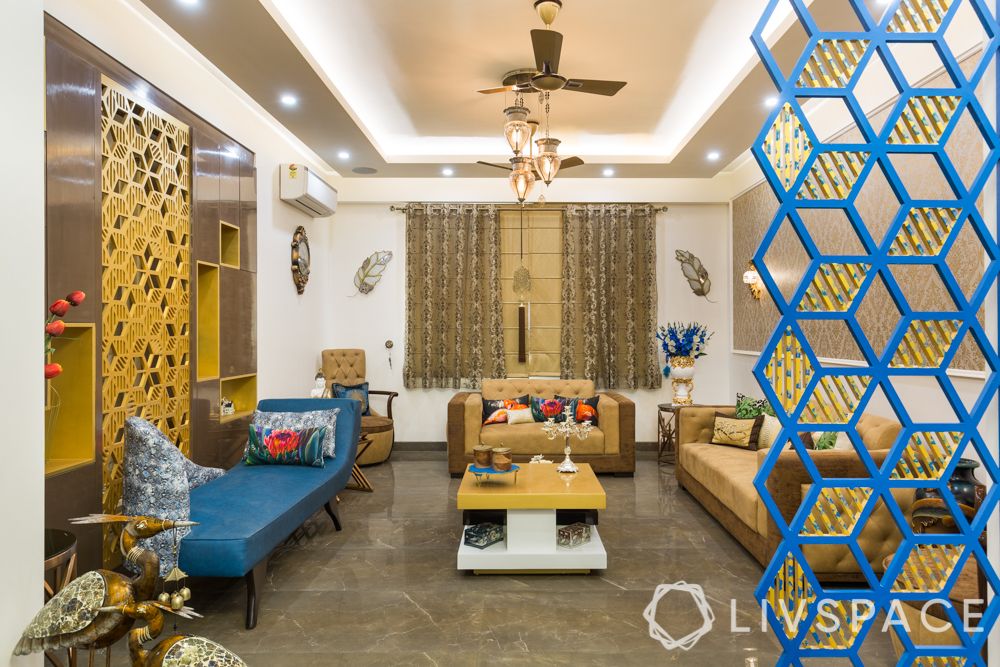 Finally, metal partitions are a great option if you are looking for the latest hall partition designs. This partition at the Mahindroos' Dwarka home is a gorgeous piece. Both the metal framework and the bright Duco paint give it a lavish and bold look. For more details, check out this 'wow' home here.
These partition designs between living dining areas are sure to transform the look of your home! But if you're still looking for more hall partition inspiration, check these out.
Also read: 5 Partitions for Your Open Kitchen
We love hearing from you! Send us your comments and suggestions at editor@livspace.com
How Can Livspace Help You?
We hope you found our ideas useful! If you want beautiful interiors for your home, then look no further. Book an online consultation with Livspace today. Delivering safe home interiors has been our No. 1 priority. Click here to find out how interiors are being delivered following all safety protocols.