You must have heard about rustic interior design a number of times. But it's one of those styles that can be really difficult to spot. After all, what makes for a rustic home interior? Is it a log cabin and a farmhouse?
The answer is no. A rustic interior design is a nod to all things natural and organic. So, you will see the use of wood, rattan furniture items, macramé pieces and similar handmade things. Without further ado, let's show you how to get rustic interior design with reference to real rustic homes we have designed:
1. Organic to Spruce Up a Rustic Industrial Interior Design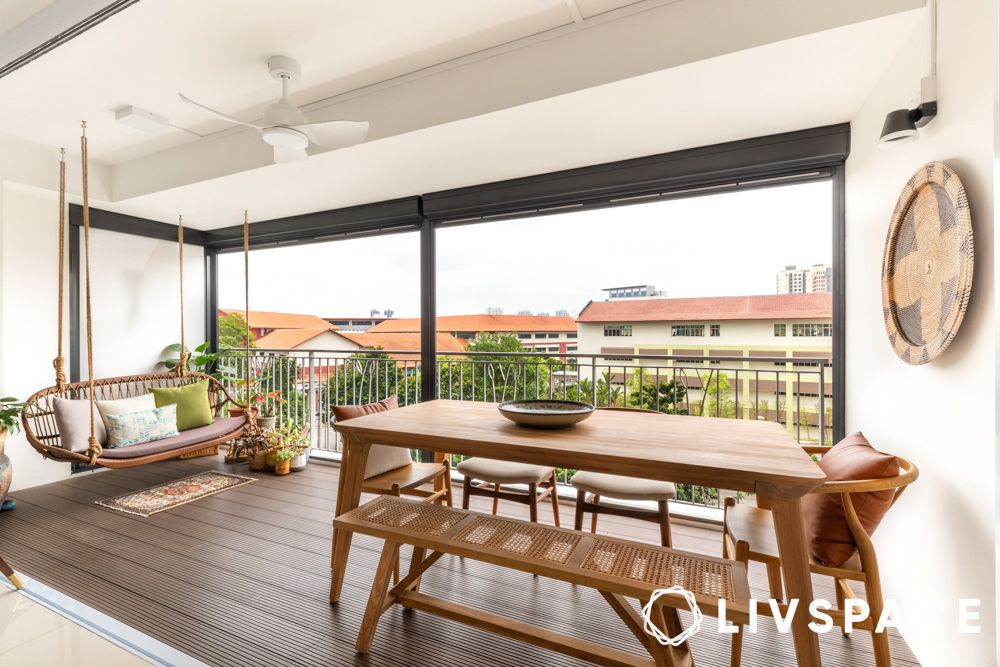 Rustic interior design is all about using organic materials. You have to avoid contemporary or non-eco-friendly options like plastics and PVC entirely. This rustic home interior relies heavily on the use of jute, cane, bamboo and wood.
As you can see, the focal point of this space is the jute swing. However, the cane work on the bench is also eye-catching and adds to the beauty of the wooden furniture. Adding faux elements can establish a beautiful interior, while also opening up the space and making it appear larger than it actually is.
2. Wood to Nail a Modern Rustic Interior Design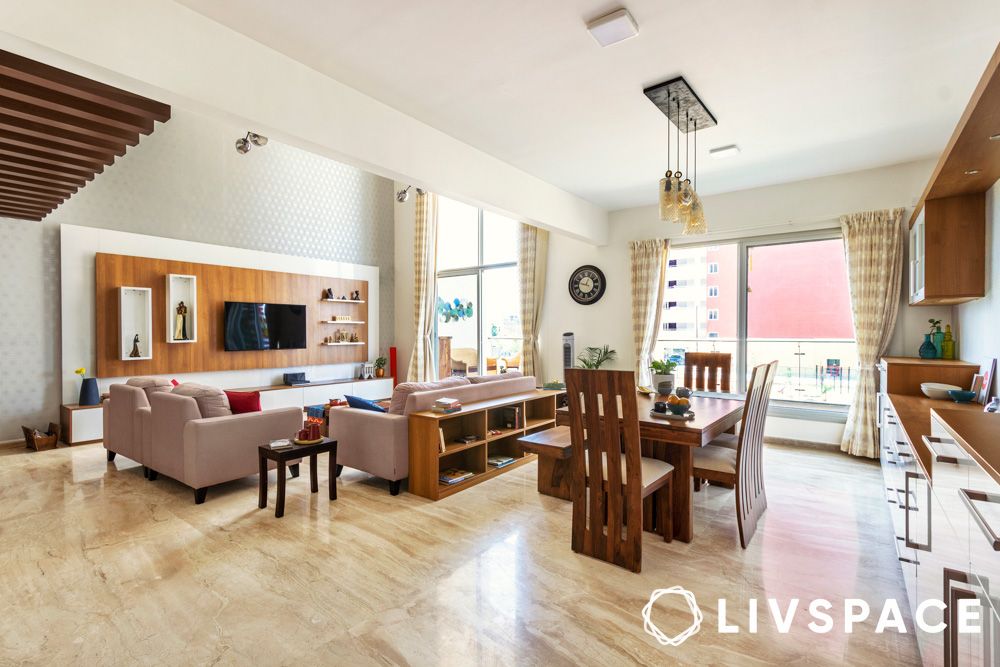 If you are not a fan of cane work or bamboo or rattan, and you would much rather opt for a home design with an edge, go for wood. What's more, you can still be rustic.
In fact, this room uses a lot of wood, from the ceiling panelling to the TV unit, bookshelf design, dining set and even the storage unit, in addition to small tables and vanity units. After all, it adds warmth and depth in a room that's modern and contemporary.
Also Read: What's VDF Flooring? The Insider's Guide to This Specialised Flooring Trend
3. Neutrals & Green to Add Finesse to Rustic Contemporary Interior Design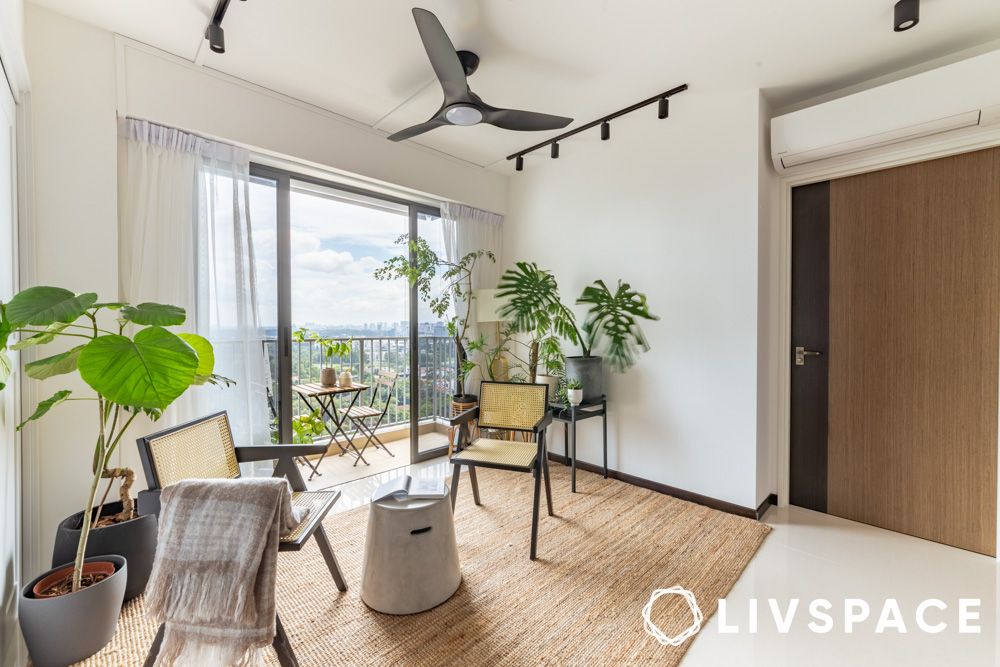 Opt for a rustic home interior that's relaxed and gives a calming vibe if you would like to lean towards a contemporary style. Planters, neutral colour shades and sliding doors are the contemporary design elements used in this home.
In order to incorporate rustic elements, the homeowners decided to go with the hand-woven rug that's likely hemp heavy, used cane work for the chairs, and wooden patio chairs for the balcony.
4. A Solid Wood Jhula to Complete a Rustic Indian Interior Design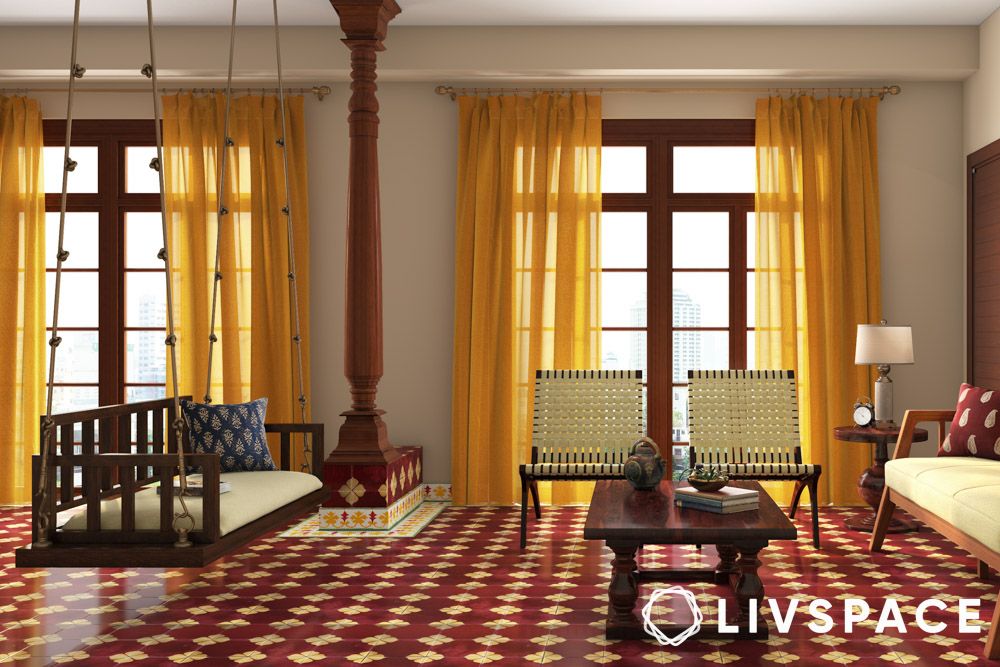 A rustic Indian interior design can be conceptualised in many ways. But for this home in Kerala, Livspace designers opted for wooden furniture, a traditional solid wood jhoola and hand-woven accent chairs.
What truly highlights the rustic luxury of this Indian home is the flooring choice that pairs well with the brown and neutrals used throughout.
5. Slat Wooden Panels to Mimic Country Style Interior Design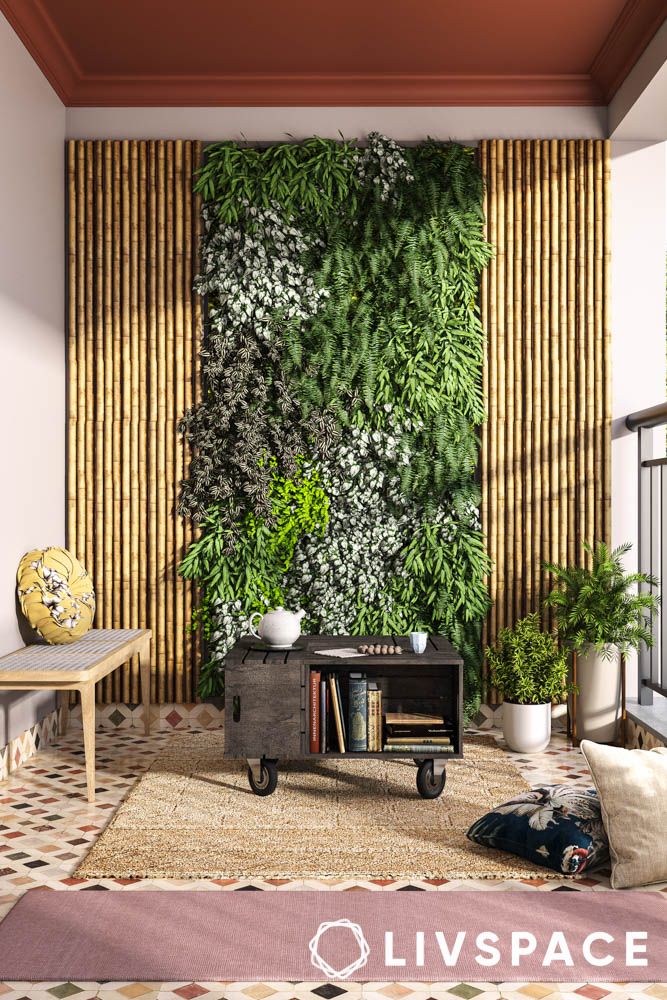 A country style interior design derives its essence from nature, and is often used interchangeably for a rustic house interior. Jute mats, textiles, wood slat panels, and greenery complete the overall look of this rustic home interior.
Explore 3 Rustic Indian Interior Design Trends
A farmhouse interior design style or a rustic Scandinavian interior can be quite dreamy. However, nothing beats the glory of Indian interiors! While we might be biased, but having designed over 50,000 homes in India, we know what sticks and what doesn't.
In fact, when paired with the right decor elements, Indian rustic home interiors exude a captivating blend of style and elegance.
RUSTIC LUXURY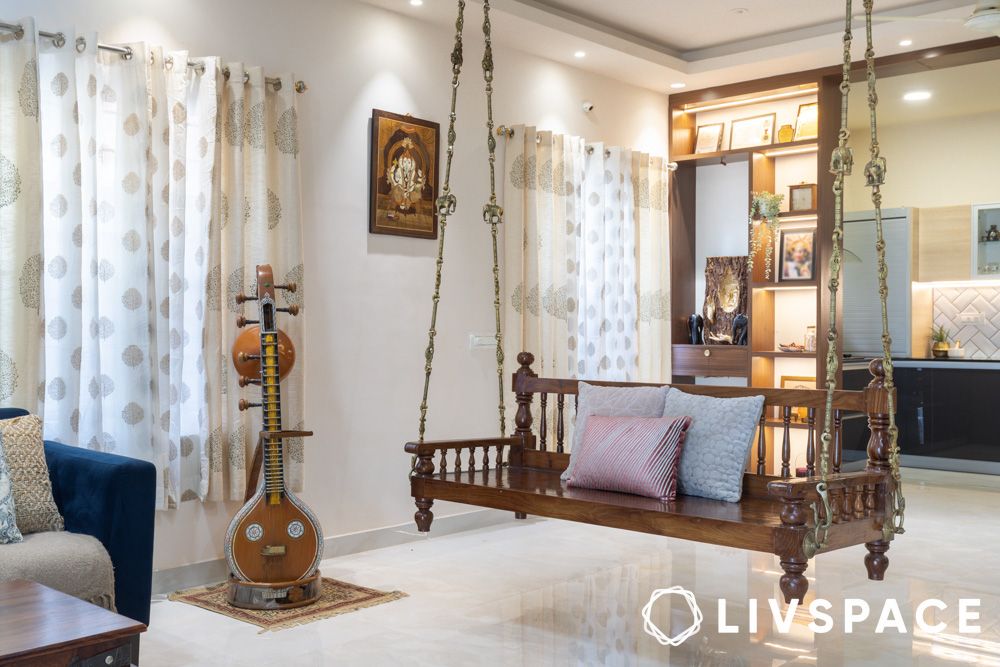 This Indian home uses a Maharaja jhoola and showcases their taanpura in the living room. What gives this home some added panache are the muted shades that run throughout, set off beautifully by the wood and (sparsely used) gold accents.
RUSTIC CALM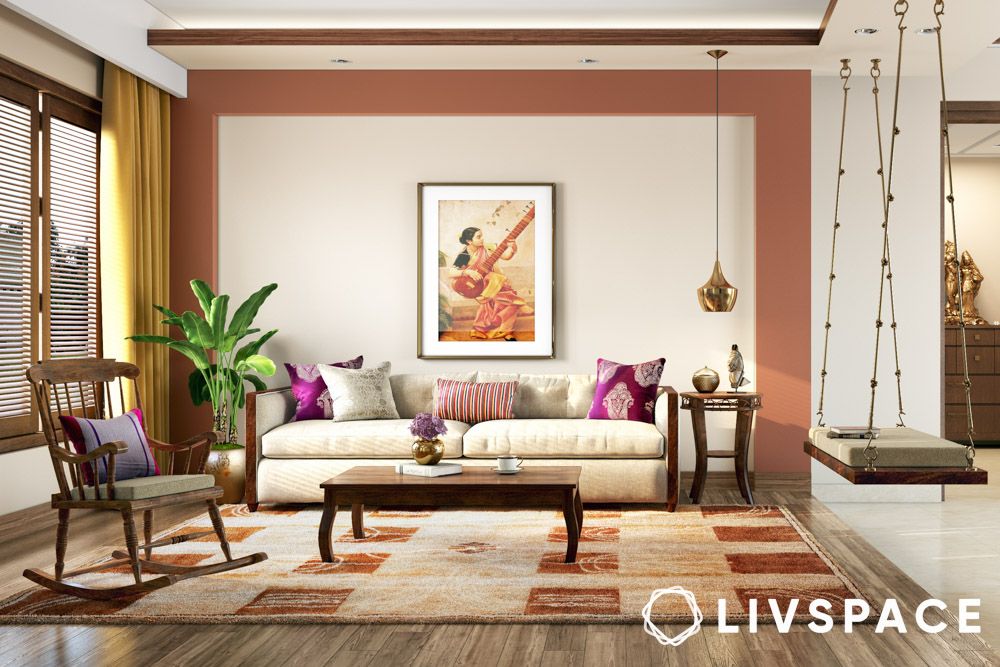 Most contemporary homes in India seem to have forgotten the charm of rocking chairs and the warm cradle of solid wood swings. But thankfully for us, here's a home that features both and manages to exude a calming blend of airy vibes and an uncluttered ambience.
Also Read: Top 15 Indian Interior Design Ideas to Add That Desi Drama to Your Home
Comfort and luxury ring strong in the rustic interiors of this house. However, the Indian artwork invokes peace. It almost has the vibe of an Indian baithak that's more suitable for the modern times!
RUSTIC VIBRANCE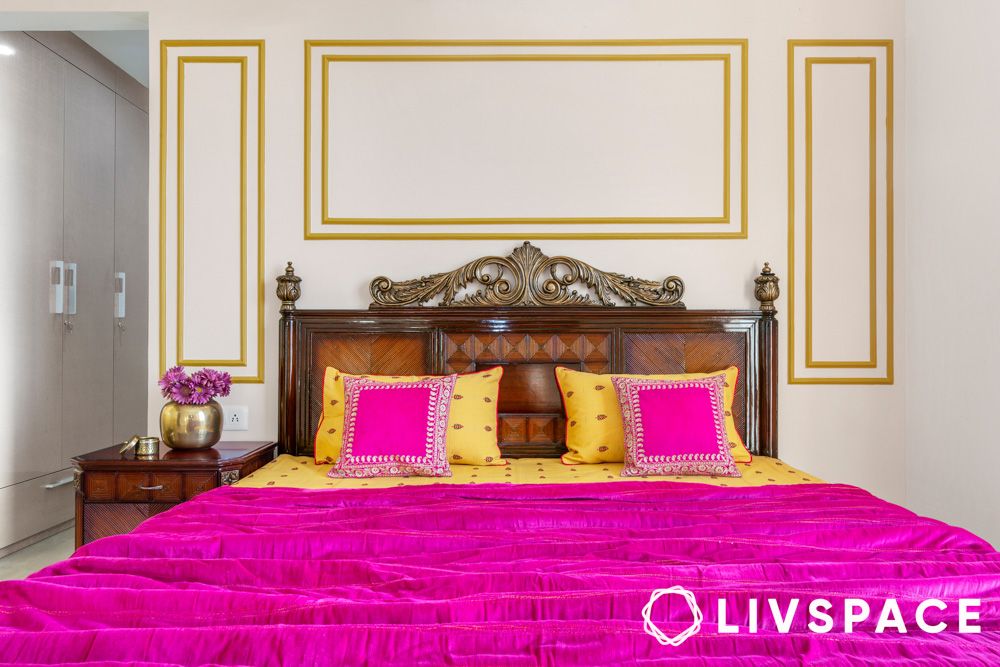 Though not the most textbook definition of rustic, this Indian home is rustic in the use of wood, textures and wall panels. What's seemingly a new trend in the rustic interior design industry has been executed beautifully in this home.
In other words, bright textiles and fabrics often need a setting stage to be featured, without being too overwhelming.
How Can Livspace Help You?
You can get the best of designs to choose from
We cut no corners in terms of the quality of work and materials
Our expert interior designers can support you even in the trickiest of renovations
If you want to design your dream home or renovate your commercial space, book an online consultation with Livspace today.