National Award winning actress Kalki Koechlin is known for her offbeat, unconventional and thought-provoking roles. As worldly as she appears, this actress is also deeply connected to her roots and nature. Born in Puducherry to a French mother, her home in Puducherry is a testament to this talented performer's grounded nature. Set on a large property amidst a lush coconut grove, Kalki Koechlin's Pondicherry home is traditional and minimal in every way. Take a look here!
She rightly stated, home is wherever you reconnect with yourself. We couldn't agree more! Everything about her home is ethnic, rustic and traditional. Large open spaces, wooden tones, warm colours like red and orange and a sustainable mode of living are the highlights of her home.
Inspired by the aesthetics of her dwelling, we bring you our take on the decor from our in-house designers. Take a look!
Kalki Koechlin Pondicherry Home: Back to Basics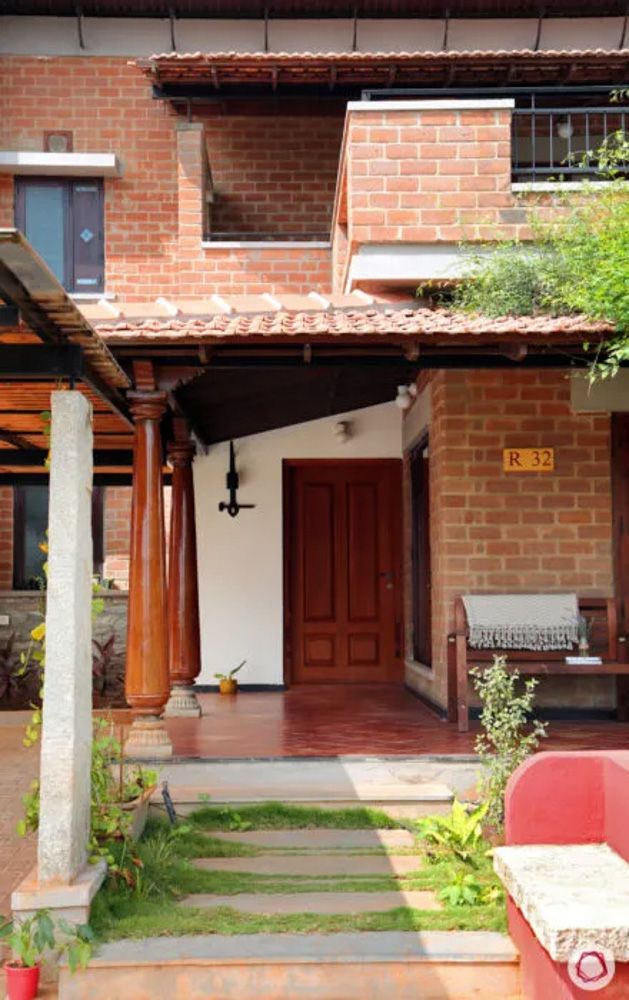 Take a look at this traditional home's entrance. Everything about this screams rustic, much like Kalki's home in Puducherry. This architecture is a breath of fresh air in cities.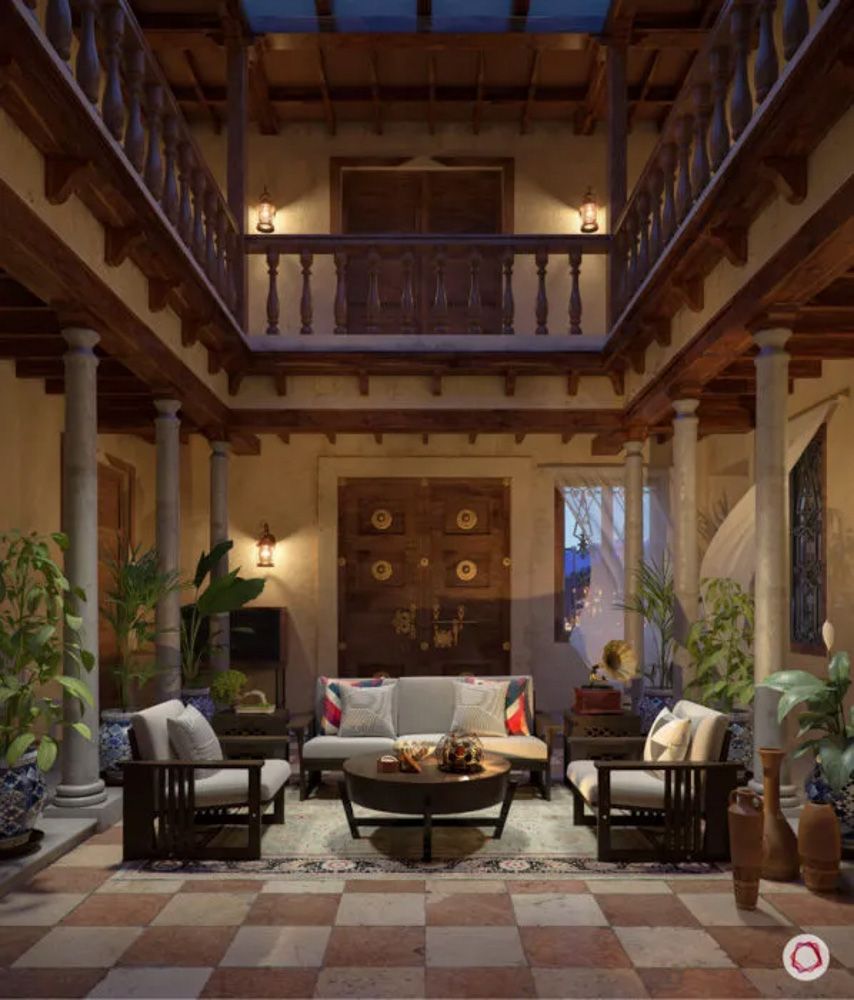 Stone pillars, wooden trims and furniture, large open spaces and lots of green, this look takes us back to our ancestral homes. We converted the large open courtyard into a seating area surrounded by earthy tones and simple lighting fixtures.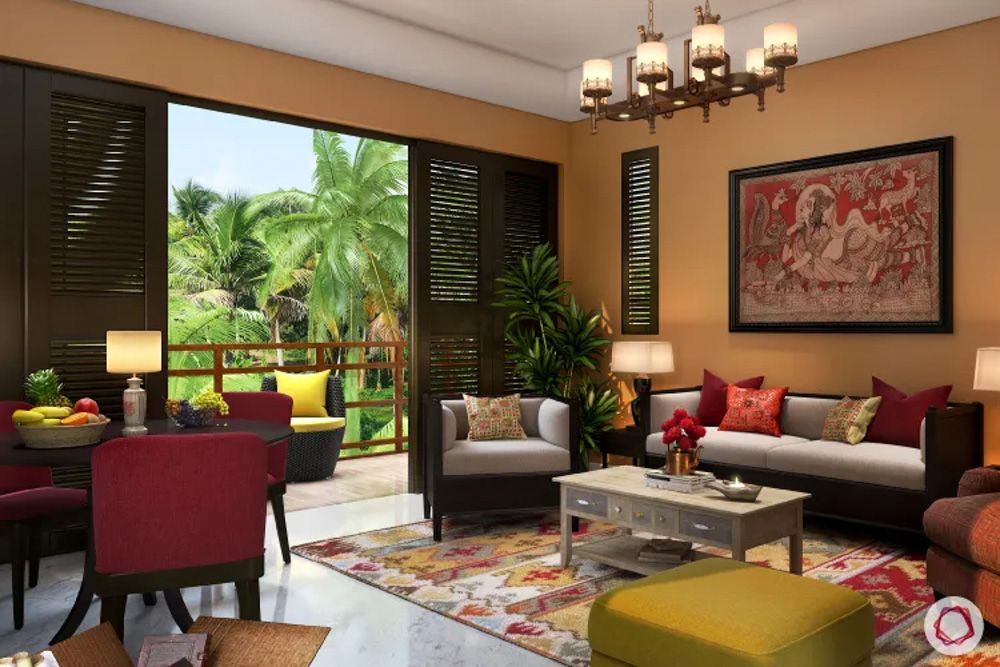 In attempting to make her home design work for the urban crowd, we used the same wooden slats for these large doors and windows. It enables great ventilation while giving the room rustic vibes. In addition to this, the interiors are made comfortable in earthy tones like orange and red, topped off with an Indian painting and rug. Cosy, don't you think?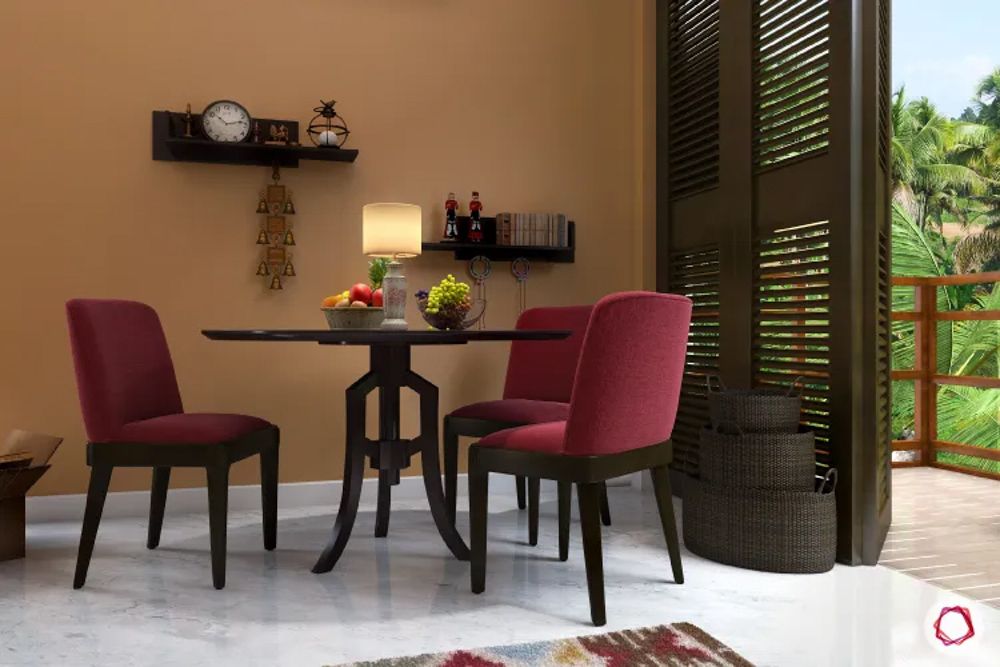 This little nook to snack, enjoy coffee with a view or even have an intimate dinner has been done up quite simply. Easy to replicate, you can try it out in your own home if you have a great view of the outdoors.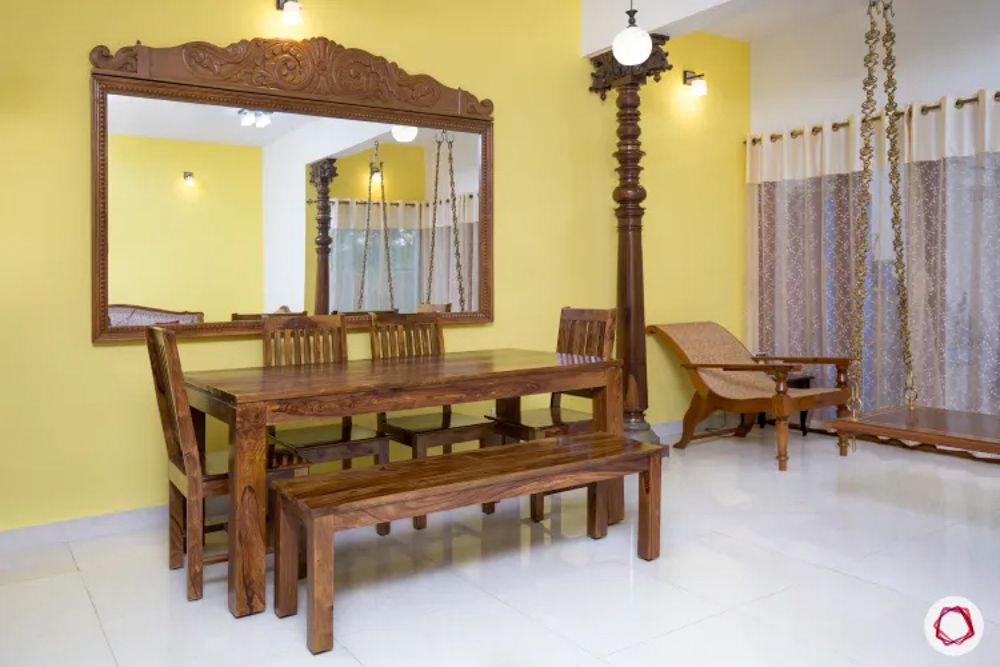 The home uplifts Indian ethnicity making it an eye candy. Here too, we have designed a stylish wooden ensemble for our client to replicate the traditional ambience. Kalki, in this way, has stayed true to her Tamilian roots.
Kalki Koechlin Pondicherry Home: The Fun Elements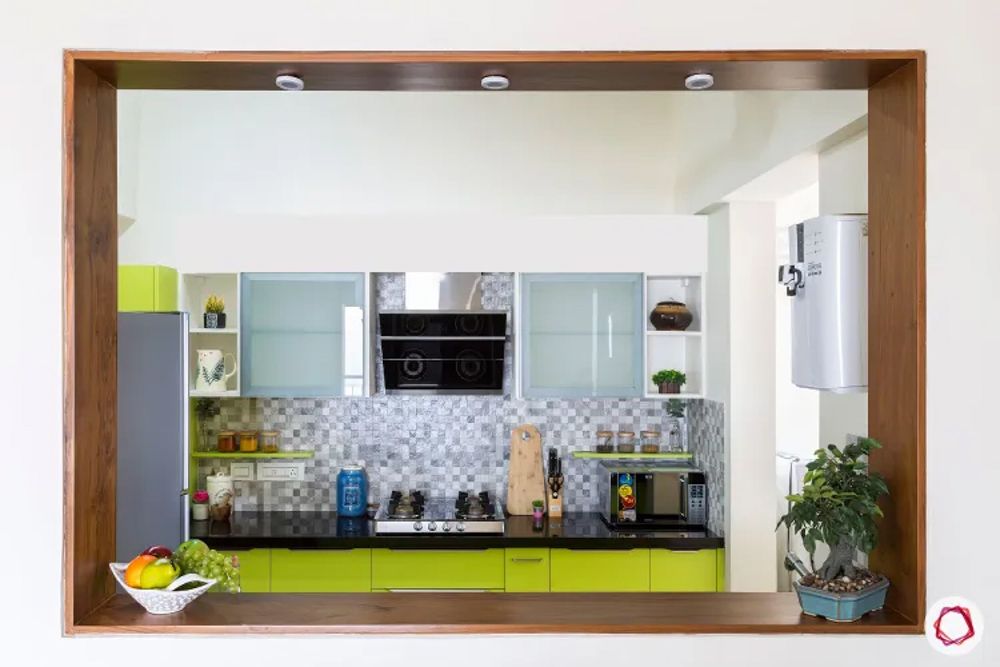 Kalki's kitchen too opens out to the porch with a pass-through window. A wooden panelling frame matches the theme of the home and infuses warmth.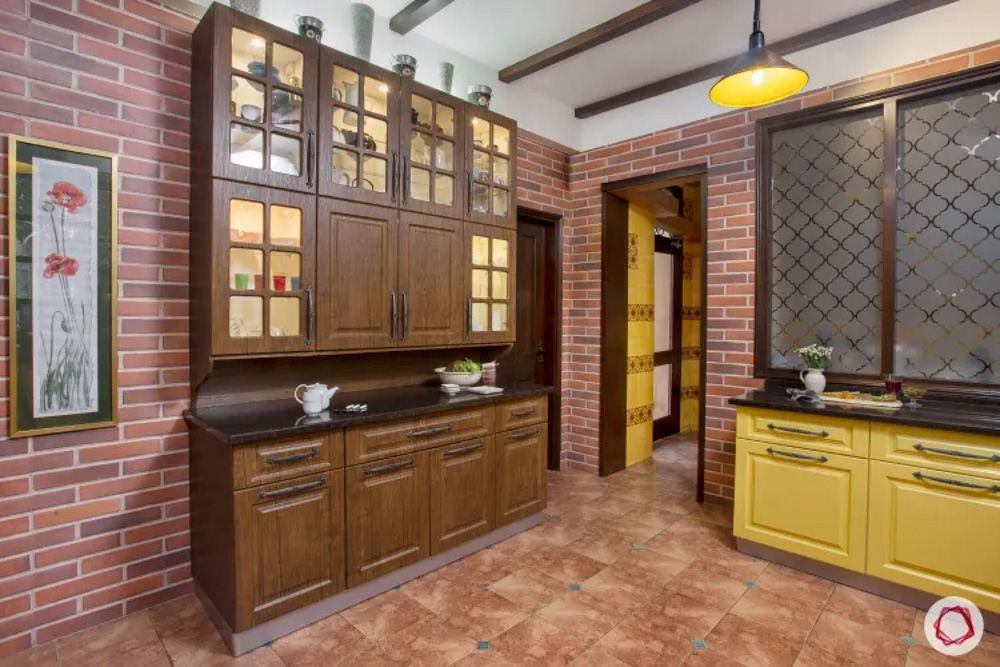 This home exhibits a country-style kitchen with earthen hued tiles to complete the look. The crockery unit stacks away all the cutlery in an organised fashion. The exposed brick wallpaper will also work for you if you don't want to create a lot of civil work.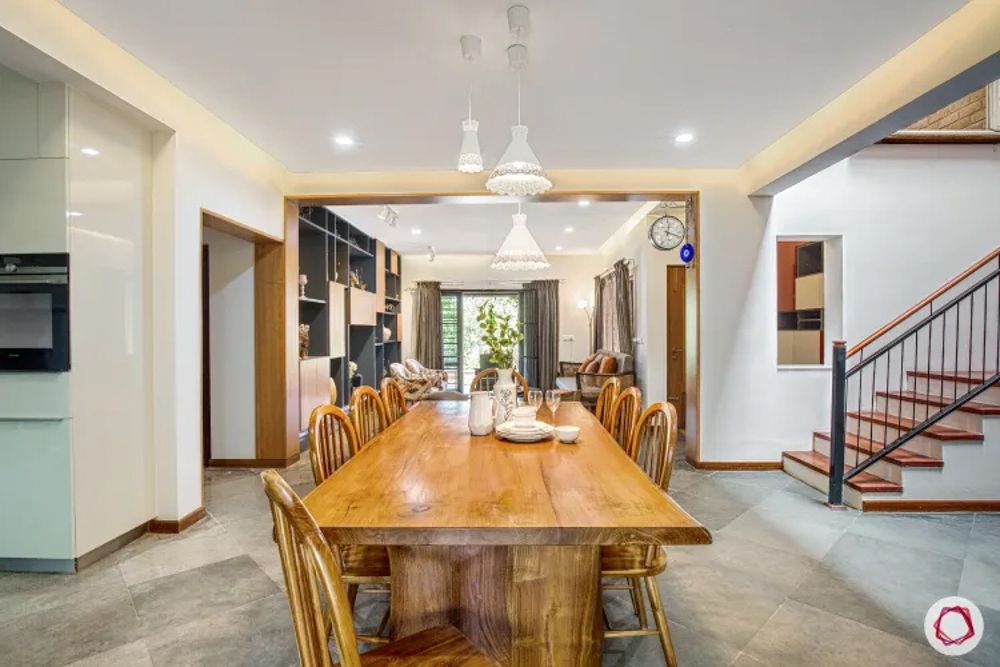 There are many ways to add traditional touches to your urban home. For example, you can get a table in reclaimed wood to create a zone for the family to congregate.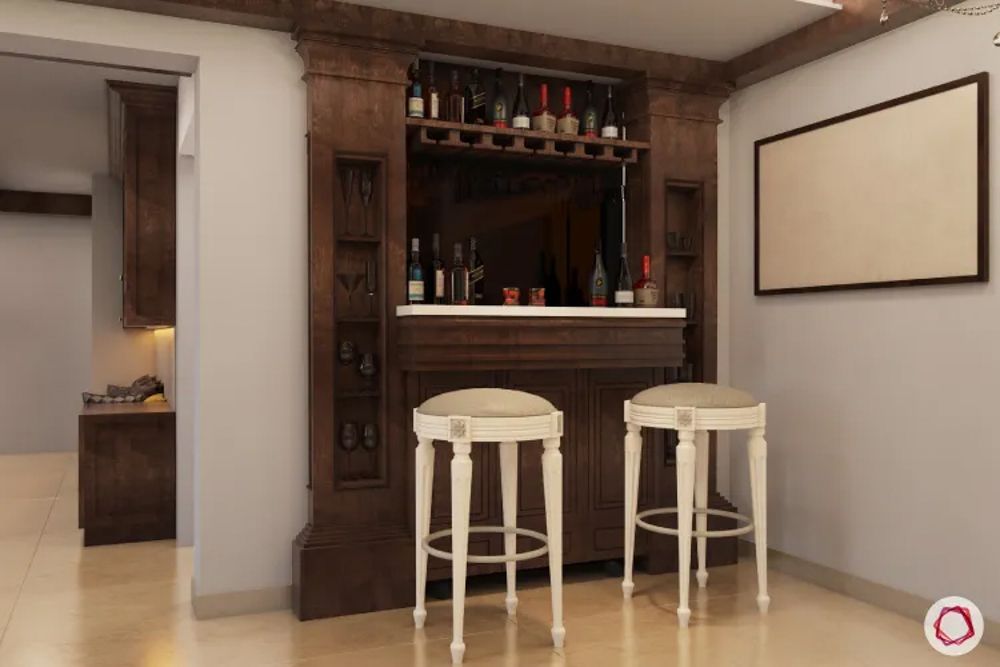 Her kitchen features a pass-through window with high bar stools making a fun conversation zone while enjoying sumptuous delicacies. Although this isn't similar to that, a bar unit that aids in a good evening counts as well right?
Kalki Koechlin Pondicherry Home: For Leisure Time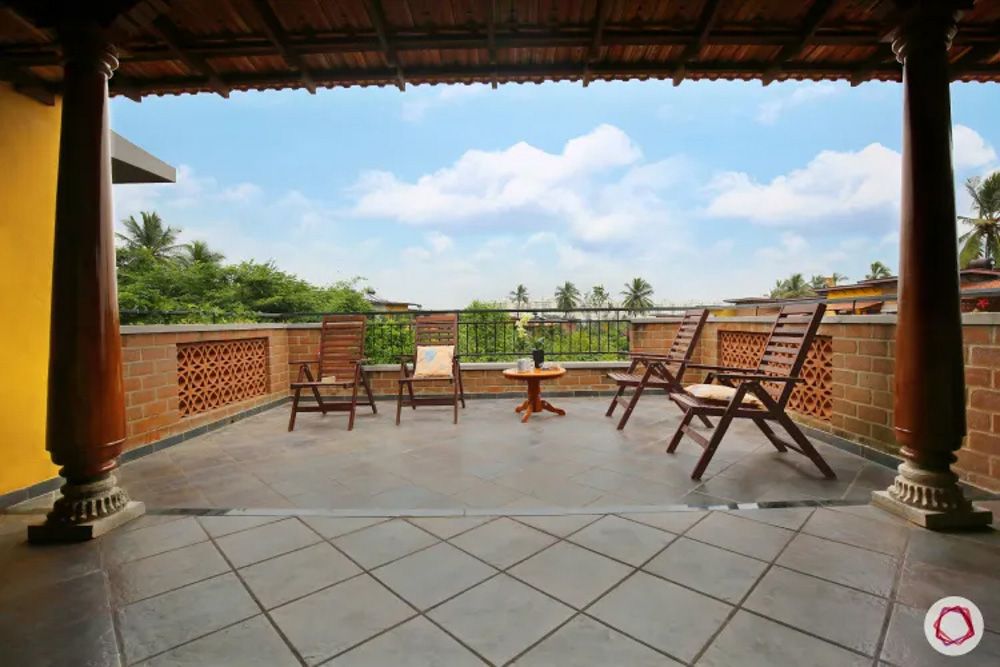 Our clients also wanted a setup quite similar to Kalki's – rustic and in touch with nature. This is how we designed their balcony – wooden chairs to lounge in watching the clear blue skies and green around. Framed by traditional wooden pillars and done up entirely in brown, this is an ideal farmhouse setup.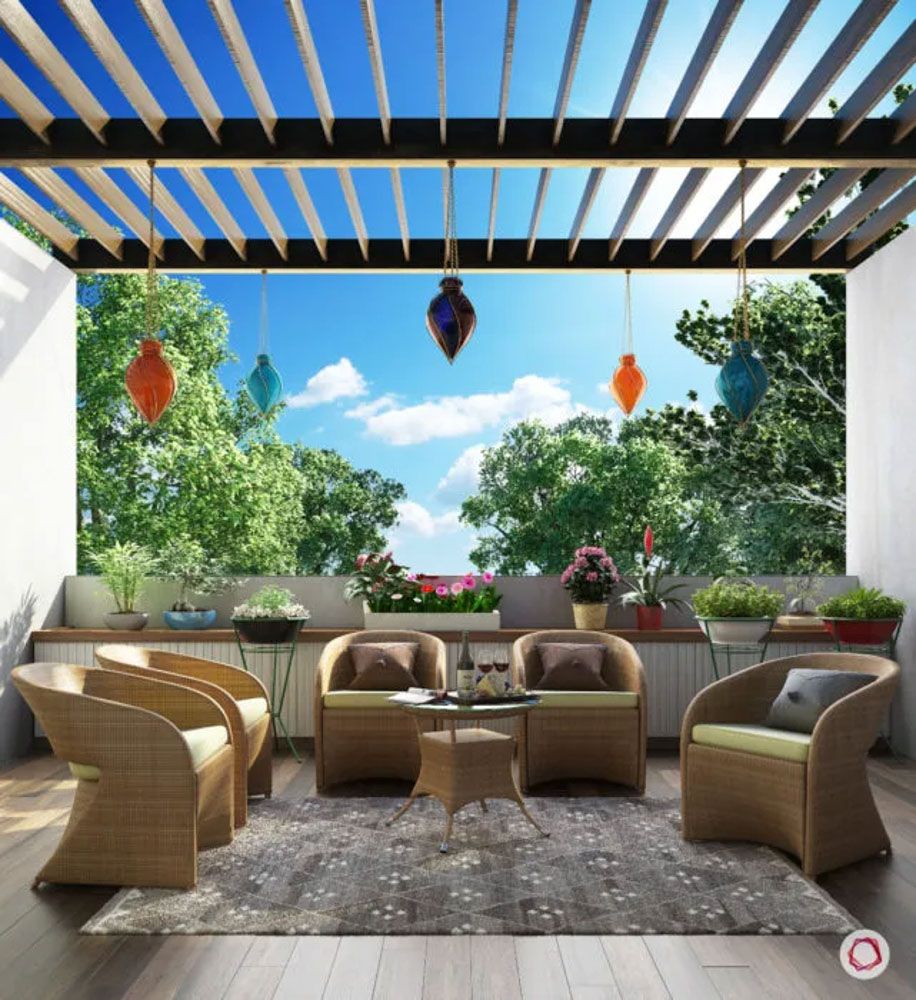 If you noticed, Kalki's verandah had simple patio furniture in cane. We too love an open setup with comfy furniture for small gatherings in the evening.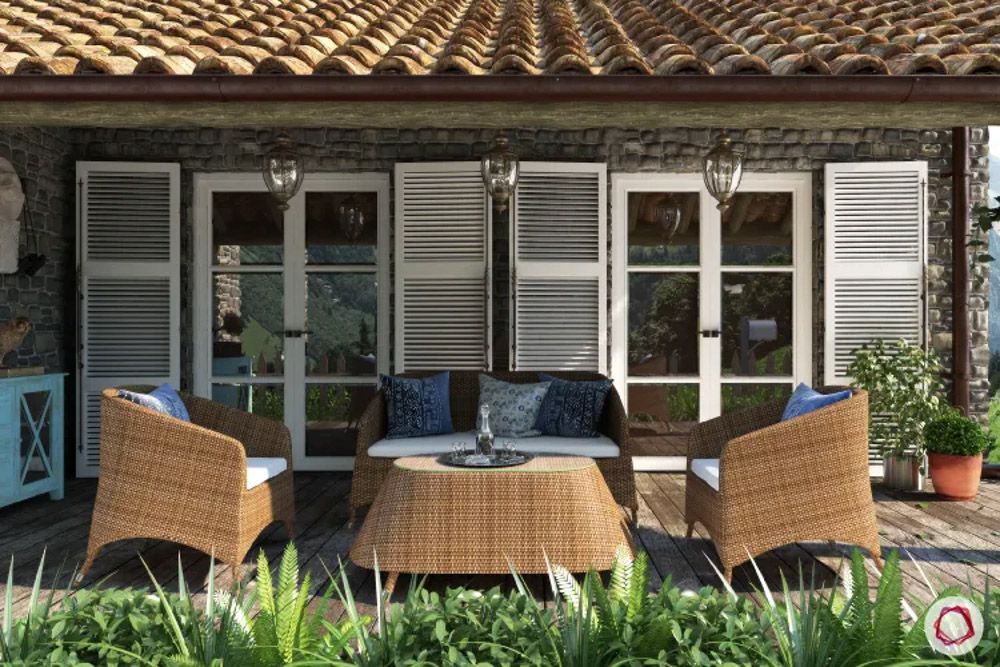 If you have the luxury of space, you could try a design like this outdoors. Stick to distressed flooring, wooden slats for your windows and cane furniture for some relaxing time with family.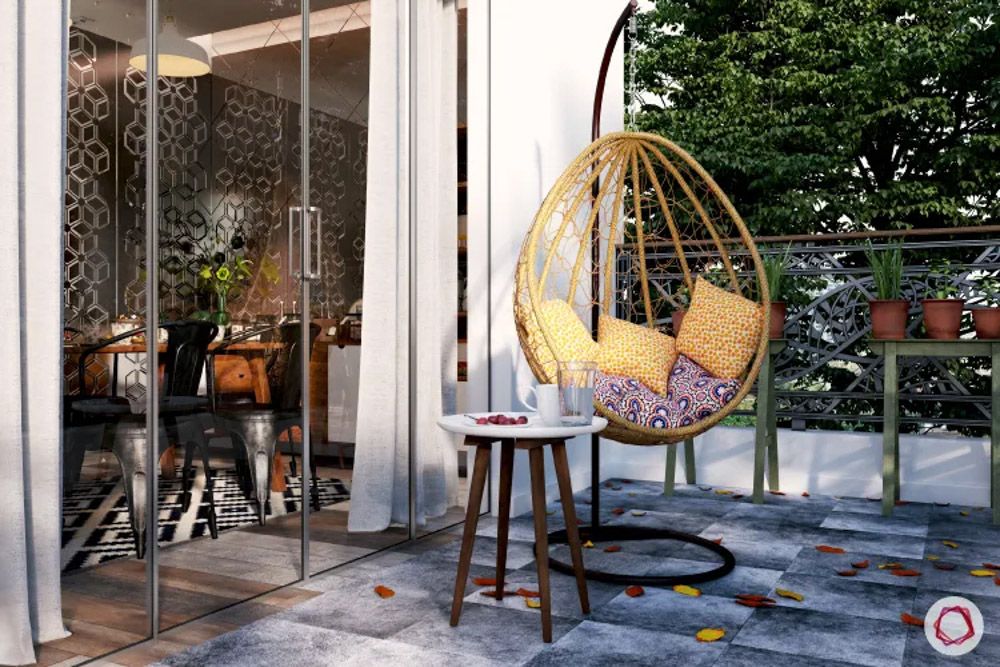 The actress' balcony features a cane swing which she loves to lounge in. You can also have a swing in your compact balcony to relax and enjoy your pastime.
Kalki Koechlin Pondicherry Home: All Things Wooden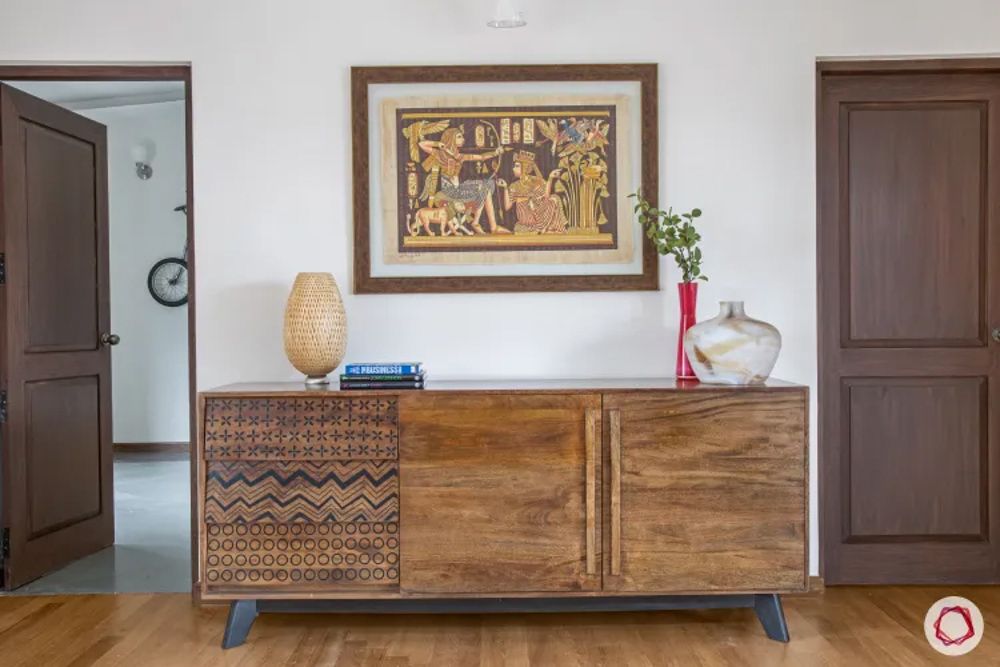 Carved wooden furniture can capture the traditional look beautifully. The all wooden look with wooden flooring and an Indian painting can enhance the aesthetic appeal.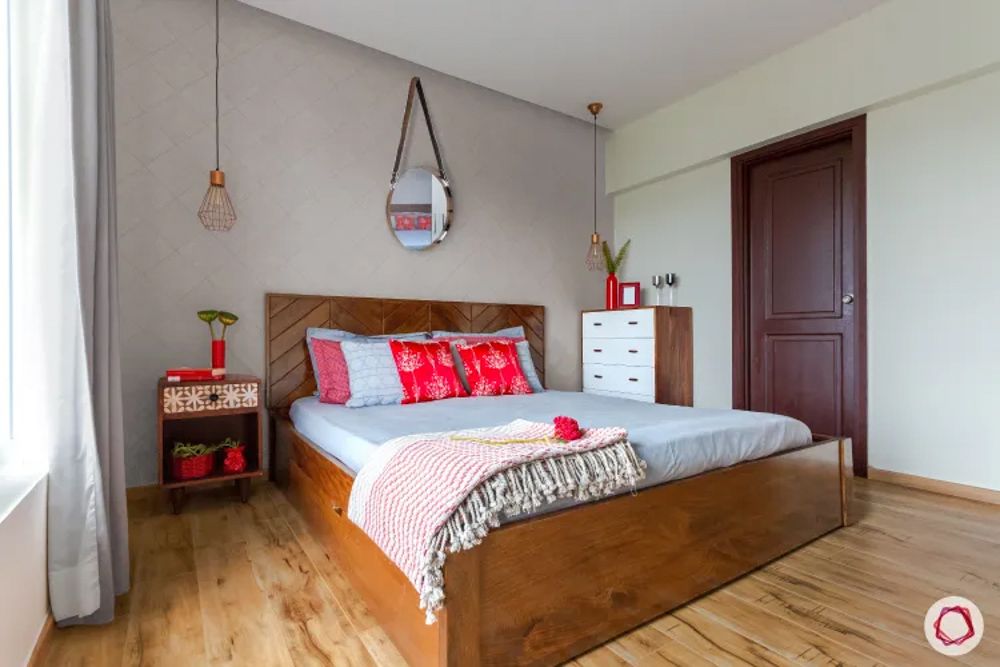 Along with wooden tones, spacious layouts are the highlights of the Puducherry home. Replicating the ambience and effect, here is a stunning bedroom in Bangalore.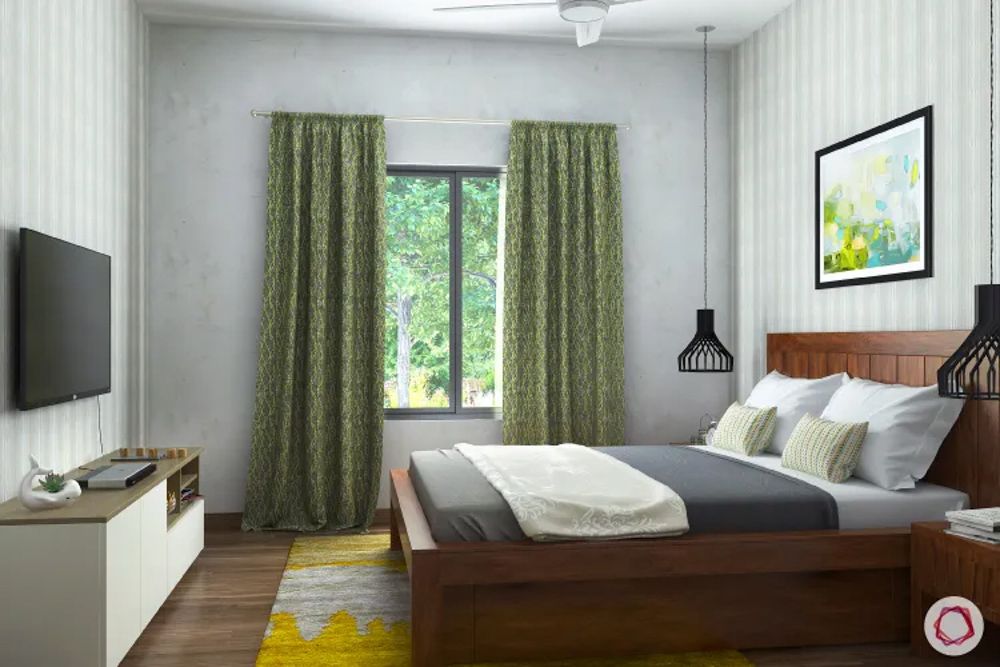 The actor's room is simple with a wardrobe, chest of drawers and a bed. All wooden furniture gives it a warm look and welcoming look.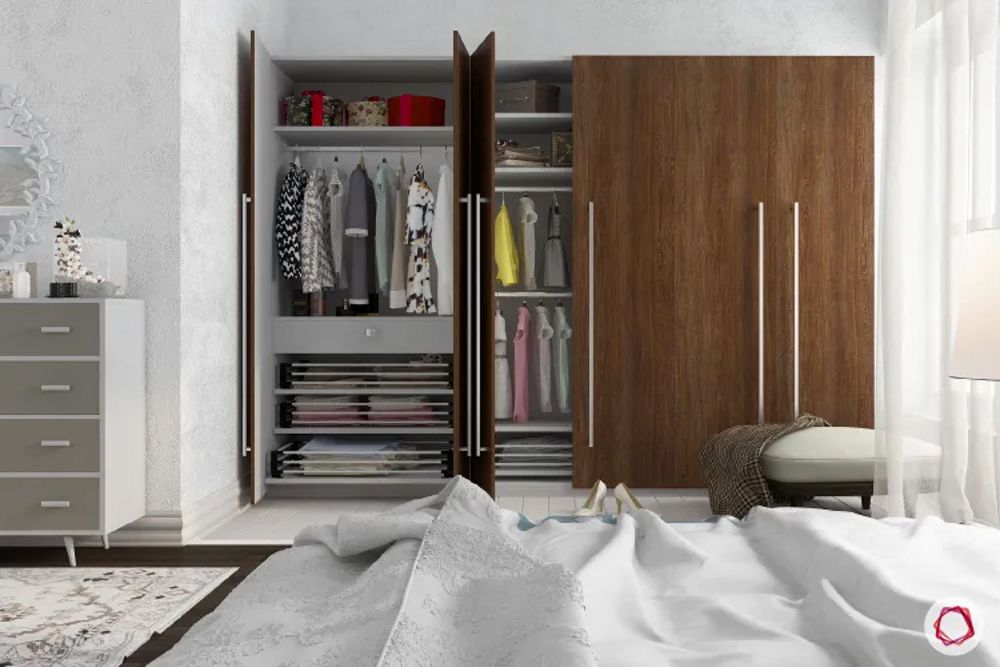 Although Kalki jokes that she fits into her teenage clothes, not all are capable of saying the same! Either way, a stunning wooden wardrobe with ample space for all your accessories and apparels is a must.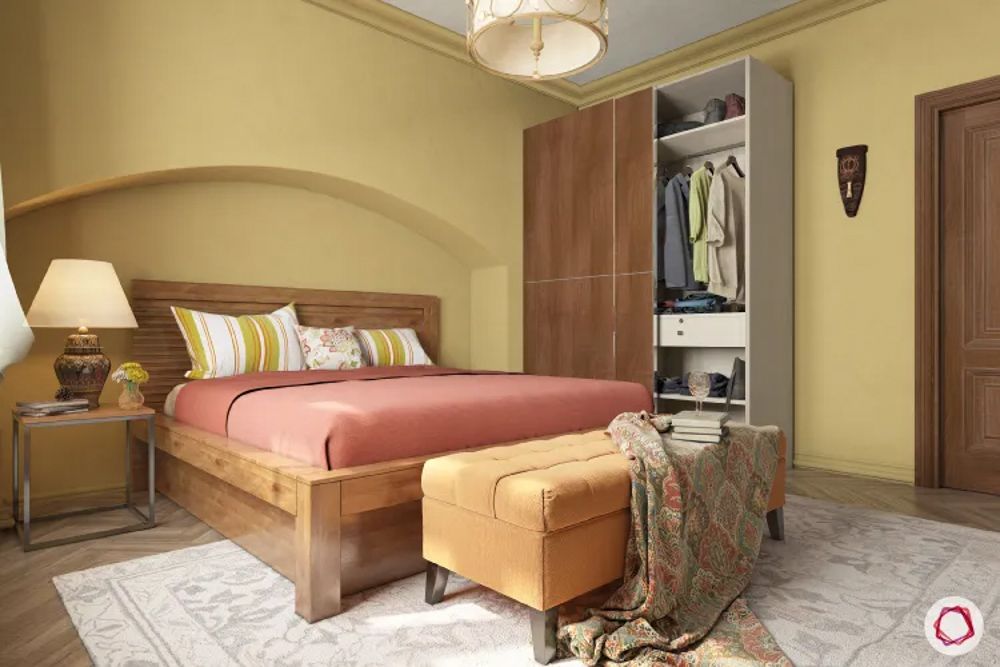 Oranges and yellows bring out a warm and South Indian look to the bedroom. You can easily replicate this by painting your room with these shades. A matte finish is recommended than a satin or glossy finish to give it a muted feel.
If you find celebrity homes catchy, here is the Livspace version of Kangana Ranaut's Manali home.
Tour this traditional Chennai home:
Kalki Koechlin's Cover Image Credit: @kalkikanmani on Instagram