Who is your favourite celebrity couple? If your answer is Virat Kohli and Anushka Sharma, then we have a treat for you! In a special Livspace exclusive, we had an exclusive Q&A with Virat Kohli and Anushka Sharma to know them a little better. Which is their favourite room? Are they plant parents and how many plants do they have? Which is that chore that they absolutely hate? Find out all these details, and so much more, in this special interview.
Q 1: Which part of the house is your favourite?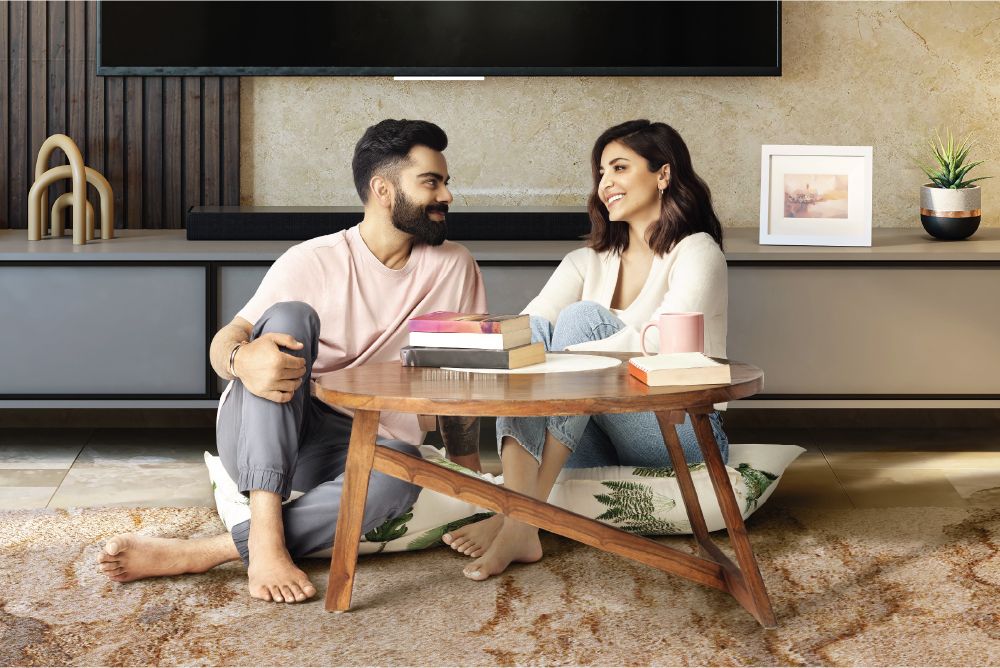 Virat Kohli: Living room
Anushka Sharma: Balcony
Q 2: How many plants do you have?
Anushka: All in all close to 600 plants
Q 3: What are the household chores that you hate the most?
Virat: None
Anushka: Mopping
Q 4: Pick your favourite: Delhi or Mumbai home
Virat & Anushka: Mumbai
Q 5: What is your prized possession?
Virat: Life
Q 6: False ceiling: Yes or No?
Virat & Anushka: Yes
Q 7: Choose: Wallpaper or Paint?
Virat & Anushka: Wallpaper
Q 8: Which do you prefer: Soft, earthy tones or bright, bold colours?
Virat & Anushka: Mix of both
Q 9: Wooden or tile flooring?
Virat & Anushka: Wooden flooring
Q 10: Finally, any home decor tips for our readers?
Virat: Envision yourself in the space before you do anything with it.
Anushka: Play with wallpaper and a colourful bright sofa. Even if it's a printed wallpaper or in muted tones, you can use a bright sofa against it; that adds a lot of life into a living space.
Or even brick walls, you know, just in one corner of the house; that also adds texture to a space. It's basically all about adding different textures and different tones in your room; helps you play with furniture and everything quite well.
And always choose a very good carpet or a rug; that really holds a room together.
We hoped you liked reading this special Q&A with Virat Kohli and Anushka Sharma.
We love hearing from you! Write to us with your comments and suggestions at editor@livspace.com