Let's accept it — staring at celebrity homes is a secret pleasure most of us share. Ranging from minimal to Indian, homes belonging to celebrities display myriad interior design styles. And if you are planning on getting your interiors done, the best place to find inspiration is a celebrity home. Now, you probably cannot replicate the exact look, especially if you have a tight budget. But you can definitely recreate a similar look. To help you, we checked out 10 popular celebrity kitchen designs and reproduced the looks. The best part is that these looks are easy to implement in your own space.
Celebrity Kitchen Design #1: Alia Bhatt's Pastel Kitchen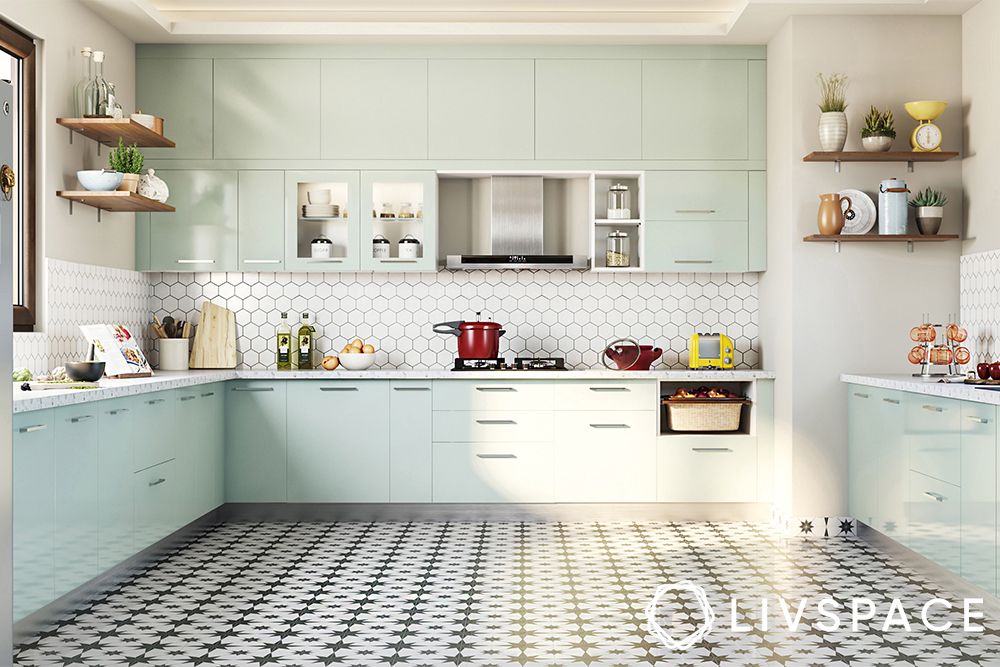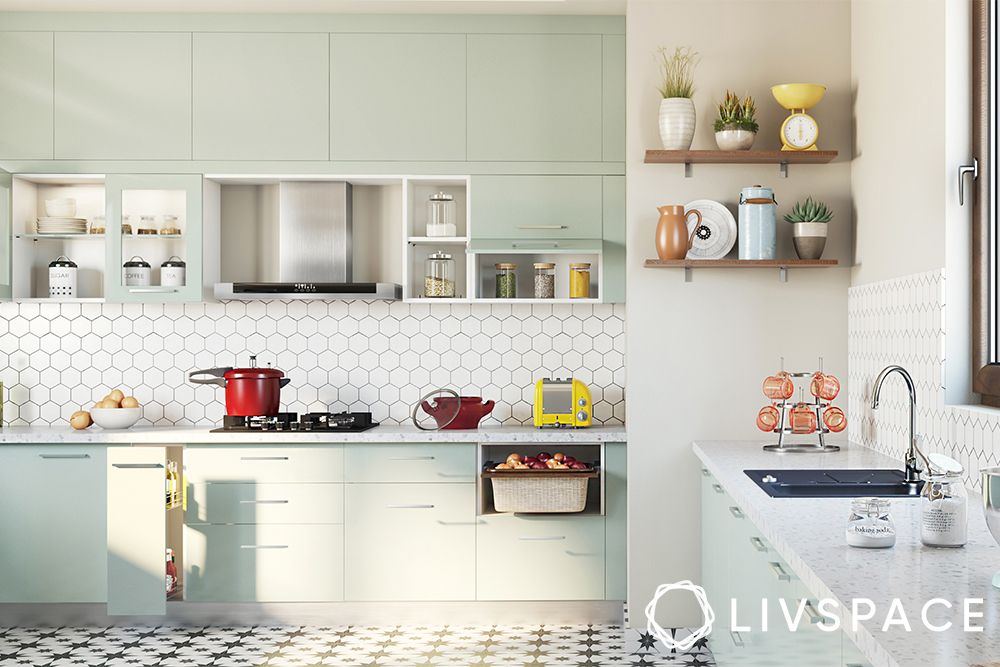 From Alia Bhatt's minimal wedding to her pregnancy and the release of her much-awaited movie Brahmāstra, the talented actress has been in the news for the last few months. But today, we want to show you Alia Bhatt's kitchen, which is done up in mint green. Our rendering of this celebrity kitchen design is not only extremely easy to implement but is also perfect for compact spaces as the layout and the colour theme makes the kitchen look open, airy and large.
How to Get the Look?
An efficient U-shaped layout
Maximum storage in the form of open shelves and closed cabinets
A pastel mint-green colour theme
Trendy kitchen accessories
What We Love
The mint green colour theme of Alia Bhatt's kitchen makes the room look very spacious and summery.
Celebrity Kitchen Inspiration #2: Priyanka Chopra's Kitchen Done Up in Muted Tones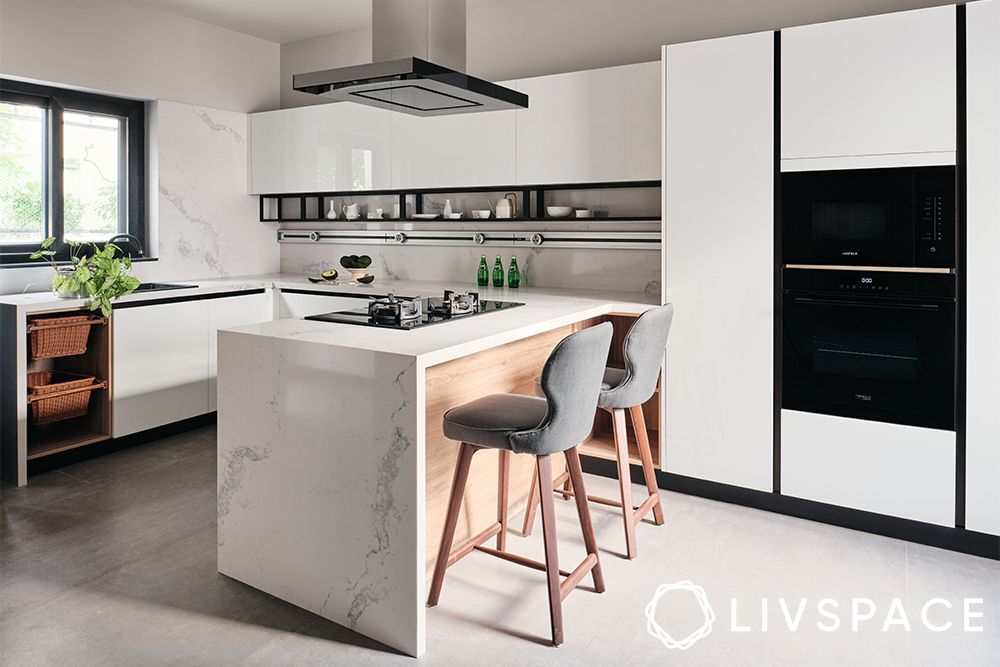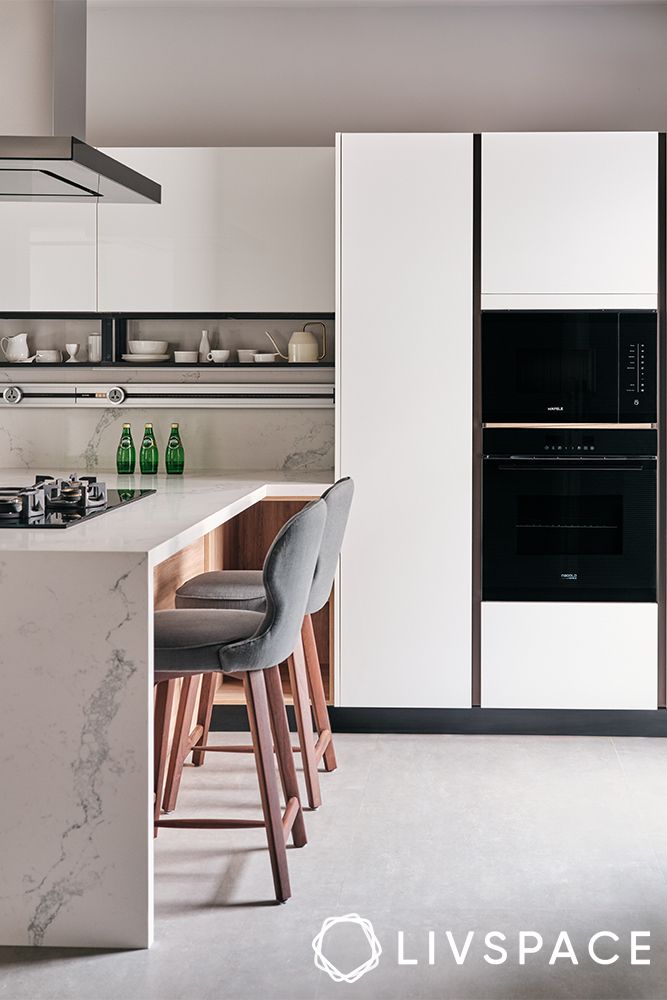 From Bollywood to Hollywood, Priyanka Chopra's popularity is infinite. Listed as one of the 100 Most Powerful Women in 2018 by Forbes, the Quantico actress is a powerhouse of talent. Moving onto her home, Priyanka's modern kitchen stands out thanks to its clean, white palette and the use of stainless steel appliances. We drew inspiration from this celebrity kitchen design and recreated a similar look, in white, which is easy to implement.
How to Get the Look?
A monochromatic theme
An island kitchen layout
A grill or a stove on the island
Stainless steel appliances and accessories
What We Love
The island counter also serves as a prepping and serving space, increasing the functionality of the celebrity kitchen.
Celebrity Kitchen Inspiration #3: Sonam Kapoor's Chestnut Brown Kitchen With Glass Shutters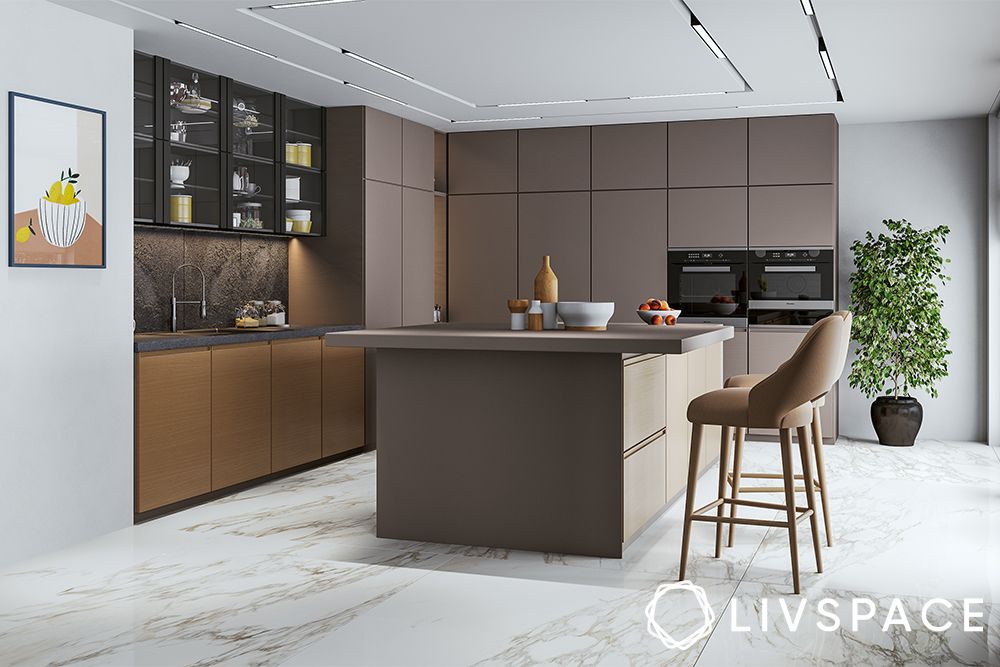 Sonam Kapoor's kitchen is as fashionable and trendy as the actress herself. One of the first things that stood out about this celebrity kitchen was the level of organisation. Moreover, every appliance, condiment etc has a specific place in Sonam's kitchen. In the above image, we created a similar kitchen to Sonam's one, complete with glass shutters that ensure everything is easy to find.
How to Get the Look?
A warm, chestnut-brown colour theme
Glass shutters for top cabinets
Closed base cabinets
What We Love
The convenience this celebrity kitchen design offers due to the glass cabinets and maximised storage.
Celebrity Kitchen Design #4: Radhika Apte's Kitchen With a Pop of Blue Clover
Radhika Apte may be a Netflix favourite but her celebrity kitchen design is our favourite! Her kitchen has a cute story behind it. Originally, it was painted aqua-greenish. On going to the paint store, she noticed a gorgeous shade of blue and found out that it was named Blue Clover. Clover happens to be the name of one of Radhika's closest friends, so she decided to use this colour and dedicated the kitchen to her friend.
How to Get the Look?
Paint the walls in your favourite colour. While Blue Clover is used here, you can choose the colour of your choice
If you don't want bright colours on all your walls, you can create a single accent wall
An open layout
What We Love
The open layout in Radhika Apte's kitchen allows easy conversations when friends are over and you're busy whipping up snacks in your kitchen.
Celebrity Kitchen Inspiration #5: Kartik Aaryan's Warm Wooden Space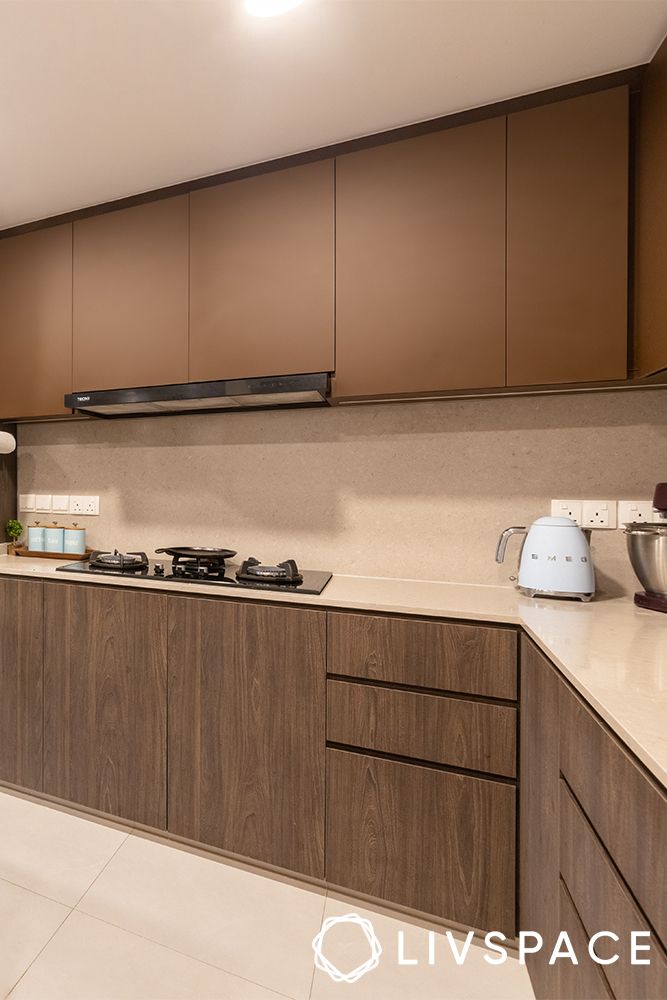 During the COVID-19 pandemic, the Bhool Bhulaiyaa 2 actor shared a video on his Instagram of him doing chores in his kitchen while listening to music. More than the video itself, what caught our attention was his kitchen and so we found a similar kitchen that is easy to recreate. With wooden cabinets, this celebrity kitchen is warm, cosy and classic.
How to Get the Look?
Opt for wooden upper and base cabinets
If you want a budget option, choose laminate in a wooden finish
Keep the backsplash minimal
Choose a white or black countertop
What We Love
The combination of the brown wooden cabinets and the beige backsplash in Kartik Aaryan's space.
Celebrity Kitchen Design #6: Mira Rajput's Lime Green Kitchen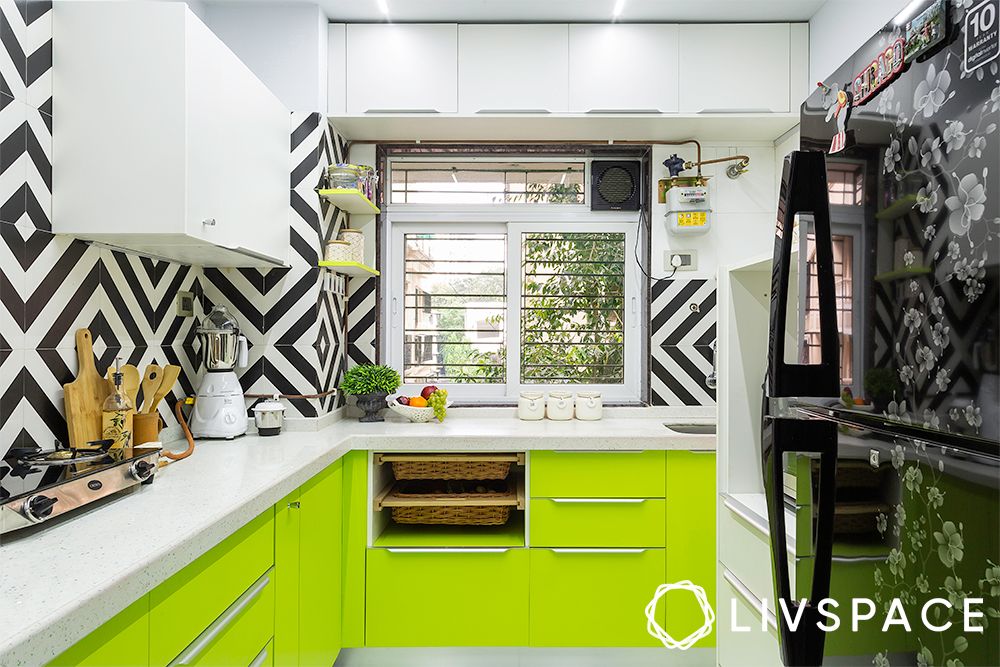 When Mira Rajput shared a photo of her celebrity kitchen design on Instagram, we couldn't get over how vibrant and quirky her kitchen is. One of the most striking features was the lime green refrigerator. How often do you see a fridge in such a unique colour? Since getting your hands on a lime green fridge might be a difficult task, we decided to recreate a kitchen following a similar theme and colour.
How to Get the Look?
Choose lime green base cabinets
Keep your upper cabinets and countertop white or some other neutral colour
Select a quirky pattern for your backsplash
Ensure all other cabinets, units, furniture and appliances, except the lime green base cabinets are in neutral colours
What We Love
The geometric-patterned backsplash.
Celebrity Kitchen Inspiration #7: Tamannaah Bhatia's Parallel Kitchen With Oodles of Natural Light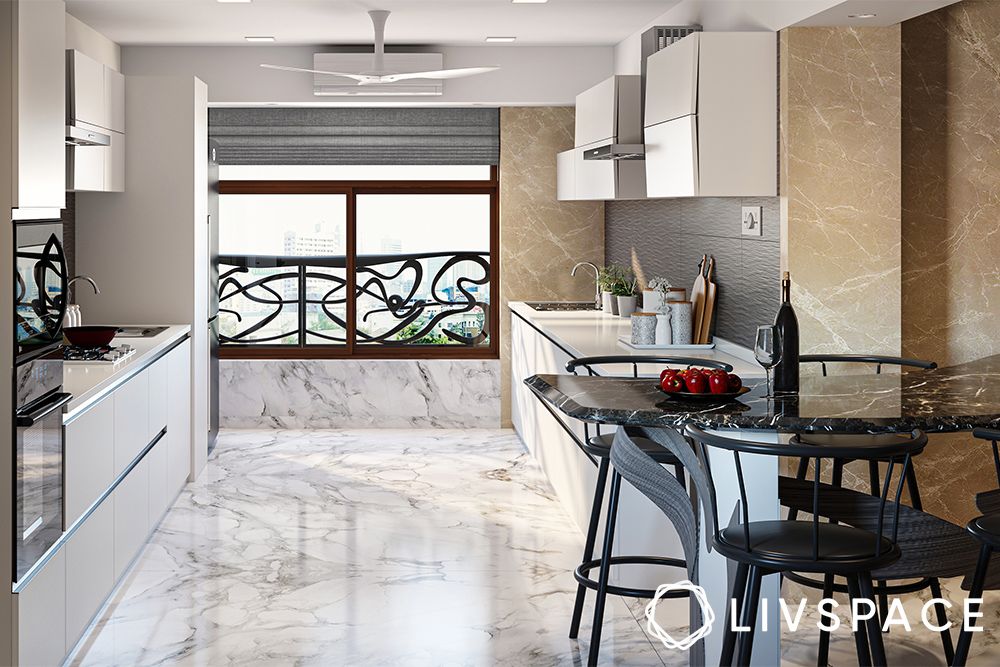 The first thing that stands out in Tamannaah Bhatia's parallel kitchen is the amount of natural light flowing in. Since a large window is the focal point in this celebrity kitchen, the space looks large and airy. Here is how you can ensure your kitchen is well lit and bright like this one.
How to Get the Look?
Choose a parallel layout to allow sunlight to flow
Don't block windows in your kitchen with appliances and furniture
Opt for a white colour theme to brighten up the space
What We Love
The parallel layout provides maximum storage and countertop space.
Celebrity Kitchen Design #8: Shruti Hassan's Kitchen Has Mint Green Vibes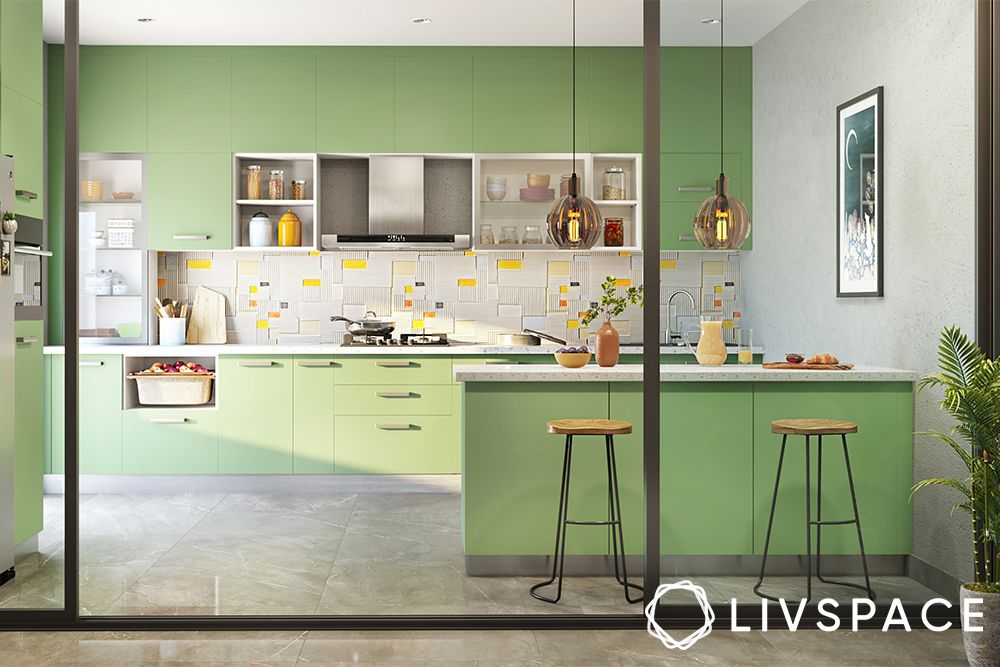 Green seems to be a popular colour among celebrities! Shruti Hassan's kitchen in mint green is fresh and airy. While Shruti loves open spaces, her semi-open celebrity kitchen design with a glass partition ensured that while the look was of an open space, there was a segregation from the rest of the house. This recreated kitchen has some added oomph via the industrial-style stools.
How to Get the Look?
A mint green colour theme for the cabinets
A glass partition
Cosy breakfast counter with industrial bar stools
What We Love
The glass partition that keeps all the cooking smells out while making it look like an open space.
Celebrity Kitchen Inspiration #9: Kalki Koechlin's Country-Style Kitchen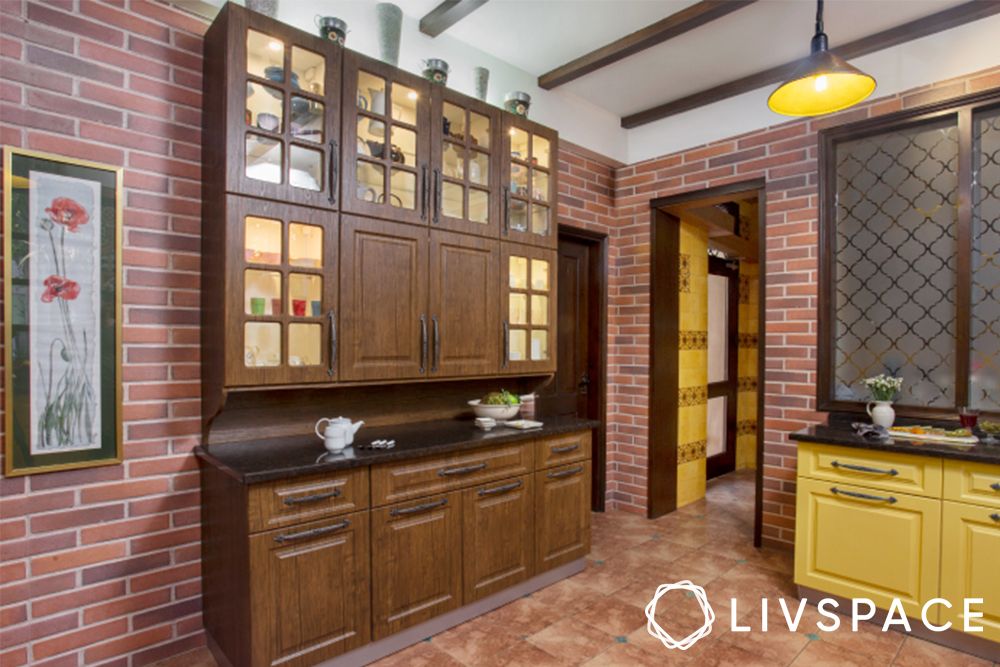 Summery and rustic, Kalki Koechlin's Pondicherry home has a country-style kitchen that we decided to recreate. While the earthen-hued tiles and brick wallpaper create a rustic theme, the wooden crockery cabinet adds a dose of warmth. Additionally, the bright yellow cabinets ensure that this celebrity kitchen is vivid and striking.
How to Get the Look?
Bright yellow cabinets
An exposed-brick-like wallpaper so as to avoid civil work
Earthen-hued tiles
Wooden furniture
What We Love
The overall traditional look of this celebrity kitchen design that reminds us of grandma's home.
Celebrity Kitchen Design #10: John Abraham's Sleek Open Kitchen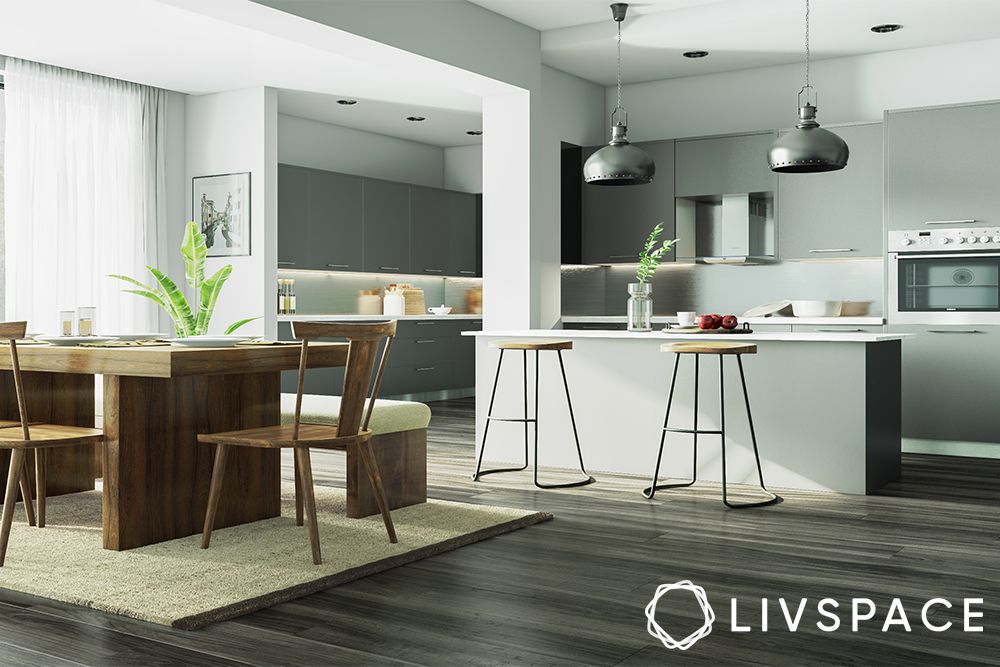 While John Abraham is famous as an actor and a motorcyclist, what few people know is that he is also an environmentalist. Consequently, his home features all natural and simple decor. Eco-friendly and sustainable interiors is one of the most popular interior design trends of 2022, which can be seen in this kitchen. Additionally, John Abraham's celebrity kitchen features an open style with modern colours and eco-friendly materials.
How to Get the Look?
An open kitchen layout
Neutral colours for your cabinets so as to match the eco-friendly furniture
Furniture made of eco-friendly materials like bamboo and pine
What We Love
The dining set has been created from one naturally felled tree, consequently ensuring the eco-friendly theme of this home.
We hope these celebrity kitchen design ideas have inspired you to give your kitchen a revamp. Additionally, check out these 4 hotels from Bollywood and Hollywood movies where you can actually stay.
More kitchen design ideas:
How Can Livspace Help You?
We hope you found our ideas useful! If you want beautiful interiors for your home, then look no further. Book an online consultation with Livspace today.
Wondering how our customers feel about working with Livspace? You can check out the Livspace reviews here!
Send in your comments and suggestions to editor@livspace.com