What does one of the highest paid South Indian actors who started as young as 13, want from her home? Trendiest chic furnishings and a fancy quiet corner that can help her compartmentalise personal from a star-studded professional life? Well Tamannaah Bhatia will surprise you with her candidness in her home tour with Asian Paints that has inspired this article. We have recreated relevant aspects from her home interiors so you can express your spirit with the same touching honesty without burning a hole in your pocket. And yes, you're most welcome.
Now let's get down to business. Or maybe leave it outside of Tamannaah's home because this space is just about love, laughter and lazing.
Leave Work at the Door? Challenge Accepted!
How do you create a living room that screams welcome home every time you open the door? The trick is to choose the right irresistible elements for your sofa that beckon you to it. The soft comfy sofa set unmistakably communicates relief and cheer. The U-shaped furniture layout enforces this message by allowing you to use it in many ways other than just sitting. According to our designers, this layout along with the simplest coffee table and TV unit design, offers a clutter-free look that is easy to maintain, even while you are away as much as Tamannaah is.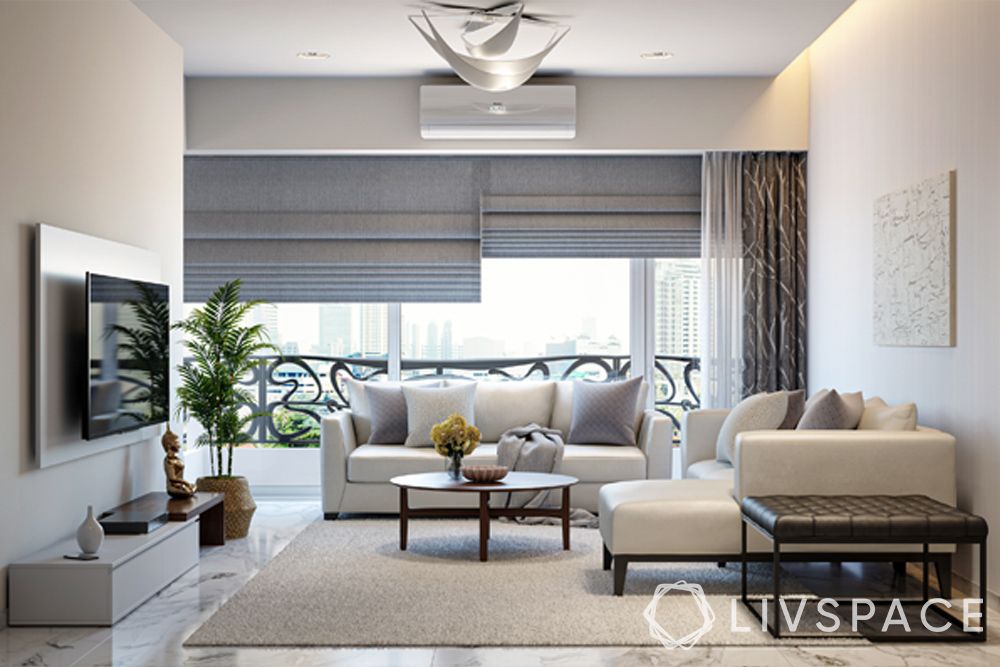 Livspace has managed to keep the weather outside of many homes in harsh climates, and here's how. Since Tamannaah Bhatia lives in Mumbai, her flat is furnished with three different kinds of drapery that surrender full control of natural light in the living and dining areas. The grey canvas blinds manage to keep the sun and humidity out during the harsh summers. The sheer curtains allow ample light during the day and the dark curtains can help in partial or full privacy when needed.
Besides this, her contemporary choice of furnishing is in muted, timeless colours that will let her keep her memories safe for a long, long time. Tamannaah explains how her father, Santosh Bhatia, has overtime, put together a lot of decor pieces for her and also that she likes to reminisce about them.
Get the Same Room
While a typical comfy three-seater sofa will cost you close to ₹50,000; a sectional sofa and the u-shaped layout can be bought in under ₹1.5L. The grey blinds come for less than ₹3,000 apiece and the other curtains for ₹1-2K apiece. Finally, the minimal TV console and the coffee table will add about ₹16,000 more to complete the basic look.
Design Takeaway
Comfort is king when it comes to your home. Pick furniture that is comfortable and fits in organically with your home's layout.
Love, Family
The same carefree memo makes the dining room decidedly spacious while also bringing the family together. This is because the centrally placed dining table enables free movement around it and encourages that lively setting. There is also a suitably adequate yet small, crockery unit that shies away from crowding the room. Other details that amplify the size of the room are the white colour walls and furniture.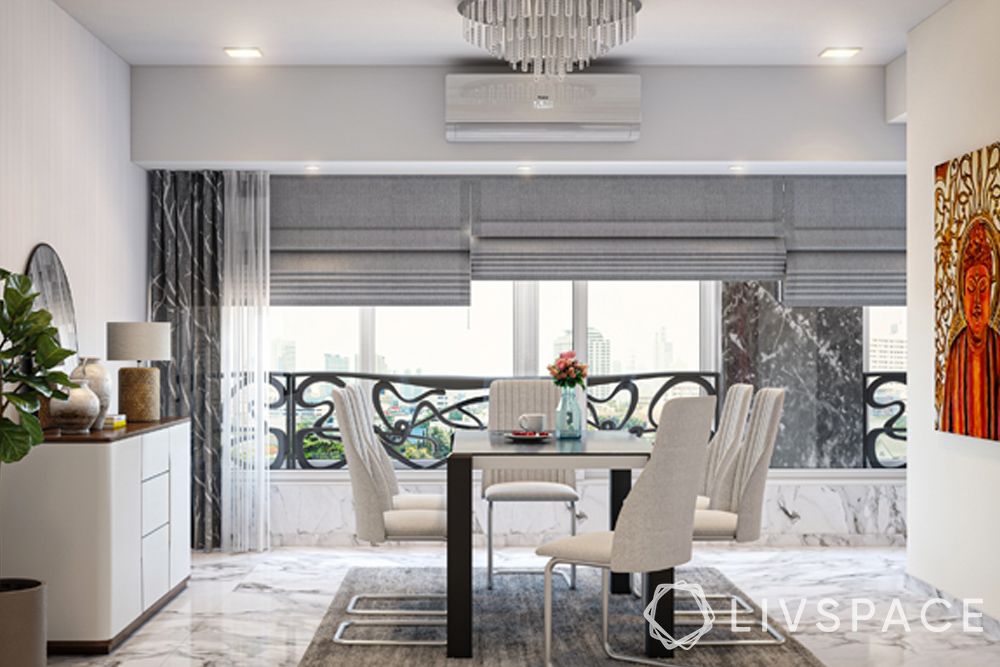 There is one item that stands out and incites interest in the room, it is the colourful Buddha painting by her sister-in-law. Tamannaah Bhatia notes that she enjoys using paintings and wall hangings to effortlessly decorate bare walls. She chose a painting with sentimental value for the dining room as she feels more closer to her family this way.
Get the Same Room
The eight-seater glass dining table is usually available for around ₹50,000 and the sideboard used as crockery unit comes in under ₹26,000. The rug in this room is priced at ₹12k and the Chandelier at ₹28,000. A canvas this size can be brought in between ₹3,000 to ₹9,000 to lift up the spirits of the room.
Design Takeaway
When in doubt, keep it white for a plush and spacious look. Also, one striking accent piece (like the Buddha painting here) anchors your attention and rules out distractions. Did we miss saying you must decorate with things that are meaningful to you?
Where Time Stands Still for Tamannaah Bhatia
Tamannaah's magnificent white kitchen lets soft natural light reach till the most used breakfast counter. The art of designing a successful practical kitchen lies in understanding the usage and work flow of the homeowners. A parallel layout was a wise decision for this kitchen as it can allow ample natural light through it to the center of the room. Apart from continuing the colour language of the house, the white colour laminate and countertop help in reflecting indirect sunlight in the kitchen.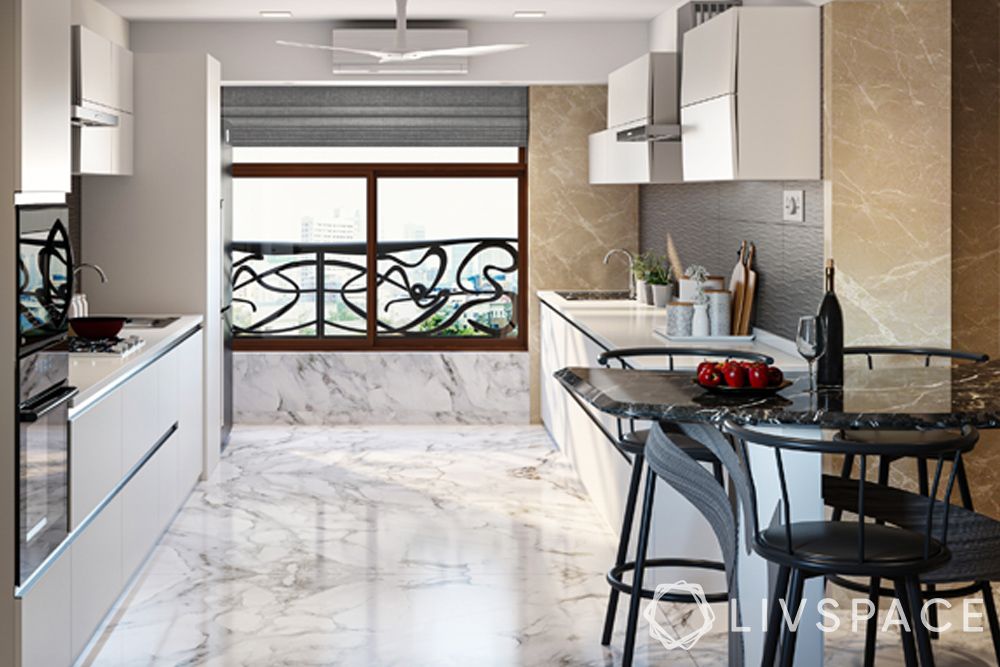 The modular carpentry work proffers various durable and easy access options in a kitchen. For example, the soft closing drawers, automatic lift-up doors for top shelves and a tall unit to fit in all your appliances. Since the family spends quite a lot of time hanging around in this part of the house, the room is kept intentionally accommodating. For Tamannaah Bhatia the kitchen is not just the heart, but also the soul of the house.
Get the Same Room
Livspace offers modern modular kitchens starting ₹1.05L onwards. Visit your nearest Livspace experience center to get the same white-membrane finished modular kitchen with breakfast island. Our designers can help you with the right kitchen design for your lovely home, get a quote now.
Design Takeaway
Always pick a kitchen layout that suits your space and also your lifestyle.
Before I leave
There are a few things indispensable in a celebrity's life like flawless appearances. Tamannaah Bhatia spends a lot of her time in her make up room and thus this room needed clever designing. Mirror panelled walls are the place to begin. Makeup needs a lot of light, preferably natural and not at all unidirectional. The mirrors help in reflecting the natural light from her tall windows and distributing it evenly throughout the room. Her wardrobe doors too are panelled with tall mirrors to assist in her dressing. Needless to say, they are sliding doors that offer her maximum space while she gets ready.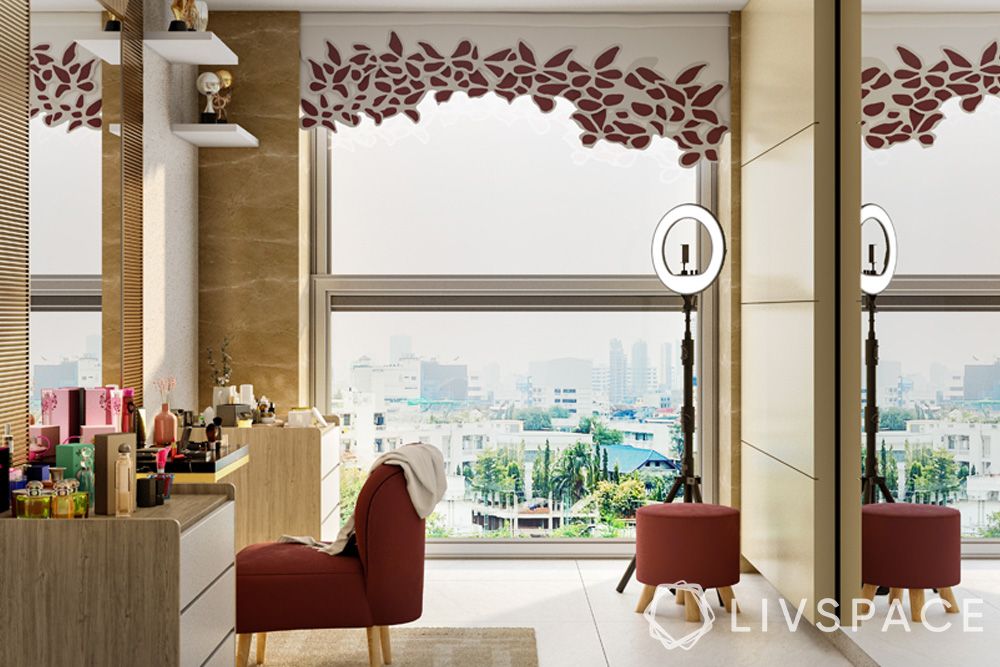 The handleless drawers ensure safety by avoiding any accidents with elaborate dresses and costumes. Our designers used many small, tactfully spaced, LED lights instead of one high lumen source to throw light from multiple angles in this render. Oh, in the spirit of the house, there are butterfly pelmets that were self-picked by Tamannaah from her early years in this house. She might have outgrown them, but it is nice to preserve happy bits from your past.
Get the Same Room
A comfy upholstered chair like this could cost you a little over ₹15,500, the storage tables come for ₹10,000 each and the vanity mirror for ₹13,500. Get a quote from Livspace to know how much wardrobe storage in your bedroom will cost.
Design Takeaway
Lighting or use of natural light is a science. Make sure you get your lighting game on point!
No Place Like Home
Just like the living room, but mandatorily in the bedroom, Livspace encourages to put inviting furniture that delivers ultimate comfort and relaxation. The contemporary side tables do not redirect one's attention from the bed and the wardrobes too easily blend in with the walls. The tinted marble laminate, the yellow bed frame and the warm cove light in the false ceiling offer warmth in the room and give it cheery vibes. The throw pillows are a nice and fancy touch, but can be replaced with objects that have more emotional value.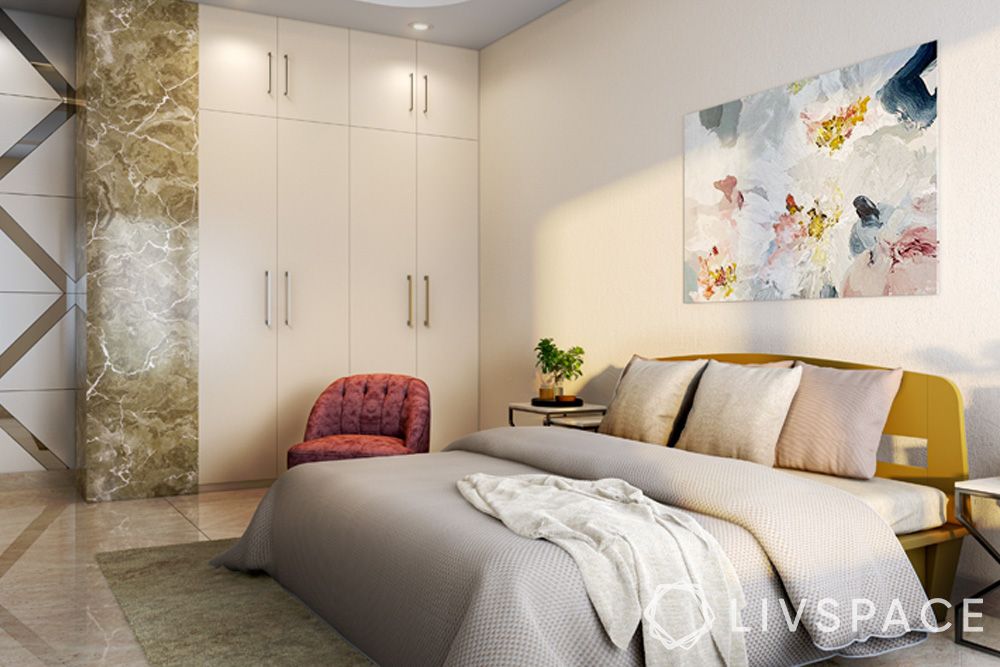 For an intuitive actress like Tamannaah Bhatia, a withdrawn corner beside the floor-to-ceiling windows with a comfortable chair serves wonderfully. It is secluded only to connect her to the world through the windows, so that she can reflect and work on her character building. You can employ a second pop colour in the upholstery of this chair to lift the mood in the room like we have.
Get the Same Room
A king size wooden platform bed from Ukeya costs less than ₹30,000 while the contemporary nesting side tables come at ₹15,000. Again, the comfortable purple accent chair is priced at ₹15,500.
Design Takeaway
A bedroom designed in soothing colours can help you relax.
This article was a great way for us Bollywood fans to learn how celebs design their home interior. We hope to have helped you in confidently planning your house renovation. Undoubtedly, your honest personality can reflect in your house interiors and finally make you feel at home.
How Can Livspace Help You?
We hope you found our ideas useful! If you want beautiful interiors for your home, then look no further. Book an online consultation with Livspace today. Delivering safe home interiors has been our No. 1 priority. Click here to find out how interiors are being delivered following all safety protocols.