It's almost heart-melting to see the bond between Masaba Gupta and her mom Neena Gupta. Together, they have dreamt of living under the same roof, overlooking the sea and gossiping to their heart's content. And believe us, it is amazing to see these two minds come together to create something so beautiful. The now super-successful fashion designer Masaba started her career at a young age and is making waves in the industry. Their home is filled with plain white walls and lots of antique furniture which the mother-daughter duo love refurbishing together. The result is this stunning but peaceful abode that they had envisioned together. Read on and take inspiration from this artsy home.
Design inspiration #1 from Masaba Gupta's home: Art-filled foyer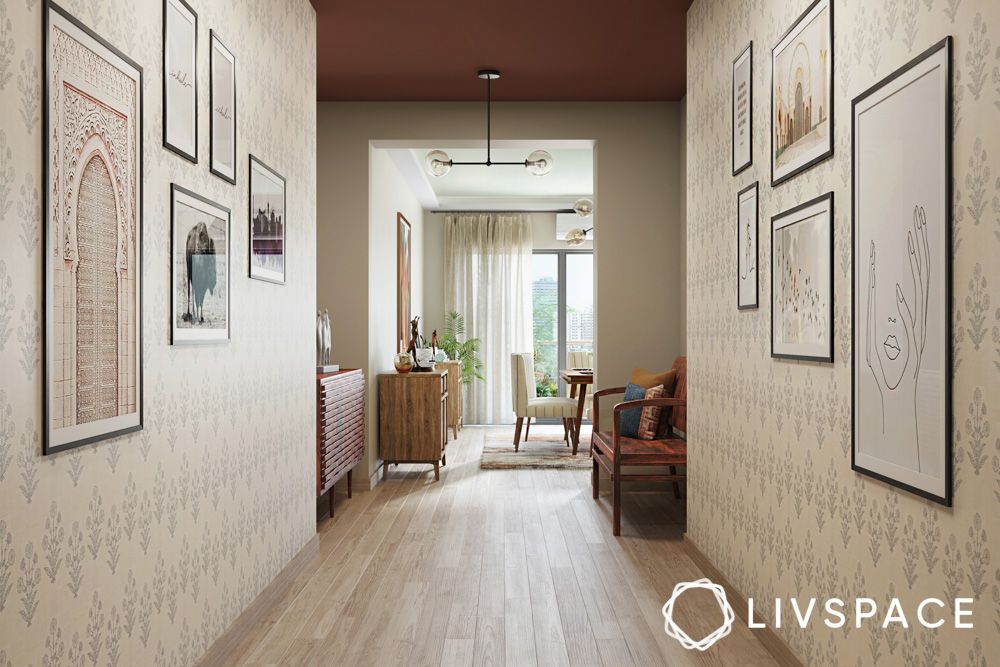 Masaba and Neena Gupta are self-proclaimed hoarders of antique and artsy pieces of decor. They love shopping at the Oshiwara market next door and pick up some amazing pieces of furniture from there. Neena then paints all the furniture in white, save the ones that Masaba absolutely wouldn't let her. The moment you step into this home, you are welcomed by a simple but stunning entryway. It is lined with artwork on either side against a beige motif wallpaper. You could take inspiration for your next foyer makeover from inside this space. Pair it up with wooden flooring and see the magic unfold. We have recreated this look just for you.
Design inspiration #2 from Masaba Gupta's home: White walls in the living
Did you know that both Masaba and Neena's favourite spots happen to be in the living room? While Neena has chosen the centre spot of the sofa, Masaba loves stretching out on the recliner. The chatty Masaba also explains how they love having endless gossip sessions right in the comfort of their living room. If your home also enjoys an envious view like this one, we suggest you invest in a comfy sofa where you can sink in. Also, do not forget to offset the plain walls with brightly-coloured cushions, something that Masaba swears by.
Design inspiration #3 from Masaba Gupta's home: Wooden tones in the dining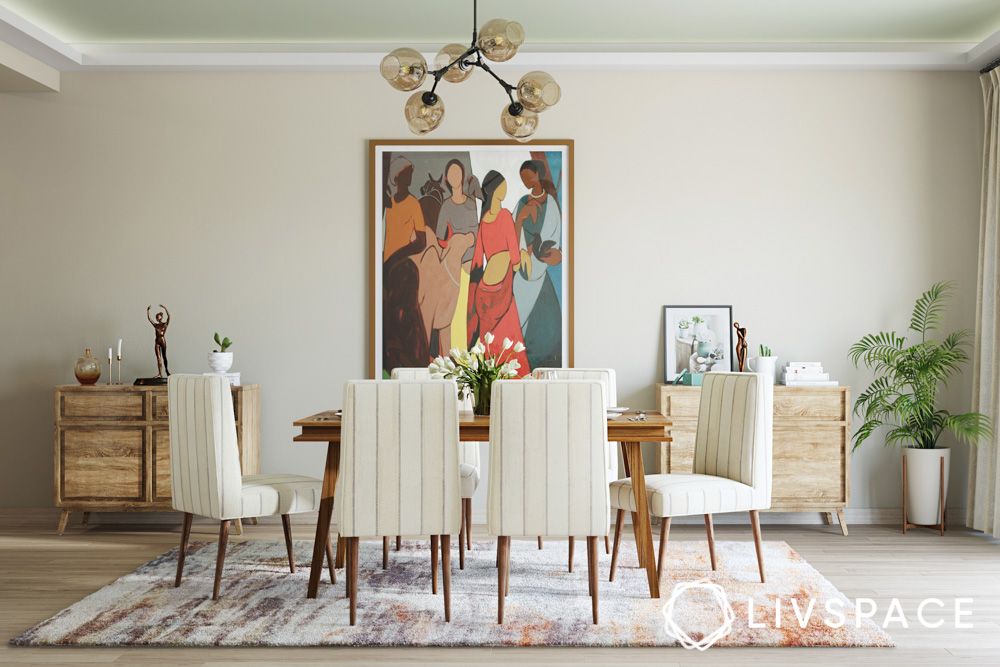 Another favourite area of the mother-daughter duo at home — the dining room is where you can spot them enjoying a good laugh over some tasty food. They love cooking together and then savour these sumptuous meals in their all-white dining space. The highlight of this zone is the stunning wall painting by Lalita Lajmi that Neena picked up from her and claims that it was her first expensive buy and very close to her heart. You too can put up your favourite piece of art on the wall and get pristine white chairs for your dining table to get this look. Add a refurbished wooden crockery unit and you're done!
Design inspiration #4 from Masaba Gupta's home: Exposed brick walls and wooden rafters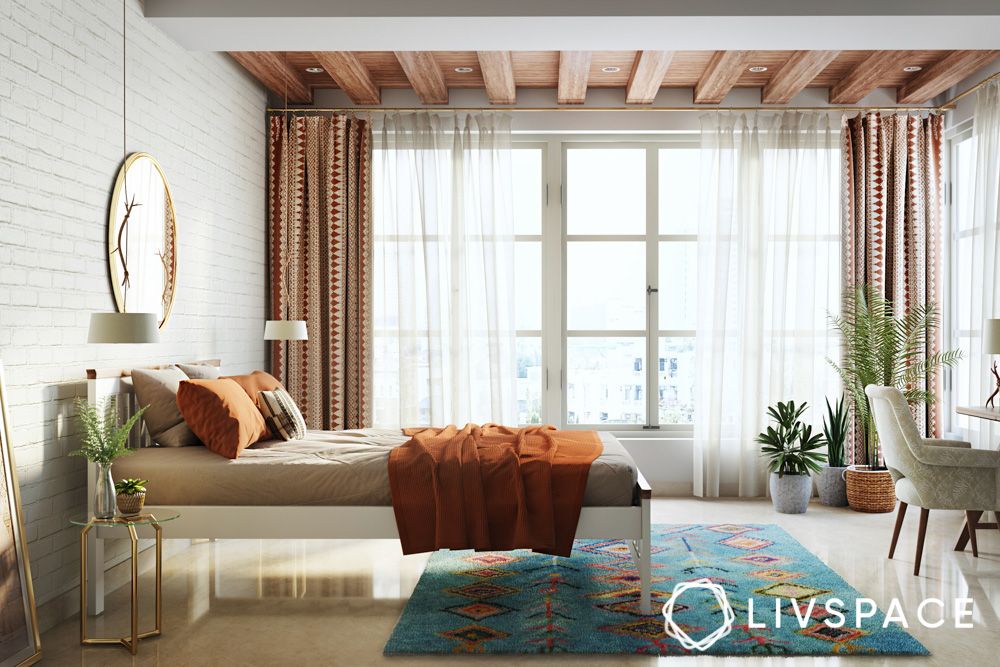 A space where all the action takes place before an event is how the duo describe this room. There are so many striking elements here that you will be spoilt for choice. Wooden rafters on the ceiling and exposed brick wall behind the bed. We love how cosy and pretty this space looks. Filled with fresh greens, this room enjoys ample sunlight that peeks through sheer white curtains. This room also has a lovely antique-style door in a turquoise green shade that Masaba Gupta absolutely adores. Replicate this look for one of the bedrooms at home and you will never want to leave.
Design inspiration #5 from Masaba Gupta's home: Statement furniture pieces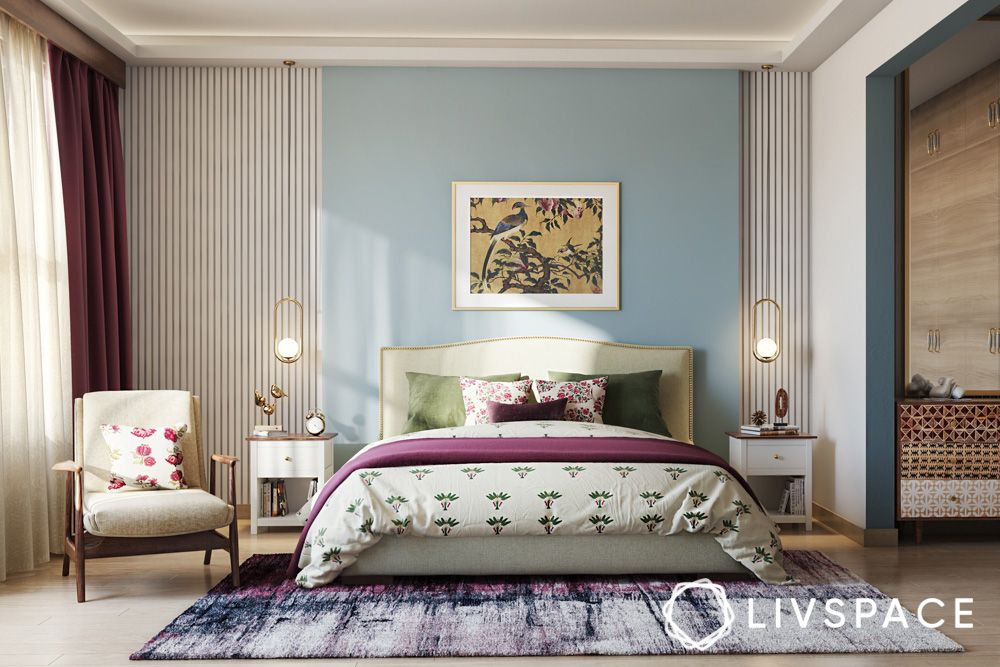 This is Neena's bedroom and she just loves relaxing here. Featuring a huge comfy bed and characteristic plain walls, this bedroom looks simple and homely. While her room has a striking red chest of drawers, we have recreated a look with this artistic alternative that has lovely patterns on it. An area rug and a simple accent chair by the bed complete the look of this room. Also, did you know that these wooden wardrobes are a personal favourite with Neena? She has been carrying it around from her previous homes and absolutely refuses to part ways with it. And, we are not complaining!
We are sure you loved reading this. If you're looking for another homely celeb home, take a look at this: Ideas from Radhika Apte's Mumbai Home.
Send in your comments and suggestions.