Creating quite a buzz, Architectural Digest released the first look of the 'Queen's' mountain retreat in Manali. Kangana is known for her bold and go-getter, but rooted personality. And as expected, her home is a real treat with rustic, industrial and classical elements working harmoniously together. An impeccable job by designer Shabnam Gupta who is famous for designing celebrity homes, top hotels and bars.
We are especially in love with elements like the high glass ceiling in her conservatory, pastel-coloured walls, farmhouse-like feels with wooden floors, antique accents, edgy furniture, the pop of colour in her balcony furniture, the cosy fireplace and the incandescent lights! It conveys a spaciousness and class that is unparalleled. It's the perfect setting for a quiet getaway or to throw a star-studded party.
We tried recreating the look by drawing inspiration from different elements across her spacious home. Take a look at these stunning designs that you can make your own, even without a home in the hills.
Kangana Ranaut Manali Home: An Ode to the High & Mighty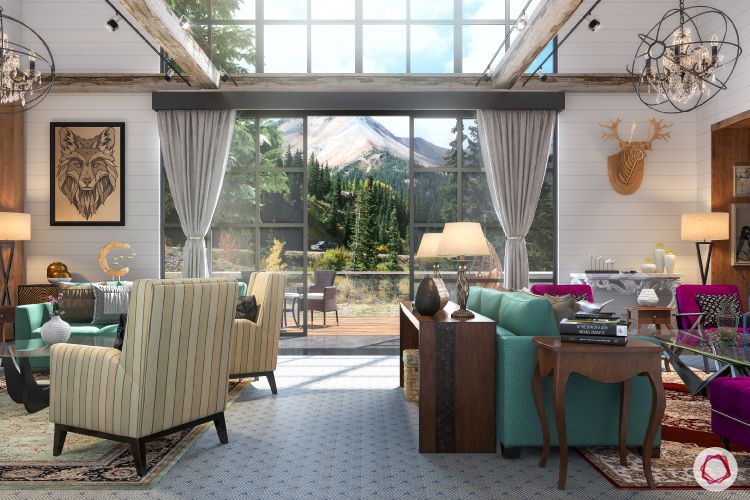 Kangana's home features a conservatory at the rear-end which overlooks the beautiful hill-side. A glass ceiling and high glass walls make this space airy and bright. If your home is a duplex or a villa, then creating a loft design with glass windows will work well.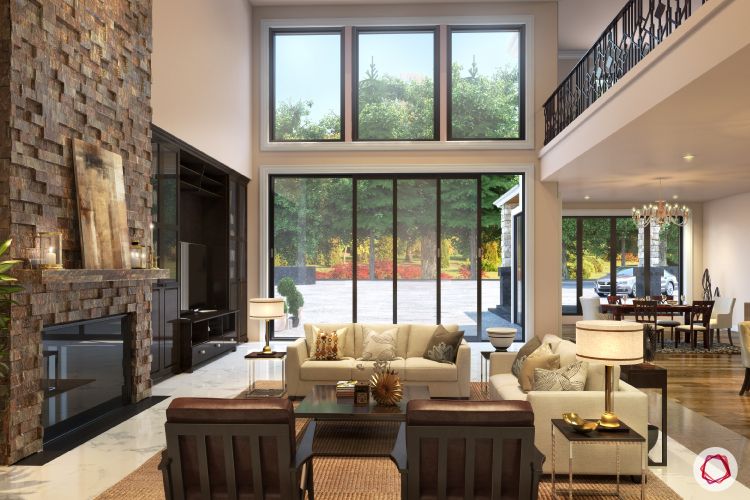 Fireplaces remind us of all the cliches – winter, Christmas hot cocoa and curling up with a book! That's probably what Shabnam had in mind while she gave Kangana her very own cosy reading spot at home. If a fireplace isn't a practical solution for the climate you live in, you can always be inspired enough to give yourself a cosy reading corner to unwind with a glass of wine after a long day!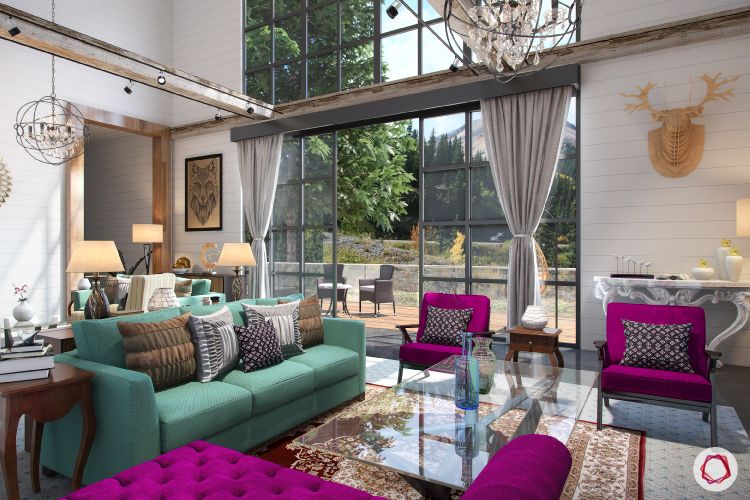 The high ceilings capture the beautiful openness of the hills in Shabnam's design. You too can bring the outdoors home by mirroring the same idea, especially if you are lucky enough to have a breathtaking view or a beautiful garden outdoors! The high ceiling also gives you an option to explore more lighting options like chandeliers. We also love the pop of colour that adds a dash of excitement to the mileu.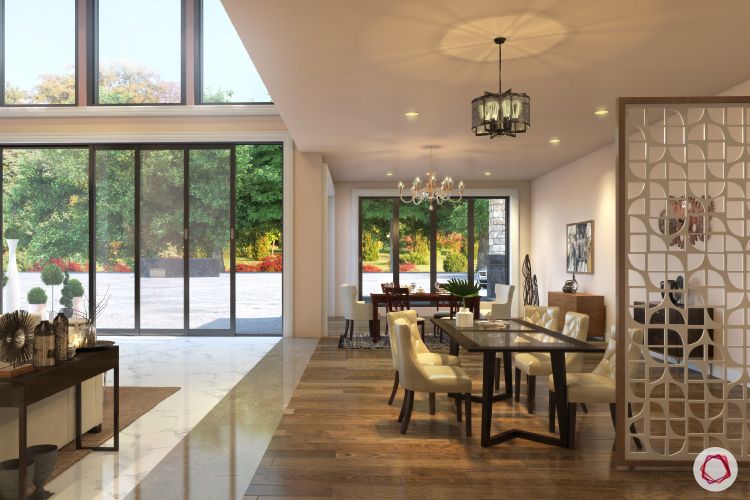 The actress' house, though minimalistic in approach, features spacious interiors with clean lines. A clutter-free design is always the mark of a classy personality. You too can try to demarcate every zone in an open layout for a smooth design flow that will easily capture anyone's attention.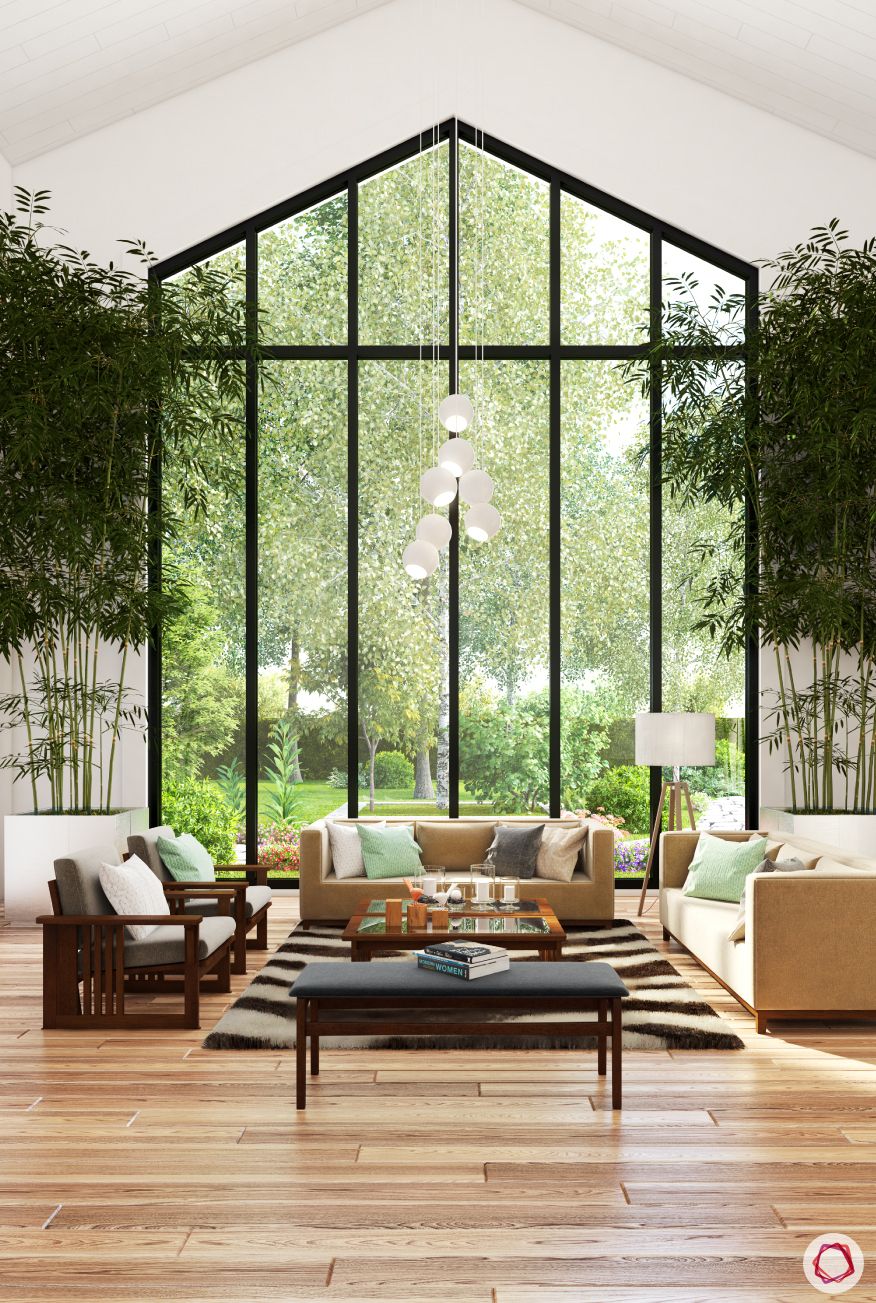 The experts are calling Kangana's Manali escape a cottage-style home. We love how her home incorporates life-size windows that offer her an exquisite view of the mountains and wooden flooring to keep the vibe earthy. Keep it basic, rudimentary, and even add some handpicked or quirky antique pieces that will add character to the space.
Kangana Ranaut Manali Home: Wooden Wonder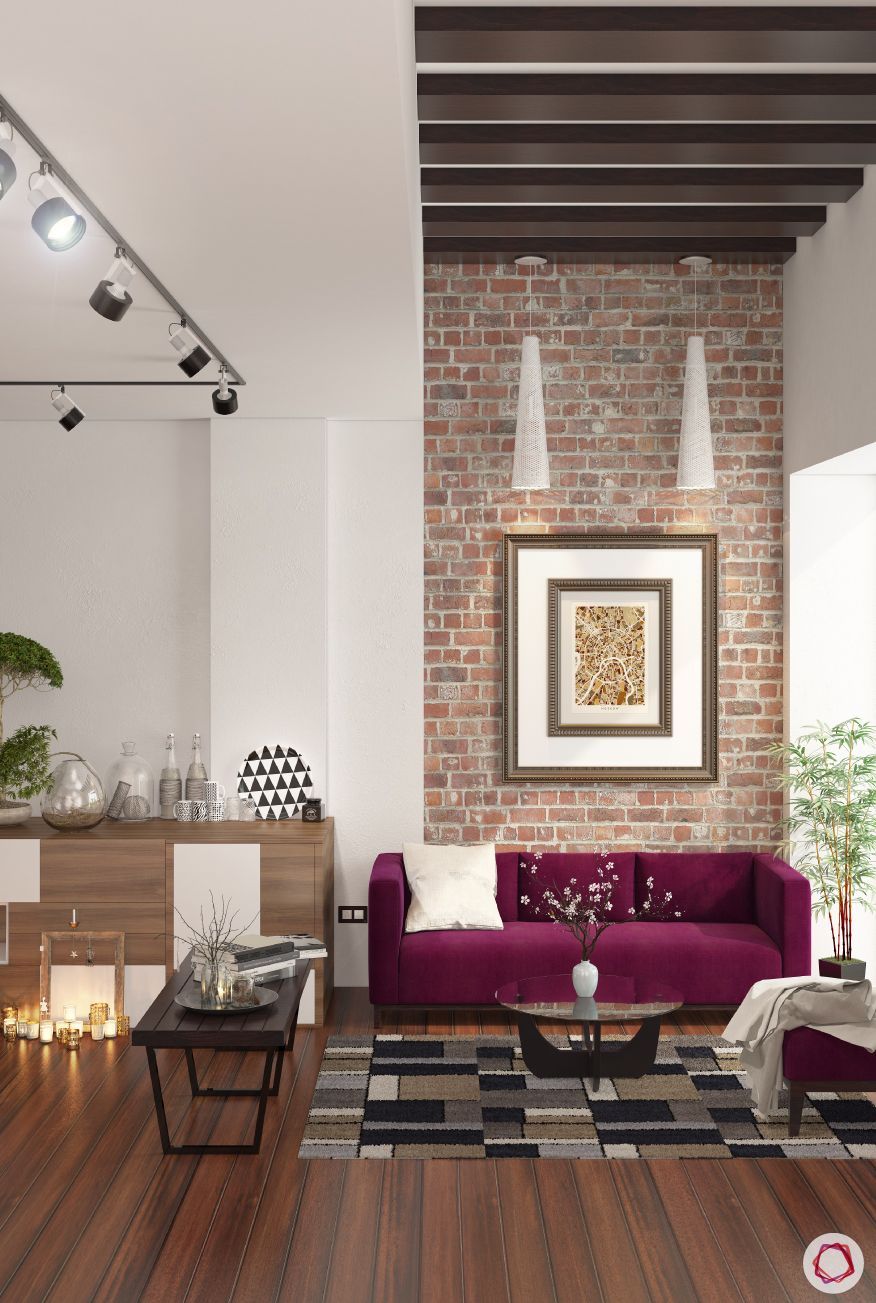 All things wooden are one of the highlights of the stylish actresses' famous Manali home. Hardwood-flooring, wooden beams in the ceiling and even painted wooden furniture add to the charm. You can add these features to your home to induce a warmth.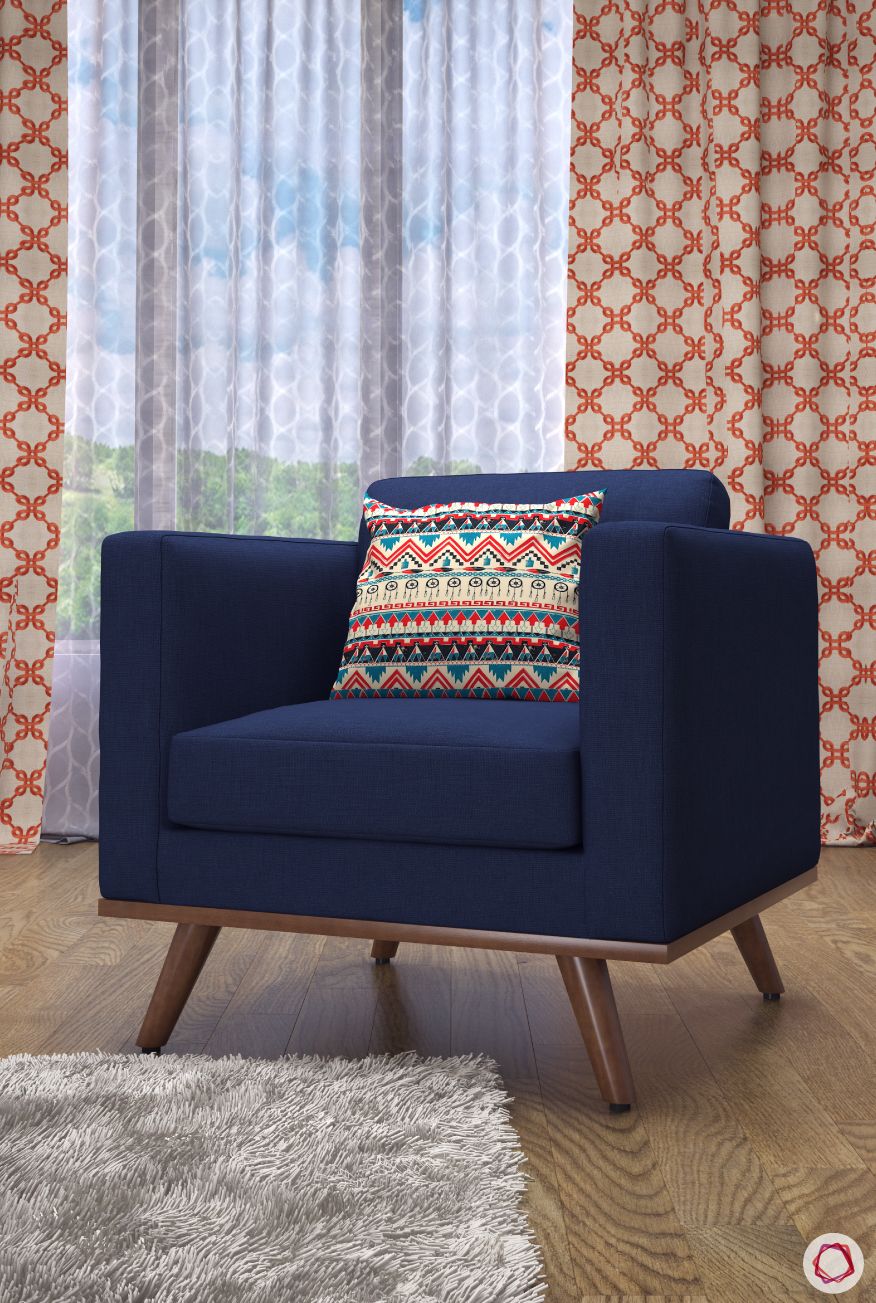 Comfort is also one of the underlying prerequisites of Shabnam's design for Kangana. A perfect checkered armchair was one of the spots where Kangana could indulge in some light-reading. Find a statement chair with sink-in upholstery that can ease your mood for some leisurely personal time.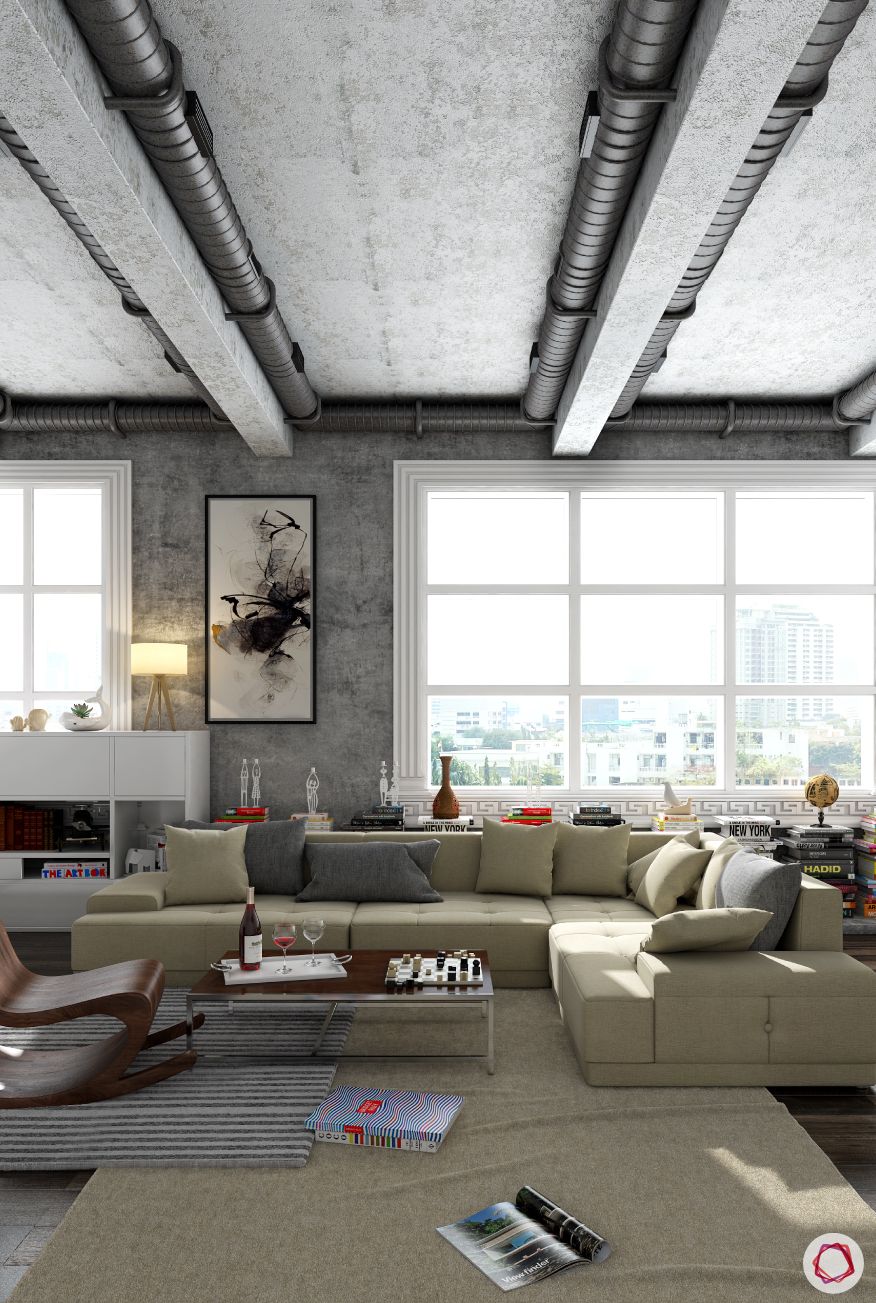 Shabnam also induced some rustic charm with architectural features like concrete-vaulted ceilings, wooden beams and reclaimed wood for the staircase. You just have to rethink how these features can be simplified to adapt to your space. Therefore, think cemented walls, wooden slats and so on.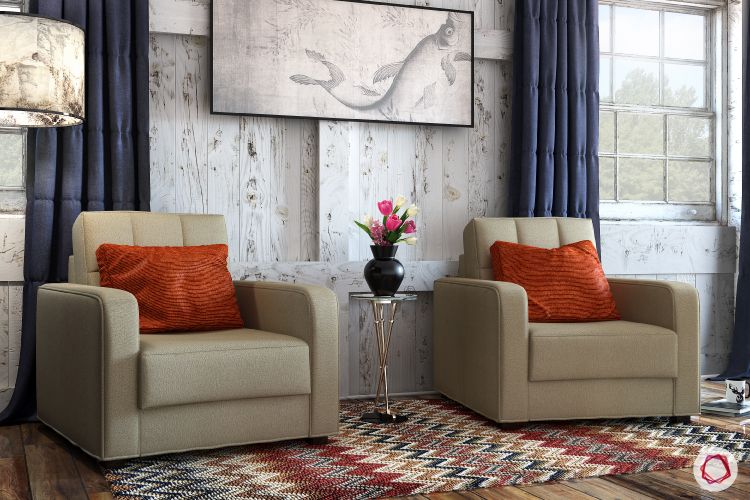 Reclaimed wooden walls and hardwood flooring come to life at Kangana's new abode and we are digging this idea! Also, we love how her living room has dark wood flooring, complemented by wooden accent chairs. You could do that too, for your home!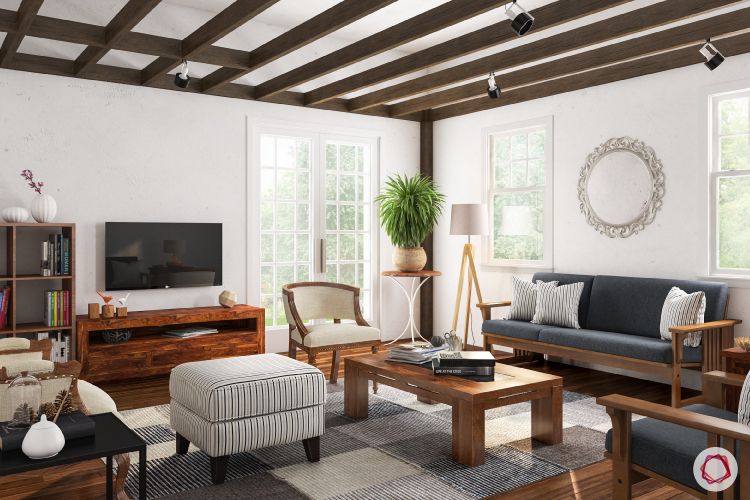 For smaller spaces and compact homes, this setup gives a warm, inviting feel. Moreover, the wooden beams on the ceiling are inspired by the actress' home, along with the flooring and light-coloured walls.
Kangana Ranaut Manali Home: A Minimalist Touch
We love how her home has quirky furniture that adds character to her home. All in all, her home is an ode to her offbeat and bold personality. So, take inspiration and gift your living room a statement centre table, lamp or installation which will act as a conversation starter.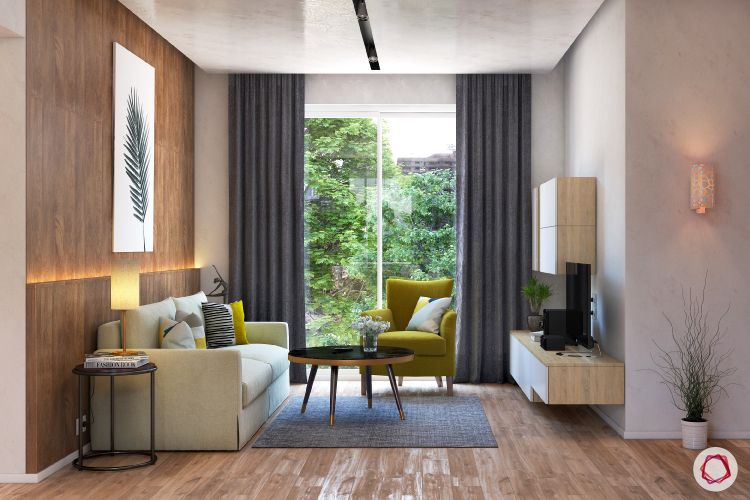 If you notice carefully, the fashion icon's home is doused in sober and pastel shades, with some pops of colour. You can also add one statement piece furniture like a bright accent chair or peppy cushions to add a splash of colour!
Kangana Ranaut Manali Home: Add a Quirk Quotient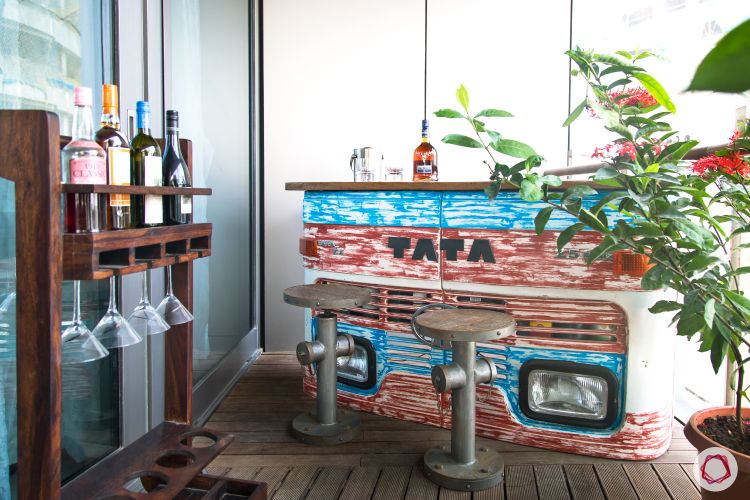 The conservatory in Kangana's Manali home also sports a tractor counter; an upcycled product introduced by Shabnam's brand Peacock Life. While this isn't an exact replica, it's built on the same premise. This Livspace Mumbai home has a Tata truck's front mask that doubles as a bar unit. Pretty cool, right?
Celebrity homes offer so much inspiration! So, if you are keen interior design aficionados, the ideas you can come away with are aplenty! So which of these stunning ideas do you want to try out in your home?
Enjoyed these designs? Take a look at the spin we gave Alia Bhatt's Mumbai home.
Kangana Ranaut's Cover Image Credit: @kanganaranaut on Instagram
Tell us what you think at the ID given below!