A coming-of-age movie we've all loved watching, Wake Up Sid, you would remember, traces the lives of Aisha and Sid in the bustling city of Mumbai. As they both found their way in life, we found ourselves learning from them, or remembering our own journeys. And a part of us fell in love with Aisha and Sid (we know you couldn't help rooting for them). But let's talk about what we all loved – the makeover of the run-down studio apartment with a fresh look to start her independent life in Mumbai.
Like anyone who's just starting out, she had budget constraints. To top it off, there's the lack of space, and the desire to still make her home a personal haven. But we were impressed by how it all came together – from the minimal furniture to the desi decor pieces from flea markets, the colours and airy layout to the personalised wall space, the limited storage to the intimate dining. We borrowed some of the beloved elements to recreate the interiors of a cosy studio apartment. What's more, if you're still awestruck by Aisha's home in Wake Up Sid, we have some tips for you to recreate the look using products from the Livspace catalogue!
#1: Optimise space by creating multifunctional living zones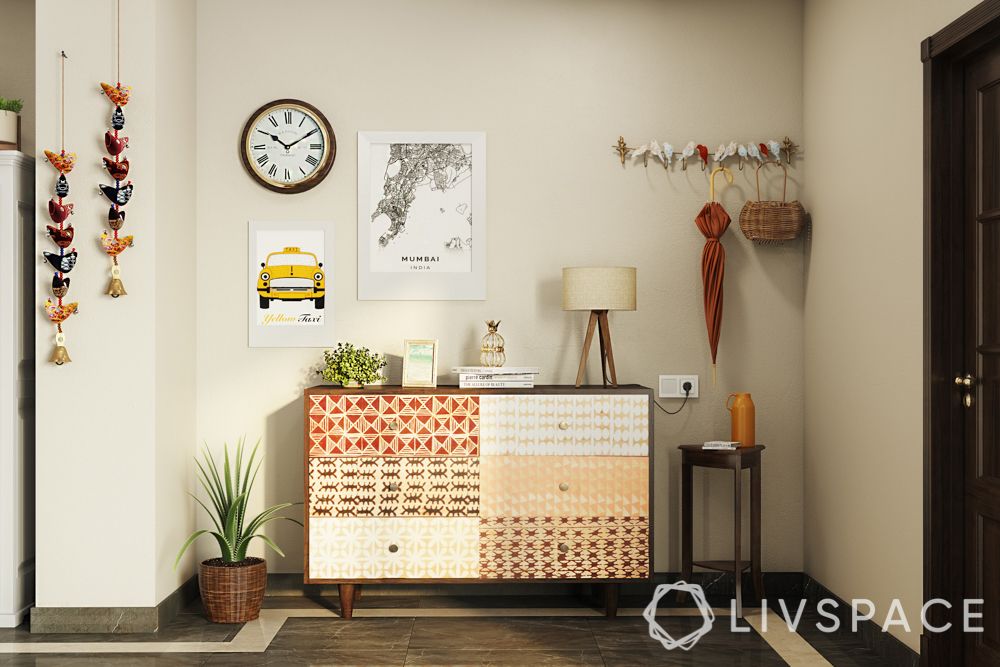 Living in a compact apartment Aisha did create an entryway when there is none. While she kept it rather basic, we went one step ahead with a pretty chest of drawers, a wall hanger, clock, artwork and potted plants. It's the artwork and knick-knacks that turn a bare space into a chic one!
Get the Look
Deck up your chest of drawers with handmade paper, and hang up some colourful accessories to appease your desi heart!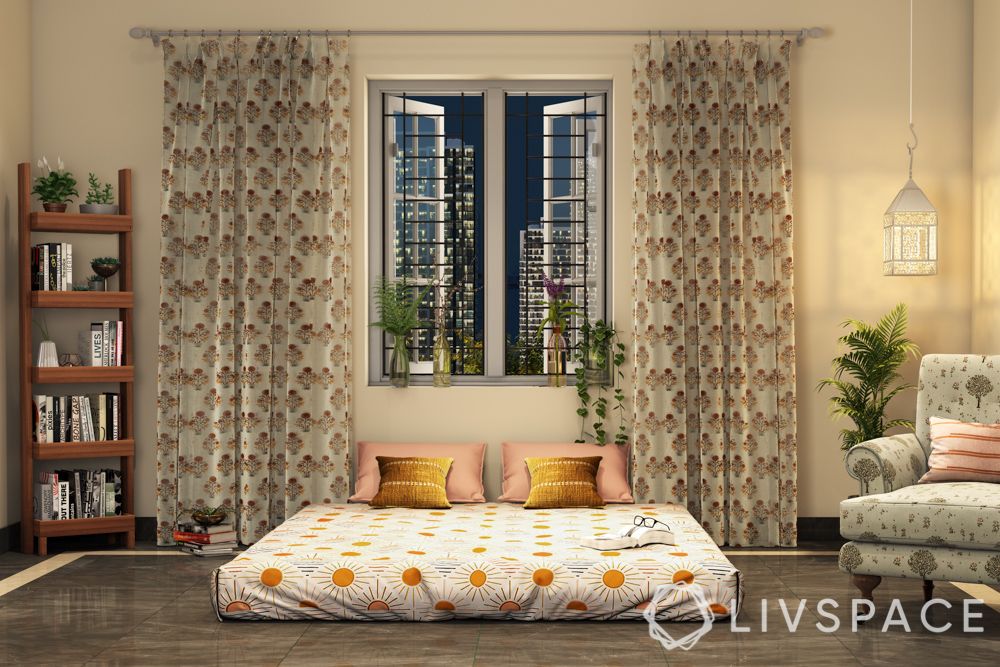 The highlight of the home is the living room-cum-bedroom which is quite simply laid out. The idea is to use fewer pieces of movable furniture to keep the design light. Maybe buying a bed isn't within budget for now, so you too can make do with a comfy mattress on the floor! Let's not forget the comfy armchair by the corner for a quick downtime. We recreated the look by stirring colours into the mix and opting for patterned curtains, bedsheet and armchair and the memorable birdcage light. A sleek wooden bookshelf in the corner helps keep a bookworm's collection neat and within reach. The right artwork and some potted plants can complete the room!
Get the Look
The golden rule to decorating compact spaces: steer clear of heavy fitted furniture and use minimal movable furniture instead. If you want your room to feel open and airy, choose sheer curtains that open up the space and maximise the amount of light entering the room. Add some string lights to brighten your room on dark nights without pinching your pocket! Bring out the desi knick knacks in a variety of colours to add life to the space.
#2: Dedicate a wall for all the things you love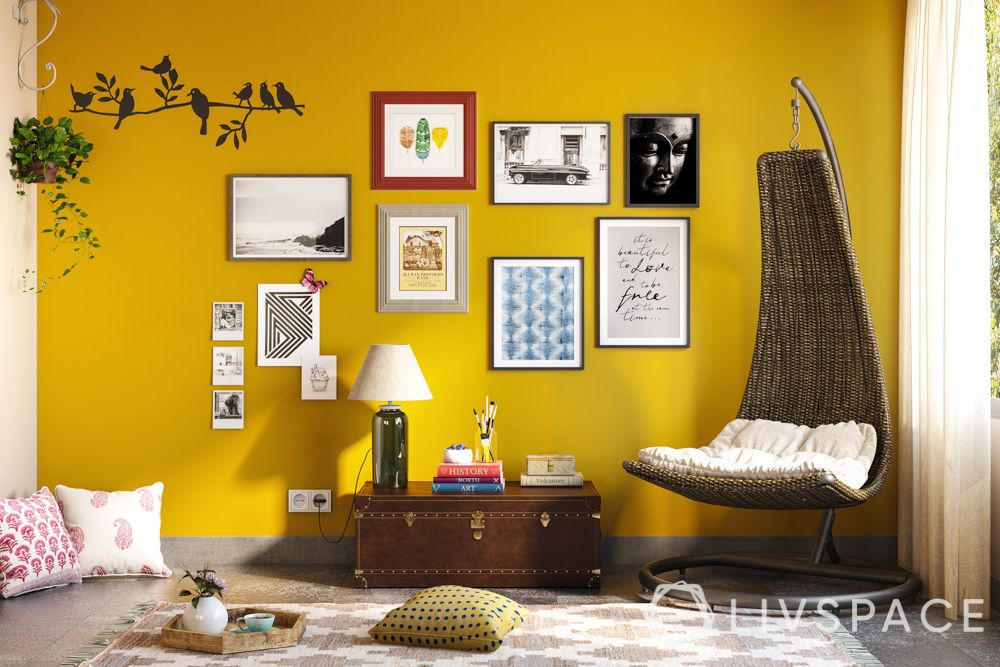 In studio apartments or rental homes in general, we often struggle with the idea of adding a personal touch to the interiors. That's why the Wake Up Sid home decor warmed her hearts. From her choice of yellow, that adds a pop to a dull room, to using the wall as a backdrop for framed photographs, artwork, quotes and the like, what's not to love?
Most of her furniture was sourced locally like this rattan chair for her reading corner. We love how Aisha had used a basic dhurrie and patterned cushions to add pop to the space. Moreover, instead of the traditional coffee table, a treasure chest serves as a quirky table.
Get the Look
If you have one vibrantly coloured wall, use it to highlight your artwork. You can also turn it into a gallery wall that personalises you at minimal cost – dig out all those old photographs. Steer clear of heavy furniture and consider picking up a floor mat and vibrant cushions. However, if you want one piece of furniture in your living area, consider a lightweight swing chair that you can move around if you wish! For finishing touches, get wall decals and personalise as you please!
#3: Think open and minimal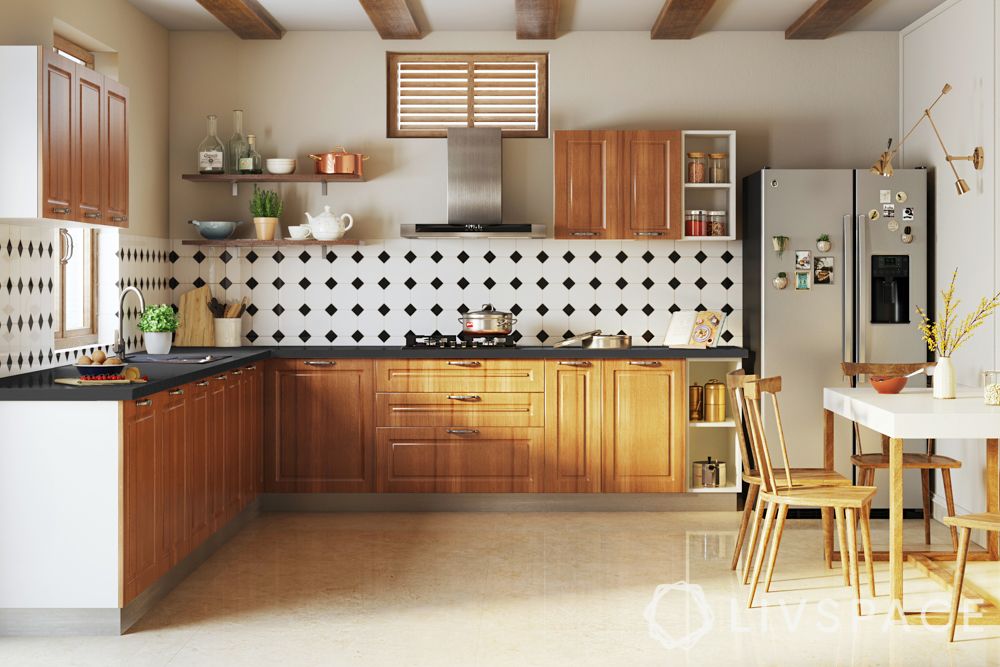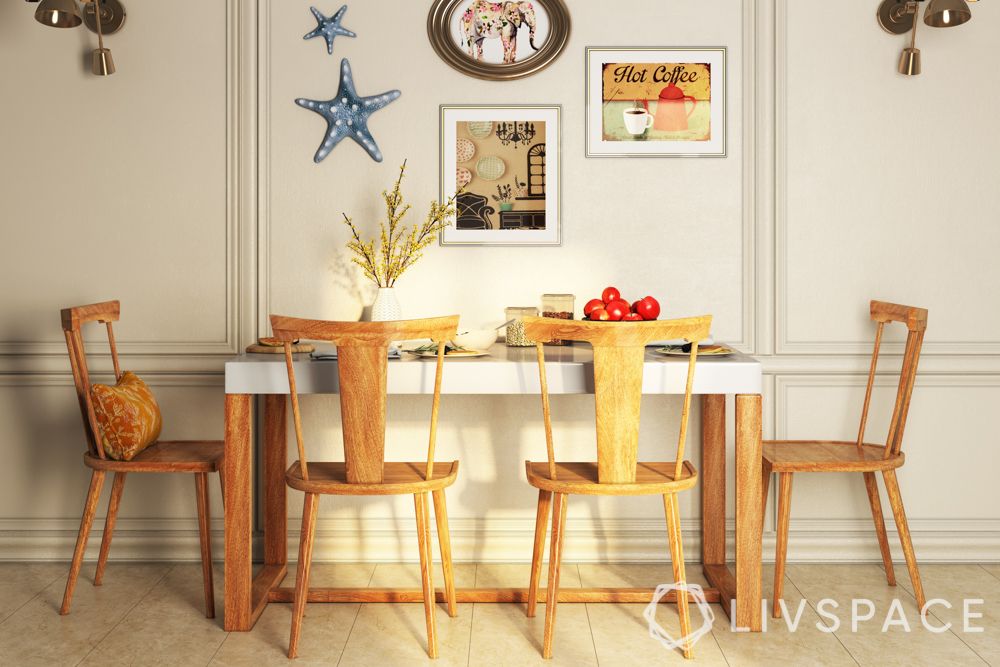 We love the open kitchen because it's as basic as can be! In a studio apartment, an open kitchen should work best! They stuck to white walls that made the room look as spacious as can be. Moreover, timeless wooden finishes on the kitchen cabinets bring in the desi vibe. Aisha and Sid complemented the same with a minimal wooden dining table and chairs. Quirky posters and ornaments add to the young, cheerful vibe. Aisha's kitchen also had a window that remained open to keep the kitchen ventilated!
Get the Look
You can never go wrong with white walls for a compact space. If you have an open kitchen, we recommend plenty of closed cabinets so that you can keep your kitchen looking clean. Also consider a few open shelves so that the essentials are easily accessible. For the dining area, stick to minimal furniture to use space optimally. Take your pick of posters and accessories for the right vibe!
Don't know about you, but some of us are spending the weekend giving our homes a makeover with some of these ideas as we Netflix Wake Up Sid. What inspired you the most? Write to us at editor@livspace.com
Tour Anshul Chauhan's home:
If you enjoyed this, check out: We Tried These Ideas from Alia's Kitchen & So Should You!