Not only do we love Alia Bhatt's spunky personality, but we love her unique taste in design. Speaking of design, when Alia moved into her very own house she was certain that she did not want tremendously glamorous interiors with chandeliers and marble floors. A stone's throw away from their family home, Alia and her sister, Shaheen moved into this Juhu home that is spread across 2,300 sq ft.
Contrary to her zesty personality, her home has an entirely different persona. Alia Bhatt's home is filled with contemporary and rustic elements, with plenty of neutral hues. However, what has got us awestruck is her delightfully designed kitchen. So obviously, we had to recreate this stunning project for you!
Alia Bhatt House Kitchen-Inspired: Efficient Layout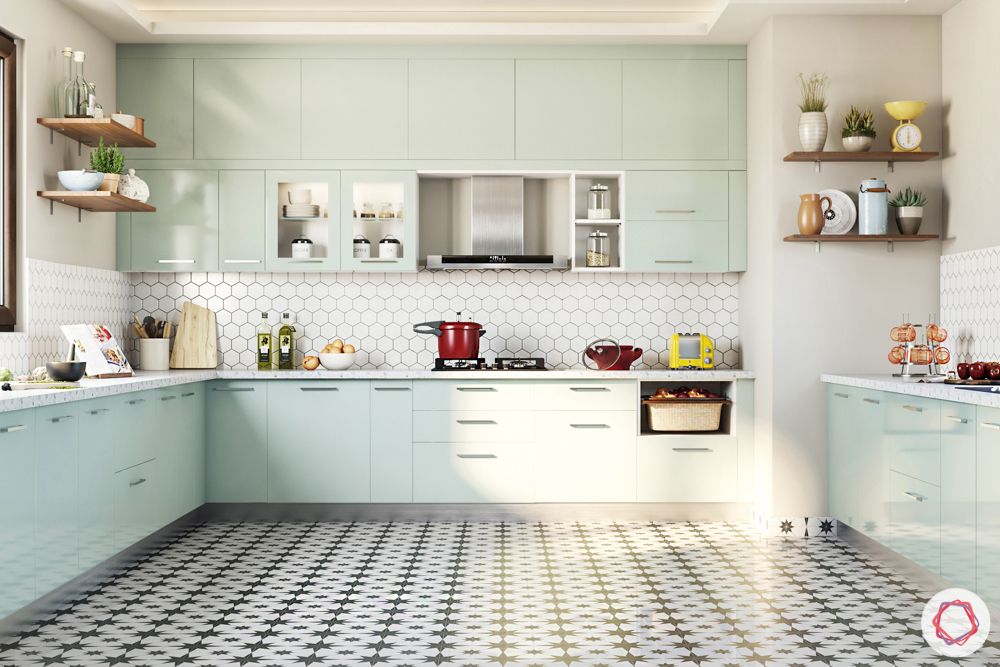 Alia Bhatt's kitchen has a spacious U-shaped layout. That means, her team of chefs and helpers have plenty of floor space to move about for a day of hassle-free cooking. Consequently, with a U-shaped kitchen, the golden triangle is perfectly defined. Since the cook, clean and prep zones are placed in equal distance from each other, the cooking process becomes simple. From toaster to chimney, this layout has a great deal of space for a plethora of appliances.
Alia Bhatt House Kitchen-inspired: Storage & storage everywhere!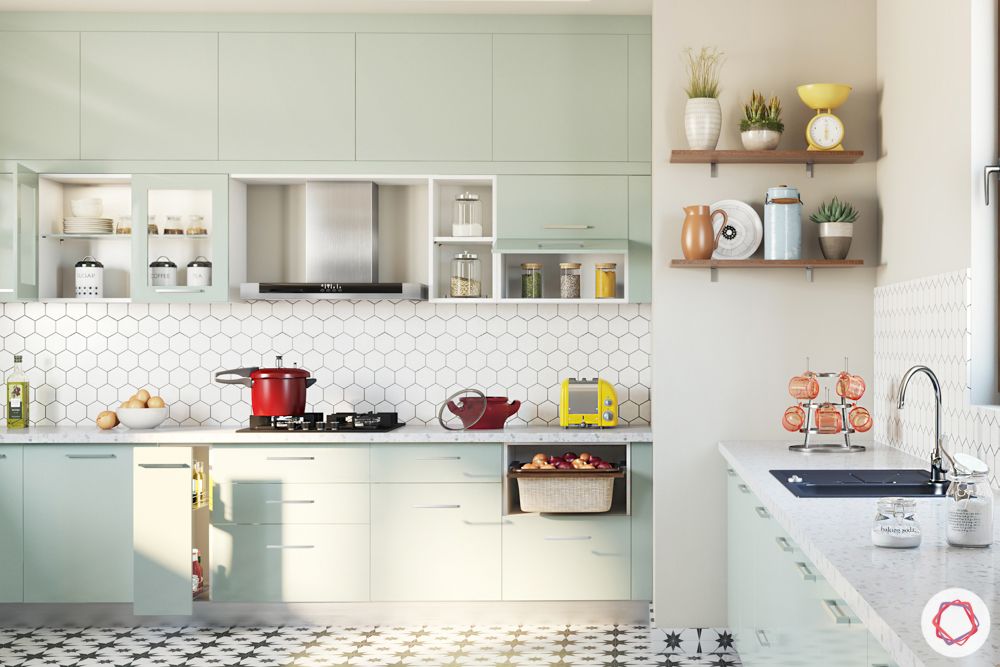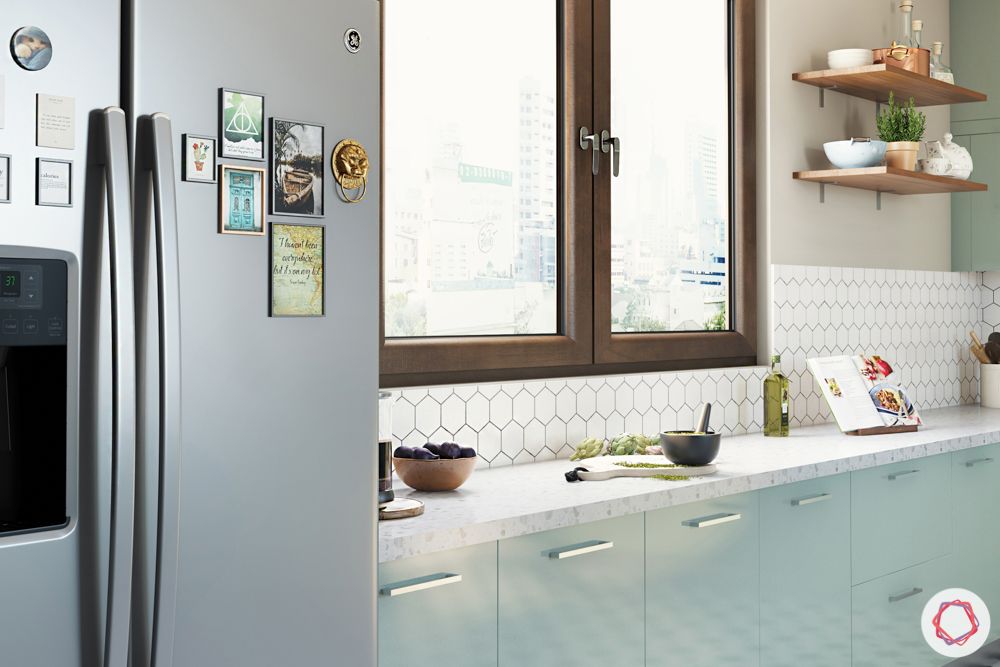 For a space-crunched city like Mumbai, this modular kitchen is high on storage with loft space, wall cabinets, base cabinets and a few open shelves peppered all over. Also, notice how we have spread out the storage options so as to not overwhelm the space.
---
Alia Bhatt's Kitchen Hack
Not only does Alia require a sizable fridge to store all her favourite snacks but also, to set the menu for the day with fridge magnets. This hack is a great way to cater to cravings and also keep track of food allergies, if any.
---
Alia Bhatt House Kitchen-inspired: A splash of fresh colours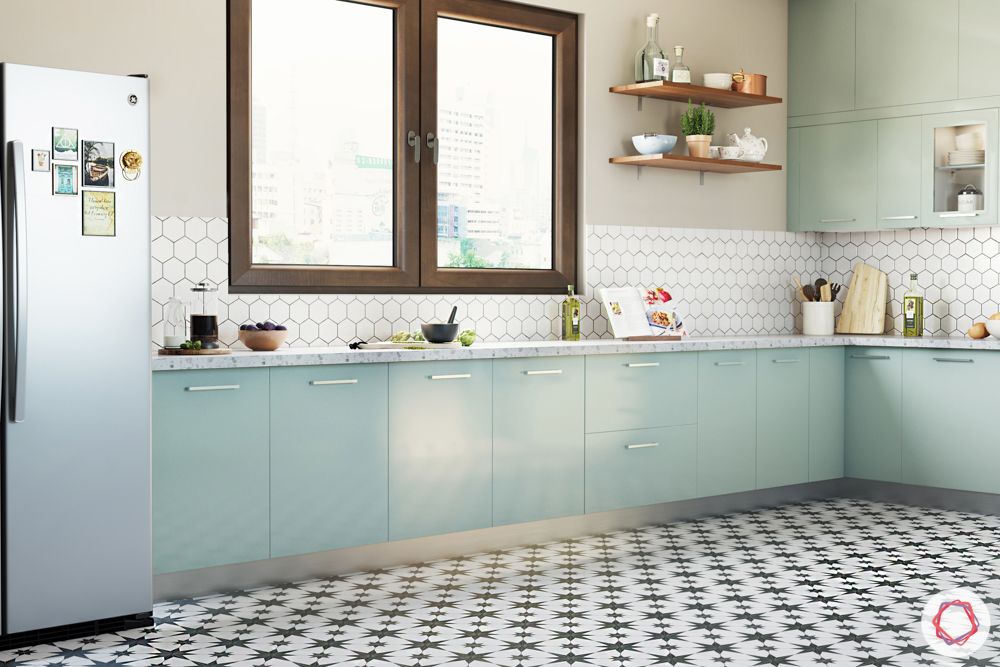 Stepping into the kitchen, you feel like you're entering a giant mint choc chip sundae on a hot summer day. And we love that feeling! Subsequently, the pastel mint green colour is experimental yet classy. This shade of green adds a touch of freshness to the kitchen while acting as cool and calm accent.
Complementing this unique hue is a white hexagon backsplash, giving the kitchen a contemporary look. Moreover, the flooring is eye-catching and one that reminds you of a home with desi floral patterns.
Alia Bhatt House Kitchen-inspired: Trendy accessories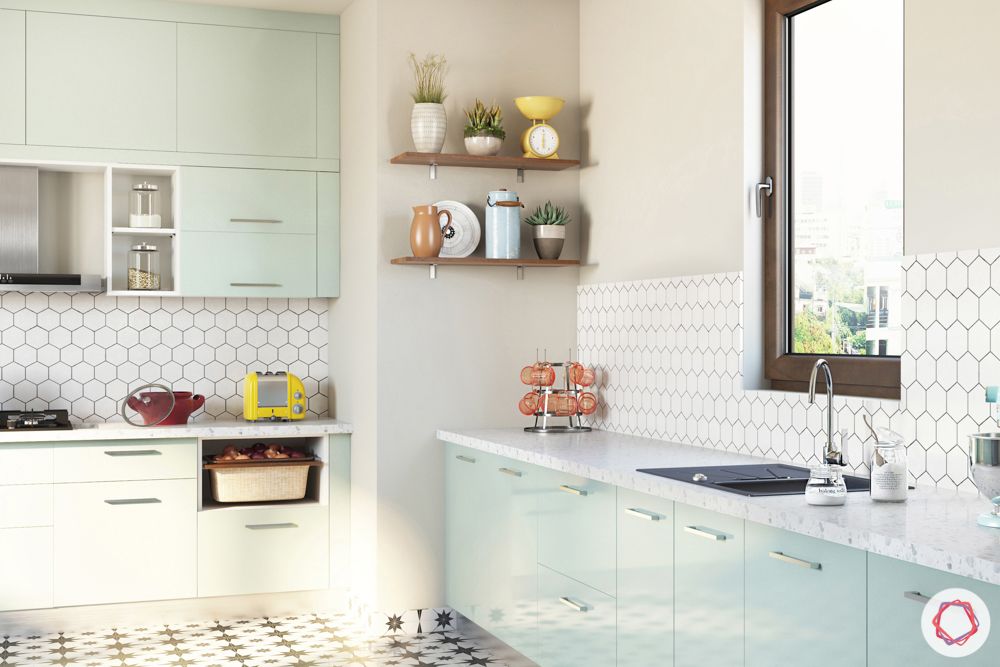 Alia's lofty kitchen might feel empty without the most trending kitchen accessories. With a state-of-the-art chimney and grocery wicker baskets, the kitchen looks stylish and fully-equipped. Also, the counter space can accommodate baking appliances for the days when you want to whip up something quick for your sweet tooth.
Enjoyed these designs? We have also recreated designs inspired by her home too. You could also take a look Inside Masaba Gupta's Sea-facing Home.
Tell us what you think at the ID given below!
Alia Bhatt's cover image credit: @aliaabhatt on Instagram