We look towards celebrity homes for design inspiration. But there is so much more to a home than pieces of furniture, colour schemes and lighting fixtures. A home gets context only when it has a repertoire of memories, back stories and personal details. Akshay Kumar and Twinkle Khanna have a home that is all this and more. Packed with travel souvenirs, dramatic artwork and ornate lights, Twinkle Khanna interior decor can be artistically defined as organised chaos. Also, we can find their personal imprints in every nook of their home.
Twinkle Khanna, interior designer herself, also owns an exclusive home decor store. Hence, her taste in design is mature but has touches playfulness. In her plush sea-facing duplex in Mumbai, Mrs Funnybones has paired minimal furniture and neutral backdrops to showcase an eclectic mix of accent pieces. It also helps that her home is bathed in natural light and has a blossoming garden both indoors and outdoors.
Take a look at their home that's featured in Architectural Digest.
Akshay Kumar and Twinkle Khanna's house is a riot of colours, themes and elements. We picked some themes that we loved and gave it our own twist. Take a look and tell us what you think!
Inspired by Twinkle Khanna Interior Decor, Go Big on Comfort, Connect and Colour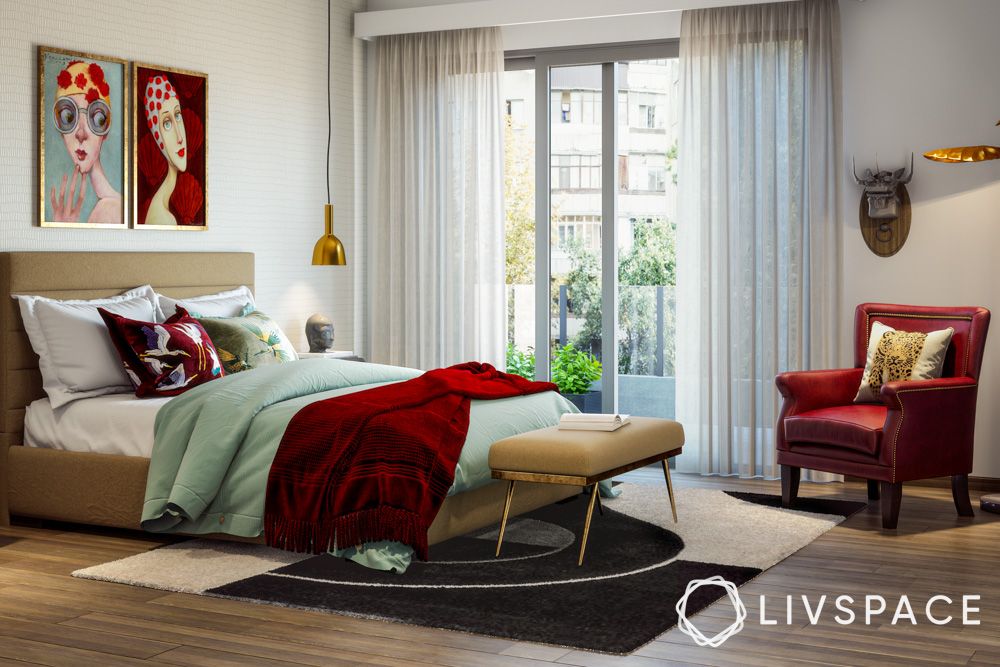 We expect a celebrity's home to be aspirational yet Twinkle Khanna interior decor has furniture that is very relatable. Most of the furniture comes in neutral shades and blends with the muted whites and beiges of the walls. Apart from being simple, her furniture is super comfy too. She has a reading corner facing the sea that has hanging daybed and a cushy reading chair that would make you want to sink in.
The drama in the bedroom comes from the accents. For instance, Twinkle's bedroom sports original paintings from Fred Calleri, an artist who excels in quirky distortions. Twinkle and Akshay Kumar's house has several such anecdotal pieces of art.
Also, Make Sure You Pick the Right Materials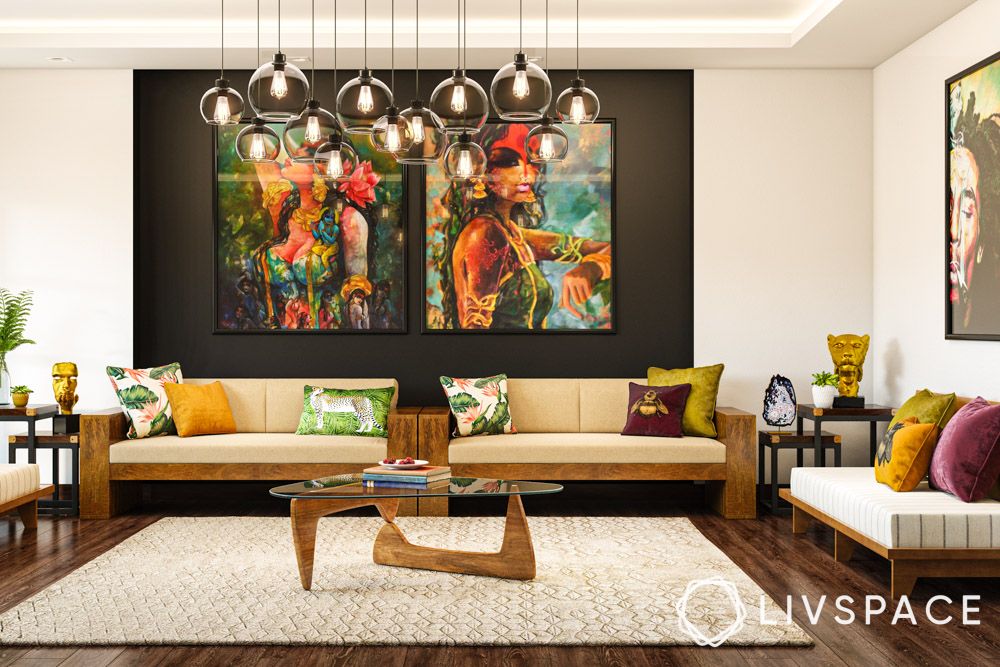 Akshay and Twinkle's house has several living areas. We were particularly inspired with the one that has low wooden sofas and a pond in the centre. The multi-tiered chandelier in the centre of this room stands out as inspiration. While this ornate lighting fixture featuring inverted wine glasses is massive, it does not occupy space. In fact, we get a distinct feeling that the lights are floating in thin air! The trick here is to use the right material; transparent glass tones down the weight of this heavy accent piece.
It would be a shame to miss the artwork by Rajeshwar Nyalapalli in the background with imminent feminist overtones. It shows the Indian goddess Durga taking a bike ride with her husband Lord Shiva. So a smattering of pop art might be the missing ingredient for your perfect home. The tropical prints seen in this room are also noteworthy.
The Real, the Surreal and the Natural Converge in Twinkle Khanna Interior Design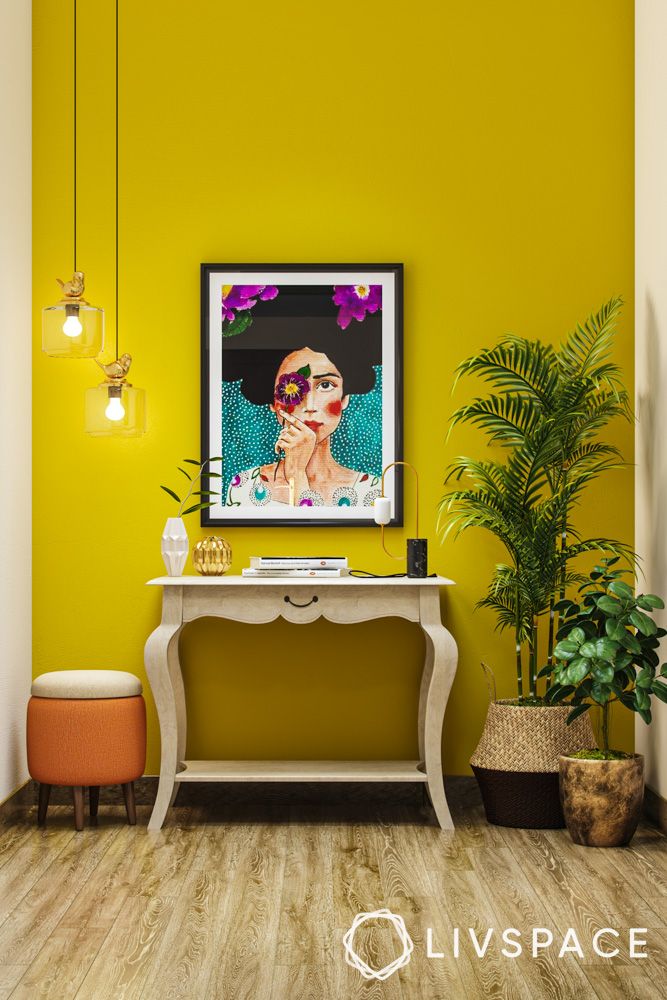 The most intriguing facet of this celebrity home is its innately personal touches. We can see Twinkle's fiercely independent personality reflected in every corner of her home, particularly her choice of art. For instance, one of her foyers sports a painting by Hulya Ozdemir, an artist who idolises Freida Kahlo as a feminist icon and is inspired by her art. While everyone may not be able to afford original paintings, Kahlo's graphic artworks are rather affordable.
Also, there is something very accessible about the mid-century console that adds a graceful shape to this space. The patch of tall potted plants alludes to naturalistic art and is a common theme throughout the home.
Set the Mood Right With Neutral Tones and a Breezy Vibe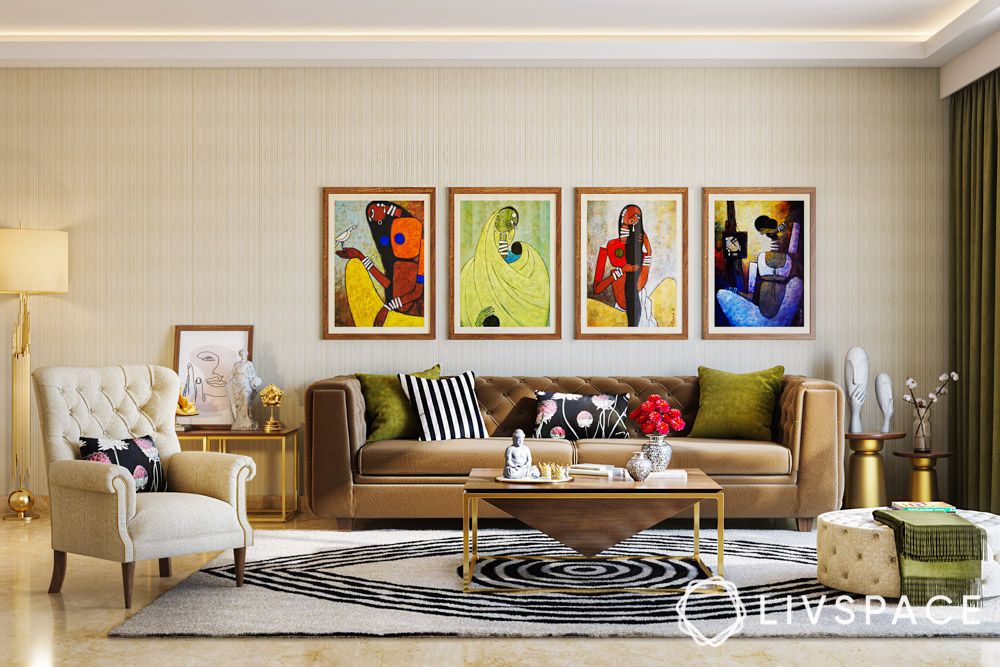 While the power couple has several living rooms, all of them are defined by two things: comfort and a breezy vibe. These are doused in neutral colours to complement the spacious rooms. The only pop of colour is from the artwork that graces the centre wall. The idea is to keep everything neutral while accents are colourful.
Since Twinkle loves contemporary art, we suggest Kamal Koria's beautiful work for the living room to give it a touch of personality. Tufted fabric is a clear winner as well, as seen in the armchair, pouf and sofa. If you do have an option, put in large French doors just like the stars' living room and bask under all that sunlight.
Twinkle Khanna's Interior Decor is All About Eclectic Elegance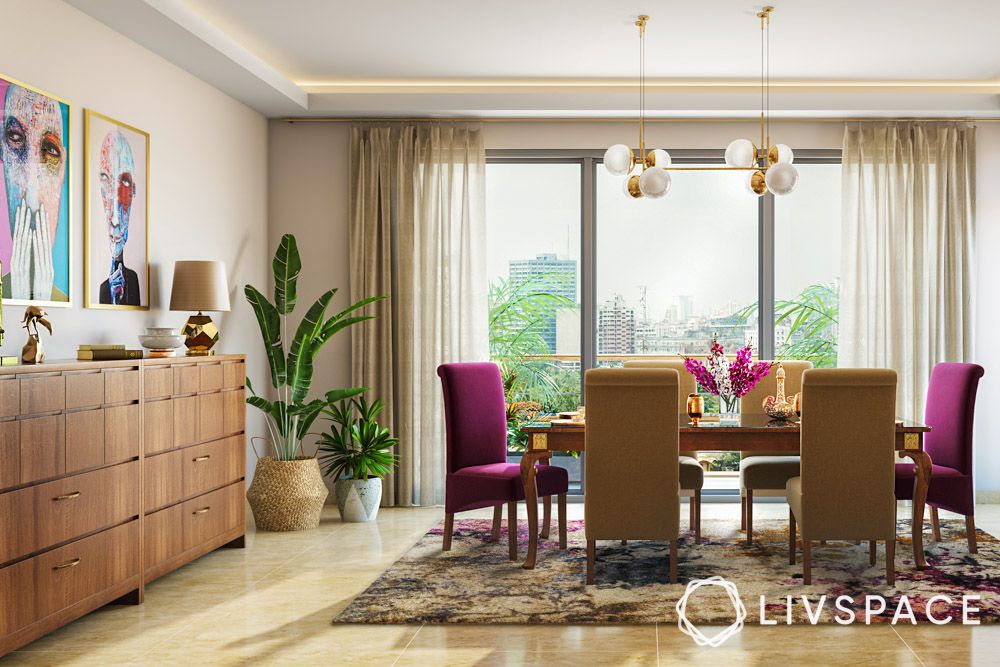 Twinkle and Akshay's dining room is eclectic all round. Statement light, upholstered chairs and large plants are markers of their dining room. The centrepiece is always dedicated to flowers and plants. You too can add these elements to your dining space easily. Just like the rest of their home, the dining nook too flaunts intriguing artwork and we think works of contemporary artists Sylvain Coulombe and Ruth Schloss fit the brief perfectly.
An abundance of natural light is another element of their dining, and if you do have the option, put in large windows especially if you have a green view. You could also add a false ceiling to elevate your dining experience.
Check out this eclectic home:
If you loved the tour of Twinkle and Akshay's inspired home, take a look at Design Your Home Like Alia Bhatt's Cosy Mumbai Flat as well. You could also take a look at other ideas we've loved in celebrity homes.
Send in your comments and suggestions.