Whether or not you cook in your kitchen on a regular basis, we're sure you'll agree on the importance of having an organised space where you can whip up delicious dishes at a moment's notice. Moreover, celebrity kitchens never fail to inspire us. So, what could be a better place to start than this minty fresh kitchen of Alia's?
Ever since we watched Alia learning her way around the kitchen here, we've been fascinated by the idea of planning a kitchen that makes cooking a breeze, for the beginners and experienced people alike. So here we bring you some handy kitchen organisation ideas inspired by Alia's dreamy pastel kitchen!
Inspiration from Celebrity Kitchens #1: Layout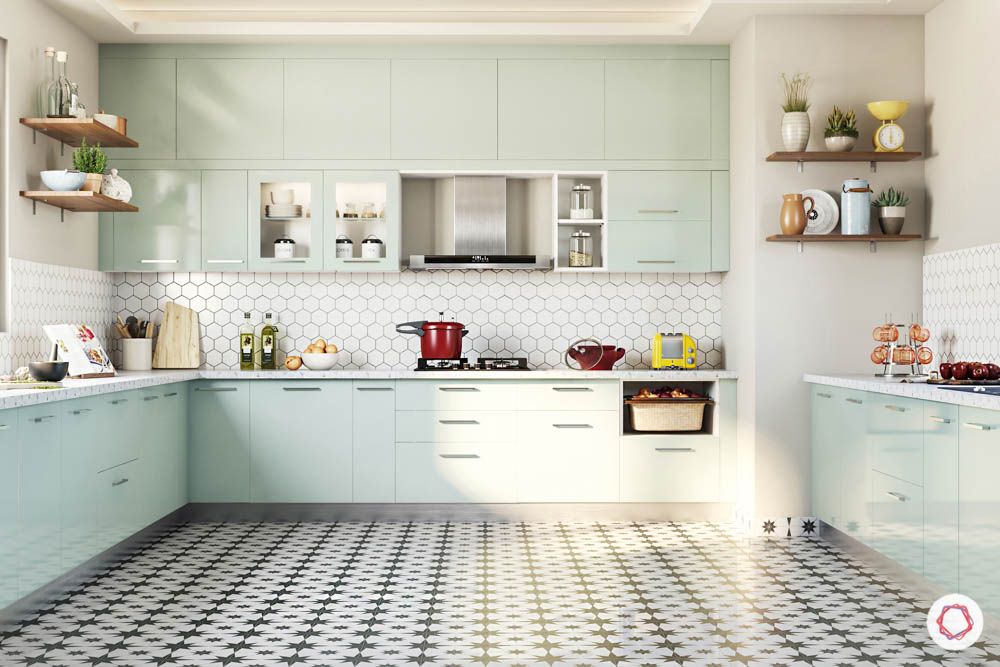 Alia has a U-shaped kitchen, and we love the layout! With a U-shaped kitchen, it's easier to keep your essentials within easy reach. Not only do you get plenty of counter space for a plethora of appliances, but there's also plenty of storage space and then some to work around your kitchen with ease.
What's more, the U-shaped kitchen layout makes a golden triangle – the space between the hob, sink and refrigerator – that's super easy to work in. If you're wondering why, it's simply because these three essential parts of the kitchen can be at equal distances from each other, and you can move from one to the other with ease. Furthermore, you can distinguish your kitchen into zones. And if you have multiple people working in the kitchen, there will be distinct spaces for each one!
Inspiration from Celebrity Kitchens #2: Open Ledges Within Easy Reach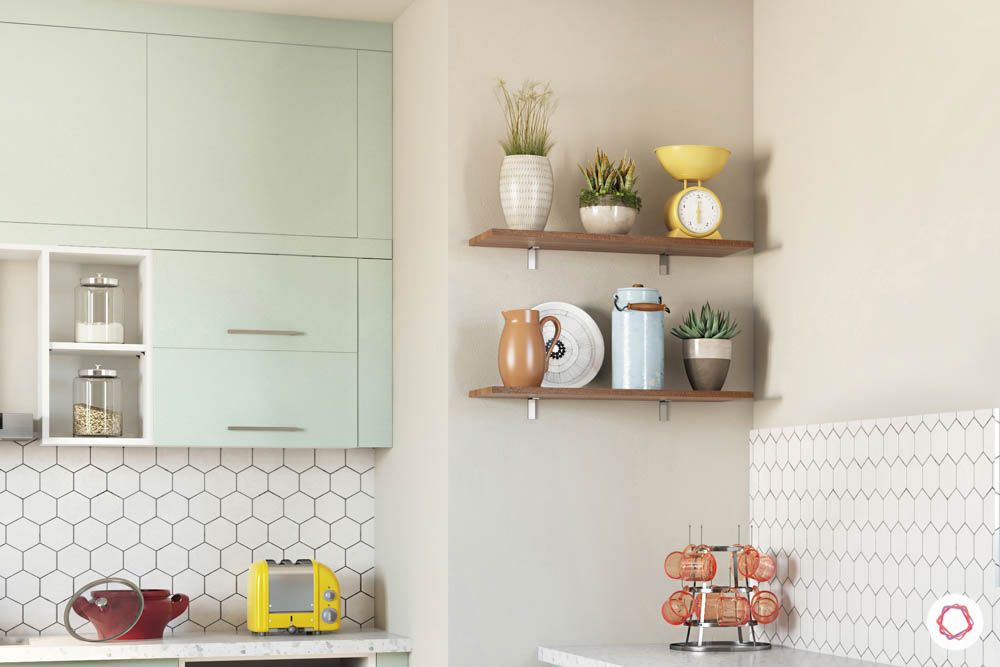 While cooking, it can be terribly annoying to constantly open and close cabinet doors to find the essentials. So why not take the cue from Alia's pleasant kitchen and use open shelves? We suggest you invest in open shelves immediately around the hob. These can have all the essentials for cooking – and it helps both experienced chefs and novices.
Inspiration from Celebrity Kitchens #3: Mix of Open Shelves and Closed Cabinets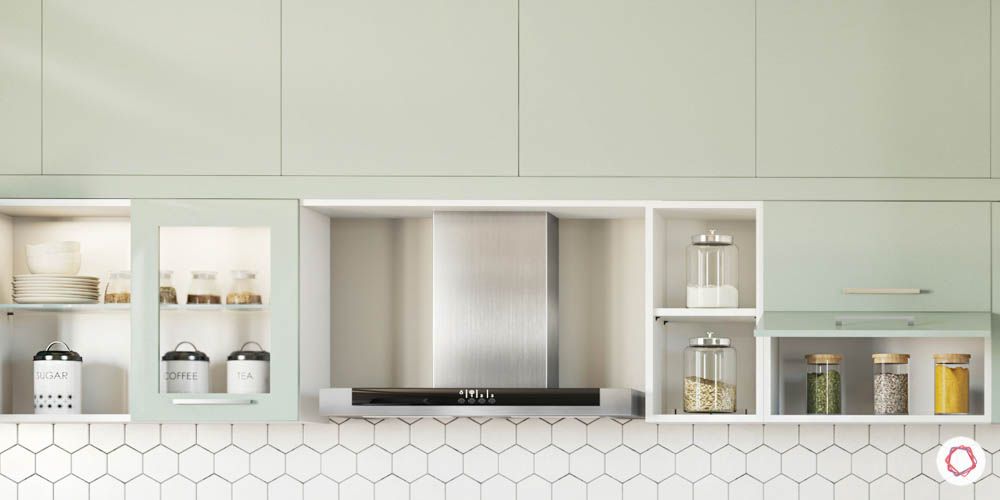 We admit, it's hard to get rid of the comfortable old cabinets. Have you ever noticed how many things we shive behind those convenient doors and forget about them? But then again, do you really want to keep all of them out of sight? We agree, some things are best kept behind closed doors, but why do that with everything? Well, Alia's kitchen has a solution for this too! A row of open shelves under the cabinets is what every kitchen needs! Invest in a set of pretty containers to store your spices and condiments and line them up here. So, your kitchen will look as pretty as a celebrity kitchen!

Inspiration from Celebrity Kitchens #4: The Right Sink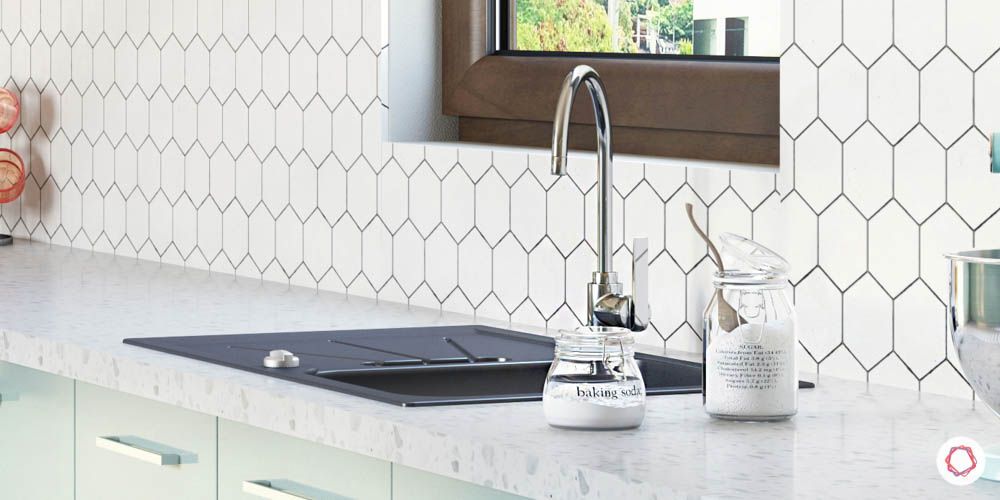 If you are wondering what's so new about the sink in Alia's kitchen, think again! If you've stuck to the basic single-bowl sink, there's so much you're missing out on! A double-bowl sink helps multiple cooks in the kitchen to work alongside each other with ease, as is the case in this celebrity kitchen. However, if you think it takes up too much counter space, we suggest you consider sinks with attached drainboards. Whether you have just washed utensils and want to let them dry before putting them away, or you've cleaned out fresh produce under running water, these sinks come handy. Yes, it takes up some counter space, but it has a designated space where you can let the water drain off. Doesn't that make life easier?
Inspiration from Celebrity Kitchens #5: Internal Organisation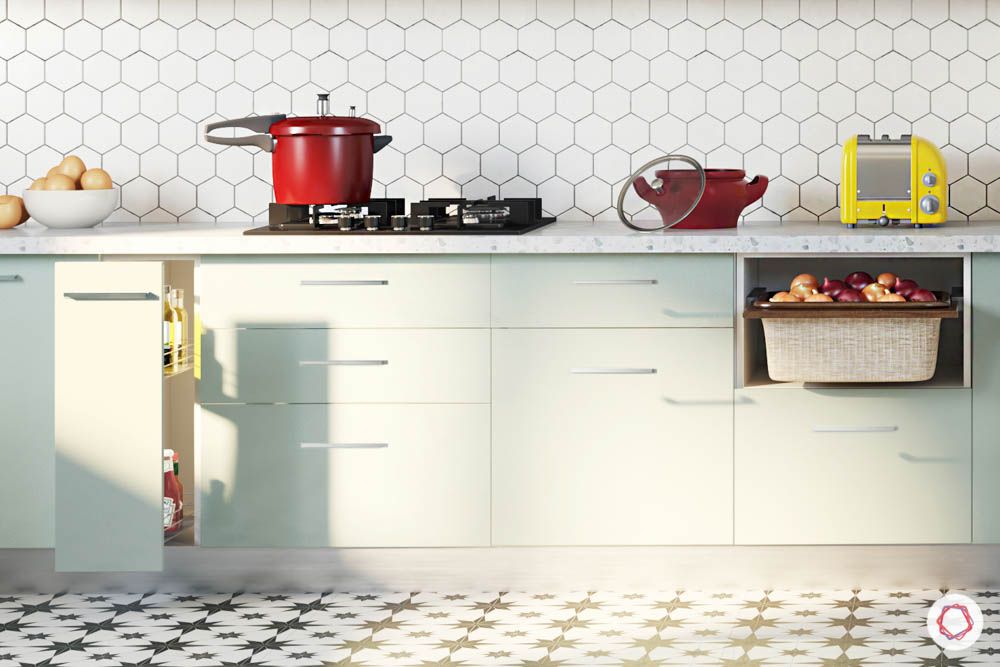 If you were thinking that having managed the basics, you'll have a fully set up kitchen that's a pleasure to cook in, you've never been more wrong! As we can see in the celebrity kitchen videos, kitchen organisation is all about the small things. Consider the idea of using wicker baskets to store your vegetables. Also, wouldn't it be amazing if you could open a drawer and not have to run the risk of slicing your hand open using the knife? With kitchen organisation ideas like cutlery trays, your spoons and forks will stay in distinct compartments!
What we Love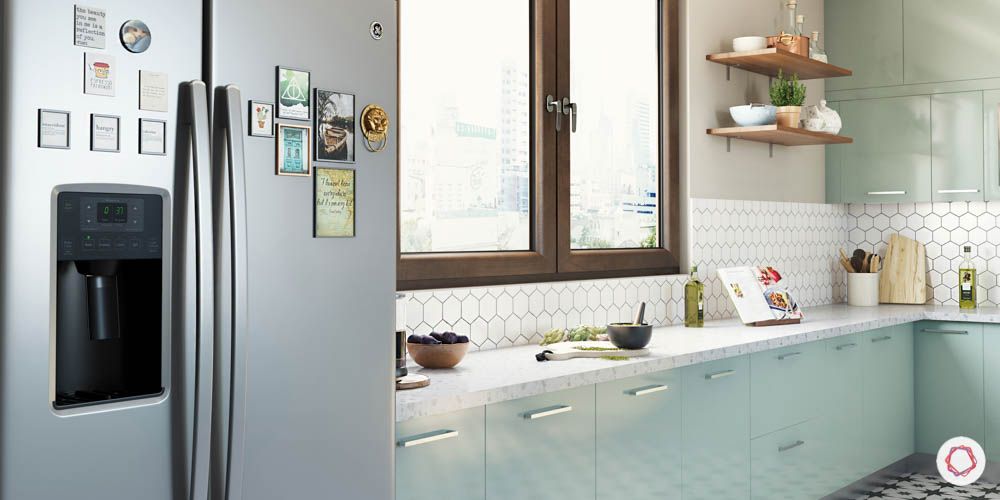 What's not to love about Alia's kitchen? The pretty pastel green shade is oh-so-dreamy, and it looks even brighter with the white countertops and the black and white flooring. What's more, it has large windows that let in plenty of natural light – and make this kitchen look even brighter! The U-shaped kitchen provides ample storage and counter space. With super functional wicker baskets and a state-of-the-art chimney, the kitchen is fully equipped and stylish at the same time. Moreover, Alia's kitchen has top-of-the range equipment, so that whether she craves a cupcake or moong dal halwa, it can be made in-house in style!
But what we absolutely love about this celebrity kitchen is the cutesy little magnets on the fridge. And their place on the fridge transcends just the cuteness factor! Yes, Alia has a list of all her favourite foods – from meals to snacks – on her fridge. Imagine a list of different kinds of food on your fridge, and being able to arrange and rearrange them. You can plan your meals ahead of time, ensure that your fridge is stocked with the right groceries, and so much more!
If you enjoyed reading about these kitchen organisation ideas from Alia's kitchen, check out how we were inspired by her kitchen here: Inspired by Alia Bhatt's Minty Fresh Kitchen.
Tell us what you think at the ID given below!