Known for his witty roles in Bollywood and the ability to memorialise villains and their quirks to the audience, Boman Irani holds his own in the world of cinema. However, he believes that each of us have two personalities. One of these, we show the world while the other is the person we are in our safe haven—our home. So when he and his wife decided upon their three-bedroom home in Byculla in Mumbai, they decided to craft the interiors to reflect their family.
And as a charming, noisy, warm family home, this space is a riot of warmth and colour. As we watched their home interiors, the quaint space took us back in time. We couldn't help but fall in love with this cosy space and how it all ties together. So we recreated their home, and brought it to you complete with our take on each space. Peek in!
#1: Using bright colours the right way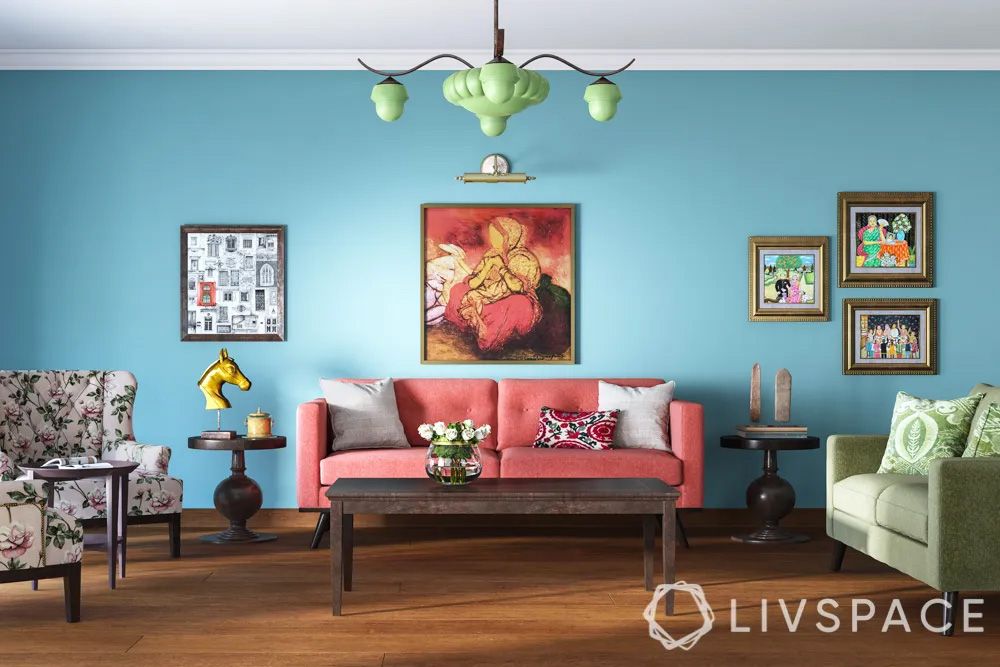 If you thought celebrity homes were all about neutrals and subtle hues, you're in for a surprise. Boman Irani and his wife decided upon this unique shade of powder blue for the walls of their home. So we retained the gorgeous backdrop and their bright coral couch when recreating their interiors. We put in two wingback chairs with floral printed upholstery that sit perfectly in the busy space. And a beige sofa sits quietly on the other side.
To complement the different bright hues, the Iranis opted for timeless wooden furniture. So we redid the look with wooden coffee tables and side tables that blend gently into the room. The overall impact is a space that's noisy and full of life, creating its own symphony.
Design takeaway: Your choice of colours and furniture in the living room should be an extension of your personality. Instead of falling in line with trends, look for what defines you and makes you feel at home. That way, you will find an aura of calm even in the midst of apparent chaos.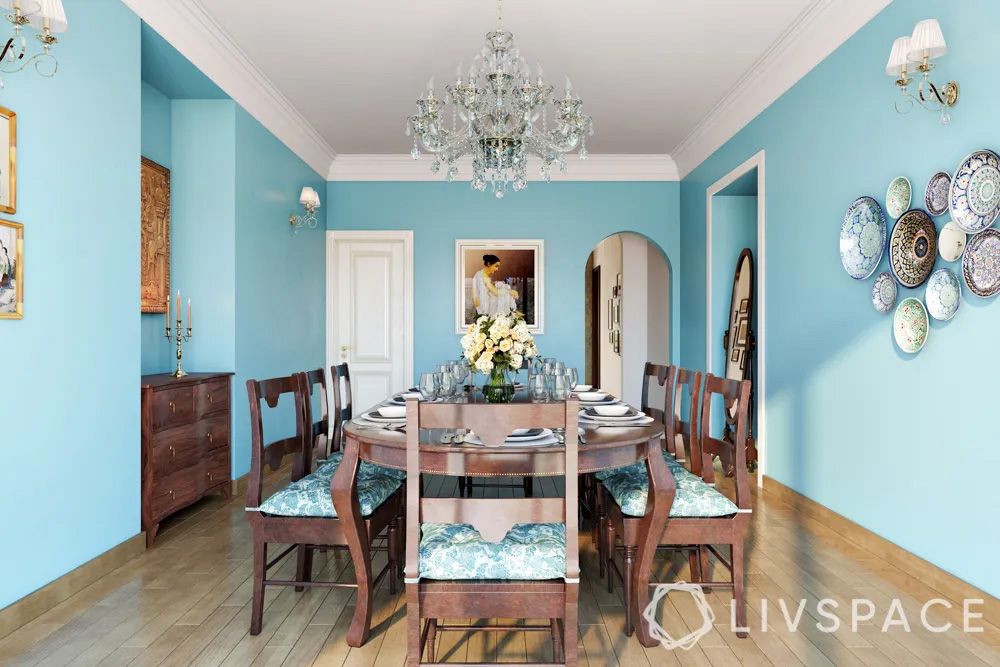 The powder blue walls continue into the dining room of the Irani home. Unlike the busy colours of the living room, however, the decor in this room is more soothing. We think that a wooden dining table and chairs upholstered in the same shade of blue helps to create a cosy space for the family to dine together. A classic chandelier adds to the elegance of the space. Thus, it looks at once calm yet imposing.
Design takeaway: You can use even the simplest of items to personalise a space. It could be wall sconces, a chandelier, or even a collection of ceramic plates.
#2: Timeless wooden charm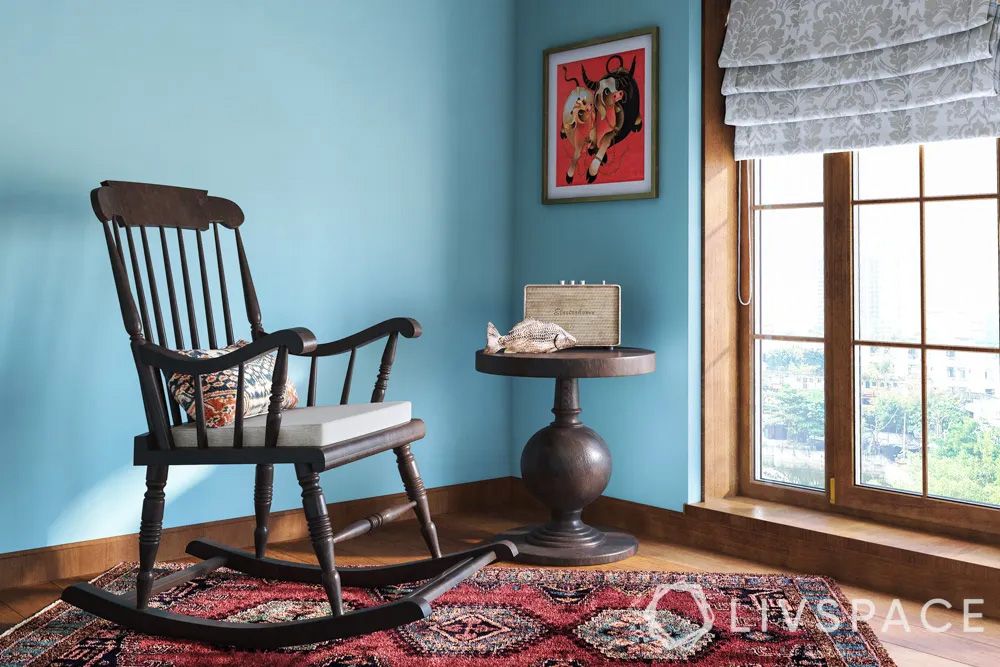 On a corner of the living room in the Irani home, you can spot this wooden rocking chair paired with a side table. Against the bold colour of the walls, the warm wooden furniture sits like a timeless classic.
Design takeaway: Even while using bold colours, you can create a soothing effect with the right furniture. And when in doubt about the right furniture to use, wood is usually the answer!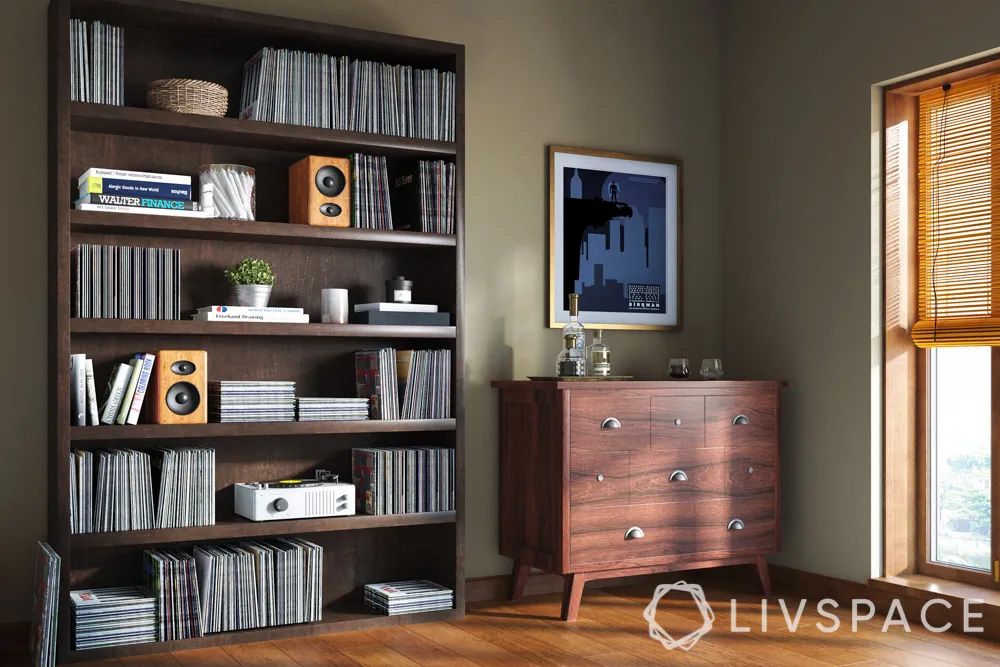 Unlike the brilliant colours in the rest of the house, Boman Irani's den is a personal space filled with soothing hues. This room comes with a huge wooden shelf and a cabinet, filled with the one thing this gentleman is so fond of collecting—Blue-ray movies. It's designed to encourage thinking, hence the somber shades and dark wooden furniture.
Design takeaway: If you're looking for optimal acoustics, we recommend investing in wooden flooring and plenty of furniture in the same material. At the same time, while designing a space meant to think and conceptualise, it is a good idea to steer clear of ambient lighting and opt for task lighting. This adds to the mysterious aura of the space and encourages those creative juices.
#3: Intimate spaces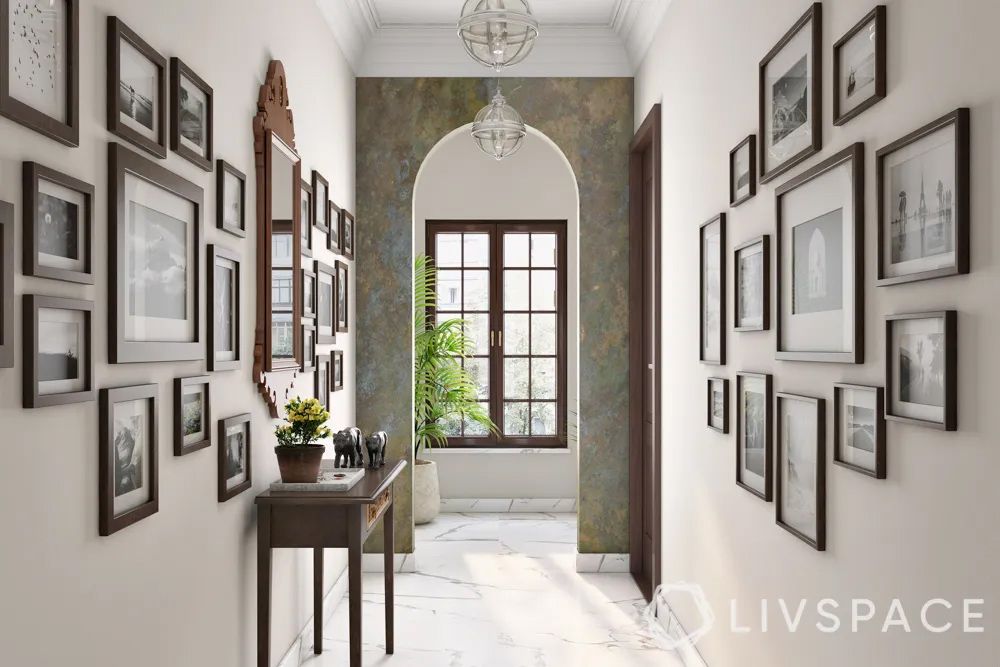 Boman Irani and his wife are deeply rooted people. So family and the memory of the good times they spent together play an important role in their lives. Hence, it comes as no surprise that their passageway is filled with family photos. These highlight several memorable moments.
Design takeaway: A gallery wall is always one of the most soothing spaces you can be in. However, what we love about this celebrity home is how the narrow passageway with photographs on both sides can be so poignant. Look out for the soothing colours and the simple, basic photo frames.
The most important part of a gallery wall is the photographs—and this space highlights just that. You can also choose a wall arch on the end of the passageway like we recreated to give it that extra oomph.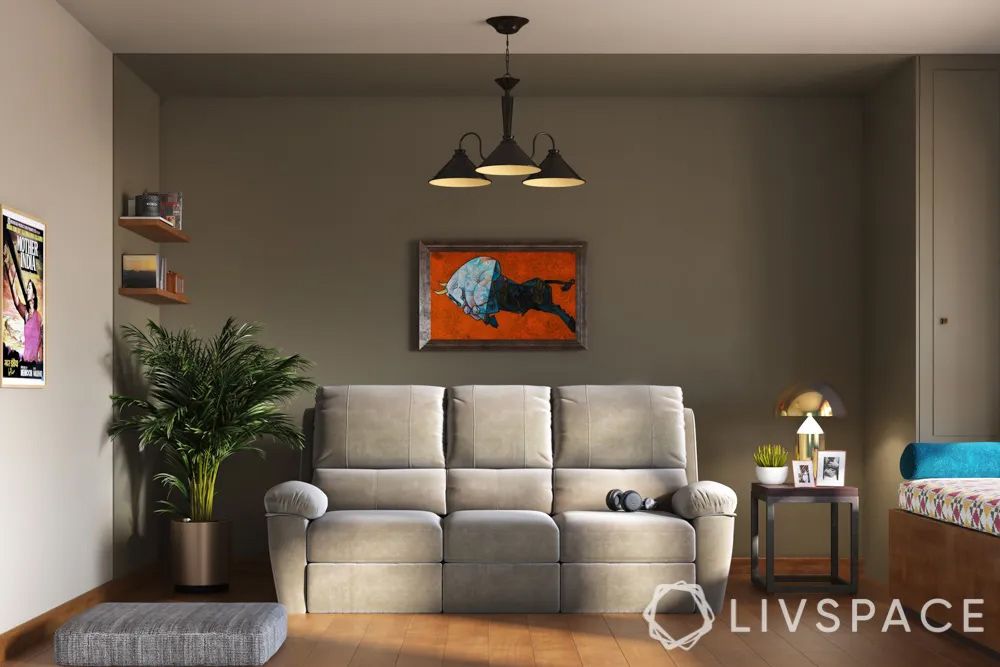 His entire family loves movies. So the entertainment room is designed as a cosy space high on comfort. We have tried to capture the warmth of the family space in our recreation of the Boman Irani home. From the green-grey walls to the comfy recliners, this space conveys one message—warmth.The room comes with defined spaces for everyone. The paintings and a colourful daybed create soft pops of colour here.
Design takeaway: The family entertainment room is all about comfort. So take your cue from this cosy celeb home and fill it with warm colours and comfortable furniture. You can never go wrong with a dash of greenery, either!
Send in your thoughts and suggestions to editor@livspace.com.