Whether you've grown up watching his films, or simply love the finesse in his acting, Shah Rukh Khan is a beloved household name for many of us. While we may already know a lot about him from his time on the big and small screen, there's still a lot to uncover. Take the family's lavish Mumbai and Delhi homes, for example. The elusive Mannat is a well-known marvel that only few have had the luxury to tour. Though there are a few images of Shah Rukh Khan's homes readily available on the Internet, finding decor that matches them is a different ballgame.
Luckily, we're in the business of creating dream homes across all budgets. So, if you've ever desired to live in a home like SRK's without breaking the bank, we can help you get the look. In this edition of celebrity home designs, we've used furniture from Livspace to style and decorate a rendition of SRK's homes (designed by Gauri Khan), all under a budget of ₹3 lakh. Let's take the tour!
#1: Chammak Chalo Your Way Into a Classy Living Room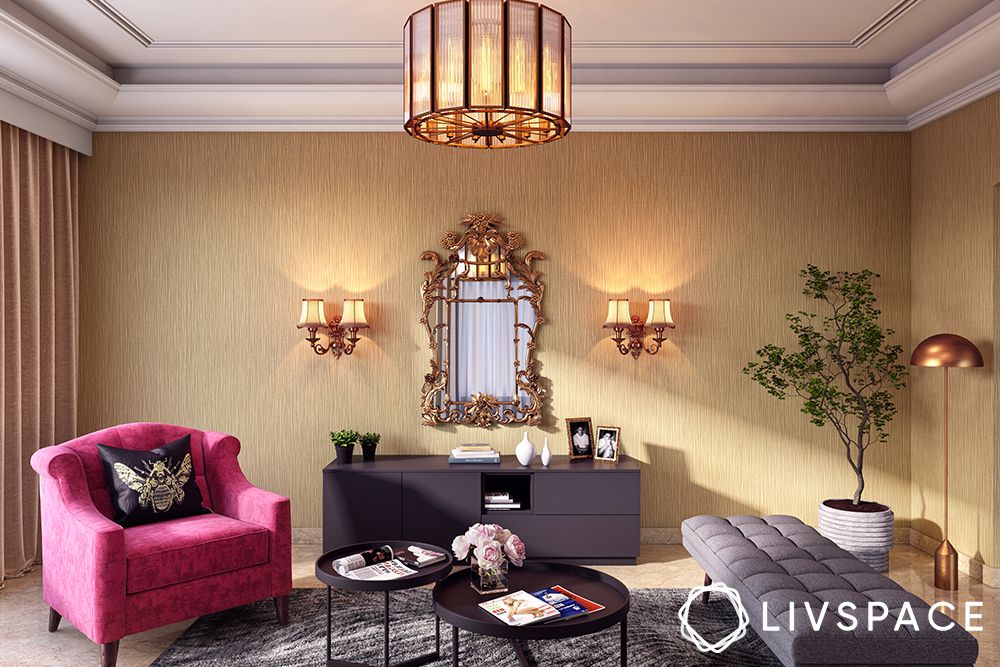 When you think about Shah Rukh Khan's home interiors, you'd probably imagine luxury textures, suave accents, and detailed accessories. While most of this is true, it need not necessarily be an expensive affair. This rendition of Shah Rukh Khan's home is all about staying classy yet economical.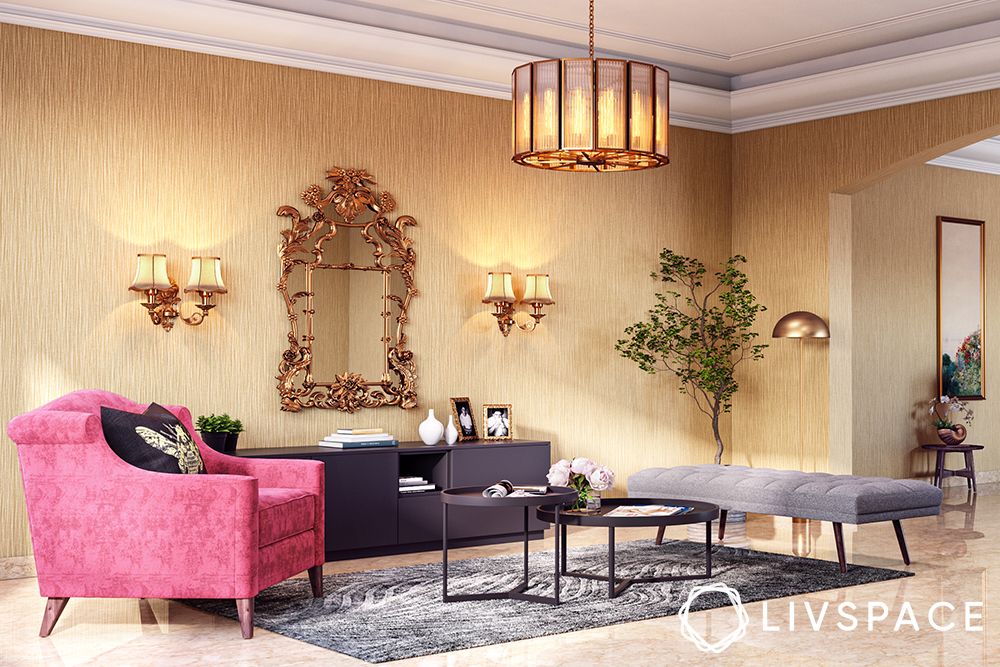 For the living area, we've picked out a cosy bench in a cool shade of grey to complement the gold accents in the room. The single-seater sofa adds a beautiful pop of colour to the space, without overpowering it. Additionally, we've used a console table under the wall mirror to add storage.
What Was the Cost of Livspace Furniture Used to Decorate This Living Room?
Please note: All prices mentioned within the story can vary based on the fabric and colour chosen.
#2: Kuch Kuch Hota Hai in This Suave Dining Room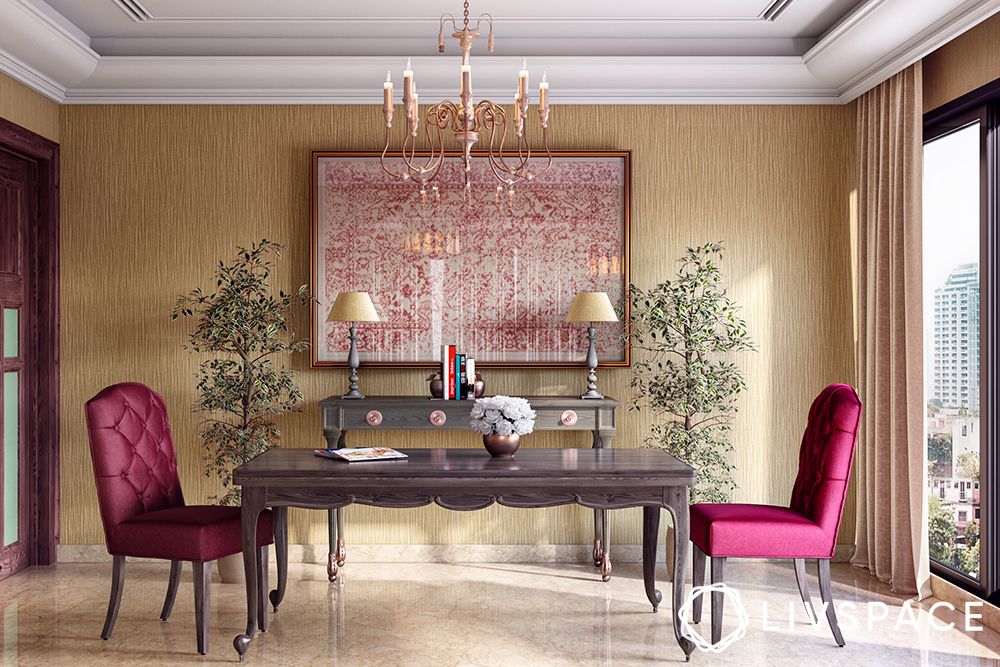 Ever wanted to dine like the stars? Now's your chance! Shah Rukh Khan's home interiors carve out the perfect dining space to reminisce all his greatest hits over a hot meal. Besides the mix in choice of contemporary and antique furniture, you might also notice something different about this space.
If you guessed the wall art, you're correct! Instead of going for a simple painting, the family has framed an antique carpet to create an entirely unique statement piece. To maintain continuity in design, the dining chairs take on the same colour scheme as the living room.
What Was the Cost of Livspace Furniture Used to Decorate This Dining Room?
Lexington Dining Chairs: ₹13,690 per chair
Also Read: 6 Maximalist Home Decor Ideas From Sonam Kapoor's House That You Can Follow
#3: Relive Scenes From Om Shanti Om Atop This Perch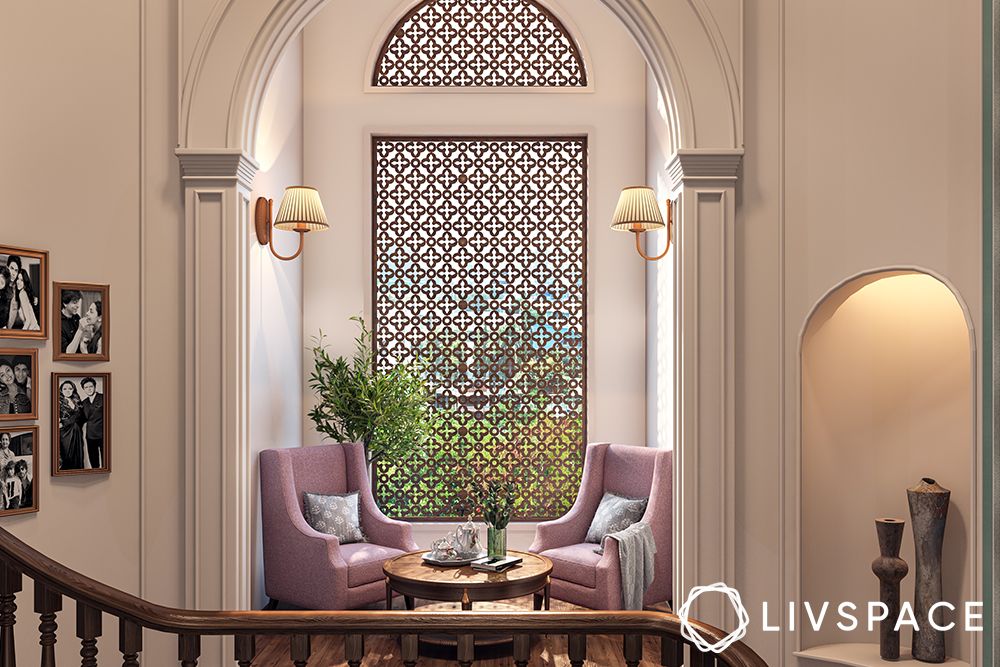 We don't often realise it, but the staircase landing can be the perfect area to turn into a seating space. Shah Rukh Khan's home has taken the same approach to design. If you have a bigger landing area, consider decorating the niche with chairs, sconce lights, a coffee table, and plants.
Here, the staircase landing is framed by a cosy wall arch that makes this area picture perfect. You can either use a patterned jali or stained-glass panelling for the window to create a unique ambience.
What Was the Cost of Livspace Furniture Used to Decorate This Staircase Landing?
#4: This Master Bedroom Will Surely Make You Go Deewana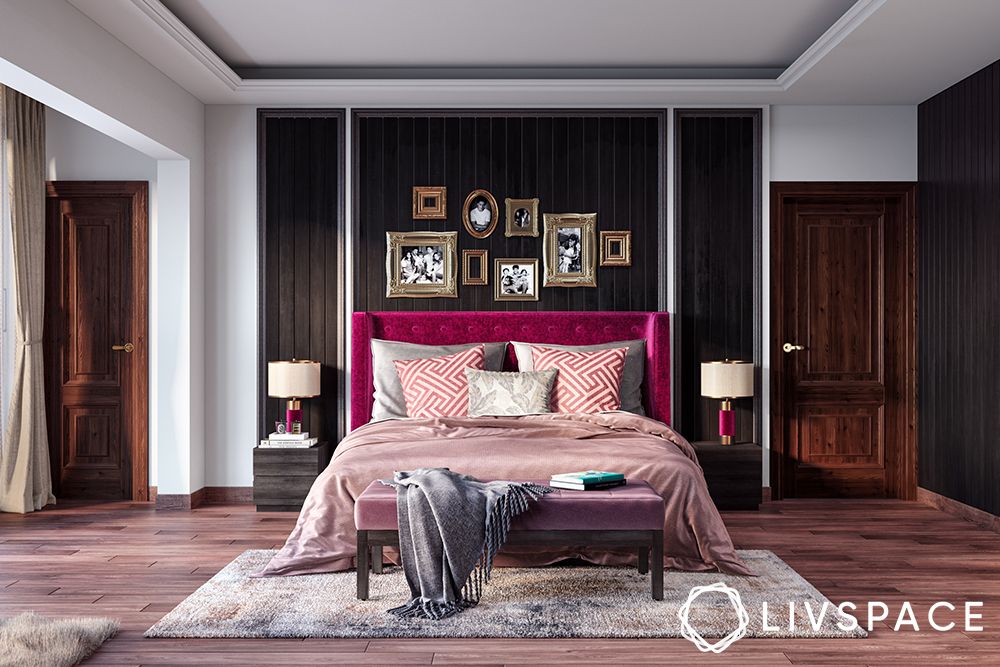 It might not seem like it, but your bedroom is the one place where you tend to make a lot of memories. Perhaps it's where you watched your favourite film for the first time, or where you handled your first big presentation while working from home. No matter the task at hand, the calming ambience of your bedroom (and your headboard) was there to support you. Shah Rukh Khan's home interiors follow the same principles too.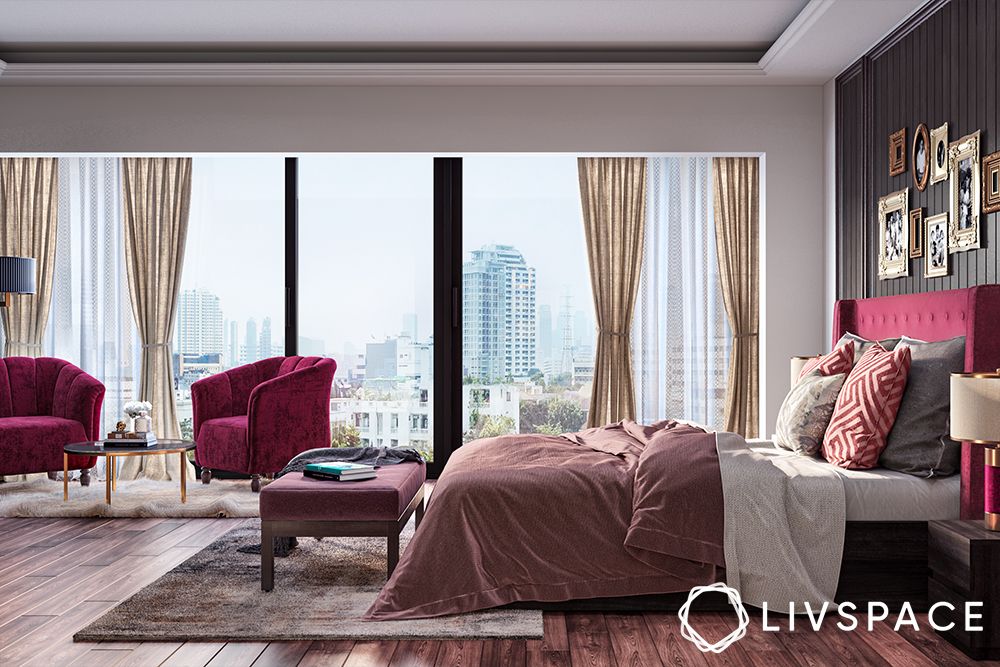 There's something else that might seem a bit familiar about this bedroom. Take a look at the headboard, it's the same colour as the furniture we'd seen in the living and dining areas of the home! By using matching colour schemes across this sample of SRK's home, we're able to build continuity in design. This gives the effect that each room is a continuation of the other, tying them all together.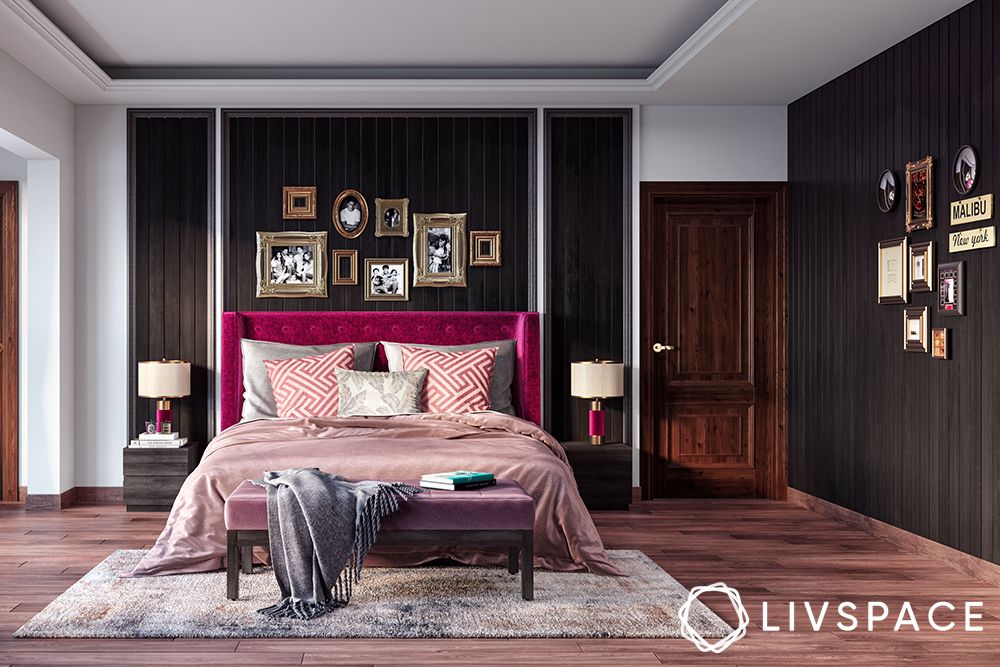 What you'll notice, as you tour the bedroom in Shah Rukh Khan's home, is the numerous photos and memorabilia. While the family already has a designated memory wall on one side of the room, they also decorate the wall above their headboard with beautifully framed photos.
Pro Tip: Divide Your Bedroom Into Functional Zones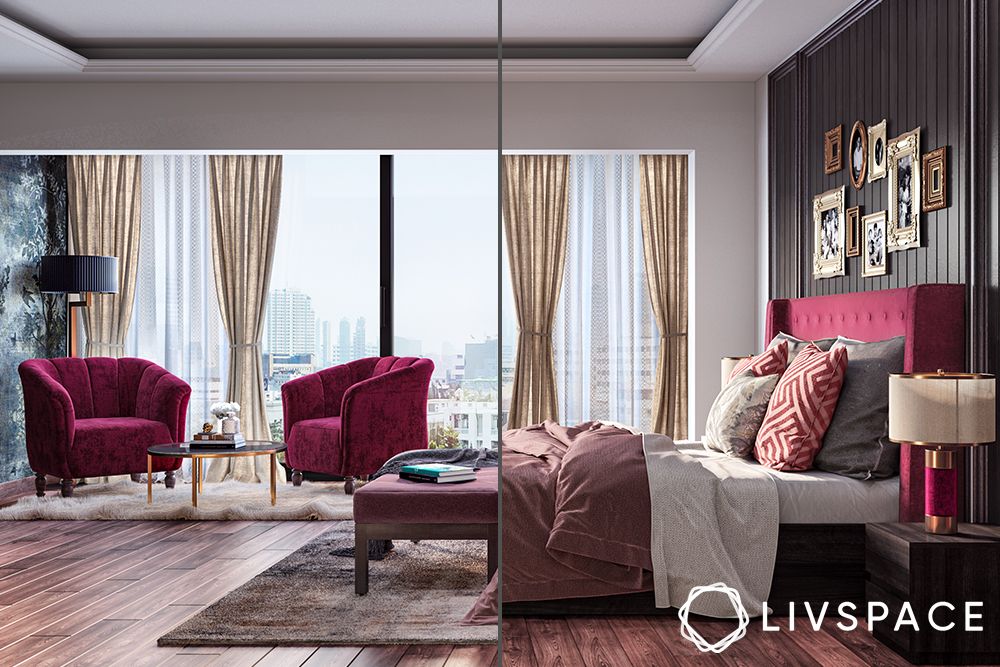 While the memory wall and bed have their own charm, there's another spot in this bedroom that deserves equal attention. It's none other than this cosy seating area at the other end of the room. Since the bedroom leans towards the spacious side, sectioning it into zones is ideal. The bed occupies the sleeping zone while the seating area can be used for work, reading, or unwinding with a nice view.
What Was the Cost of Livspace Furniture Used to Decorate This Bedroom?
Also Read: 5 Design Tips to Borrow From Jacqueline Fernandez's Parisian-Style Mumbai Home
Here's a Breakup of Costs That Went Into Furnishing Our Rendition of Shah Rukh Khan's Homes:
| | | |
| --- | --- | --- |
| Room | Item | Price |
| Living Room | Marjorie Single Seater Sofa | ₹33,090 |
| Living Room | Zuri Bench | ₹23,590 |
| Dining Room | Lexington Dining Chair | ₹13,690 each |
| Staircase Landing | Claire Wingback Accent Chair | ₹26,690 each |
| Bedroom | Karmen Hydraulic Bed (King) | ₹72,390 |
| Bedroom | Duron Bedside Tables | ₹12,490 |
| Bedroom | Madeline Bench | ₹21,490 |
| Bedroom | Myra Coffee Table | ₹27,990 |
| Bedroom | Bianca Single Seater Sofa | ₹32,190 each |
Please note that all the prices listed above can vary based on the size, fabric, and colour of each furniture item
The total here amounts to ₹2,63,610. However, certain materials and furniture designs can further lower costs. Check out the Livspace Store for more furniture and decor ideas.
SRK cover image credit: Shah Rukh Khan on Instagram
Tour Anshul Chauhan's home:
How Can Livspace Help Furnish Your Home?
We hope you found our celebrity home design ideas useful! Looking to furnish your home with these furniture pieces? Check out the Livspace Store to find your perfect match.
Additionally, if you'd like to design your entire home, we can help. Book an online consultation with Livspace today to get started.
Have any thoughts or suggestions you'd like to share with us? We're all ears! Drop us a line at editor@livspace.com.