Unless you've been living under a rock, you're sure to know Aishwarya Mohanraj. Renowned as a stand-up comedian, writer, YouTuber and storyteller, Aishwarya has come a long way from her Comicstaan days when she was one of the top 10 contestants. From sighing over her dreamy wedding with beau Aakash Shah, to laughing at her oh-so-relatable comedy videos, she has become our generation's go-to person for all things comedy!
At Livspace, we were in for a treat when the happy couple reached out to us to get their home designed right before their wedding! Their main ask was that they wanted the home before getting married so that they could move in immediately.

The vision was to create a home that was cosy, welcoming and aesthetically pleasing. Join us as we give you an inside tour of Aishwarya and Aakash's happy abode in Mumbai.
---
Who Livs here: Aishwarya Mohanraj and Aakash Shah
Location: Sapno ka sheher Mumbai
Size of home: A 3BHK spanning 950 sq. ft. approx.
Livspace service: Full home design
---
IN A NUTSHELL


Design Brief

To design a cosy home in a month that features a green theme, has aesthetic furniture and pretty lighting

What We Loved

The different design elements in the living room, like the chic sofa and bench, the smart TV unit and the addition of plants

Look Out for

— The modern sofa and bench in the living room
— The trims and tropical-themed wallpaper in the dining room
— Antique-themed storage and polished dining table

Biggest Indulgence

The bed with the green velvet headboard in the bedroom

Smart Buy

The artwork in the dining area



Meet the Happy Homeowners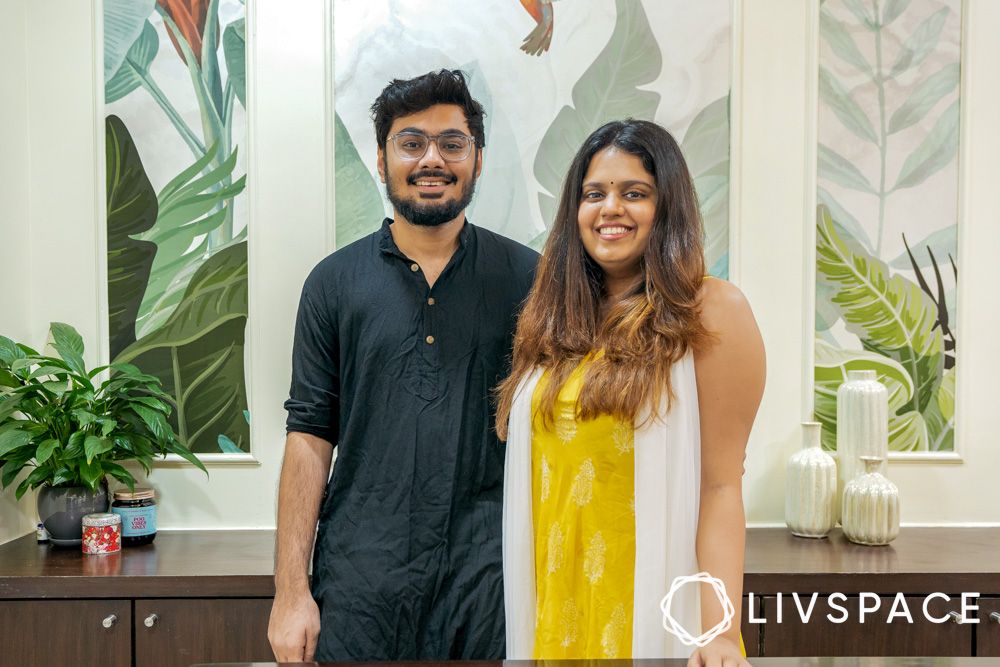 While Aishwarya Mohanraj is a stand-up comedian and YouTuber, her husband Aakash Shah is the founder of the marketing agency One Hand Clap and the ex social media head of All India Bakchod. The couple recently tied the knot in Goa, post which they moved into their stunning home in Mumbai.
Also Read: Live Like the Badshah of Bollywood With Furniture Inspired By SRK's Homes, All Under ₹3 Lakh
#1: Apna Ghar in Only 28 Days!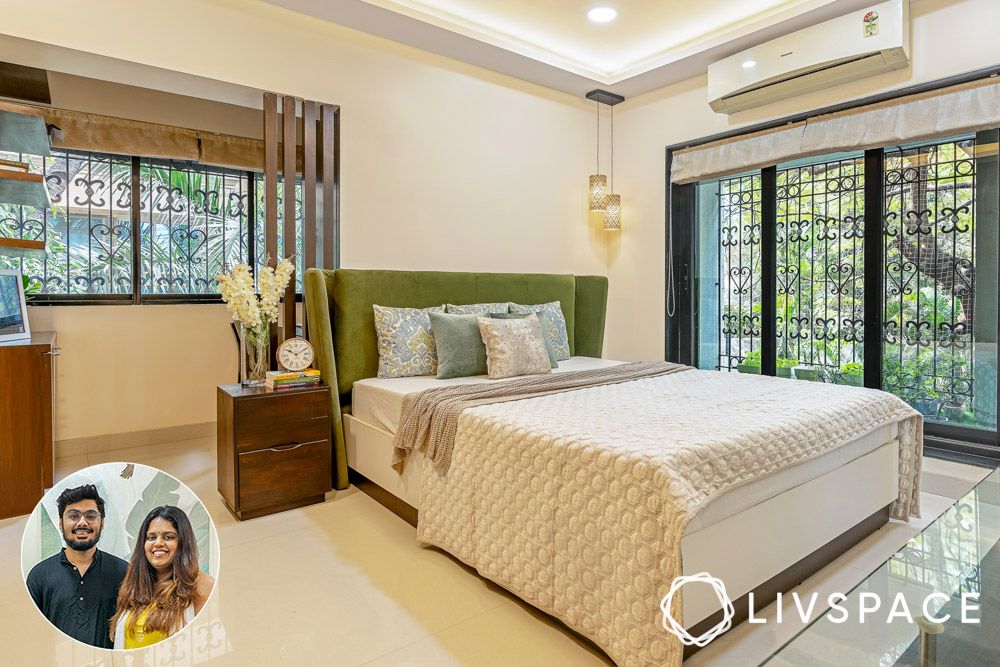 One of the biggest requirements that the couple had from Vinit, our Livspace designer, was that their home be designed and delivered within a month. Such a tight timeline is always a challenge, especially when the homeowners are celebrities leading busy lives.
But that didn't stop Aishwarya and Aakash from being available whenever we needed their inputs. As Livspace designer Vinit told us, Aishwarya often made selections over WhatsApp to save time. In addition, Vinit also tried to finalise all the selections on the day of the kick-off meeting itself, to expedite things. Moreover, we ensured accelerated deliveries from our end to design the dream couple's dream home in 28 days!
#2: Making Aishwarya and Aakash's Dream Home Look Spacious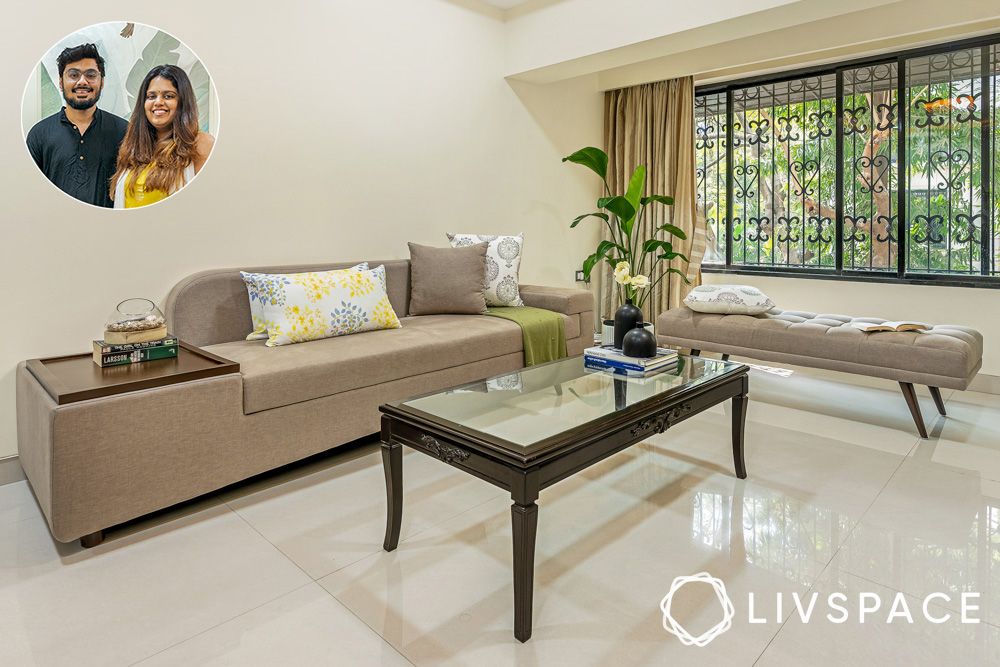 A 950 sq. ft. 3BHK is a routine occurrence in Mumbai. However, there are ways that you can make the most of the space available. As you can see from Aishwarya and Aakash's home, the choice of bare walls and minimal furniture in neutral colours gives this entire room a spacious appearance. Additionally, Aishwarya selected the sleekest sofa and chaise lounge to optimise the available space.
Lighting also played a major role in creating a spacious look. Originally, this 3BHK didn't have much lighting. Therefore, our designer added 3-in-1 lights that can change colours and tones in every room to create a bright and warm ambience.
#3: Even Rental Homes Can Look Spectacular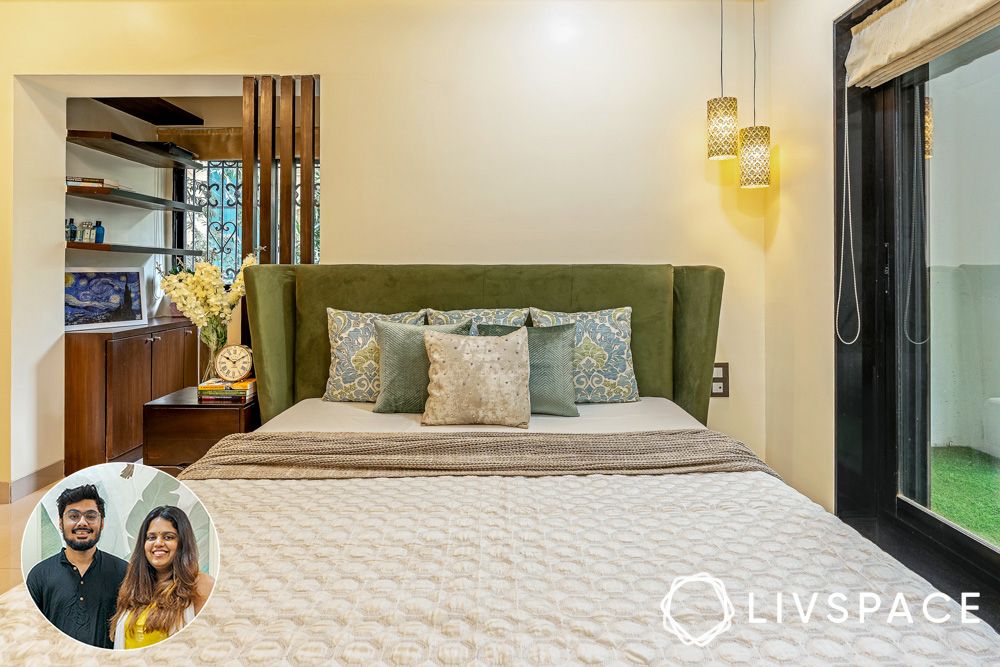 It's a common misconception among homeowners that interior design isn't a feasible option for rental homes due to multiple permissions, rules and regulations. However, you don't always need massive changes to make your home look outstanding.
In rental accommodations, major civil changes are generally not allowed. As such, Aishwarya and Aakash's requirements didn't involve any significant changes. Choosing the right colour theme and lighting, selecting aesthetic pieces of furniture and adding plants – that's all that was needed to transform an old flat into a stunning new home.
#4: Using Green for Understated Elegant Interiors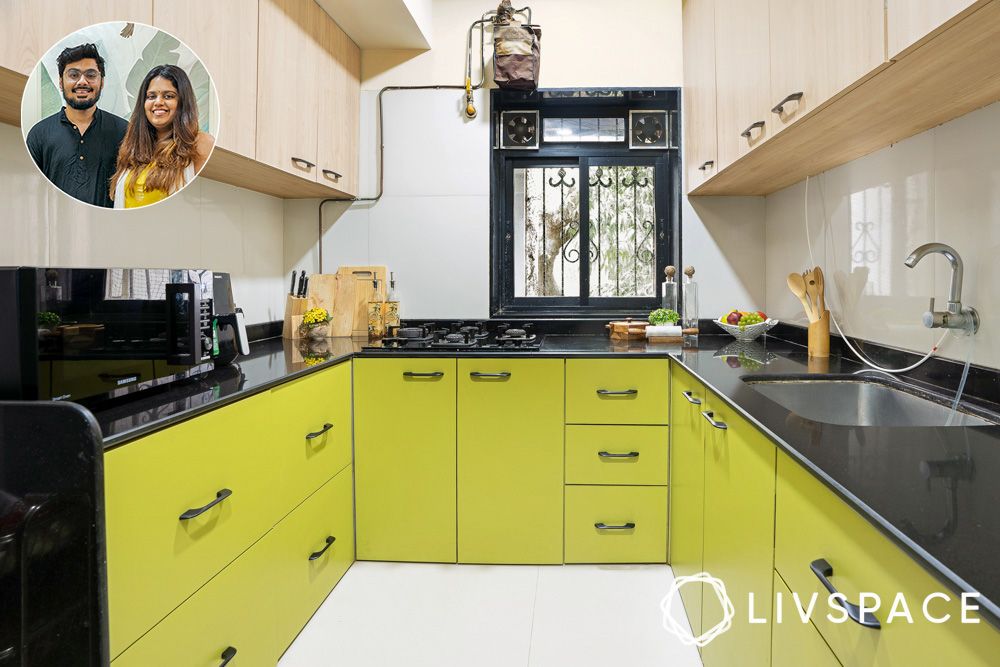 Aishwarya Mohanraj's favourite colour is green, so she wanted a green theme for her 3BHK. However, green as a colour can look too bold, if not used strategically in home interiors. "We used tinges of green very smartly throughout the house", says our designer, Vinit. This helped in making the green pop without looking too overwhelming.
For instance, the lower cabinets in the kitchen are green, but the upper cabinets are a muted shade of beige to balance the look. Similarly, in the bedroom, only the headboard is green. In addition, the entire home is filled with plants, which creates a fresh and natural appearance.
Also Read: 10 Stunning Celebrity Kitchen Design Ideas to Give You a Glimpse of the Glam Life
Wondering how much a kitchen will cost you? Find out with our modular kitchen cost calculator.
#5: The Cost Factor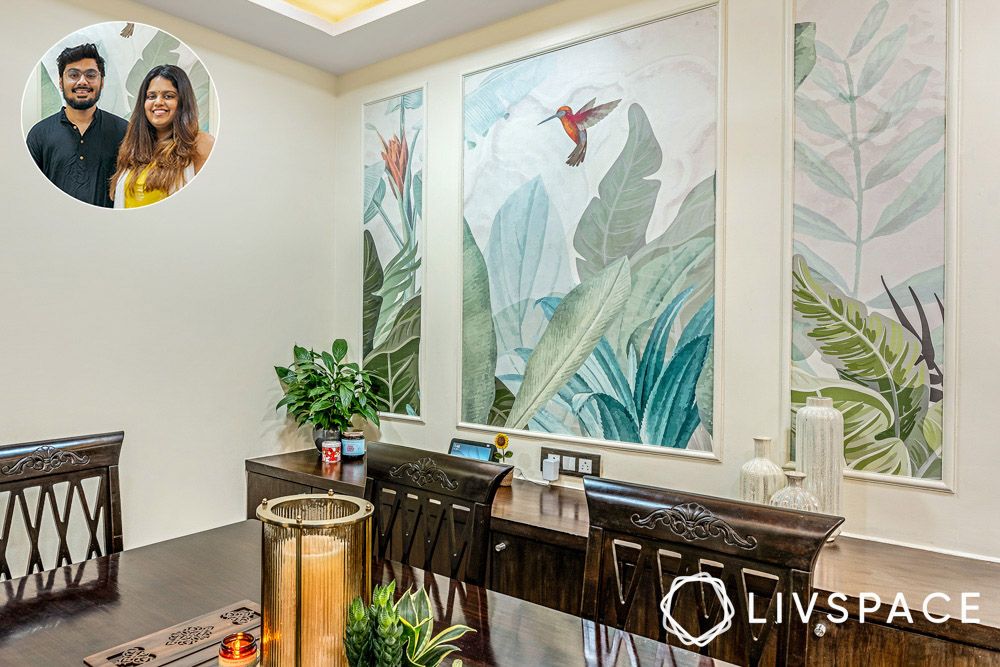 While everyone wants a beautiful home, the budget also matters. Actual costs depend upon multiple factors like style, design, labour charges etc. However, if you loved Aishwarya and Aakash's stunning pieces of furniture, we have listed down our favourites and mentioned their estimated costs.
| | |
| --- | --- |
| Item | Price Range* |
| Bed With Velvet Headboard | ₹80,000 – ₹1,20,000 |
| Laminate TV Unit | ₹40,000 – ₹62,000 |
| Sofa | ₹54,000 – ₹70,000 |
| Bench | ₹20,000 – ₹28,000 |
*All prices mentioned above are excluding 18% GST. These prices are an estimate. Your actual cost can vary depending on the city, labour charges, material, finish and design
#6: Special Additions That Made Us Go WOW!
A) Artwork in the Dining Room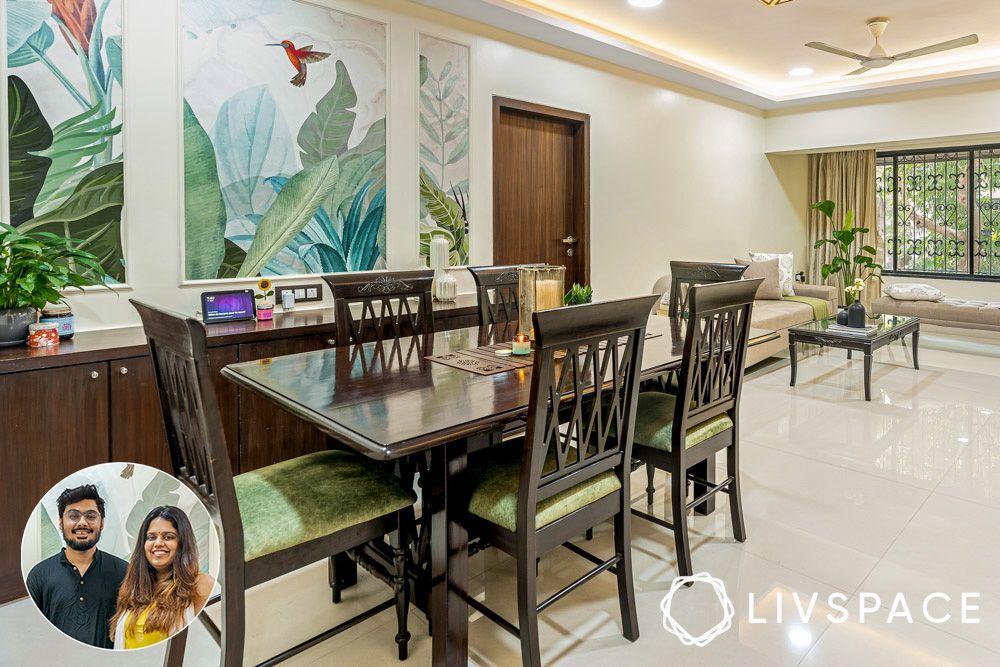 Since the living room didn't have a lot of green elements, Aishwarya and Aakash chose this gorgeous tropical-themed artwork for their dining area. Vinit and his team created wall trims to highlight the artwork which goes so well with the rest of the home.
B) The Grooved TV Unit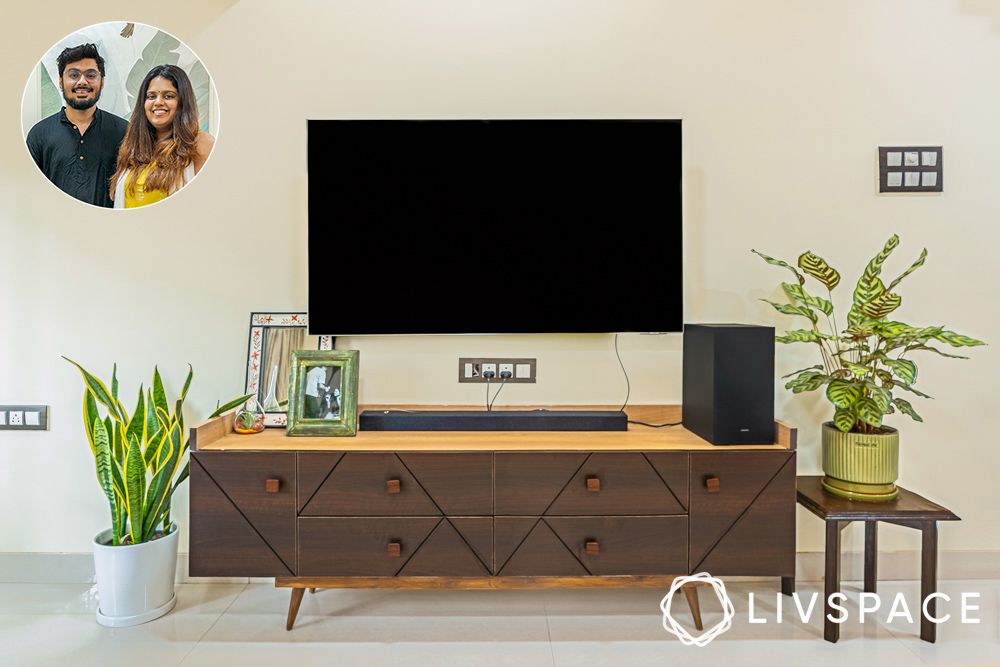 The main reason why this laminate TV unit stands out is due to the grooved finish. While the unit provides extra storage space, as per Aishwarya's requirement, the grooves give it a striking look.
Check out Aishwarya's vlog for a tour of her entire home:
How Can Livspace Help You?
We hope you liked Aishwarya and Aakash's home as much as we enjoyed designing it! If you want beautiful interiors for your home, then look no further. Book an online consultation with Livspace today. Have any thoughts or suggestions you'd like to share with us? We're all ears! Drop us a line at editor@livspace.com.
Disclaimer: All contents of the story are specific to the time of publication. Mentions of costs, budget, materials, finishes, and products from the Livspace catalogue can vary with reference to current rates. Talk to our designer for more details on pricing and availability.