Ganesh Chaturthi is fast approaching and we hope that you have cleaned and readied your home to welcome Bappa. What's that we hear? You are still looking for Ganpati decoration ideas and need some inspiration? Your prayers have been answered! If you love getting together with friends and family and doing the Ganpati mandap decoration by yourself, we have some amazing ideas that you can use. Follow along as we list easy-to-do Ganesh décor tips, some straight from the homes of Bollywood celebs! And don't forget to read the Vastu tips for placing Ganesha that we have shared at the end. 
Jor se bolo pyar se bolo Ganpati Bappa Morya! Now, let's begin!
1. Ganpati Decoration With Flowers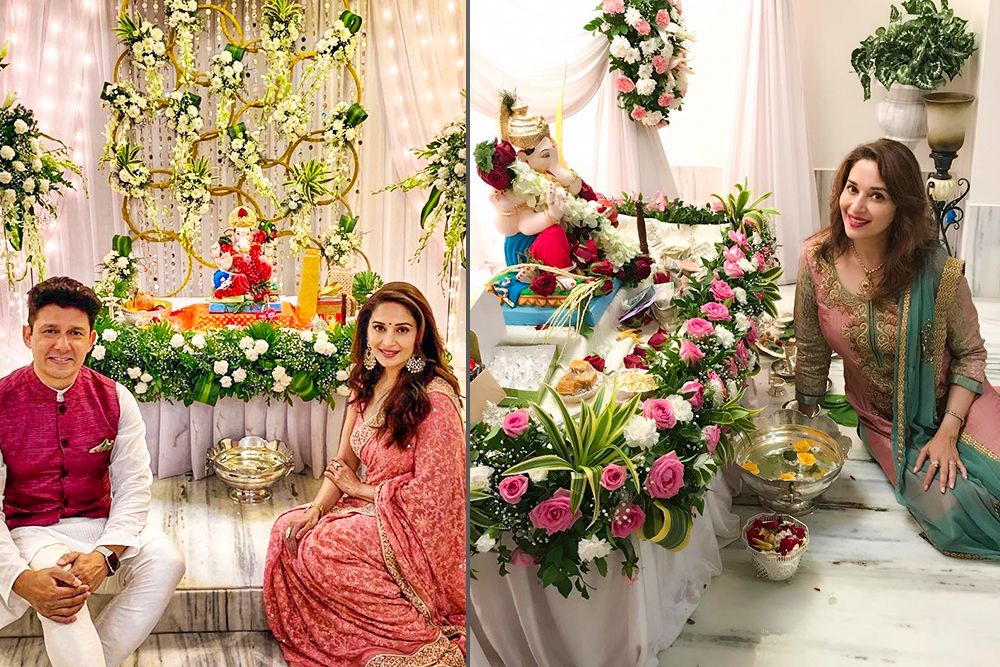 Flowers can offer a lot of versatility to create simple as well as elaborate Ganpati mandap decorations. Although you can mix and match different types of flowers, you can also stick to using a single variety, such as roses, in various colours for your mandap. Roses, marigolds, orchids, dahlias, carnations, lilies and chrysanthemums are just some of the popular varieties used in Ganpati flower decoration. Additionally, you can add some contrasting leaves to make the colours of the blossoms stand out. Accessories such as soft drapes, lights, traditional Indian hangings made with beads and pearls, and mirrors can greatly enhance your Ganpati decoration.
Take a look at Madhuri Dixit's Ganpati decoration at her home. It is simple, beautiful and elegant, just like her! The white and pink flowers with baby pink drapes and soft lights give it a calming aura.
2. Ganpati Decoration Ideas Without Using Thermocol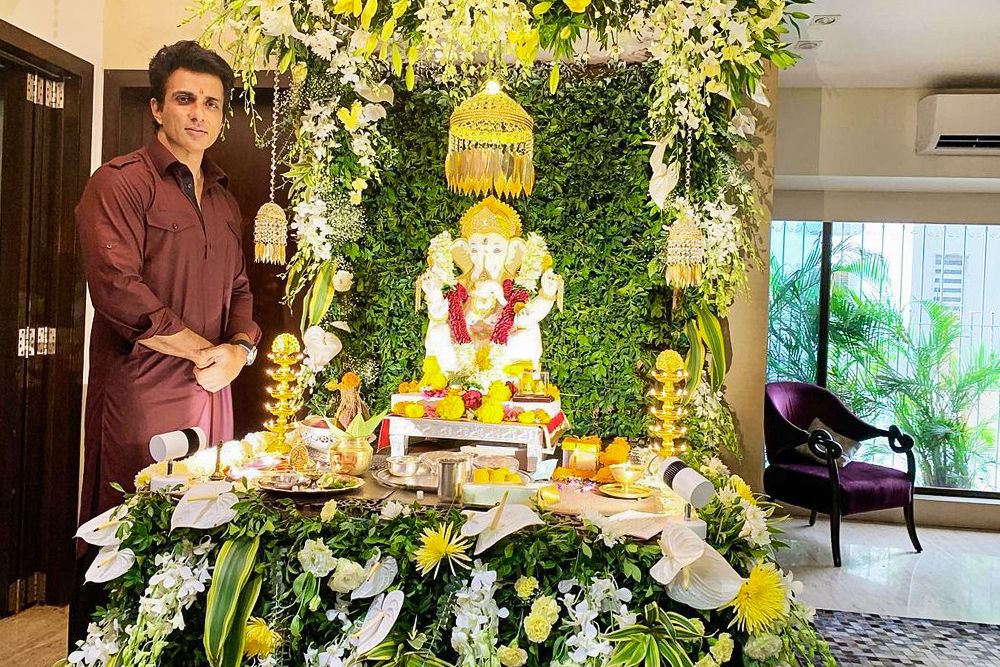 Want to have Ganesh decoration at home but don't wish to use thermocol? That's a great idea and you fortunately have multiple other materials at your disposal! Flowers and leaves are all-time favourites, but you can get as creative as you wish with more eco-friendly materials. After all, Ganesha is the patron of arts and loves creative thinkers! Some great alternatives are cardboard, paper, glass, metal, wood and foam boards.
For example, check out Sonu Sood's Ganpati background decoration at his home. Although there is no use of thermocol, the décor still looks stunning. Shades of white, yellow and green are accentuated here with diyas, traditional glass hangings and focus lights.
3. Eco-friendly Ganpati Decoration Ideas for Your Home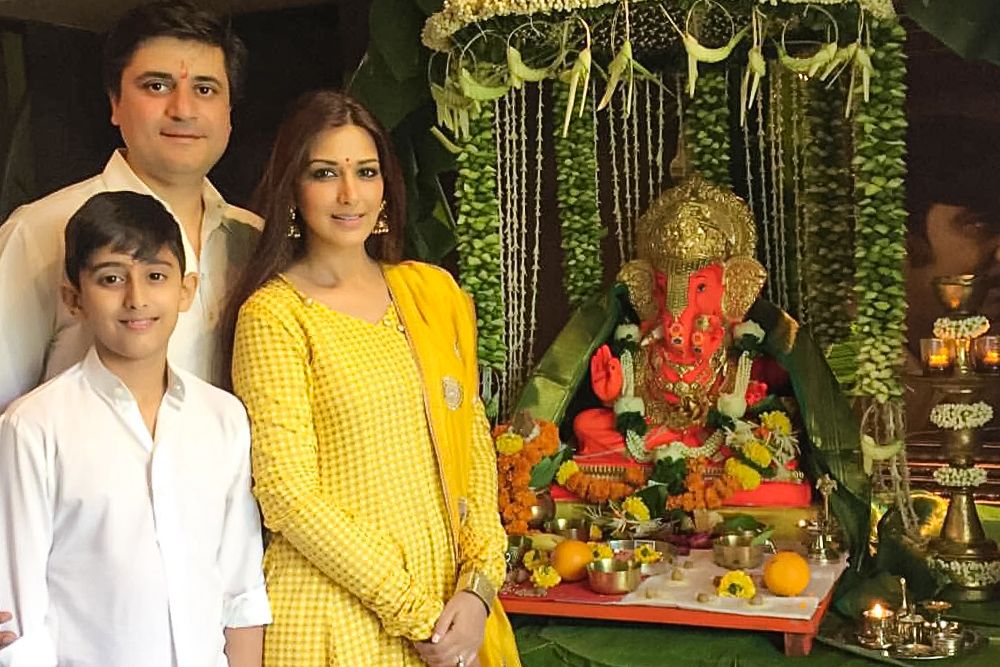 Celebrating our culture and festivals can surely be even more enjoyable and fulfilling if we do so in a way that protects Mother Nature. Using eco-friendly Ganpati decoration ideas at home is probably one of the best ways to pay your respect to this gentle God of wisdom. Thankfully, you will find plenty of such Ganpati mandap decoration materials in the market, e.g., cardboard, paper and flowers. Also, if you have the budget, you can choose to go for wooden décor.
We like Sonali Bendre's green take on Ganpati decoration. The flower canopy is indeed a fitting tribute to Vinayaka (the lord of all beings). But we absolutely love how even the table cloth and shawl are made from banana leaves!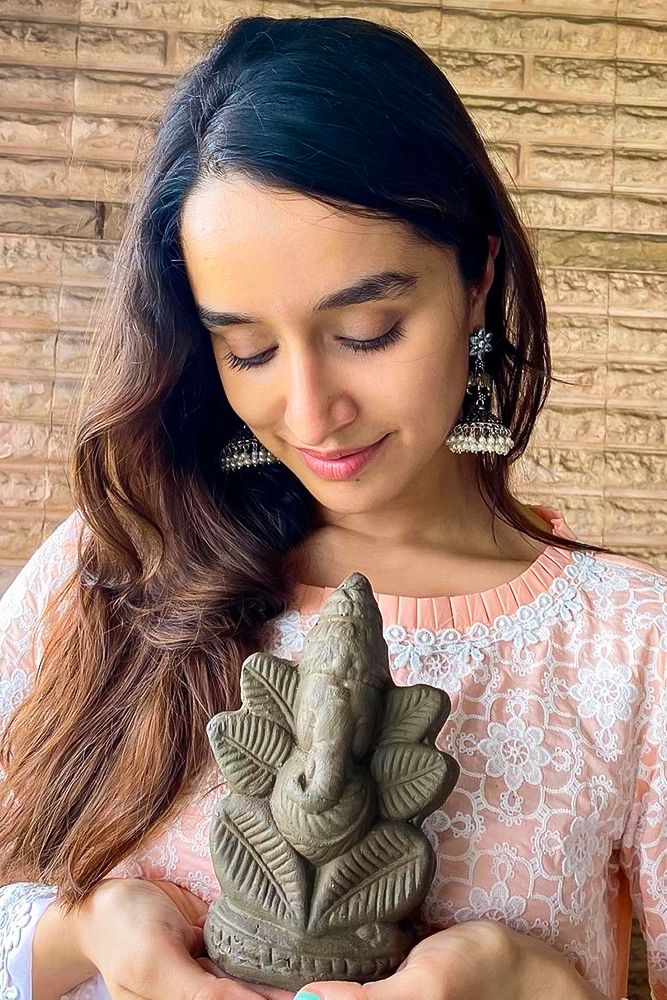 While it is important to use eco-friendly Ganesh decoration at home, it is even more critical that you get a Bappa made from sustainable or recycled materials. Ganesh idols made from biodegradable materials such as natural fibres, clay and paper can be safely immersed in water and do not cause any pollution. You can also get idols made from recycled newspapers, bamboo, straws and tissue papers.
4. Ganpati Decoration Ideas With Paper Flowers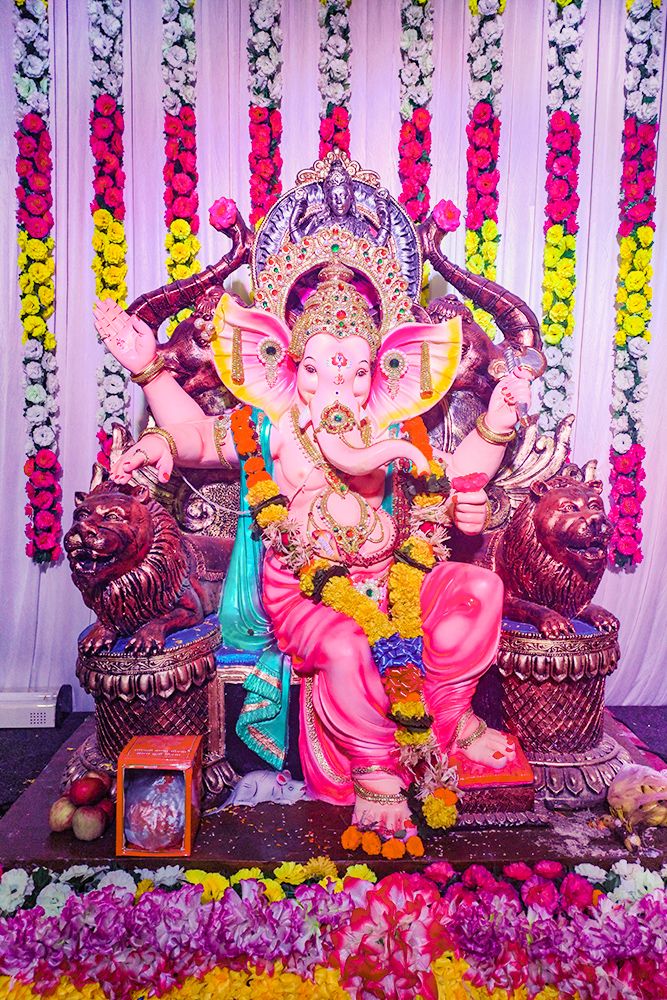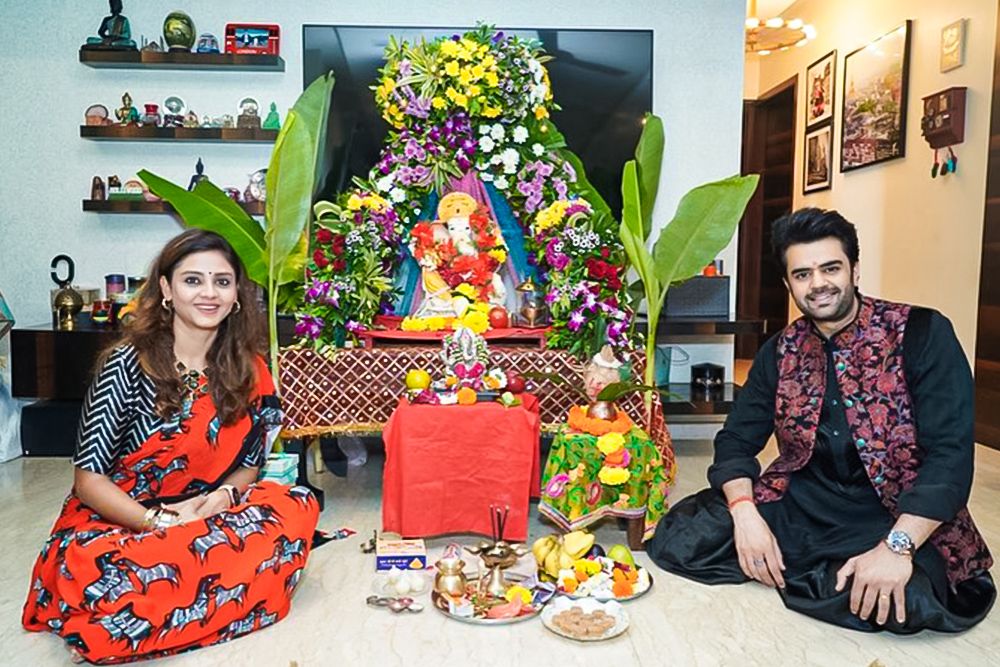 If you love Ganpati flower decoration but avoid using it as real flowers decompose pretty quickly, you might want to consider paper flowers. These are not only eco-friendly, but you can also re-use them the next year, making it one of the best Ganpati flower decoration ideas! You can use the same flowers for Diwali and other festive decorations.
Also Read: 6 Essential Pooja Room Vastu Tips For A Happy Home
5. Ganpati Lighting Decoration Ideas for Your Home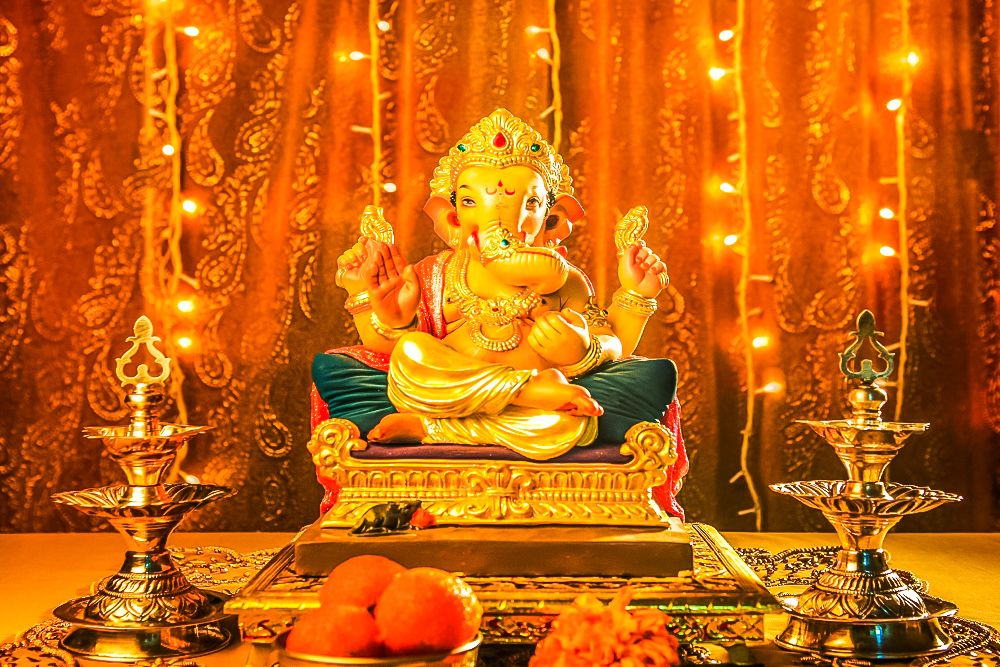 Even the simplest Ganesh mandap decoration can look great with the addition of some lights. String, fairy and focus lights, and also diyas, add warmth and a heavenly aura to the décor. Twirl some fairy lights around your flower decoration and see how it enhances its beauty!
6. Thermocol Ganpati Decoration Ideas for Your Home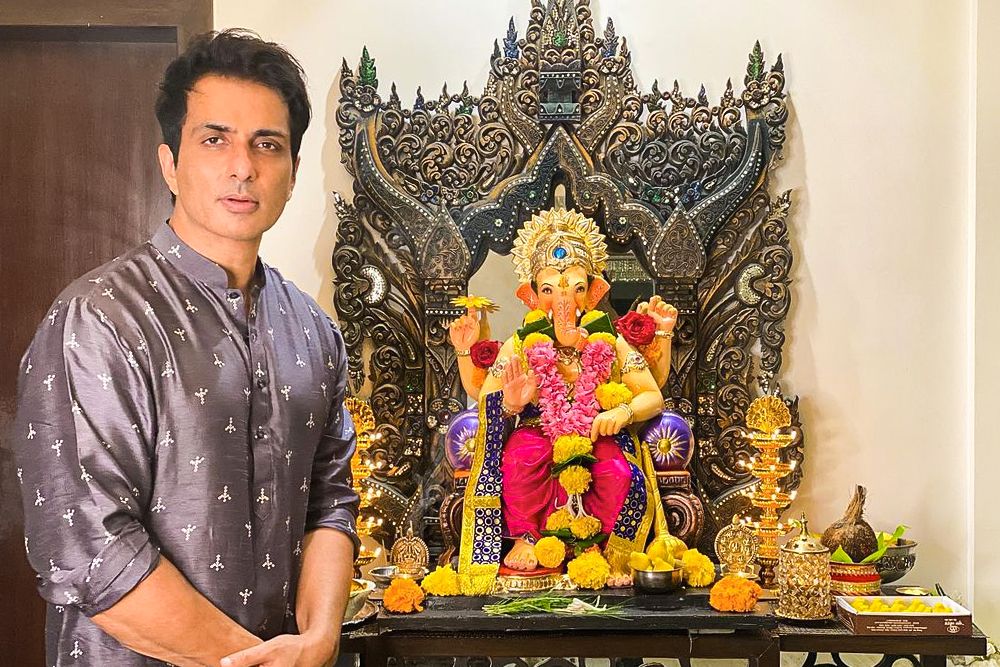 Thermocol is not an eco-friendly material and hence it is best to avoid using it. But if you don't have the time to create an eco-friendly Ganpati decoration for your home, you can get thermocol designs instead. Intricate options such as temples, thrones, forts and palaces are readily available in the market. These are often adorned with peacocks, swans, lions and arches, and have amazing colours. Just make sure that you responsibly discard it later.
7. Ganpati Decoration Ideas With Paper Palms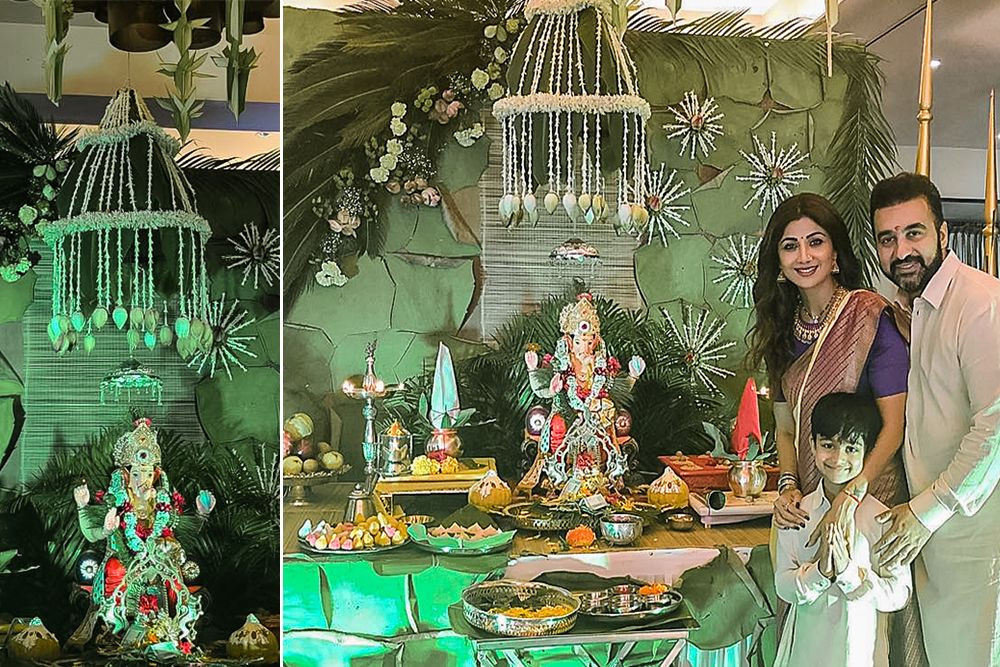 Palm tree leaves create a lovely backdrop for a flower-based Ganpati decoration at your home. Shilpa Shetty shows how you can nail this décor idea. The flower canopy steals the show in this Ganesh Chaturthi decoration at her home. But the feathered palm leaves certainly add to its charming simplicity. You can recreate this look with paper palms, too.
8. Ganpati Decoration Ideas With Marigolds and Bells
Bhumi Pednekar's Ganpati decoration adds a fresh spin on marigold garlands by tying traditional bells at the end. Brass bells look especially great with saffron or yellow marigolds. You can also tie cloth parrots, beads, glass lamps and similar other decorations to the flowers.
9. Ganpati Decoration Ideas With Peacock Feathers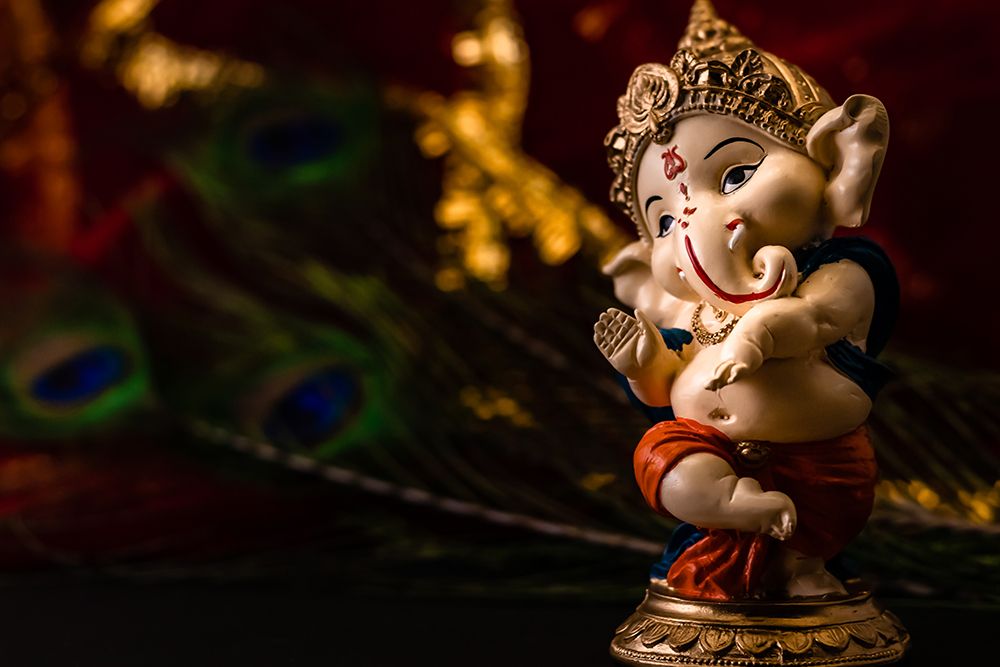 The peacock and its feathers hold a significant importance in Hinduism. The feathers, especially, are believed to bring in peace and prosperity in the house. In fact, the peacock is the vehicle of one of the incarnations of Ganesha, Lord Mayureshwara. That is why its feathers are a great addition to the Ganesh decoration at your home.
10. Ganpati Decoration With Cardboard Temple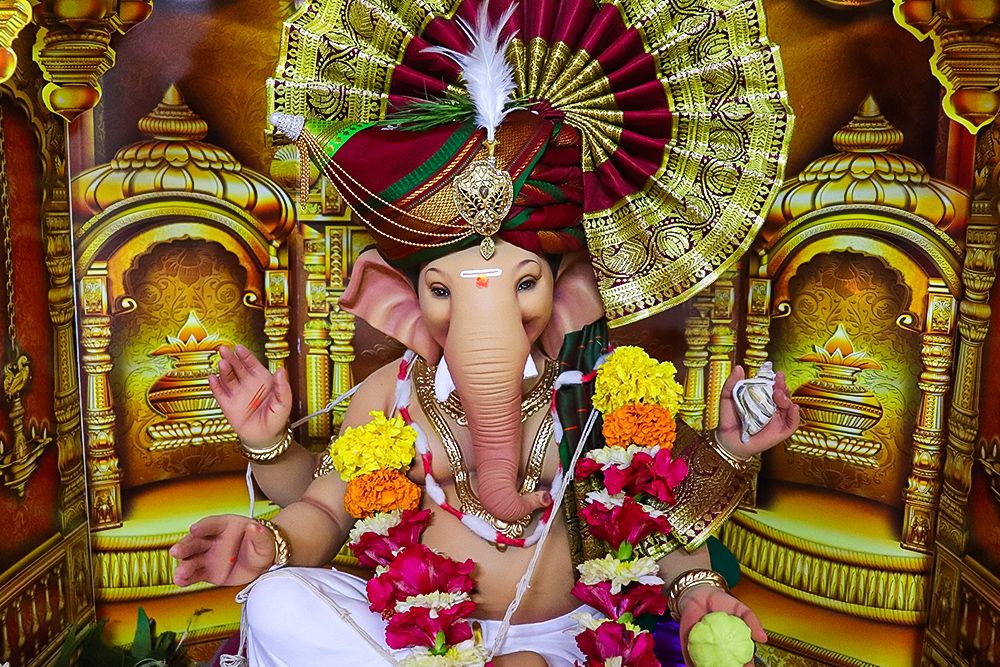 You can finally put all the Amazon cardboard delivery boxes at your home to good use! Colour print a temple design and paste it on cardboard cutouts to get a simple Ganpati decoration at home. You can also deck up the temple with beads, paper and flowers. Add in some string lights to enhance the effect.
11. Ganpati Mandap Decoration With Flowers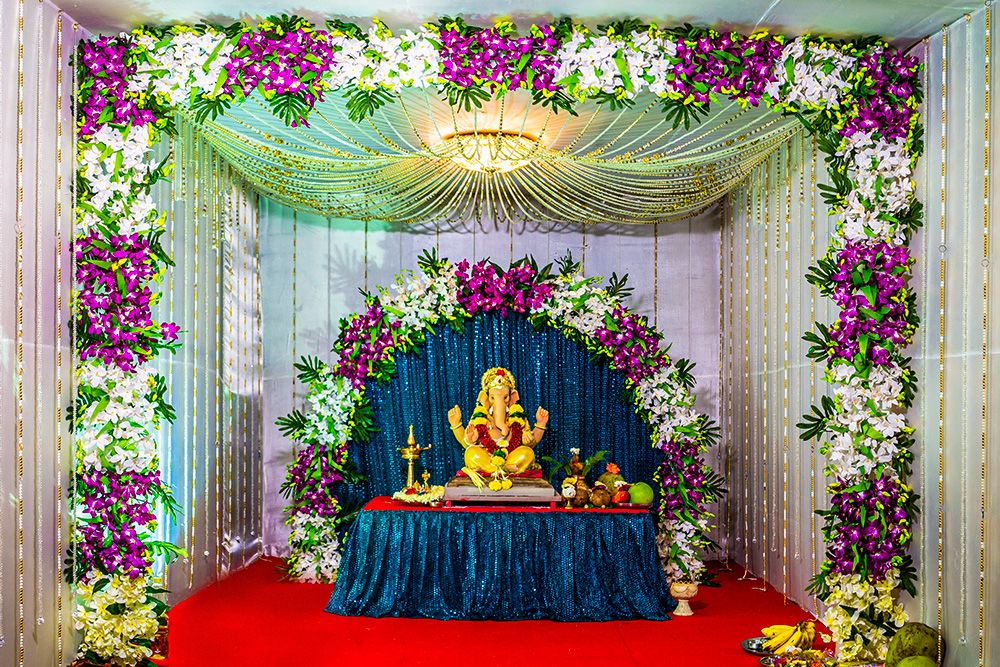 Whether you have a large or small mandap area, flowers are always a good choice to decorate it. For larger spaces, add an elaborate chandelier along with some drapes for a royal look.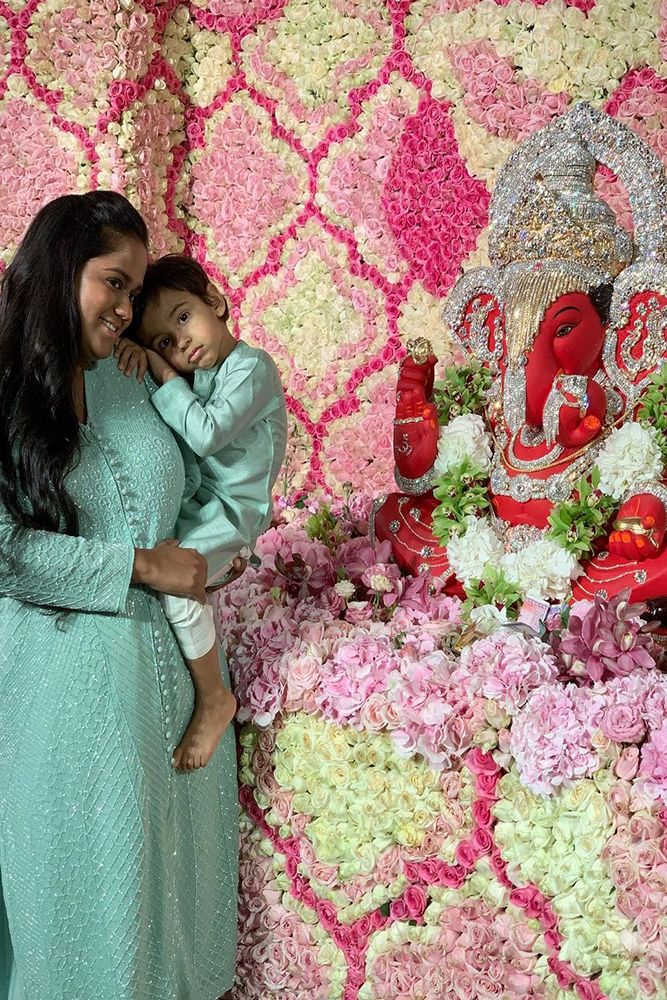 Don't like too many colours in your flower decoration? Then keep it simple by only using two or three shades of flowers. Look how Arpita Khan has creatively used pink and white roses in different patterns to create a stunning design for her home.
Also Read: 10+ Money Plant Vastu Tips to Bring Good Fortune into Your Life
12. Coloured Paper Fan Backdrop Decoration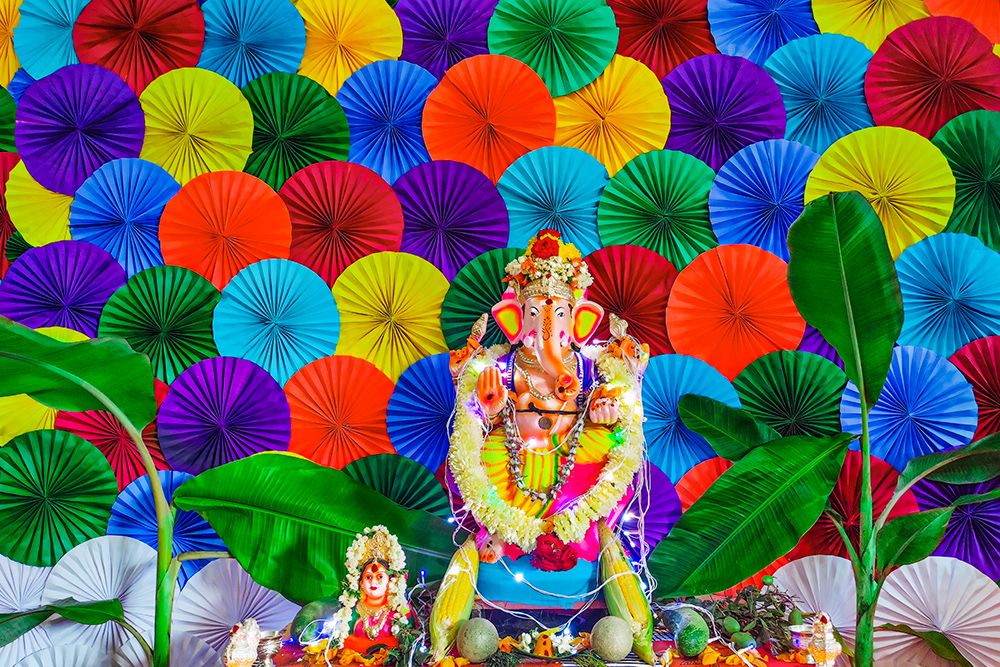 Place multiple, colourful paper fans in the background for an easy and simple Ganpati decoration at your home. You can also embellish the fans with crystal beads and fairy lights to enhance the look.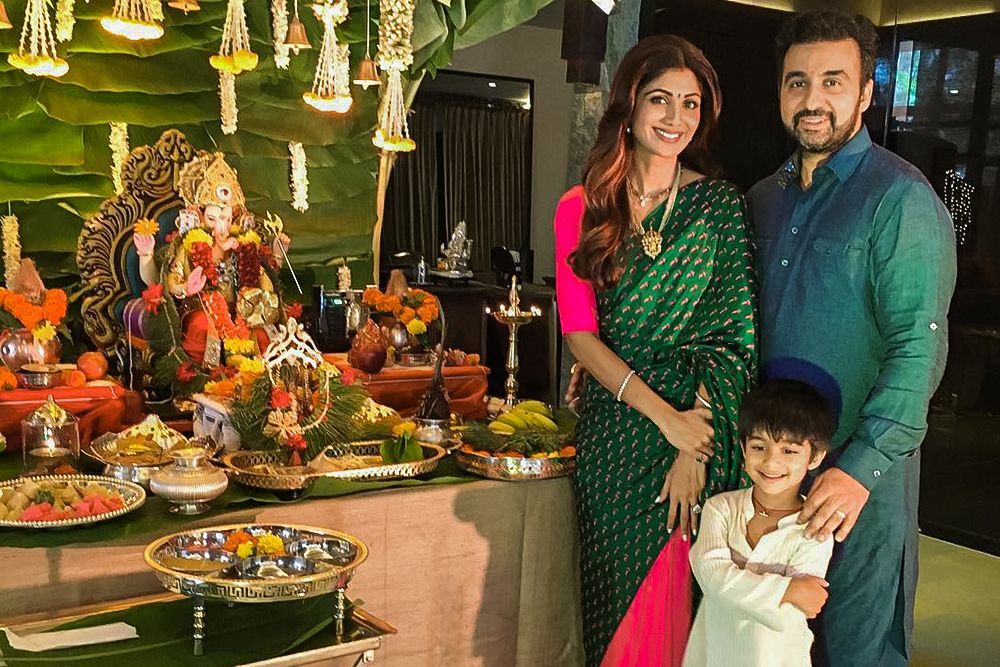 If you don't find paper fans, you can use banana leaves instead. Shilpa Shetty shows you how that can be done above. Interestingly, as per folklore in West Bengal, Goddess Durga was worried that Ganpati's wife may not give her enough food after he gets married. So, Ganpati married a banana tree. He wanted to show his mother that he cared for her and will always fulfil his duties as a son. The ritual is still celebrated in West Bengal during Durga Puja where devotees turn a banana tree into a beautiful bride called "Kola Bou".
13. Ganesh Decoration With Marigold Garlands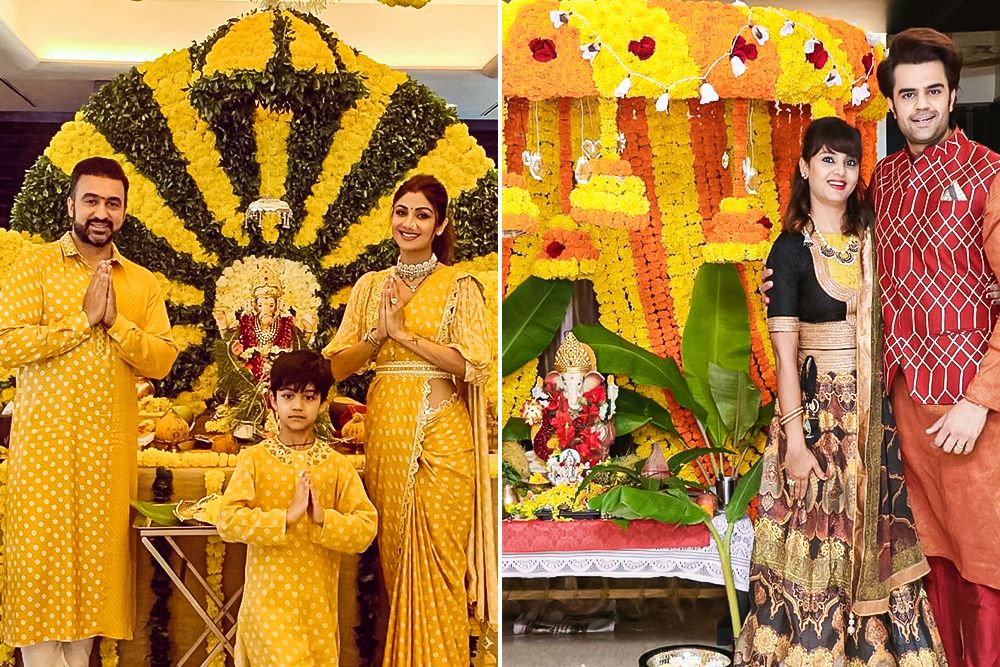 Perhaps no other flower denotes festivity in India quite like a marigold. Its bright yellow and saffron hues represent the Sun and symbolise auspiciousness, goodness, renunciation and positivity. The flower is also associated with Goddess Lakshmi and Lord Vishnu. Hence, you will find that many Ganpati flower decoration ideas feature marigolds.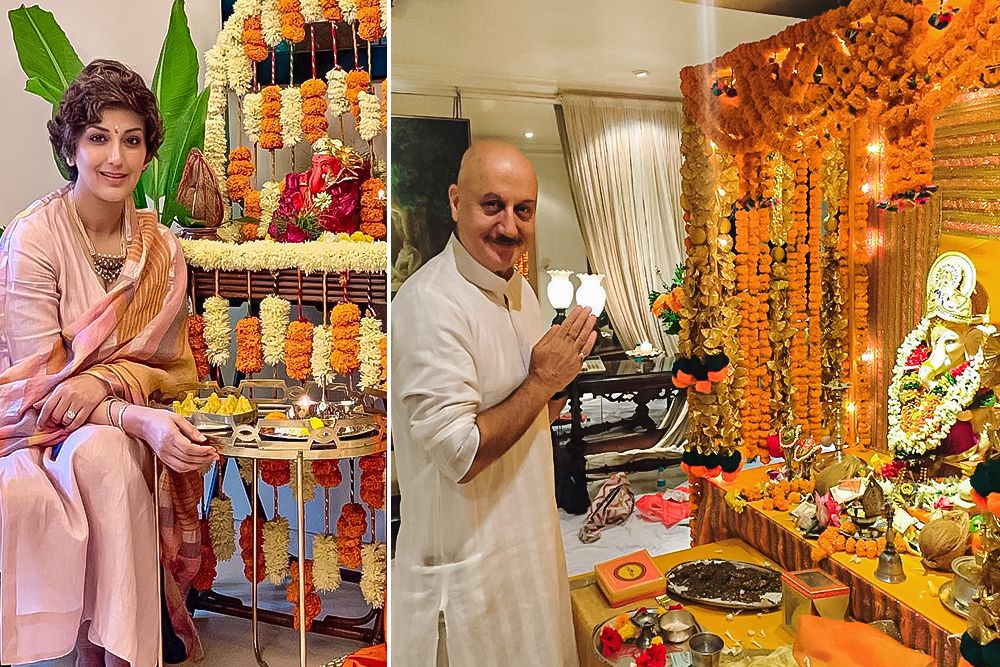 You can use white, yellow and saffron coloured marigold garlands in your entire decoration. Alternatively, you can also use a few garlands to decorate just the table or as the backdrop. These will give a traditional and serene look to your décor. Don't forget to tie a marigold and mango leaf garland outside the front door as it wards off negativity.
14. Backdrop Decoration With Kites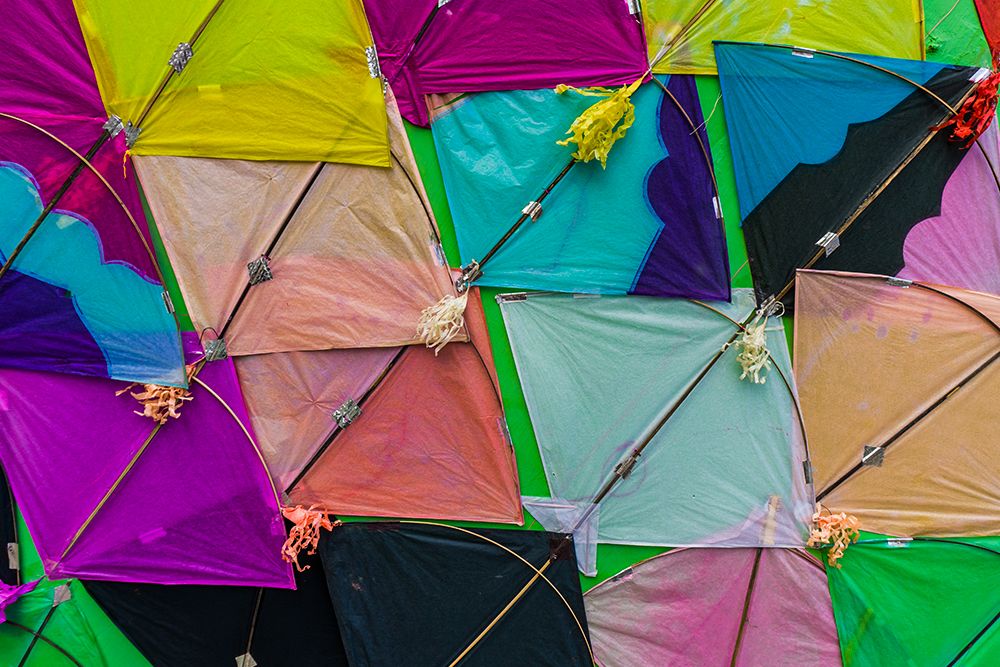 One of the popular Ganpati decoration ideas for a home is using kites as a backdrop. Just like paper fans, you can also use multiple colours and prints here to create a simple yet stunning backdrop for your décor.
15. Ganpati Stage Decoration With Lights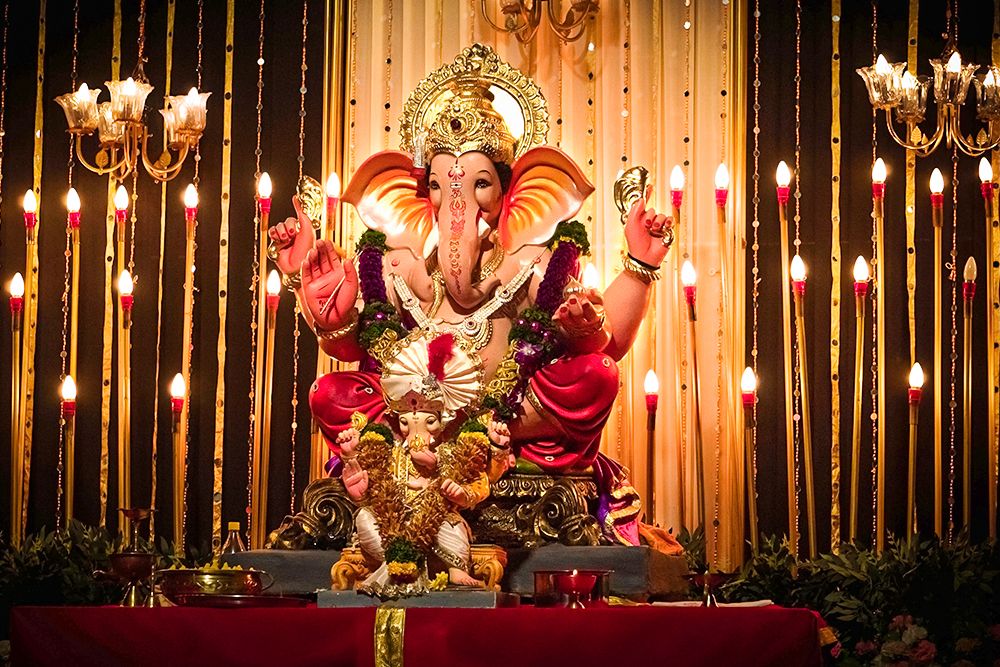 Probably none of the Ganpati decoration ideas for homes lists is complete without lights! String, chandelier, fairy, pendant and focus lights, diyas and LED strips are the different kinds of lights you can use to enhance your décor. Yellow or multi-coloured lights can also be used throughout your home during Ganesh Chaturthi. Both create a beautiful ambience in your home.
Follow These Vastu Tips for Ganpati Murti Placement at Home
While it is great to have a beautiful Ganpati decoration for your home, it is also important to follow these Vastu tips for Ganpati murti placement at home:
Always place the Ganesh idol on an elevated wooden plank at the centre of the décor.
Make sure the space where you place the idol is clutter-free.
The best direction to install the idol is the north-east corner of your home. If that is not possible, you can place it in the east or west direction, but never in the south.
The back of the idol should face an exterior wall as the back stands for poverty. This ushers in happiness and prosperity in the home.
The idol should not be placed near a bathroom, inside a bedroom or under a staircase. It also can't be placed facing a bathroom.
Try and include flowers in your Ganpati decoration as it helps usher positivity in the home. Place kalash with rice, turmeric, kumkum, sandalwood, diyas, incense sticks, and modaks at the shrine.
White Ganpati idols are ideal as they bless the family with health, happiness and prosperity. Additionally, the idol's trunk should be straight or up in the air or curve towards the left. The idol must include the mooshak, Bappa's vehicle, and his favourite sweet, the modak.
Now that you have some great Ganpati murti placement and decoration tips, have fun decking up your home. Happy Ganesh Chaturthi!
How Can Livspace Help You? 
We hope you found our ideas useful! If you want beautiful interiors for your home, then look no further. Book an online consultation with Livspace today. If you have any thoughts and suggestions you'd like to share with us, we're all ears! Drop us a line at editor@livspace.com.
FAQs
1. How Can I Decorate Ganpati at Home Easily?
Use colourful paper fans, flowers and kites and enhance them with lights to easily decorate your home during Ganesh Chaturthi.
2. How Can I Decorate My Room for Ganesh Chaturthi?
You can use colourful lights, lamps, flag buntings and flower garlands to decorate your room for Ganesh Chaturthi. You can also draw a rangoli outside the front door and near the idol.
3. What Should We Do on Ganesh Chaturthi at Home?
You should sing Ganesh aartis and seek his blessings on Ganesh Chaturthi. Light a diya, offer a red hibiscus flower, and burn camphor and incense sticks in front of the idol. Offer modaks and other prasad to Bappa and then distribute them among devotees. You should spend quality time with your friends and family and express gratitude for everything he has blessed you with.
4. How Can Flowers Be Used for Ganpati Decorations?
Flower bouquets, garlands and petals can all be used for Ganpati decorations. Some of the popular flowers are marigolds, roses, orchids, carnations and lilies. Red hibiscus can also be used in the garland that you offer to Ganpati as it is his favourite flower.