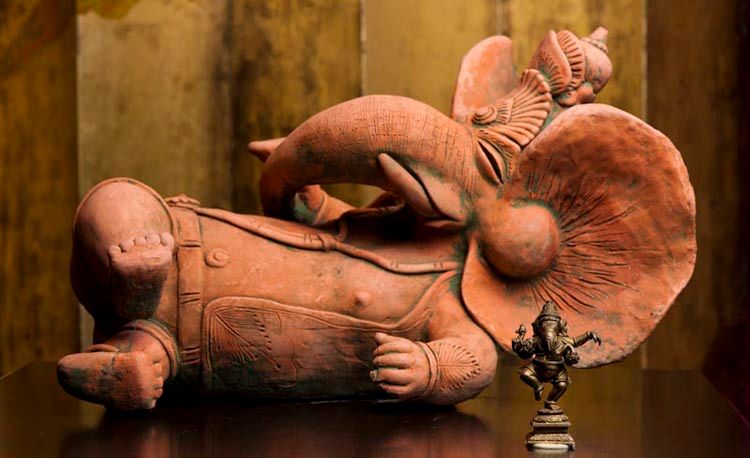 Source: Ganesha Center
This year, lakhs of Ganesh devotees will throng lakes, ponds and the sea to say bye to their beloved elephant-headed God. Ganesh in return will bid farewell to his devotees having enjoyed an extravagant 11-day birthday celebration, and is supposed to return to mother Earth.
But if you talk to someone at the Central Board of Pollution Control, they are bound to tell you the truth – Ganesh doesn't return to his origins but instead goes on a rampage choking marine life and increasing the iron, mercury and chromium content, and acidity levels in water bodies.
Green Ganpathis
Widespread campaigns to highlight the ill-effects of non-biodegradable Plaster of Paris (POP) idols have been gaining traction with devotees. But ever so slowly.
Sure, clay idols are expensive, and vegetable dyes can't imitate the eye-popping colors that chemical paints can. But POP statues take days, sometimes months to dissolve.
According to this Guardian post, fishermen reported bits of Ganesh idols along with dead mercury-laden fish in their catch in 2010. It's no surprise since 2 lakh idols were immersed in Mumbai's waters during visarjan that year.
Five years since, through heavy campaigning, the numbers have seen a dip. Last year, according to this Hindu report, 50,000 idols were immersed.
Food For Fish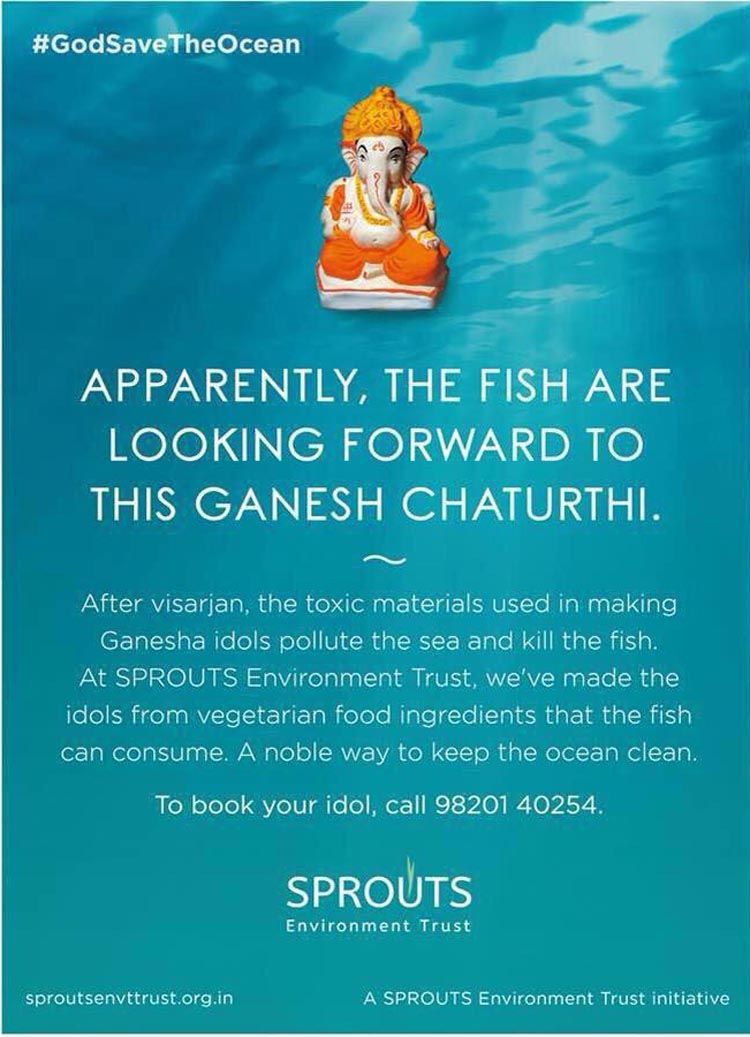 The Sprouts Environment Trust, a Mumbai-based NGO, has a few answers, though. They may not be economical, but are ecological for sure. Through their #GodSaveTheOcean campaign, they've decided to turn this idol poison into food for fish.
Their idols are available on order for Rs. 1,200/- and are laden with dried spinach and corn layered with clay. So, when your idol sinks, the clay dissolves, releasing tasty bits of food for our finned friends.
Yummy Idols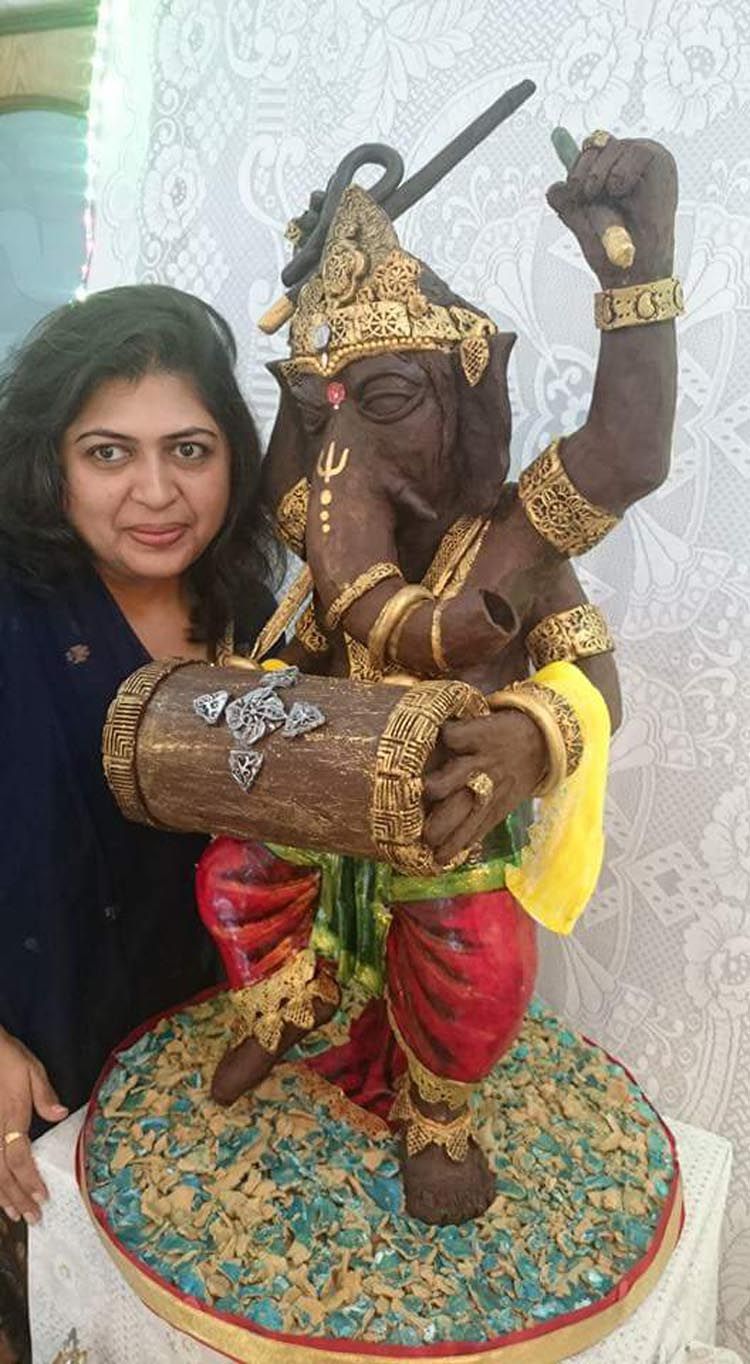 Sprouts aren't alone in their green celebrations. There's Rintu Rathod from Santacruz, Mumbai, making news with the most delicious Ganesha, reports Daily News and Analysis.
At 5-feet and weighing 35 kilos, the chocolate god is surely a treat. On visarjan day, Rintu will immerse the idol in 95 litres of milk and distribute glasses of the choco milk as prasad to underprivileged kids.
The eco-fun doesn't stop here, Rintu along with a few kids have made potted Ganeshjis from clay. Priced at Rs 250/-, the idol dissolves into the soil of the pot, when water is poured on it.
A God That Atones
Taking a cue from all the eco-friendly enthusiasm, Pune-based sculptor Vivek D Kamble has made a purifying idol, reports this piece on Daily News and Analysis. Carved from alum (aluminium sulphate), a water purifier, these idols when they dissolve, clean the water, and hopefully stand a chance to combat POP pollution on some level.
Responsible Celebrations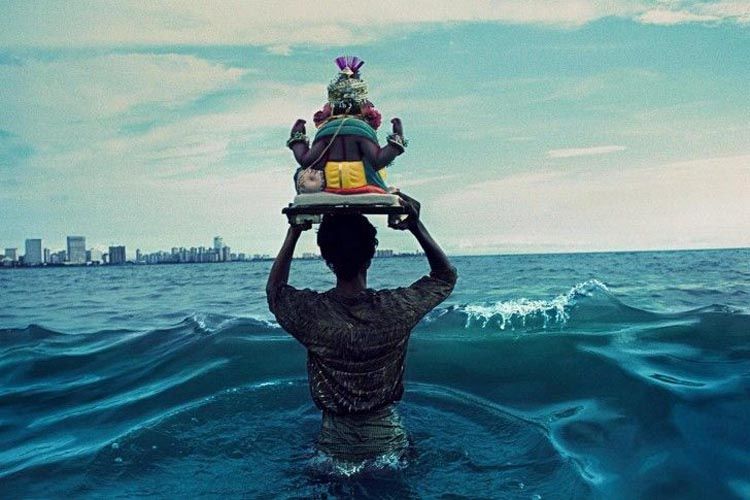 Source: SteveMcCurry
Elsewhere in Bangalore, Bruhat Bengaluru Mahanagare Palike (BBMP) officials have put the onus on the people of Bangalore to be responsible because when several other states tried to ban PoP idols earlier, their respective state high courts ruled that the ban was unconstitutional, according to this report on Citizen Matters.
As a result, social start-ups and NGOs like Mudpiez, To Make A Difference, eCoexist, Tree Ganesha and Utsavi have sprung up.
Alternatively, if you think eco-Ganpatis aren't your scene, you could go ahead and buy a POP idol and:
Sprinkle a few drops of water on the idol, and recycle the statue year on year
Immerse a symbolic 'betel nut' and re-use your POP Ganeshji
If you must conduct a full-blown visarjan, then please immerse your POP idol in a government approved water tank, and not into our natural water bodies
Wishing you and your family a green and responsible Ganesh Chaturthi.