Setting up your mandir at home for the first time can be challenging, leaving you with several questions along the way. From whether you need to have a door to what samagri is essential and where to place it, do you think you need a helping hand? We know you've always looked to your grandmother for guidance with all things pooja-related. However, if you don't want to ask her how to set this room up, we have a solution. Read on to find out the different elements of a pooja room, and how you can set it all up flawlessly!
#1: Doors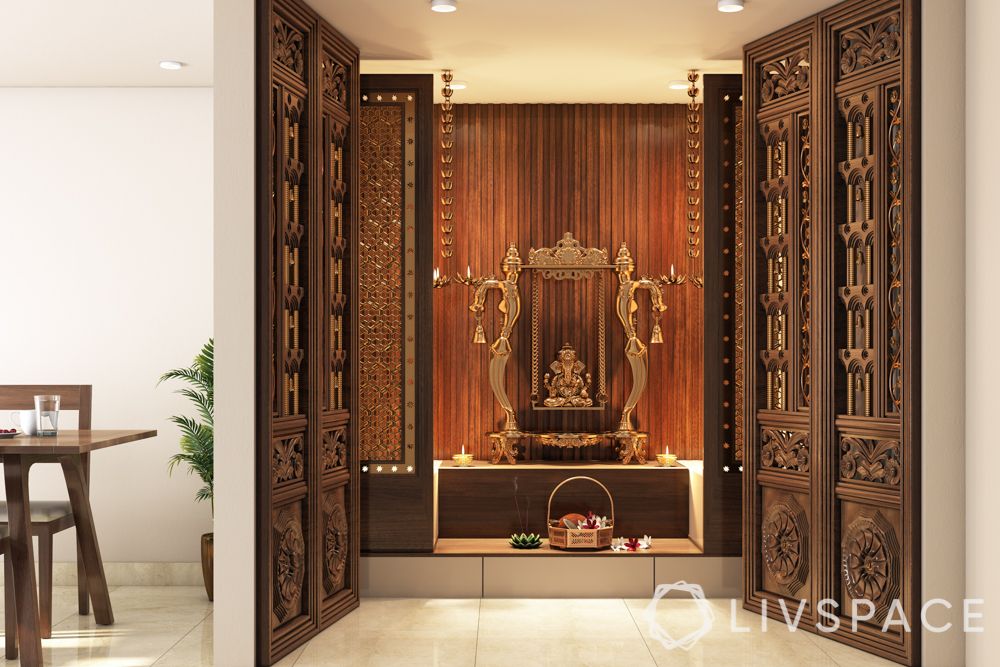 Vastu experts recommend that your mandir at home should always be demarcated with doors to preserve the sanctity of the sacred space. And what could be better than carved wooden doors that inspire awe in the person walking into this place of worship?
#2: Platform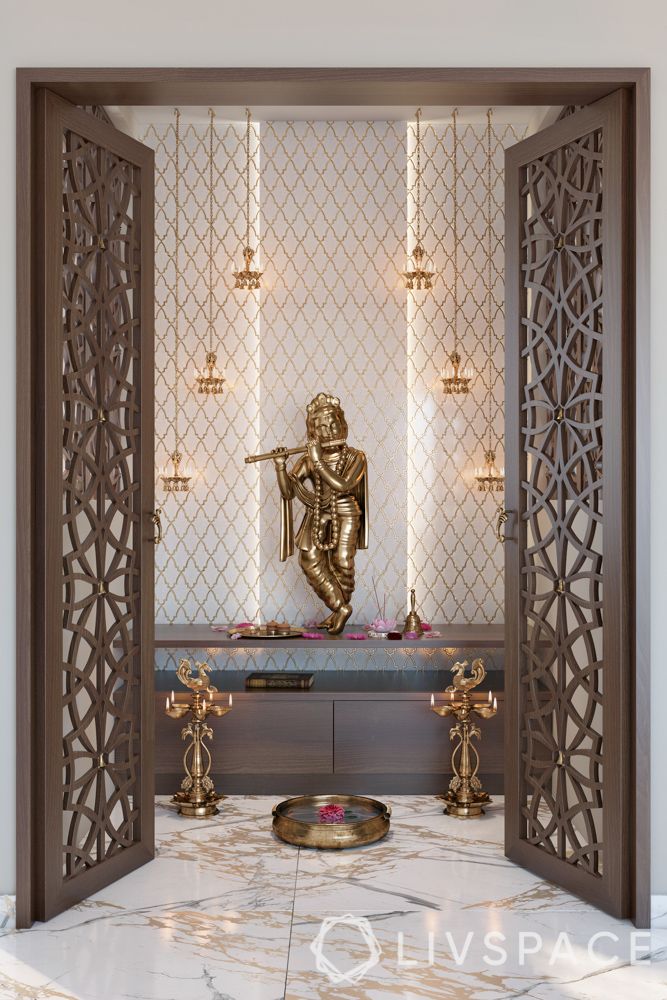 Never place the idols or pictures of your gods directly on the floor! You need a platform to keep your idols. If you have more than one platform to keep your idols, you can opt for a staircase-like arrangement. However, you need to ensure an odd number of steps. You can also opt for wall-mounted shelves to keep your idols or pictures.
#3: Idol
Your pooja room cannot be complete without an idol or pictures of gods and goddesses. Keep your idols on platforms or shelves. You can also space them out such that there is a small gap between them and the wall.
Ensure that your idols are arranged in a manner that they don't face each other. Moreover, ensure that they are not immediately in front of the door. Your mandir is a sacred space—try and preserve the sanctity of the room!
#4: Lamps and lighting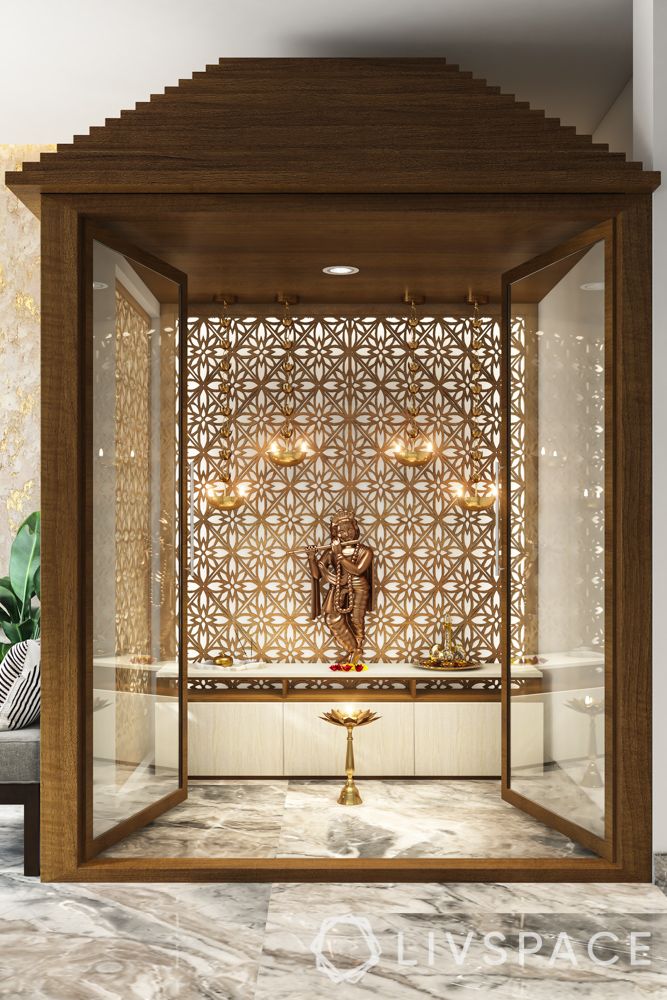 Your pooja room needs just the right amount of lighting. This is because if your pooja room lights are too bright, the mystic element is lost. On the other hand, if it's too dark, you will not be able to appreciate the room fully. Traditionally, a lamp is lit at level with or under the idols. You can also opt for hanging lamps. A backlit jaali panel completes the effect.
#5: Storage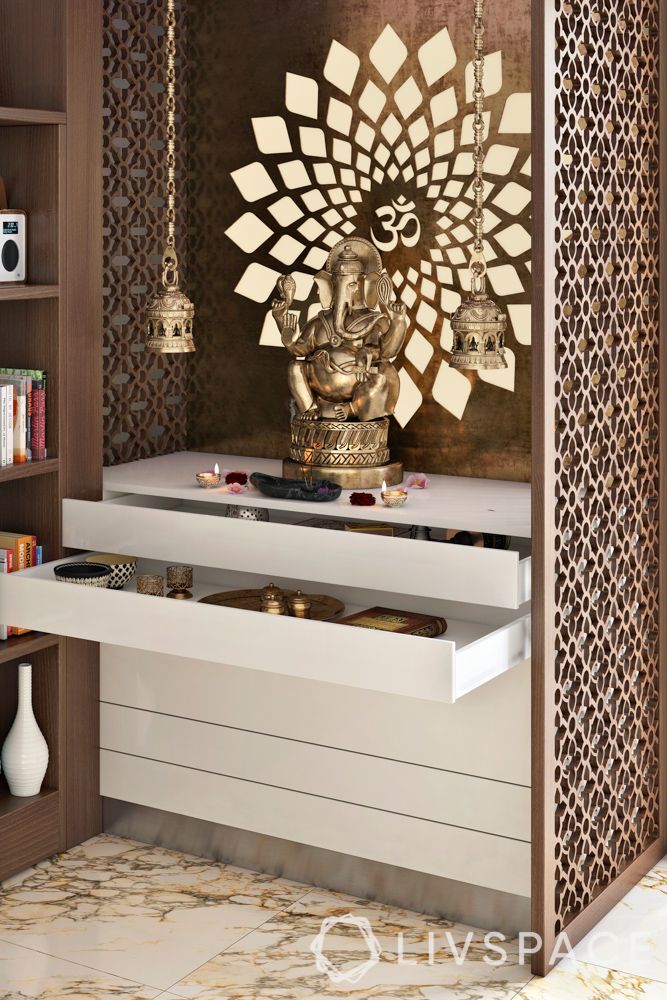 The lingering scent in a pooja room goes beyond just the fragrance of incense sticks. While your family home has had samagri safely tucked away into a corner, did you really catch a glimpse of what's contained within? Fresh fruits, flowers and coconuts need to be sourced daily but there are other things that can be stored for longer. This includes ghee, camphor and fragrant spices like cardamom and cloves. Do not forget sandalwood and vermilion powder either! You can opt for drawers under the platform to store the essentials.
#6: Seating space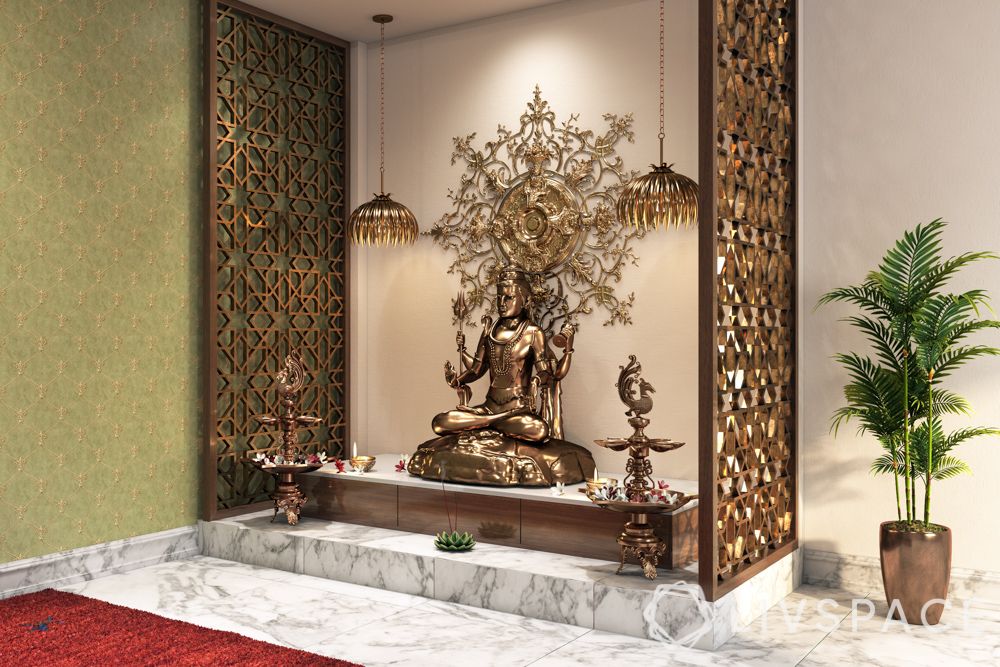 Do you like spending time in the mandir at home? Chances are bright that you'd like to sit down and spend some time soaking in the positive vibes in this space. Or you might even want to meditate! However, most pooja rooms are not designed in a manner that allows homeowners to sit down.
Need more help? Livspace Designers Answer All Your Questions on Setting Up a Mandir at Home.
Wondering how our customers feel about working with Livspace? You can check out the Livspace reviews here!
Send in your comments and suggestions to editor@livspace.com.