All that glitters is not gold, but all that glitters is definitely something special. Shimmer and shine add a touch of glamour to any space and the divine corner is no different. Gloss and glitter is a trend that is not going to fade anytime soon and these pooja room designs are riding on it.
Take a look at these designs and decide for yourselves, which one do you want for your home.
Shiny Pooja Room Designs #1: Focus on the Idols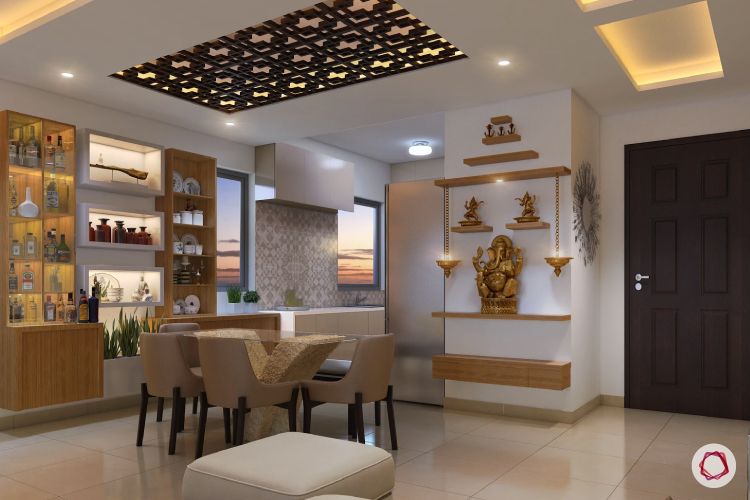 When you don't want to go all out but still want some glitter in your pooja rooms, you can opt for metal-based idols. Think brass, copper, gold polished idols and so on! You can also try hanging metal bells on either side of your pooja room for added effect. This is sure to add subtle shimmer to that space.
Shiny Pooja Room Designs #2: Work the Chandeliers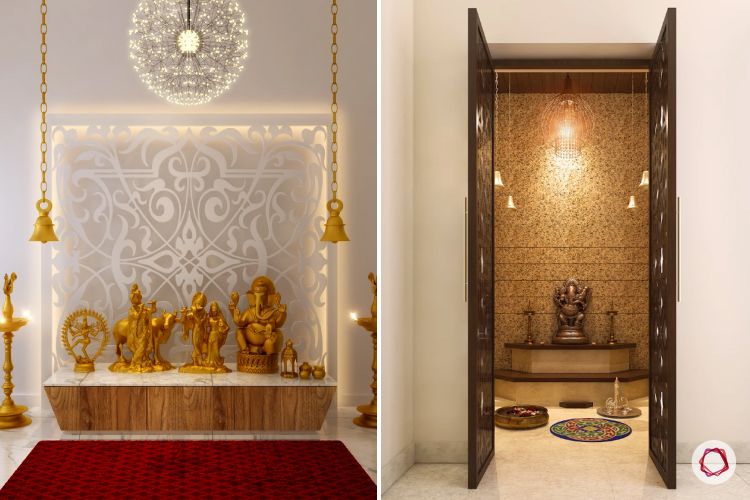 How about adding some sparkly crystal accents to your pooja room? An easy way to introduce glitter into your divine corner is to do it through chandeliers. Get some fancy ones from the market and make sure they shine brilliantly! Look for shiny disco balls as alternatives, too. They will add dramatic glamour to your pooja room.
Shiny Pooja Room Designs #3: Dust it with Gold
You already have a pooja room, but still, wish to get on the glitter bandwagon? Then this one's just for you. Just splatter the trims of your pooja unit with some gold dust or gold polish and see how it shines. A hint of glitter like this can also look fetching in a pooja room.
Shiny Pooja Room Designs #4: Glittery Wallpaper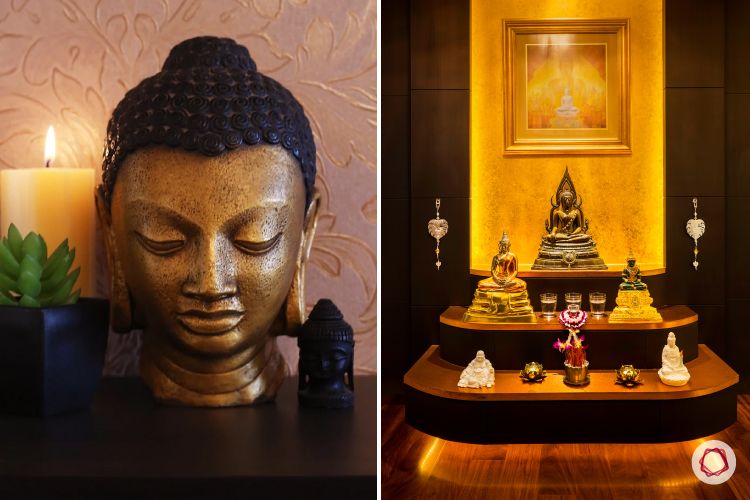 Walls play a very important role when it comes to adding texture to any room. A wonderfully textured, shimmering wallpaper will illuminate your pooja room naturally. No shiny lights, no changing idols, just a careful selection of wallpaper. That should make your pooja room shine through!
Shiny Pooja Room Designs #5: Use Mirrors!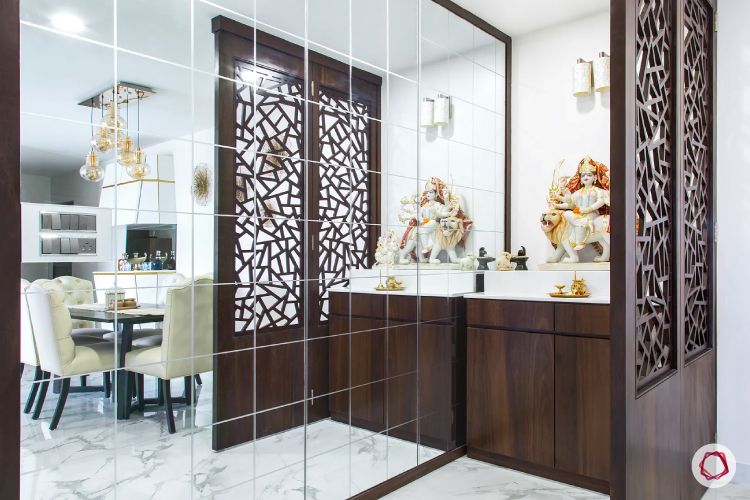 Isn't it almost obvious? Mirrors can infuse your pooja rooms with a flash of light quite easily. A simple mirror panel on the side or behind the altar will reflect so much light and also make the corner appear bigger.
Check out pooja room designs:
Now you know how you can incorporate glitter into your pooja rooms without altering it a lot. These simple tips will go a long way in adding a glam quotient to those divine spaces. Try them out and let us know in comments, what you feel about these ideas.
— editor@livspace.com