In between the maddening mayhem of our professional lives and the ongoing threat of a recurring global pandemic, where do we go for spiritual solace if not the pooja room. Moreover, it's not unnatural for us to seek divine intervention every now and then. So pooja ghar design ideas take on a whole new place of importance in our lives.
Small or big, modern or traditional, it is one of those spaces where you wish to be left alone for some moments of deep reflection. No wonder pooja room designs are in high demand and our readers have written to us asking for new inspirational ideas. As we never disappoint them, here are five latest designs from Livspace and also notes on how to best use them.
Pooja ghar design #1: For the big fat Indian family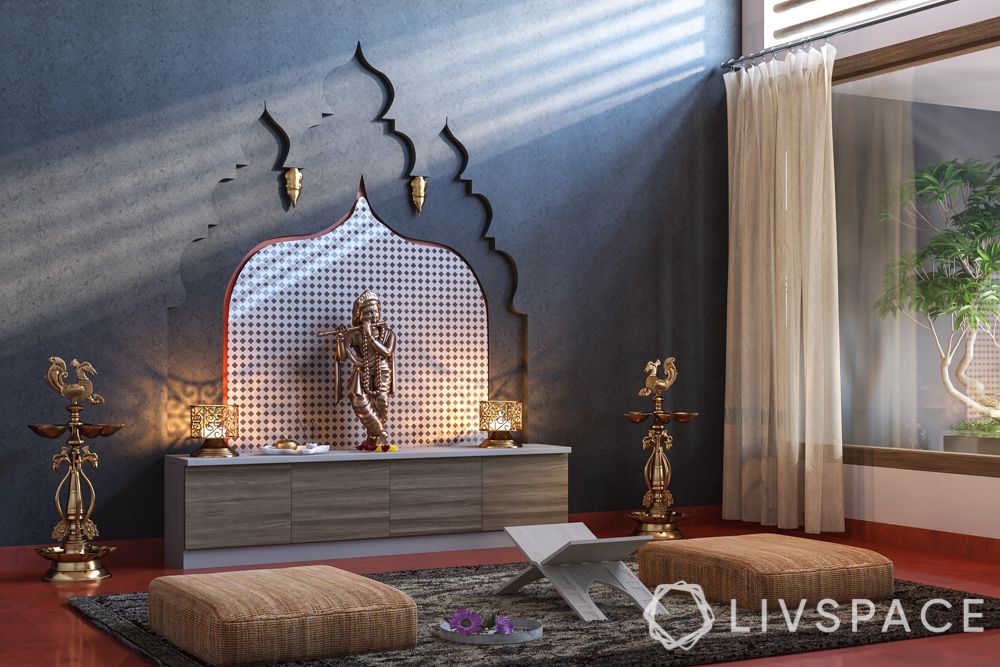 One look at this pooja ghar design and you'll think you're transported to an ashram. At a glance, it's the carving on the wall that is the showstopper as it instantly makes the idol stand out. This pooja ghar is spacious and can accommodate the entire family for a pooja, and hence, the seating with floor cushions. Moreover, with that much space, you can easily have room for havans/yagnas on special occasions. Also, don't miss the red-oxide flooring that is both traditional and affordable.
PRO TIP
Pooja ghar design #2: A mix of modern and traditional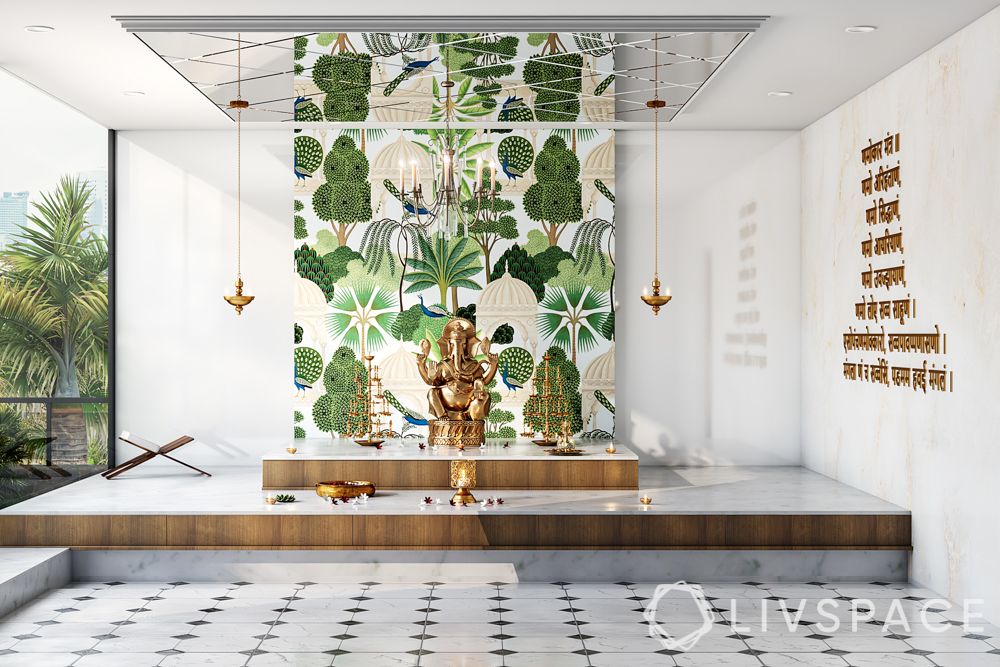 This modern pooja ghar with the colourful back panel is a great way to use wallpaper for a meditative vibe. The design makes smart use of typically traditional elements in modern ways. The metallic hanging bells and the inscription on the wall create a lasting and unique impression. Notice the glass false ceiling with the reflection of the pooja unit and the back panel? Gorgeous, isn't it?
PRO TIP
If you have a spare balcony or a sunny corner at home, turn it into a pooja ghar like this. The natural light coming through the glass only accentuates its beauty.
Pooja ghar design #3: The classic jharokha design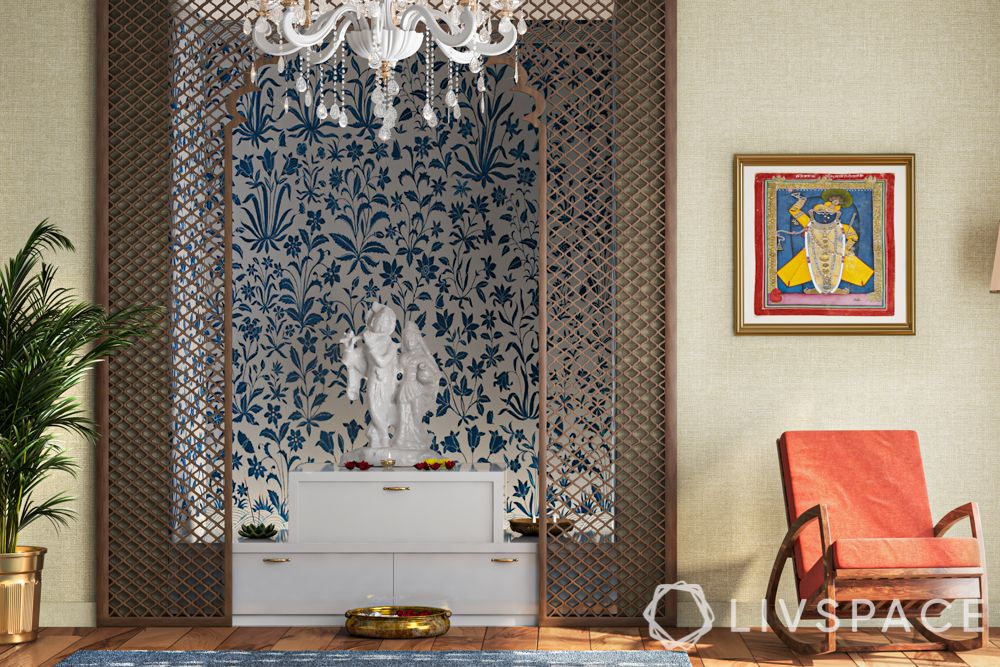 We absolutely love the patterns of this pooja room for it's gorgeous blue floral wallpaper backdrop. But the real star is the jaali partition that gives this space the look and feel of a jharokha in a Rajasthani palace. This pooja ghar design incorporates a 2-tier platform with 3 drawers, ensuring plenty of storage. The designer crystal chandelier above the seating area is just the icing on the cake!
PRO TIP
Pooja ghar design #4: Trendy backlit panel for modern look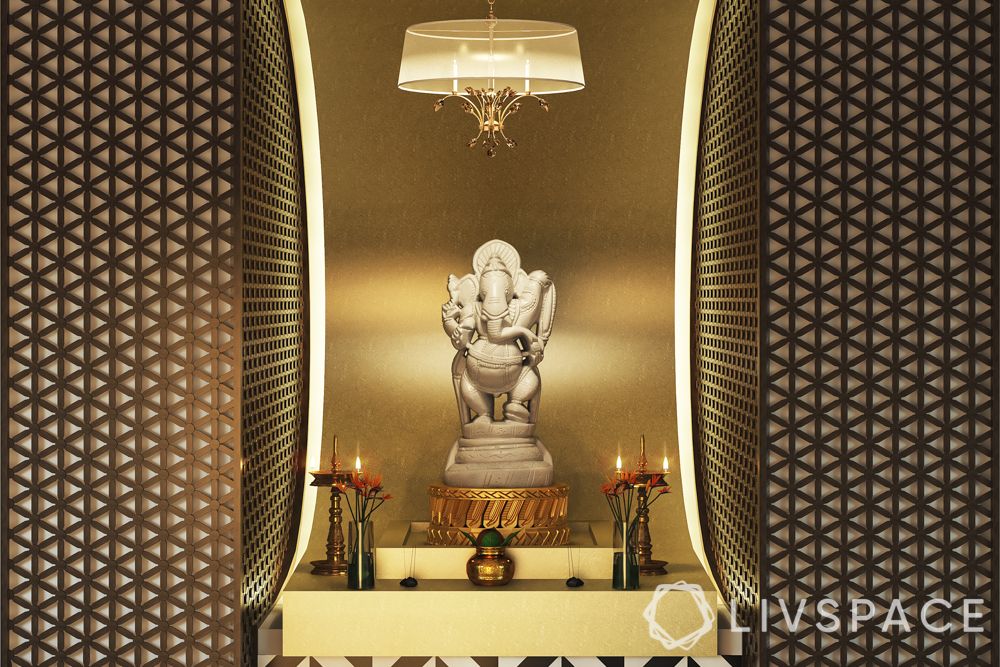 Simple yet stylish, this pooja room is perfect for anyone who doesn't want a maximalist design. The intricate wooden panelling on the sides and the front combined with the designer lighting adds depth to this pooja ghar though it occupies a small niche within the wall. The mix of brown, white and beige blends in perfectly without seeming overpowering.
PRO TIP
Pooja ghar design #5: With a pinch of green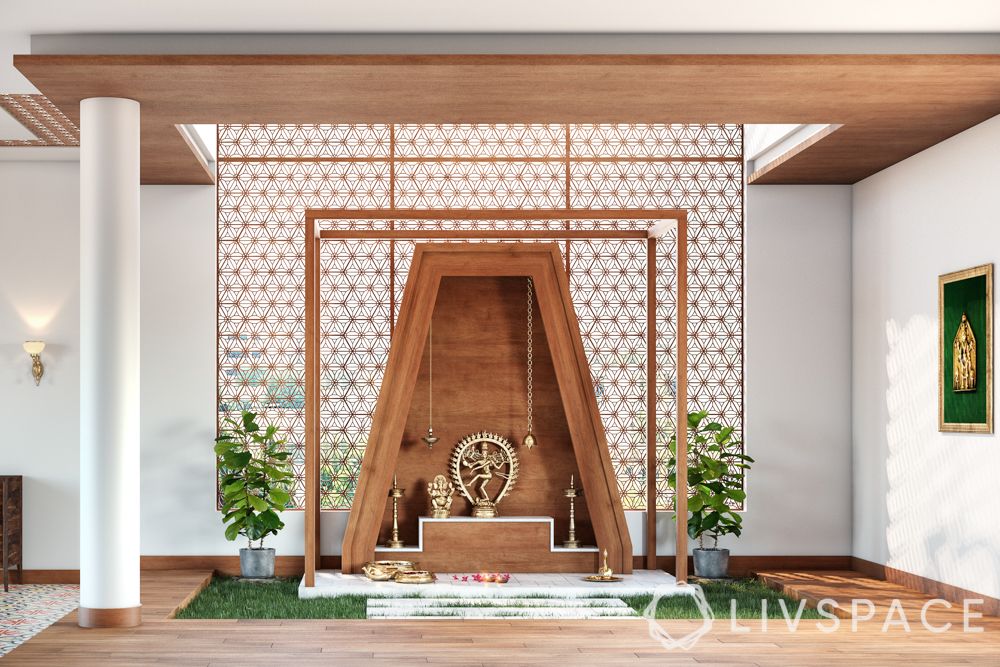 If you're a nature lover, then this pooja ghar is just for you. The pooja unit has a triangular wooden design with bells hanging from its top. What makes this even more special is the stunning jaali background. So invite the outdoors inside by adding some greenery to your pooja space with potted plants and plant hangers. After all, what could be more sacred than Mother nature. With green spaces declining rapidly, this idea of using natural elements to decorate the space is definitely here to stay.
PRO TIP
So, this was our list of the latest, most gorgeous pooja ghar designs for Indian homes.
But that's not all! Make sure you check out 35+ serene pooja room designs for peace and tranquillity.
We love hearing from you! Write to us with your comments and suggestions at editor@livspace.com