With an array of pooja room designs in the market, you want something unique and made-to-fit. Also, with a wide variety of materials available, you're wondering what choice would be perfect for that divine corner. If you are someone who loves warm undertones around home, then we strongly recommend incorporating wood in your pooja room design. Whether you want to go for a compact installation or an elaborate structure, wood is economical and can blend with any style with ease.
You might want to take a look at our array of pooja room ideas for inspiration!
Wooden Pooja Room Designs: Going Ornate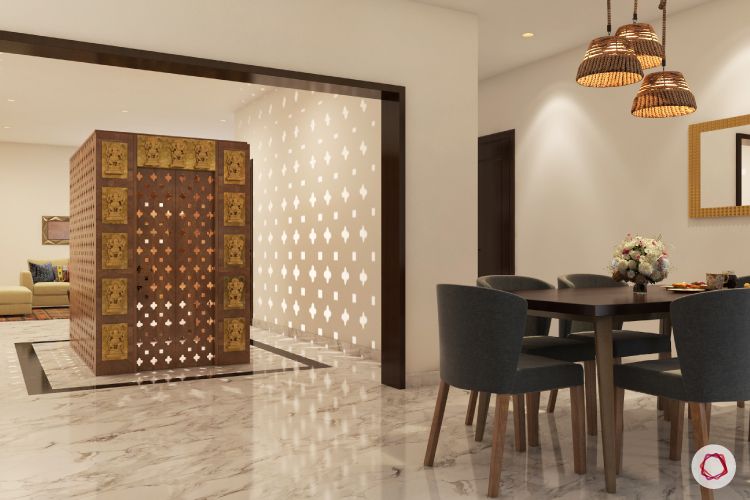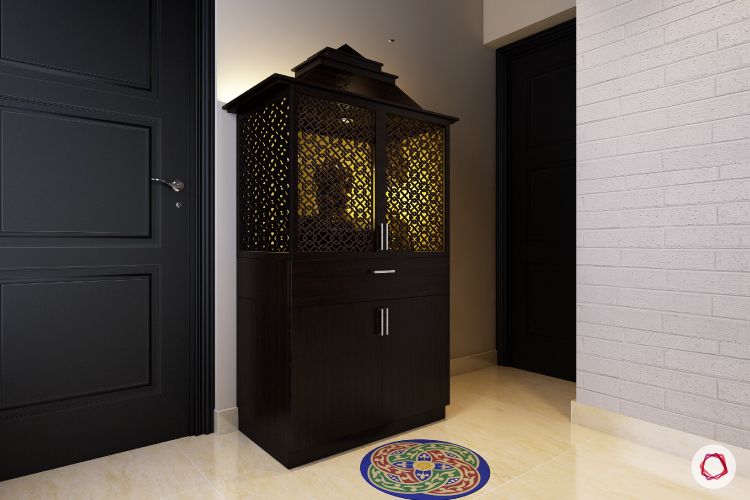 What's so special about ornate pooja rooms, you ask? Well, these divine corners serve as a peaceful abode amidst all the chaos and they deserve to look attractive. This just comes easy when you're dealing with a material like wood, which can be intricately designed. Opt for beautifully carved doors for your pooja room and light a lamp inside. You will love how beautiful it looks with the light creating a visual design of its own!
Wooden Pooja Room Designs: Double the Purpose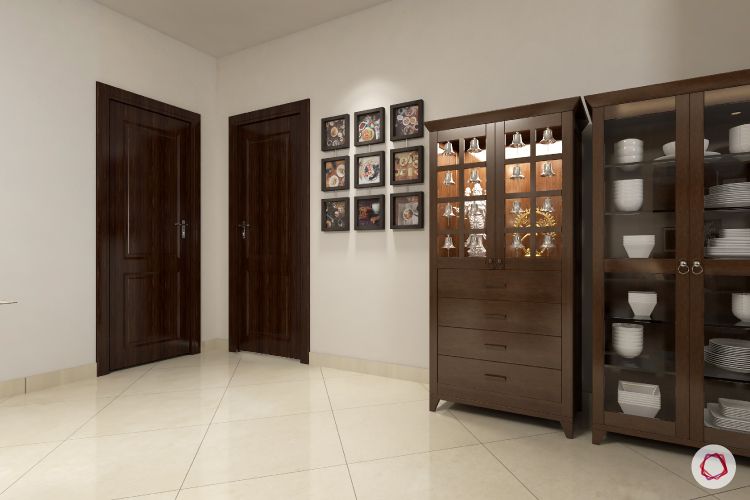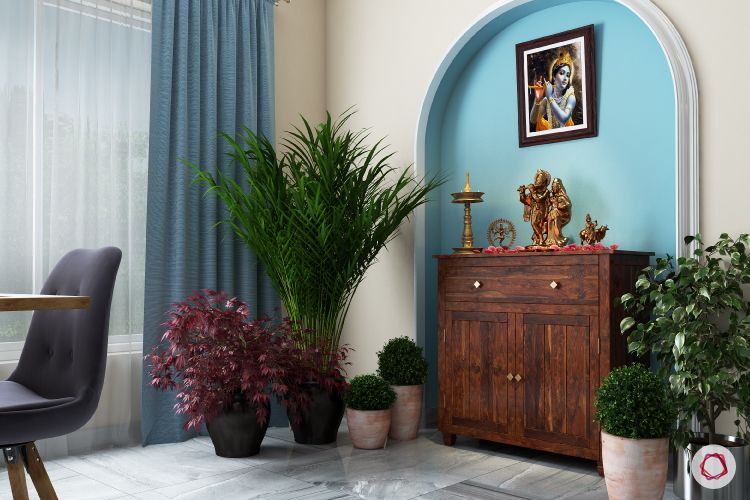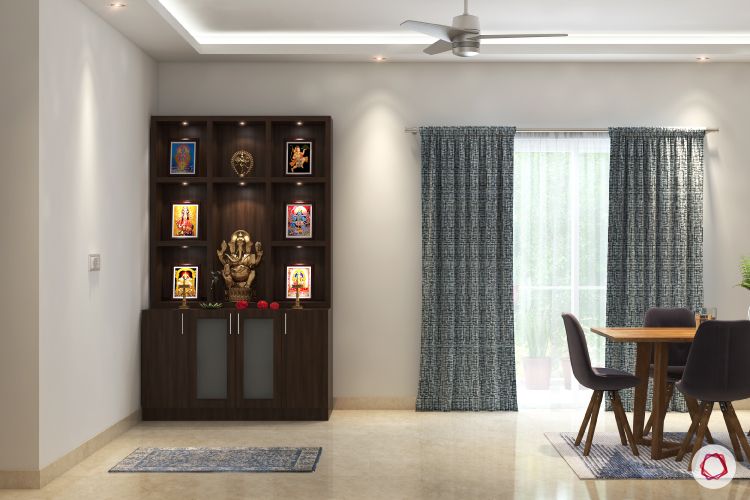 We all know how essential storage is in our modern day apartments, where every inch of space is utilised. If you are lucky enough to create some space for your pooja room, then we are sure you would want to make full use of it. If you have a pooja unit that has cabinets and open shelves, then you can very well use it as an storage unit. The open shelves can serve as display for your idols and related items, while the closed cabinets can house your exclusive cutlery, good China or even pooja samagri. Talk about disguised storage!
Wooden Pooja Room Designs: High on Simplicity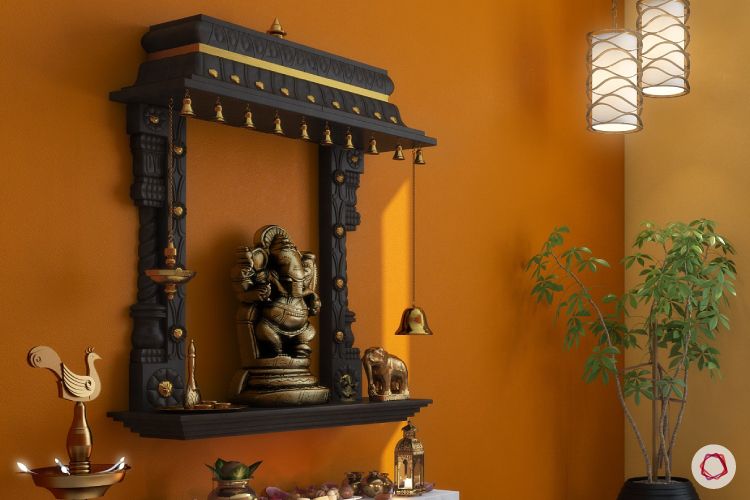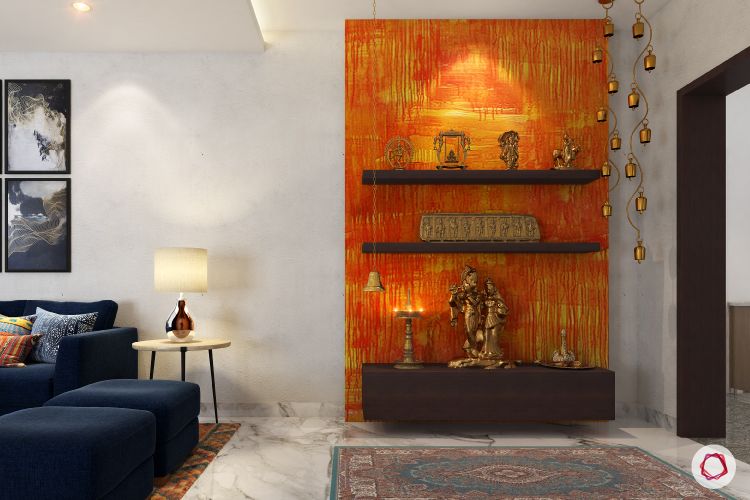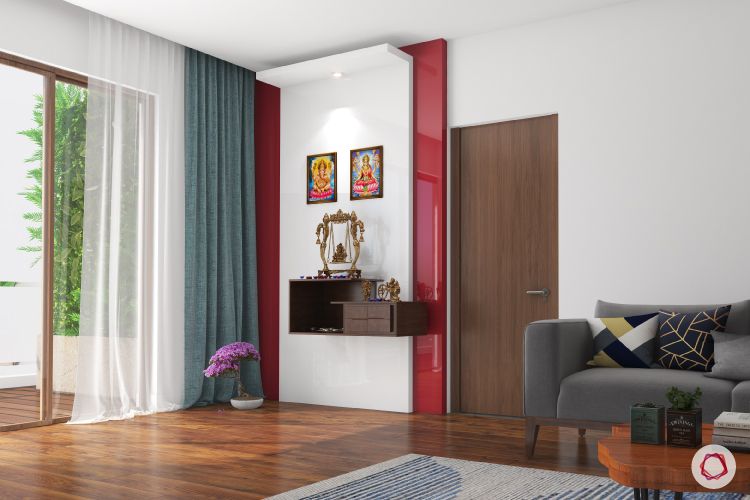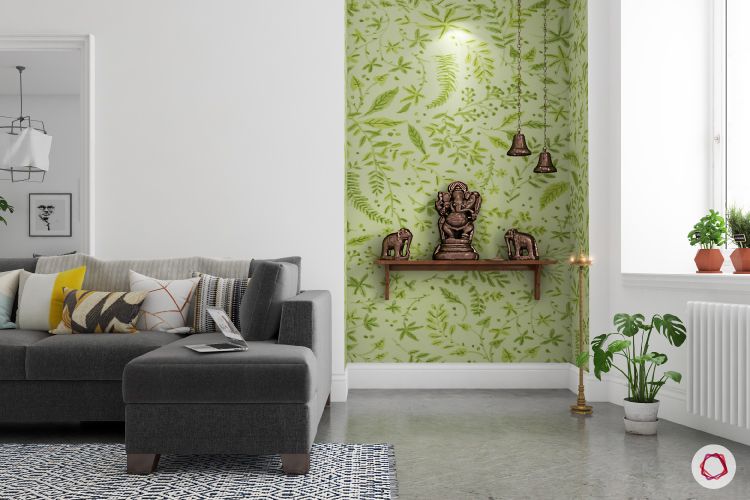 Yes, we have all faced this situation — creating space for something against a wall when we cannot have a dedicated room for it. When it comes to pooja rooms as well, building a pooja corner against a wall is practical, given the diminishing sizes of apartments these days. A wooden ledge or a simple wooden wall mounted unit is your best bet when it comes to this type of pooja corner. Just give the wall an uplift by putting a wallpaper in a bright colour and voila! Your very own simple wall mounted pooja room design is ready.
Wooden Pooja Room Designs: Go Elaborate!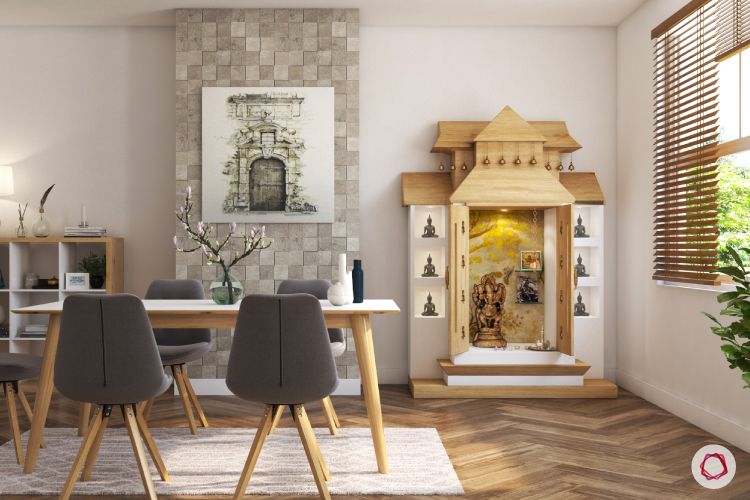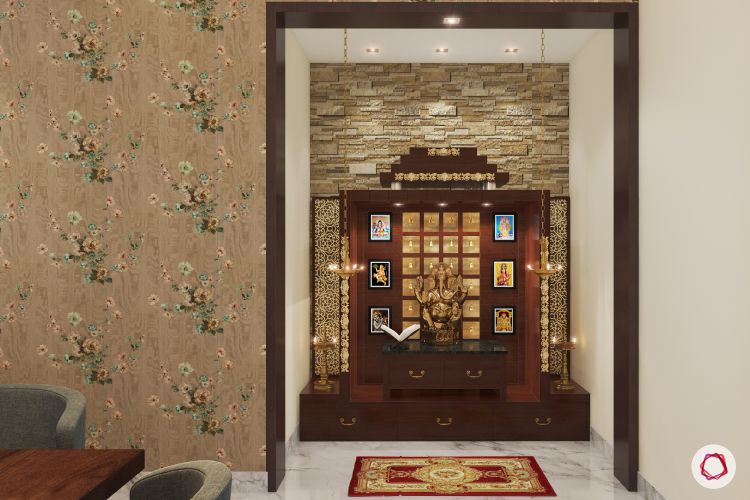 We agree, marble and granite look grand and classy when used in pooja rooms, but wood is equally good. If you do not want to end up spending a fortune on this corner, we strongly suggest you explore warm woods. You can choose from dark wood to lighter tones, anything that matches with the rest of the interiors. Build an entire pooja unit with wood and we assure you, you will not regret it! Decorate it with bells or add a hint of glitter with shimmering panels. You can do so much with simple wooden pooja units. Here are some designs for contemporary homes.
Who knew that wood could add so much character to a pooja room! The next time you think about that divine corner, consider wood as a material choice and see what wonders it'll do! Want to know how to add glitter in your pooja room designs? Go here.
Check out more pooja room designs:
Like always, we would love to get your views and suggestions on these ideas. Do keep them coming in!