January 1st may be the new year for most parts of the world, but here in India, we have our own rituals and culture. The first harvest festival of the year is just around the corner, which marks the new year for different parts of India. The harvest festival is known by multiple names across India – Ugadi in Karnataka, Telangana and Andhra Pradesh, Vishu in Kerala, Bihu in Assam, Poila Baisakh in West Bengal and Baisakhi in Punjab. Decorating the mandir and praying to God are essential parts of this festival. So, if you are looking for pooja room designs for South Indian homes for Ugadi and Vishu, we're here to help!
UGADI
Ugadi symbolises the New Year as per the Hindu calendar in the states of Karnataka, Andhra Pradesh and Telangana. People celebrate this festival by decorating their home and pooja ghar, making rangolis, cooking traditional delicacies and celebrating with loved ones.
Celebrating Ugadi? Here's how you should decorate your pooja room.
#1: Torana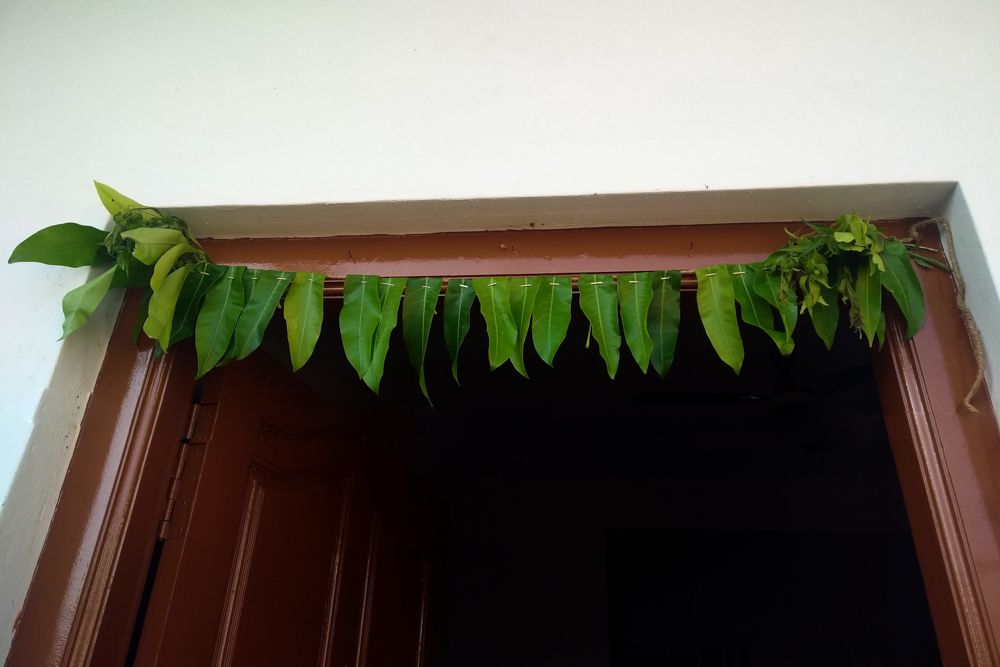 Fresh flowers and mango leaves are important parts of the Ugadi festivities. On this auspicious day, decorate your pooja ghar entrance with toranas made of yellow marigolds and fresh mango leaves. The green mango leaves signify a bountiful harvest. You should also place a small banana tree at the entryway.
#2: Rangoli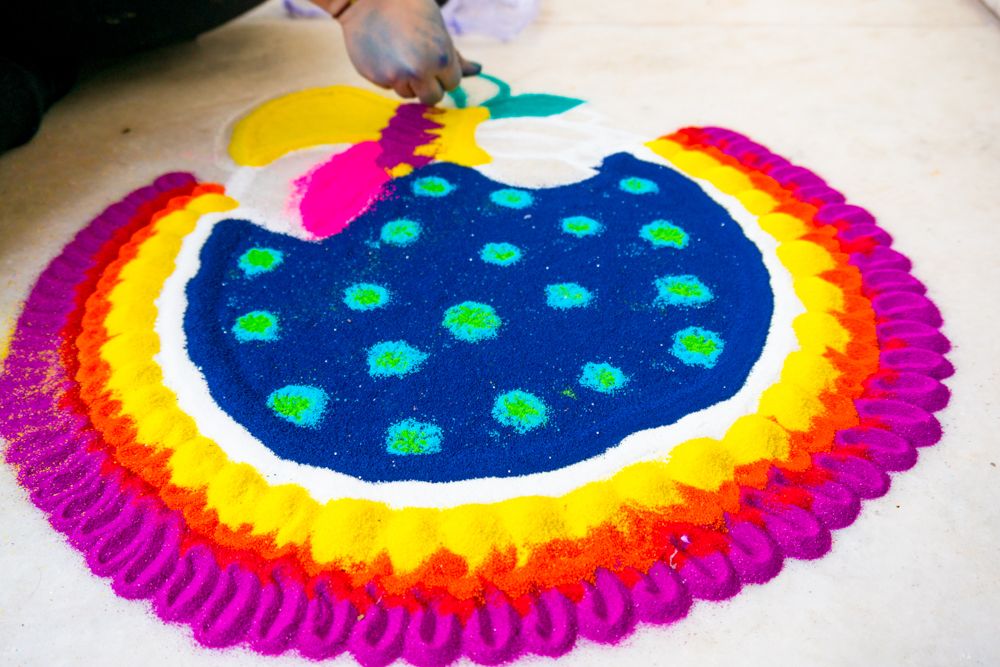 Indian festivities are incomplete without rangolis. Make colourful, floral patterns both inside and outside your pooja ghar. You can also decorate the outside your main door and different parts of your home with rangolis.
#3: Clean and polish idols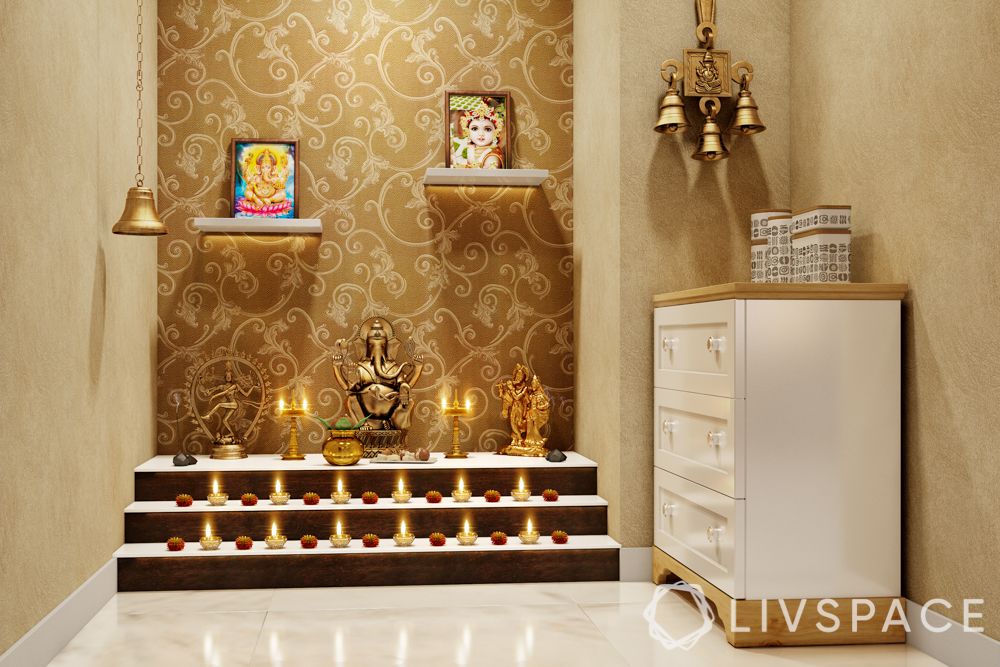 Ugadi is all about thanking God for the harvest season and praying for positive vibes at the beginning of the new year. Generally, people worship Lord Ganesha, Goddess Lakshmi, Goddess Parvati and Lord Vishnu on Ugadi. So, before the festivities begin, you must polish and clean your idols.
#4: Kalasha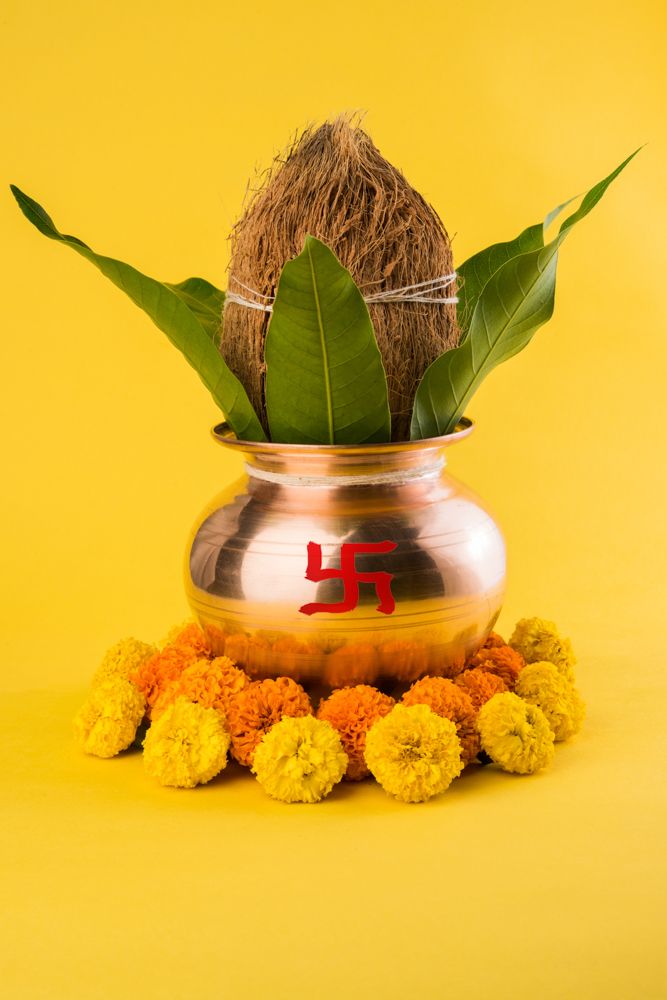 The kalasha is an essential part of the Ugadi celebrations. It is nothing but a bronze or steel pot that symbolises home and hearth. You must place 5 mango leaves and a coconut in the kalasha and keep it in the middle of your pooja ghar. Use kumkum (vermilion) to draw a swastika on it to attract only holy energies into your home.
#5: Garlands
Flowers and Indian festivals go hand-in-hand. On Ugadi, decorate your home mandir with fresh yellow and orange marigolds. Place garlands made of these flowers on all the idols inside your pooja room.
#6: Shavige Payasa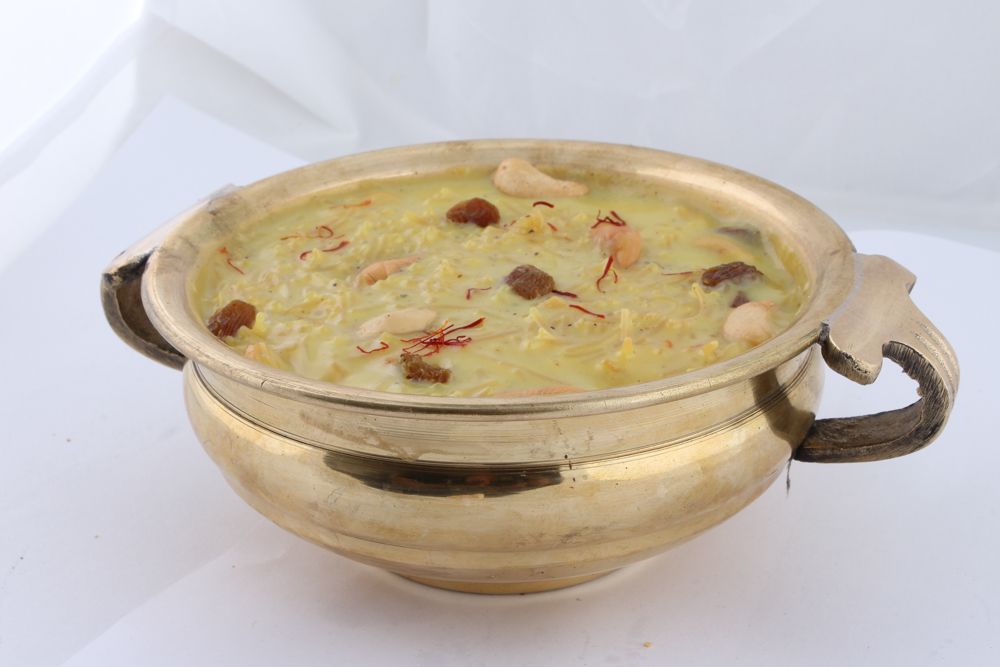 No matter which part of India you are from, if there is one thing that binds all Indians together, it's food! Savige payasa is a delightful dish that people prepare on the occasion of Ugadi. Made of vermicelli, milk and sugar, you must first offer this dish to the idols in your pooja room before you can eat it. Another sweet dish called obbattu is commonly prepared during this auspicious occasion.
VISHU
Vishu, the festival of lights and fireworks, is celebrated in Kerala. This festival heralds the start of the New Year in Kerala.
Here's everything that you must keep in mind for Vishu.
#1: Vishu Kani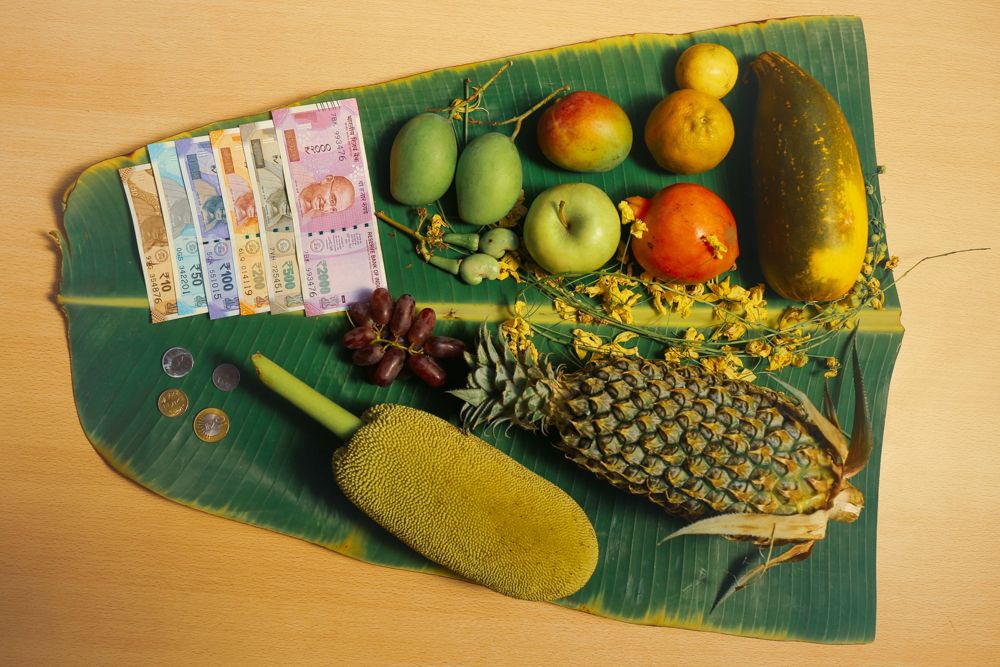 The auspicious day of Vishu begins with the viewing of the Kani. The Vishu Kani is the most vital part of Vishu as it symbolises the year's progress and prosperity. The Kani is basically a set of specific items that must be placed in the pooja ghar. These items include fruits, vegetables, flowers, money and clothes.
#2: Diyas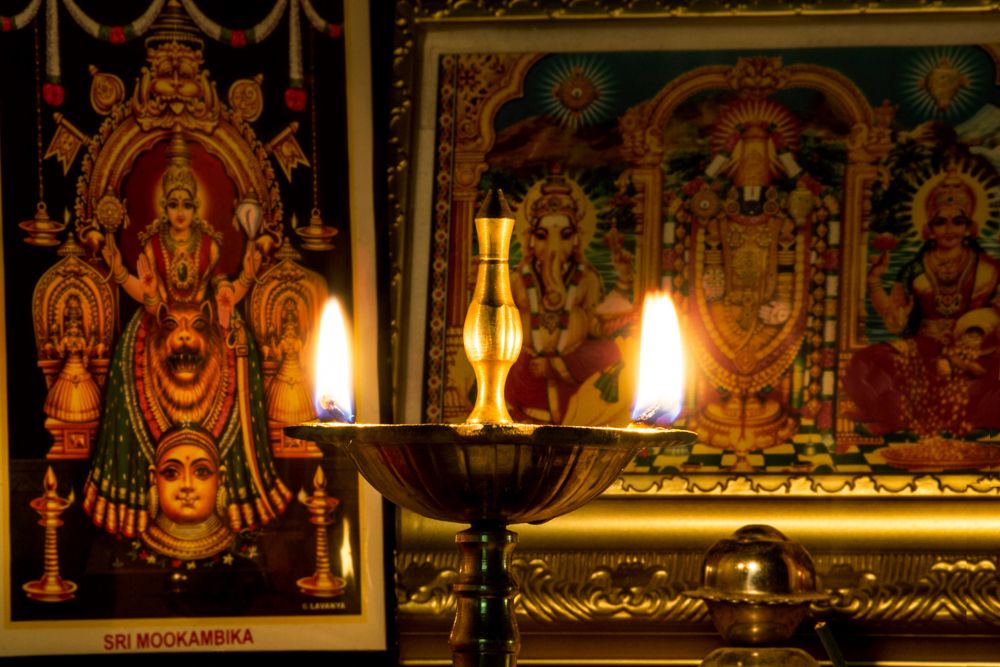 Apart from the Kani, you must decorate the pooja ghar with diyas. You can choose between large, ornate ones and simple ones. Place the diyas in front of the idols and outside your pooja room entrance.
Stunning Pooja Ghars for South Indian Homes
Now that you are all prepped for Ugadi and Vishu, here are some stunning pooja room designs for South Indian homes.
#1: Antique Charm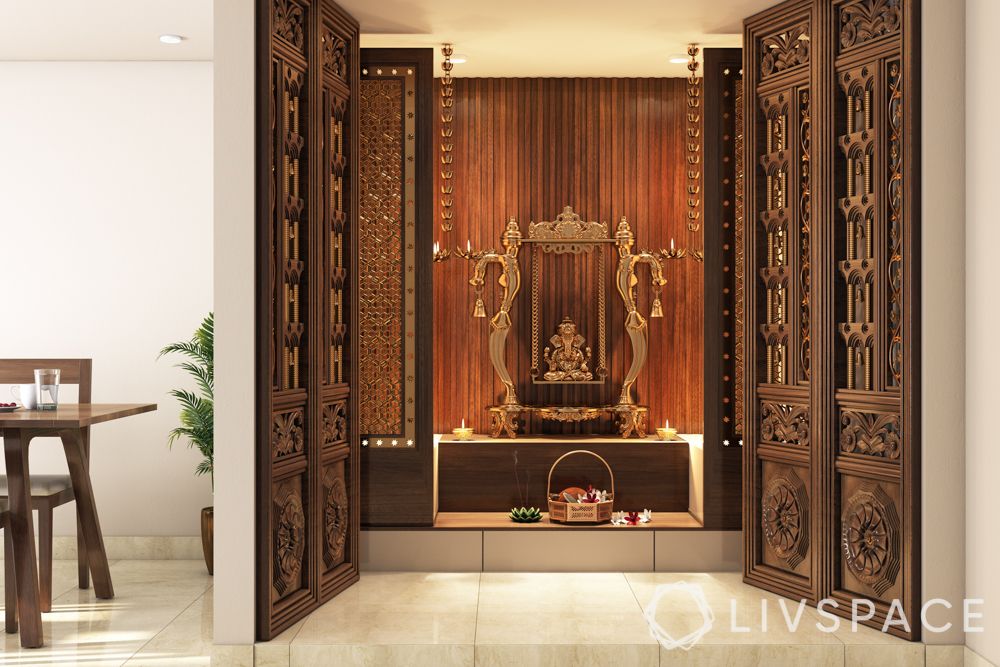 When it comes to pooja room designs for South Indian homes, antique and traditional always works! This pooja ghar, with the intricately carved doors, is an antique masterpiece!
#2: Gorgeous Jaali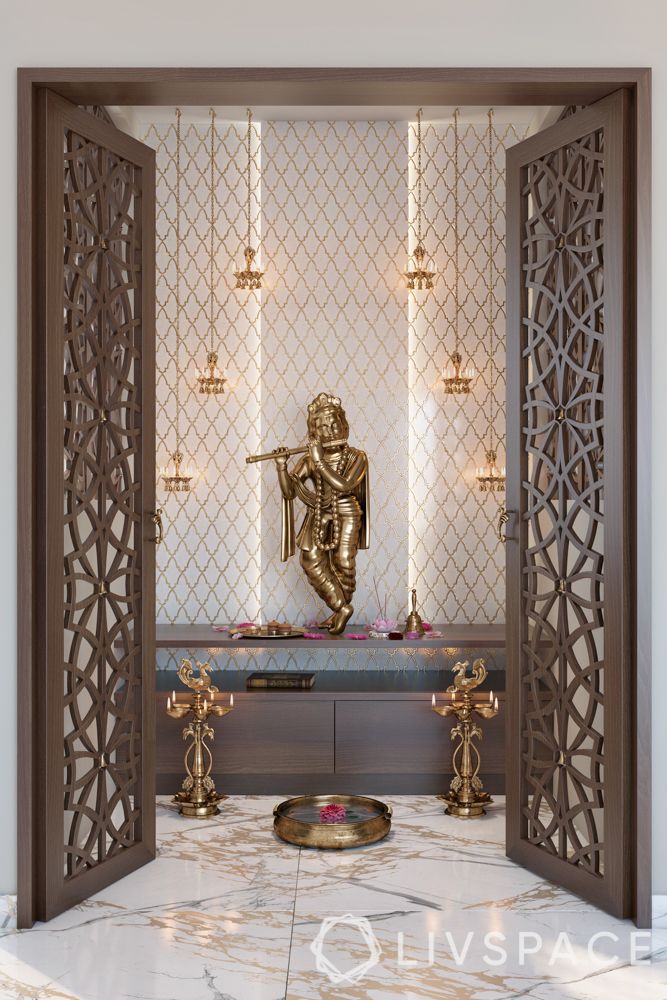 Timeless and desi, jaali pooja rooms are a favourite amongst all! Whether you have a compact pooja unit or a spacious pooja ghar, all you need is a set of jaali doors to add that spiritual touch to it.
#3: Divine in White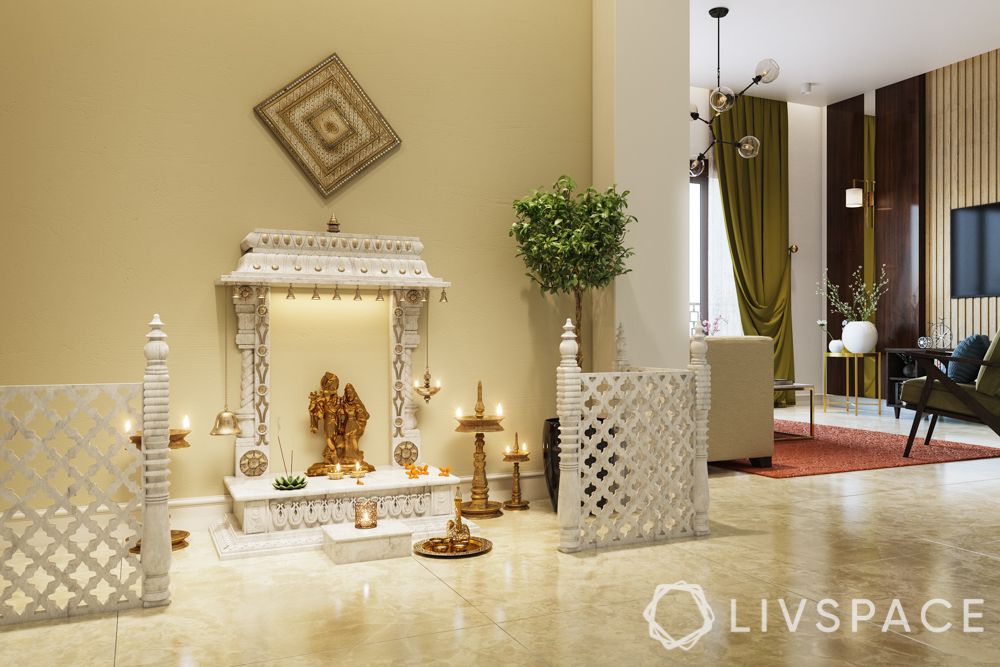 White is an elegant and Vastu-approved colour for Indian style pooja room designs. This mandir in white gives off such divine vibes! The bronze deepams are the perfect touch during festivities like Ugadi and Vishu.
#4: When Holy Bells Chime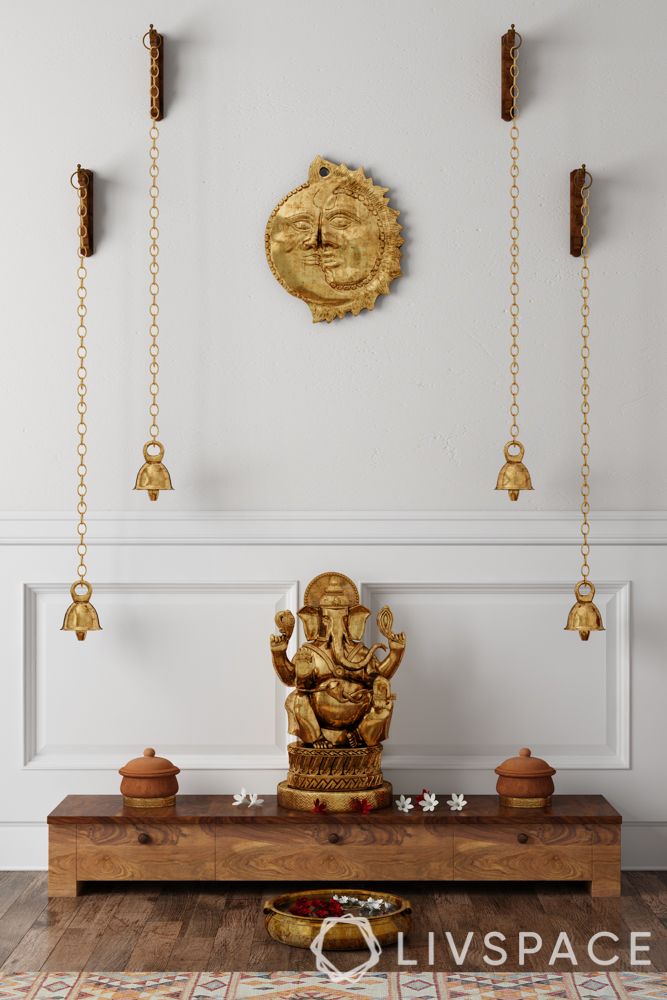 Bells are an integral part of Indian pooja room designs. If you want to keep your pooja unit design minimal yet desi, just hang some metal bells. These look elegant and also add a divine touch.
#5: South Indian Temple Style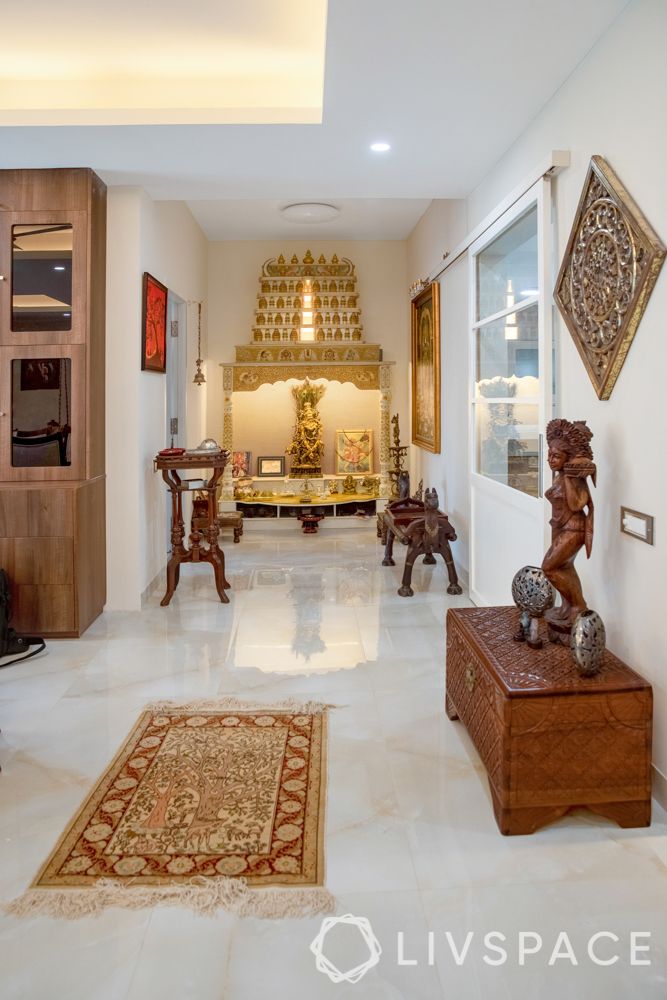 Pooja room designs for South Indian homes are incomplete without the South Indian temple style design. Grand and gorgeous, this mandir is reminiscent of the stunning mandirs of South India.
We hope this article will help you in your Ugadi and Vishu preparations.
Check out pooja room designs:
If you are looking for more pooja room designs for South Indian homes, check out these affordable pooja unit designs.
Send in your comments and suggestions to editor@livspace.com