Artificial flower decoration can go from glam to trash quite easily. This is precisely why most homeowners seem to avoid them like the plague. But with a little bit of skill and finesse, fake flowers can prove to be impeccable decoration items that will go a long way in beautifying the interiors of your home.
Read on to find out how to add pops of green and a dash of freshness to your home decor:
Artificial flower decoration tip #1: Pick local flowers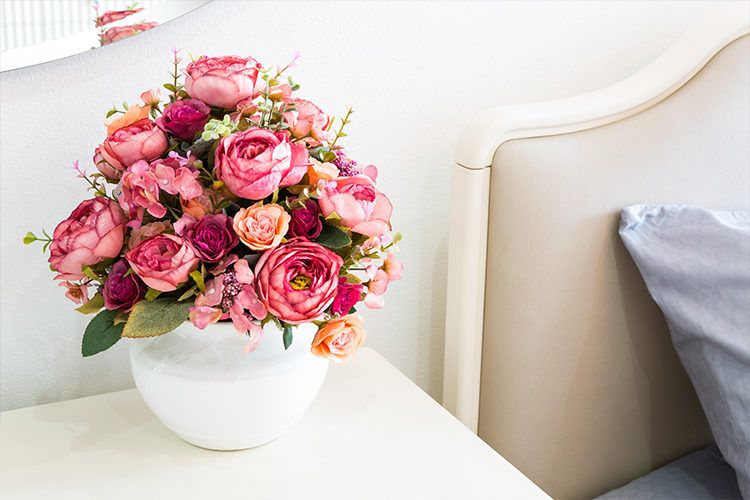 The first rule of faking it right, is to always keep it as real as possible. Sounds ironical? Well, when decorating your home with artificial flowers, pick local flowers that are actually in bloom. This is a sure shot way to fool guests into thinking you spend hours every week buying fresh cut flowers.
Pro tip: Carry real flowers with you when you go fake flower shopping. This way you can pick artificial flowers in colors and hues that are closest to the real deal.
Artificial flower decoration tip #2: Succulents over shrivelled ones
When you want to keep things real while faking it, succulent plants work well. They look real and stand tall even when not taken care of properly. The best part? Potted cacti or aloe vera actually look plastic-y, so you don't run the risk of being found out.
Artificial flower decoration tip #3: Vases matter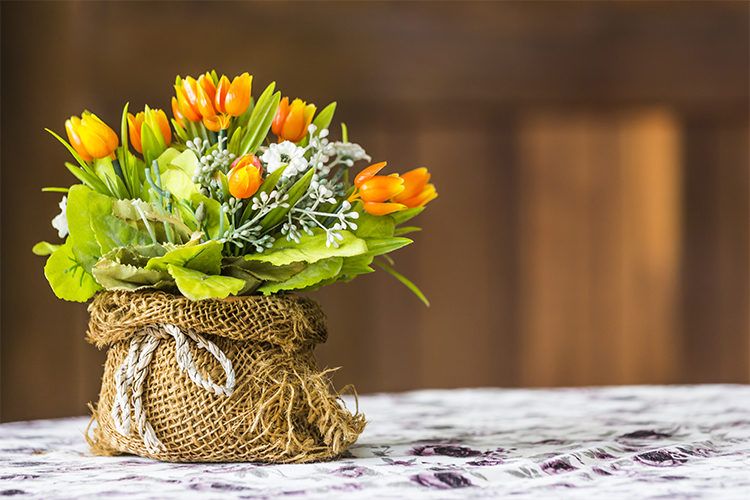 An amazing idea to get the attention of your guests, you ask? Unusual vases like gunny bags and pretty cloth ones, we say! The biggest advantage with fake flowers is, that they do not die. So, you can arrange them in any sort of vase, made out of any material. You could place flowers in a paper bag to add a rustic touch to your bouquet or you could also play up the craft quotient by placing flowers in a crochet hanging vase.
Try miniature vases as well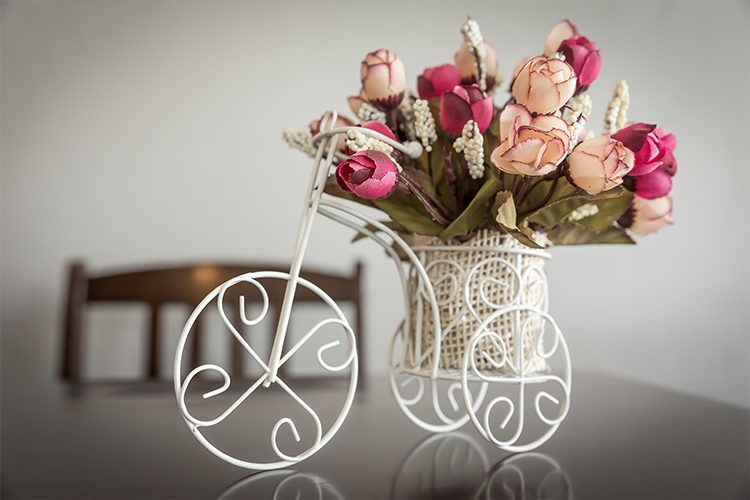 Artificial flowers work great when you use them to decorate tables or nooks and corners of your home. Try stuffing miniature bicycles or any other odds and ends you see with pretty fake flowers to adorn your tables.
Artificial flower decoration tip #4: Keep it real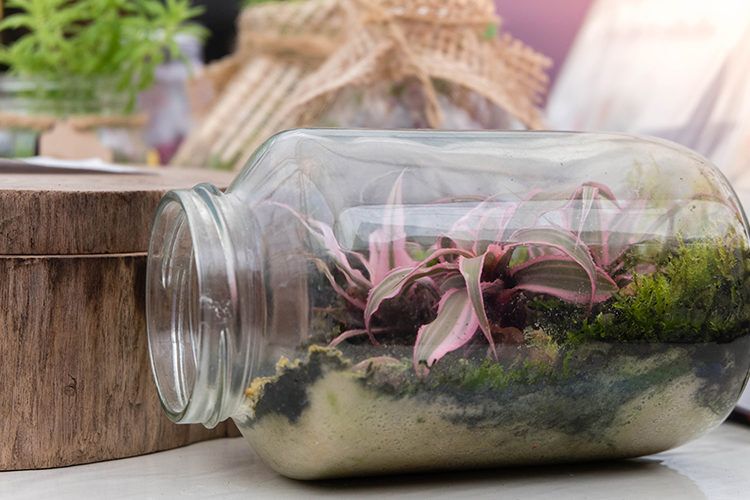 Get your hands on some sand and a mason jar. Fill it up with artificial flowers with a lot of artificial moss and weeds for added effect. Your very own mini garden in a bottle will be ready in no time!
Pro tip: Go that extra mile to make it look real by adding dirt and tiny rocks in there.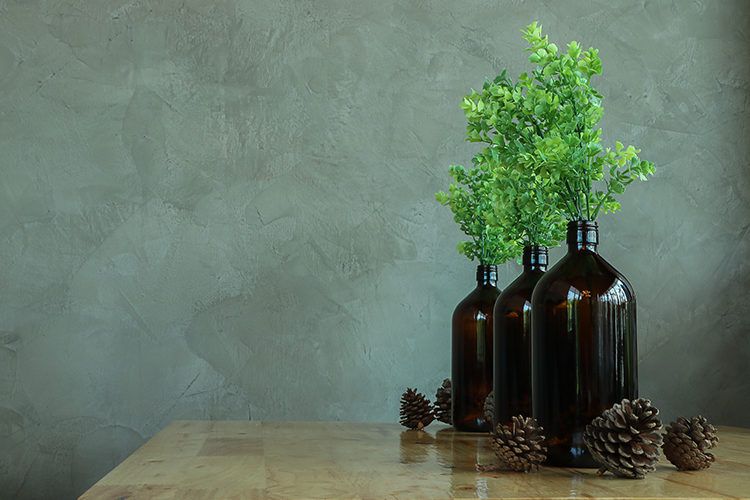 If you are not too keen on creating a garden inside a bottle/jar, then you can fill up bottles with sand and place just fake green plants in them to give a tree-like-feel.
Artificial flower decoration tip #5: Up the ladder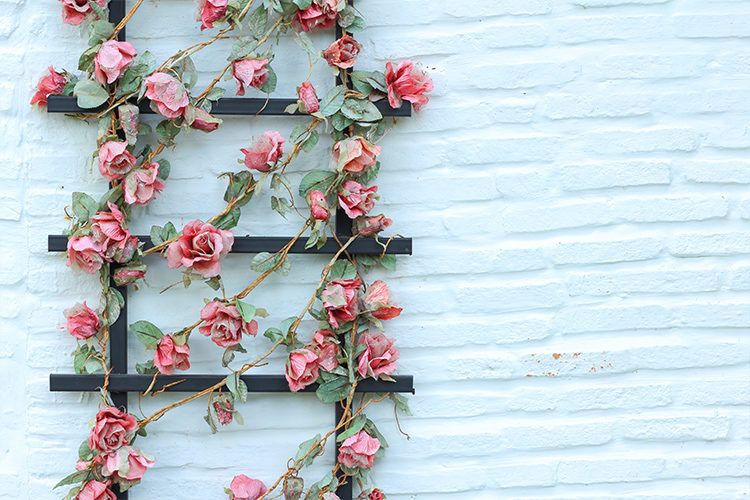 If you have an empty wall and do not know what to do with it, then this one's for you. Grab some pretty artificial flowers and twine them up a ladder. Place this ladder against the wall and see how your guests get talking the next time you throw a party at home! This idea works perfectly well in the balcony with fake creepers on it.
Artificial flower decoration tip #6: Floating flowers
We all have used the rose-petals-in-water trick to freshen up a room. Well, try floating some artificial flowers in water and keep it either as a centerpiece or place it on side tables. Use real-looking lotuses or roses to give it an original vibe.
Artificial flower decoration tip #7: Keep 'em squeaky clean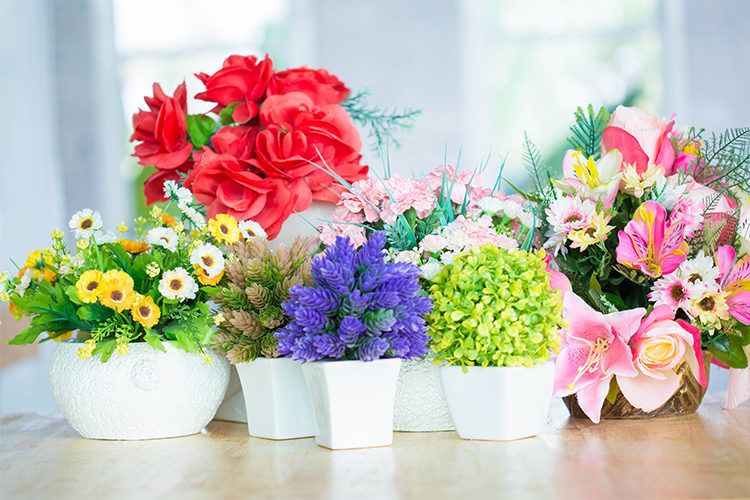 If you have ever decorated your home with fake flowers, you know that these things accumulate a lot of dust. Follow these simple steps to keep things clean:
Pick artificial flowers in a washable material.
Keep your fake flowers away from unwanted dust. The dust will give away its fakeness. Try to keep your pots and vases away from windows to avoid dust accumulation.
Rotate the position of your flower pots at regular intervals. This will automatically give every room a fresh feel from time to time and will ensure your guests and those who you live with don't figure out your trickery.
We hope these fake flower decoration tips come handy when you have to doll-up your home the next time you have a get-together. These are less time-consuming and instantly liven up your interiors. Thank us later!