We believe that some sort of bedside table is always welcome in your bedroom. Whether you are someone who requires an elaborate storage space or someone who likes to keep it minimal, we have something for everyone. Take a look at these lovely bedside tables that suit every need. But do remember, the bedside table design that you choose must work with the theme of your room. For your convenience, we have included our expert advice on how to choose some of the best bedside tables. Read on!
Choosing Bedside Tables by Their Design Styles
It is easy to follow the theme of your bedroom interiors and pick a bedside table design that complements it. Now, let's take a look at some bedside table design ideas you can try.
Classic Bedside Table Designs
If you also have one of those solid wooden beds, like most Indian homeowners, then these classic side table designs for bedroom are for you.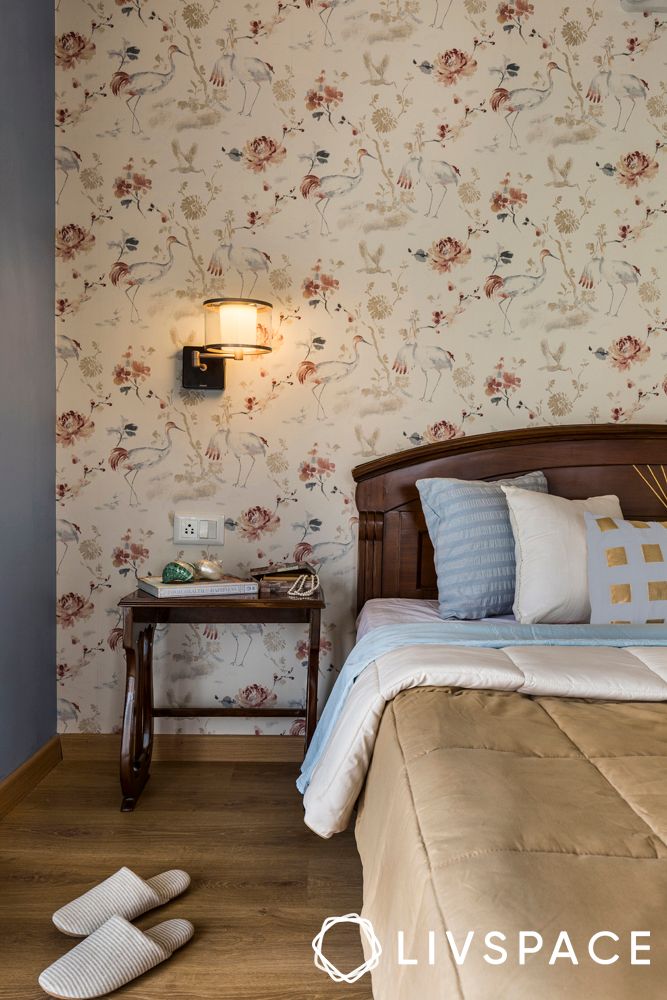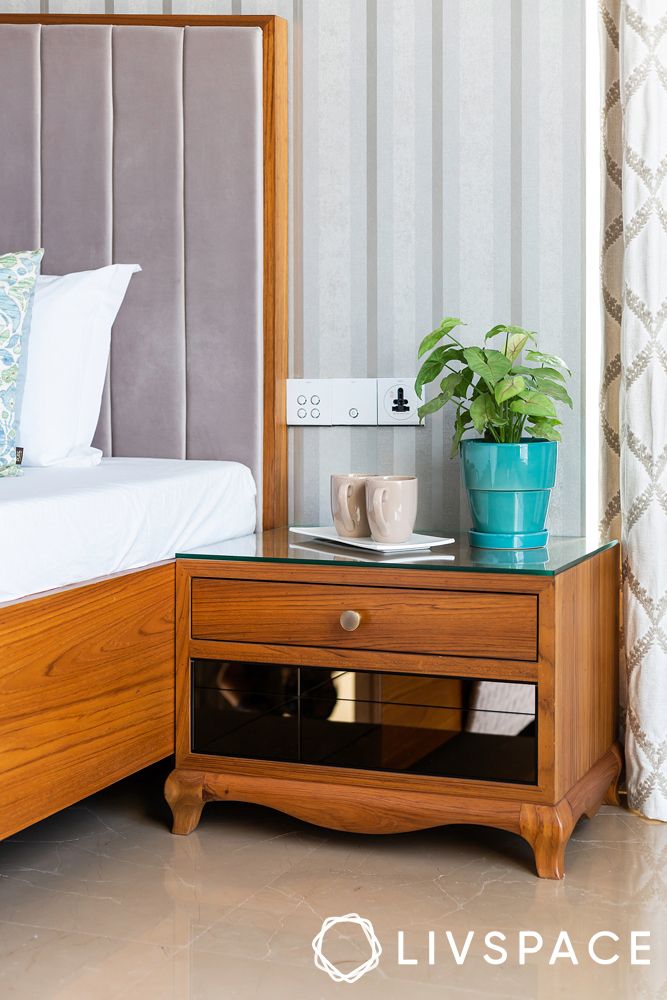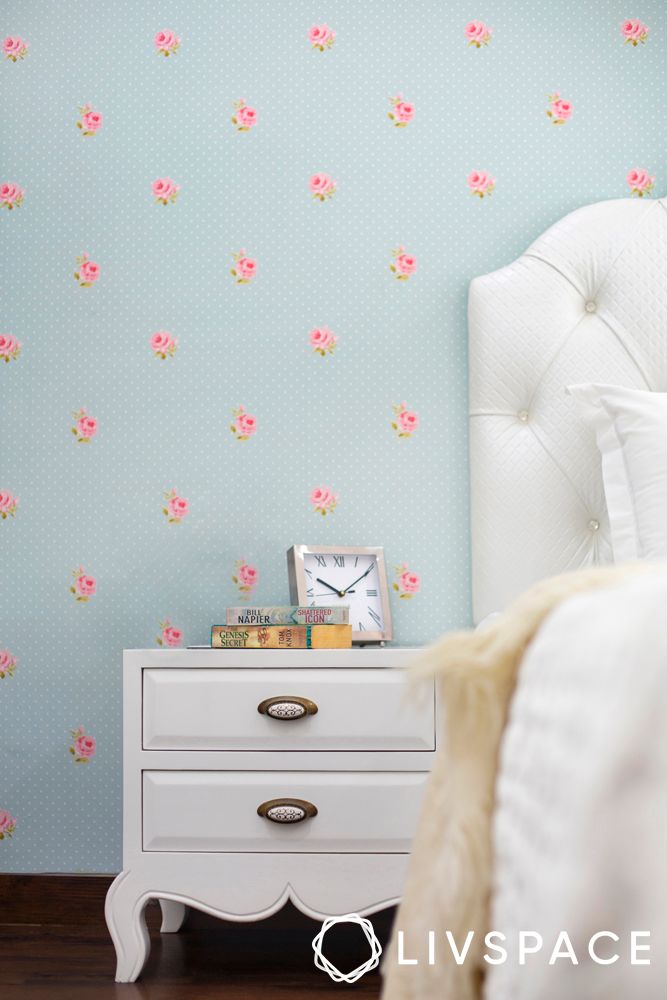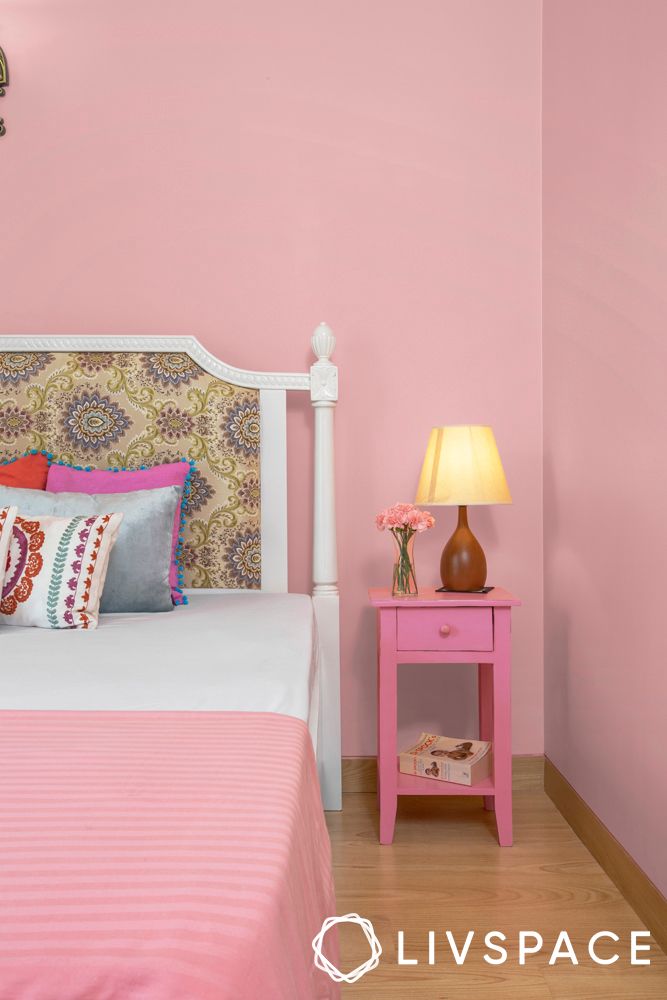 Colonial Wooden Tables
Colonial furniture, owing to its simplicity, can blend in with any sort of interior style. Buying durable and sturdy side tables like these can add character to your interiors and enliven your space.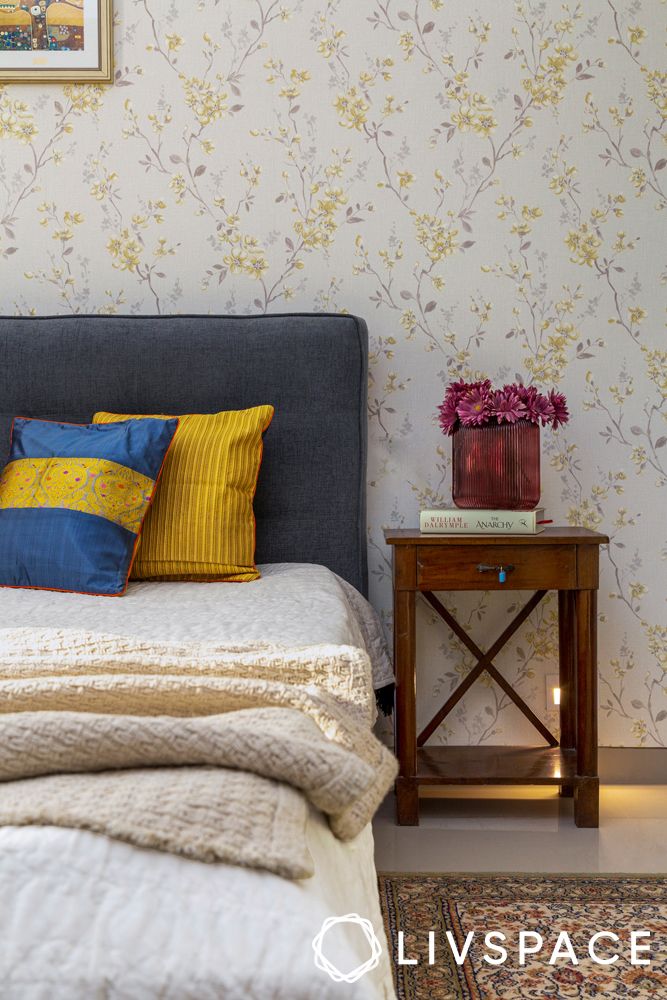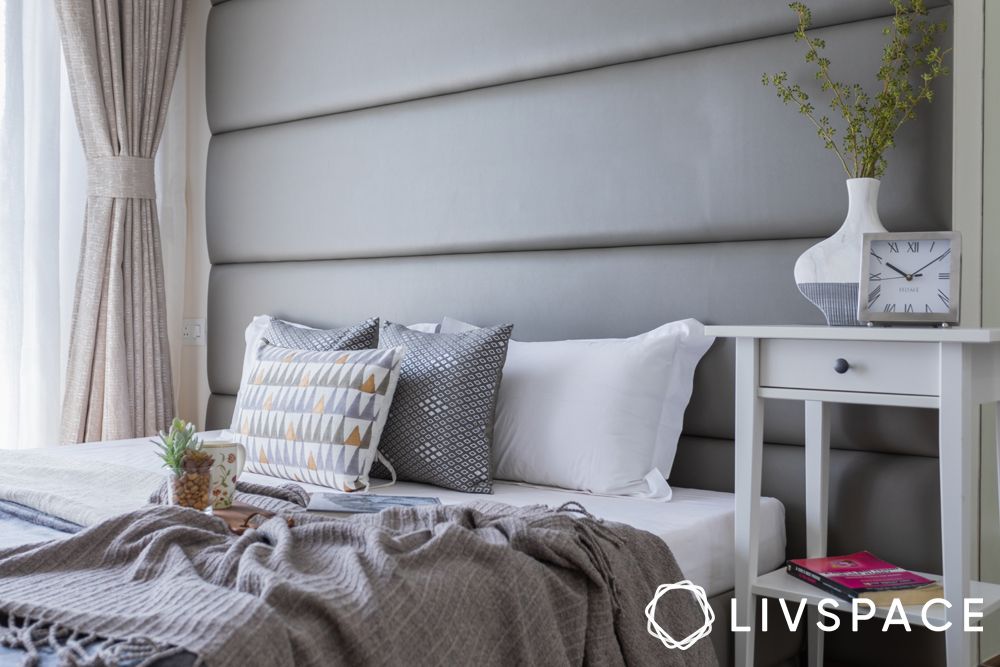 Scandinavian Bedside Tables
These days, rumour has it that you mix-and-match interior styles to get the perfect home design you desire. Scandinavian furniture has been right in the middle of this mix. Since these furniture pieces are generally lightweight and made with light coloured materials, they can give your room a bright and airy look.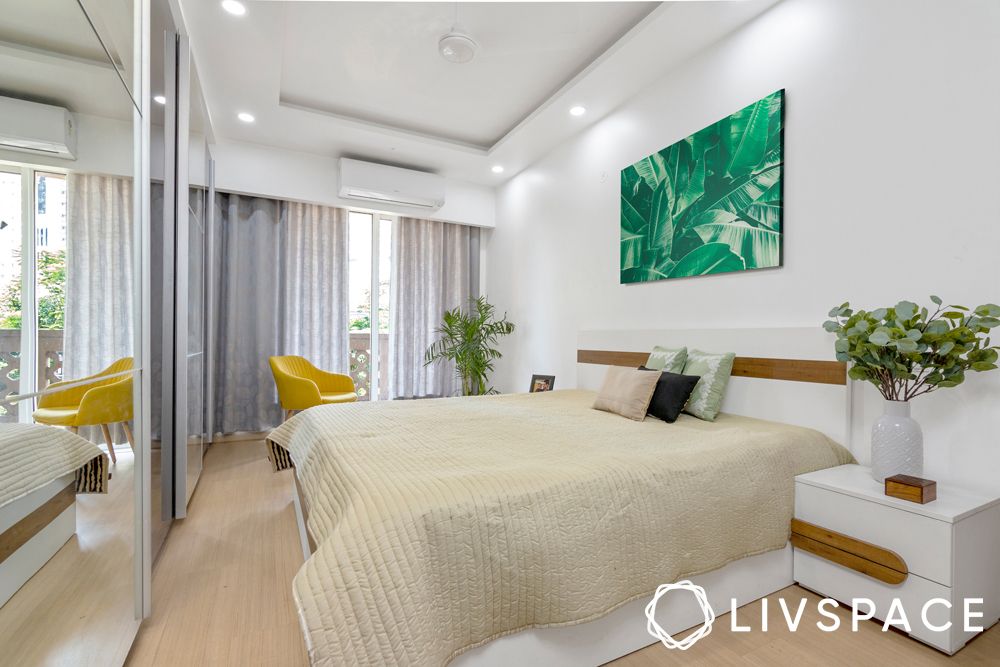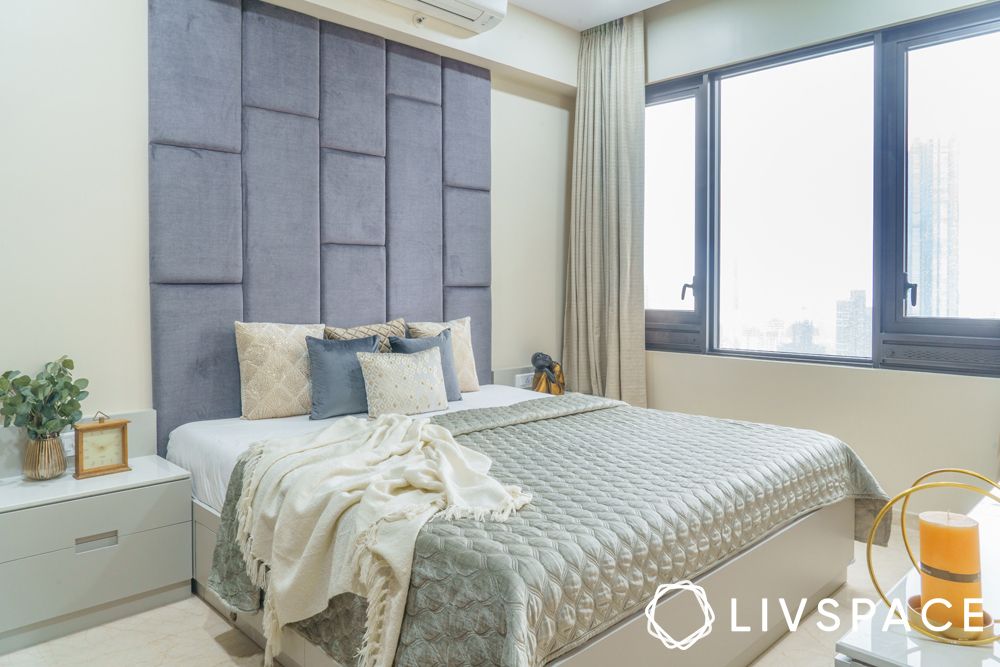 Contemporary Bedside Tables
The thing about contemporary furniture is that it evolves. What is contemporary this year may be outdated the next. The fast trends in this design style may be hard to keep up with, but every now and then, there are a few trends that last forever. See these timeless contemporary bedside table designs to make wiser choices for your bedroom.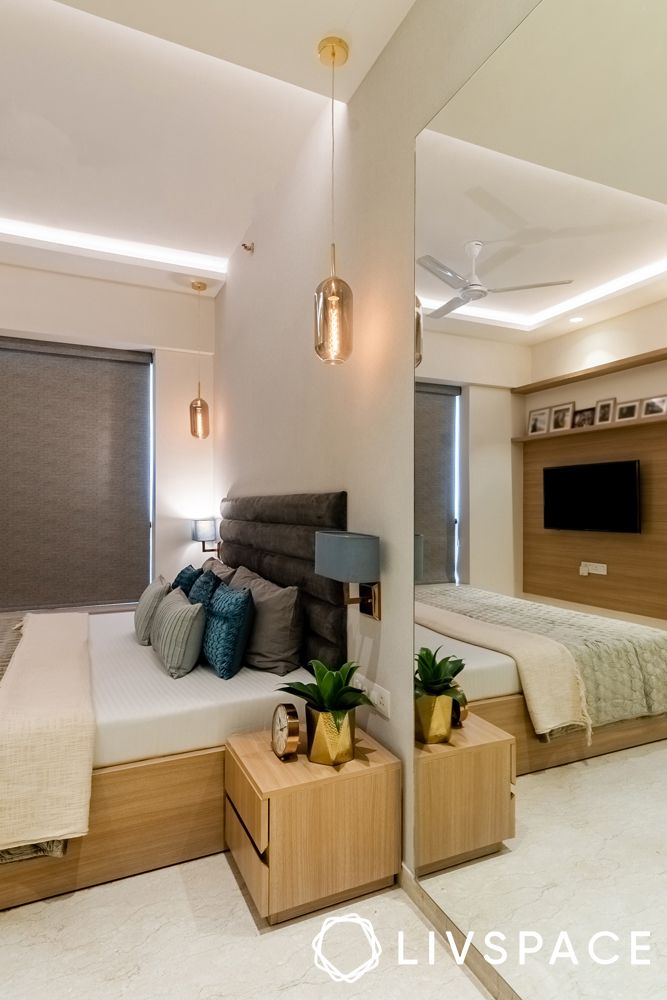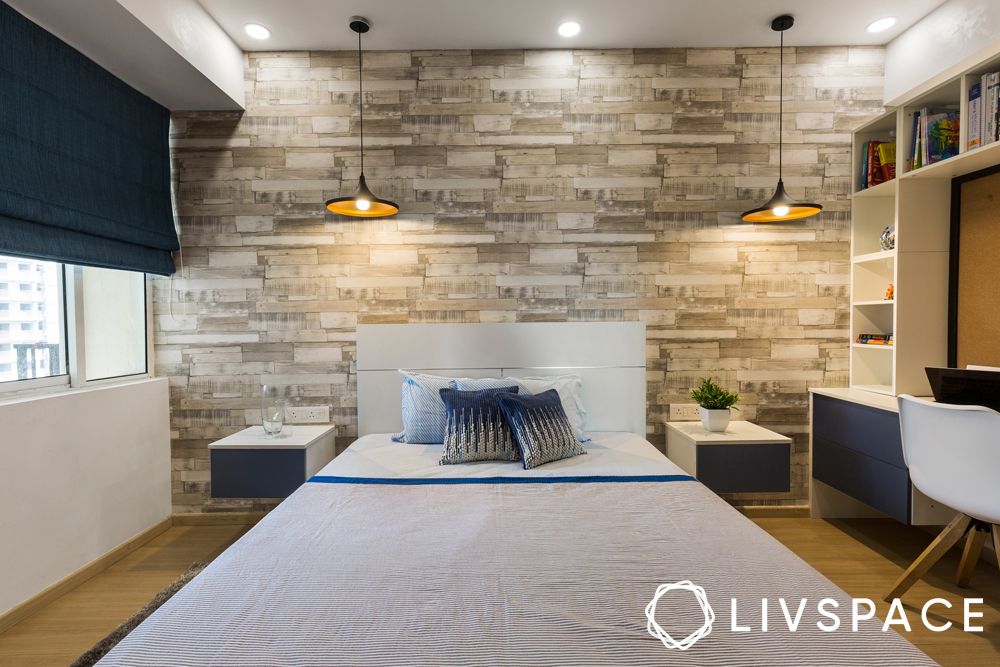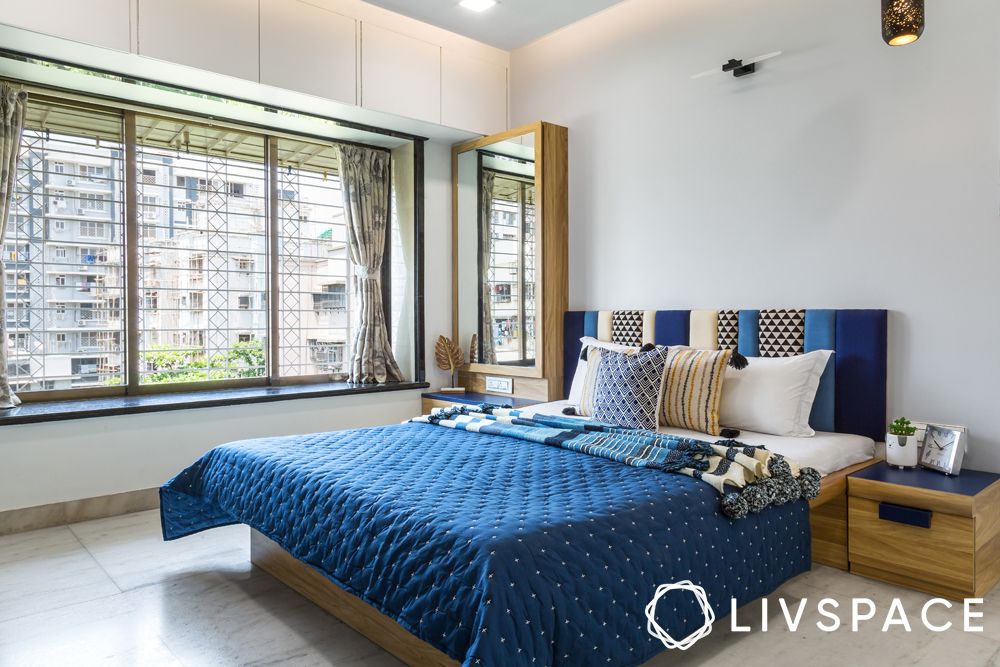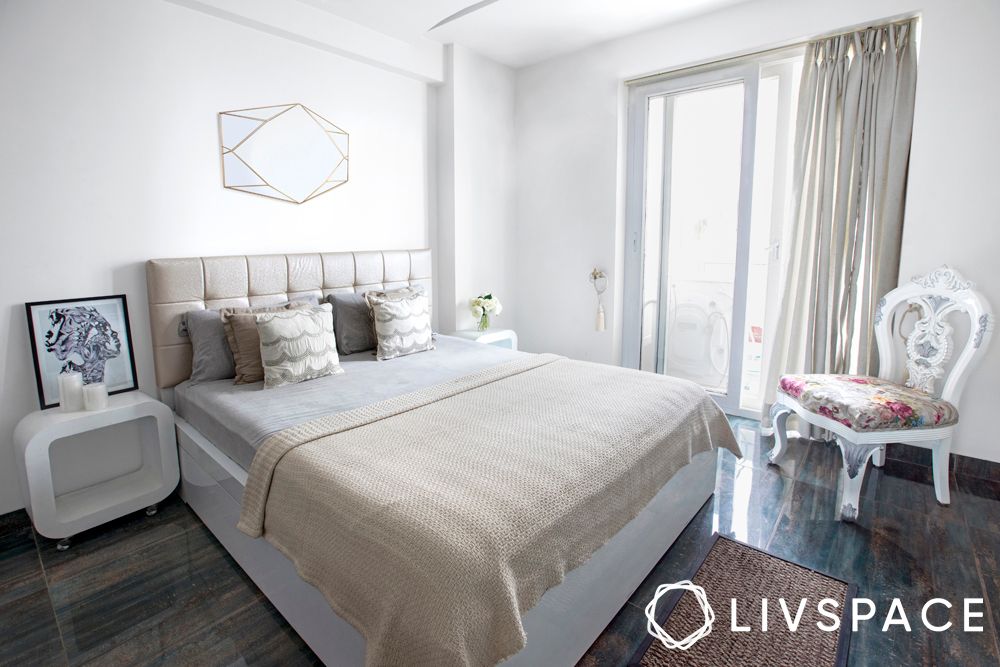 Neo Deco Table Inspiration
First things first, neo deco is not all about loud colours. You are welcome to use light pastel colours as well. You can sustain its maximalist nature with striking textures and some bling. By bling, we mean metal accents that make your interiors dramatic.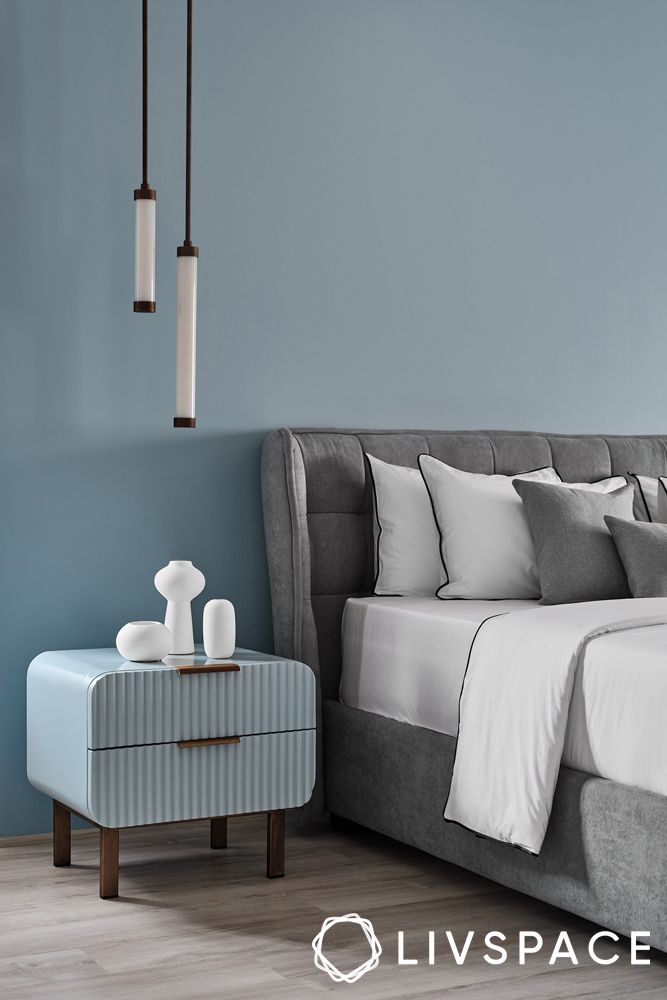 Antique Bedside Table Ideas
Some people look at antique furniture as collectibles. It's rewarding to spot these gems and incorporate them at home. And why not? They are excellent conservation starters!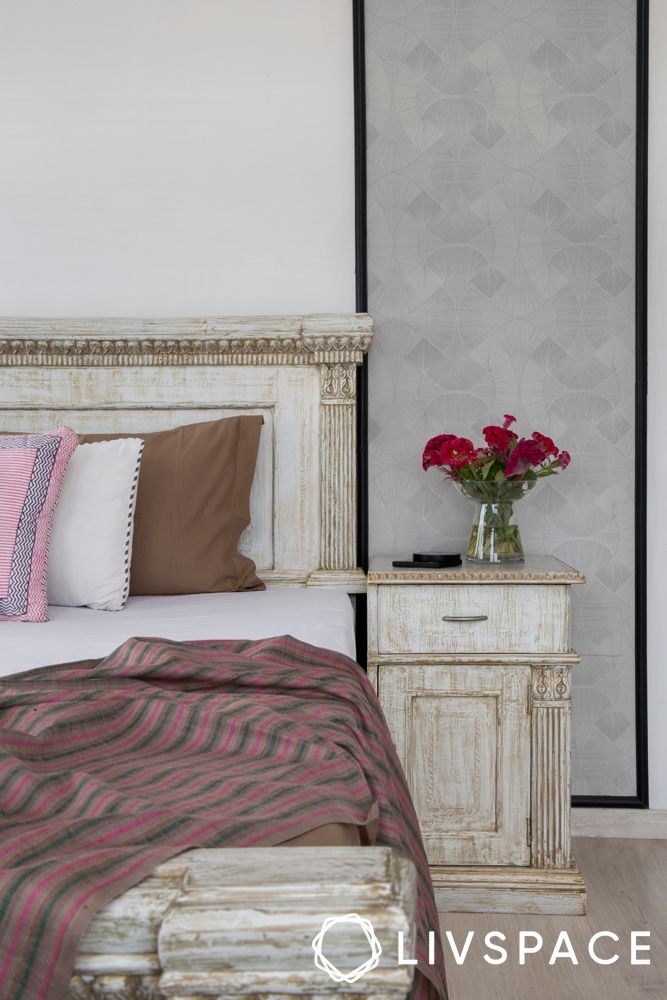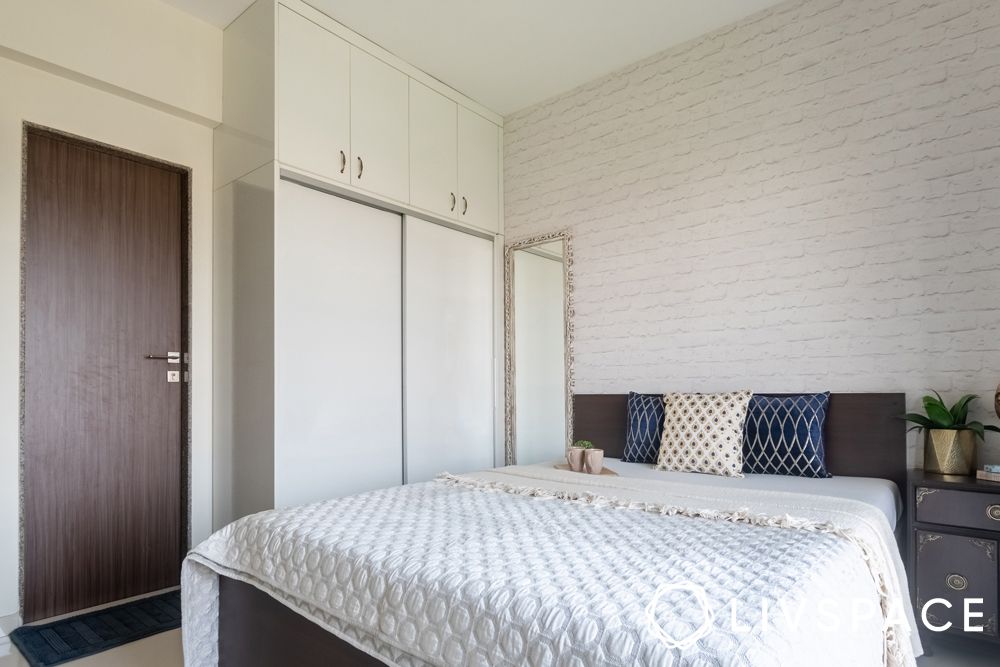 Floating Bedside Tables
These bedside table designs are easy to maintain and don't consume any floor space. Floating tables are a perfect solution when you have low-storage and high free space requirements. Plus, they look so classy that you'd wonder why you didn't get them before!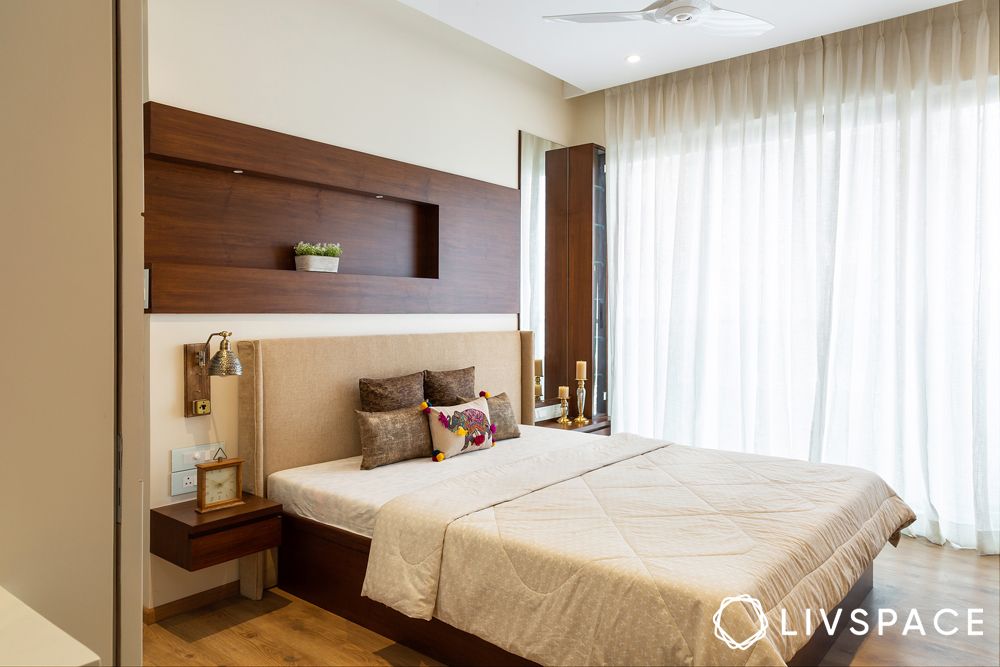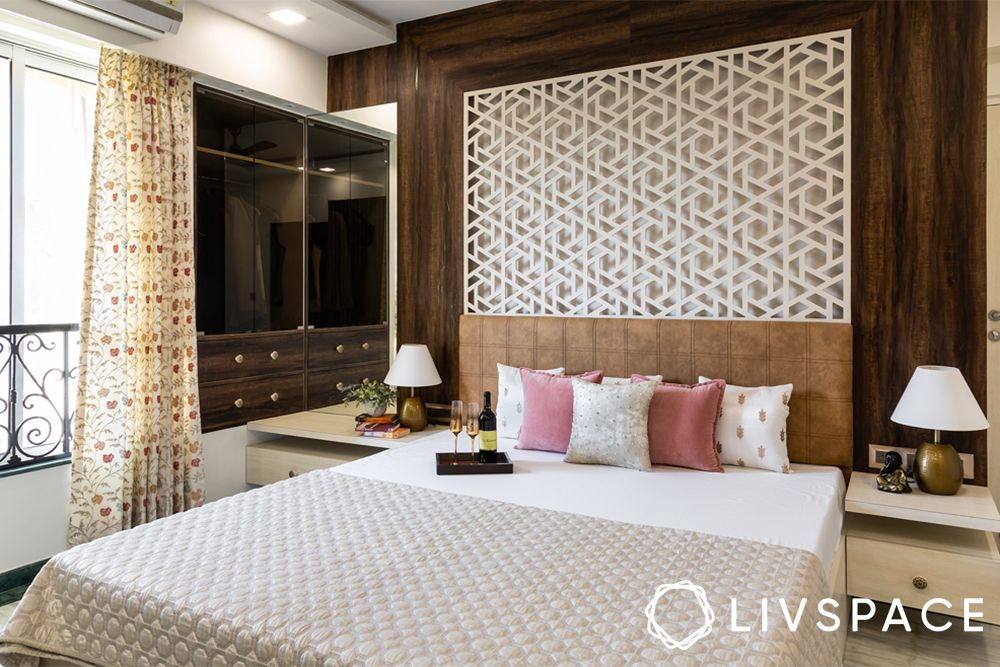 Tables Integrated in the Beds
A lot of times, you don't have to work separately on the bedside tables. You can get them with pre-fabricated beds like these and have one less problem without it. You can also get these beds custom-made, and here are some designs that you can steal.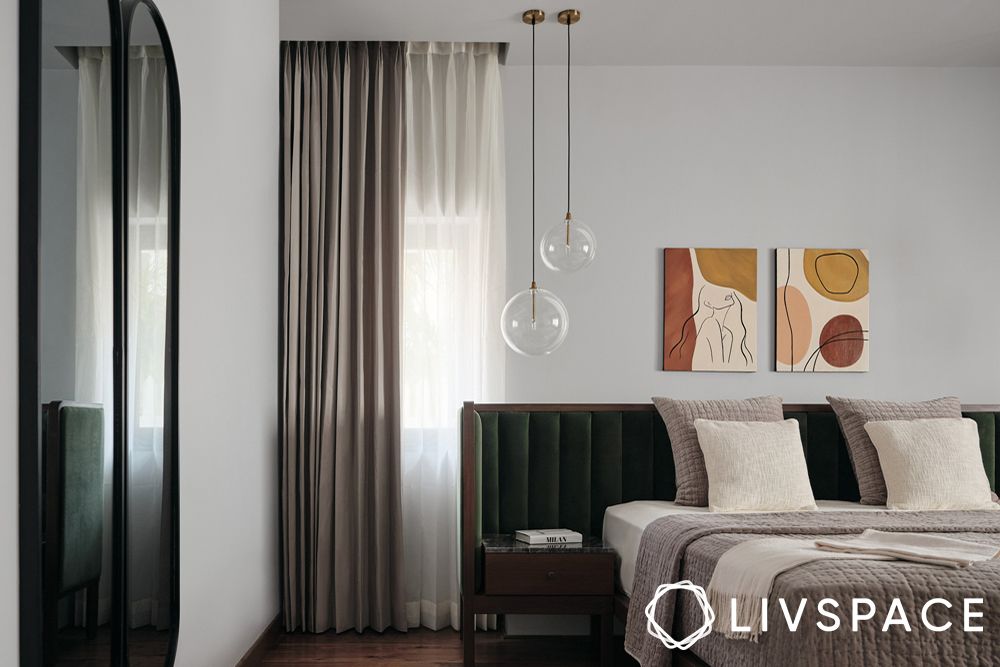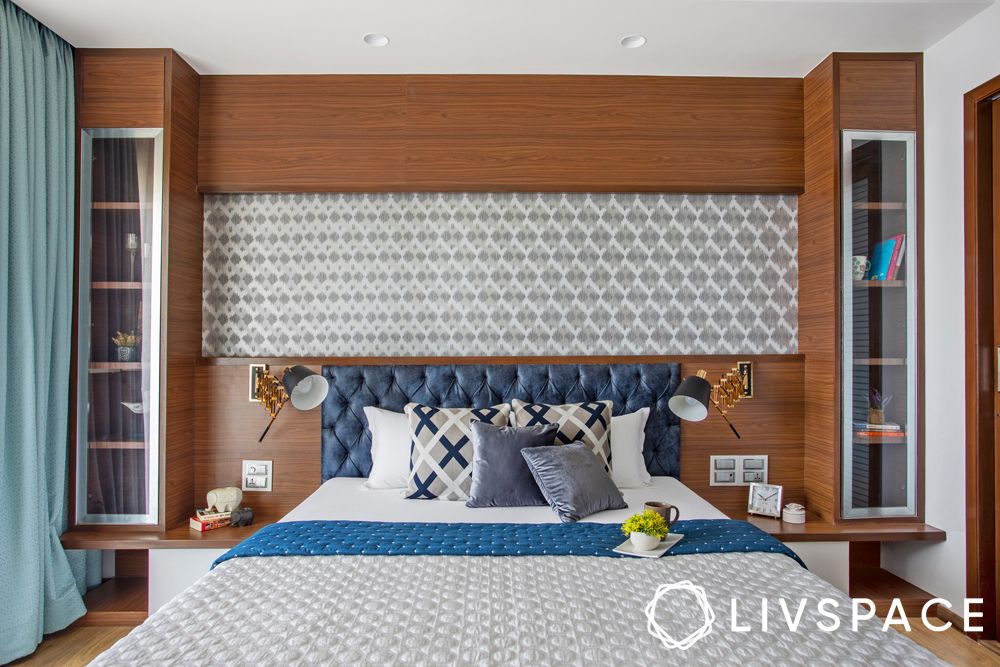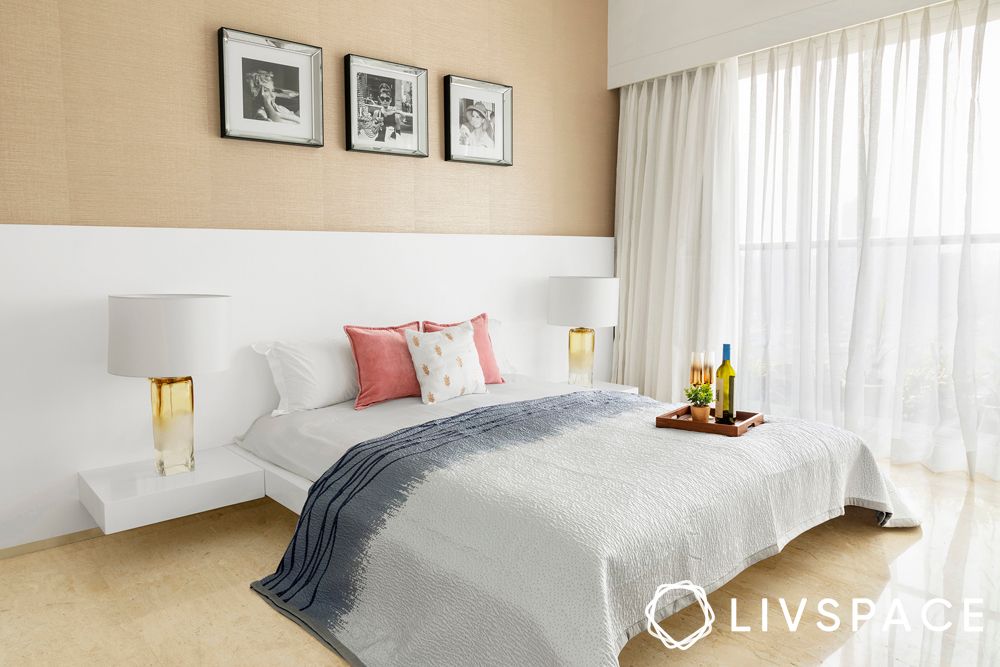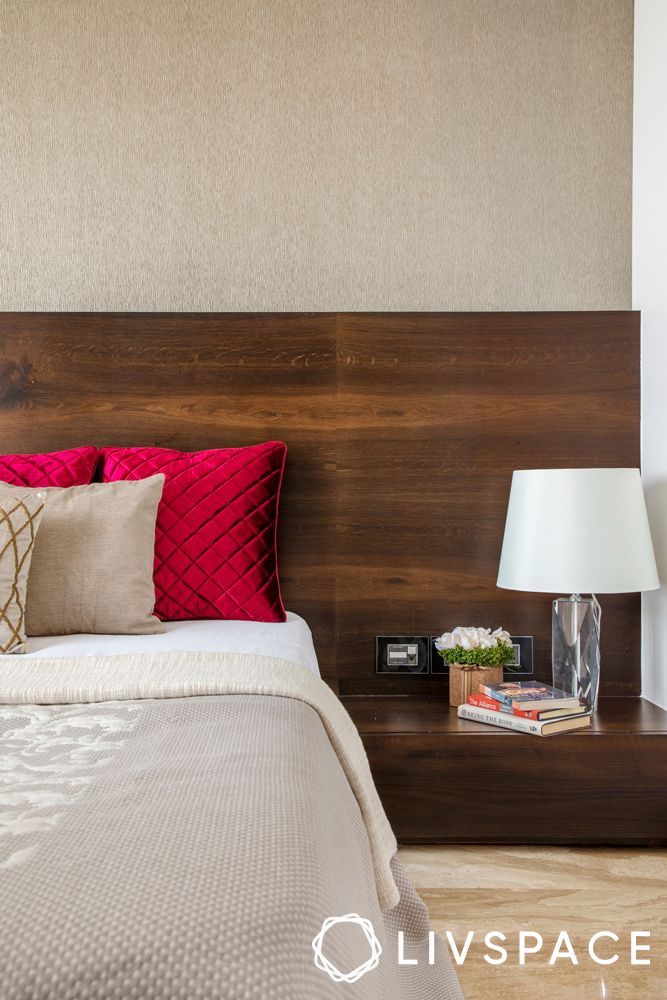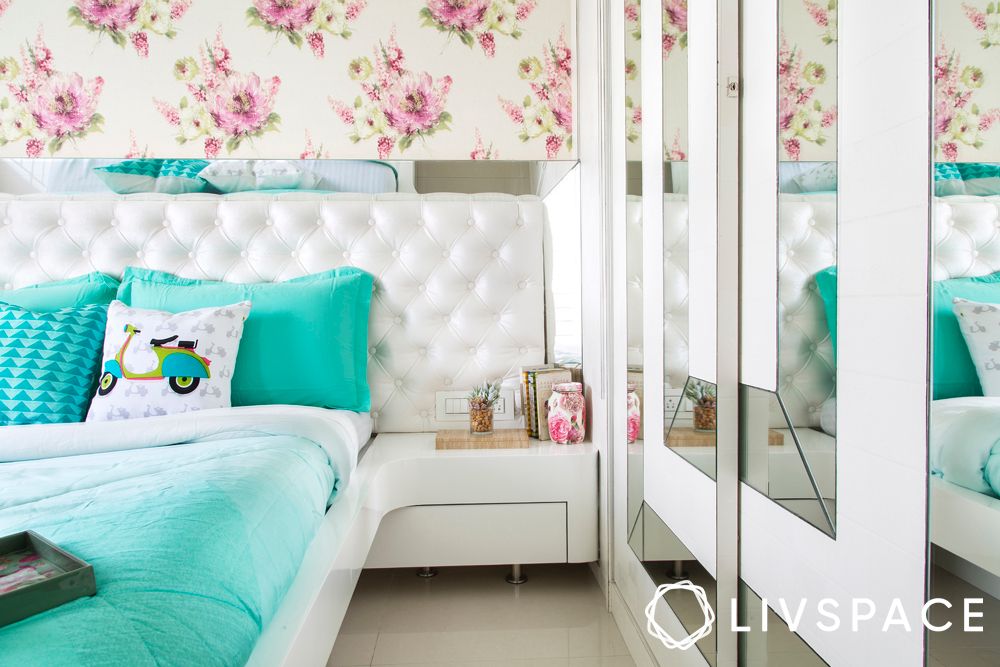 A Statement Piece
As the world evolves, a lot of people are becoming sensitive toward art. They recognise its value and appreciate the creativity and innovation that produced it. Statement pieces like this, then become a reflection of a lifestyle and interest that are not limited to rich folks anymore.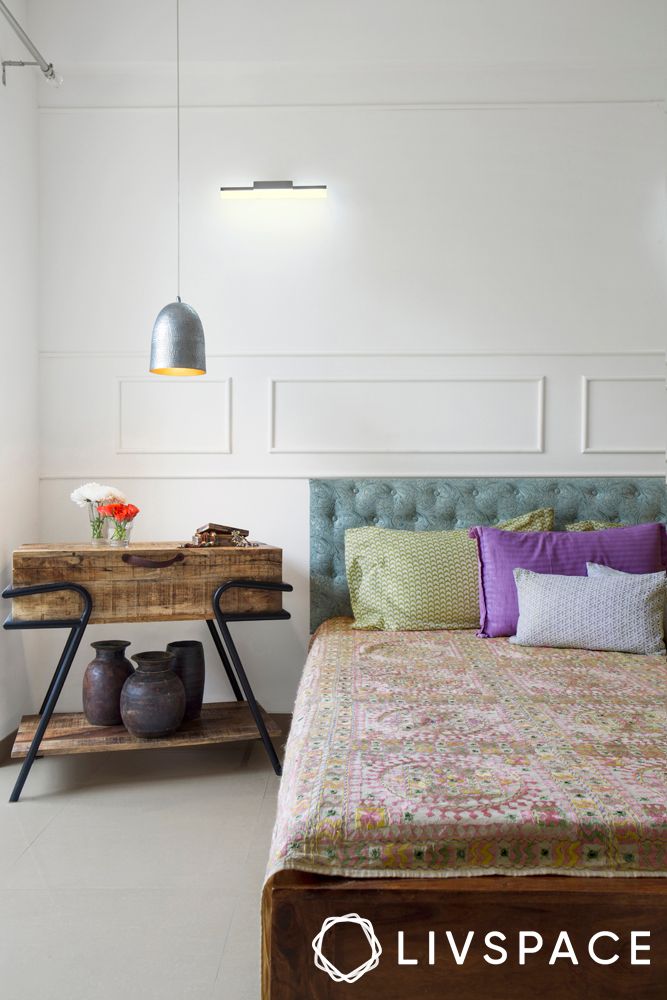 Bedside Tables Categorised by Their Materials
Identifying the material theory that already exists in your room is a great way to begin choosing your side table designs for bedroom. This also helps you identify the colours that exist in the room, and your final choice will be fail-proof.
Wooden Bedside Table Design
Add some warmth with these side table designs for bedroom. Make use of the textures and colours of wood that make your bedrooms warm and welcoming.
Solid Wood Bedside Table Ideas
The advantage of using solid wood furniture is that they are durable and require very little maintenance. They are also versatile, customisable, sustainable and sometimes quite unique from plywood and MDF furniture.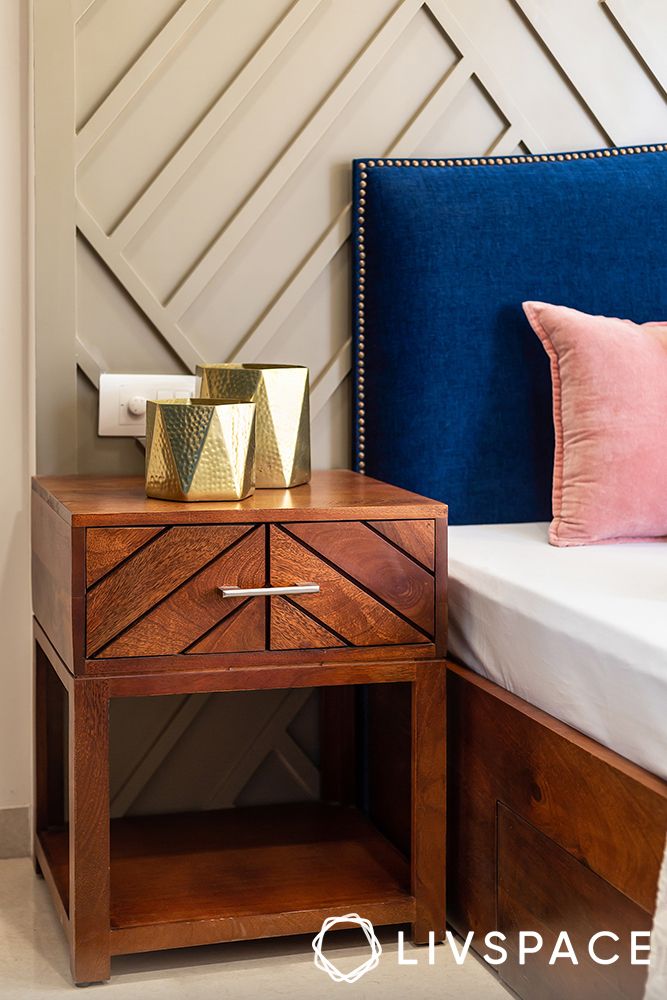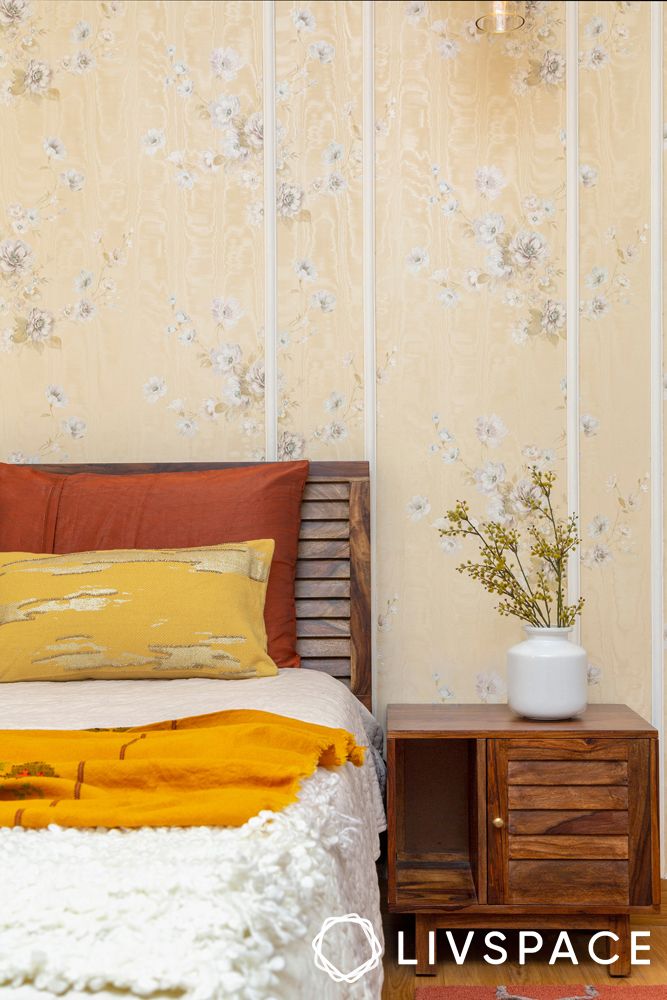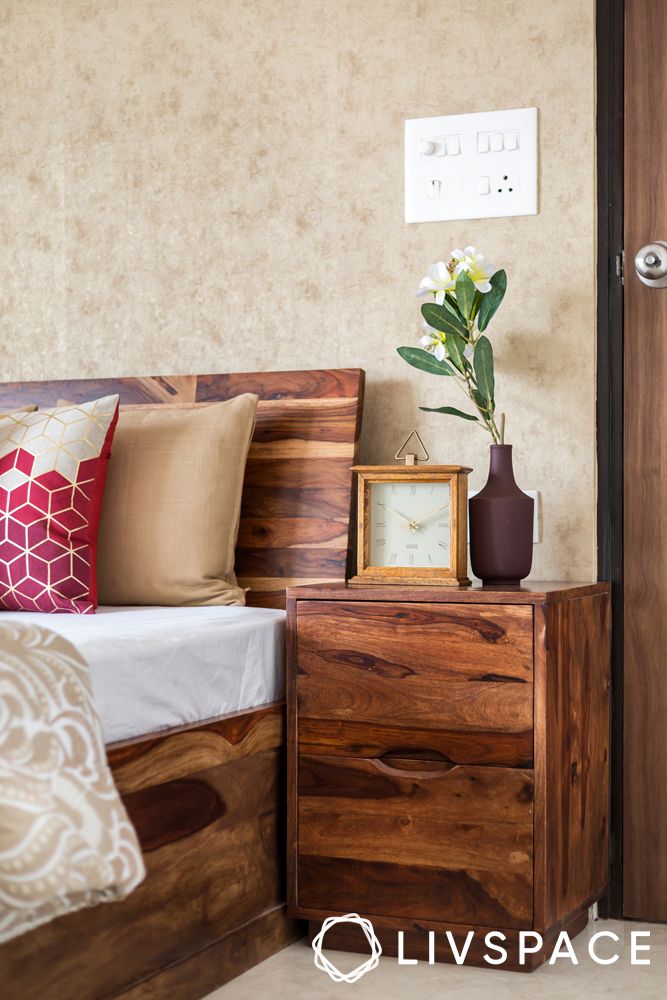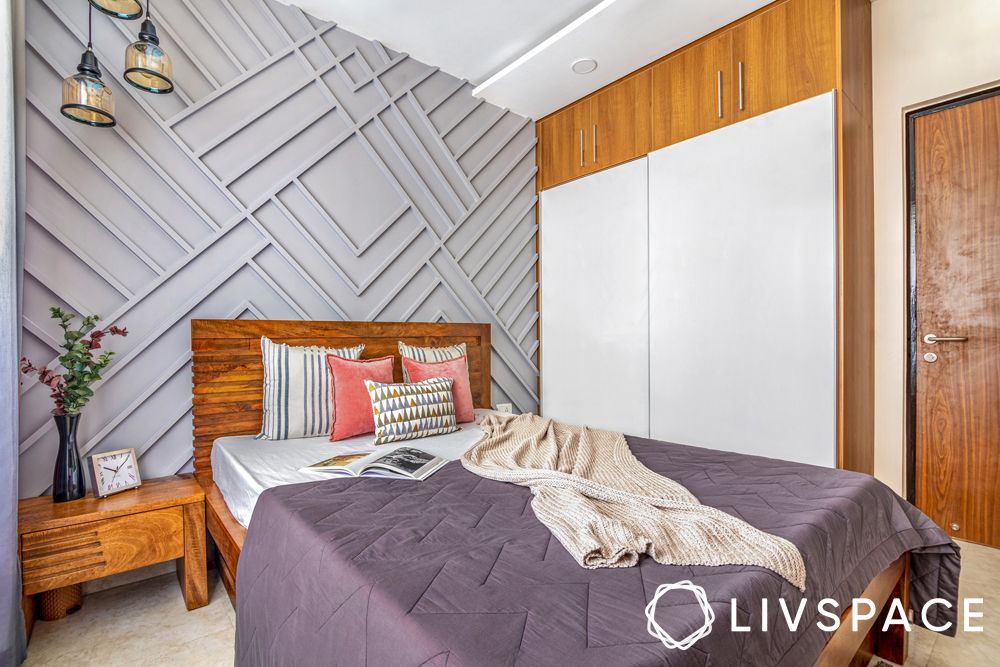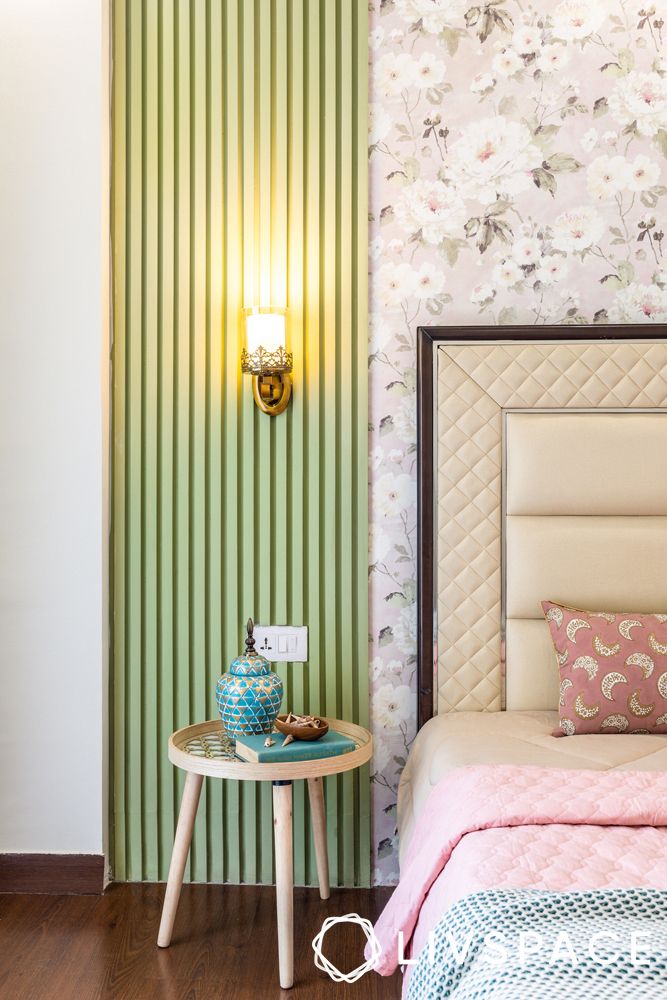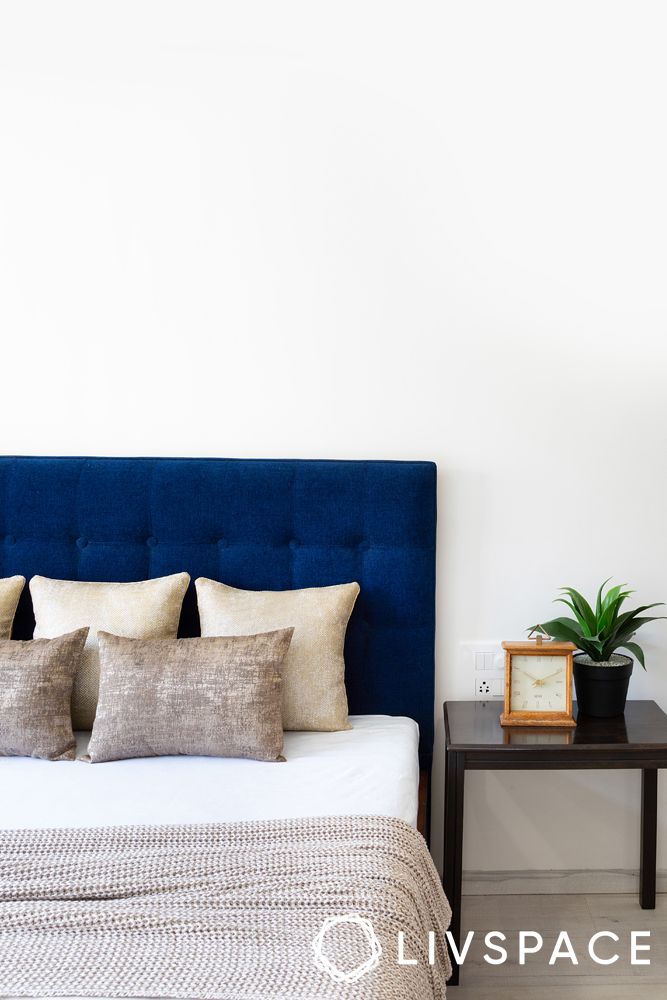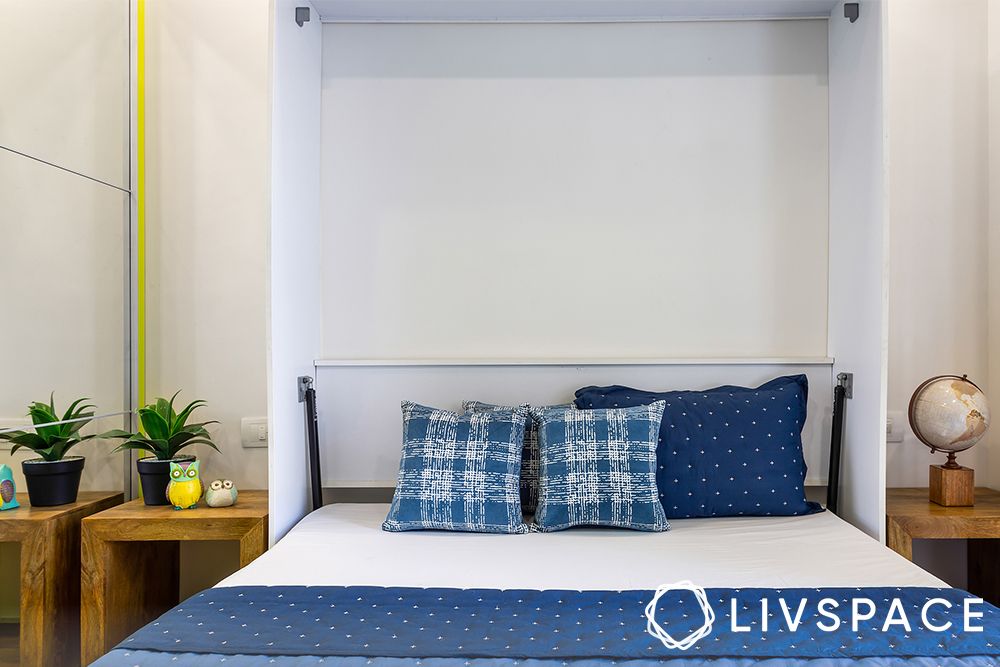 Laminated Bedside Tables
When it comes to laminates, the variety in colours and textures is unmatchable. And when laminated properly, they can last for longer periods. What's more is, they are economical. They also make for a second-best option after solid wood.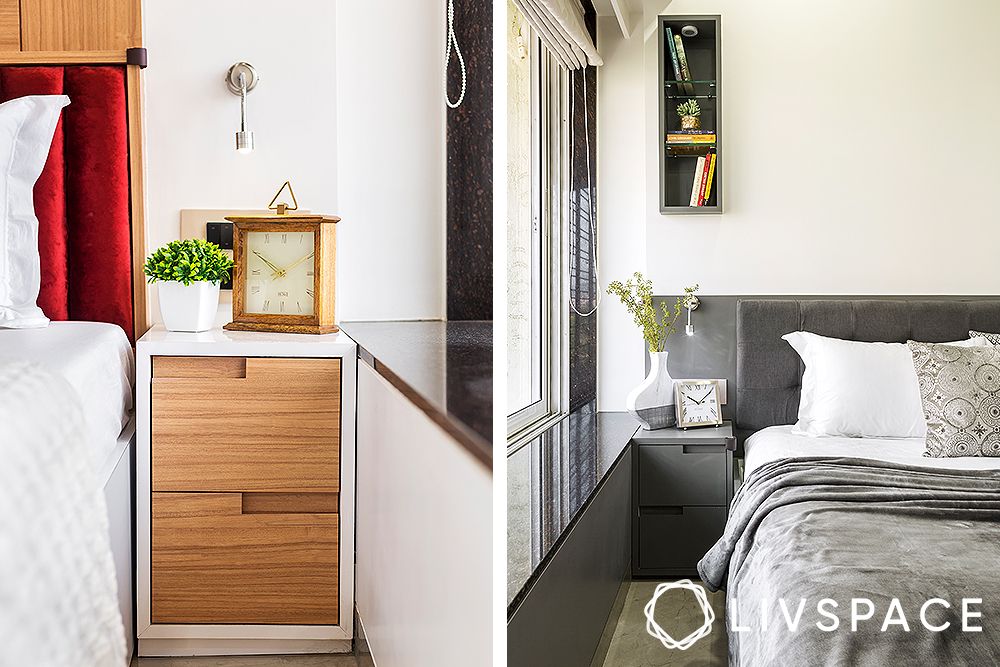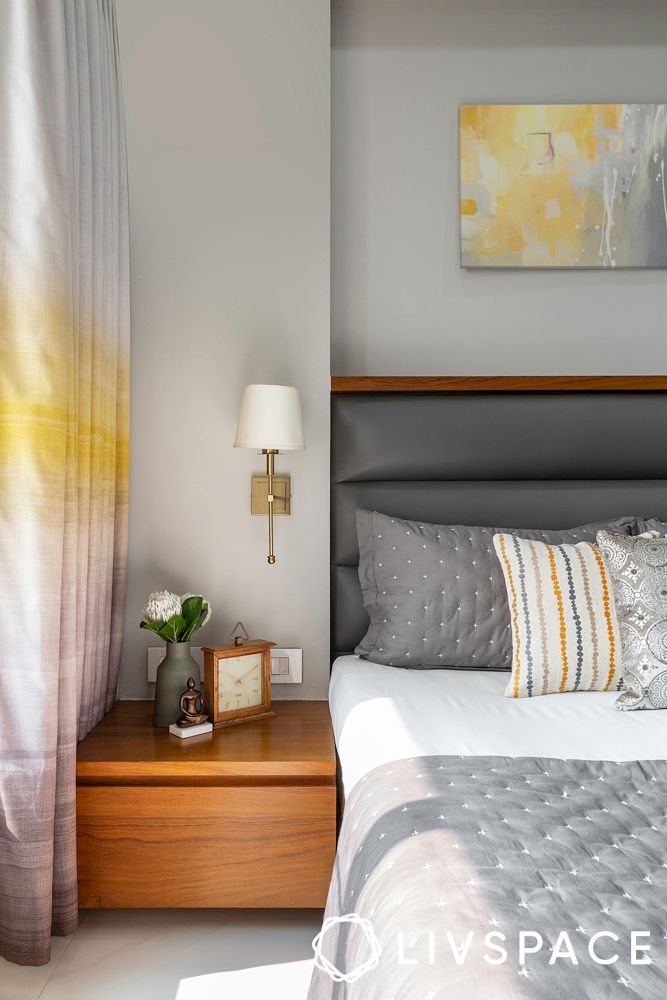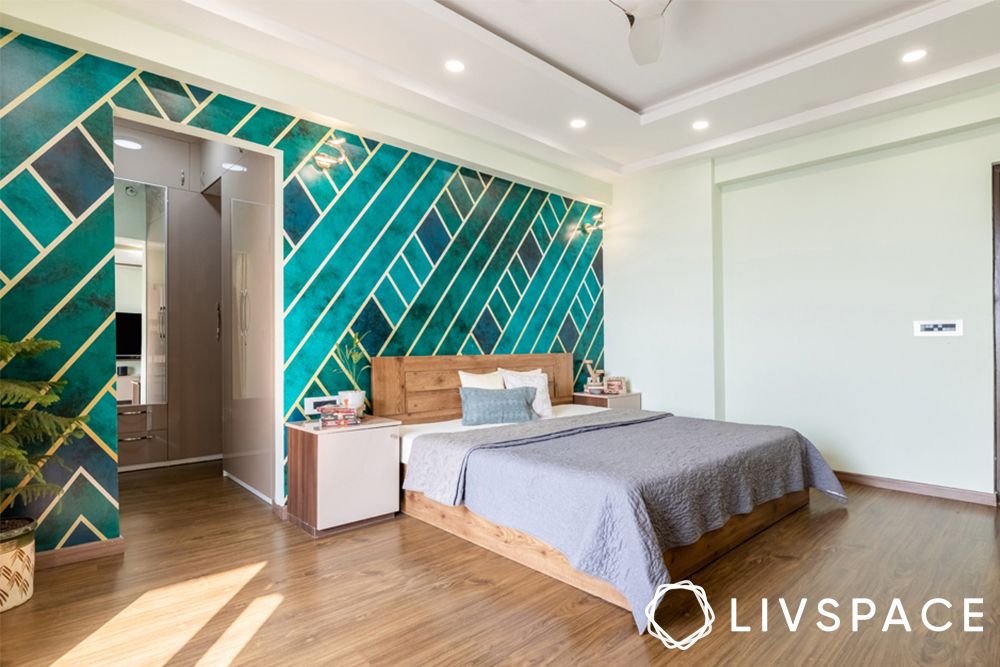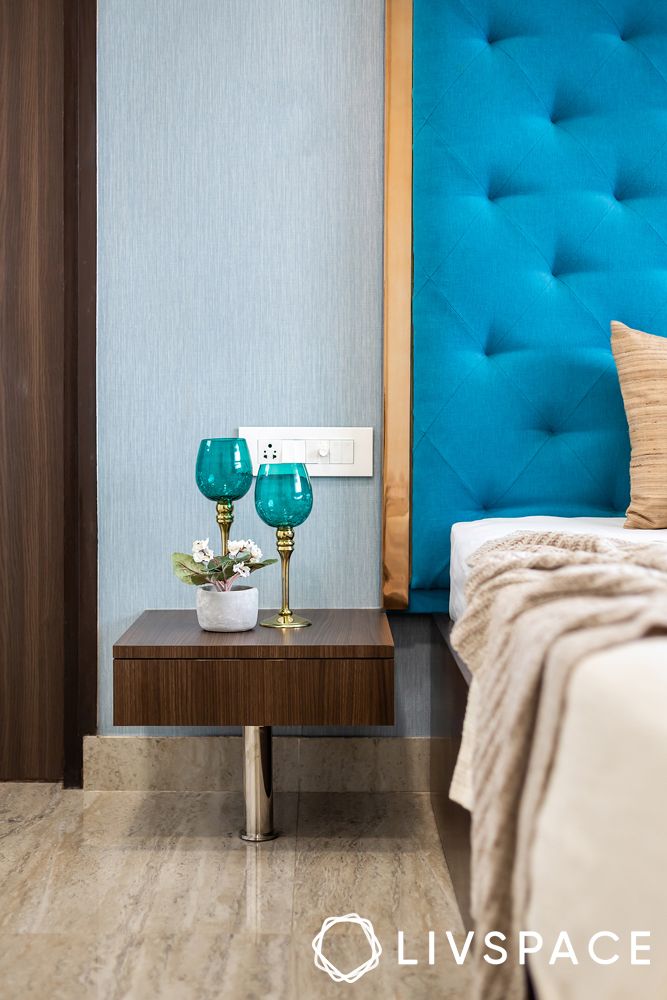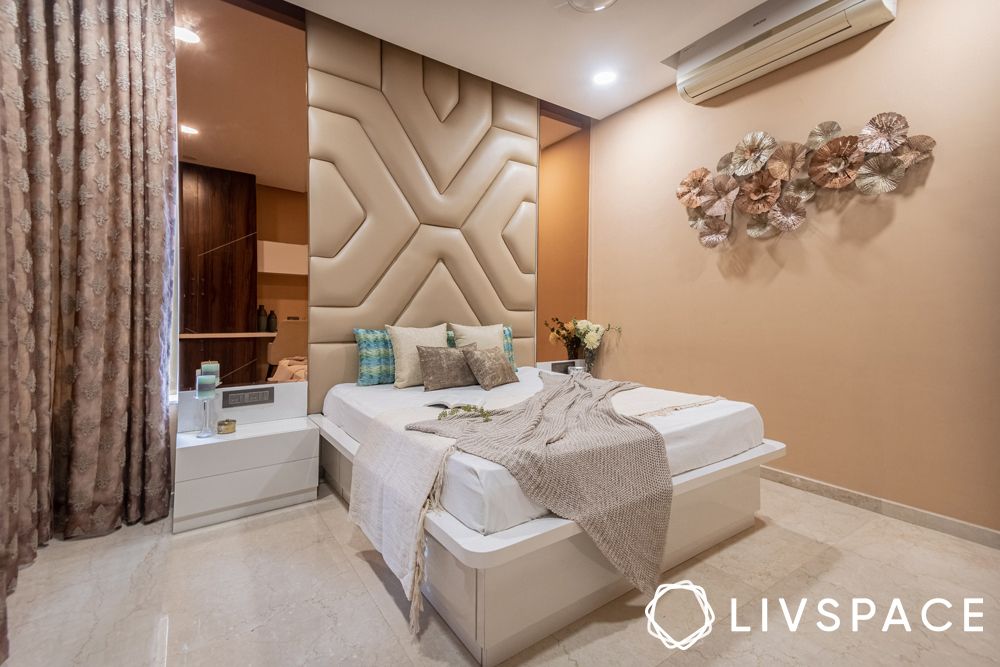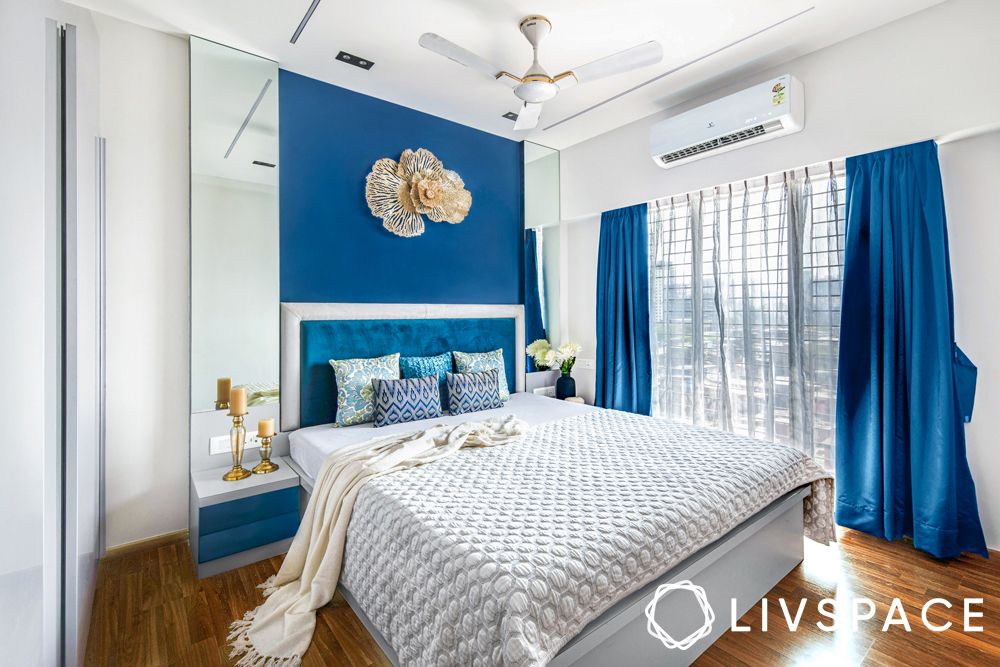 PU-Finish Side Table Designs for Bedroom
Does your bedroom sport a Scandinavian design? Then you are very likely to love these bedside tables. Sleek and seamless, these bedside tables are a wonder in themselves.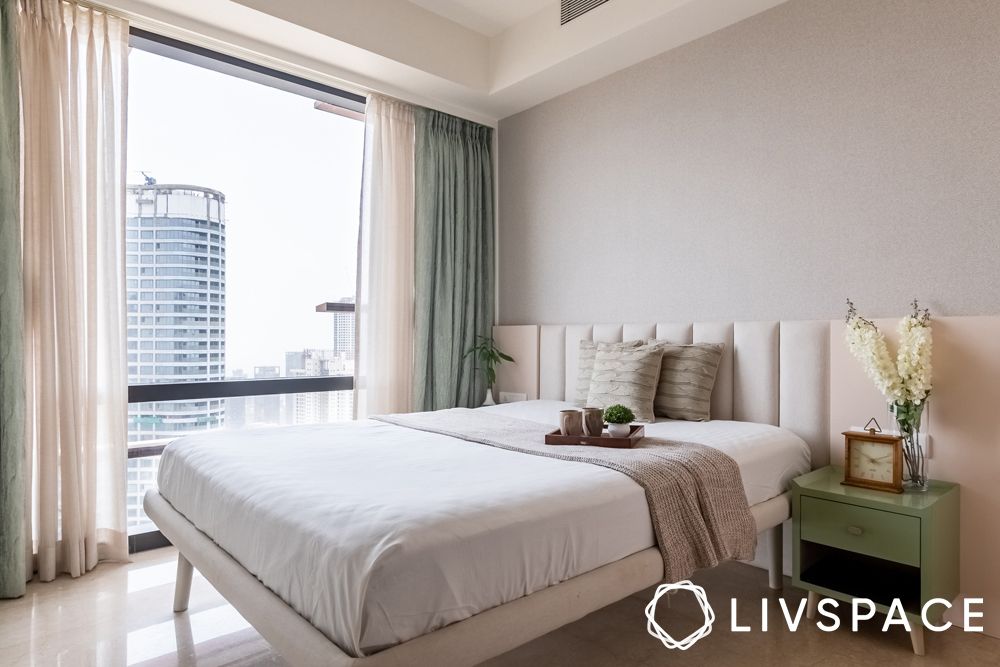 Metal Bedside Tables
Metal is not a common material used for furniture, especially in Indian households. But there are many perks of using metal furniture. Moreover, they manage to give your home an industrial, luxurious look at a more economical price than wood can.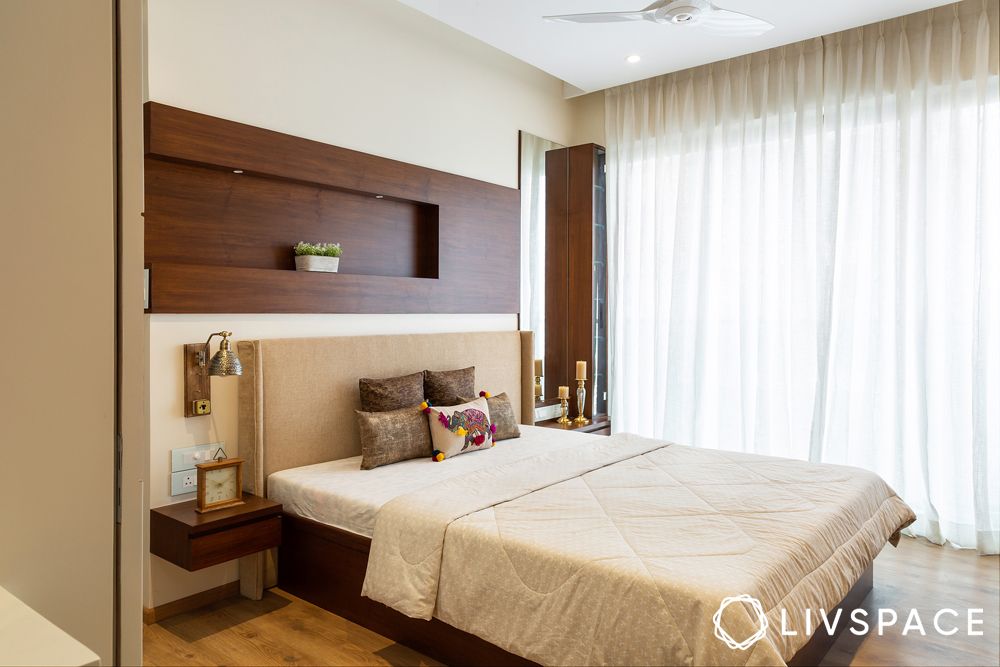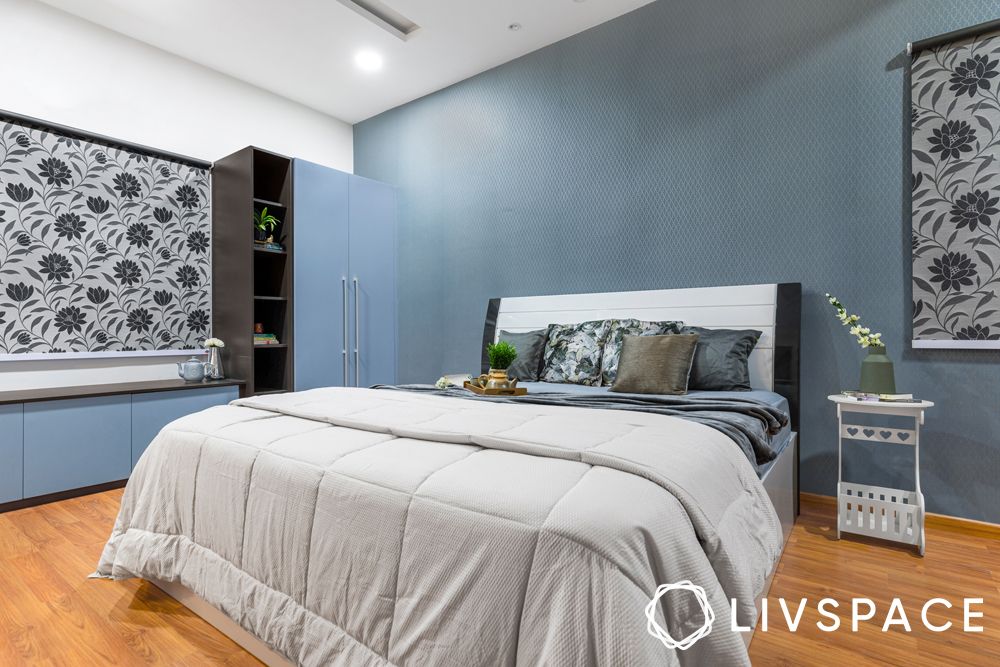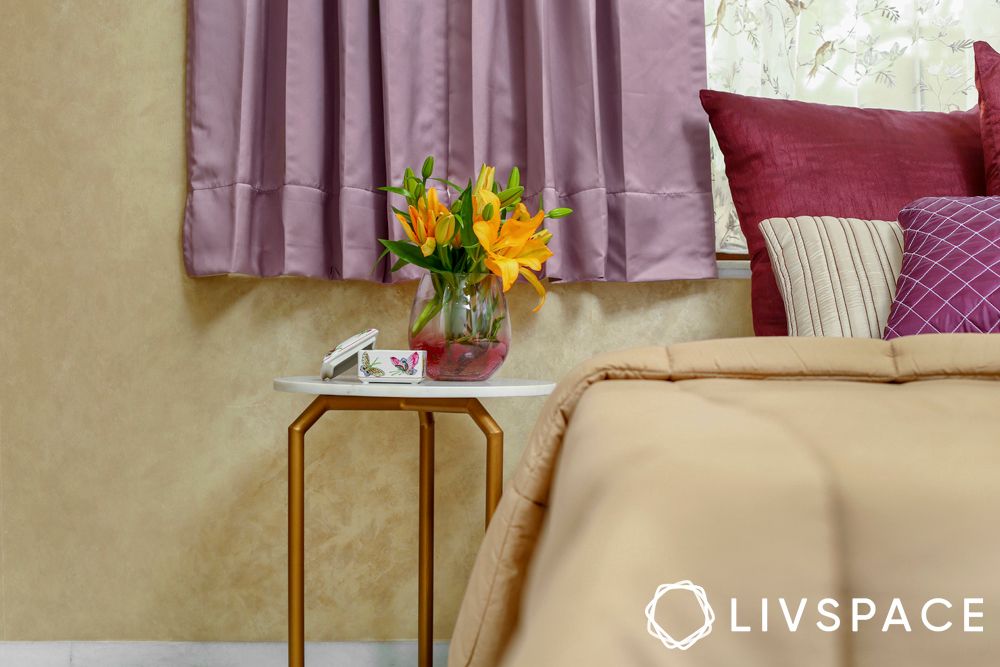 Glass Bedside Table Designs
Not much of a bedside table person or simply do not want to clutter up your bedside space? Then go for this low-key alternative, just perfect for you!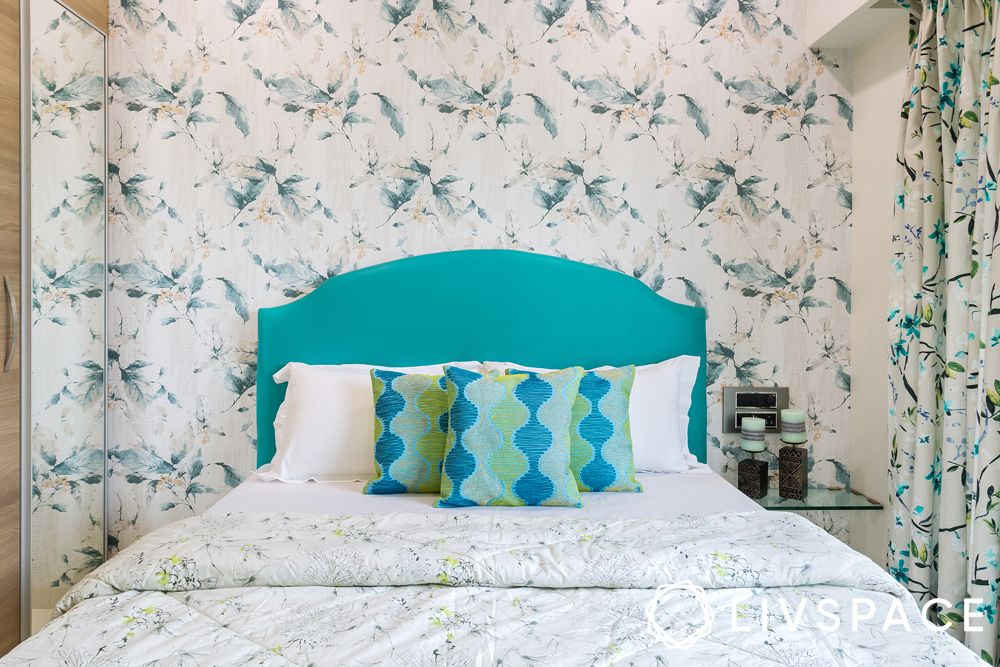 Wicker Bedside Tables
Wicker is the name of the game! You can easily add a little texture to your room with a dark wicker bedside table design. This one has a flat surface at the top to keep things sturdy.
Mirror-Finish Bedside Table Designs
Besides metal, there is one another material that implies luxury—mirror. This has been a part of luxurious interiors since ancient times and will continue to be so.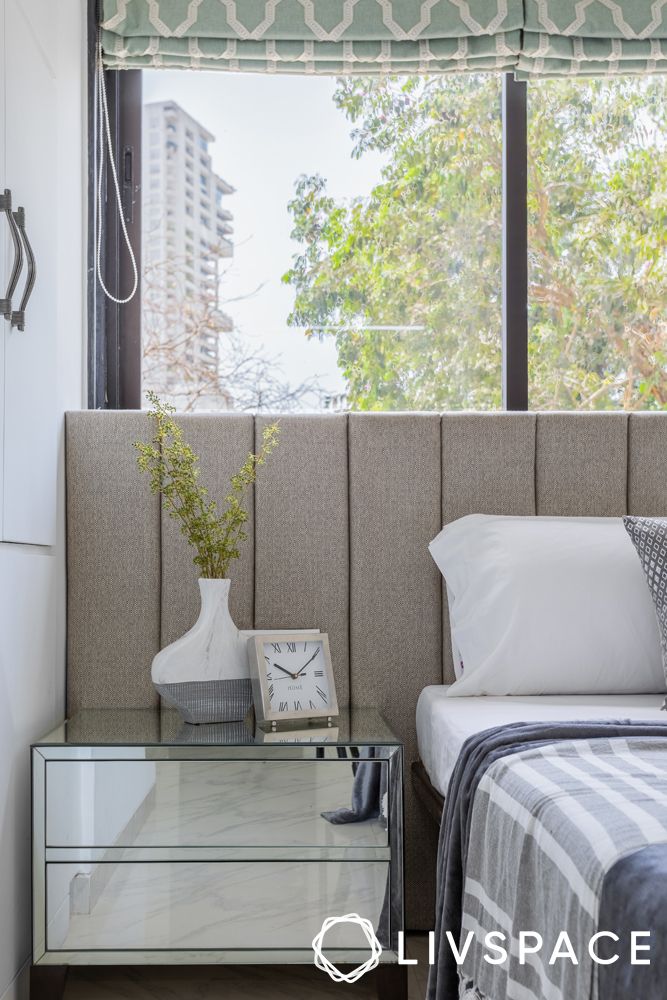 Upholstered Bedside Table Designs
Following the trends, if you have upholstered headboards on your beds, then this can be a straight-forward trendy option for you. Matching the upholstery on your bed and its side tables will bring the whole set-up together and complete the look of your room.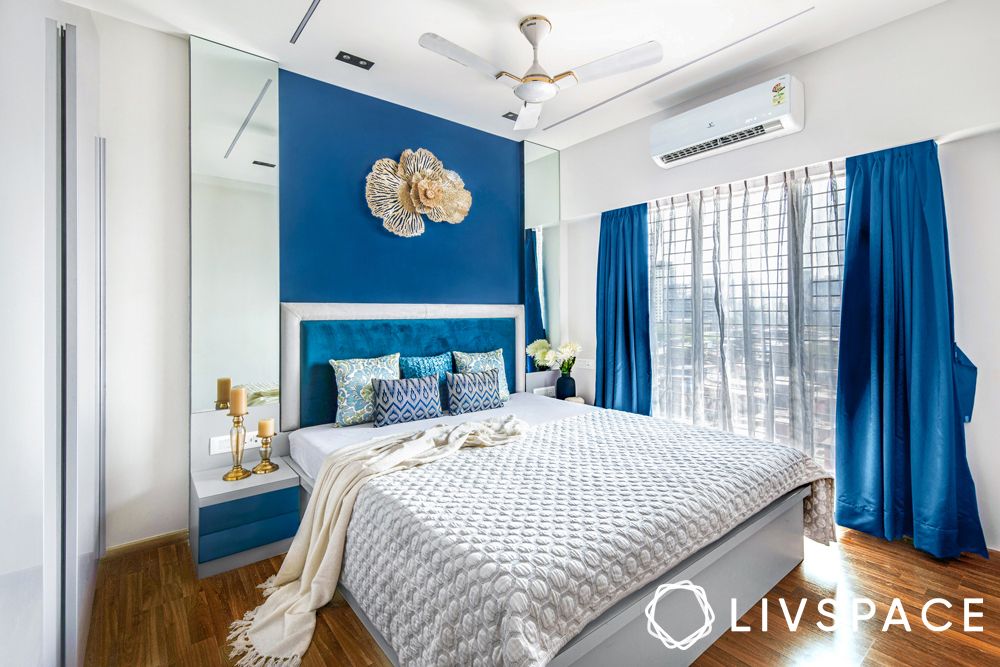 Matching your headboard to its bedside tables can do wonders in the aesthetic area of your decor. Look at this stunning design from a Livspace home!
Bedside Table Designs by Their Storage Capacity
It helps to know your requirements when it comes to bedside essentials. If you keep a lot of things around your bed, then choosing a hefty bedside table design will work in your favour.
Minimum Storage Capacity Tables
It isn't very common to keep night lamps on the bedside tables in India. What we do love to keep are pictures and photo frames of our loved ones. And for such minimal storage purposes, we have these minimal bedside table designs for you.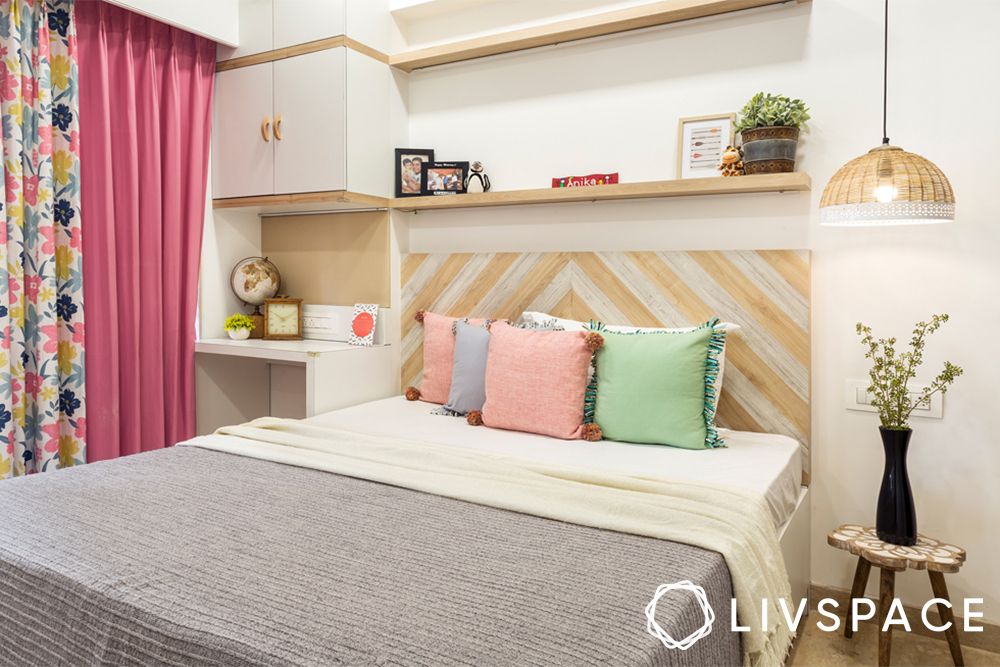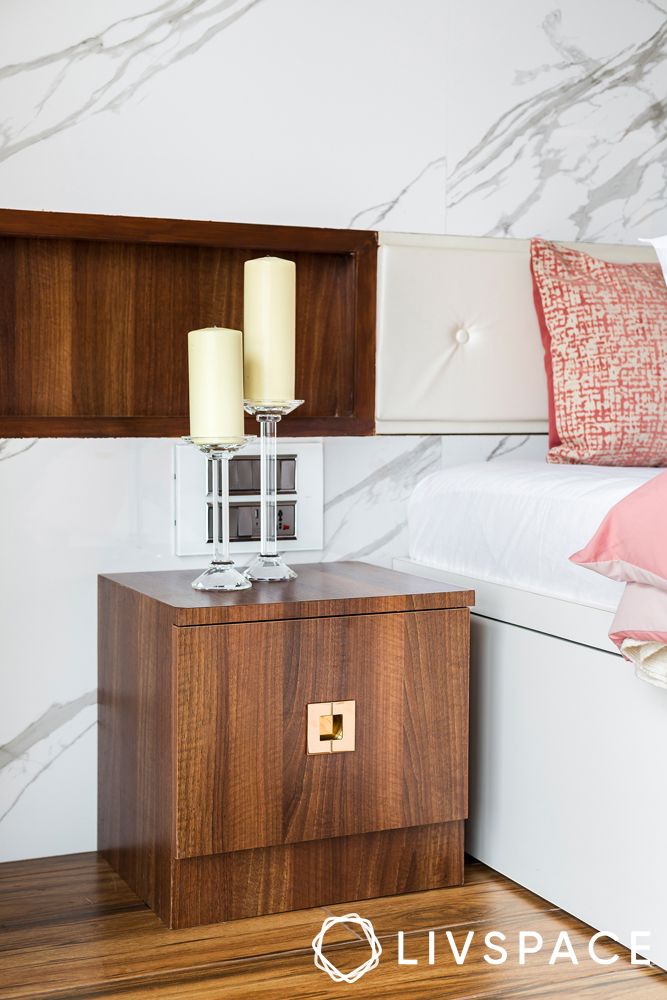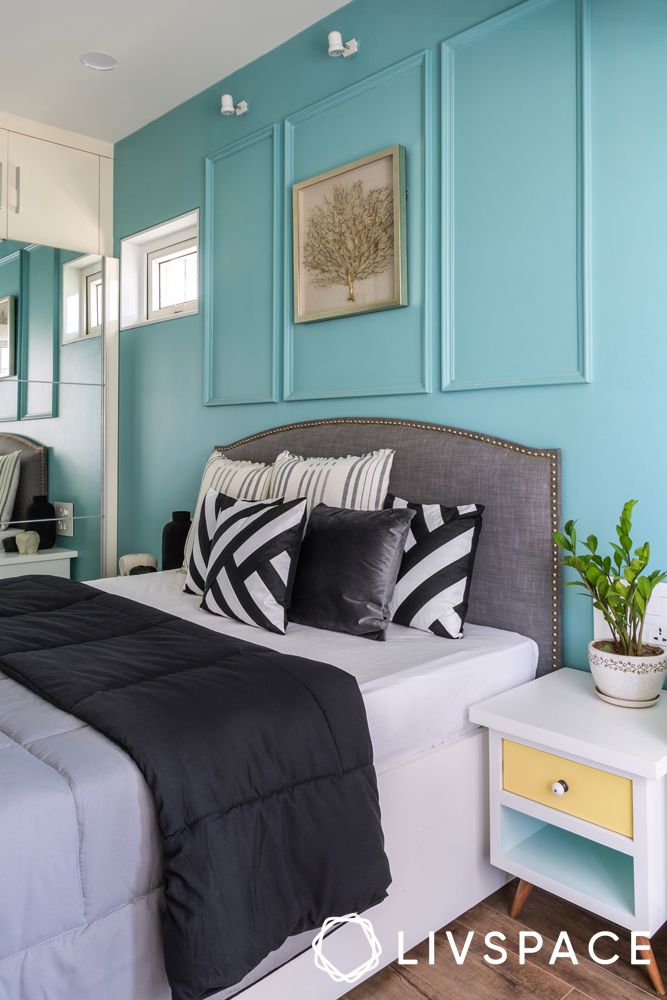 Customisable Storage Capacity Tables
Since we are aware of our needs when it comes to storage and usage, we must use that knowledge to get a distinct kind of bedside table that's compatible with our needs. This sometimes also helps in cost-cutting in addition to giving you a piece of decor that's unique and tailor-made for you.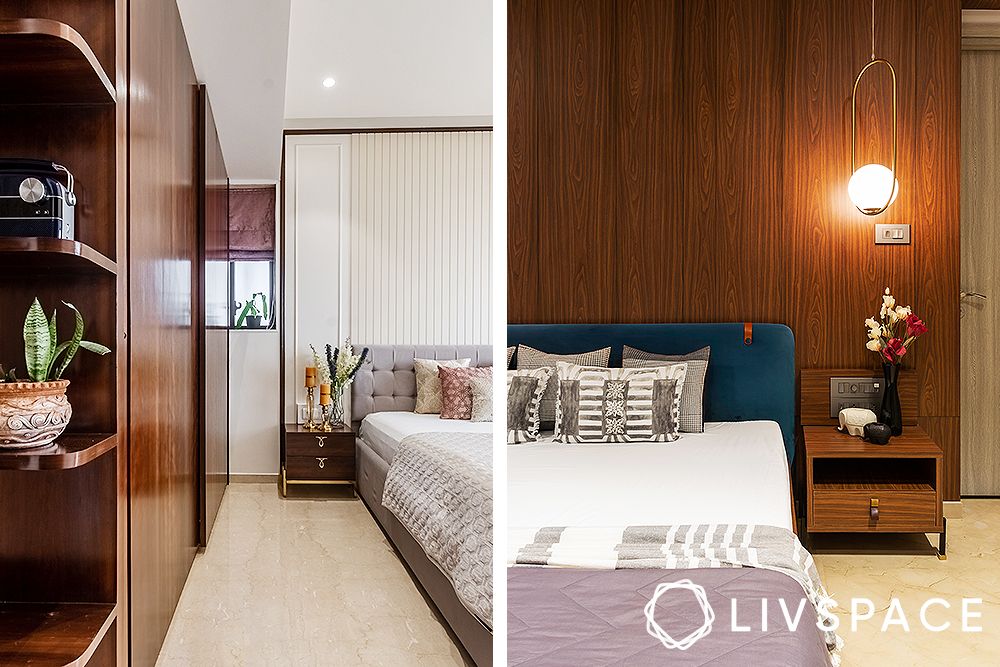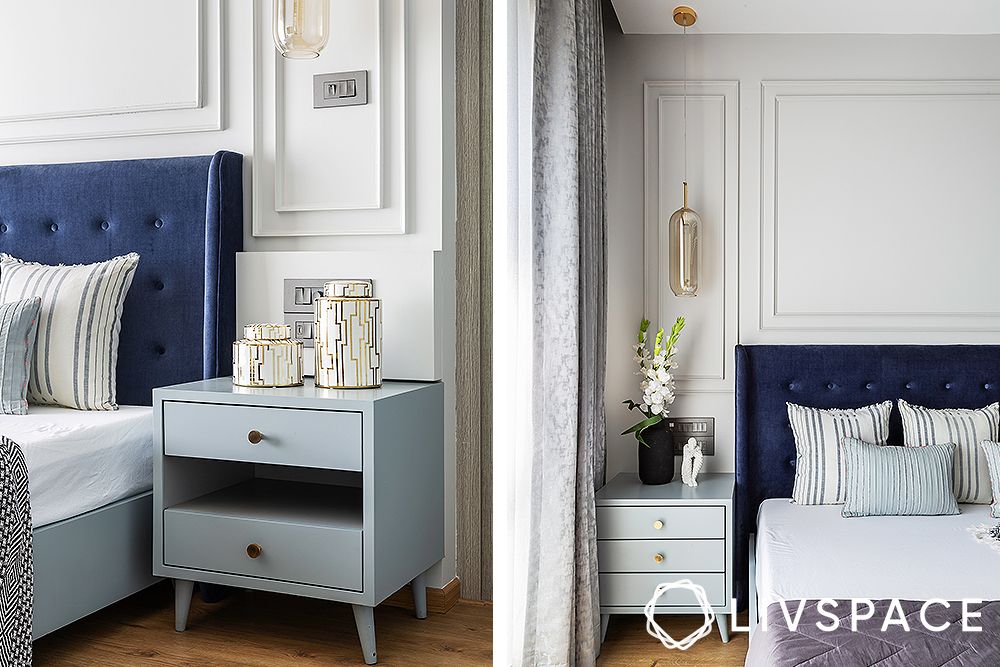 Maximum Storage Capacity Tables
This can be a little difficult to follow in compact homes, but if you are willing to build vertical, then these ideas can also be transferable.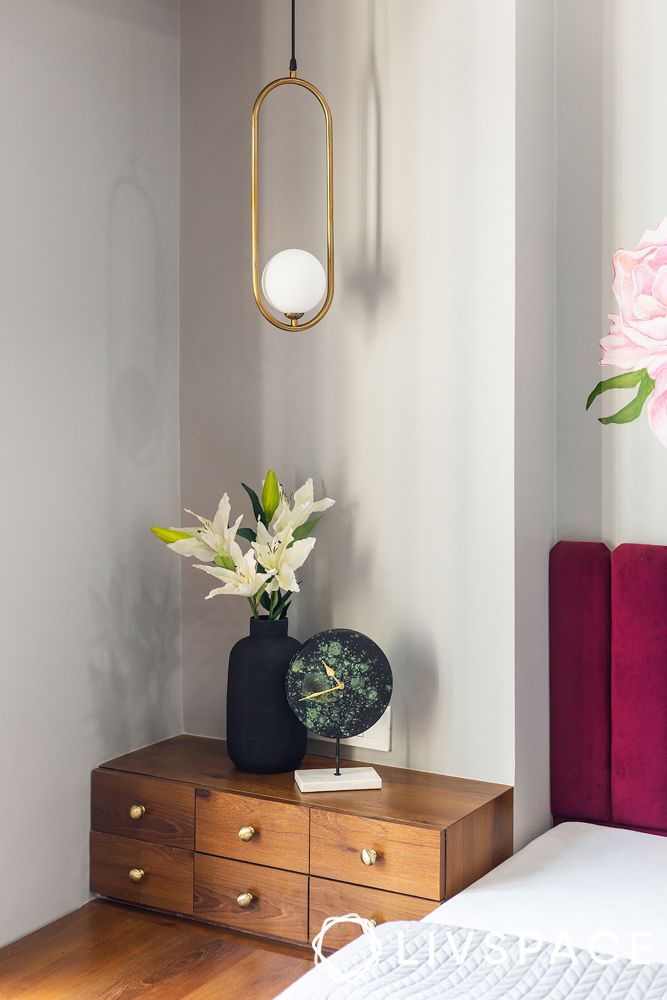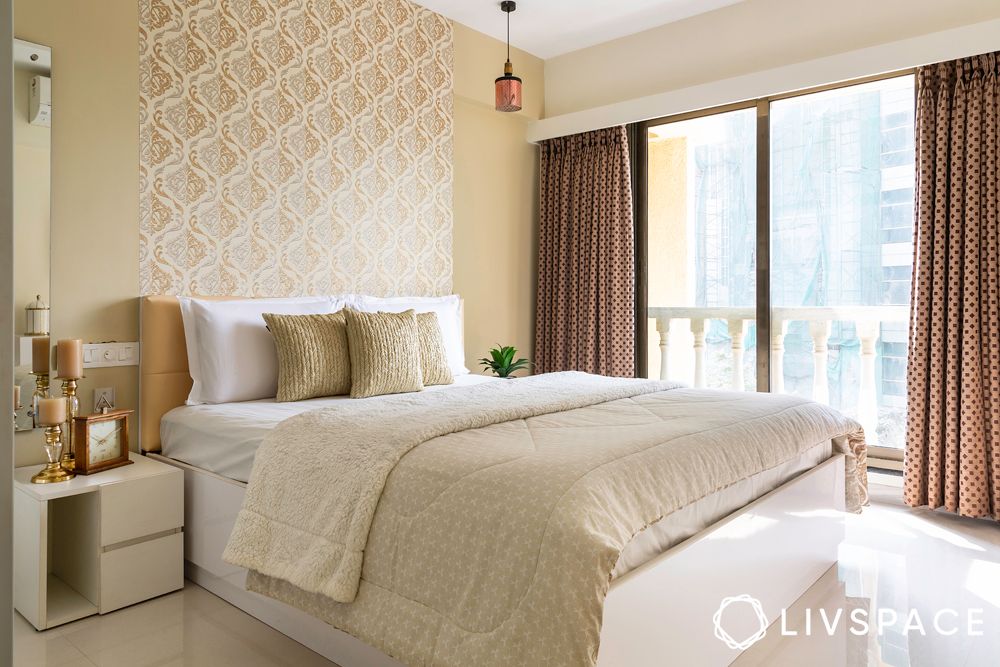 These are some of our best bedside tables because they have yielded great results. We have also made this list dynamic so you can find ideas for every size, layout, style and theme of bedrooms out there. If you loved our bedside table suggestions, take a look at these beautiful dressing tables for your home as well.
Check out the bedside tables in this home:
How Can Livspace Help You?
We hope you found our ideas useful! If you want beautiful interiors for your home, then look no further. Book an online consultation with Livspace today.
Send in your comments and suggestions to editor@livspace.com