From wall art and mirrors to artefacts and rugs, the cost of creating your dream home can quickly add up, so it's important to have an understanding of the costs involved. That's where the Livspace store can come to your rescue. To help you stay within your budget, we've put together a list of affordable home decor pieces from our store that can easily suit any home.
We've also covered a list of ideas you can use to decorate your home on a budget. So, if you're ready for a fresh and low-budget home design, keep reading!
How Much Do Different Types of Home Decor Pieces Cost?
Ready to plan your home decor budget? Let's take a look at the various home decor items you can use, as well as how much they can typically cost you.
| | |
| --- | --- |
| Item | Price Range* |
| Prints and Canvas Wall Art | ₹2,300 to ₹19,000 |
| Metal Wall Art | ₹3,500 to ₹11,800 |
| Faux Indoor Plants | ₹500 to ₹2,200 |
| Shelves and Display Ledges | ₹2,500 to ₹9,400 |
| Cushion Covers | ₹600 to ₹2,400 |
| Table Linen | ₹1,000 to ₹3,000 |
| Rugs | ₹6,000 to ₹12,000 |
| Mirrors | ₹6,000 to ₹10,000 |
| Artefacts | ₹2,000 to ₹3,000 |
*Please note that the product prices above are inclusive of taxes. All prices are estimated ranges and can vary depending on promotional offers, availability, and the materials used. Additionally, shipping charges are not included in these price ranges.
Here Are Some Simple Tips to Decorate Your Home on a Budget
If you're wondering how to decorate your home without breaking the bank, we have some easy tips for you. Let's take a look at some creative ways to use decor pieces to stay under budget.
#1: Decorate Your Walls With Custom Art Prints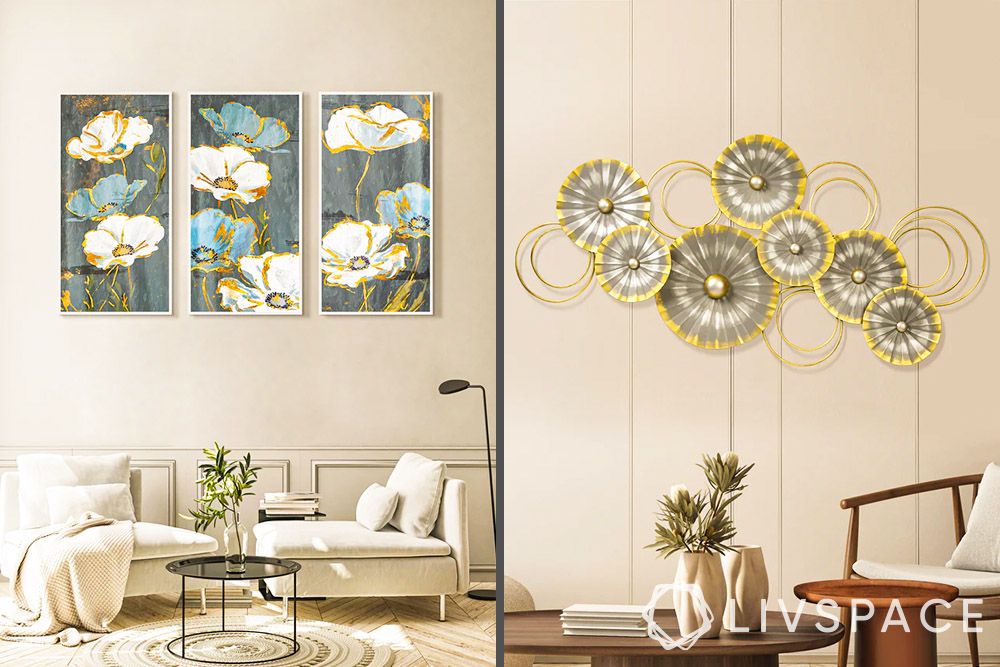 If you think about it, art and design go hand in hand. Based on the type of art you choose, it can also be a great option for a low-budget home design. Be it fun posters or detailed portraits, there's a wide variety of options to choose from for your walls.
In fact, if prints and canvas aren't your cup of tea, you can even explore designs in metal! Metal wall art can be a great accessory if you want to curate a contemporary or industrial theme for your interiors.
Also Read: Bring an Empty Wall to Life: 10+ Easy DIY Ideas
#2: Bring Nature Indoors With Potted Plants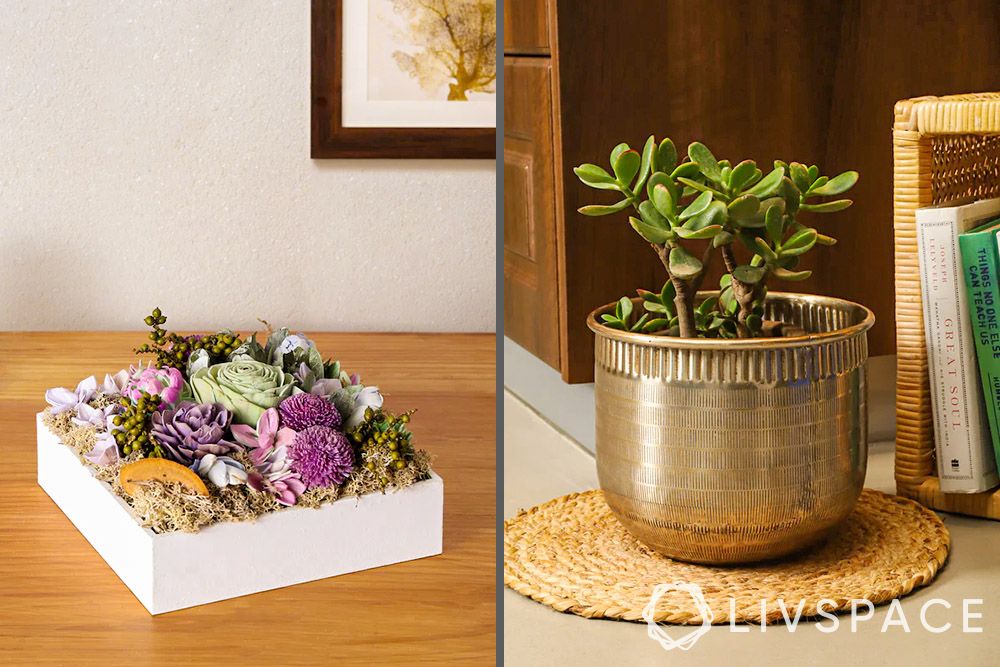 If budget constraints are wearing you down, there's no better option than a set of potted plants. Indoor plants such as fiddle leaf figs and cacti are ideal because they're low maintenance and easy to style.
You can also use faux grass stems or bouquets for more budget-friendly interior design options. Decorate your botanicals in rustic planters or unique ceramics to complete the look.
#3: Leverage Shelves As a Multifunctional Display Unit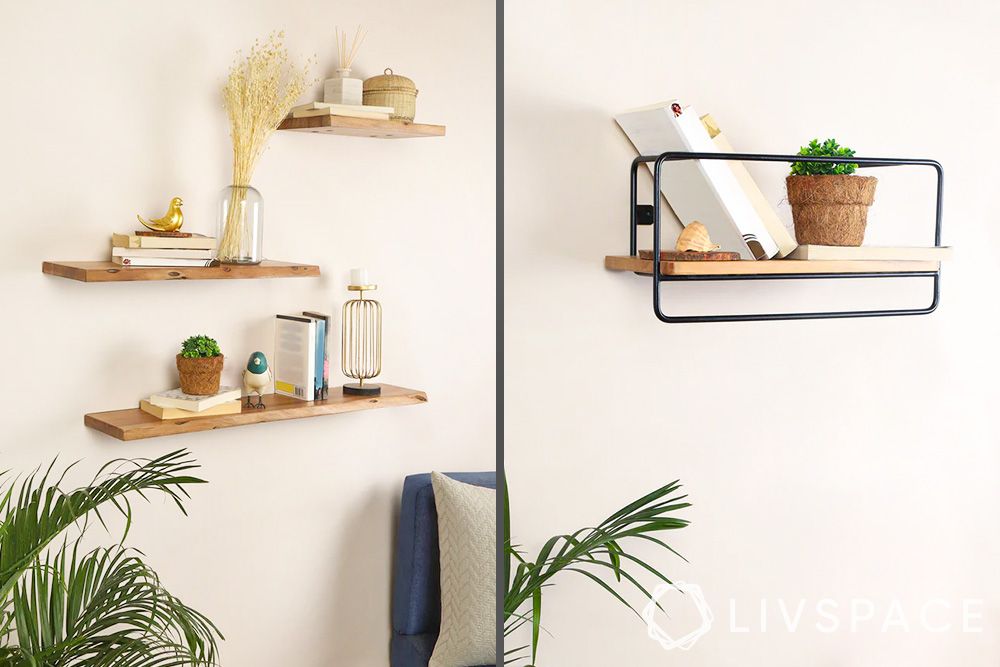 Depending on how you choose to use them, shelves can be a multifaceted and affordable home decor element. You can store books, plants, and even ornaments on them. Moreover, they're also a space-saving alternative to bulky bookcases, especially if you live in a small home.
#4: Spice Up Plain Furniture With Decorative Pillows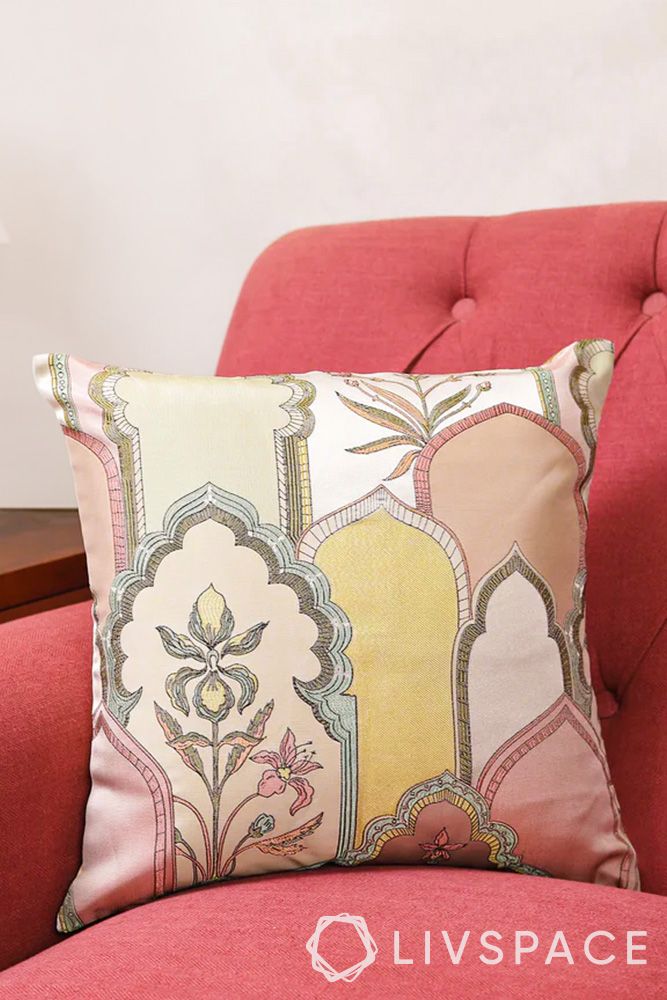 There are two ways to spruce up an old sofa set without blowing up your budget—with slipcovers or with interesting throws and cushion covers. Slipcovers are available in a variety of prints and patterns and just need to be draped over your existing sofa set.
The same way, embroidered or printed cushion covers can achieve the same refreshing look, while still being a low-budget home design alternative. Try to create a contrast with your sofa set and pillow covers by choosing colours that complement each other but still add a vibrant pop to the space.
#5: Try Something Different With Your Dining Room Decor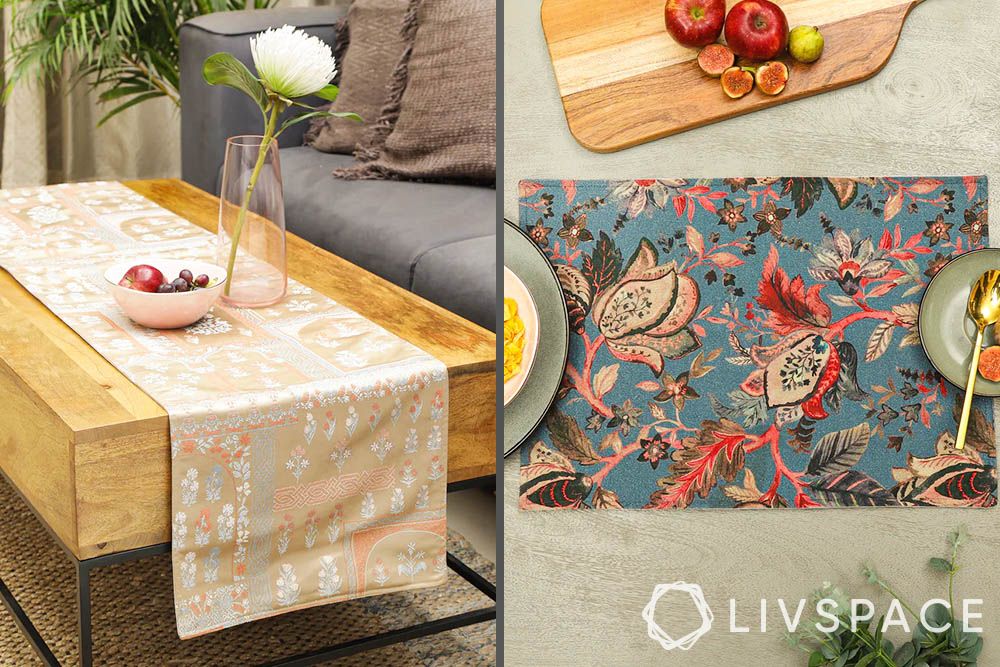 More often than not, keeping it simple is the way to ace an affordable interior design plan. A creative way to do this is by mixing and matching your dining room chairs. In other words, consider reupholstering a couple of your chairs in a different colour or pattern to make them stand out.
If refurbishing your dining room furniture isn't an option, stick to just decorating your table with stylised ceramics and cutlery. Alternatively, you can also play around with table runners and place mats in different prints and colours to spice up your low-budget home design.
#6: Refresh Your Floors With Textured or Statement Rugs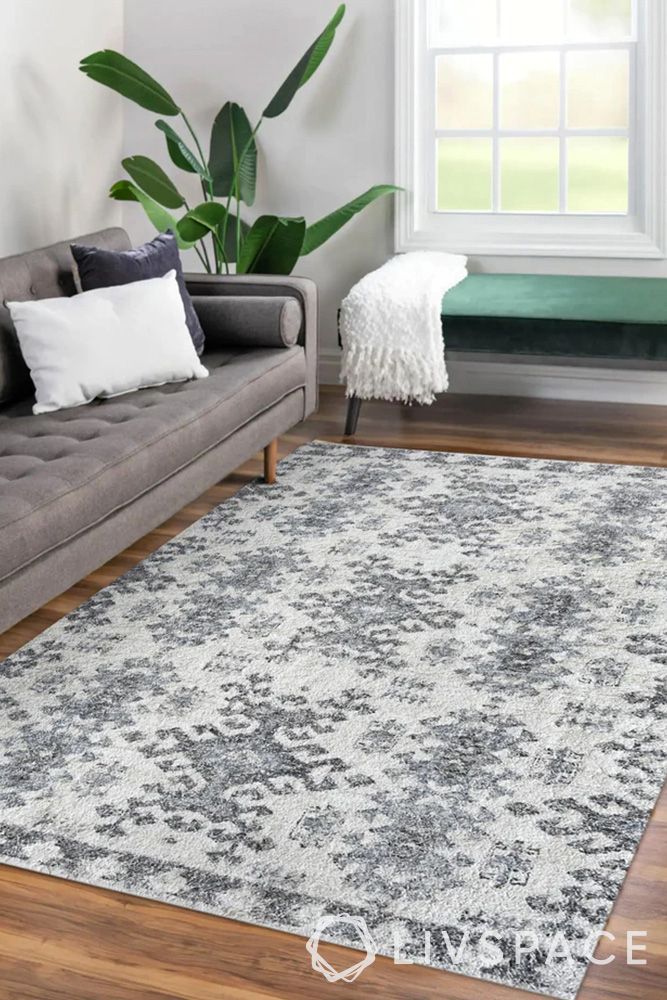 Rugs have the potential to effortlessly transform a space without a single structural change. What's more, it's a great tool for layering different elements in a low-budget home design.
You can do this with printed or patterned rugs that either complement or contrast the room's design, for a layered look. If there's already too much going on, a neutral carpet or jute rug will work just as well.
#7: Add Character to Your Tabletops With Unique Vases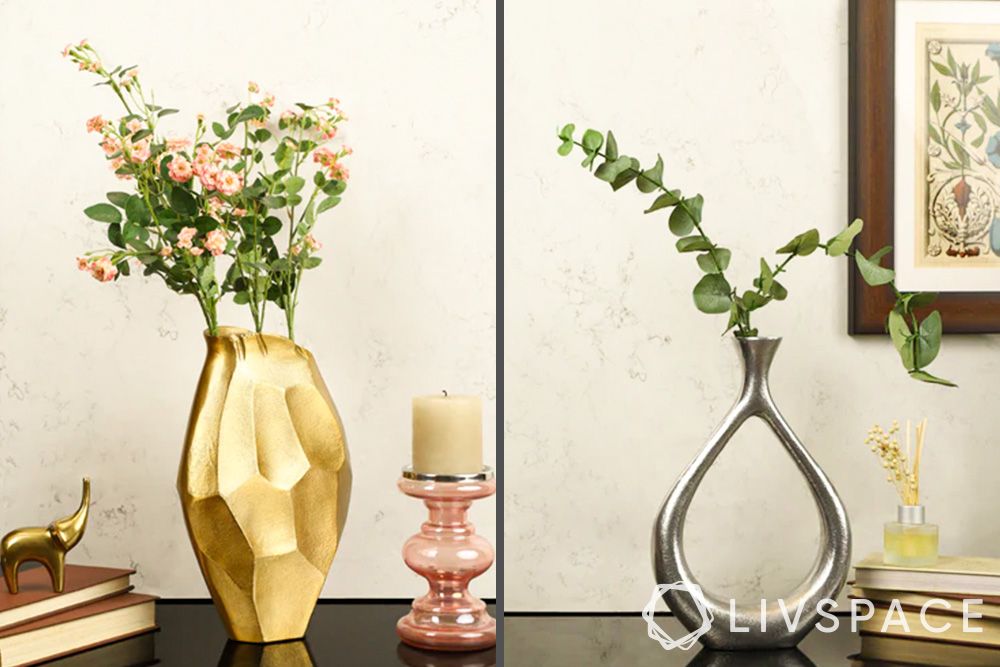 What's the first thing that comes to mind when you think about table decor? In most cases, you might immediately conjure up images of a vase. This is because vases have been an age-old decor staple and are only getting better with time. Moreover, they're a constant when it comes to affordable interior design.
From accent pieces to contemporary designs, there's a vase to suit every interior design style. Prop them on a table or add them to your shelves for a unique look.
#8: Create Fun Illusions With Quirky Mirror Designs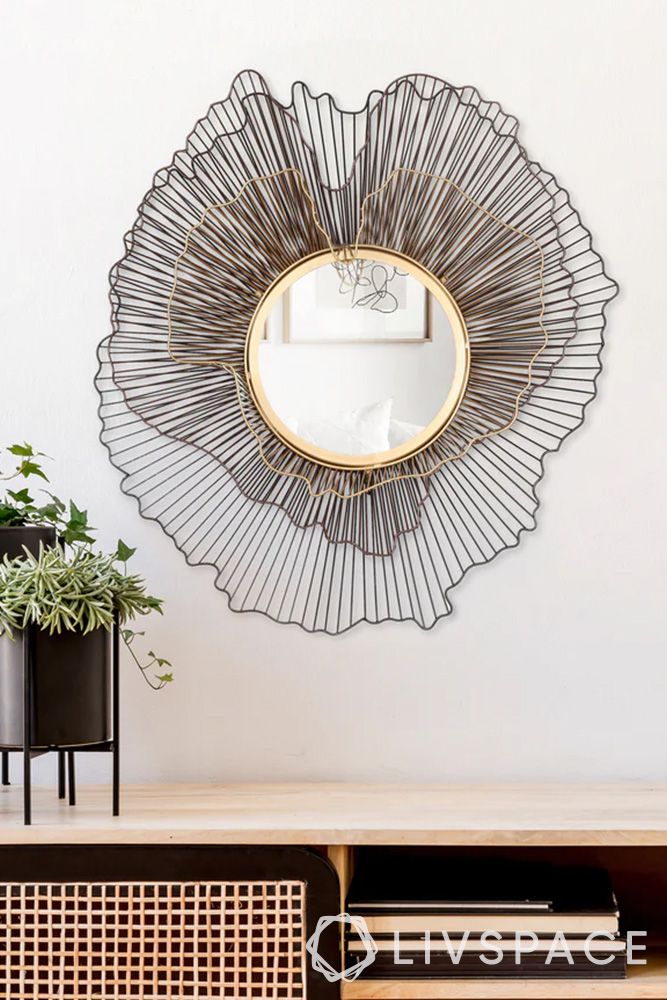 Besides making a chic style statement, mirrors can also be used to play around with the concept of space. They help reflect light to make the space look bigger than it is, making it a handy addition to smaller homes.
Since mirrors are typically available at different price points, there's sure to be a handful of options to suit a low-budget home design.
#9: Put Some Eye-Catching Artefacts on Display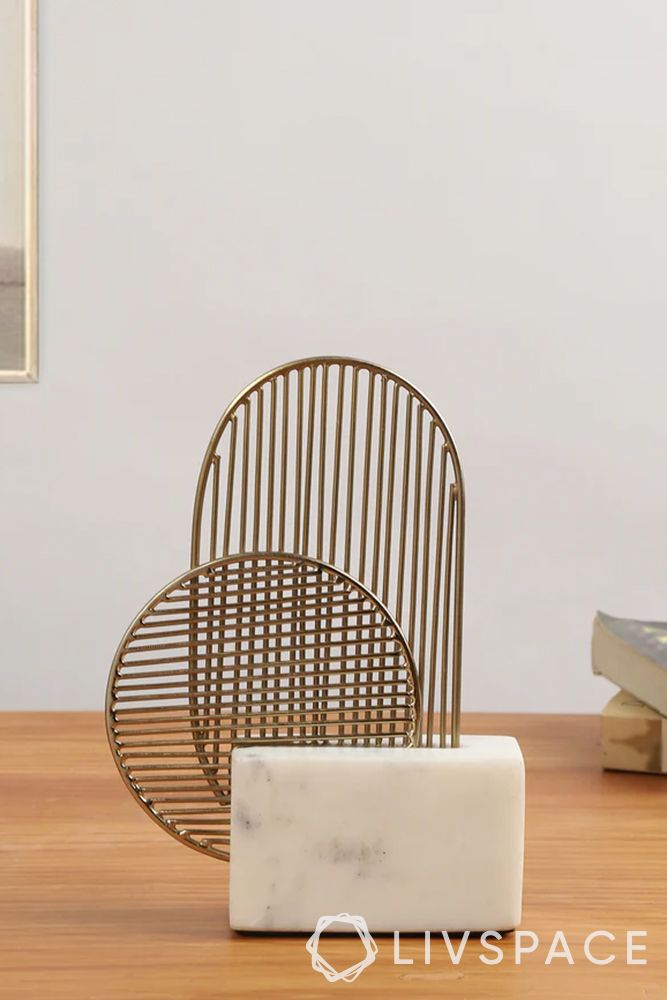 Curios and vintage knick-knacks continue to hold a special place in the art of decor. Based on the artefact you choose, you can add much character to the space with just one decor item.
Besides browsing through thrift stores and antique shops, you can also find some of these pieces at the Livspace store.
#10: Here's a Bonus Idea—Get Creative and Paint a Wall!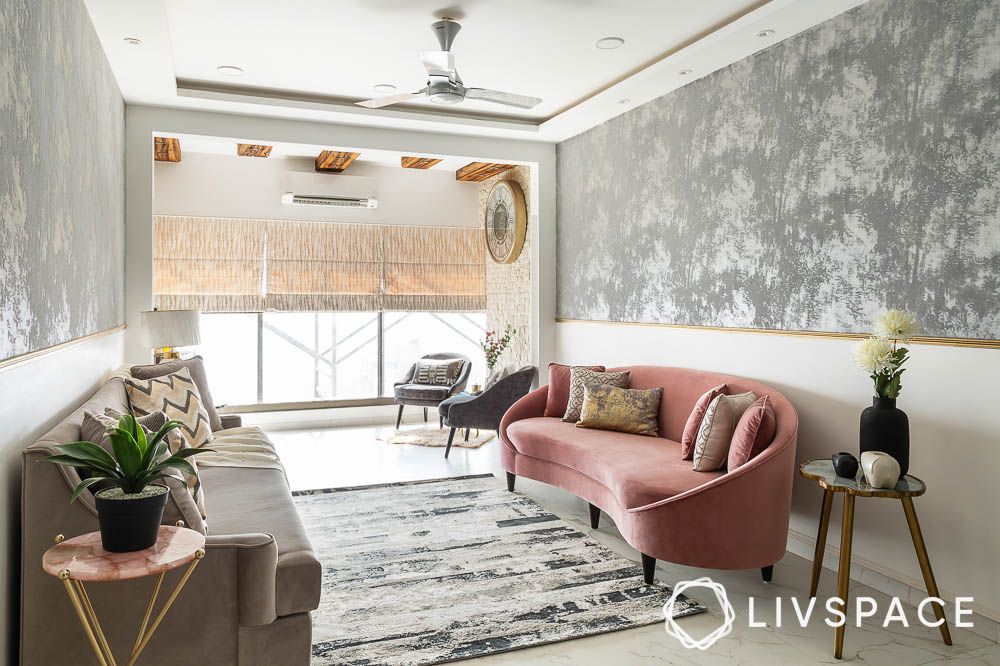 There's nothing like a fresh coat of paint to add some interest to your walls. Whether you decide to paint the whole space or just a single wall, it can prove to be a great way to decorate a low-budget home design. This is because paint is relatively cheaper than wallpaper.
The painting process includes two coats of putty, one coat of primer, and two coats of paint. However, please note that the labour charges for painting can vary from city to city.
How Can Livspace Help You?
We can help you find curated furniture and stunning decor from the best brands
You can shop for the best quality home decor from the convenience of your home
Our expert design associates can assist you with everything you need, from design ideas and product recommendations to delivery details and service questions
Ready to decorate your home? Check out the Livspace store for more details. If you also need help designing your home, book an online consultation with Livspace today to get started.
Disclaimer: All contents of the story are specific to the time of publication. Mentions of costs, budget, materials, finishes, and products from the Livspace catalogue can vary with reference to current rates. Additionally, please note that the products showcased in the images within the story are subject to availability.
---
Popular Services:
Modular Kitchen Designs | Wardrobe Designs | Bathroom Designs | Master Bedroom Designs | Living Room Designs | Pooja Room Designs | TV Unit Designs | False Ceiling Designs | Kids Bedroom Designs | Balcony Designs | Dining Room Designs | Foyer Designs | Guest Bedroom Designs | Window Designs | Flooring Designs | Wall Decor Designs | Wall Paint Designs | Home Wallpaper Designs | Tile Designs | Kitchen Cabinet | Home Office & Study Room | Home Interior Designs
Popular Locations:
Interior Designer Bangalore | Interior Designer Mumbai | Interior Designer Pune | Interior Designer Chennai | Interior Designer Hyderabad | Interior Designer Gurgaon | Interior Designer Delhi | Interior Designer Ahmedabad | Interior Designer Vadodara | Interior Designer Kolkata | Interior Designer Thane | Interior Designer Navi Mumbai | Interior Designer Coimbatore | Interior Designer Lucknow | Interior Designer Patna | Interior Designer Nagpur | Interior Designer Chandigarh
Popular Stories:
2 BHK Interior Design | 3 BHK Interior Design | 1 BHK Interior Design | Interior Design Cost In India | Painting Cost Per Square Foot | False Ceiling Cost | Bathroom Renovation | Sofa Design Ideas | POP Design for Hall | House Paint Colours | Main Door Design | Granite Countertops | Vastu For Home | Cool Wallpapers | Types of Kitchen Layout | Types of Flooring | What Is Plywood | Pooja Room Vastu | South Facing House Vastu | Which Plants Are Good for Home Vastu | Vastu Tips for Home