Don't judge a book by its cover, but you will judge a home by its foyer. A foyer or entryway is a window to your space that not only gives a sneak peek into the interiors but also reflects the overall character of your home at it's best.
Paying close attention to details can transform your foyer design significantly. From flooring to working the corners, the passage leading to your living room or dining space has immense potential in terms of both design and functionality. It can also be the perfect opportunity to showcase decor elements like a chandelier or an accent piece such as a console table, a painting, sculpture, or a relic as a welcome sign for your visitors. It can also easily incorporate storage or accommodate additional seating.
If you have an entryway, it's an opportunity waiting to be explored. And you must do it right. If you need ideas, here they are straight from Livspace Homes.
#1: An Auspicious Entry with Ganesha for Vastu-friendly Homes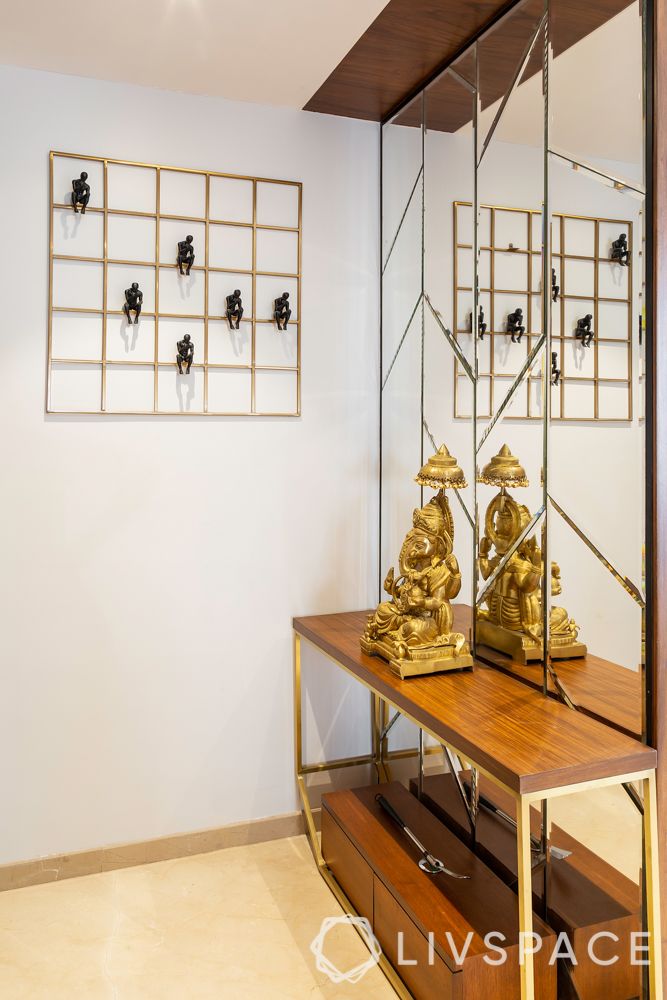 Ganesha is known as vighna vinashak or the destroyer of obstacles. Culturally, Ganesha is the deity of new beginnings in India. And thus, having an idol or figurine of Ganesha in your entryway may be the best beginning to your home.
ALSO READ: Where to Place a Ganesha Idol at Home?
#2: Foyer Design Idea with Storage and Display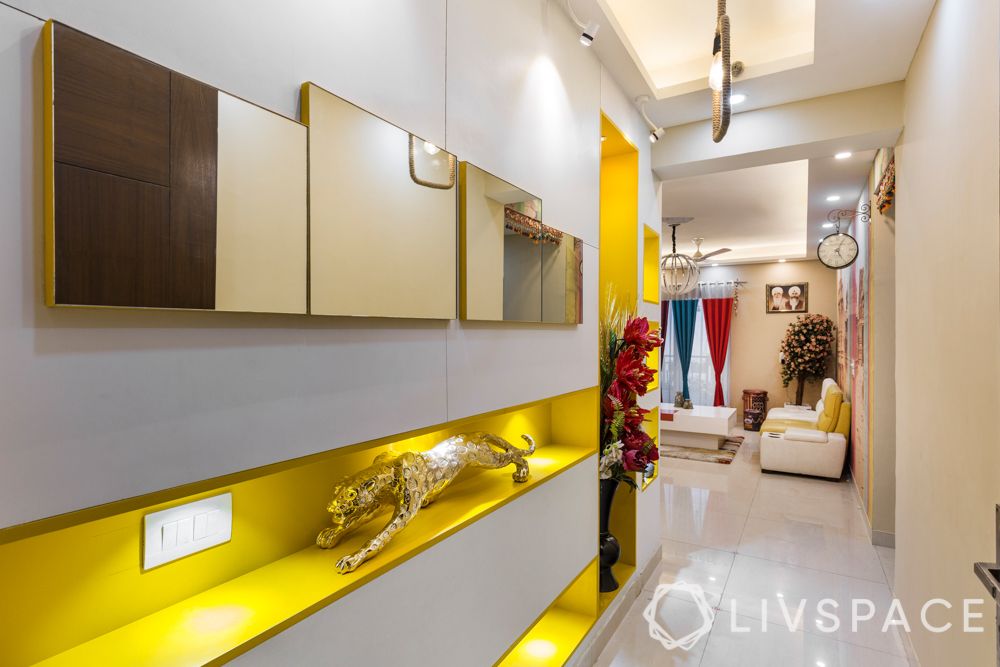 For your entryway to work its charm, it's important to decide on a colour palette that sets the tone for the rest of the sections in your house. Don't shy away from choosing bold shades that may create a powerful impact. Vibrant yellows (like this home), magentas and blues can serve as excellent backgrounds. The most noteworthy aspect of this entrance is the lit display panels and additional storage around it.
Don't miss our COVID-specific foyer design tips below.

#3: An Entryway with a Foyer Table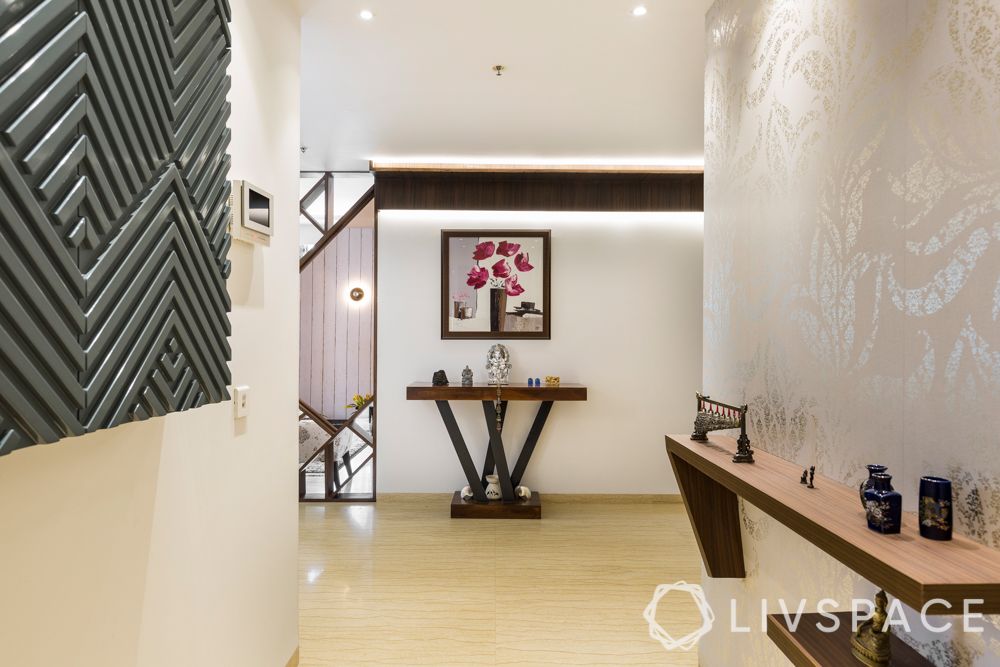 An entryway standing desk, a console or a side table is the perfect fit for your entryway. It is minimalistic in design and also multi-utility. It's design features, such as turned legs and solid finishes, are instantly attention-grabbing and help uplift the look of your space.
#4: A Statement Entryway for a Home Full of Wow Elements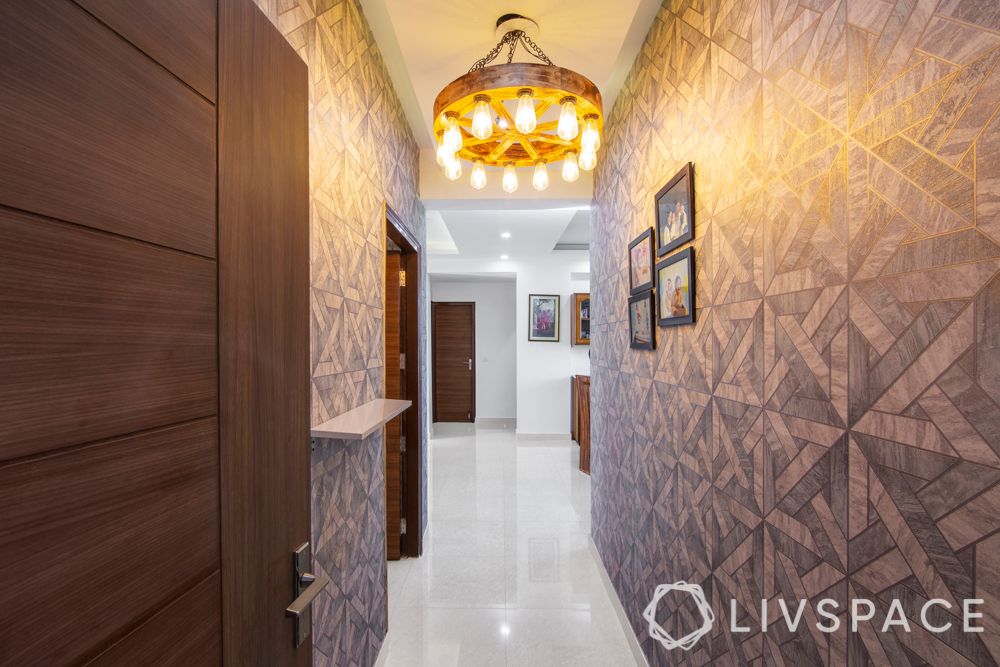 It takes just one statement piece to make the difference between a nice entryway and a stunning one. In this case, the wagon wheel chandelier clearly steals the show. And the patterned wallpaper adds depth to this narrow passage.
#5: Foyer Design with Storage and Seating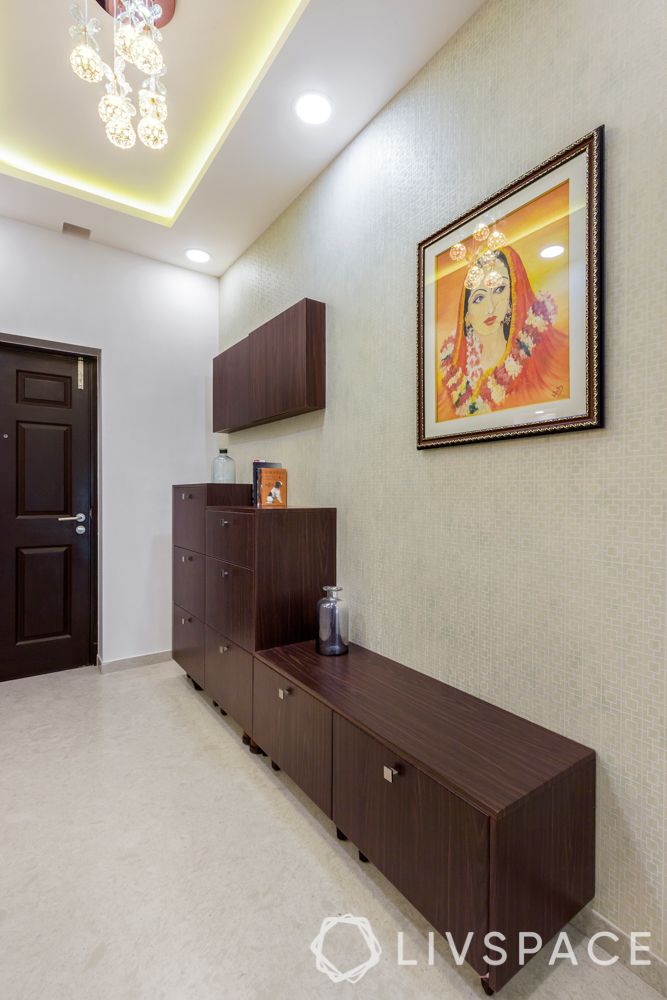 Your entryway is pretty much incomplete without a storage solution to stash your umbrellas, keys, coats and shoes. This only enables easy access to your everyday essentials while entering or exiting your house. You could either place a free-standing rack to hang these items on or get storage units such as cabinets, dressers built for providing ample space for multiple, different-sized items.
In this entryway, the step like storage cabinets allow you to sit down and tie your shoelaces. Convenient, isn't it?
#6: Indian Style Entryway with Pops of Colour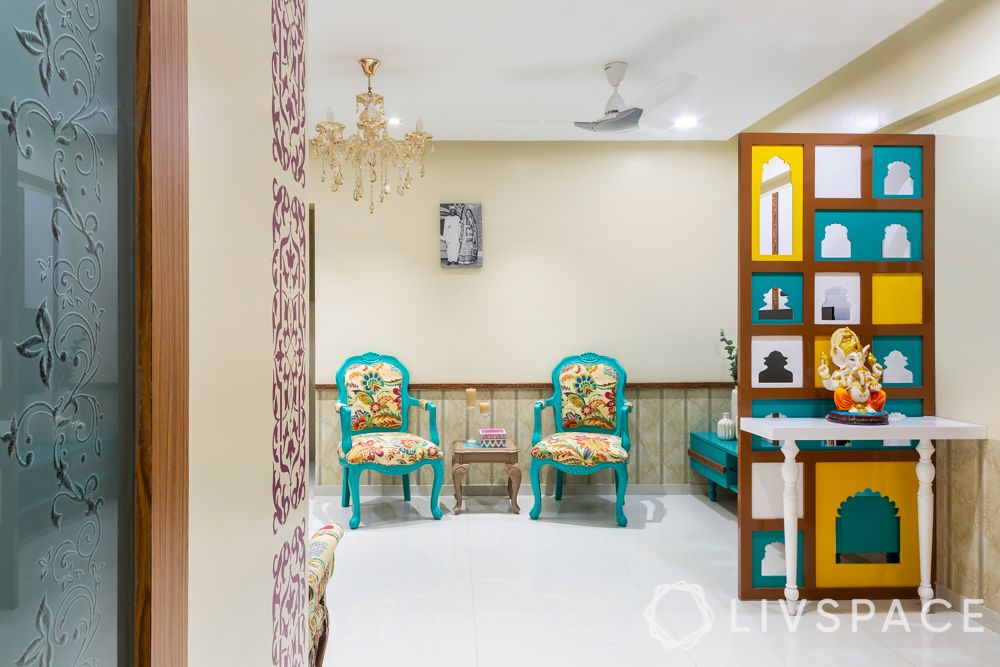 Complement your entryway with bespoke furniture that stands out from the rest. Colourful chairs, benches, stools, and ottomans are great seating options that can never go out of fashion. Jazz them up with throw pillows and soft seat cushions that give away your perky bits.
#7: A Foyer That Makes Great Use of Vertical Space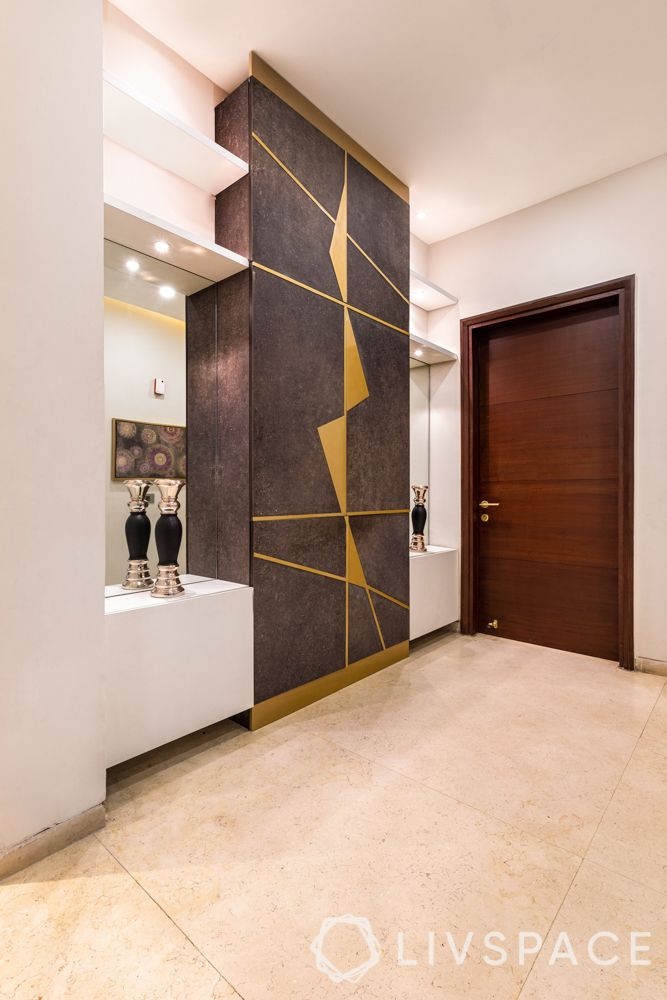 If you have tall ceilings and an entryway, put the two together to great use. In order to do this, use floor-to-ceiling cabinets. A floor-to-ceiling cabinet like this one in your entryway could store shoes, umbrellas, walking sticks, coats, cricket bats and several other miscellaneous items. This is as functional as a foyer can get!
#8: Create a Foyer When There is None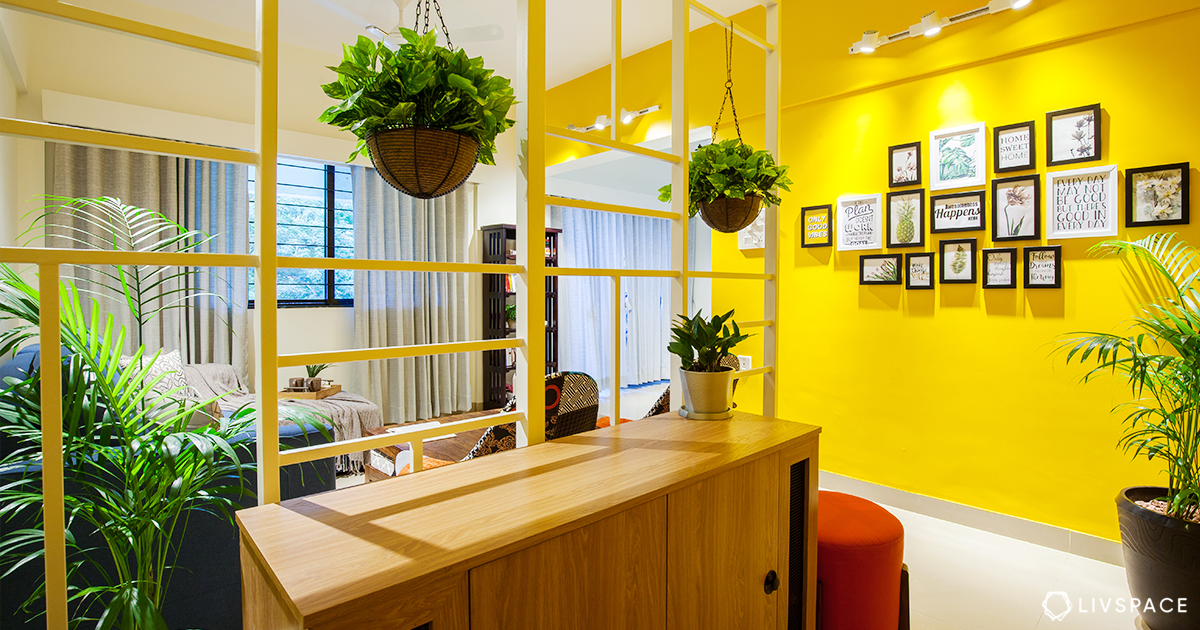 If you don't have a foyer, you can create one by adding a porous partition like this one. Also, introduce a patch of green amidst concrete jungle units. Another good option is to build a mini plant station or a vertical garden along the entryway which is soothing to the eyes and brings a new lease of life to your space with fresh air and ventilation.
#9: An Entryway with Mirrors to Make it Look Spacious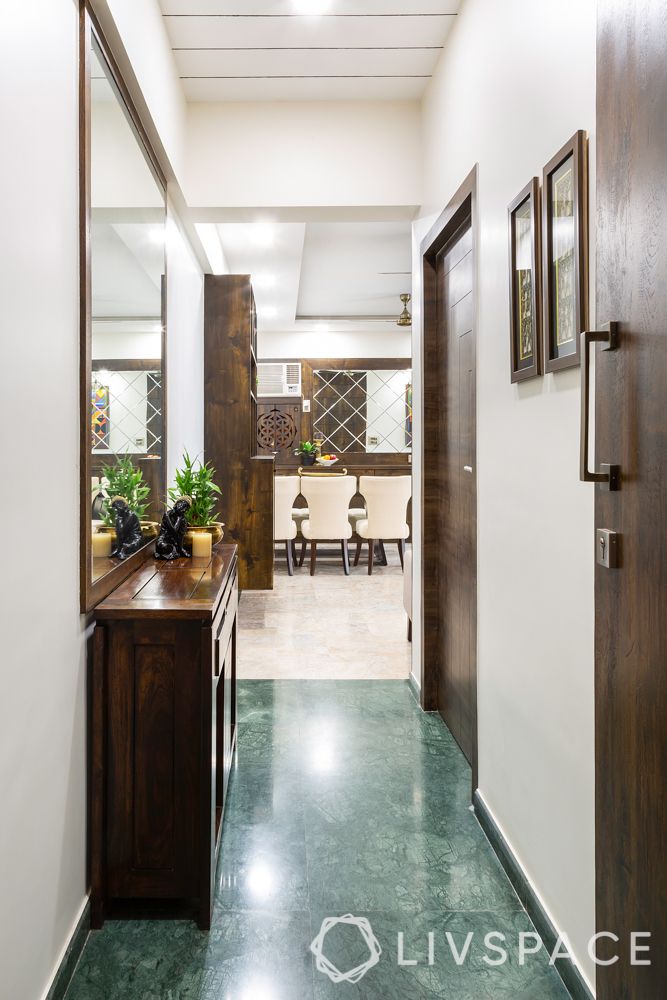 Make use of statement pieces that are both eye-catching and functional. An accessory like a mirror for a last-minute touch-up before heading out makes for a great upgrade. Moreover, it can also double as a focal point in your room and magnify the appearance of narrow hallways. Get one with wooden or metal frames to accentuate the look of your home entrance.
ALSO READ: Where to Place Mirrors in Your Home for Good Vastu
#10: Warm Wooden Foyer Decor for Functional Home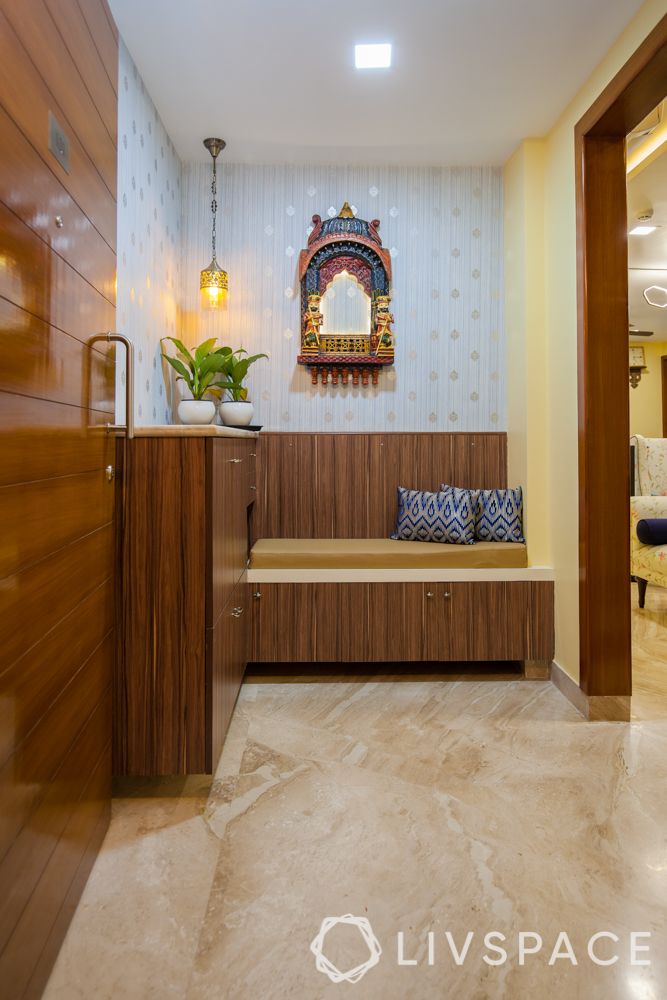 This entryway is strictly functional with its storage and seating options. The warm wooden finishes will make it endearing the average Indian family. The only decorative element is the faux jharokha that adds a pop of colour and some heritage to this entryway.
What Your Foyer Must Have in COVID Times
Since the Covid-19 pandemic broke out, entryways have been playing an important role architecturally. Technically, your foyer is the space where you should sanitise yourself before you enter your home. In that light, the following design suggestions might help you to optimise your entryway while the Pandemic lasts
A sanitisation port that could be wall-mounted or on a console
A washable doormat
Show cleaning supplies
Show storage as you don't want to carry your shoes inside
Fabric and surface cleaners to sanitise the thing you bring from outside
Consider cork flooring for its anti-microbial properties
A basket or bin for used masks
If you enjoyed browsing through our latest entryway designs, also explore 9 Ways to Light Up Your Foyer.
Write to us with your comments and suggestions at editor@livspace.com