There's a lot more to lighting than functionality. In fact, designers say that the right lighting can elevate your interiors. And it starts right from the entrance of your home! Whether the entrance is wide, narrow or barely-there, there are several ways to brighten your entryway in style. Here's how to dress your foyer with the perfect lights to make a grand opening statement.
Foyer Lighting #1: Spotlights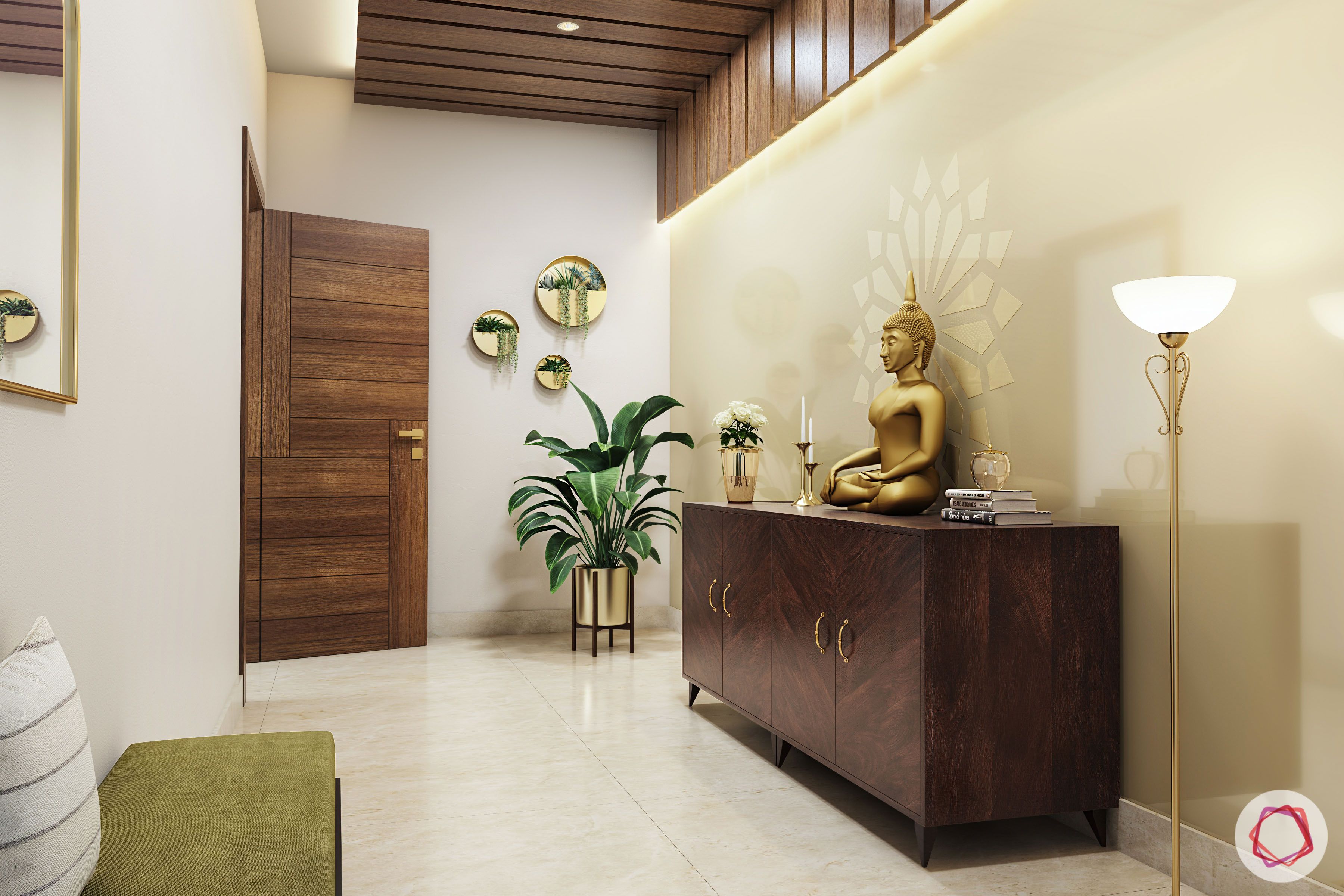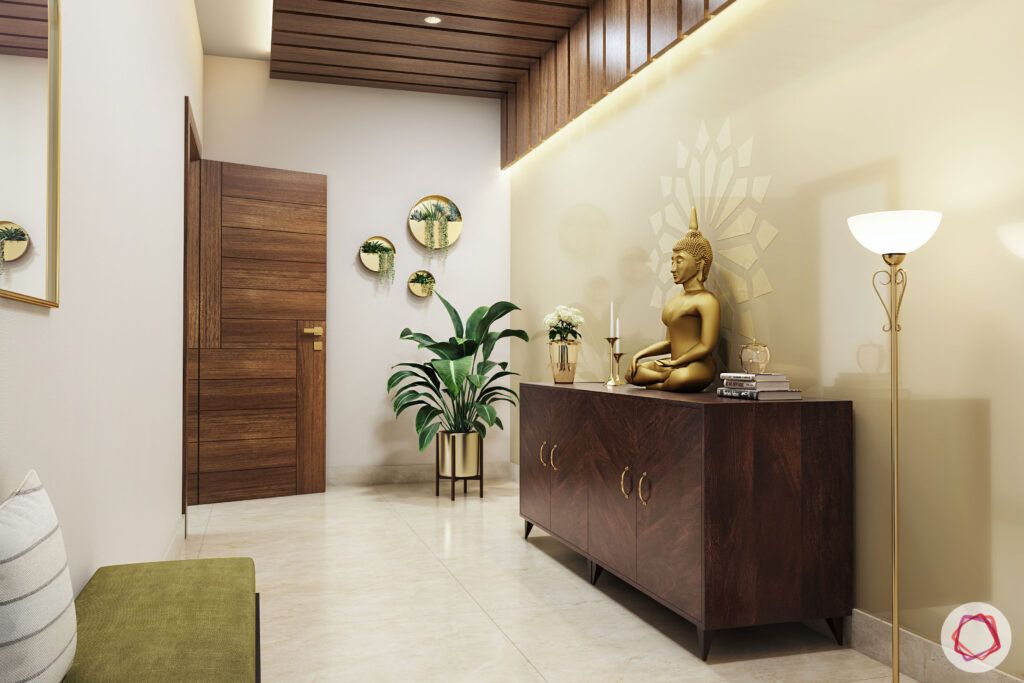 Spotlights in the entryway help highlight specific elements, which in this case is the stunning golden Buddha statue and console table. This kind of lighting can be used to draw attention to artwork or wall trims as well. You can have them fitted into a regular false ceiling or wood-panelled ceiling for a warm setting.
Foyer Lighting #2: Pendant Lights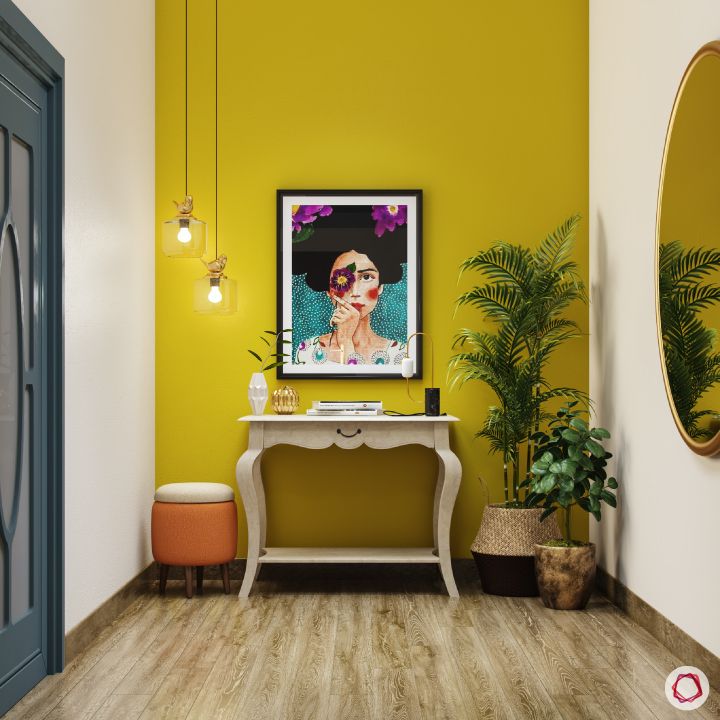 Typically, pendant lights are highlights by themselves. They can be paired with an accent wall to create drama or they can be used as statement pieces to catch attention. You could also have a lone piece or a couple to make a statement. Place these in a corner for maximum effect.
Foyer Lighting #3: Chandelier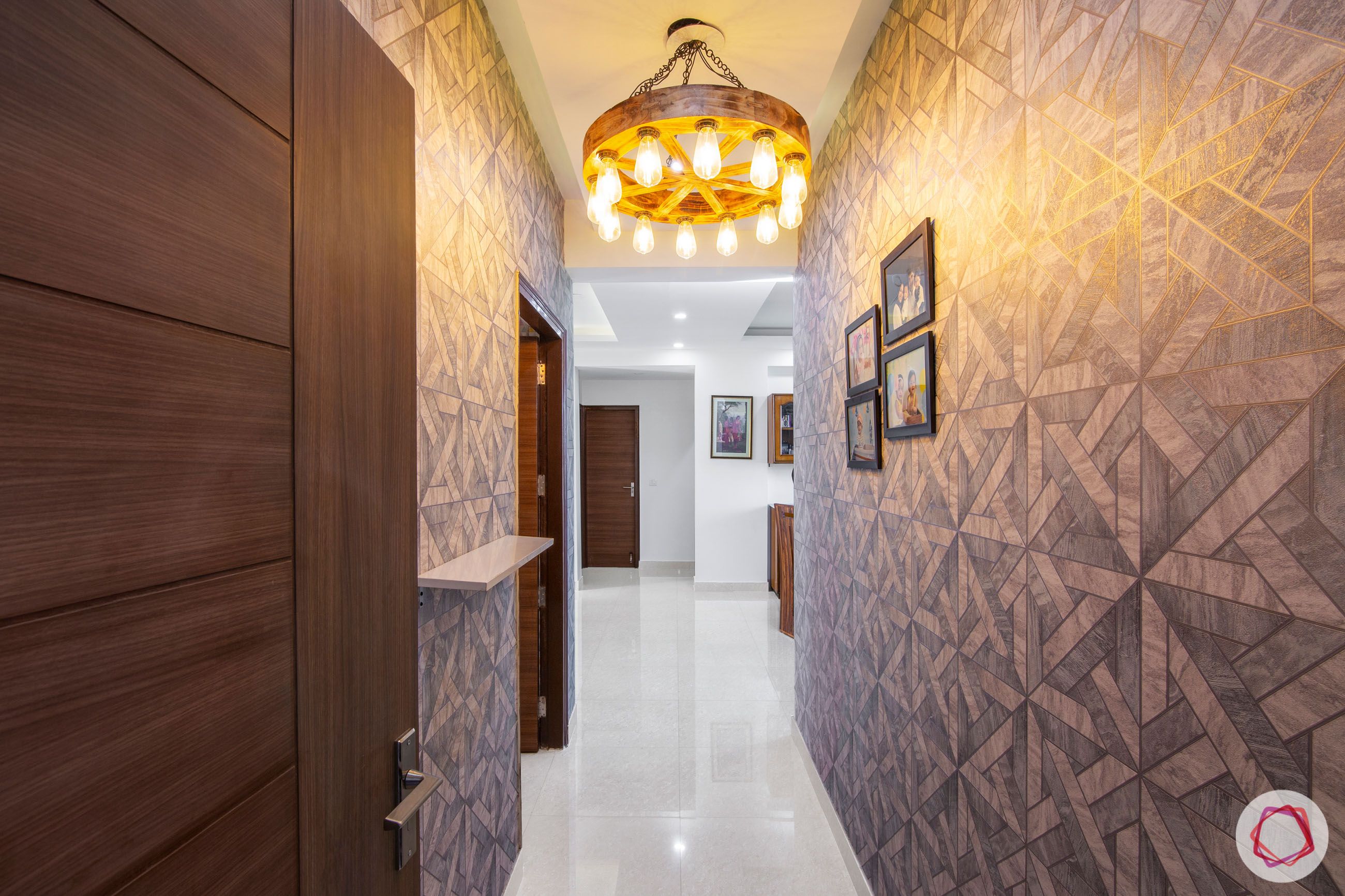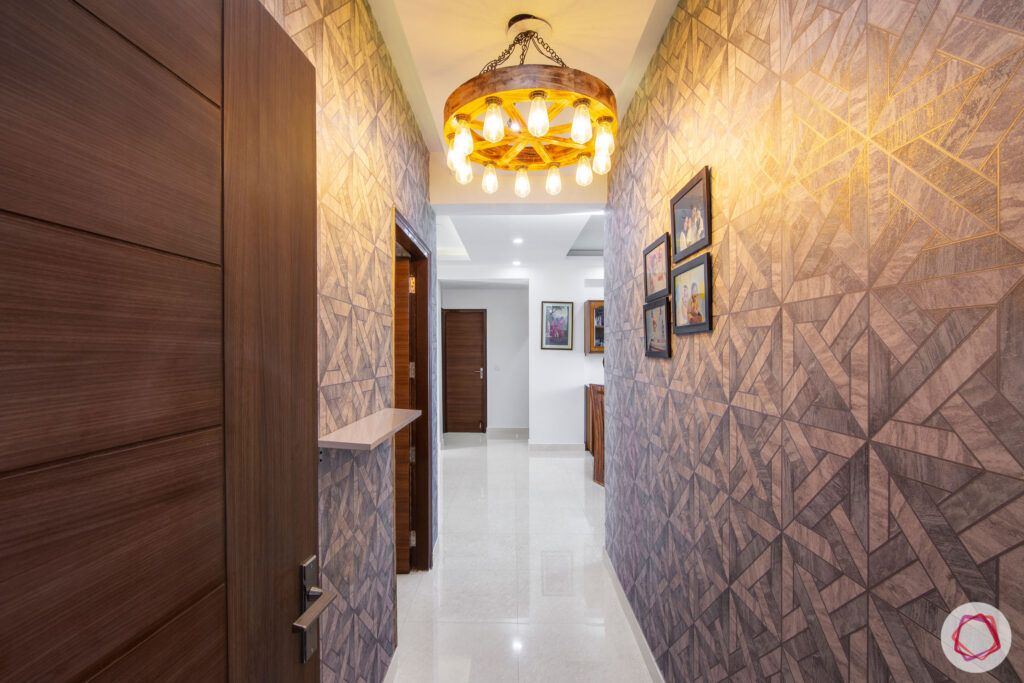 Needless to say, chandeliers are associated with all things grand. So if grandiose is your chosen style, spell it out right from the foyer. This type of lighting creates mystery and adds a touch of drama to your interiors.
Foyer Lighting #4: Victorian Lights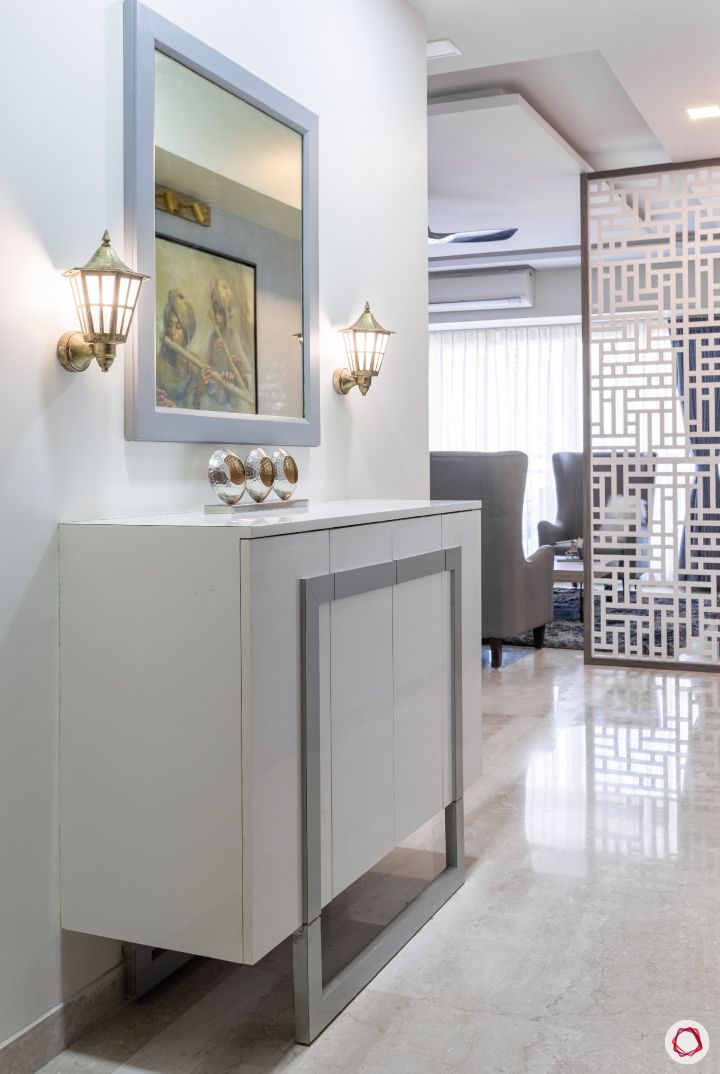 If you are cramped for space, pick wall lights for your foyer. These sconces occupy no extra space. And there is so much variety to choose from. These street lamp-style fixtures, for instance, take us straight to the streets of Victorian England.
Foyer Lighting #5: Backlit jaali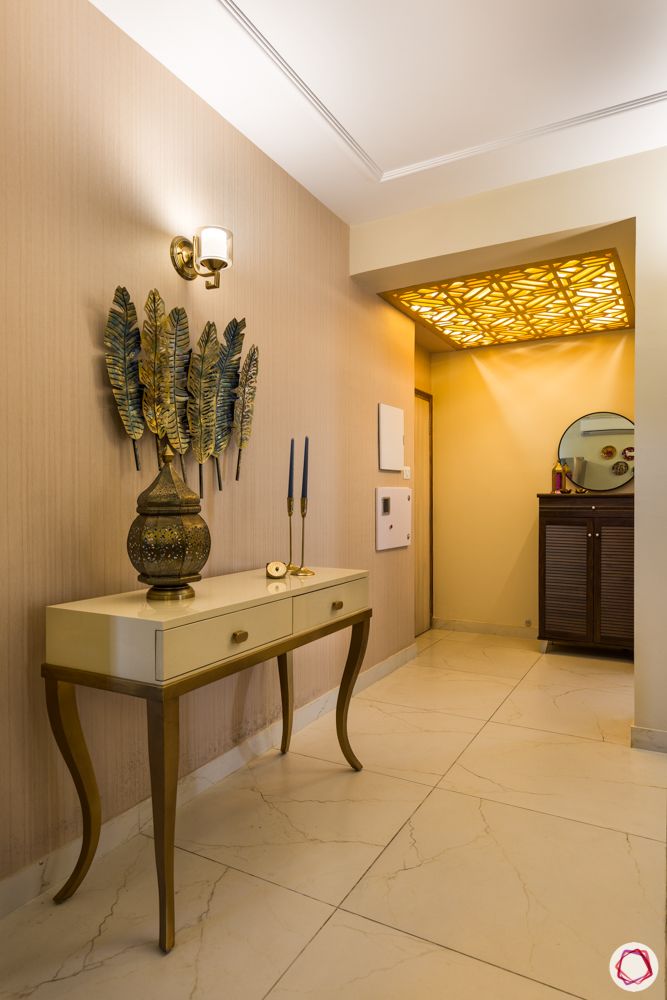 If you do not wish to crowd your walls with lights, look up to the ceiling. The backlit jaali bathes the entrance in diffused light and creates so much visual interest too! It also helps to separate the foyer from the rest of the home.
Foyer Lighting #6: Quirky fixtures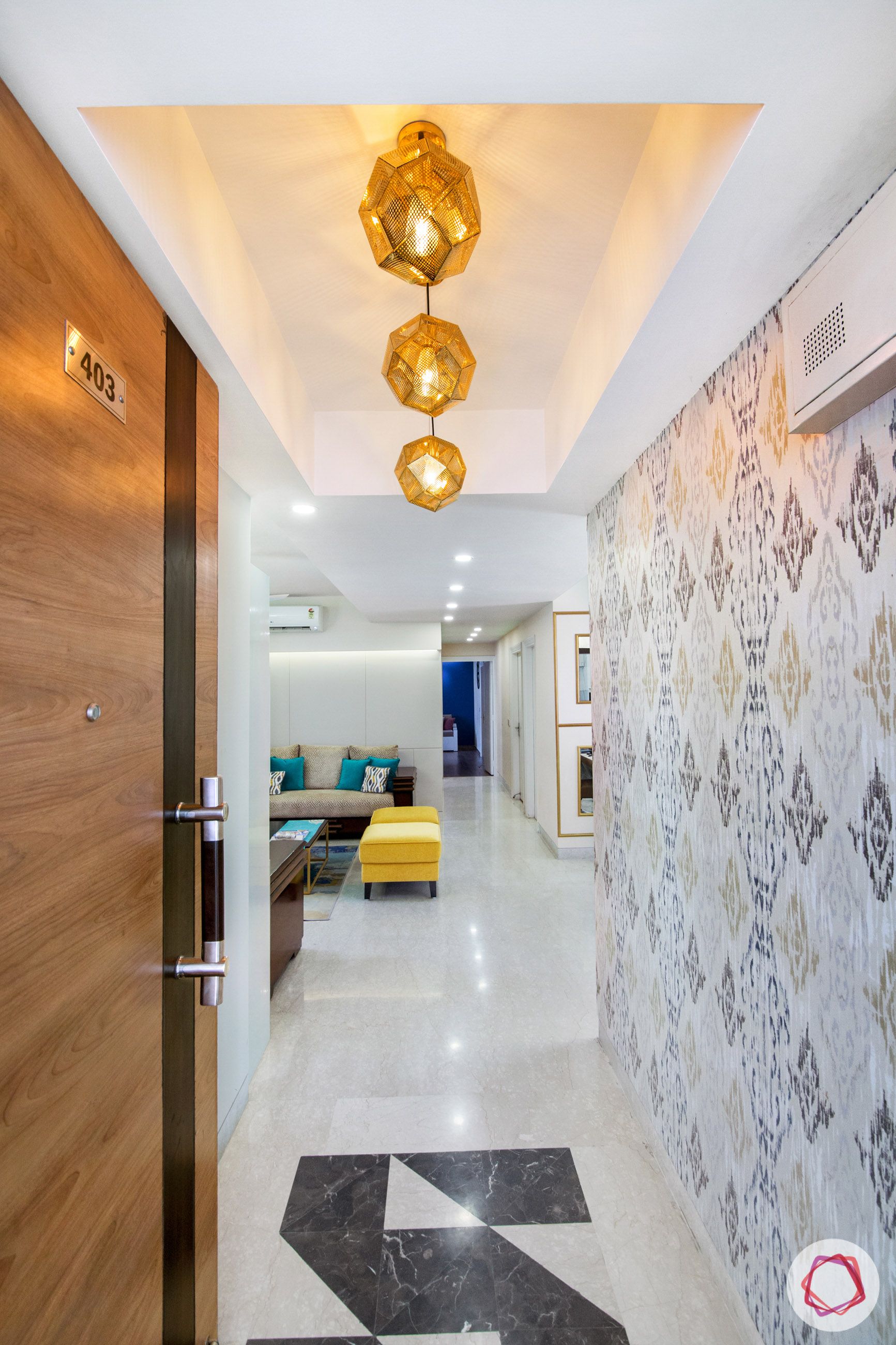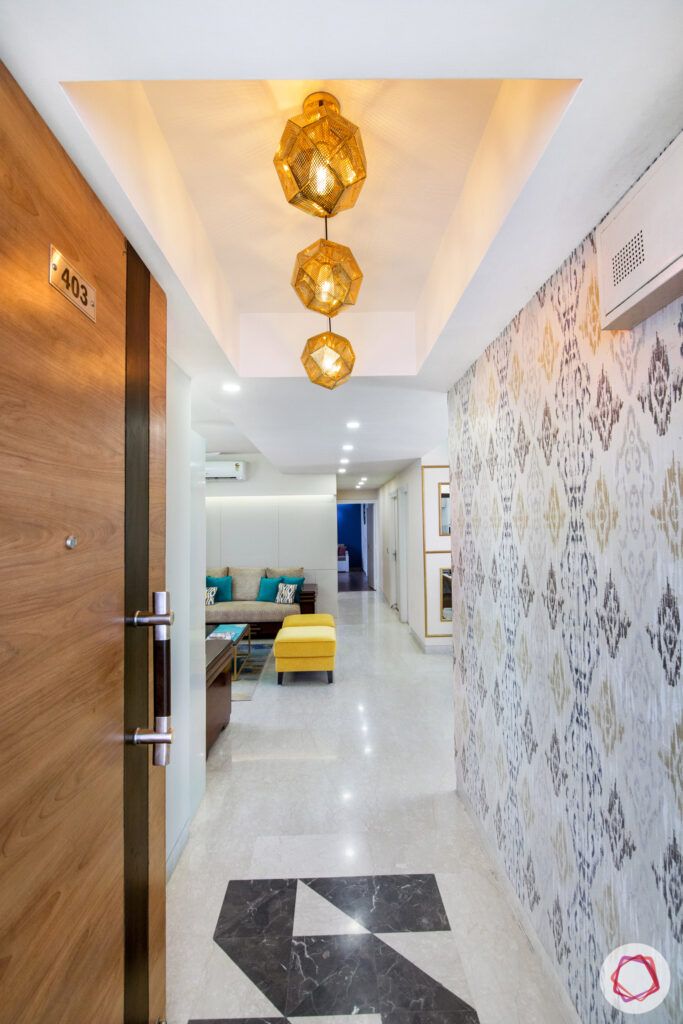 Enthrall your guests right at the entrance with quirky light accents. Set up an artsy or unique tone with these statement pieces. You can have these lead the way to your living room for a bit of drama!
Foyer Lighting #7: Recessed Lighting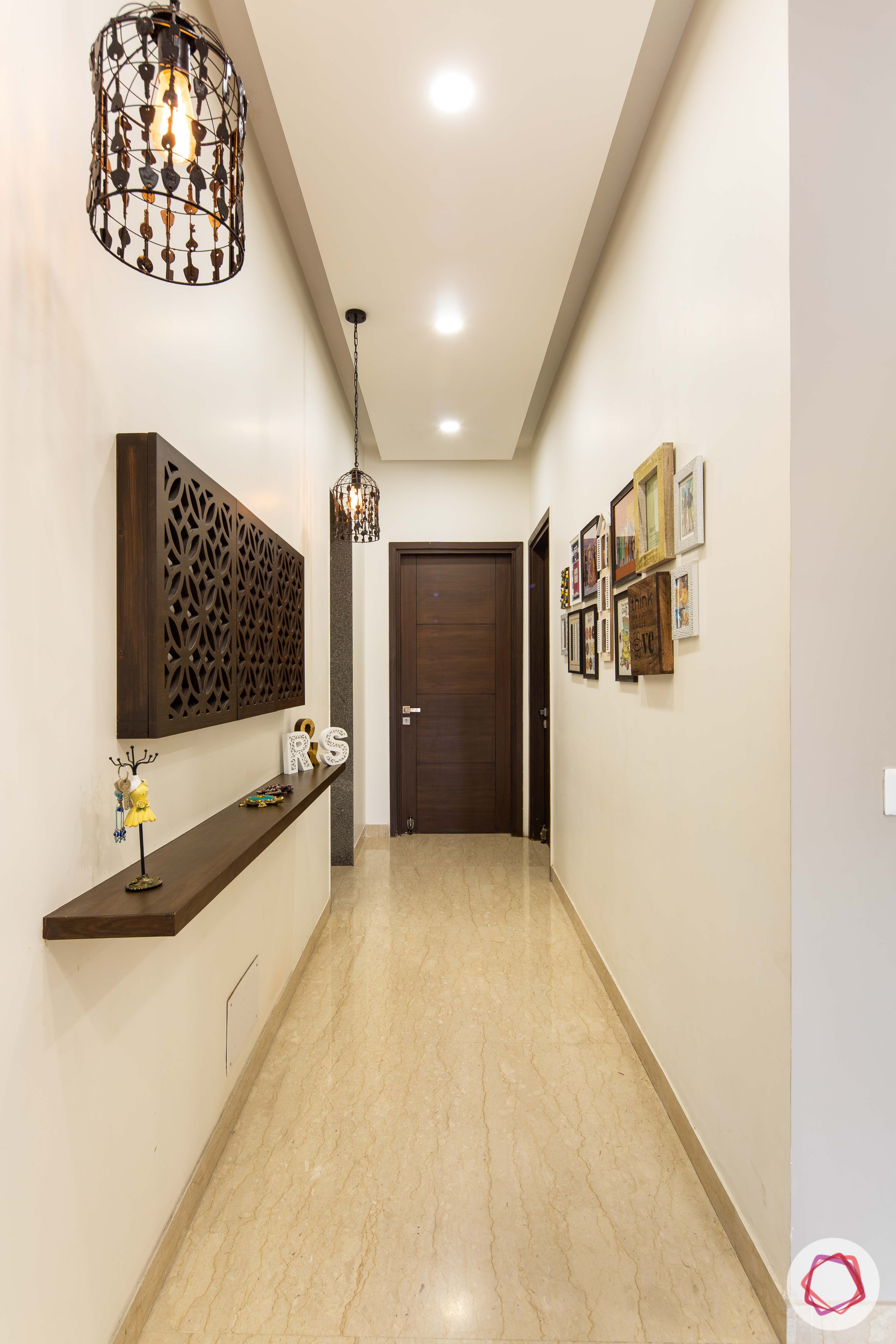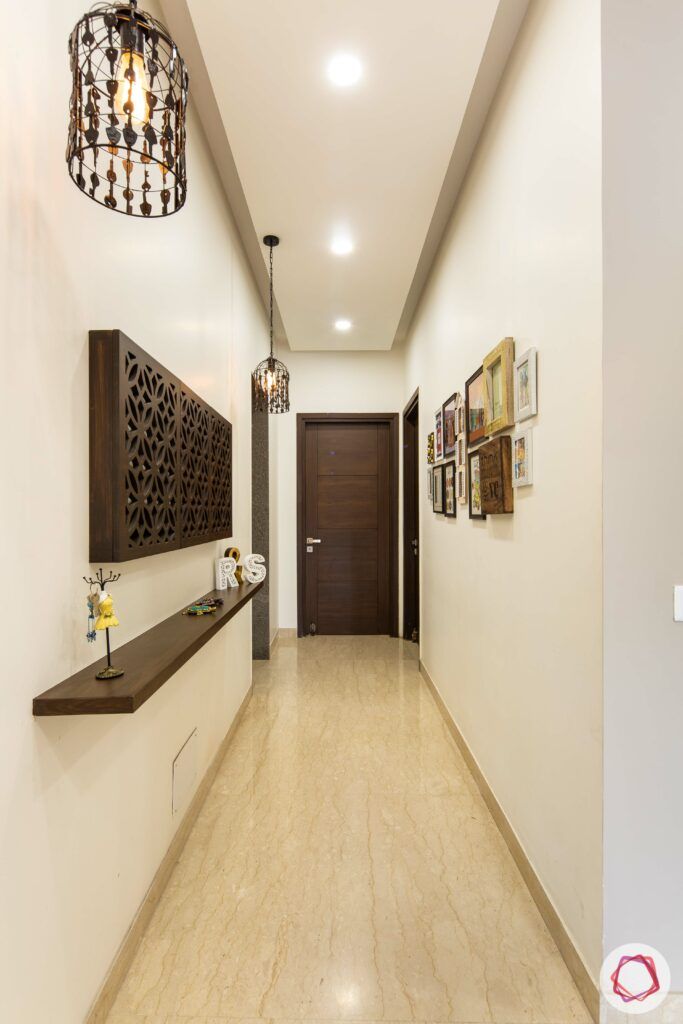 A false ceiling with recessed lights right at the entrance scores high on style and functionality. This works even better if you have a narrow foyer. Want more oomph? Mix in a statement light fixture as well for a dazzling first impression.
Foyer Lighting #8: Floor Lamp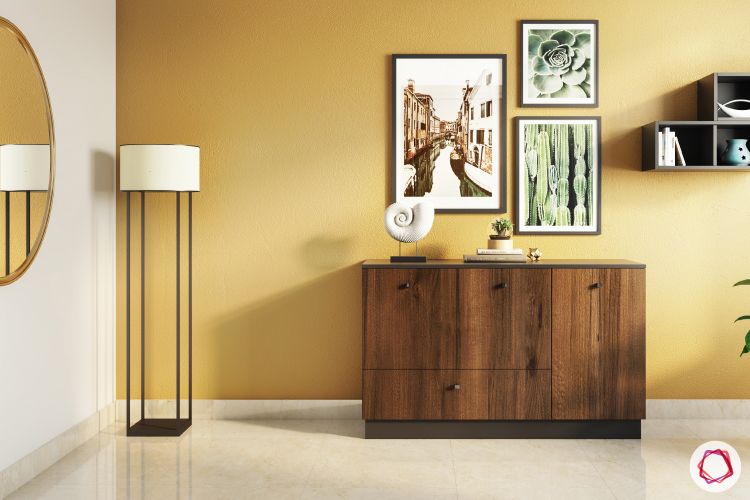 Prefer something clean and simple? Floor lamps are the answer! The fuss-free lighting option can be tucked into any corner for quick use. Also, these can really turn the ambience around in your foyer! We suggest using light lamp shades to bring in a touch of softness as well.
Foyer Lighting #9 Cove Lighting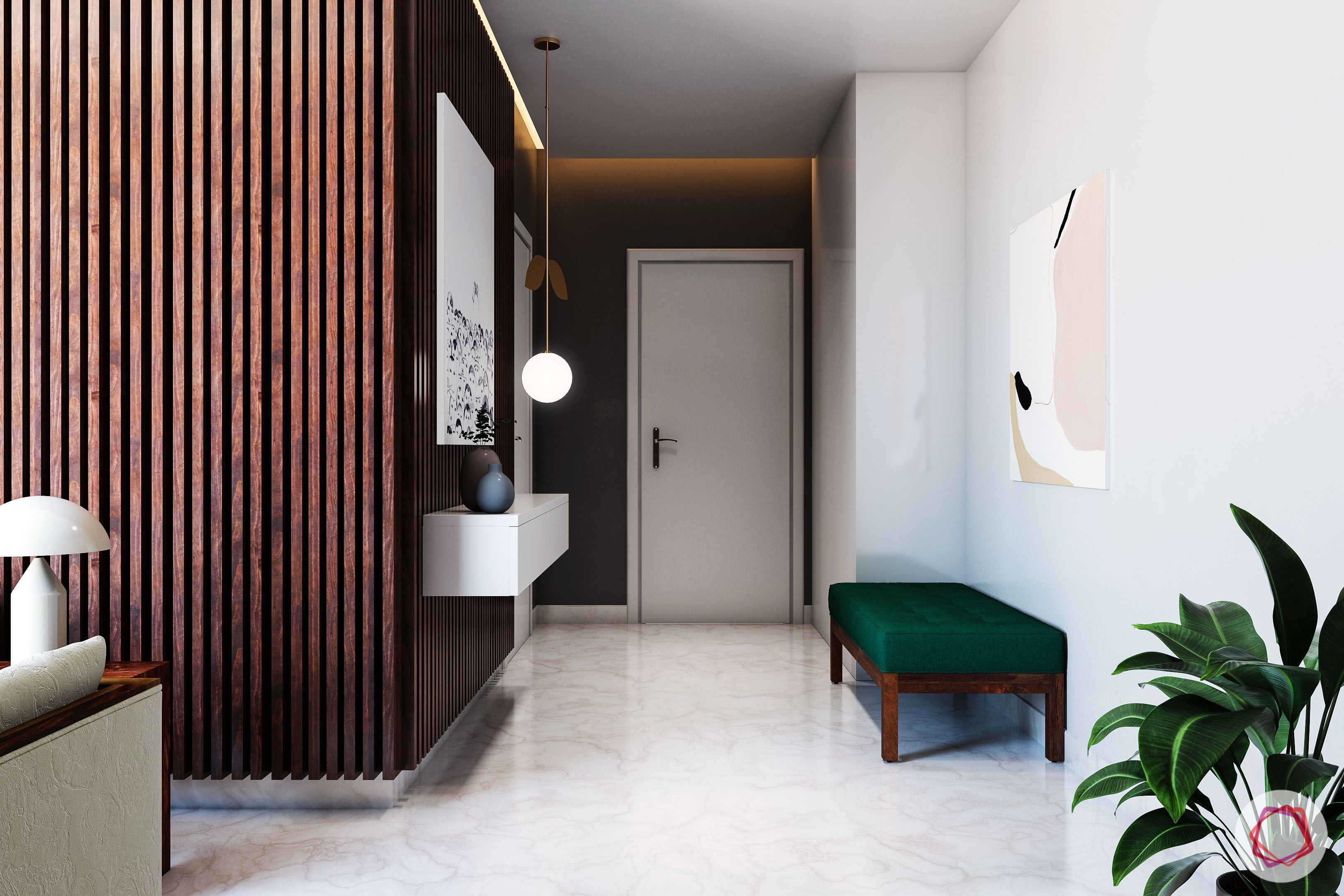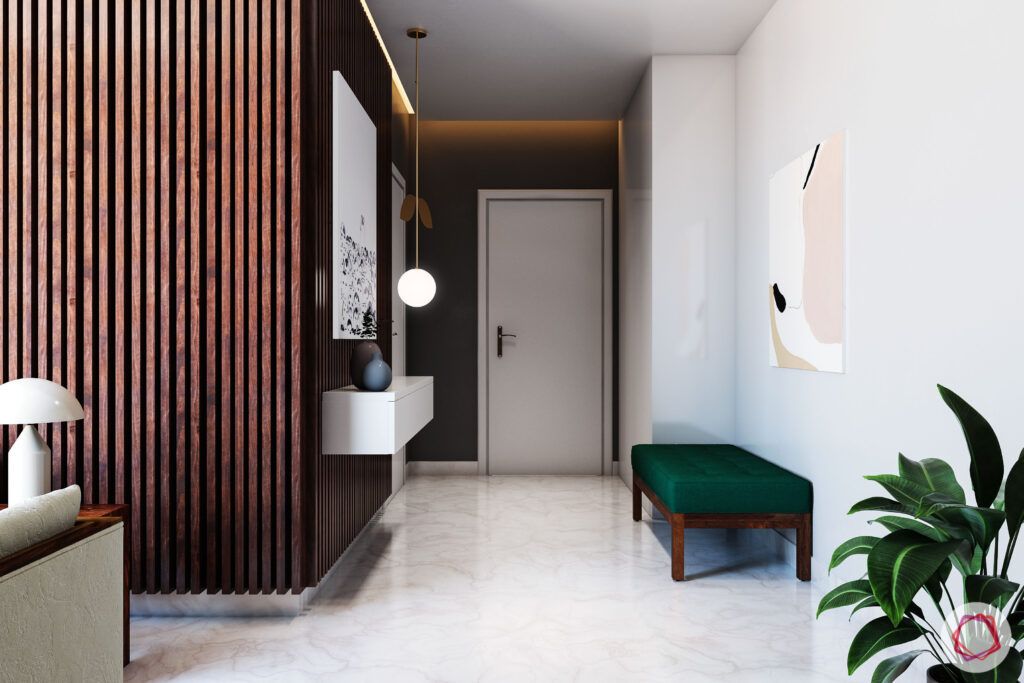 Soft and diffused your favourite kind of lighting? That's cove lighting for you. While it illuminates the room perfectly well, it also creates a cosy and warm space that you can't seem to get enough of! You will especially love how it acts as the subtle backdrop of your entryway.
Also, if you loved these entryway lighting suggestions, take a look at How to Design Pretty Passageways.
Check out foyer designs:
Send in your comments & suggestions.