You know what they say about first impressions! What does your home say about you? Does your foyer design reflect a warm, welcoming and trendy vibe? There's nothing quite as impressive as a striking entryway. Be it a palatial villa or a cosy 1BHK, a well designed entrance is the first space to greet your family and friends. At Livspace, we believe the foyer design sets the tone for the home, and so we put in more creativity to make this tiny space charming, yet useful!
ALSO READ: Vastu Tips for Home Entrance to Get the Good Vibes In
Types of Foyers Designs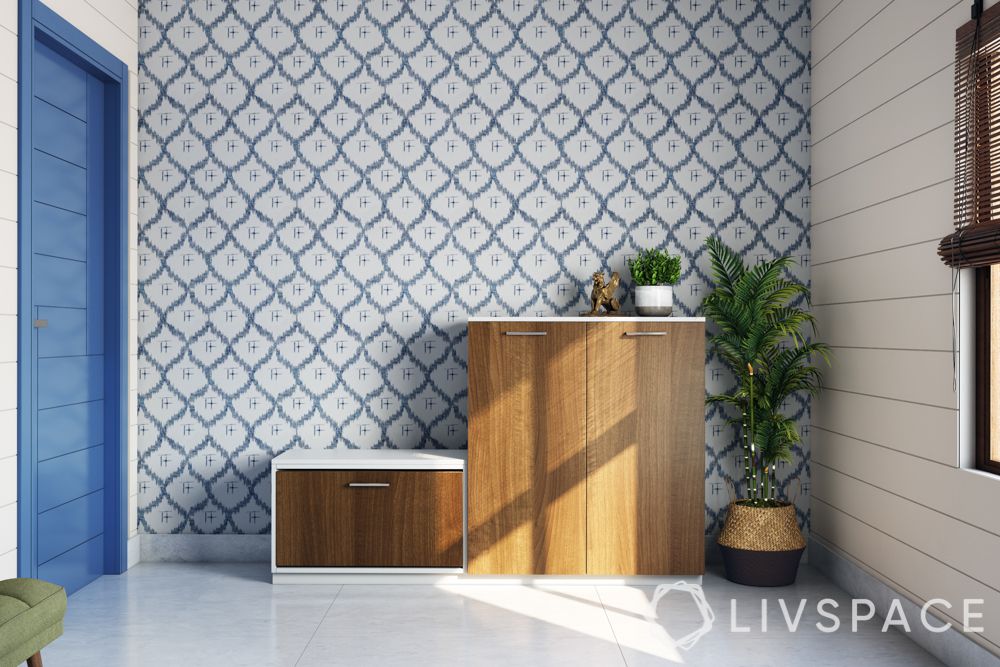 Modern: A modern foyer could be a part of a compact home entrance or even a larger one. The design is often minimalistic with furniture and features neutral colours.
Traditional: A dedicated space for a foyer is known as a traditional foyer. This space is furnished with a console table for storage, a mirror and some seating.
Makeshift: A makeshift foyer is ideal for compact homes that don't have a dedicated space for a foyer. Installing a partition in the living room near the door can work as a foyer.
Recessed: A recessed foyer is ideal for apartment flats. The space leading to an elevator or staircase is can be turned into a foyer by adding seating and some storage units.
The Best Foyer Designs From Livspace
Take a look at this collection for inspiration to do up your entryway.
#1: Foyer Design With Statement Mirrors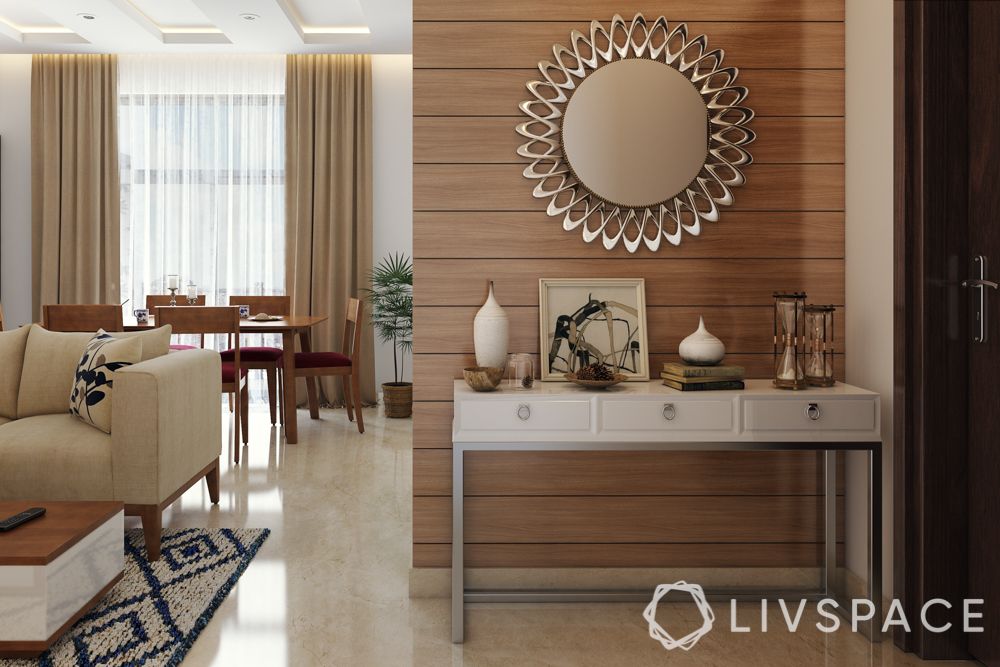 You don't need a lot to do up your foyer. All you need is a jazzy mirror for your foyer wall decor. A stylish statement mirror adorns this entryway, setting the perfect tone for a beautifully designed home. The console table is great to display curios and store your keys.
#2: Beauty + Functionality in This Foyer Design for Home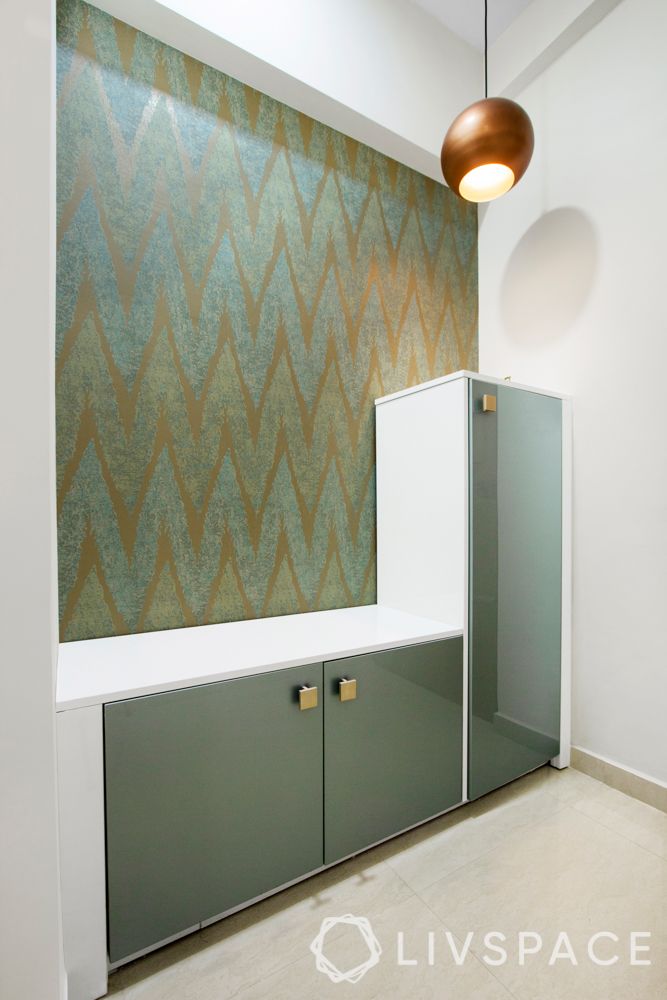 If you are looking for ideas for foyer decor, you have come to the right place! This patterned wallpaper creates a dramatic first impression. For functionality, a modish shoe cabinet has been added, which holds keys and other knick knacks.
Take a look at the full home Compact, Lively & on a Budget for more ideas.
#3: Foyer Design for the Artist in You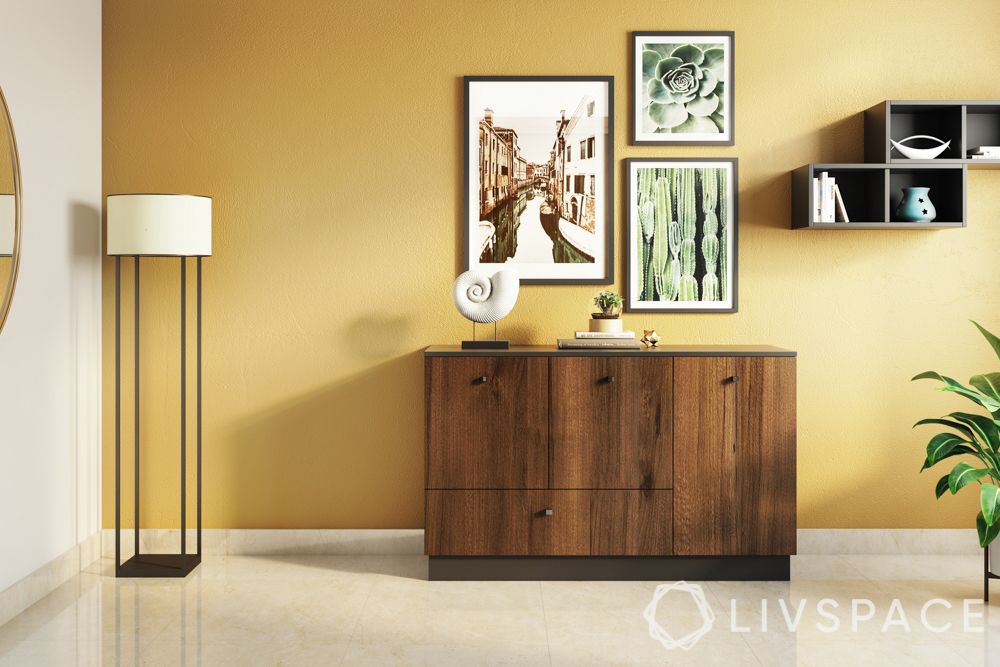 If you want to keep it classic, we'd recommend a home foyer design with paintings and photographs from your favourite artists and a minimalist table to hold your vases. This gold trims and finish lend an air of elegance to the space.
#4: Foyer Design for Home to Rest Your Tired Feet!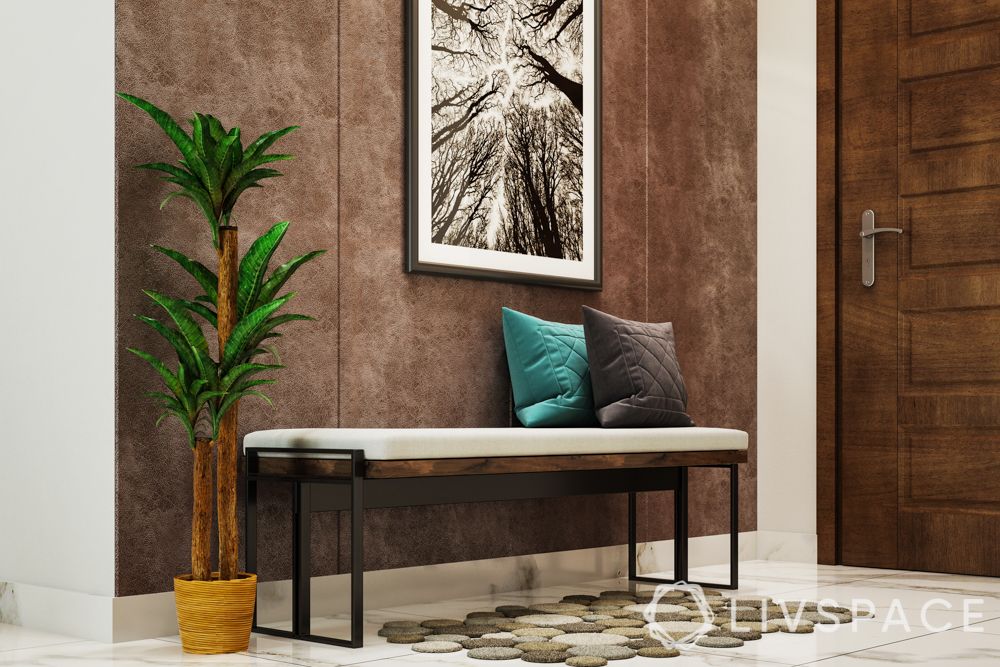 Even the most basic foyer decor can make a statement. Seating is a must if you have the requisite space in your foyer. A painting paired with a simple bench and potted plant can be the ideal welcome. Give this a shot!
#5: Foyer Design With Smart Monochromes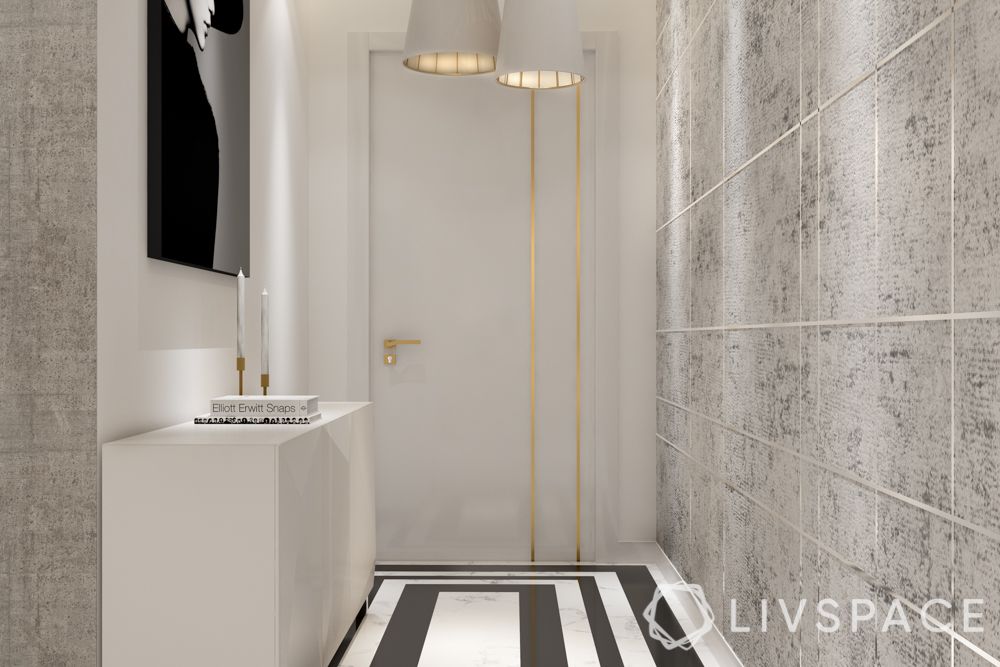 This one's for our love of monochromatic designs. If you want a modern foyer design, a monochrome theme will look amazing! Check out the gorgeous flooring and rustic walls. The compact space has been furnished with a sleek console unit.
#6: Foyer Design for Home That Will Take You Down the Memory Lane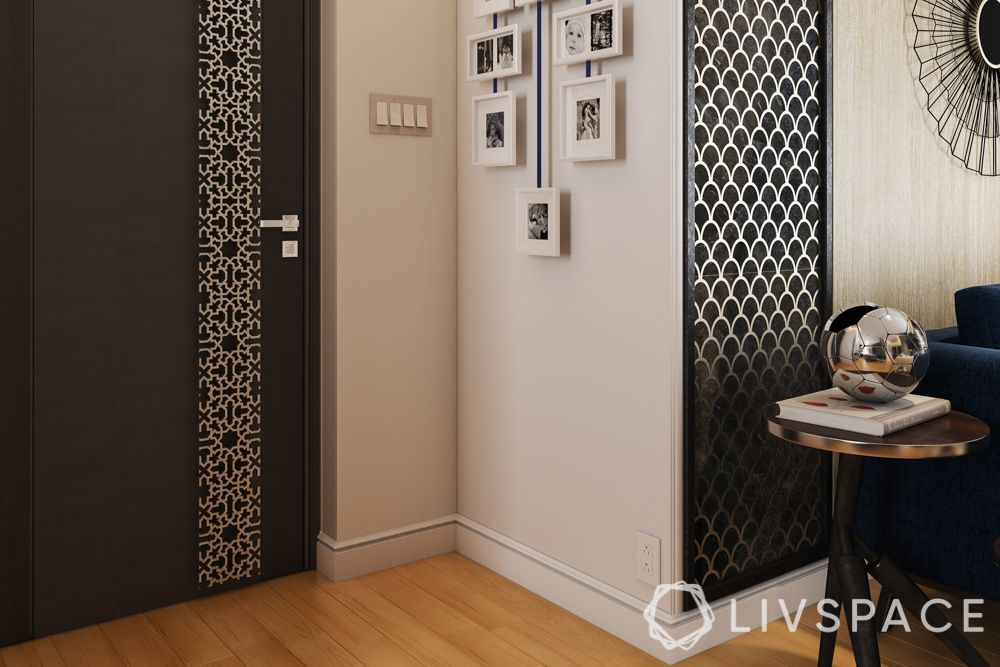 Personalise the foyer by turning the wall into a gallery. Flaunt your fondest memories for your guests with this simplistic design. The jaali pattern adds an interesting element to the space as well!
#7: Design for a Compact Entryway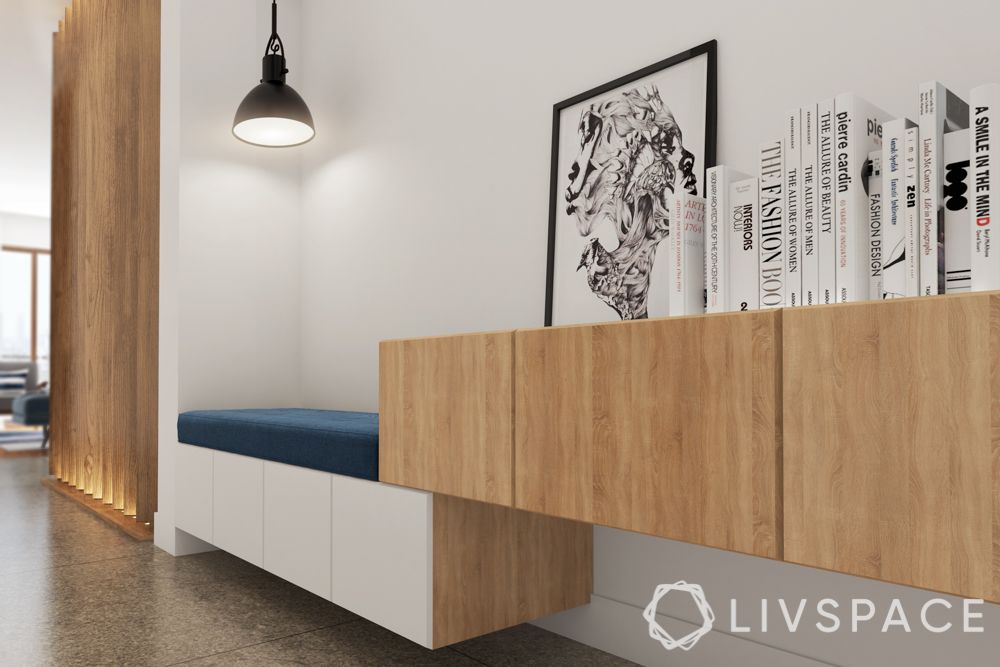 Not everyone is lucky enough to have a spacious entryway! When space is scarce, you need to opt for a smart foyer area interior design. Save up on floor space with a wall-mounted design like this. Display your favourite titles and use the cushioned seater before you step out!
#8: A Cosy Nook Foyer Design for Home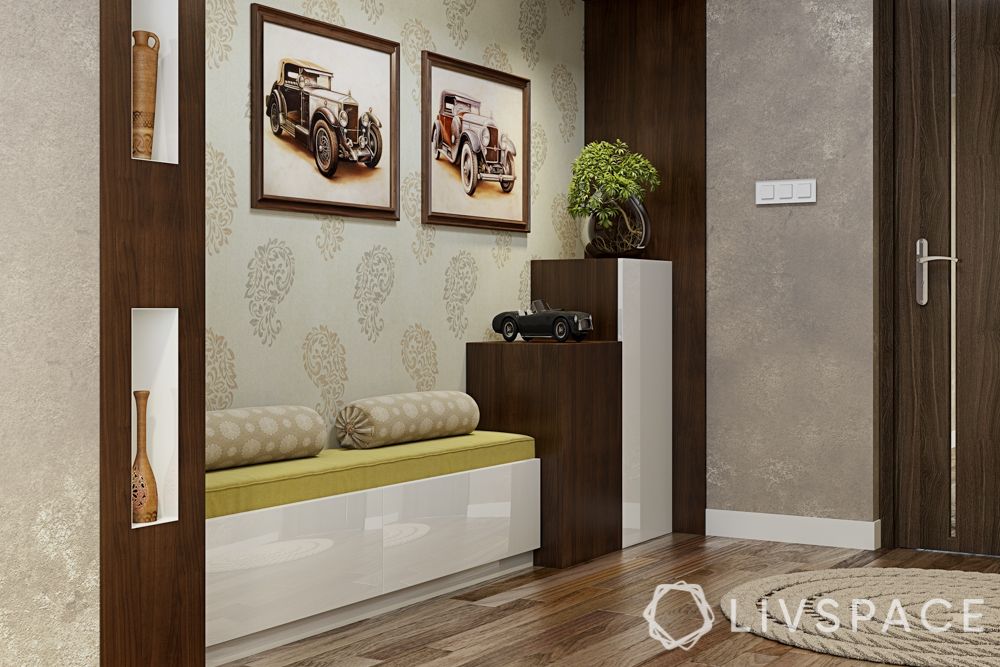 Showcase your prized art under the glow of recessed lights. This foyer is set within a niche and features comfortable seating so you can sit and wear your shoes or just relax. You can also create niches in your foyer wall to display mementoes.
#9: Keep it Minimal With Your Foyer Design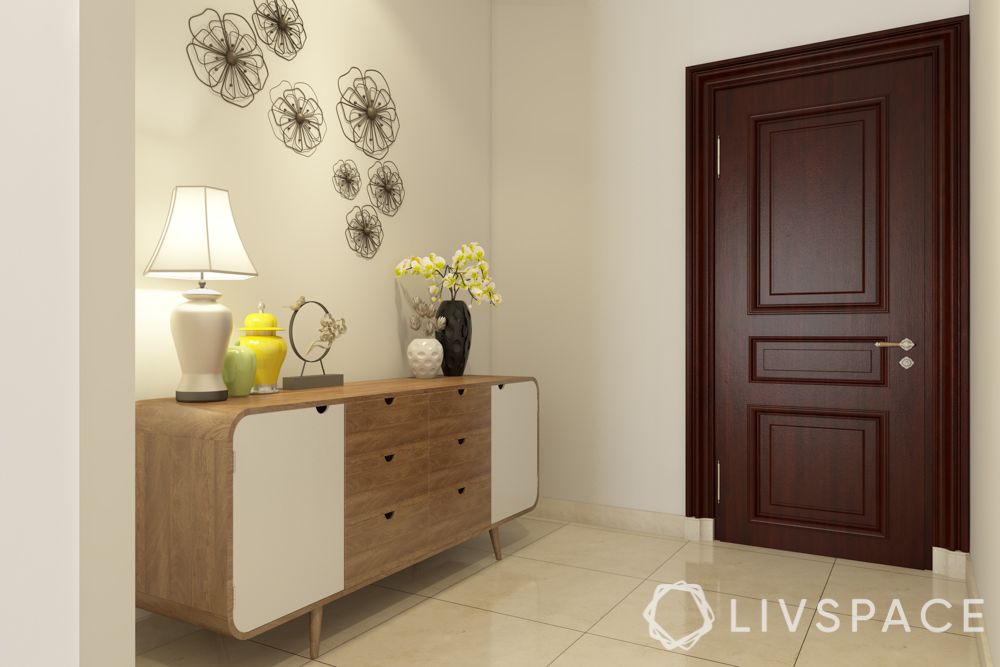 Your foyer decor does not have to be loud. A minimal design is perfect for modern, urban apartments. Just a smart console table will do the trick! You can also opt for a chic design like this, brought to life by accent pieces and wall decor.
#10: Multifunctional Furniture For The Win!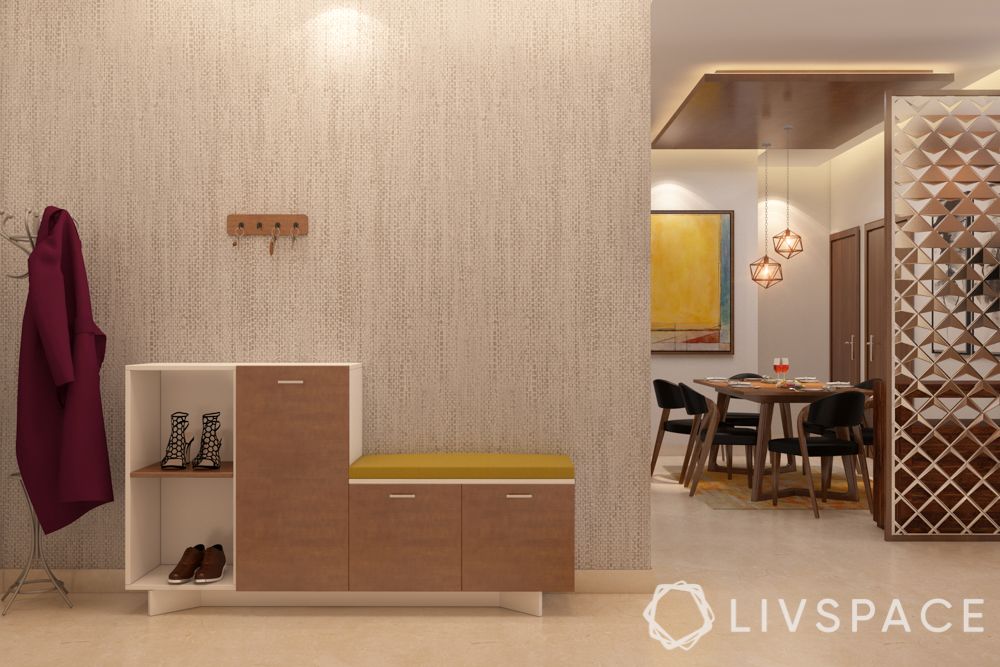 If you want style and functionality in one place, you can choose a shoe rack with seating. Top this off with a key holder and a coat rack! Ensure your shoe rack complements the rest of your interiors!

#11: Jaali for Some Desi Swag!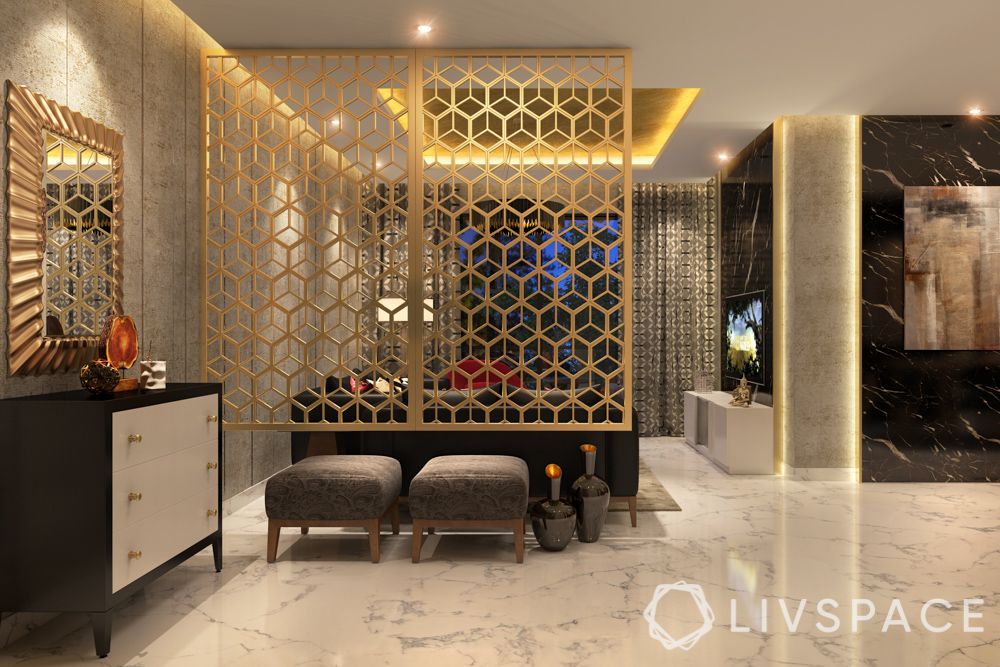 Who doesn't love a desi foyer design? Give your entryway a Midas touch with a gold-trimmed mirror and jaali that divides the entryway from the living area. You can add a couple of ottomans and a console unit to complete the look.
#12: A Warm Wooden Partition in the Foyer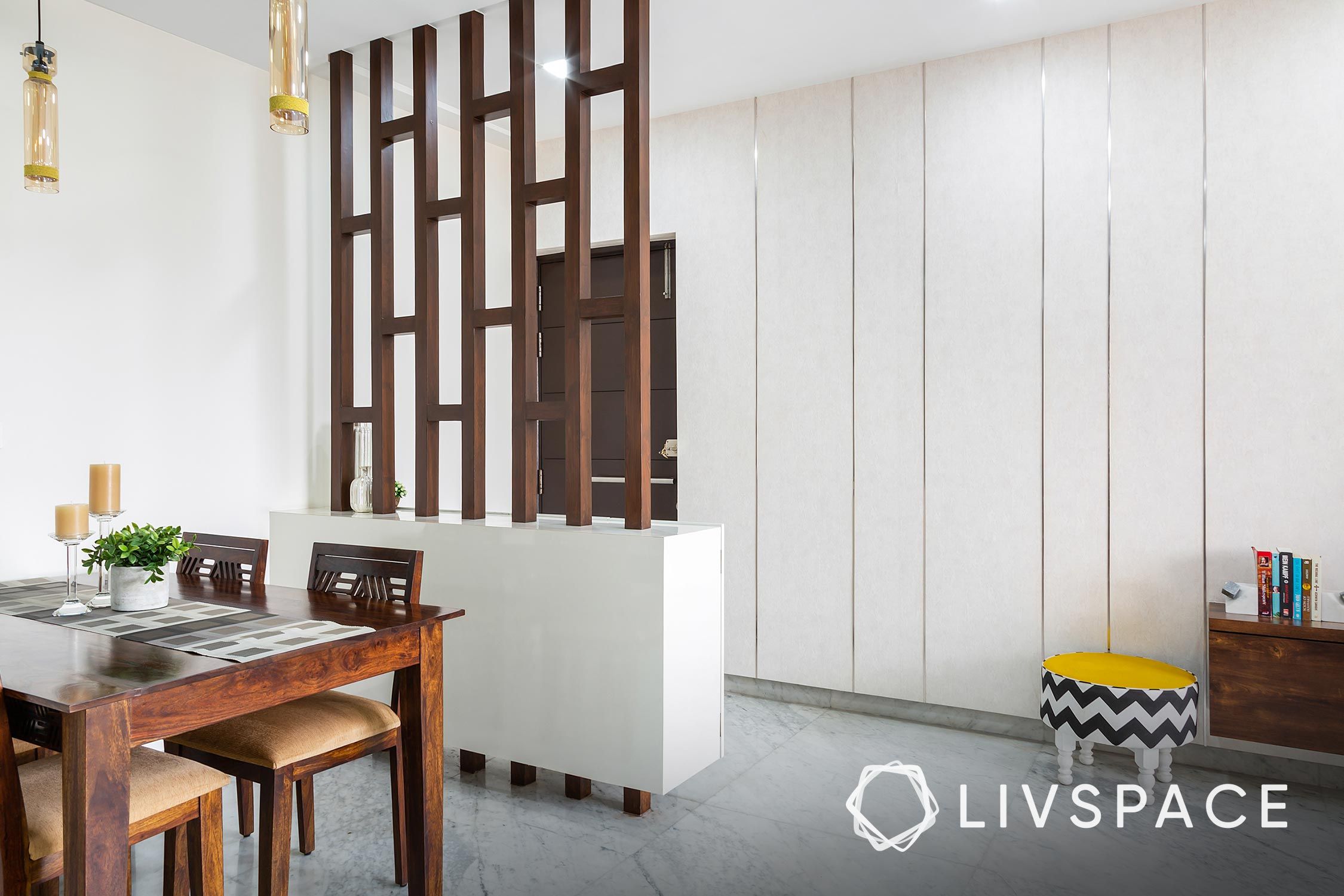 No space for an entryway? Add a sleek partition to separate the shoe rack from the rest of the home. Add some artwork for a dash of colour, and you're good to go! Take a look at This 2BHK is Both Youthful & Tastefully Done to see how wooden accents make up this design
#13: Rustic Industrial Style Foyer Design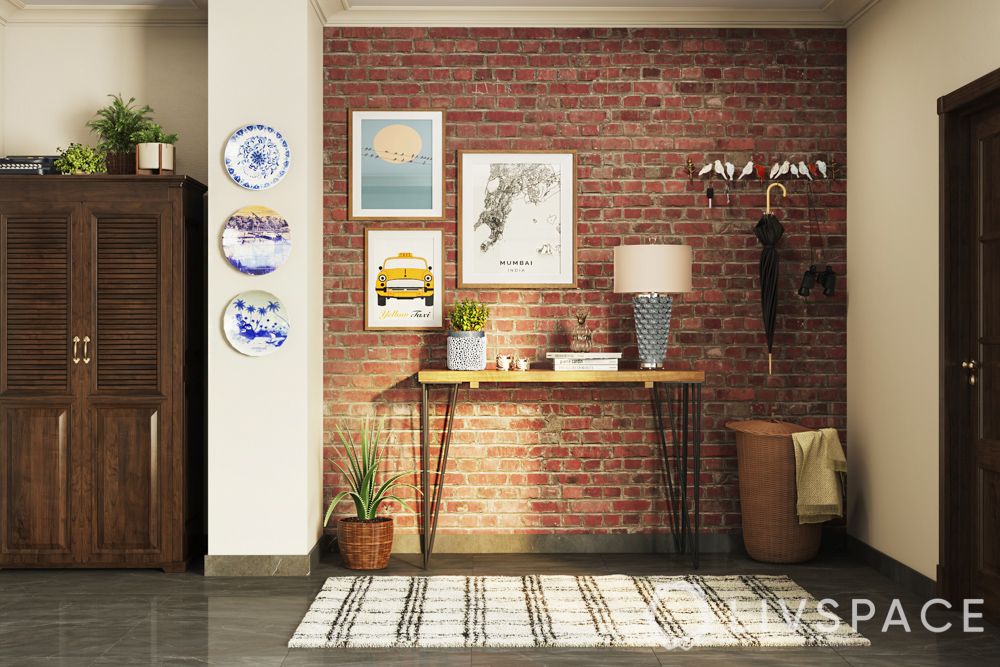 If you are looking for unique foyer area designs, why not opt for industrial style decor? Industrial walls and dim lighting set the tone to this elegant abode. The sleek console table ensures the focus is on the rustic wall. Doesn't it look calming and graceful?
#14: Sleek and Stunning Foyer Design for Home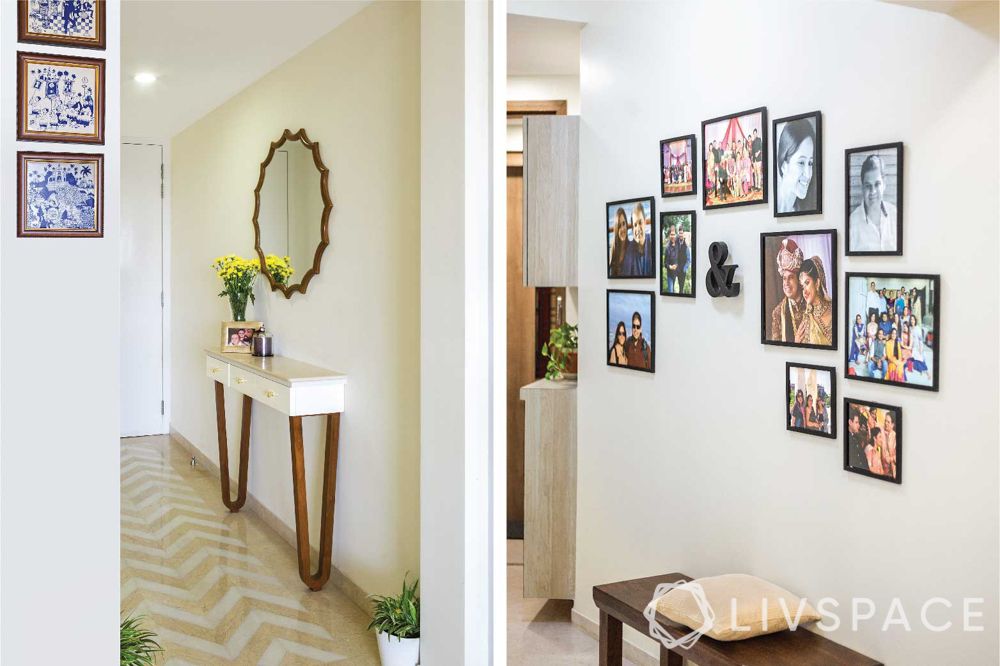 Do you have a narrow entryway? When space is less, it's better to focus on foyer wall decor. Fill up the home entrance wall with mirrors or photographs and a seater or sleek console table!
#15: A Contemporary Mix of Wood and Metal for the Entryway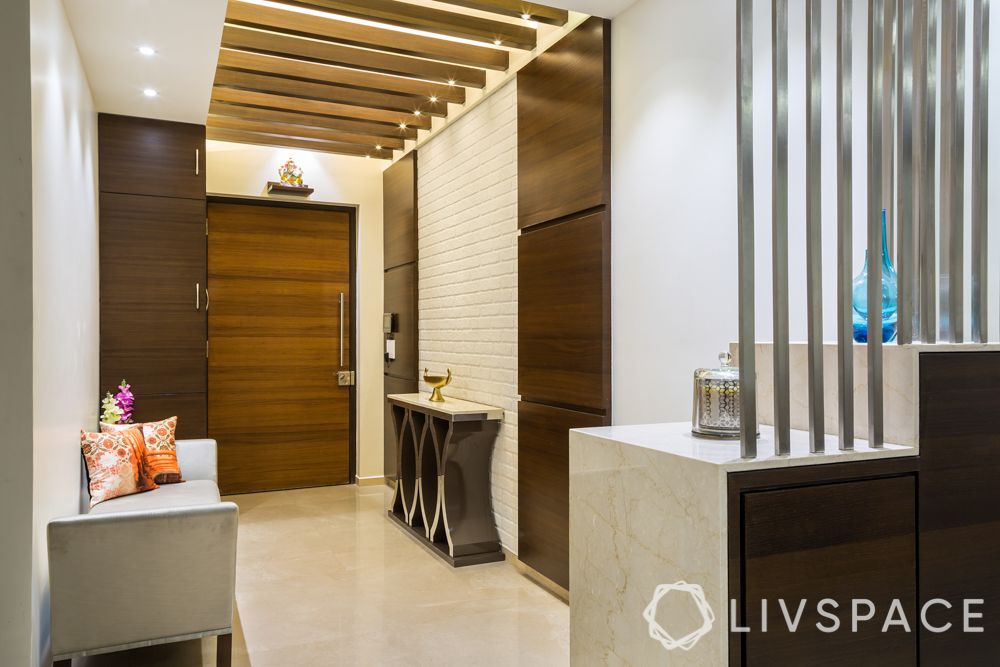 The warmth of wood and the stylish edge of metal combine to give you a statement entryway! Wooden rafters for the ceiling, wooden panelling for the walls, metal partitions and table, come together beautifully!
#16: A Well-lit Foyer for a Bright Home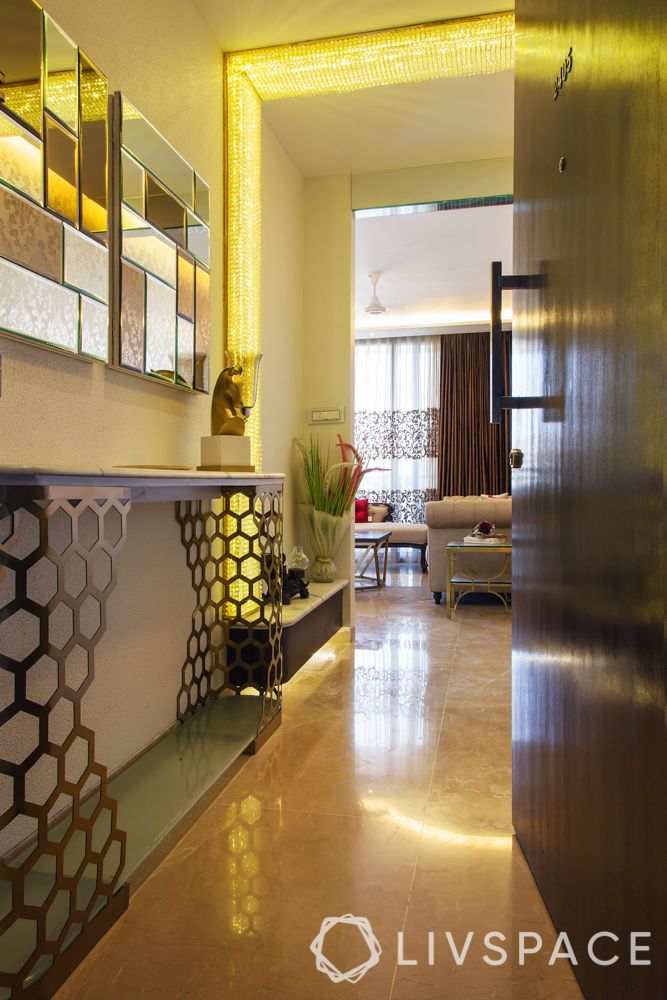 Looking for ideas for foyer decor? Use lighting to give your entryway a stunning new look! Infused with metallic charm, this entrance area design is accentuated by the lighting in the home.
#17: Indian Foyer Design With Pop of Colour
Add a pop of colour with an accent wall and embellish the design with ornate mirrors. Match to the upholstery and other elements in the home for added effect. Don't forget a console table that goes with the decor.
#18: White Brick Wall for a Textured Entryway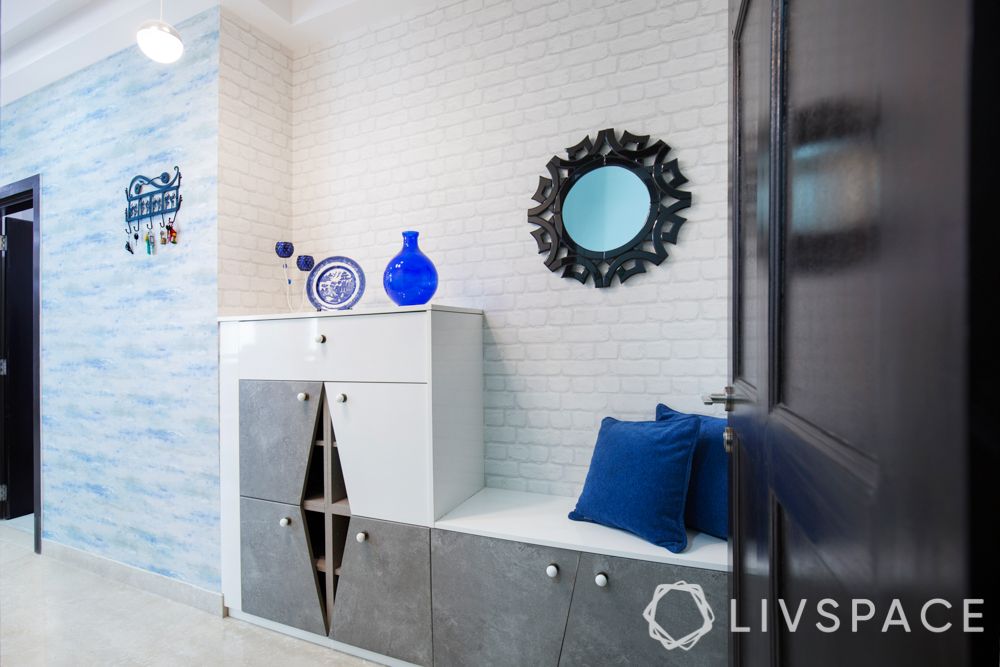 If you want a modern foyer design, opt for a contemporary theme. Set an inviting tone for your guests with cool blues and greys. Speak to our designers to customise a look like this for your home in your favourite shades.
#19: The Entryway That has Everything!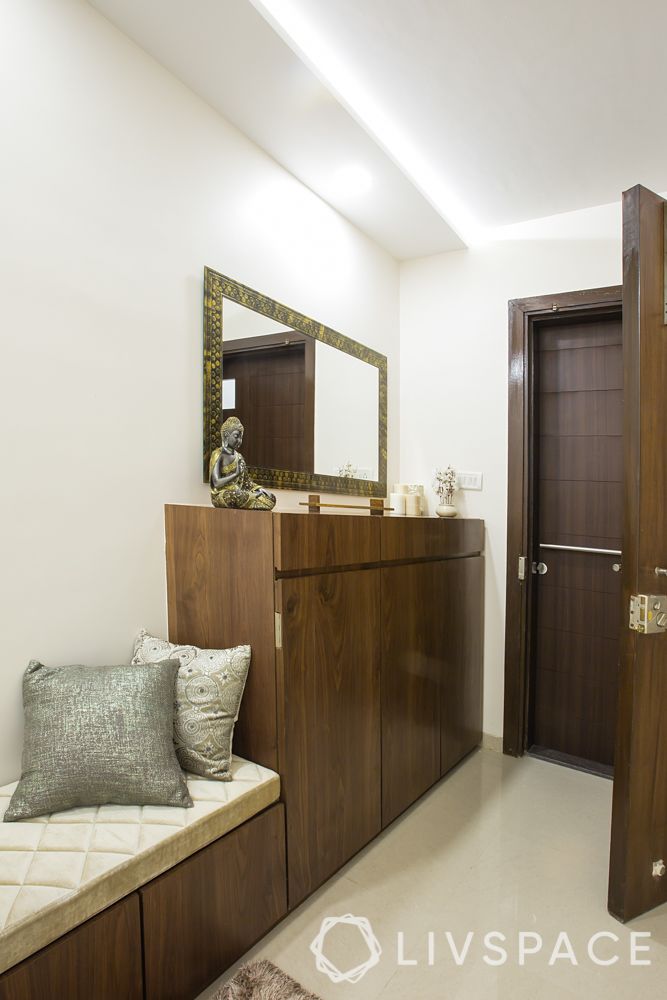 Keep it basic with wooden tones like our clients did! This design works especially well if you have a spacious entryway for the entrance area design. Fit in seating, decor and storage for a space and storage-efficient foyer design.
Tips to Help You Design Your Foyer
Choose a colour scheme that matches the colour palette of the rest of your home
Try to fit in both seating and storage if you have the space
Add a mirror to make the entry passage look bigger
Choose wall decor as these will not take up any floor space
Create a focal point in your foyer with decor
Take a look at this video to style your very own designer foyer:
Loved this collection? Get more ideas from A Designer's Guide to Create a Perfect Foyer!
How Can Livspace Help You?
We hope you found our ideas useful! If you want your home to be just as beautiful, then look no further. Book an online consultation with Livspace today. Delivering safe home interiors has been our No. 1 priority. Click here to find out how interiors are being delivered following all safety protocols.
Write to us at editor@livspace.com