This Nitesh Hyde Park home has a burst of colours and a simply lovely design!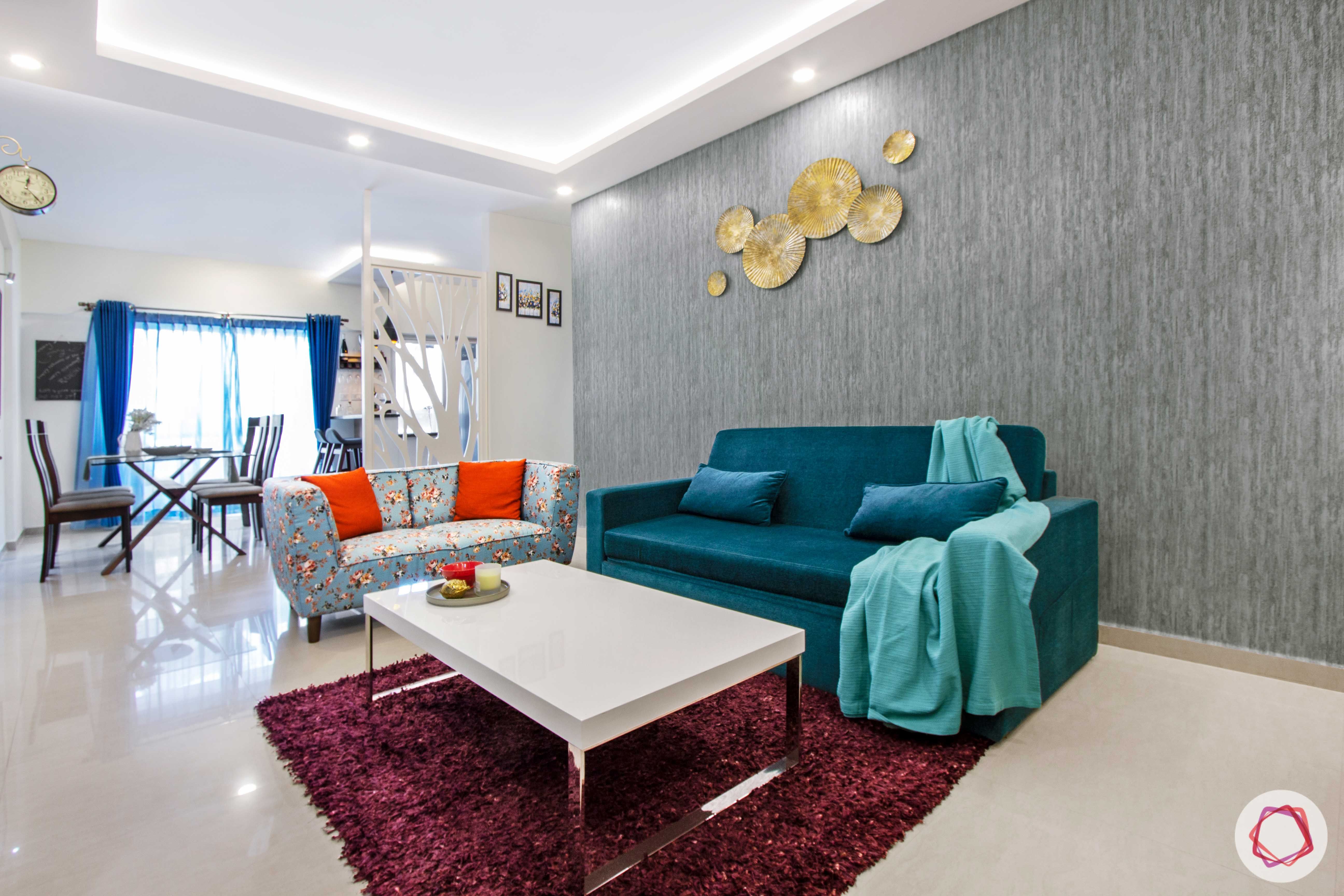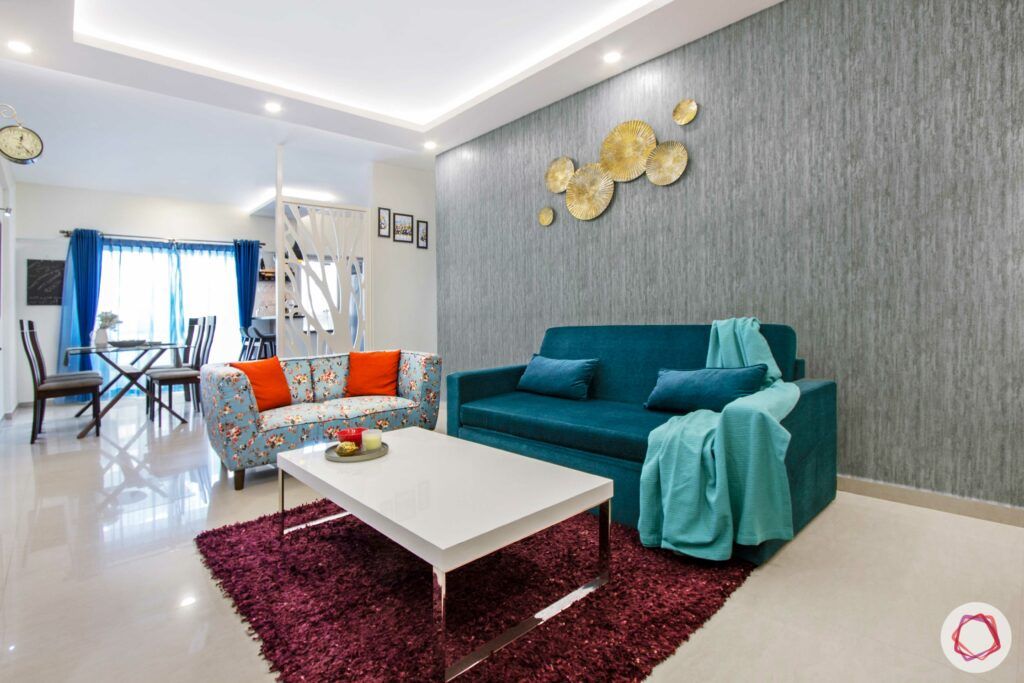 ---
Who livs here: Robin and Ritika with their parents
Location: Nitesh Hyde Park, Hulimavu, Bengaluru
Size of home: 400 sq ft designed by Livspace
Design team: Interior designer Vrinda Jalan
Livspace service: Full Home Design (excluding bedrooms)
Budget: ₹₹₹₹₹
---
Having made Bangalore their home, Robin Haldar and Ritika live at Nitesh Hyde Park with their parents. As a working couple, Robin and Ritika make it a point to set aside time for their parents as well as their faith. Their family hosts prayer meets on a regular basis, as a result, they wanted a home that has a calm and peaceful vibe. Furthermore, this family believes, if you don't love it or use it, it's clutter. And rightly so! So while doing up their interiors, they needed a clutter-free design with good vibes. Who better to do that than Livspace? Armed with a clear brief, they headed to Livspace. Their friends too gave Livspace a glowing report after having employed them to redo their home.
Vrinda Jalan, the designer assigned to the task, was keen on doing up a budgeted house with her versatile ideas. Robin and Ritika too played an active role in the design process. This team created a low budget house design with basic yet gorgeous interiors. Continue reading to find out how.
Interiors for Flat in Nitesh Hyde Park: Living room in springtime style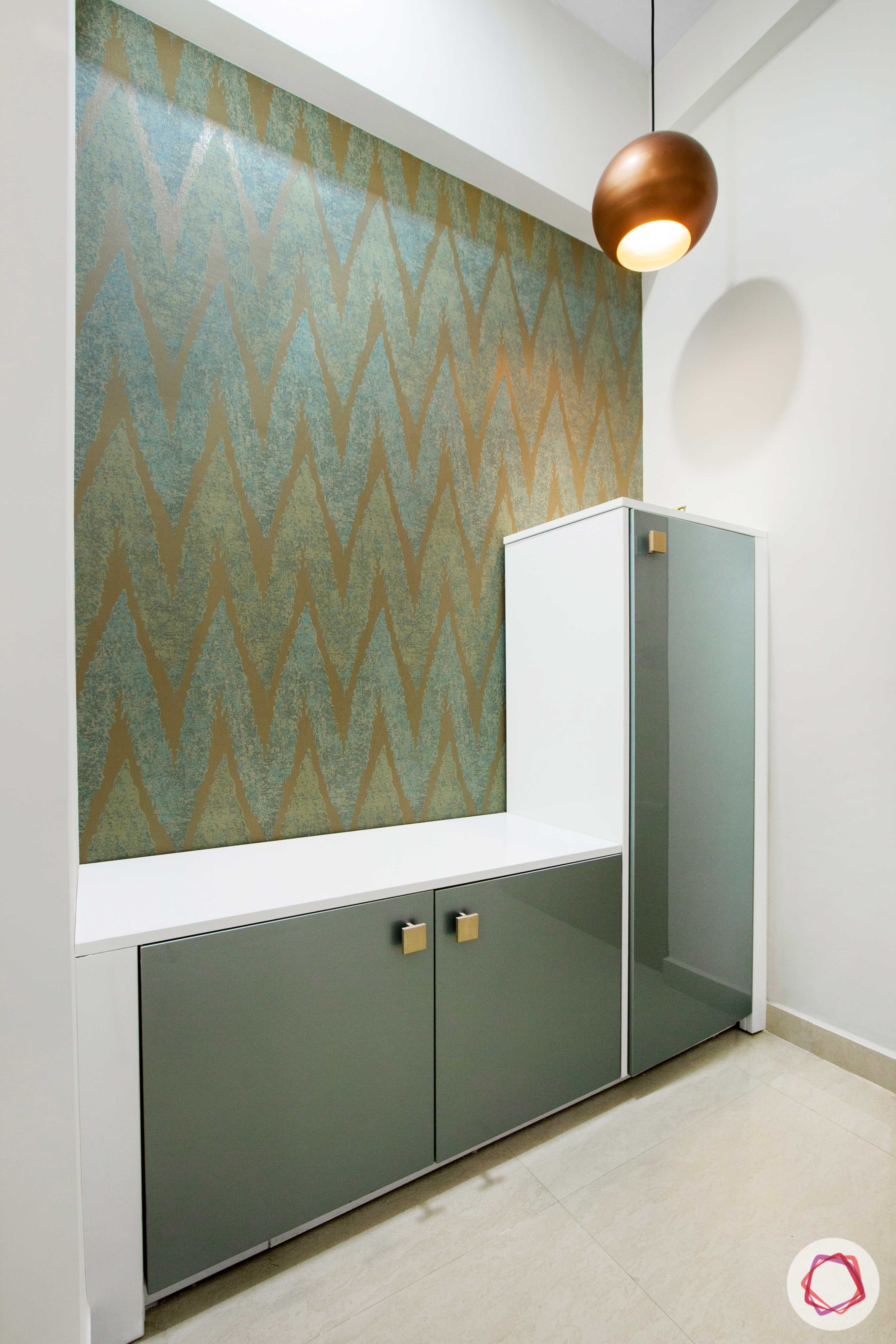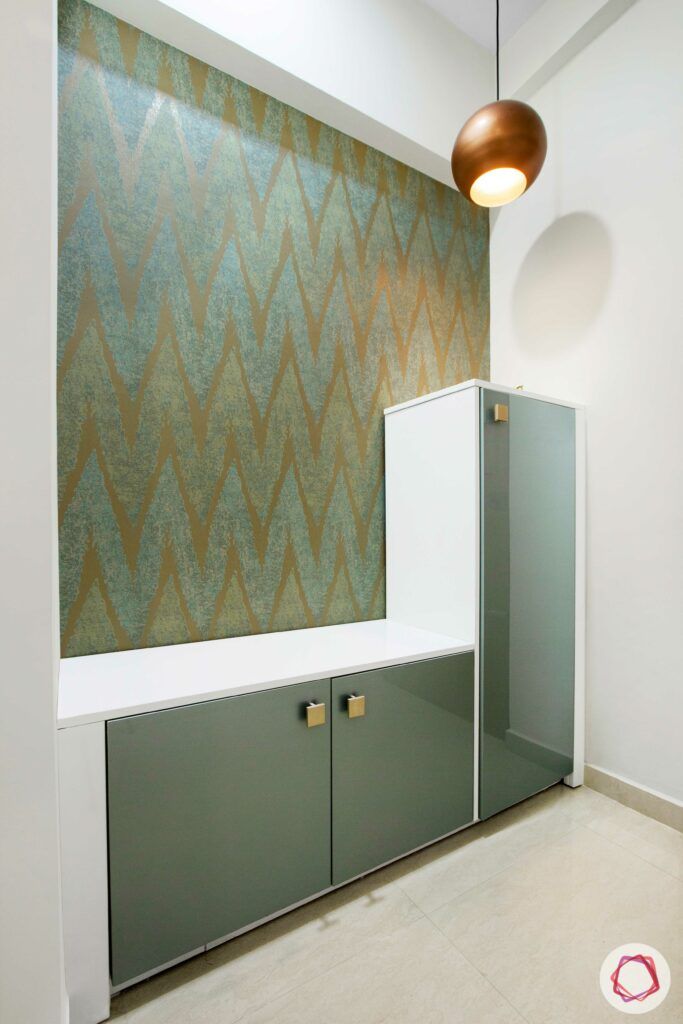 The moment you enter this bright Bengaluru home, you see a sleek green and white shoe cabinet. However, Robin wanted the foyer to only contain furniture that was absolutely essential to the room. This acrylic finish shoe cabinet is placed in the foyer with a background of a rich green wallpaper. Subsequently, the colours used in the foyer are extremely aesthetic, giving it a well coordinated look. Notice that stunning pendant light illuminating the foyer? While it adds a touch of luxury, Vrinda used one pendant light for its functionality.
Leading out of the foyer is a blue-themed living room lit by plenty of sunlight. Your attention is immediately drawn to a floral sofa with bright orange cushions. It adds a great deal of character to the house giving it a springtime vibe. Complementing the floral sofa is a smart buy from an online store, the blue sofa-cum-bed.
The living room had a bare wall that was perfect for an accent wall. Consequently, the wallpaper used is a textured wallpaper in a stunning shade of blue. Vrinda has creatively used this opportunity to add a wallpaper that adds finesse to the room.
In contrast to the springtime theme, there is a sleek TV cabinet in high gloss laminate finish from the Livspace catalogue. However, this black and white cabinet has shelves for coffee table books and decoratives that the family can add to as their collection grows. In addition to the abundant natural light, there is a snazzy 6 layered pendant light from the Livspace catalogue. Hanging beside the TV cabinet, this pendant light pulls the entire living room together.

Interiors for Flat in Nitesh Hyde Park: A beaming dining room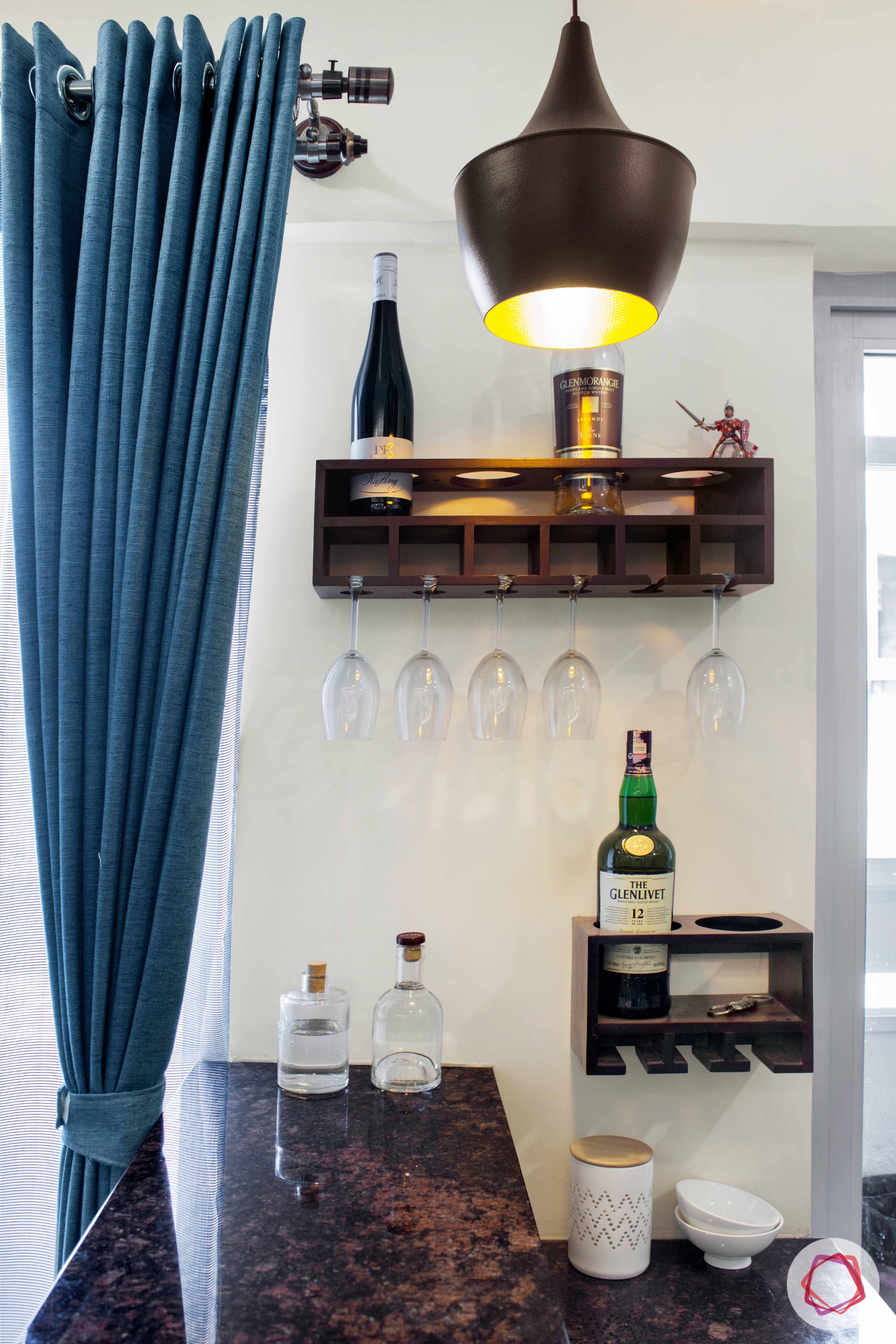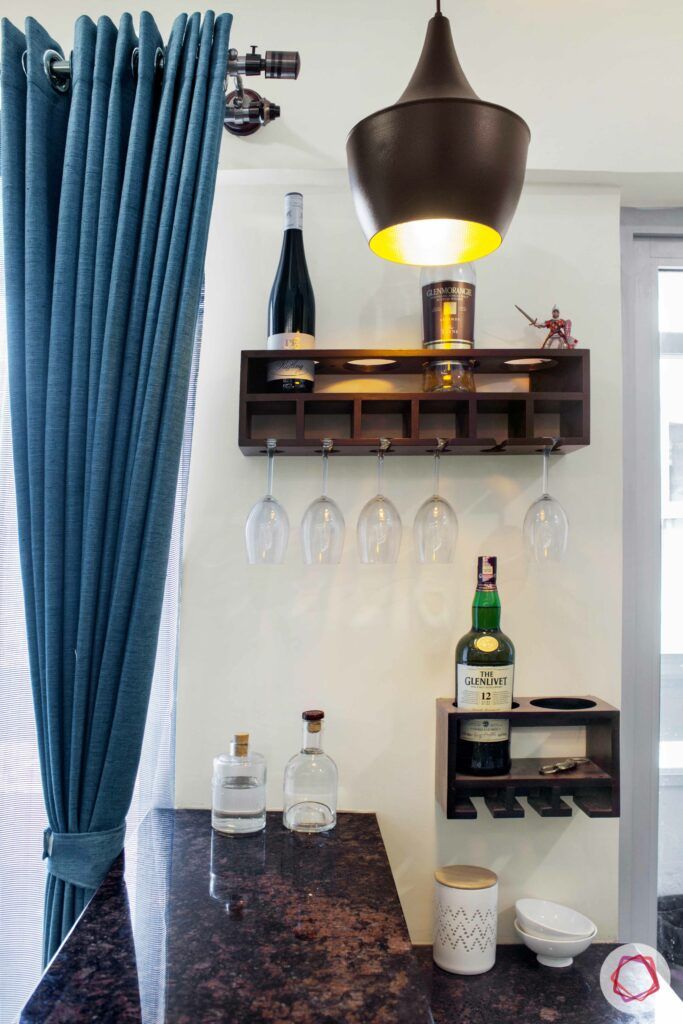 The bustling family wanted a breakfast counter for quick meals. In addition to this, they wanted a bar counter for all their fun social gatherings. Due to the limited space, Vrinda skillfully combined the two, to make a breakfast-cum-bar counter. Similarly, the unique counter is a multipurpose feature in the home. It has a granite countertop and storage space beneath the counter. On the other hand, the shelves used to store glasses and bottles, goes perfectly with the counter. So, it makes it a breakfast counter by day and a bar by night. Meanwhile, you can spot more of Livspace's elegant pendant lights above this counter.
Subsequently, the neutral walls in the room seamlessly compliment the family's Buddhist shrine along with a vibrant painting of a Buddhist in the dining room.
Interiors for Flat in Nitesh Hyde Park: A kitchen seasoned with love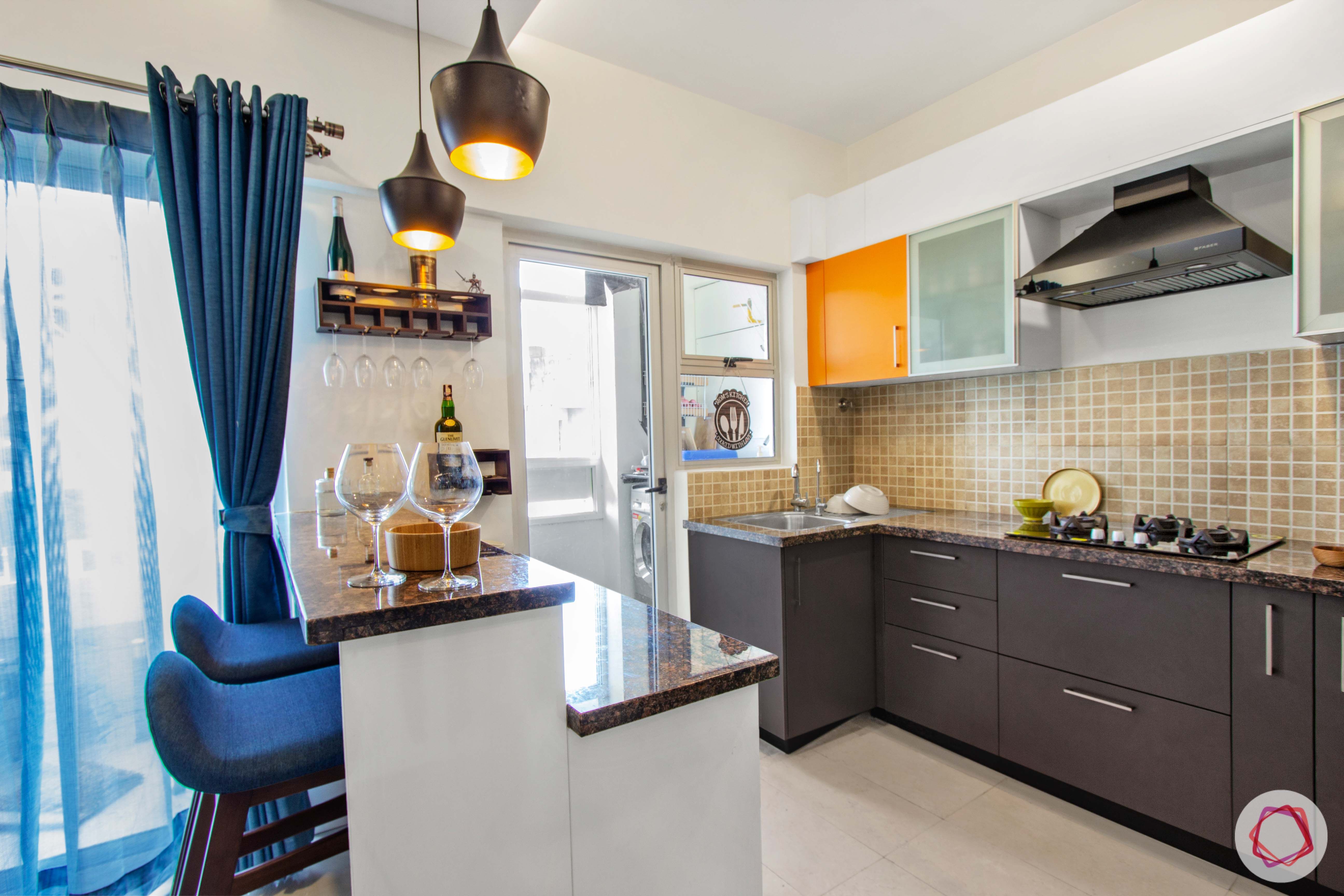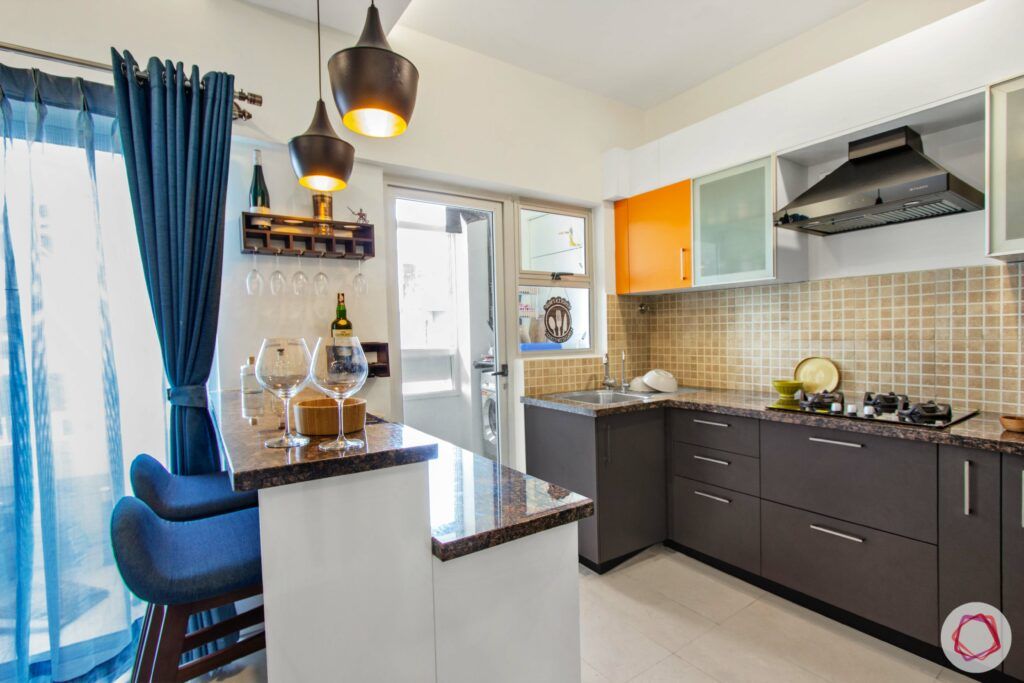 On the other hand, connected to the dining room is a kitchen with brown, white and orange matte laminate cabinets. Above all, the kitchen is seemingly sectioned off from the living room because of the jaali partition. Therefore, Robin and Ritika, were thrilled to have the partition installed as it gives the kitchen some privacy as well as adds an ornamental look to the home.
In addition to this, the couple retained the original backsplash that came with the house. As a result, Vrinda suggested adding a granite countertop with flecks of orange, that would match the backsplash and the orange elements scattered in the home.
"Designing a home has never been more simple. Robin and Ritika were very forthcoming and decisive. They took all my suggestions into consideration and had some really good ideas of their own. A combination of all our ideas resulted in this beautiful design".

-Vrinda Jalan, Interior Designer, Livspace
If you are looking for more interior design inspiration then take a look at this other Bengaluru home: A 4BHK Dressed in Blazing Colours
Send in your comments and suggestions.